The following information was provided by Timothy D. Kehr and from an interview with Bill and Helen Diehl in 2013.

William Franklin Diehl was born in February 1926 and began his career in the media as a paperboy for the St. Paul Pioneer Press and Dispatch in 1941.  A phenomenal increase in subscriptions parlayed him into the job of copy boy when he graduated from High School in 1943 at the age of 17. In 1944, while taking evening classes at Macalester College, he became a copy editor (he also took film classes at the U of M). In 1948 he became a Sunday movie columnist.  In 1950 he was promoted to movie editor with his column "Look and Listen."  He remained movie editor until 1985, and continued writing his column until he retired on May 31, 1996.
---
His radio career started in 1948 at WMIN in the Hamm Building in St. Paul.  Below is a photo of Stuart A. Lindman holding pictures of Steve Cannon, Merle Edwards, and Bill Diehl in 1949.  Photo courtesy Stuart A. Lindman via the Pavek Museum of Broadcasting.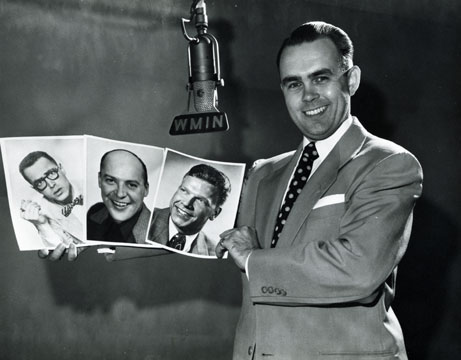 Diehl left WMIN in January 1950, and in the summer of 1950 he did a movie gossip show on KSTP-TV called "Screen Stories," which he wrote, produced, and presented.  KSTP wanted him to stay but he wanted to keep his Pioneer Press job.  He went back to WMIN in the fall of 1950 and stayed until early 1956.  There he had shows called "It's Your Diehl" and "Diehl's Caravan," where he played pop tunes, Broadway hits, and the songs of the day.  He worked mornings, and also on Sundays from 3:30 to midnight.
---
From late 1955 to 57 he was also at WTCN, mostly doing radio but also some TV.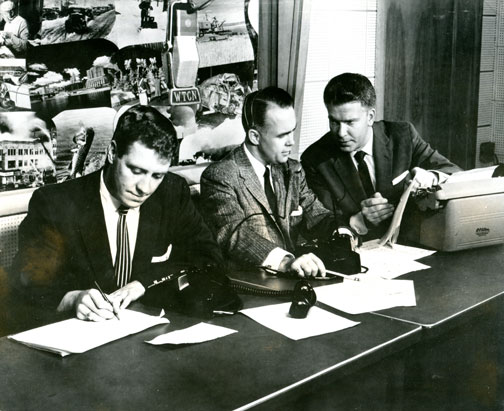 Ken Anderson, Stuart A. Lindman, and Bill at WTCN-AM.  The photo from 1957 courtesy Pavek Museum of Broadcasting.
---
In the fall of 1956 he moved to WDGY, where he did the afternoon Top 40 show.  WDGY had become the first rock 'n' roll station in the Twin Cities earlier that year, and Diehl was the station's star DJ.  He was also the music director from 1957 to 1961 and got consistently top ratings.  He mostly brought in his own records, because the station's were "too scratchy."  Diehl was known for his phenomenal record collection, which he and his wife Helen bought mostly from Phil Moe at Pyramid Records on 11th Street in Minneapolis.  An early Storz ad described Bill this way:  "Top newspaper columnist, impersonator, humorist, inside-show-biz authority, business-newsman, full-fledged movie critic."
In 1957 Diehl was asked to M.C. his first teen dance, at the Armory in St. James, Minnesota.  After that he made almost nightly appearances at local dance clubs with local bands such as Mike Waggoner and the Bops, the Trashmen, the Castaways, the Accents, the Underbeats, Gregory Dee and the Avanties, the High Spirits, the Chancellors, and others.  He became so sought-after that he often made three appearances a night on the weekends, with wife Helen rushing him from one venue to another.  As he got to know the ballroom owners and the bands, he began to get them together as a favor to both.  The booking union was skeptical when he told them he didn't take a commission.  They were eventually convinced, but made him join the union as a licensed booker.  He and Dick Shapiro ran Central Booking for several years.
Bill actually belonged to five unions:
AFTRA – American Federation of Television and Radio Artists
ANG – American Newspaper Guild
IBEW – International Brotherhood of Electrical Workers – required in order to spin his own records
AGVA – American Guild of Variety Artists – required to appear on stage
AAAA – Associated Actors and Artistes of America
---
As a promotion, in November 1958 Jim Ramsburg cooked up the Radio Wonders basketball team.  WDGY Jocks teamed up with professionals Ed Kalafat, Bobby Cox, Jim Springer, and Corky Devlin, possibly former Minneapolis Lakers.  The team could not play high school and college teams, but would go out to small towns for exhibition games.  Some not so happily as others, he admits.  Proceeds would go to a charity mutually agreed upon by the two teams.  The photo below, provided by Jim Ramsburg to the Pavek Museum of Broadcasting, shows Jack Thayer holding the ball.  Clockwise from Jack are Bill Diehl, Don Kelly, Dan Daniel, Stanley Mack, and Ramsburg.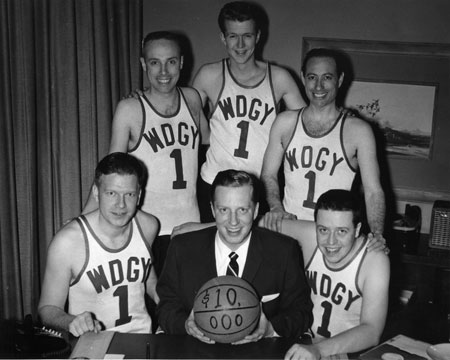 ---
Diehl also M.C.'ed national acts as they appeared in the Twin Cities.  One was the Winter Dance Party, starring Buddy Holly, Ritchie Valens, and the Big Bopper, when they appeared at the Kato Ballroom in Mankato on January 25, 1959 and the Prom Ballroom in St. Paul on January 28. The three stars died in a plane crash six days later. On the day the musicians perished, Diehl did a three-hour show on WDGY playing nothing but songs by the three young stars.  Hear Bill Diehl talk about "The Day the Music Died" on an MPR piece from 2009.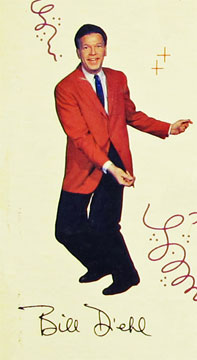 Bill twisting on the cover of a WDGY promotional album
---
In 1965 he played a part in bringing the Beatles to Minneapolis. On the air, he promoted the Beatles event with phone-ins with George's sister, Louise Harrison Caldwell.  He traveled to Chicago to see the concert there and took home movies, which can be seen on a DVD produced in 1995 by KSTP-TV called "The Beatles:  Minnesota Mania!"  The DVD includes an extensive interview with  Diehl and members of Minnesota bands from that era and is available from Video Beat     Diehl M.C.'ed the Minneapolis show and was hailed with boos when he announced that the concert would end if the audience rushed the stage.
As rock 'n' roll changed, so did Bill, and he jumped to WCCO Radio on September 1, 1967, starting at the State Fair broadcast center.
1967 was also the year that he married his devoted wife, Helen, who was his true partner, driving him to the various emcee jobs and enabling him to make up to three events on busy nights.
In the fall of 1969 he began a series of commercials for Wally McCarthy's Lindahl Olds on Highway 494 and Penn Ave.  He did remote broadcasts from the dealership every Saturday morning, and the promotion became incredibly popular, making lots of money for McCarthy.  Diehl would continue to be "Bill Diehl for Oldsmobile" until he left WCCO in 1996.  (The site is now Best Buy headquarters.)
In 1974 he did a weekly series of "Sunday Specials" for WCCO Radio, including a series of 50th anniversary specials. In 1988 he was removed from the weekday shift. He turned down Saturday or Sunday nights, and focused on doing commercials and special projects. He left WCCO in 1996.
At one time the Diehls had over 75,000 albums, representing all kinds of music.  Some had never been played.  Most of them were sold at two sales in the 1980s.  They also have about 800 books on entertainment and a collection of over 400 old movies, including all of the Laurel & Hardy films. Bill and Helen founded the local chapter of the Laurel & Hardy club The Blockheads in September 1966.
Bill Diehl's voice is instantly recognizable to just about anyone who lived in the Twin Cities in the last half of the 20th Century.  He is a cultural icon – our own Alan Freed – and worked incredibly long hours to provide us with the rock 'n' roll we desperately needed.  Thank you, Mr. Diehl!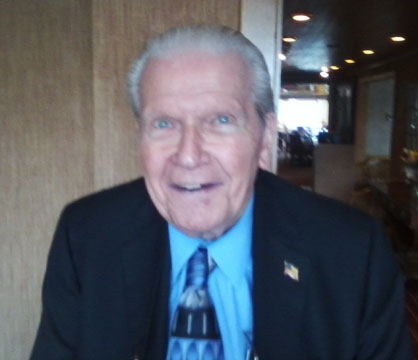 Bill Diehl, March 26, 2013.  Pardon the blurry picture – he looked great!
---
Bill Diehl passed away on July 19, 2017, at the age of 91.
---
The following interview with Bill Diehl came from an article "The a' Go Go Spotlight" by Jim Karnstedt in the October 1965 issue of Twin City a' Go Go.
            The Rajah of the Records, the Deacon of the Discs, the Purveyor of the Platters and the Wizard of the Wax with all the Musical Facts.  That's only part of the story of WDGY personality, Bill Diehl.  He also handles a successful booking agency, writes in the St. Paul Dispatch and coordinates special events. Last week, I managed to catch him in one of his spare moments.
T.C. a' Go Go:  How did you get started in your radio career?
Bill:  I was writing an entertainment column in the St. Paul Dispatch which caught the attention of Sev Widman of WMIN.  He thought it was wild and asked me to fill in on a radio show for the vacationing announcer.  Soon after, I had my own show on WMIN.
T.C. a' Go Go:  Did you have any radio training at the time?
Bill:  No, as a matter of fact, I used to read the newspaper out loud in order to get the proper pronunciation and phrasing.
T.C. a' Go Go:  What made you take up radio announcing?
Bill:  I used to sit in the John, of all people, and I thought it would be great to be on the air.
T.C. a' Go Go:  Where did you go from WMIN?
Bill:  KSTP asked me to do a TV show called "Sunday Screen Story." So, I wrote it, produced it, and starred in it with no experience along those lines at all.  After that, I declined a full time job at KSTP because the station said I'd have to leave the St. Paul Dispatch.  Then I returned to WMIN for awhile and later joined WTCN TV where I did news, weather, movies, and other numerous announcing.
T.C. a' Go Go:  How did you land the job at WDGY?
Bill:  Jack Thayer, who then managed the station hired me to do a Top 40 show, which achieved the highest ratings in the station's history.  I did a request show, "Nightbeat," and now on Sunday, "Your Opinion Please".  Now my announcing is more confined to the weekends.  I also coordinate WDGY's special events like the WDGY AquaTEENIAL Spectacular and the WDGY Winter Carnival Spectacular of 1964, which attracted 20,000 people: 16,000 inside and 4,000 outside the St. Paul Auditorium.  It was the largest crowd in the auditorium's history.
T.C. a' Go Go:  What is the most memorable event in your radio career?
Bill:  The one I always remember is the time I fluffed a commercial at WMIN.  I mean real bad!  Stuart A. Lindman consoled me and said everything would come out alright and I guess it did.
T.C. a' Go Go:  What do you feel is the most exciting part of radio announcing?
Bill:  It's the thought that at a 50,000 watt station like WDGY, your voice reaches out hundreds and hundreds of miles to thousands and thousands of people.
T.C. a' Go Go:  Where have your travels taken you?
Bill:  I've been behind the Iron Curtain three times in nine years.  My secondary purpose in traveling throughout Europe was to polish up on my German and French and taking 16mm color films.
T.C. a' Go Go:  What other public speaking do you do?
Bill:  I've made many speeches for both public and private organizations.  They include the Lions Club, Kiwanis Club, Optimist Club and many others.  More than anything, I suppose, is the regular MC work which includes more than I can possibly name.  The biggest event recently, of course, was the Beatle Concert.
T.C. a' Go Go:  What are your reactions on the bad publicity the Beatles received?
Bill:  The story was blown completely out of proportion.  I thought it was extremely unfair for that cloud of bad publicity to be pushed over the name of the Beatles.   I got over sixty calls in my home that night.
T.C. a' Go Go:  I understand that you have a lot to do with the bands.  Could you briefly explain this?
Bill:  I have been booking bands in the Midwest for quite awhile now.  Recently, I auditioned ten of them.  I'm now, in addition to my regular bands, booking five of those ten.  I'm especially proud of Suzie Q. and the Originals which I feel is going to be a very popular group.
T.C. a' Go Go:  What are some of the bands that you book?
Bill:  Let's see, there are the Accents, the Underbeats, Avanties, Chancellors, High Spirits, Del Counts, Gestures, Coronados, Froggy and His Friends, T.C. Atlantic, the Deacons, Suzie Q and the Originals, the Expressmen, and quite a few more.  I'm in the process of consolidating with Dick Shapiro of Path musical Productions into the Central Booking Agency.  We'll handle a good part of the dance dates in the upper Midwest.
T.C. a' Go Go:  What is your opinion on the long hair issue?
Bill:  I believe it's purely a matter of personal taste. The arguments in schools seem a little hard to believe.  However, it does depend on the age bracket.  Ten and twelve year olds are bound by their parents to do as they're told.  When they reach sixteen to twenty-one, they're more sophisticated and should be able to decide for themselves.  It's just a passing fad and you can see it diminishing already.
T.C. a' Go Go:  Could you give me a brief rundown of your daily activities?
Bill:  It starts with my day at the newspaper.  As entertainment editor I check clubs, theatres, call Hollywood and New York and usually attend a movie screening in the morning.  In the afternoon I write my six-day-a-week entertainment column, "Look 'N' Listen," along with my Saturday record column, "Platter Poll."  I do band bookings in the late afternoon.  From about six to eight PM I get in a movie screening and afterwards a personal appearance or two. Lastly, I run out to the station to tape dance commercials.  Sometimes I'll go twenty-four hours without a wink, but eventually I'll catch u p.
T.C. a' Go Go:  How can you afford to give away the prizes at dances?
Bill:  Well, I'm unmarried, don't smoke, and I'm certainly not a drinker, so it doesn't put a big dent in my pocketbook.
T.C. a' Go Go:  With what top stars have you been associated in your past?
Bill:  Just about any of them. Grace Kelly and I had to share out of the same lemonade glass.  I've stayed at Robert Mitchum's house numerous times and I've hob-knobbed with Bing Crosby.  Also, my work necessitates interviews with a great many stars both in the movie and recording industry.
T.C. a' Go Go:  Being a personality, do people bother you much?
Bill:  They don't really bother me, but I do get calls twenty-four hours a day from people asking all kinds of wild questions.  Girls will call me with their personal problems, but I don't mind that because it's quite flattering if I can help someone who really needs it.
T.C. a' Go Go:  What general advice can you give to someone following a career like yours?
Bill:  They should have an appreciation for the arts and a solid background in English.  We don't communicate by smoke signals anymore, so it is very important to be knowledgeable on a variety of subjects.  Most important, you shouldn't worry about what people say about you.  Just believe in yourself and what you are doing and you'll be on the road to success.
Save
Save
Save
Save
Save