The following is a list of TV shows that featured rock 'n' roll music.  Some were produced locally, some syndicated, and some national.  If you have any more specific information, please contact me.  The list does not include shows such as Ed Sullivan, Hollywood Palace, and the many variety shows hosted by big stars. Thanks to the Pavek Museum of Broadcasting for the use of their TV Guide collection.  Also see www.thevideobeat.com.
---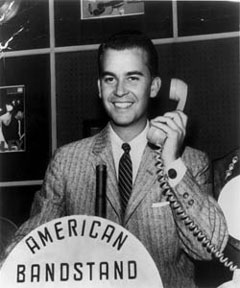 American Bandstand premiered in the Twin Cities on Channel 11 on August 5, 1957, the first day it went national.  The first song played was "Whole Lotta Shakin' Goin' On" by Jerry Lee Lewis.  In the early days it could be seen daily for two hours, from 3 to 5pm.  Bandstand started as a local show in Philadelphia in 1952.  Dick Clark began hosting in 1956.
From October through December 1957, there was also a prime time version, airing on Mondays at 6:30.
From February 15, 1958 to September 10, 1960, the prime time Dick Clark Saturday Night Beechnut Show aired with the same format as Bandstand.
American Bandstand moved from Channel 11 to Channel 9 specifically on April 17, 1961, because of the ABC affiliation switch in the Twin Cities. Although the show was available to stations for 1 – 1/2 hours, it was shown in the Twin Cities for only the last hour, from 4 to 5pm.  In 1963 it went to once a week on Saturdays.  In 1964 the show moved to Los Angeles.
A second affiliation switch moved Bandstand to Channel 5 on March 10, 1979. Although the show continued to run on ABC until 1989, Channel 5 dropped it in favor of the syndicated Solid Gold in the summer of 1982. Bandstand did appear for a time in the mid 1980s (about 1986-87) on KXLI Channel 41 in St. Cloud, which picked up several ABC programs that KSTP chose not to carry.
The Twin Cities group the Nickel Revolution was thrilled to have their single "Oscar Crunch" played on Bandstand, presumably in 1969.  The group wasn't particularly thrilled with the song itself, and unfortunately the airtime didn't do much for it.
The Trashmen also appeared on Bandstand, only the show was too cheap to pay for the whole band, so poor Steve Wahrer was out there alone to lipsynch "Surfin' Bird" and demonstrate how to "do the bird."  This brave performance can be seen on YouTube. 
---
B-Sharp Beat was sponsored by the B-Sharp Music Store.  The host was WDGY DJ Jimmy Reed.  According to Mike Barich's records, the shows were recorded on Thursdays and broadcast on Saturdays.
The first show was broadcast on Saturday, March 25, 1967, at 1:30 on Channel 11.  Mike's log says that the Sir Raleighs and the Morticians recorded it on March 23.
The Grasshoppers and the Escapades recorded on March 30.
The Underbeats and the Del Counts recorded on April 6.  Peaches and Herb visited the show when it was broadcast on April 8.
The Stillroven and the Hot Half Dozen recorded on April 13.
The Del Counts recorded on April 20.
The System also appeared on the show.
The last show was broadcast on June 17, 1967.
---
Below:  Timothy D. Kehr and Jimmy Reed.
See an EXCELLENT, photo-filled page on B-Sharp Music on Jerry Lenz's blog on his band the Nickel Revolution.
---
Bandstand was the name of a show that ran in Duluth from at least February 1959 to June 1960.  It was broadcast M-F at 5:00 on Channel 3, hosted by Jim Rassbach.  It appears that many local dance shows took on the Bandstand name, although there was only one American Bandstand.
---
The Big Beat was a national show starring New York disc jockey Alan Freed, and featured all the great musical stars of the era.  It first aired here on Friday, July 12, 1957, on Channel 11 at 9 pm.  Guests on the first episode included the Everly Brothers, Don Rondo, Ferlin Husky, and Sunny Gale.  "Teenagers should go for this," read the preview.  The next Friday's (July 19) guests included Andy Williams, Chuck Berry, Frankie Lyman and the Teenagers, and the Fontaine Sisters.  The third episode (July 26) featured Fats Domino, Marvin Rainwater, Dale Hawkins, and Patsy Cline.  On August 2 came Al Hibbler, the Four Coins, Gogi Grant, and Mickey and Sylvia.
There is no mention of the show after these four.  However, a movie of the same name came out shortly afterwards.  And on April 25, 1958, Freed brought a live show to the Minneapolis Auditorium.  In 1959, Freed was charged with taking money and gifts to play certain songs on the air, and his career was over.
Bill Carlson had several shows that frequently featured local music.
The debut of The Bill Carlson Show was on Saturday, January 5, 1963, and was for 15 minutes at 5:15 pm on Channel 4.  The description in the TV Guide was:  "Bill Carlson – Variety.  Host Bill Carlson presents teen-age talent, guest recording stars and reports on Youth Activities on this weekly 15 minute variety show.  This week, The "Galaxies," a teen-age combo from St. Paul, are featured." The January 12 show featured the Rovers folksingers and a piece on the Minneapolis Auto Show.  Subsequent shows were not described in the TV Guide, but Dan Holm of the Chancellors remembers being on the show.  On Saturday, March 16, 1963, the show moved to 12:30 and expanded to 30 minutes.  Alas, American Bandstand also expanded to Saturday afternoons at the same time slot on Channel 9, and the Bill Carlson Show on Channel 4 apparently chose not to compete.  We don't know if Carlson's show was moved or discontinued.
Carlson also had a nighttime show called This Must be the Place,which was a talk show that premiered on January 15, 1966.  It replaced the Late Don Dahl Show.  (Forrest Powers column, Minneapolis Star, January 18, 1966)  A description in September 1967 reads, "Following Weathergirl Nancy Nelson, Bill Carlson interviews interesting and famous people."  (Minneapolis Star, September 9, 1967)  Late night it was, starting at just before 1:00 am.  In May 1969, an article by Allan Holbert characterized Carlson as "dapper and rich voiced."  At that time Carlson's TV show was being aired via tape while Carlson himself was on WCCO radio.  The article quoted Carlson as saying "I have the Dave Rooney Trio as the regular musical group, and when they aren't there we bring in another local group."  (Minneapolis Tribune, May 4, 1969)  Rooney named one of his albums "This Must be the Place" after the show.  (Minneapolis Tribune, March 17, 1970)  The show is in the TV listings in the Minneapolis papers until October 1980.  As Jeff Lonto notes, the show was probably very popular with kids stuck late-night babysitting.
From January 2, 1967 to at least September 1968, Carlson also had a ten minute midday show called Something Special.  He replaced the retiring Randy Merriman on this program, which appeared from at least October 1960 also featured Nancy Nelson.  The show seemed to have been squeezed in between the news and weather, and consisted of "bits of humor and helpful hints and a touch of philosophy each weekday noon."  (Ad in the Minneapolis Star, October 4, 1960)
---
A Date With Dino was a local rock 'n' roll show that was broadcast on Channel 9 at 4pm.  It started twice weekly on October 13, 1964, taped in the studio.  At the end of 1964 the show was taped in local ballrooms, starting at the Bel-Rae.  On January 25, 1965, the show went daily.  Up to that time the kids had just danced to records, but the show's producers had plans to bring in live local bands.  It ran the school year to June 11, 1965.  (See Upbeat #1 below.)  Day, nee George Murphy, was a radio DJ.   (He is not the same Deano Day who was a successful DJ in the Detroit area.)
David Jass, vice president of Young Adult Productions, remembers:
Bruce Goldstein and myself created the Date with Dino TV dance show. We got kids from the local high schools to dance on the show. They would all show up outside the studio. Bruce and I would 'screen' them. The turnout was easily 10 times what we needed. Dino Day was hired to emcee the show. Our proposal was for me to do the honors. Oh well, so it goes. We also pitched a Teen Tonight show to channel 11. We got turned down.
The ad in the TV Times reads:  "Dino Day hosts television's swingest (sic) Dance Show…'live' from Channel 9 Studios… exciting top record stars perform their hit records… keep informed with Teen News International and Sports All-American."  Dino couldn't have been too "swingest:"  that's a Ray Conniff record behind him.  A teenage Nancy Nelson was in the cast doing teen news, as was Rod Person and Twins stadium announcer Bob Casey with "teen sports reports."   The show was later cut down to a half hour with just Dino and Nancy.
Someone with a very sad Date With Dino story remembered that Dino wore makeup and was not at all fond of "babysitting" his teenage costars.  Local bands performed on the show; Danny's Reasons and the Escapades were the first to do so, we learn from Danny Stevens.  Channel 9's studios were located at the Foshay Tower.
---
Don Kirchner's Rock Concert premiered on September 27, 1973, with a performance by The Rolling Stones and The Doobie Brothers; its last episode was in 1981.  Like the Midnight Special, it was noted for featuring live performances, which was unusual for the period since most television appearances at that time used lip-synching to prerecorded music. The show was recorded in stereo using simulcast to broadcast on FM Stereo radio stations and early Cable TV.  (Wikipedia)
---
The Folkswingers was a 12-week program produced by John Degan and Dan Nelson of KSTP-TV in the summer of 1966.  The program was a tour of local folk singing and folk dancing in the Twin Cities.  One of the groups featured was the Northstar Singers from south Minneapolis.  The group formed in 1965 and sang at venues such as the No Exit at Macalester, the Whole Coffeehouse and the Scholar at the U of M, and the 14th Circle at Hamline University.  The draft broke the group up, but in 2010 a videotape of a Folkswingers show was found by KSTP archivist Glenn Griffin.  Members of the Northstar Singers included Al Benson, Dan Nelson, and Tom Pederson.
---
Happening '68 was produced by Dick Clark Productions  hosted by Mark Lindsay and Paul Revere of the Raiders.  It ran here from January 6 to September 14, 1968, airing at Saturdays at 12:30 (following American Bandstand on Channel 9 (ABC).  Indications are that its last appearance in the Twin Cities was on September 14.  Nationally, ABC added a weekday spin-off, It's Happening, which ran on Mondays through Fridays from July 15, 1968 through October 25, 1968, but this may not have been shown here.  When 1968 ended, Happening '68 became just Happening, which was canceled in October 1969. There were guest performers lip-synching their latest releases, a band contest with celebrity judges and other bits to attract a teenage audience.  Local band Zarathustra may have competed in one of these contests.
---
Hi-Five Time premiered on January 20, 1958, on Channel 5, Monday – Friday at 5:00 -5:45, replacing the TN Tatters kids' show, which moved to 1 pm. Harry Zimmerman was the first host on the show.  Since the "High Five" clap had probably not been invented yet, the name was probably derived from the Hi-Fidelity sets that teens played their music on, and the fact that the show was on Channel 5 at 5:00.  Competition was steep, going up against the incredibly popular "Axel and his Dog."
HARRY ZIMMERMAN
While Dick Clark may have reminded you of your big brother or your cool cousin, Harry Z reeked of Dad.  With his surreal hair that had mile-wide parts in the front (vertical) and back (horizontal), and his struggle to stay in control, he was no laid-back figure.   But he had a good press agent.  The following article from a publication that may have been called the TV Review:
Teen-age dancing parties are the rage on TV now.  In the studios, the teens dance.  At home, however, the post-teens aren't sulking.  They're watching and sharing the fun.  And, from time to time, they venture a few dance steps themselves.  Surveys show that there's a large adult audience for these teen dance parties and a man like Harry Zimmerman is a good reason why . . . Harry's the host of Hi-Five Time, seen weekdays . . .  The high school set is wild about Harry, who knows almost more than they do about the latest teen record tastes, fads likes and dislikes.  But this host's relaxed manner and quick wit aren't lost on the post-teenagers, either . . . Any way you look at it, there's fun for everyone in watching Harry and the teenagers in the big studio "F."  And any way you add it up, you've got Harry's number if you've got five.  There's the show, seen at 5 o'clock on Channel 5.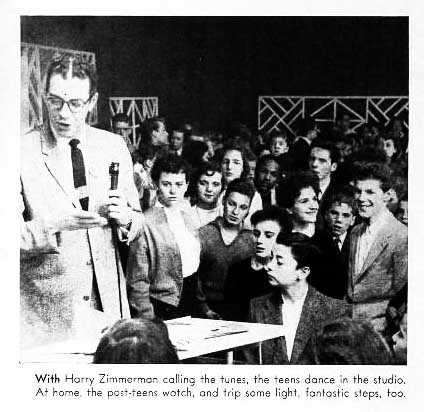 ---
BETSY AND JOHNNY COMMAND
Betsy Command and her brother Johnny Command were regular dancers on the show.  Betsy says,
Our mom, Freda, a fabulous dancer herself, taught us to dance and drove us to channel five from our home in Richfield every afternoon. My brother Johnny Command and I danced on the show almost daily during that time. We even won a dance contest and received fan mail from kids from all over the channel 5 area. (I kept a lot of it). American Bandstand's Justine and Bob were contemporaries of ours.  We wrote to kids who sent letters to us and I kept a box of them to remind me of the good times we had. Kids that watched the show assumed we were sweethearts.  Harry used to pack the regulars up on a bus and take us to outlying teen dances for promotion of the show. My brother John Command became a professional dancer, director and choreographer, and toured with shows all over the country.  I married and had children.
A 1976 article says that after moving to New York and in the National companies of "Funny Girl" and "How to Succeed in Business," he returned to Minnesota and became the choreographer at the Chanhassen Dinner Theater.
Betsy generously shared the photo below of her dancing with her brother Johnny.  The man standing in the back is host Jim Hutton.
---
Hi-Five Time aired daily until January 3, 1959, when the show moved to Saturdays at 4:30.  The last listing in the newspaper was November 14, 1959, but it also shows up in the TV Guide on December 31, 1959 at 4:30 Saturday – notes say that the teens were visited by George Montgomery, in town for the Winter Carnival. No sign of it could be found in 1960.
Sherwin Linton remembers appearing on the show in 1958/'59 with his band the Rocketeers, performing "My True Love."
---
Hollywood a-Go-Go was a syndicated show based in Los Angeles and hosted by L.A. DJ Sam Riddle.  It featured the Gazzarri Dancers, from the nearby Gazzarri discotheque on the Sunset Strip.  The show ran in the Twin Cities from May 16, 1965 to June 4, 1966.  At first it was shown on Sunday at 7:30 pm, but then moved to Saturday at 3:30 pm, always on Channel 11.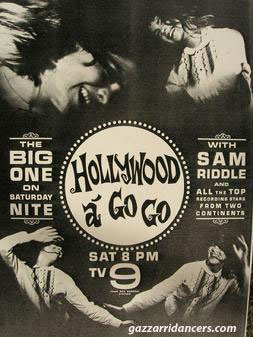 The text below is from a website that seems to have disappeared ( www.tv.com /shows/ hollywood-a-go-go/)
"Hollywood A Go-Go" was a Los Angeles based rock 'n' roll series hosted by Sam Riddle. The performers included many well known recording artists, as well as regulars The Sinners and The Gazzarri Dancers.
This 1-hour series was videotaped at KHJ-TV, channel 9. It premiered Dec. 26, 1964 as a local, LA program titled "9th Street a Go Go" (a spin-off of KHJ-TV's weekday series "9th Street West"). By the fifth show (January 23, 1965), it was rechristined "Hollywood a Go Go." In March 1965, the program became nationally syndicated. According to Chicago and New York City TV listings, national syndication began with Show #6. (Since other cities aired the episodes several weeks, or sometimes months, after the LA broadcasts, this guide lists the original LA air dates.)

Hollywood a Go Go's producer, Al Burton, wanted the set to resemble a Sunset Strip-style nightclub. This look was achieved through the use of lower ceilings, special lighting, and brick walls (which upon closer inspection were actually thin walls with painted-on bricks).

The Gazzarri Dancers, the show's go-go dancers, also contributed to the nightclub atmosphere. They didn't wear the wholesome, cheerleader-style clothing seen on other rock 'n' roll TV shows. And their dance moves were considered more risqu…at least for mid-1960s television. In a May 1965 article on the rock 'n' roll industry, TIME magazine made the outrageous claim that the Gazzarri Dancers' moves would "bring a blush to the cheeks of a burlesque stripper." The individual dancers were selected by Al Burton, with input from Bill Gazzarri, the owner of Gazzarri's nightclub on Sunset Strip.

A total of 52 episodes were produced for syndication.
---
Hootenanny was a syndicated folk music show that premiered on April 6, 1963, and expanded to an hour on September 21, 1963.  The host was Jack Linkletter, Art Linkletter's son.  It was broadcast on Saturday nights on ABC and taped from various college campuses.  The show honored the blacklist of the 1950s, in particular with regard to Pete Seeger, so many figures from the Greenwich Village folk scene did not appear, including Joan Baez.  The powers that be relented and said that Seeger could perform, but only if he signed a loyalty oath.  Which was ridiculous, since that's why he was on the blacklist to begin with.  Seeger, Baez, Peter Paul & Mary, and other big names did not appear, and soon the Beatles put the kibosh on the folk music genre. The last show was September 12, 1964.
---
Hullabaloo was a big time rock 'n' roll show that mixed adult schmaltz with great rock performers.  It was widely known for its frenetic dancers, including go-go dancer extraordinaire, Lada Edmund, Jr.  The show went on the air on January 12, 1965 on NBC (Channel 5).  It was on Tuesday nights until September 1965 when it moved to Monday nights.  The last show was August 29, 1966.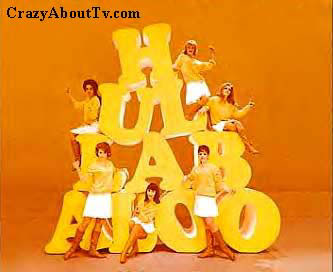 The show's owners made franchises available to people to open teen clubs with the Hullabaloo name, and there was one right here in St. Louis Park, in an industrial area commonly known as Skunk Hollow.  More about Park's Hullabaloo Teen Scene here.
---
In Concert was a showcase for bands of the era to be taped "in concert" and then broadcast on ABC on Friday nights. It was created by Don Kirshner.
The series premiered on November 24, 1972, preempting The Dick Cavett Show. The first episode was the broadcast of a concert taped at Hofstra University on September 21, 1972, with Alice Cooper, Bo Diddley, Curtis Mayfield, and Seals & Crofts. The second episode, broadcast on December 8, 1972, and again preempting Cavett, featured The Allman Brothers Band and Chuck Berry.  Don Kirshner had no direct connection with the show after the second episode except that the production credits listed In Concert as a "David Sontag Production" and a "Don Kirshner Production."
In January 1973, both The Dick Cavett Show and In Concert became part of ABC's Wide World of Entertainment programming block. Kirshner left in late 1973 to produce the syndicated series Don Kirshner's Rock Concert. In Concert continued to appear approximately every other Friday night until 1975 when it left the ABC schedule.  During its three seasons on the air, the series received four Primetime Emmy Awards.
---
JACK THAYER
Jack Thayer started out his career as a DJ on WLOL.  In August 1952 he went to work for WTCN radio and TV.  One of the first shows aired by WTCN-TV was Jack's Corner Drug Store, aired at 4:00 pm.. It started just days after WTCN went on the air: September 7, 1953. From the TV Guide: "Jack Thayer, emcee. The scene is the replica of a drug store. High School and college students are invited to the show." Another description went: "jivey teen-age dance get-together. Dance contest $180. Tangos, rhumbas, and other South American Favorites."
---
During the summers of 1954 and 1955, the show was alternately called Jack Thayer's Beach Party and Jack Thayer's Sun Fest. TV Guide again: "Broadcast from the veranda of the Calhoun Beach Hotel, overlooking beautiful Lake Calhoun."
After the 1955 Sun Fest, the show was renamed Record Hop. This is different from the Record Hop that started in 1957 (see below). It went off the air (partly because of the Mickey Mouse Club) on October 28, 1955.
Jack Thayer also had a Saturday night show, just called the Jack Thayer Show. It was broadcast at 10pm on Saturday nights on Channel 11. It ran from February 13, 1954 to June 25, 1955.  Photos are labeled "Lip Synch Show," if that's a clue to the format.
---
Lloyd Thaxton's Record Shop was a local show in Los Angeles that started in 1959.  In 1964 it went into national syndication via video tape.  It debuted here on September 7, 1964 and featured Frankie Avalon.  It was seen on Channel 5 at 4:30 daily.  At least at first, the show ran 55 minutes, with the last 5 minutes for Doctor's House Call before the evening news.  The last show locally was on December 30, 1965, replaced by Cheyenne.  Thaxton can be heard on the LP "Lloyd Thaxton Goes Surfing With the Challengers," released in 1963.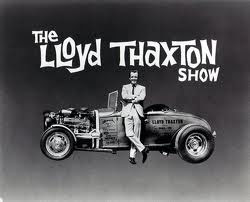 ---
Lucky 11 Dance Time was apparently a show hosted by Channel 11's Brad Johnson. TV Guides for that time are scarce; what we found was Dance Show, hosted by Brad Johnson and featuring 20 teen age couples who danced at the Calhoun Beach Hotel. The only evidence  we have is in the May 29, 1961 volume of TV Guide. (It is not in the February 11 edition nor the July 1 edition.)  It aired on Saturday at 2:00.  Brad Johnson substituted at least once for Dick Clark on American Bandstand, presumably when the show was still broadcast from Philadelphia.
---
Midnight Discotheque was aired at the strike of midnight, December 31, 1964.  It promised the latest in dancing, with hostess Mary Davies (aka Carmen the Nurse).
---
Midnight Special was a syndicated show broadcast on Friday nights on NBC.  From Wikipedia:
The Midnight Special was a late-night musical variety series created and produced by Burt Sugarman. It premiered as a special on August 19, 1972, then began its run as a regular series on February 2, 1973; its last episode was on May 1, 1981. The 90-minute program followed The Tonight Show Starring Johnny Carson.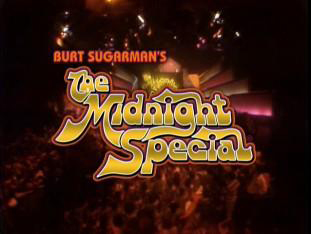 Like its syndicated late-night cousin Don Kirshner's Rock Concert, the show typically featured guest hosts, except for a period from July 1975 through March 1976 when Helen Reddy served as the regular host. Wolfman Jack served as the announcer and frequent guest host. The program's theme song was performed by Johnny Rivers.
The Midnight Special was noted for featuring musical acts performing live, which was unusual since most television appearances during the era showed performers lip-synching to prerecorded music.
---
Music Scene was broadcast by ABC for 17 episodes, from September 1969 to January 12, 1970.  It was hosted by David Steinberg, with guest hosts.  It aired on Mondays at 6:30 pm on Channel 9 – curiously for 45 minutes.
---
9-Teens went on the air on October 24, 1955 on TV station KEYD.  An article in the March 18, 1956, Minneapolis Tribune explained:
An appraisal of television programming early last fall convinced the staff of KEYD-TV that TV shows are almost entirely geared to moppet or adult audiences.
KEYD thereupon decided to allow time for teen-age interests.  After consultation with a group of Twin Cities teen-agers, the station invited high school students of this area to take over daily programs devoted to teen-age activities – sports, fashion shows, displays of talent, hobbies, panel discussions, clubs and the like…
The first magazine-type "9-Teens" show went on the air last October 24 and was produced by students of Murray high school, St. Paul.  Since then Twin Cities teen-agers have written, produced, directed and staged more than 100 such shows.  The show now and hour long, can be seen from 5 to 6 p.m. daily Monday through Friday.
Highlighted in the article were singer Irene Borsheim from Wayzata; German band and dancers from Bloomington; chemistry demonstration by Judy Sausen and Rosalyn Carroll of Holy Angels Academy; and fashion designers from Sibley High.
---
Platter Party was a 15 minute show on Channel 4 in Fargo, hosted by Pete Evenson.  He could have been playing Elvis Presley or Montovani for all we know.  All we know about this is a listing of July 1957 in the northern edition of the Twin Cities TV Guide.
---
Shortly after American Bandstand went national in  August 1957, there was a local teen show called Record Hop. Our records are spotty, but we see Record Hop with Jim Eddy listed in the local listings at 4:30 on Saturday on Channel 9, starting in October or November 1957. In February 1958, Eddy is described as a singer in an article in the St. Louis Park Echo.  Jump to May 1958, and the host is Jere Smith. In December 1958 the host is listed as Don Anderson, but in January 1959 it says Dan Anderson is listed as the host. There was a Dan Anderson who was a DJ at WLOL at the time.
---
The Red River Valley Gang was WCCO's competitor to KSTP's Sunset Valley Barn Dance.  Top photo from 1948 is from the Minnesota Historical Society.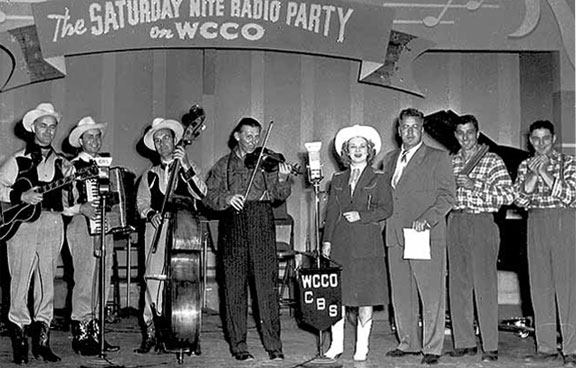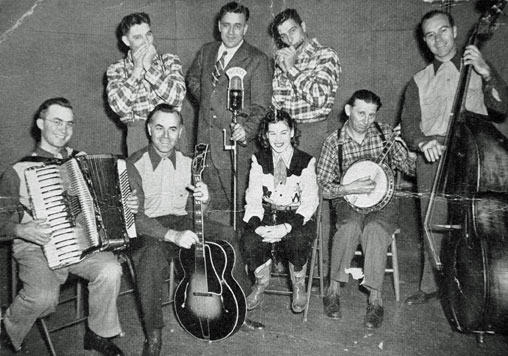 The photo above has names:  Ernie Garven, Eddie Plehal, Hal Garven, Bob DeHaven, Linda Darling, Tom Plehal, Irv Wickner and Dick Link.
---
Shindig! was broadcast from September 16, 1964 to January 8, 1966 on Channel 9 (ABC).  In the beginning it was broadcast at 7:30 on Wednesdays.
The following comes from http://www.tv.com/shows/shindig/: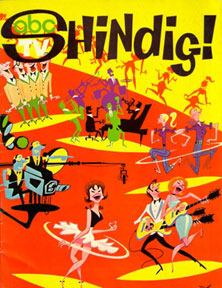 Shindig! was created and produced by Jack Good who had previously produced rock 'n' roll TV shows in his native Britain. With such shows as "Oh Boy!," "Wham!" and "Boy Meets Girls," he perfected his type of fast-paced rock 'n' roll series. In 1962, Good produced a pilot for American TV titled "Young America Swings the World" which was originally ignored, but eventually became one of three Shindig! pilots.

Shindig! premiered on September 16, 1964. During its first season, Shindig was broadcast Wednesdays at 8:30pm Eastern. Premiering as a half-hour series, it expanded to an hour in January 1965.

Most of the top American and British rock/pop acts of the mid-1960s appeared on Shindig!. The British performers often appeared in segments taped in the U.K.

Shindig! was different from the rock 'n' roll programs previously seen on American television. Shindig's music appeared to be non-stop, often only interrupted by the commercial breaks. And the performances were live…or so it seemed. In recent years it's been revealed that the backing music and many of the vocals were pre-recorded. The music and vocal tracks were recorded a day or two before the episode was videotaped. To make sure that these "mimed" performances looked live, the performers rehearsed numerous times.

Shindig! was hosted by Los Angeles disk jockey Jimmy O'Neill. Other series regulars included The Blossoms, a female group [featuring Darlene Love] who provided the back-up singing. The Wellingtons were the male back-up singers. (Another male group, the Elgibles, often appeared in place of the Wellingtons.) There were also the Shindig dancers, a troupe made up of 10 (or so) young women who performed choreographed dances.

Shindig also had a roster of performers who appeared on a semi-regular basis. These included The Righteous Brothers, Glen Campbell, Donna Loren and Bobby Sherman.

Unlike other shows of the time, Shindig! did not have its own theme song. (The 1965 Shindig! LP begins with a "theme" song, but it's unlikely that it was ever performed on the TV series.) Most of the Shindig! episodes began with an opening song or medley performed by the Shindig guests and regulars. The medley consisted of short excerpts from current hits, vintage rock 'n' roll songs, along with gospel, country and folk songs. And the episodes ended with a finale, with a different song performed each week.

Shindig ignited a (short-lived) trend in television which could probably best be described as "rock 'n' roll…with go-go dancers." In January 1965, NBC introduced Hullabaloo, a variety show featuring rock 'n' roll guests and Shindig-type dancers. A few months later, the syndicated rock shows Hollywood A Go-Go and Shivaree premiered. And in July 1965, ABC added Where the Action Is to its weekday schedule. While Action's format was different from Shindig, it did feature a troupe of dancers called "The Action Kids." Shindig's influence can also be seen in two theatrical movies: "The T.A.M.I. Show" (recorded in October 1964) and "The Big T-N-T Show" (1966).

Instead of airing reruns, ABC produced new Shindig episodes for the Summer of 1965.

The final Shindig! episode produced by Jack Good aired on June 30, 1965. Beginning with the July 7, 1965 show, former Shindig director Dean Whitmore took over as producer.

For its second season, Shindig!was split into two 30-minutes shows airing Thursdays and Saturdays at 7:30pm. The episodes from 30 September 1965 through 30 October 1965 featured guest hosts.

Shindig's cancellation was announced in late October 1965. Dean Whitmore has often been blamed for the downfall of the series. Supposedly, when Whitmore took over, the show lost its pacing. To be fair, most of the episodes that aired from July through October 1965 are actually quite good. Although there were some changes, Whitmore didn't drift too far from Jack Good's original format. It remained a fast-paced show. Even the addition of guest hosts didn't hurt the show too much. Instead of taking over the whole show, the guest hosts usually sang one song and introduced a few of the other acts.

What probably hurt Shindig's popularity was the large number of rock 'n' roll shows on U.S. television by the Fall of 1965. As mentioned earlier, "Hullabaloo," "Hollywood A Go-Go," "Shivaree" and "Where the Action Is" were on the air. ABC also had the long running "American Bandstand." In September 1964, "The Lloyd Thaxton Show," previously a local Los Angeles series, became nationally syndicated. As if that wasn't enough, almost every large U.S. city had its own local rock 'n' roll TV series.

Another factor affecting Shindig's ratings had to have been time-shifting by local affiliates. Many ABC affiliates chose not to air Shindig in its regular Thursday/Saturday 7:30pm time slot (opting for syndicated or locally produced programs). These stations usually moved Shindig to non-prime time hours. While some time-shifting occurred during the first season, it became even more wide-spread for Shindig's 2nd season.

It wasn't until after the cancellation was announced that Shindig's quality started to decline. The Shindig! episodes from November 1965 through January 1966 are an odd mixture of programming. While some of these final shows resemble Jack Good's original series, there were others that looked nothing like Shindig and have nothing to do with rock 'n' roll. Examples of this are the episodes spotlighting Louis Armstrong (4 Nov 1965 & 11 Nov 1965); George Maharis (27 Nov 1965) and Johnny Mathis (25 Dec 1965).

Shindig's cancellation was part of a mid-season reshuffle at ABC, which the network called "The Second Season." The final Shindig aired on January 8, 1966. As if to add insult to injury, many of the songs performed on that final Shindig were presented as sketches saluting the new ABC shows! One of these sketches was a tribute to "Batman," the series that replaced Shindig!
---
Shivaree began as a local Los Angeles-based program on KABC-LA. It became syndicated in April 1965 and aired in more than 150 markets in the U.S. and seven countries internationally. Shivaree was created and hosted by LA's top all-night DJ, Gene Weed, once a president of the Academy of Country Music.  As a senior VP at Dick Clark Productions, he produced many awards shows.  The show made its Twin Cities debut on Saturday, April 17, 1965, on Channel 11 at 9 pm.  At some point it moved to Sundays at 2:30 pm, still on Channel 11.  As far as we can tell, the last show was broadcast locally on May 15, 1966.  Here's a clip from Shivaree with one of my favorite songs.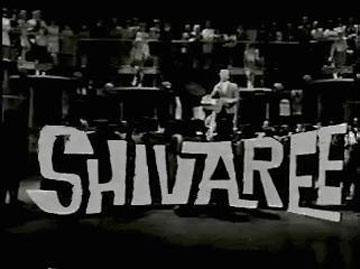 ---
Showcase '68 was a summer show that aired on Tuesdays at 7pm on KSTP.  Lloyd Thaxton was the host, and the show originated from a different city each week.
---
Something Else
Something Else was a weekly half-hour syndicated series that was much like "Where the Action Is" – music videos of performers lip-synching to songs at various locations, mostly in California.  The first host was John Byner, who seemed to be more into John Byner than the music, which was performed by the latest rock groups and singers.  There were three performers per show, some doing their hits, some other material.  As with Shindig and Hulaballoo, there were female dancers, called the Action Faction Dancers. 
At some point Byner was mercifully replaced by John Hartford, and the rock stars were interspersed with singer-songwriter friends of Hartford's.  There was a lot of Hartford playing the banjo.

The show changed considerably over the year, from Byner's goofy dancing trash can routine at Malibu, to Dr. John's spooky Voodoo act toward the end.
Here in the Twin Cities, the show debuted on January 18, 1970, on Channel 5, which was then NBC, at 4:30 on Sunday.  On June 1, 1970, it was moved to 6:30 pm on Monday, where it stayed until September 1970.  In October 1970, it moved to 3:30 pm on Saturdays.  The last time it shows up in the regular listings in the paper is on March 6, 1971.  For some reason, it is not listed in imdb.com or wikipedia.com. Some episodes are on YouTube.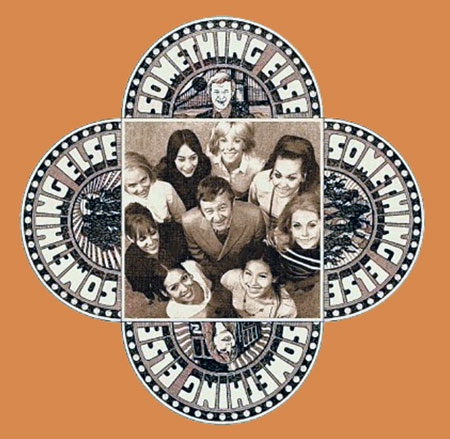 Jeff Lonto found a local ad for the show in the TV Guide dated July 6, 1970: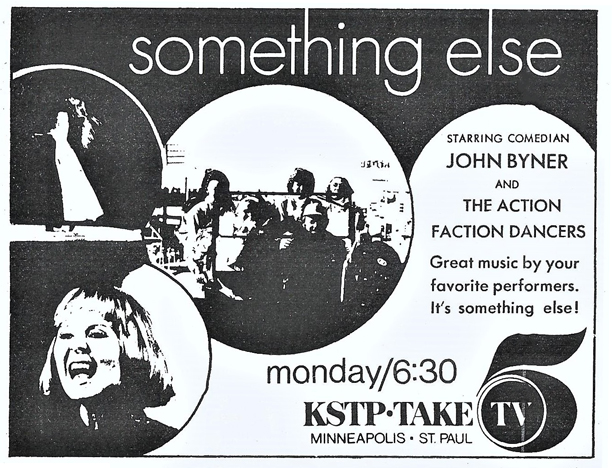 And online there is this:  as Jeff points out, the show was sponsored by the American Dairy Association (likely to get more young adults and teenagers drinking milk).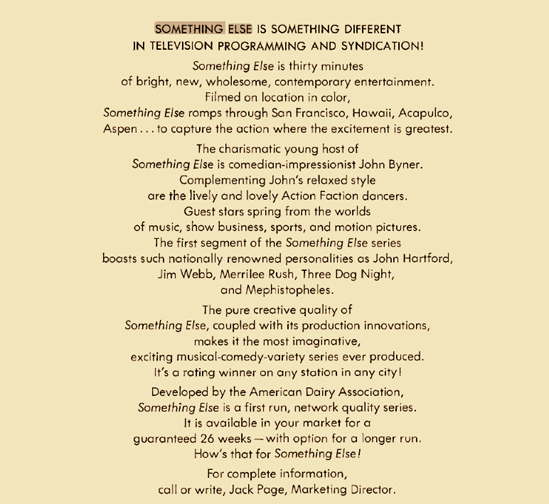 The Polaroid Land Camera may have become a second sponsor. 
Thevideobeat.com sells a DVD with nine episodes that include Number 33, so there were at least that many.  Whether they were all shown in this market is unclear.  Jeff also notes that TV Guide, for some reason, sometimes only listed it as "VARIETY SHOW–John Byner."
---
Soul Train began as a local daily dance program in Chicago on August 17,  1970, with Jerry Butler, The Chi-Lites and The Emotions as guests on the premiere edition. The success of the local version led to the start of the nationally-syndicated version on October 2, 1971.  Don Cornelius served as the host through 1993, though he remained the show's main creative force from behind the scenes. The following fall, Soul Train began using various guest hosts weekly until comedian Mystro Clark began a two-year stint as permanent host in 1997. Clark was replaced by actor Shemar Moore in 1999. In 2003, Moore was succeeded by actor Dorian Gregory, who hosted through the last original episode on March 25, 2006.  Dancer Pat Davis appeared in 84 episodes.  Cornelius died in 2012.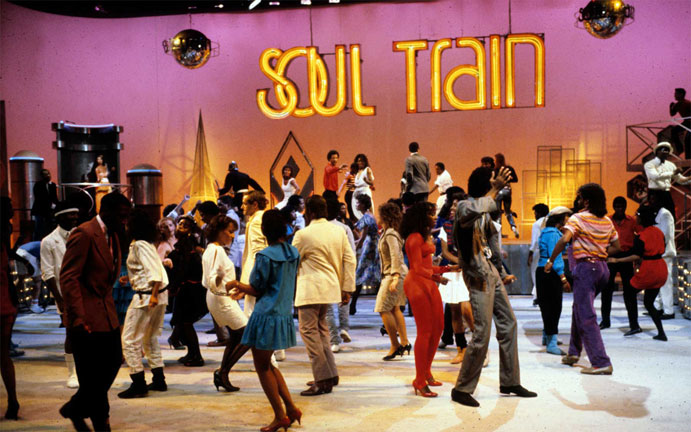 ---
Soul Unlimited was an attempt by Dick Clark to attract some of the Soul Train audience.  It premiered on March 10, 1973 in place of "American Bandstand," and actually featured some of the same dancers that were on Soul Train.  Two other episodes were broadcast on March 24 and April 14, but pressure was put on Clark to cut it out, so that was the end of it.  The whole story is very well told by Stephen McMillan, who among other accomplishments, was a Soul Train dancer.  See the story Here.
---
Sunset Valley Barn Dance with David Stone premiered on radio on October 26, 1940.  It was one of a number of old-time country shows that were patterned after the National Barn Dance, which was broadcast on WLS in Chicago starting on April 19, 1924.  By 1930 WLS had 50,000 watts of power and the show reached people in over 20 states, broadcasting for four hours on Saturday nights.  Other such shows were the Louisiana Hayride, and the WSM Barndance, which became the Grand Ole Opry.  The only such show that exists today is in Renfro Valley, Kentucky.
In 1948 it expanded into television. The show was very popular, and lasted well into the 1950s. As with the original, Sunset Valley had a regular cast of musicians and singers. Regular guests of the show included Fiddlin' Hank, Kim Weston, Cactus Slim, Trapper Nash, and Glenn Burklund. Little Genevieve Hovde was probably the youngest member of the troupe and is still going strong today. Author Gerald Barfuss published the book, "David Stone in Sunset Valley," which detailed the history of the Sunset Valley Barn Dance. Here's an aircheck, courtesy of the Pavek Museum of Broadcasting.
Songbook below is from 1955.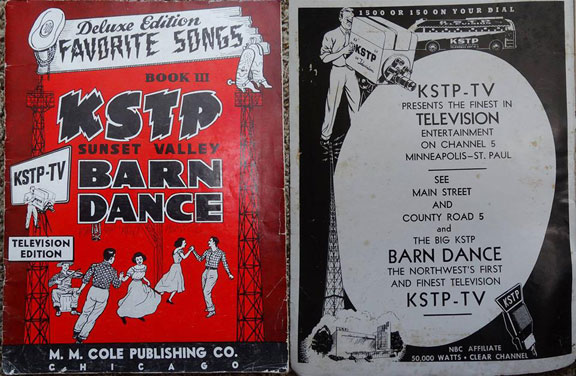 ---
For one week in August/September 1964, there is a TV listing (presumably local) for Teen Shindig, a special starring Jerry Smith (could this be Channel 9's Jere Smith?). The live, one-hour show featured teenage instrumental and folksinging groups – and five contestants for Miss Teen Northwest. By the end of the week, all the contestants were there, and one wonders whose shindig this is..
---
This Must be the Place was a nighttime variety show hosted by Bill Carlson on WCCO.  He often had musical guests; the guys at TC Media Now have found this clip of Leo Kottke and Michael Johnson from the show dated May 19, 1973.
---
Upbeat (Local) was hosted by Dino Day from A Date With Dino (See above.)  It was filmed on Friday nights at the Marigold Ballroom starting on August 1, 1965, and aired on KMSP-TV (Channel 9), first on Sundays from 2-3 and starting on October 9, 1965, on Saturday afternoons from 1:30 to 2:30.  Were you one of the Upbeat Dancers?  Some of the groups that appeared on the show at the end of 1965 were Cannibal and the Headhunters, Bobby Sherman, the Castaways, the Echomen, the Trolls, the Luvs. Also listed was Scott Burton, WDGY DJ.  The last broadcast was on February 19, 1966.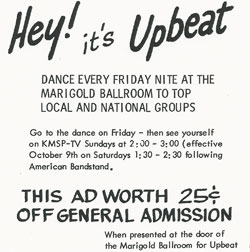 The ad above is from Twin City a' Go Go, September 1965.
---
Upbeat (National) was a syndicated show out of Cleveland, hosted by Don Webster.  It went on the air here in the Twin Cities on June 11, 1966, on Channel 11, Saturday afternoons.  It ended on January 27, 1968.  (The show started in Cleveland in 1964 and ended there in 1971.)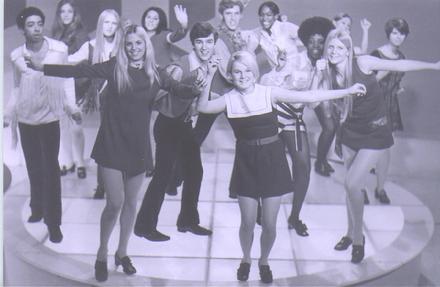 From www.upbeatdancers.com:  (apparently not in service anymore)
1964 to 1971 Upbeat was one of Americas top television shows, syndicated in over 100 cities. It was Simon & Garfunkel's first TV appearance and Otis Reddings's last. Nearly every major rock,soul, and pop artist performed on Upbeat: The Who, Three Dog Night, Iron Butterfly, Steppenwolf, Kenny Rogers, James Brown, Sly & The Family Stone, The Temptations, Stevie Wonder, and many many more. But the recording artists weren't the only stars to appear on the show. The Upbeat Dancers (choreographed by Hank Nystrom) created the latest dance crazes, influencing contemporary dance in America. Upbeat was produced by Herman Spero and hosted by Don Webster. Note: One of Upbeat's original theme songs "Hey Let's Go With The Upbeat Show" was written by Dave C.
 Local group the Nickel Revolution performed their minor hit "Oscar Crunch" on the show in late November 1968 and the show aired that December.  See the Nickel Revolution's blog about the event and how they hated the bubblegum song they were forced to record.
---
Where the Action Is was a Dick Clark spinoff of American Bandstand that aired daily after school.   It debuted on June 28, 1965, and ran til March 31, 1967.  Locally it was aired at 3:30 on Channel 9, an ABC network show.  It was advertised as a show that "goes where the action is – on location to film big-beat performers."  On the first show they went to the beach (for the Beach Boys) and the Whiskey a Go-Go (for DeeDee Sharp-except she's from Philadelphia). Regulars on the show were Linda Scott, Steve Alaimo, Paul Revere and the Raiders, and the Action Dancers.  The show came to Minneapolis – see 1966 under Events.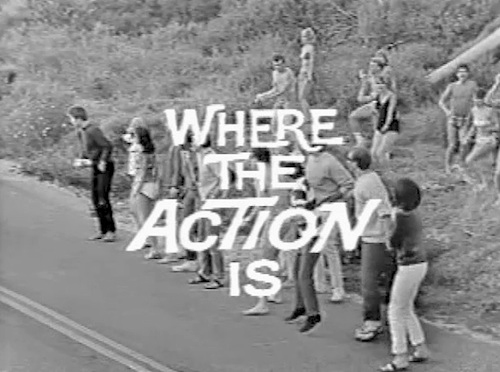 ---
Your Hit Parade premiered on the radio on April 20, 1935.  In the days when the song was more important than the singers, a cast would count down the top songs of the day.  The show was aired for an hour on Saturday nights until January 16, 1953.  In the summer of 1950 the show branched out to television and was quite popular, especially with the cast of (clockwise from top left) Snooky Lanson, Russell Arms, Giselle McKenzie, and Dorothy Collins.  Rock 'n' Roll basically killed the show – as one critic noted, it became hard to watch Snooky Lanson sing "Hound Dog" with his "s**t-eating grin."  He said it, not me.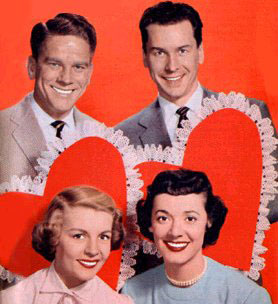 ---
OTHERS
There were many local teen shows around the country, with names like Shebang (originated from Los Angeles and was hosted by Casey Kasem); Swingin' Time; and Steamroller.  I don't know if they were shown in the Twin Cities.
Save
Save