4444 W. 76th STREET, EDINA

In 1969, after working at Kay Bank Recording Studio, Tom Jung and Herb Pilhofer founded Sound 80 Studio, named by Brad Morrison, the same ad man, believe it or not, who had previously christened a Hormel Ham Cure 81 (perhaps while sipping Vat 69 scotch).
Sound 80 was initially located on the campus of a business called "Empire Photosound" at 4444 W. 76th Street in Edina. Empire Photosound was a filmmaking company that Sound 80 worked with from time to time.

---
2709 EAST 25th STREET, MINNEAPOLIS
In the summer of 1970, Sound 80 began to build a new studio.
Mike Barich, staff photographer for Connie's Insider, was on hand to memorialize the first "recording session" at the new location.  Dale Menten kindly provided the names.  Dale wrote, "I guess you could say we were laying down foundation tracks, but please don't."  I did!
Here's another photo from that day.  Is that Herb Pilhofer on top of that pile of dirt?
On March 9, 1971, the Minneapolis Star announced that Sound 80 had moved into its new building.
The January-March 20, 1971, Connie's Insider reported that Sound 80 was all moved in to its new studios and would host an open house soon.
In April 1973, the Insider included an ad that described the facility's studios:
Studio 1, the largest of five, is uniquely designed to allow musician, engineer and producer to maintain eye contact throughout the session.  Three acoustically sealed panes of glass surround the control room to create a "together" feeling.  And our 32-track interlock recording system, developed by Sound 80's team of expert design engineers, really gets it all together.
Studio 2, with 16-track capability, was specially designed for smaller groups (accommodating up to twelve musicians) and is decorated and lighted to create a feeling of closeness and intimacy between the performers.
Studio 5.  In the Neumann stereo MASTERING studio, tape-to-tape transfers are handled through a specially designed console.
---
In the March-April, 1974, issue of the Insider, Sound 80 placed an ad listing the new equipment it had added to its studio:
Two new recording consoles
New multi-track recorders
20 channels of Dolby
SX-74 cutterhead
"Time line" digital time delay
New Sound 80 Biamplified Monitor Systems
New 9′ Steinway concert grand piano
It was here in December 1974 that Bob Dylan re-recorded half of his album "Blood on the Tracks" with a group of young Minneapolis musicians. Paul Martinson was the engineer on those sessions.
In the spring of 1978, 3M brought a prototype digital tape machine into Sound 80 (nicknamed "Herbie" after Pilhofer). Head engineer Tom Jung recorded what are believed to be the first commercially released digital recordings: a jazz album with Flim and the BB's, and two classical albums, both with the St. Paul Chamber Orchestra, one of which won a Grammy for Best Chamber Orchestra Recording in 1979. Jung resigned from Sound 80 in 1979, moved to New York, and continued to be a pioneer in digital-audio technology.
The studio is now the headquarters of Orfield Laboratories, whose anechoic chamber, is labeled the world's "quietest room" (measured at −9.4 dBA) by the Guinness Book of World Records as of 2012. The quiet is too much for most people – the record for enduring the silence is 45 minutes, and even the man who created it, Steve Orfield, can't stand to be in there for more than half an hour.
Orfield lab also achieved the designation for their friends at Sound 80 as "the world's first digital recording studio" in the 2006 Guinness World Records. The first record released under the Sound 80 Digital label was "Appalachian Spring," by the St Paul Chamber Orchestra in 1978, which won an American Grammy Award, the first Grammy Award for a digital recording. The two main studios are still fully intact, and they are filed for historic designation by the State and the Federal Government.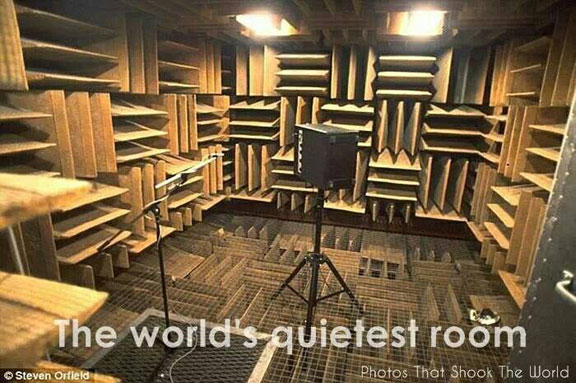 Sound 80  – the business – still exists in another space.