This page covers the following record stores:
North Country Music:  1970 – 1973
Oar Folkjokeopus:  1973 – 2001
Treehouse Records:
---
NORTH COUNTRY MUSIC
Lake Street and James Ave.
In December 1970 St. Louis Park grad Wayne Klayman used money he had saved through Junior and Senior High to open a record store in a house on Lake Street at James Ave. called North Country Music, named after Dylan's "Girl from the North Country."  Klayman considers it "more of an experiment than a store but we did have customers. I don't know how but we did." North Country Music (or simply "North Country" as it was known to its loyal regulars) was a buy and sell used shop but also sold new LPs for an unheard of 25 cents over cost. The 18 year old music freak owner, angered by the high price of music, started the store on a shoestring (and his own personal collection) believing that if you gave people a great deal, they would come.  Klayman explains his motivation:
I went to the Wax Museum used record store on 7 corners every day in 1970 and I was so inspired that I wanted to try it myself. They were buying promotional use records from someone in town and often had a "used" copy of a new album before it had been released! This was illegal as hell, but since selling "used" records was new, uncharted territory, the enforcement of selling promotional copies of records was not being done, despite the large sticker glued to each LP cover with the words: "for promotional use only! Not for sale!!"  It was a joke. The Wax Museum was buying and reselling a shitload of hot new releases from someone. I mean a lot! My entire collection was largely promos bought at the Wax Museum! And I wasn't the only one. I was such a regular, they would "hold" a copy of something I wanted until it came in "used" – usually the next day!! "Layla," the double LP set, was an example. Just out and expensive at $40-$12, I asked whether they'd be getting any "promos" in of that one. They said they'd had it many times but it sells immediately – they agreed to set aside the next copy for me, which they sold for $3.80.
Someone was making HUGE money selling these promos to the Wax and NOT giving them to the people who were supposed to be getting them free of charge. A lot of product went through that place. I suspected that it was a salesman or two at a major distributor that had a huge volume on all labels. When I opened my store I had hoped to find out, but by then the heat was on and I think the well ran dry. I never "bought" promo material from anyone, though I had wanted to. I think it was my salesman at this distributor because he looked familiar to me when he came calling on North Country to open an account. I probably saw him at the Wax on one of his secret visits there. He always denied it though…it was quite the scam while it was going! At least 100 – 150 LPs each week! At $1 each? In 1970? All pure profit. The Wax sold them for $2! They were essentially new. Not shrink wrapped but never touched or played.
The first day North Country was open, with no advertising or promotion, the entire inventory sold out and the store closed until it was restocked the following day. This went on until the store became self-sustaining.  During that time the store sponsored a concert at the Minneapolis Armory, bringing in the bands the MC5 and SRC on April 16, 1971.
---
At the end of April 1971, burglars stole the store's $1,500 stock.  Police caught one of the robbers selling the records out of his station wagon at Lake Calhoun a few days later – he had forgotten to take off the North Country Stickers.  The Insider reported that "Klayman recovered enough stock to pay off all bills.  He was even, disillusioned, and determined not to go back into business."
---
2118 Lyndale
But in July 1971 Wayne convinced Doug Ackerman to front him $300 worth of records and he reopened North Country at 2118 Lyndale Ave. So. in a former flooring store.  Again it was an instant success, and Saturdays were often so busy it was hard to turn around.
---
The Electric Fetus picketed the store, saying it wasn't being fair charging so little. A city-wide price war among headshops was detailed in an article in the September 1972 Insider.
By March 1972 North Country had so outgrown 2118 Lyndale that customers couldn't turn around. One of Klayman's employees spotted the for rent sign down the block at 2557 and as soon as he saw it he rented it.  They moved in the middle of the night and reopened the next morning.
---
2557 Lyndale
---
Klayman operated his store until February 1973, when he sold it to Vern Sanden, a regular customer at North Country.  Klayman remembers:
Vernon was a middle aged man, very conservative looking, who worked as an air traffic controller – a very unlikely looking future underground record store owner. But he loved music, especially British underground, as I did. He would come into North Country every day to see what new "used" stuff we had. He said my store was the kind of store he would love to own.  A place owned by music freaks who were knowledgeable and passionate. A place where fellow music freaks could hang out and talk music with no pressure to buy anything. That was my vision and that was what North Country was all about. Vern liked us so much, he often asked me, "If you ever want to sell North Country, I'd like to buy it." I never really thought I would want to, but I was 19, and working seven days a week so I kept his offer on my back burner. Then, in early '73, I had an offer to move to California and work for a record chain. It sounded tempting and Vern was still eager to buy me out, and a few months later, he did.
---
OAR FOLKJOKEOPUS
Sanden renamed it "Oar Folkjokeopus," a name based on the solo album "Oar" by "Skip" Spence of Jefferson Airplane and Moby Grape, and an album by British folk musician Roy Harper, "Folkjokeopus."
Klayman:
Vern clearly took the store and personality that I built and made it a very successful and popular store with his own brand and signature and that unusual name. I give him much credit for that, but he also bought a turn-key business that had loyal paying customers on the very first day, for a song. The foundation had already been laid for him. He turned a profit on day one. A pretty sweet deal for him, and not such a good deal for me. But I was young and dumb and wanted a change and that's OK. But I was always a bit miffed that he never once referred to me or my store as ever having existed.
---
Vern hired Peter Jesperson in April of 1973.
For the first year and a half Jesperson worked the counter, and became the store manager in September 1975.  He was there through June of 1983.  Jesperson co-founded Twin/Tone Records during the fall of 1977, and the store as well as the label thrived due in large part to each other. The trifecta of Twin/Tone, the Longhorn, and Oar Folk largely fueled the punk and rock scene in Minneapolis during that era. Bands such as the Replacements, Suburbs, Flamin' Oh's, Hüsker Dü, Soul Asylum, Jayhawks, and Curtiss A all maintained links between the three.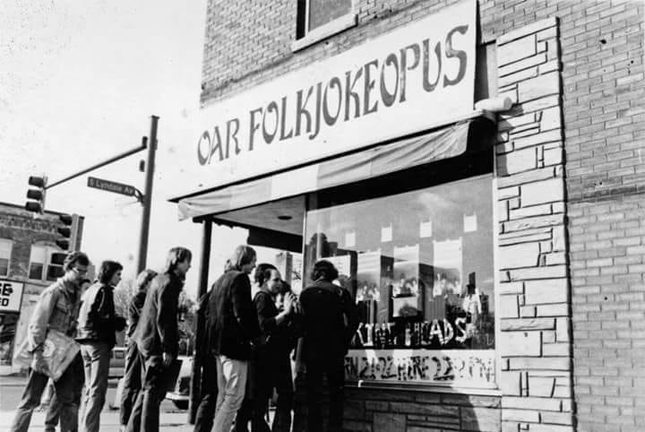 A fire on October 7, 1985, completely gutted Oar Folk and destroyed its inventory.  In December 1985, a temporary location was opened at 2635 Nicollet Ave.  Vern Sanden reopened the record store with the help of Mark Trehus, who ran his own indie record label, Treehouse Records.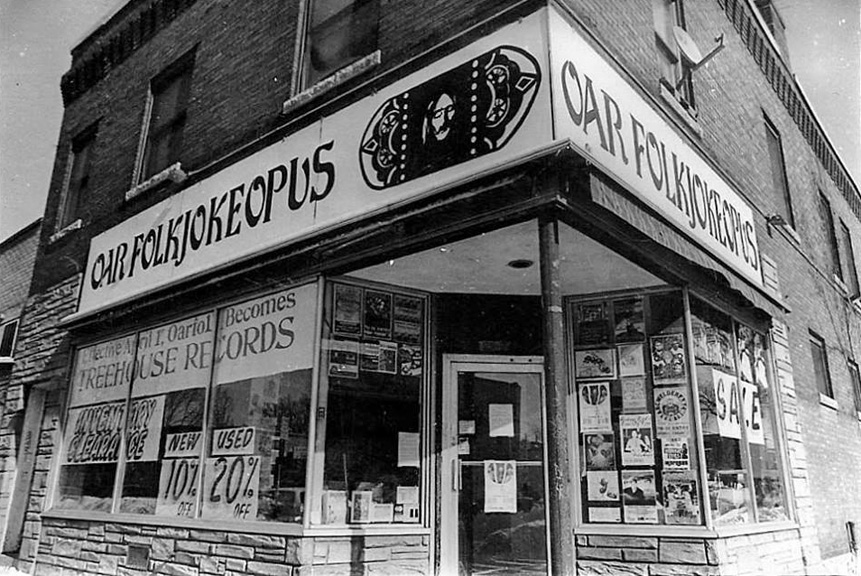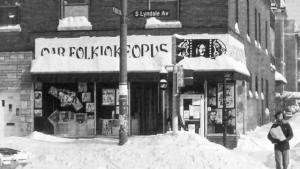 Oar Folkjokeopus closed on March 31, 2001.
---
TREEHOUSE RECORDS
Mark Trehus opened a store at the same site with the name  Treehouse Records.