WYOO/U100 – 980 kc
980 AM was originally staid WPBC from 1949 to 1972.  Apparently WPBC was trying to hang on:  an ad in what appears to be called WPBC Metropolitan Magazine, dated April 1972, says:
WPBC MAKES THIS BOLD CLAIM:  IF you are an ADULT ….. who likes POPULAR MUSIC from TODAY and YESTERDAY but your nerves can't stand the LOUD NOISY TEEN-AGE MUSIC….. YOU WILL LOVE the GENTLE TENDER TOUCHING RELAXING selection of EASY LISTENING POPULAR MUSIC on WPBC AM and FM STEREO!  It's MODERN… but MILD!  It's IN… but NOT far out!!!!  Try it for a week.  You'll LOVE IT!!!!!
Well, they didn't love it and at noon on November 2, 1972, oldies station WYOO signed on for the first time with "See You Later Alligator" by Bill Haley and His Comets.  WYOO was owned by Fairchild Industries, an Aeronautics company from Maryland that was looking to diversify.  The new manager of operations was William Stewart, ironically replacing WPBC owner Bill (and wife Becky Ann) Stewart.  General Manager was Marlin D. Schlottman, formerly with WLOL.
On August 26, 1974, the oldies format became "boogie," with KDWB alumnus Rob Sherwood heading up a wild and crazy format as U100.  Sherwood and the rest were at their antic best, cooking up contests and announcing test answers to kids.  Check out airchecks and more at www.radiotapes.com/WYOO.html and http://twincitiesradioairchecks.com/wyoowrah.html  The photo of the station (in Eagan) below is from 1974.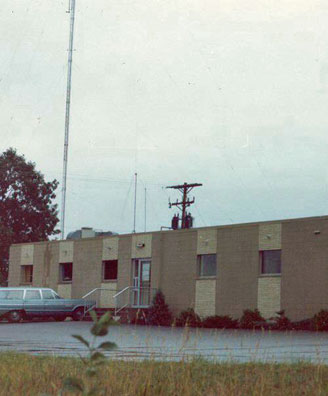 U100 signed off on September 15, 1976.  KDWB took over WYOO-FM and WAYL took over WYOO-AM.
Save