TWIN CITIES MUSIC VENUES


This is just one page of my website, Twin Cities Music Highlights
There were tons of dance and music venues in the Twin Cities and the surrounding area. If you have any to add or corrections to make, please contact me!

SOURCES

Much of the information on jazz venues comes from Joined at the Hip: A History of Jazz in the Twin Cities by Jay Goetting, MHS Press (2011). A must read.

A tremendous resource is a Ph.D. thesis written by Robert A. Stebbins in 1964 The Jazz Community: The Sociology of a Musical Sub-Culture. Chapter 4 is a history of jazz in Minneapolis and contains detailed information on performers, dates, etc. He also provided an incredibly detailed list and description of the various jazz venues - using sources such as telephone books he researched when various venues existed, and in many cases noted house bands and traveling bands that came through. A huge find!
The Minnesota Historical Society has copies of an apparently short-lived newspaper called the Republican Register, dedicated to electing Dewey for President. The copies run from 1941-1944 and for some reason included ads by just about every bar in the Twin Cities and surrounding area. No explanation for this, but it is a treasure trove of information for venues with live entertainment.
And, of course, many of these photos and information come from the folks on Facebook. I try to get permission to quote people and give credit on the photos. If I've grabbed one of your photos and not given you credit, please let me know!
---
PROTOCOL
If there were more than one club at a single location, I have alphabetized them with pointers to the original club. Thus, if the Huddle existed before Arturo's, the entry for Arturo's would say "See the Huddle" and any information about Arturo's would be under the Huddle. Hope that's clear.
Also, hotels are not listed under H but under their other name, thus Nicollet Hotel, not Hotel Nicollet.
---
Acme Palm Garden, St. Paul - jazz venue
---
Addison's Bar and Lounge, 1504 E. Franklin, Minneapolis. Don't know anything about this place, but I found this matchbook online, so what the heck? Besides, doesn't "lounge" call for a lounge singer?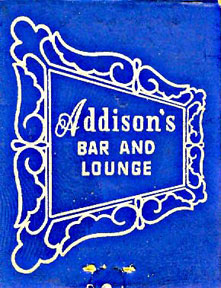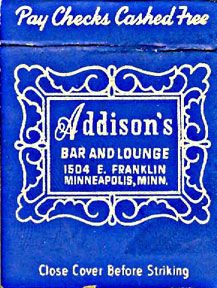 ---
Adolph's, Robbinsdale - jazz venue
Alary's: See Heinie's
Alkali Ike's Eatery and Saloon was on Highway 101 just north of the 7-Hi Shopping Center in Minnetonka. In July 1973, Jody and the Jonquils performed nightly in the Saloon: "Their original dance routines and their variety of pop tunes, country western music and show tunes have entertained thousands of audiences." Another ad was for Delores Del-Rae and Her Vitamin E Trio - I'll bet that was a fun act!
Allen's Tavern, St. Paul - jazz venue

The Aloha Club Ballroom was on Highway 13, 2 miles west of Prior Lake in 1954. Dance by Moonlight - comfortably heated - on Beautiful Spring Lake. No age limit. Percy Hughes, Judy, and Dickie Mayes performed Fridays and Saturdays in April.
Alpine Room: See the Chalet.
The Alps: 801 E.78th Street in Bloomington. A new (1999) building sits there today. Was originally supposed to be part Dixieland and part Rock, but the Dixieland was quickly dumped. Had three levels and was frequented by stewardesses, pilots, and other airline folks due to its proximity to the airport. In 1967 it had a "super soft" sound. The Jokers Wild played several dates there, as did Danny's Reasons. The Insider reported that as of December 1968 it had been closed for many months because it was too noisy for an adjacent trailer court.

Alvin Burlesk: Not sure a strip joint belongs here, but their ads appear in every paper, including the Minnesota Daily! One from December 1944 in the Republican Register advertises a show with a cast of 40, including Jessica Rogers and Jack Diamond. The ad doesn't give an address but seems to indicate the name was Alvin and Hirsch's. In 1952 Dagmar was all the rage.
---
Ambassador Motor Lodge, Highways 100 & 12 in St. Louis Park. The Ambassador (1961-1991) had three possible music venues:
The Kashmiri Room was the main restaurant and had a dance floor. The Percy Hughes Trio was the house band from 1973 to 1982.
The Cocktail Lounge might have had some live music.
The Mandalay Lounge had a piano bar, for many years featuring Marilyn Sellars. It was apparently renamed Manders.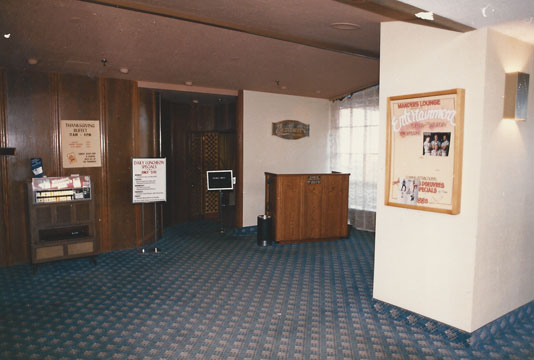 This is the entrance to the Kashmiri Room and a poster with entertainment info for the Manders Lounge.
---
Ames Lodge, Number 106 of the Improved Benevolent and Protective Order of Elks - See Elk's Lodge
---
ANDY'S
This building at 14 North Fifth Street housed many venues over the years.
Elk's Club Lodge #44 (building on right)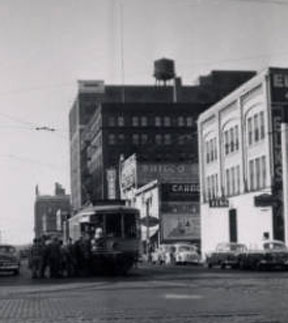 Andy's (1940s). Images thanks to Alan Freed's amazing surfing skills! Ad below from 1944.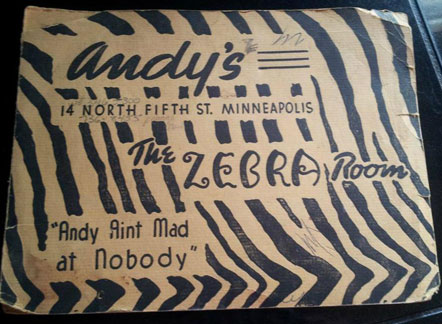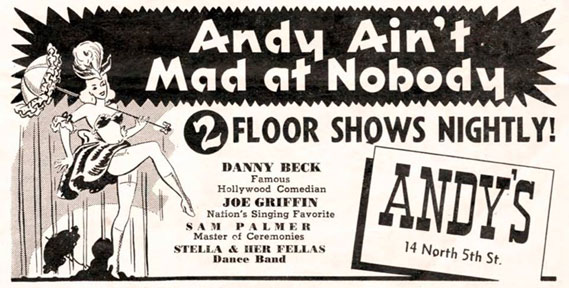 Tafi's opened on January 4, 1971, by James Theophilius Aladubi Babington-Johnson, Jr., known as Tafi. Tafi had been a dining car waiter for the Great Northern Railway, got a degree in political science and worked for Honeywell and the Institute of African-American Studies. The club was a restaurant/supper club featuring live jazz and folk. Ahmad Jamal Trio played at the opening, and Young/Holt Unlimited did two weeks at the end of 1970. The Insider described it as a "Playboy-type operation." Jazz just didn't bring in customers and it closed after three months. An article from July 1971 said that brothers Danny and Gary Stevens were trying to line up financing to buy it and convert it to a rock venue called the Fillmore, but it was gone by 1972.
Sutton Place Disco - April 1, 1976 - Summer 1978. Sutton Place "began as a quiet neighborhood bar in the Sumner/Glenwood area of North Minneapolis [2nd Ave. No. and 7th Street]. It was an unpretentious establishment owned by a heterosexual married couple, Harold and Elizabeth Sutton." It became a gay disco, and apparently the fun was gone when too many straights showed up. Ad from the Minnesota Daily, 1977, found by Alan Freed, who says: "That was Ernie Pesis's place for many years until Shussler took over. I don't know how long it was Ernie's but certainly during the Fox Trap/Taste/Wells Fargo years and I bet during Sutton's and earlier, too."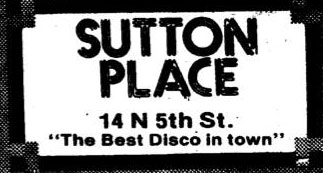 Fox Trap - There by late '78, ended in late '80 or early '81. "When the Longhorn eliminated Jazz and went Punk, the Fox Trap tried to lure the Jazz Beatnik crowd but it was really a funk and R & B club and had a short life there." Alan Freed remembers that this "became a trouble spot and closed after a shooting or two (maybe a murder or two)." Color photo below from about 1980, Minnesota Historical Society.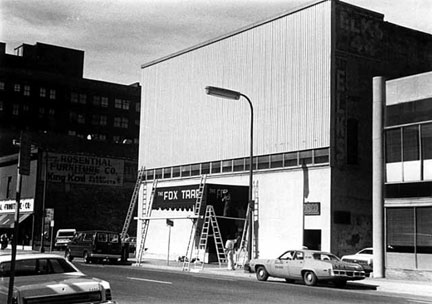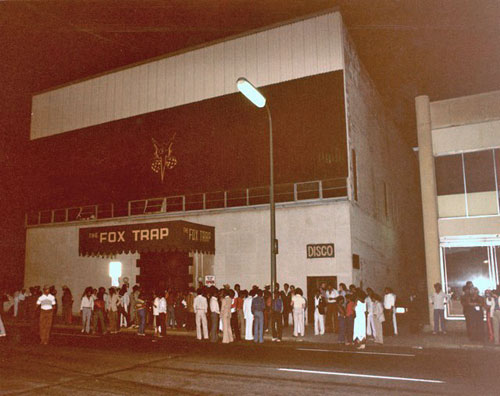 Taste Show Lounge was an R&B venue, extant July 1981. Managed by Pete Rhodes. Alan: "Taste had three floors; main floor was live bands, second floor was what you see [below] and the third floor was another dance floor with a different DJ, not always open as was the second floor." Richard says, "Taste had a second floor dance floor and the room was lined in stainless steel so that the lights from the dance floor reflected everywhere.. they also had a HUGE neon sign that would flash that had a phrase of 'Dance Your Ass Off' also later available as t-shirts.. (I know.. I owned one).. ANYWAY.. my point.. Before coming over to the Gay Nineties to be a manager, Michael Bloom used to be manager/accountant at 'TASTE' for awhile.. he occasionally would tell me stories.. and my favorite one was about two bouncer/doormen guys he would continually have to remind to get to work .. seems they were always talking music and not paying attention to the patrons. He claims the two guys were Jimmy Jam... and Terry Lewis !" More from Alan: "The Taste portrayed in Purple Rain, outside and inside, was not this place although the real Taste/Fox Trap was an inspiration. The Taste interior scenes with Apollonia 6 were shot at the Union Bar in NE Minneapolis and the exterior, I believe, was shot in LA, where a few other shots were filmed, including the Hotel Huntington exterior." In 1981 had a "Fox of the Week" contest. Photo below right around 1981, Minnesota Historical Society. 1981 pass courtesy Alan Freed.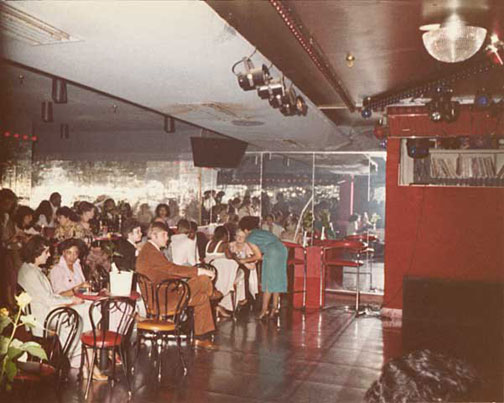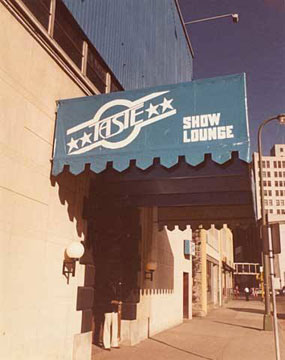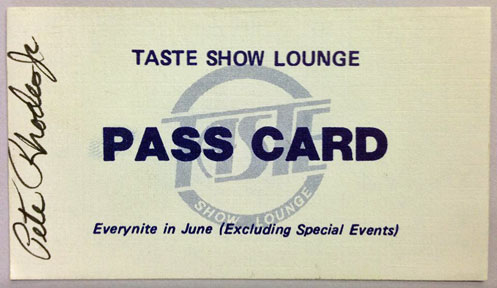 Wells Fargo (country bar) - @ 1982
Juke Box Saturday Night/Twin Cities Banquet Centre - Summber 1985-90, owned by Steve Schussler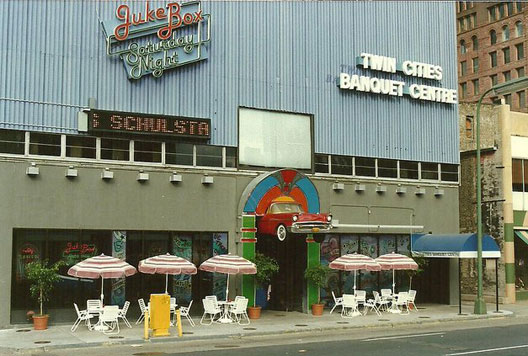 Sneaky Pete's/Dream Girls
---
ANGLESEY
The Anglesey Cafe/Motor Lounge was at 1331 Hennepin. Anglesey is an island off the north west coast of Wales. From 1940-44 Earl Irons' dance band was the house band, playing a little jazz. An undated and unsigned memo (probably from the mid 1940s) says that the owner of record was the Minneapolis Bridge Co. but suspects that Tommy Banks may have held the deed. In March 1946 owner George Sampanis was charged with discrimination by two black men who were not served at the bar. Each filed a $500 suit against Sampanis. The Minneapolis Spokesman reported that others had contacted the paper with complaints about discrimination. In 1963 it hosted folk groups like the Countrymen and the Jolly Swagmen, but Will Jones noted that the owners were looking to kick out all the rock 'n' roll and folk music. In 1970 there was the Regency Room for dining and dancing and the Surrey Room Piano Bar.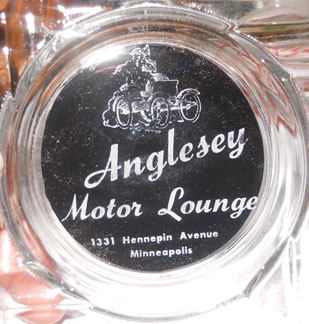 From the collection of Mark Youngblood
---

Anoka Armory

The Apartment: See the White House below.
Apex Hall: 635-55 Sixth Ave. No.; jazz venue dating from 1933.
Aragon Ballroom: See Dreamland Dancing Pavilion below
Arcadia Ballroom - See Dreamland Dancing Pavilion below
---
Arcadia Gardens/Dance Hall, 47 - 8th Street at Cedar, St. Paul.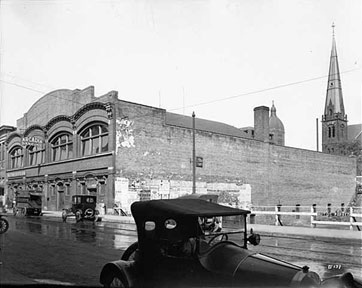 1922 photo courtesy Minnesota Historical Society
---
Archie's, 11th and Excelsior Ave., Hopkins. 1971: Dance to your old time and new favorites to Chris Kober and His Orchestra. Also Country and Western by the Big River Ramblers.

Armadillo Restaurant, 1619 Plymouth Ave. No., opened in November 1957 offering Southern style food and Your Favorite Dinner Music Presented Live. Owned by Timothy Bender and Phillip Archer.

Arthur's Four Seasons, 2300 University Ave. NE, Minneapolis. Jazz venue; in 1970 it featured entertainment in the piano lounge.
Artist's Quarter, 26th and Nicollet, owned by Bill Warner.
Arturo's: See the Huddle.
The Athletic Club in Minneapolis was a place to hear dance bands.
The Attic was in Chanhassen, 1972

Augie's: See Lindy's
B&R, St. Paul - jazz venue

The Bamboo Room: See Cassius's Bar and Cafe
The Bamboo Room: see White House below.
The Bank: 770 W. 7th in St. Paul. Changed from the Cabaret in 1969, owned by Bob Mecay.

---
THE BARN
The Barn was located south of Highway 494 and east of Highway 169 (then 18) in Eden Prairie. It was variously known as the Purple Barn (Phil Kitchen says to sound more psychedelic) and the South Barn. The front at least was painted purple. Jim Mattox says: "I used to work with a local band called the Soul Package in the seventies. We played at the Purple Barn regularly.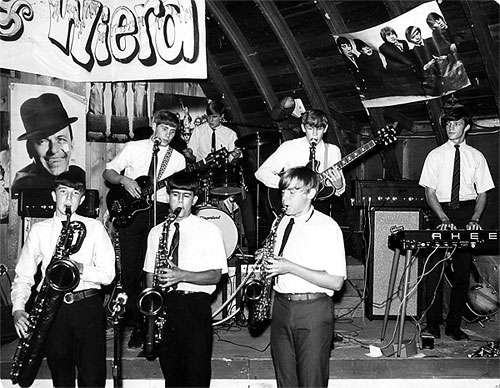 The Caretakers at the Purple Barn, winners at a Battle of the Bands in 1969, sponsored by Len's Guitar City. Photo courtesy Bob Burtis, shown on keyboards
---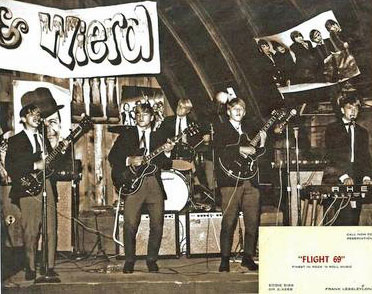 Another contestant at the Battle of the Bands was a band called Flight 69, show above. Photo courtesy band member Harry (Eddie) Eiss
---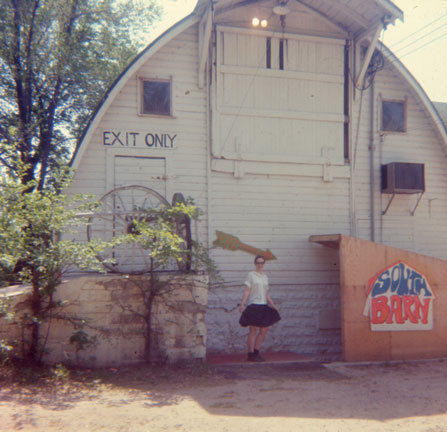 Photo of the South Barn below courtesy Susan Shallman Anderson.
An item in a December 1968 Insider said that Bill Roslansky formed Young America, Inc. and purchased the South Barn with fellow shareholders Stuart Swartz and Stan Taube. In 1969 it was owned by Roslansky and Timothy Millette and was a teen club. Bruce Glewwe remembers: "That whole area was probably farm land then. Went there only once…pretty freaky for a couple 16 year old guys from South St. Paul. The 'black lights' inside scared us off and we didn't go in. We probably didn't have the dollar or two it would have cost to enter either." When the teen clientele started to drop in 1970 the Barn closed on Fridays. By 1973 it was the only teen rock club left, open only on Fridays.
North Barn: According to the eye witnesses on Facebook, there was another Barn in Plymouth, on Highway 18 (now 169) and Bass Lake Road, on the north shore of Bass Lake. It was apparently a rough place, with chicken wire to protect the musicians from projectiles from the appreciative audience.
In 1960 there was a Barn Restaurant on County Road 18 and 42nd Ave. North, with dancing Saturday night to the Aristocrats.
---
Bartenders' Club, 32 South 6th Street, upstairs. After hours jazz and gambling hangout.
Bashland: St. Paul dancehall (barn) owned by WLOL DJ Throck Morton. House band the String Kings.

The Bastille (an erstwhile coffee house, formerly near the corner of Oak Street and Washington Avenue on the U of M Campus): Dylan played here in the spring of 1960.

Beek's Pizza in St. Louis Park had a live combo on Friday and Saturday nights, at least in 1958. There were several other Beek's Pizzas.

---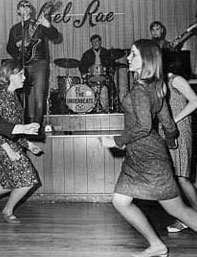 The Bel Rae Ballroom was located at 5394 Edgewood Drive NW (Highway 10) in Moundsview (one mile west of New Brighton Arsenal). An Internet site says it was built and operated by Elhart Ebel from 1964 to 1971. In 1967 it was open to teens only on Tuesdays. Friday was alphabet night - people with last names starting with letters in that night's ad got in free. A 1967 ad just had polka acts. It was owned by Bud Raemaker in 1971 according to the Insider. At one time Tuesday nights featured Michael's Mystics. Photo at right features the Underbeats. The building was sold to the city on June 30, 1996 and became a community center.

---
Bellanote: Sixth and Hennepin
Belmont Supper Club, 615 University Ave., St. Paul, 1953-74. Go-go girls in cages in 1965. Owned by the group the Belmonts (not Dion's Belmonts).

Big Al's - See Town Hall Cafe.
Big Daddy's - See Town Hall Cafe.
Big Ten Bar, U of M Campus
---

Bill Bailey's, County Road 15 in Spring Lake Park. Opened May 1966 (ad below from Minnetonka Record). 1967: "Sing-along and dance-along to the Bruce Leland Trio."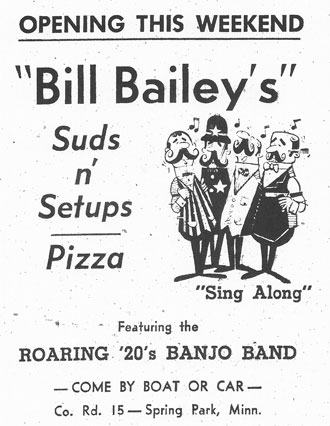 ---
Bill's Inn: 1-1/2 miles east of Excelsior on Excelsior Blvd. In about May 1926, William L. Millington of Minneapolis bought the Vine Hill Cafe. Bill had previously been in real estate. Ad below dated May 21, 1926. Possibly a "chicken shack" so prevalent during Prohibition; an excuse for a set-up place? That October he added a Benzo gas station.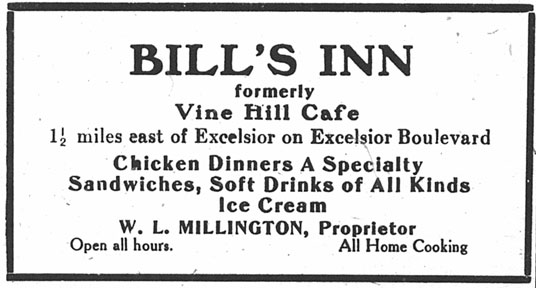 ---
Bill's Place, 5410 Wayzata Blvd, Golden Valley. Bill was William J. Schindler, who went on to own the Boulevard. A relative describes him as a real estate investor who moved around a lot. 1939: Dancing and An Enjoyable Time. Nice menu: Bar-B-Q-Ribs, Chow Mein, Home Made Chili, Hot Tamales, and Glueks on Draft!

Bill's Roller Rink, Anoka

Billybud's Bar, 1301 Washington Ave. No. at Plymouth. Country bar in 1973-74, with house band Freddie Haas and his Golden Nuggets.
Bimbo's Old Tyme Saloon, 243 Cedar Ave. - Seven Corners on the West Bank. In 1967 it was open to teens Wednesdays through Saturdays. In 1967 it featured Sing Along Music Tuesday through Sunday and Old Time Movies on Monday nights. There was a fire in April 1968. It's now the Theater in the Round. Did it move to Coon Rapids by 1973?
The Black Angus had a piano bar that became a disco - see the story up in 1963. Sue Earle performed nightly in 1969.
---
BLACK SHEEP CLUB
The Black Sheep Club, 901 Marquette, was supposed to be one of a chain of members-only "Key Clubs" that required patrons to pay a sometimes hefty fee for the privilege of admission. In February 1963 the club held a series of Open Houses, advertising their three rooms:
The Speakeasy Room had a Roaring '20s theme with a Dixieland combo and flapper girls
The Theodora Room was decorated in crystal and velvet and featured Toby Prin at the piano and songs by Lola
The Oriental Room featured Japanese hostesses singing and dancing traditional songs. In June 1963 belly dancers replaced the demure Japanese girls.
In June 1963 Will Jones wrote about this place as if it had been there awhile. The Four Lads were performing on June 5.
An ad in the July 1963 Select Twin Citian is pretty cute so please bear with me. It's hand written and all typos are intact here:
Dear Mom & Especially Dad,

Today I sketched a belly dancer ... in a fabulous oriental room where everyone sits around on the floor, on pillows. There's a plush carpet on the stairway that goes from the oriental room to the dining room. Right at the top of the stairs there's a great chandelier that I understand is worth about $5,000.00, WOW!

In the main dining I met a nice old guy who plays a mean "Ricky-tic" piano. His piano sits in front of a big original painting of a nude (which I didn't sketch for your benifit!) (mercy!)

The rest of my evening was spent in a nifty room called the "Speak easy" where total choas reigns after nine P.M. Before I forget they've got some real top entertainment coming up ... Margaret Whiting ... Vaughn Monroe and the Cordettes. If you need a membership call Mr. "Bill" Arndt.

I've got to run now as I'm going over there for lunch. Great Food at Noon! Love, Bob P.S. send money.

The project was undercapitalized, and two employees sued for back pay and took the furniture, which ended that.
Subsequent clubs at the location were:
The Ram's Club
Shaw's Cove - in March 1968, "Introduces a new concept in Night Club Entertaining," featuring 6-man comedy/musical group called the Second Edition.
Bradford's opened in December 1968 by Bernie Beaumont and lasted until at least 1974. The Bradfords was a group from Bradford, England.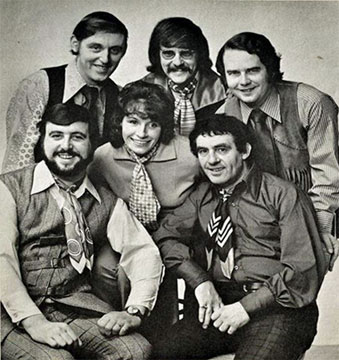 Zachariah's was a country place that featured the Sky Blue Water Boys. It opened in October 1975.
---
Bloomington Roller Rink: 94th and Lyndale Avenue So.

Blue Eagle Tavern, 1105 - 26th Ave. No. Not sure if this had any entertainment, but here's a story in case it did. In March 1968 a bomb was thrown into the entryway, blowing an 11-inch hole in the concrete of the building's basement, blowing the door off its hinges, and breaking its front windows. Eight idiots were arrested and charged, including three women; they told police that they planned to form a local chapter of Hell's Angels. The bombing followed an earlier brawl at the bar, and co-owner Erling G. Nelson and two young men injured in the fight reported they had received threatening phone calls.
Blue Heron, 6810 Lake Drive, Circle Pines, 1974.
The Blue Lantern was a night spot on Sixth Ave. No. in the 1920s.

Blue Moon Ballroom, Marshall, Minnesota

The Blue Moon Cafe and Club was on the north side of Sixth Ave. No. between Bryant and Sumner Place.

The Blue Note Cocktail Lounge was located at 622 - 11th Ave. No. in Minneapolis. Formerly Leo Roth's Bar, it opened on October 9, 1962. Boyd Yancy and Thomas A. Lewis were the proprietors and Tilly Anthony was the manager. Jazz venue, favorite of Dave Moore. Tommy Lewis was shot and killed on August 24, 1969. In 1972 the owners were Benjamin W. Fields and Claude S. Thomas. In a 1972 interview they said that business was down because more blacks were going to downtown clubs. Thomas said that when he first got there in 1967 "I thought I was in a western movie" for all the people with guns in the place. Still there in 1974.
---
THE BLUE OX
The Blue Ox was at 918 Third Ave. So. in Minneapolis, opening in March 1963 with "no strippers and no twisters." Ads promised "Floor Shows! Dancing!" Kitty and Her Aly Kats were the featured performers in 1963-64. A co-owner was Ockie Berman. Another owner was David P. Aronsohn. 1969: Dining, dancing and floor shows such as the Jolly Jacks and Fraser & Nevers in the main lounge. In the Blue Room (where the swingers are), sing along to Judy Moen and Valerie. The Blue Ox was around until at least 1978. "FACT: They had a few Booths back in the corner that had telephones in them. I knew a couple Bookies that took their Action there!"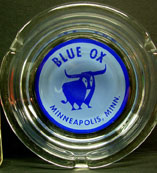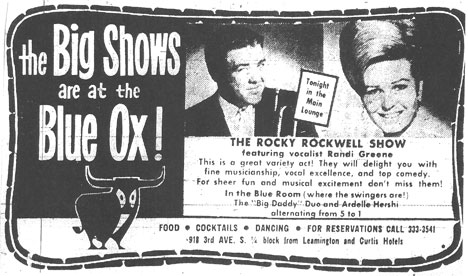 1967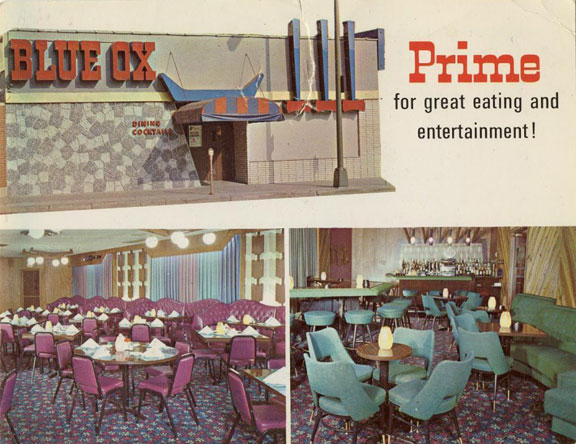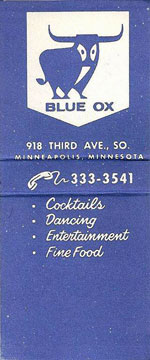 1966
---

Bobby's Teen Club: See Safari Club.

Boogie Woogie Club: U of M, early 1940s.
---
Booker T. Barbeque Ribs, 381 Rondo at Western, St. Paul. Owned by Mance Ellis and named for his son.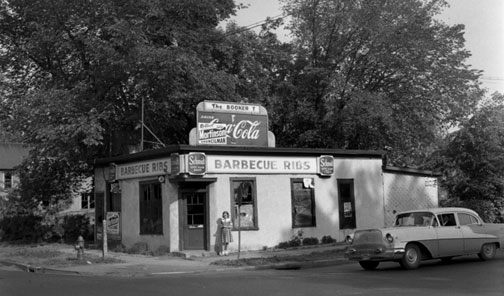 1960 photo courtesy Minnesota Historical Society
---
Bootlegger Sam's was above Mama D's Italian Restaurant in Dinkytown.
The Bottle Inn was on 78th Street in 1940, owned by Carl Miller. "Dancing Every Nite."
---
THE BOULEVARD CAFE, MINNEAPOLIS
The Boulevard Cafe was located at 533 Dupont Ave. near Sixth Ave. No. May have been a converted store. Fame confined to the 1940s. Stebbins tells of a famous session in 1944 when some members of Duke Ellington's band showed up after hours and jammed until 10:00 the next morning. Another night Ellington and Count Basie were in town on the same night. The jamming started at about 10:30 pm and so many musicians joined in that there wasn't nearly enough room on the little bandstand. Stebbins quotes from Jim Bennett, "Jazz in the Twin Cities," Twin Citian, Vol. VI, no. 7, March 1964, p. 17:
Along about midnight, the musicians took a break and the Boulevard was suddenly la Place Pigalle. Hookers got up and promenaded around the room in search of the night's business. Peddlers stopped at your table to offer magic store novelties, loaded dice or "art" photos.

A black dwarf, less than three feet tall, raced through the room holding two flaming torches above his head. He squirmed up on the bandstand and swooped the torches around in great arcs to attract attention. The crowd quieted and he held one torch aloft, then plunged it into his mouth. A moment later he drew it out, still flaming... He pulled a sword from under his coat, saluted the audience, and slid it slowly down his gullet. The crowd applauded as he pulled it out...

There was a rush of tables when word went around that the Ellington and Basie groups were on their way... And then an interesting thing happened. Earlier preparations for the musicians' heroes appeared casual in comparison with the arrangements now in progress. Heads craned to see who it was that merited such attention. After a few minutes a middle-aged Negro wearing glasses and a conservative dark suit was escorted to the seat of honor... There was no question of the position he occupied in the Boulevard's firmament. He was a ranking star, the premiere personage...

His name was Fletcher Henderson...
In March 1945 proprietor Elmer Lewis and William L. Kelly were indicted by the Hennepin County Grand Jury on charges of purchasing stolen whiskey. They pleaded not guilty and were released on $1,500 bail. No details on the outcome.
---
THE BOULEVARD CAFE, GOLDEN VALLEY
Boulevard Cafe, 5530 Wayzata Blvd., Golden Valley. The Boulevard was owned by William J. Schindler, who had owned Bill's Place, at or near the same spot. 1945: Dancing Every Night. Iver Stanger - Al Hall. Probably an early jazz venue. 1963: "Ours is a humble place, but we think we have something to offer you." 1967: dancing nightly to the Richard Conrad Trio. 1969: New Tyrol Lounge. 1973: Dance to the Skylarks in the main dining room every Friday and Saturday night, and the "Carnegie Hall of Piano Bars," frequently featuring my fourth grade music teacher, Judy Moen. The Boulevard was torn down for construction of I-394. Ad below from 1958.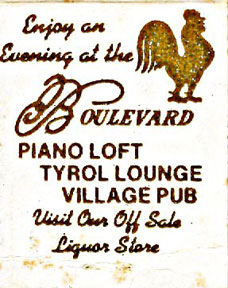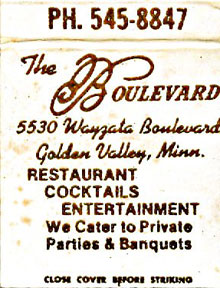 ---
The Boulevard Dance Hall, 1929 N. Rice Street, St. Paul
Rosemary Ruffenach writes:
Family stories have my great uncle Ted (Theodore) Laber (1905-1982) and his sister Martha Laber operating a dance hall out of the building, likely sometime in the 1930s. I'm told that the land behind the dance hall was used as a dump for many years. Wrecked cars would just be rolled into the muck and would soon sink. Later on, Ted only allowed construction materials to be dumped, due to the smell arising from the brew. I am attaching a family photo from Ted's collection. If you use it, please credit him and me. Thanks.

The Labers managed the establishment at 1986 N. Rice (Dean's grocery, tavern and Red Crown gas pumps) until the mid 1930s. (The Dean's establishment continues to exist, now as McCarrons Bar and Grill.) By 1938, the Labers had their own establishment at 1730 N. Rice, also a grocery store, tavern and Texaco station. In the 1980s the land was sold for the strip mall at Rice and Larpenteur. Subsequently, Laber's Liquors continued to exist at that location, but the family no longer had a connection. In 2007, it was sold to Merwin Liquors, but the original name was maintained.)
1929 N. Rice later became something like Curtis's Place? Cortls' Place?
In September 1955 it went under new management and became Club Reservoir, featuring entertainment Fridays through Sundays.
---

Boulevards of Paris Ballroom, 1100 W. University Ave. near the Coliseum in St. Paul. Played host to Fats Waller, Benny Goodman, and Louis Armstrong. Became the Vanity Fair. Very elegant. Ben Pollack's band made a lengthy appearance in the late 1920s and early '30s, with Jack Teagarden. Another band was McKinney's Cotton Pickers. With the end of Prohibition, Norvy Mulligan's band played there frequently. In 1984 the building was a grocery story.
The Bow and Arrow Club was located just north of First Street in Mendota starting in early 1941. "In the early 1950s the Bow and Arrow became a modern jazz stronghold featuring the Bob Davis Quartet and Rook Ganz's band. There were also Sunday afternoon sessions which primarily attracted local musicians. A couple of years later the owner invited Doc Evans to take over in an attempt to bring Dixieland back to Mendota. For the occasion the name was changed to the Rampart [Street] Club, but the venture was not successful. A few years later it again became the Bow and Arrow Club, occasionally featuring a jazz group." (Stebbins)
Bowery Tavern and Dance Hall: 9400 - 6th Ave. No. (Highway 55 and County Road 18), Golden Valley. Live music and dancing on Friday, Saturday, and Sunday nights. 3.2 beer and setups. Lee Lofstrand, new owner, May 26, 1960.

Bradford's: See Black Sheep Club
---
Brady's was on the corner of 6th Street and Hennepin Ave., on the site where a sandwich shop and two different restaurants had been. It opened in 1936 and had intermittent jazz entertainment, including the Hall Brothers Dixieland Band. Became Shinder's Bookstore. Butch Thompson posted this photo:
During the early '60s, I played clarinet at Brady's on 6th and Hennepin with the Hall Brothers Jazz Band. Here's a photo of us as we left work on New Year's Eve, 1964. This was our last gig there -- we'd been given our notice a few weeks earlier. BTW I was under the legal drinking age -- 21 -- but we rigged something up with a letter from my parents. Left to right: Don "Doggy" Berg, drums; Charlie DeVore, cornet; Stan Hall, piano/leader; Mike Polad, banjo; Butch Thompson; Bill Evans, bass. Absent: Russ Hall, trombone. Photo by Dave Pfankuchen. — with Don "Doggie" Berg, Charlie DeVore, Stan Hall Piano/Leader, Michael Polad and Bill Evans.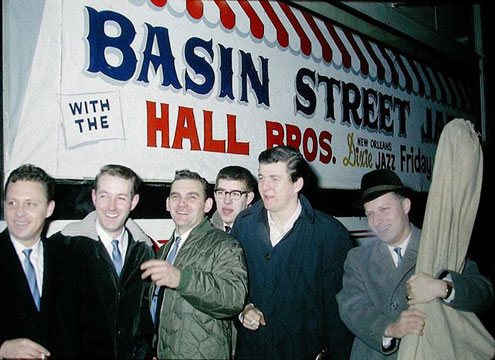 ---
The Brave New World (not Dudley Riggs) was in Cambridge, Minn., owned by Duane Huehn and Paul Malasky.
The Break was a folk spot at Oak and Washington in 1962.
Bridges Nite Club, St. Paul - See Stumble Inn

Briggs' Cafe: See Dreamland.
Bright Spot: 702 Olson Memorial Highway, 1948. Good Food - Latest Records - Arcade Games - Make Your Own Record.

Broken Drum: 327 Cedar Ave., Minneapolis - coffee house/jazz venue, 1967
---
The Bronco Bar was in Chanhassen. "Bulletin: Frontier in Chanhassen Announces the Opening of the Bronco Bar and Frontier Wines and Spirits (Package Store) For Your Convenience and Pleasure. MORE TO COME. Just the Beginning of a Great New Complex. Open July 19, 1968." (Ad in Minnetonka Sun) In the mid-'70s we would endure the country band and then dance our asses off to the rock they played during the intermissions.
---
Brooksville Opera House, Highway 13, Prior Lake. In August 1969 the bands featured included Gary Kent, Guy DeLeo, Lexie Johnson and Buddy White.
Bucky's
---
THE BULL PEN

The Bull Pen, 814 Excelsior Ave. in Hopkins. Opened 1960. Harry Blons jazz band played there early on. Big Daddy and the Misfits played there for at least a year, 1963-64. A former Mayor of Hopkins I shall not name said that the Bull Pen had a dance floor behind the bar with topless dancers! A 1968 ad from the Minnetonka sun said it was owned by Virgil Miller, the band was the Professionals, and "Sheri" provided the "very best in GO GO." When he left office in 1981 the City Manager said the GO GO had to GO GO.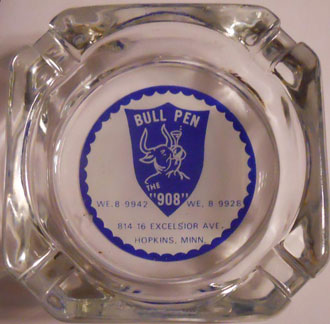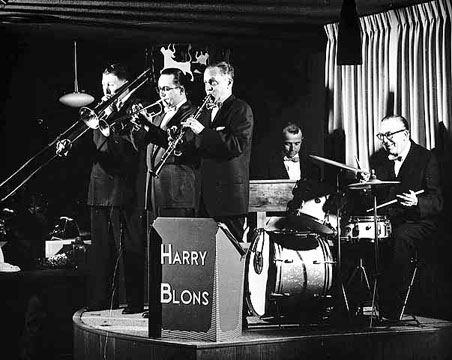 Ashtray above from the collection of Mark Youngblood. Undated photo of Harry Blons from Minnesota Historical Society.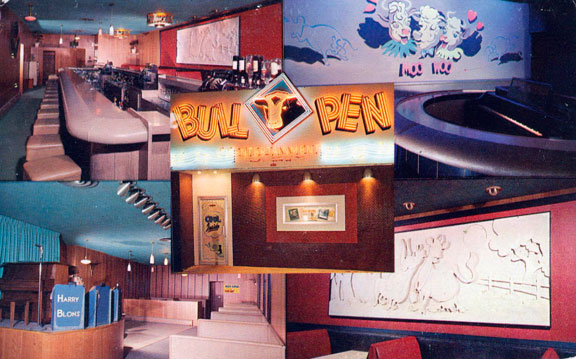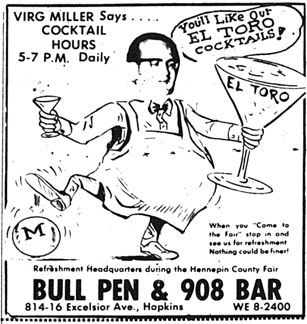 August 1962
---
Bungalow, 6221 - 56th Ave. No., 1967 - 1969. Nightly organist, weekend piano lounge.

Bunny's, 4730 Excelsior Blvd., St. Louis Park

The Burnsville Bowl, 1200 E. Highway 13. May 1968: The Matador Lounge featured the Gamins. 1970: vocal group upstairs and "acid rock" downstairs. In 1972 the Matador Lounge was managed by Milton Olsen. In 1973 the El Tigre Lounge featured Bea Bea Benson, "Miss Showmanship;" pianist, songstress, and risque comedienne.

---
Bursch's, 17 - 8th Ave. So., Hopkins. 1969: Dancing to the Sociables. 1970: Live music and entertainment (and art) in the Gallery Room; vocalize and fraternize in the tuneful Blue Note piano lounge. Still there in 1974.

From 1960 ad in St. Louis Park Dispatch
---
Buster's, 111 So. 6th Street in Minneapolis, was described as a popular place for "young swingers" in 1965.

The Cabaret, located at 770 W. 7th in St. Paul. Opened in 1968 "newest and largest sports and entertainment spot." It was ages 18+ on Fridays in January 1969 and offered ice skating. Changed its name to The Bank in 1969. Owner was Bob Mecay.

Cabaret Show Lounge, Minneapolis: See Foreman & Clark Building.

The Cabooze, located at 917 Cedar Ave. on the West Bank. Big venue for the Lamont Cranston Band. Still there.
Caesar's Bar - West Bank
Cafe De Lisa, 602 Lyndale Ave. No. Advertised as "Something Different" in September 1938, with "Chinese Foods and Good Entertainment." Also see Club Delissa.
Cafe De Luxe, 1329 So. Fourth Street, Minneapolis. Opened September 17, 1939, owned by Tommy and Harry Lewis. Opening night entertainment by Rook Ganz and His Entertainers. Chicken and Chinese Dishes their specialty - Come out and have a grand time.
The Cafe Expresso, at 2605 Hennepin Ave., was included as a coffeehouse/music venue in a 1967 newspaper list.
The Cafe Extraordinaire, 2933 Nicollet Ave. So. in Minneapolis, the former site of Magoo's. It opened in late 1970 and was owned by Bobby and Doris Jackson. They started with a Jazz Festival, bringing in such big names as the Elvin Jones Quintet, Joe Henderson, Eddie Harris and his Quartet, Kenny Burrell, and Freddy Hubbard. The people just didn't respond, so in December 1970 the format switched to soul, featuring acts such as Zulu and Showtime I and II. In 1971 there was some sort of "Buddy Miles imposter fiasco" that basically put them out of business.
The Calhoun Ballroom was at Lyndale and Lake in 1944. Probably the same location as one or more entries here. The Red Pepper Orchestra provided a smooth dancing program that December.
Calhoun Beach Hotel, Minneapolis. Site of many University of Minnesota Greek dances.
---
Camelot, 5300 W. 78th Street. This really was a medeval castle surrounded by a moat. Norwegian Hans Skalle opened Camelot in 1964, bringing French cuisine to the Twin Cities. Camelot was awarded the Holiday Magazine Certificate for Dining Distinction 1966, in less than a year of operation and again in each ensuing year. Continental cuisine, luncheons and dinner daily (closed Sundays/Holidays), buffet luncheons week days. Venues included:
The Ale House
The Jester Lounge (in the tower). 1967: Harmonica High Hats; 1970: good local and name entertainment
Backdoor. 1973: The Fabulous Camelot Singers
Great Hall. 1970: dancing on Saturday nights.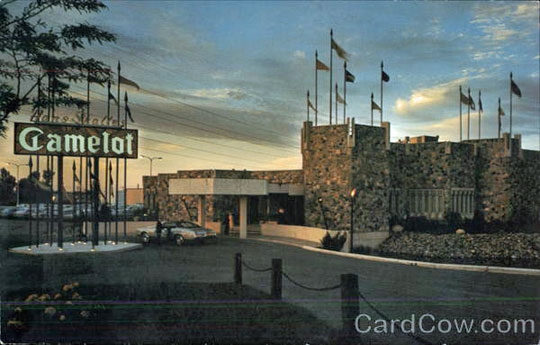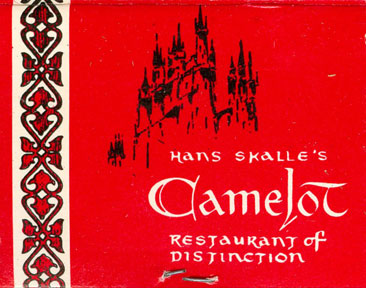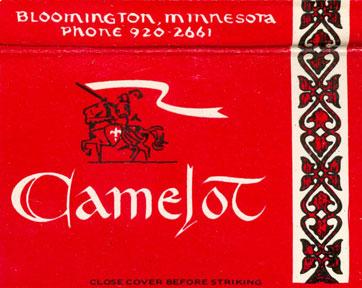 ---

Camden Bank was located at 4169-4147 Lyndale Ave. No. (now 705 - 42nd Ave. No.) in Minneapolis. The second floor was an old ballroom, and in 1959 North High student Marsh Edelstein started to organize dances on Friday and Saturday nights. He wanted a place that was available to kids from North and Edison Highs, and its popularity spread to kids from other high schools to become one of the biggest Minneapolis hangouts. Local bands were booked for the dances: the DelCounts, the Underbeats, the Accents, the Trashmen, Castaways, Avanties, etc. The Underbeats remember not being able to play their hit "Foot Stompin'" there because the kids stomped the ceiling in on the janitor in the basement - Marsh does not remember this, and is a little puzzling since the dance hall was on the second floor. Some kids remember fights there, but Marsh says he had good security there. He moved his operation to the Marigold Ballroom in 1962 because the Bank was not big enough and he wanted to bring in national acts like Chuck Berry, Bo Diddley, Little Anthony, etc.
The Camden Bank building was built by Odd Fellows Highland Lodge #99 in two parts: a two-story building in 1910 as their IOOF Lodge, and the three-story building in 1920 as a bank. Throughout its life it has also housed a post office, mortuary, pool hall, and professional offices. It is one of the only remaining buildings in the neighborhood thanks to I-94 construction.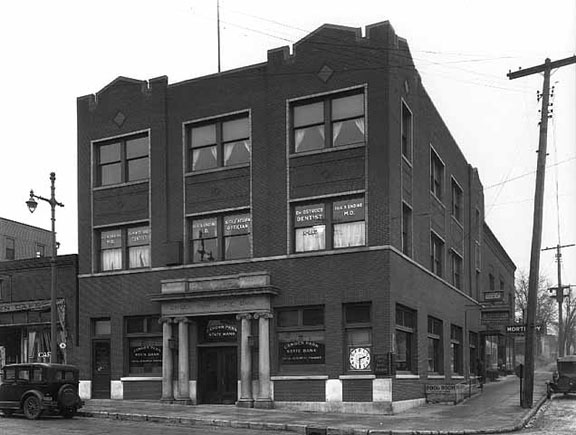 Camden Bank, 1928, courtesy Minnesota Historical Society
---
Camel's Club, 520 Hennepin Ave. Illegal after-hours club, 1934-36, where jazz musicians would sit in after hours.

Canterbury Inne and Pub was at 6481 University Ave. NE, Fridley, 1969-74
---
CAPP TOWERS
Minneapolis:
Capp Towers Motor Hotel, 1313 Nicollet, Minneapolis. This hotel cost $6.5 million, had 350 units, and opened in March 1963. The Minneapolis hotel had several venues:
The Dome at the Top of the Capp, which opened on March 1, 1963, was a jazz and blues venue. Will Jones described the plan to have a low circular bar at the center, with the bartenders working in a kind of pit in order to give everybody a clear shot at the view in all directions. A small musical combo will work in the center of the bar, , and they will make their entrances and exits on a moving stage that will rise from and descend to the floor below for loading and unloading."
The Brandywine Bar was a piano bar. Will Jones said the room, "with its Roman arches and wild stained glass windows by Bill Saltzmann, looks like a monastery for swingers and you almost wish the drinks were served by jolly fat monks instead of regular bartenders in red jackets." A 1963 ad cited "the atmosphere of an early French wine cellar."
The Blue Bar was "a unique stag bar for men only, 11 am to 4:30 pm. Ladies welcome after 4:30 pm."
The Caribbean Room and Pool. Appearing nightly in July 1963 was Sir Lancelot, world's finest calypso singer, Hollywood and television star."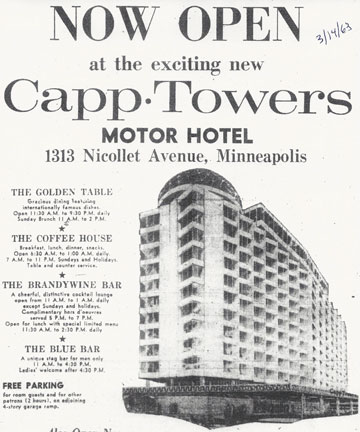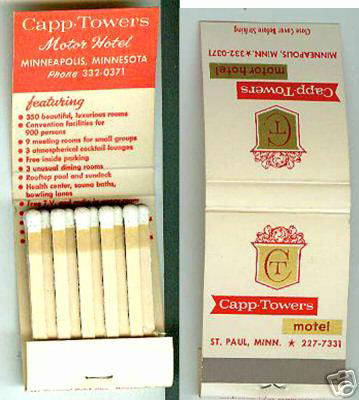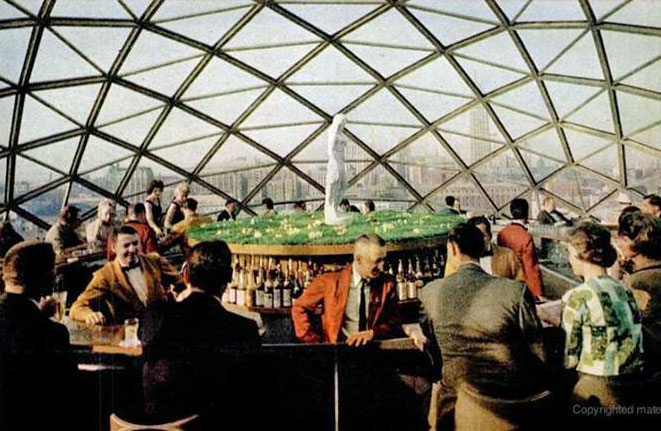 The photo above appeared in Life Magazine on July 26, 1963 with the caption: "In the domed cocktail lounge on top of 15-story Capp Towers, motel guests can enjoy a view of Minneapolis skyline. A revolving stage in the center of the circular bar, here ornamented with a statue, can be raised or lowered. This downtown inn has accommodations for 800, an underground garage, three dining rooms, four bars, a rooftop pool enclosed in glass, exercise rooms and a sauna."
The hotel apparently went through several iterations:
Regal Minneapolis Hotel
Park Inn
Holiday Inn Central:

Apparently this was the place celebrities stayed. In 1968 there was the "Never on Friday" Club, which apparently was always on Friday. Here you could join other single swingers, age 21 to 35 for dancing and a professional dance instructor to teach you the Funky Broadway. The Club had over 12,000 members and hosted weekly parties, local and world travel, singles apartments and clubhouses.

Pierre's featured shows like 1968's Riverboat Ramblers with Jane Riley and Pierre's girls. In June 1969 there was something about Holiday in Haight Ashbury - featuring songs from Hair.

Adult swinging singles every Friday night with the best big bands in the Twin City area, 1974.

Millennium Hotel Minneapolis
It is apparently still owned by the Capp family.

---
Capp Towers St. Paul:
The Capp Towers in St. Paul, at 77 - 9th St. E. at Minnesota, has eight stories and was built in 1959. It is remembered for its Happy Hour. John Mannillo reports that "The owner of Capp Towers for many years was Earl Scott. His manager was George. I can't remember his last name. I believe George now manages Hazeltine Golf Club. They were big hockey fans during the Fightin' Saints era. Earl, better known as Scotty, owned an old fire truck which he gave rides on whenever he could. I was the real estate broker who represented the Union Gospel mission (I think in the late 1980s) on the purchase of the building from Earl Scott. They purchased this property which was mostly under utilized and in need of substantial repair, for the now Naomi Family Center." The Naomi Family Residence, a residential program for women and women with children, provides food, clothing, 25 life skill classes, and Bible studies and is operated by the Union Gospel Mission.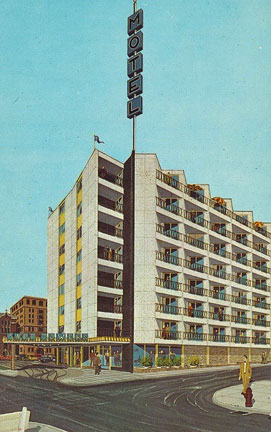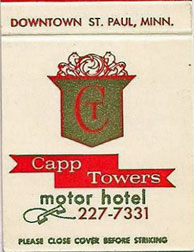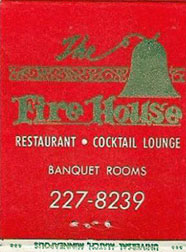 ---
Captain's Galley: see Downtowner Motel.
Captain's Table: Ramada Inn, 494 and France. 1973 featured the Johnny Ricco Show.
Caribbean, Tonka Bay, Lake Minnetonka. See Curley's Caribbean.
Caribbean Room, Capp Towers, Minneapolis (see above).

Carpenter's Hall in Anoka

---
CASABLANCA/GAY NINETIES

Casablanca Victory Bar and Cafe (Stage-Bar-Dancing): 408 Hennepin. The Casablanca opened in 1943 in what had been a vacant building for a number of years. William "Red" Dougherty had the first band there. Neal Karlen says it was owned by Kid Cann. Kid sold it after the bar's manager Reuben Shetsky shot and killed union organizer Al Schneider inside. In 1948 it was owned by Herman Mitch. An undated and unsigned memo (probably from the mid 1940s) says that the owner of record was George Benz but suspects that Tommy Banks may have held the deed. Jazz venue (Dixieland). The photo below right is from the Minnesota Historical Society; on the stage is the Dick Rand Band, 1945. The photo on the left is probably from MHS as well.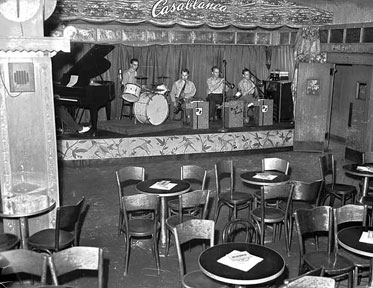 The Casablanca had become the Shanghai House restaurant by 1947.
In 1948 the bar had become the Gay Nineties Theater Cafe and Cocktail Lounge. The Gay Nineties was a strip club that employed jazz groups. In 1952 it advertised Eddie Bach and His Jentlemen of Jest, 5 Outstanding Vaudeville Acts, and the Gay Nineties Girls! On August 11, 1975, the Minneapolis Star reported that the Gay Nineties would close as a strip-tease bar as of August 23 and open on September 4 as a disco. "Richard Gold, owner and manager of the Gay Nineties, said the change to recorded rock music will mark the end of 27 years of stippers and live entertainment at the nightclub. 'The romance of the stripper is gone,' Gold said. He said the proliferation of pornographic filsm and adult book stores has diminished interest in live strip-tease performances." Gold said the name and the period atmosphere would be preserved, would be a "jazz discotheque" and would attract "the campy crowd that's on the street today."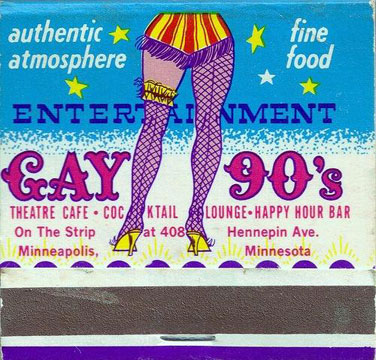 1958 Photo courtesy Minnesota Historical Society
---
Casa-Loma, 1830 E. Franklin at Cedar. February 1942: Ward Mitchell, proprietor (also owned Ward Mitchell's Beer Tavern). Not sure the Casa-Loma had entertainment, but with that name it certainly should have!
---
The Cascade 9, located at 829 Hennepin, hosted the Del Counts. Harry Blons and Band in 1969. Owned by Jerry Agar in 1970-72. In 1970 it was advertised as the Cascade 9 Supper Club. When Duff's burned down in 1977, owner Bob McNamara moved it to this location.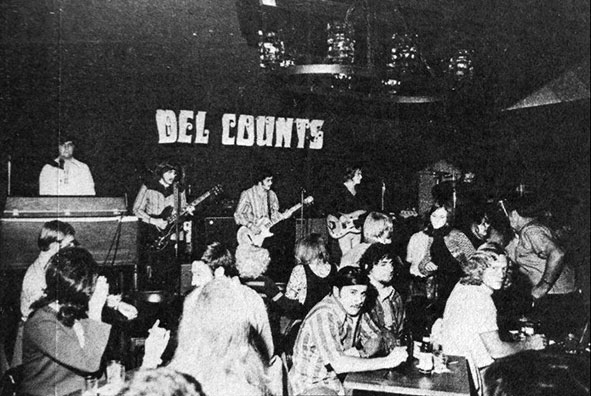 Del Counts at the Cascade 9. Photo from the Insider, September 1976. Thanks, Bob Burtis!
---
The Casanova Lounge and Cafe, at 43-45 South 4th Street in Minneapolis, was owned by Tommy Ewing and Kipp Hale in July 1944 (across from Maurice L. Rothschilds). An undated memo that lists several places that are suspected to be owned by Tommy Banks states "last recorded owner Thomas W. Banks and Harry Shepard, 1316 Nicollet Av., which is the location of the coin-a-matic machine company and of which he is the manager. Shepard's resident (sic) is Maryland Hotel, 1346 LaSalle Av. The first state band of Wabasha, Minn. holds a $8,000 mortgage on the building."
Casey's Saloon was in St. Paul in 1973, and made the news when it hired a male stripper named Romulus. Owner Glen Triviski felt women should have their fair share. On April 8 the St. Paul City Council ordered the club closed because the go-go-dancers were allegedly performing indecently. A new ordinance was passed allowing dancers to be "covered with transparent or opaque clothing." Romulus, a/k/a Gary Watkins, was a 23-year-old med student working on a degree at Indiana State University. Although he had been touring the country, he sometimes forgot to unbutton his shirt. "And when that happens, he says, sometimes a button pops off." (Randy Furst in the Minneapolis Star). 'Spose there's a Dr. Romulus out there somewhere?

Casino Royale was located in Fridley, just north of Moore Lake on the east side of Hwy 65. Steve Nelson remembers listening and dancing to Joker's Wild in '68/'69.
Casino Royale - Shorewood Plaza Shopping Center. Formerly perhaps another Hullabaloo rock club. Country place in 1973, owned by Lee Silverton

---
CASSIUS

The Cassius Bar & Cafe was started by Anthony B. Cassius, local black entrepreneur. In a 1981 interview, Cassius said that it took two years and all of his savings of $3,500 to get his liquor license, leaving him no money to set up his bar. He went to Midland Bank and said that he wanted a loan of $10,000. The Vice Presidents laughed and said the only black man they'd ever loaned money to was Cecil Newman, editor of the Minneapolis Spokesman, and that was only $500. But Cassius was persistent and spoke to the Bank President, Arnulf Ueland, and within 15 minutes he had him convinced to give him the whole amount. The note was for 24 months but he paid it off in a year.
In 1946 the bar was originally located at 307 So. Third Street in Minneapolis.
The Bamboo Room opened in September 1949. It was a jazz venue, featuring such local mainstays as Percy Hughes, Irv Williams, Oscar Frazier and the Four Notes, and the Rook Ganz Orchestra. It apparently went dark summers, as it had re-openings in September 1950 - '53. People would come in tuxedos and gowns to see the entertainment and dance.
In July 1958 it was moved to 318 So. Third St. in Minneapolis due to redevelopment of the original area.
In the 1960s it was the site "Rhythm 'n' Blues Time," a simulcast on KUXL featuring the best in R&B as played by Prime Minister Billy G.
In 1968 Anthony tried to relocate the bar to 401 E. Lake Street, which was outside of the "liquor patrol limits" and thus required a referendum among local residents, which he lost.
June 20, 1980: The Cassius Bar closed for good. It is now vacant land.
---

Castle Royal Night Club: 6 West Channel Street (215 So. Wabasha), St. Paul. This (in)famous nightclub, located inside the Wabasha Caves, opened in 1933 by Josie and William Lehman and was a favorite hangout for the gangsters that enjoyed safe haven in St. Paul. Entertainers like Harry James and Cab Calloway graced the stage. The place is still open, offering tours and dances, as well as gangster tours of our Twin Cities. http://www.wabashastreetcaves.com/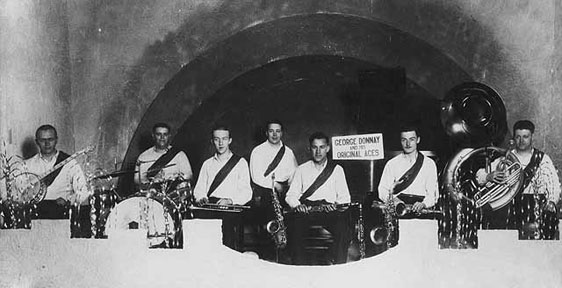 George Donnay and His Original Aces at Castle Royal, 1935. Photo from Minnesota Historical Society.

---
CC Tap is at 2600 Lyndale Ave. So. in Minneapolis, at least from 1967. In '69 it was owned by Pete Boosalis and bands included the Vacant Lot and Matinee. Photo below from Minnesota Historical Society.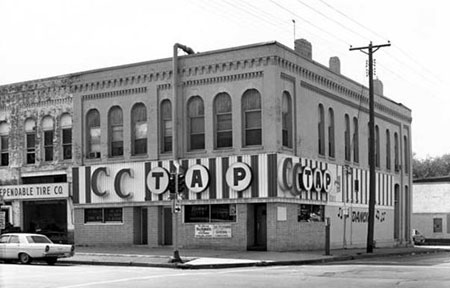 ---

Cedar Village Theater: 416 Cedar Ave. So. The Walker Art Center sponsored concerts here in 1970. Now the Cedar Cultural Center.
Cedric's was owned by WCCO radio personality Cedric Adams. It was located on Highway 100 at 50th Street in Edina. The restaurant featured music occasionally and Adams occasionally sat in on drums. The restaurant failed for lack of a liquor license.

The Celebrity Lounge, located in St. Paul, was owned by Twins catcher Earl Battey and Sandy Stephens. Is this the same as the Celebrity Lounge at Selby and Dale?
---
Somewhere in here is supposed to be the Century Music Hall, 5 So. Fourth Street, Minneapolis, 1904. According to MHS, this is Fourth Street from First Avenue South to Hennepin.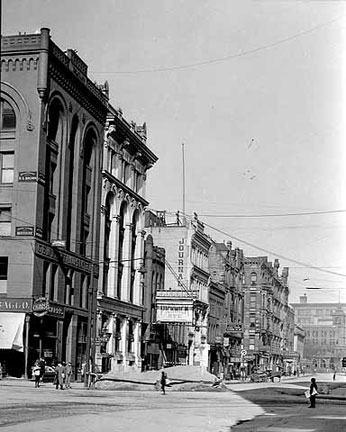 ---
Chain Link: St. Paul country bar, 1973-74.
---
The Chalet, 3516 No. Lilac Drive (Highway 100). A June 1963 ad called it "The Northwest's newest and most distinctive supper club." The Playgirl Club in the Alpine Room hosted several national acts in 1963, including:
Henny Youngman
Somethin' Smith and the Redheads
Orville Brooks and His Ink Spots - June 6-23. Brooks was the only original member.
The Flamingos, direct from Las Vegas
In 1969, the A. F. of M.'s, featuring Doug Masters. Around until at least 1974.
---
Chanhassan Frontier - apparently had three venues in 1969:
The Downstairs, featuring The Underground Expression
Bronco - Doc Evans
Courtyard - Don Daavidson Trio
---
Charlie's Cafe Exceptionale: Seventh Street and 4th Avenue South. 1933 to 1982. 1970: Entertainment nightly in the cocktail lounge; also a piano bar. Photo below from 1980.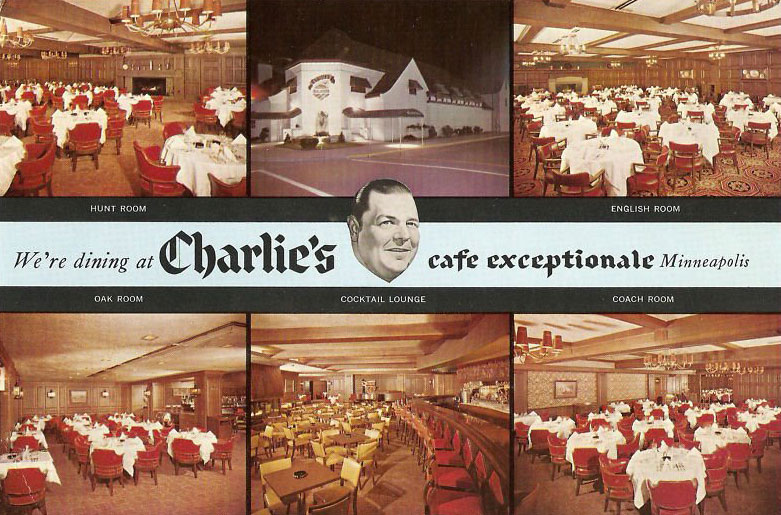 ---
Chateau de Paris - See Dyckman Hotel.
Chatsworth Inn, 979 Rondo at Chatsworth, St. Paul
---
CHICKEN SHACK
During Prohibition there were lots of so-called "chicken shacks," which were often fronts for speakeasies. These photos from the Minnesota Historical Society show some folks in Minneapolis who worked at such an establishment in 1930. How could they not have had music? The notation in MHS's files say that this was located at 629 Sixth Ave. No., a hotspot of action in 1930. But notes on the frames of the pictures say "That was South Minneapolis."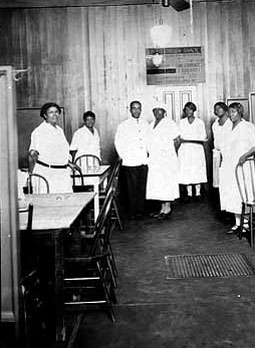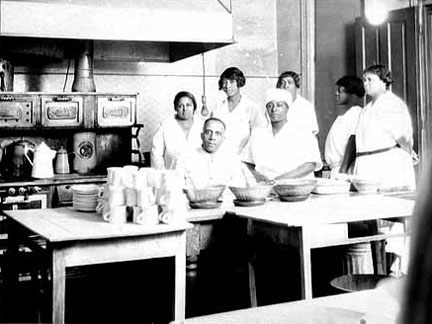 ---
Chimney Sweep Lounge: See McGuire's
---
CHISAGO CITY COMMUNITY CENTER

Mark Karnowski remembers: "The Chisago City Community Center was rented by a couple of different promoters in the mid to late '60s. Both 'renamed' the building to suit their purposes. The first group called the location the 'Peppermint Club' (because the building was painted a hideous pink). The other group dubbed the place "The Hideaway." The groups that played their weekly included the Trashmen, Chancellors, T.C. Atlantic, High Spirits, Stillroven, Castaways, etc. The city stopped renting to the promoters because the events were marred by fights and other problems in the parking lot. I cut a deal with one of the promoters and put up flyers and posters in exchange for free admission."
Hey, it's still there in 2014!
---
Chick's Steak House, per Kenneth Stuart, "was a popular watering hole and I was there only once and that was to see some of the Woody Herman Band sidemen come and sit in with the house band. Seems that was the thing to do after name bands closed at other venues, namely the Prom Ballroom. Saw Woody Herman there the night I went to Chick's. Woody, at that time, had the Four Brothers sax section with Stan Getz, Zoot Sims, Serge Chaloff and Herbie Steward; Bill Harris on trombone; Billie Bauer, guitar; Don Lamond, drums; Ralph Burns, piano; Chubby Jackson, bass and Davey Tough on drums. I can't tell you how many of the sidemen won the Downbeat Jazz Poll that year but the band totaled seven winners within a short span of years and they were fantastic. I say fantastic and back then it meant something; not just another term like young people use today. The word awesome was not in our lexicon then. had a house band and was also the site of after hours jamming with national acts that were in town such as Woody Herman's band in the '40s."
Chubb's Ballroom was located in Eagle Lake, Minnesota. Advertised in 1959 were "Teen Age Hops" at the Spring Lake Ballroom (west of Prior Lake on Highway 13), featuring the Jolly Musicians.
---
Chuck's Skol Club, 326 Cedar Ave. So., West Bank, Minneapolis. In December 1955 there were three shows nightly. Previous occupants of this building, probably built in 1901, included:
Fred Hemmingsen Tavern (1935)
Klondike Bar (1936-1948)
Harold J. Krag Tavern (1950)
The building was replaced in 1965.
---
The Cinnamon Cellar was on Highway 10 in Anoka, open to teens on Saturdays in 1967.

CIO Hall - See Pla-Mor Ballroom.

Classic Motor Company, 4700 Excelsior Blvd., St. Louis Park, June 1979 - March 2001. Click on the link for the story of this and the other clubs at this location.

Clef Club Cafe: See the Kistler Building.

Clover Club: 501 University Ave., St. Paul. First mentioned in the Minneapolis Spokesman in October 1955. Proprietors were Alonzo Ellis of Minneapolis and George Green of St. Paul. On October 14 the act was Coffee and His Cups featuring Little Jimmy and his Saxophone.

Club Bengassi, 707 Olson Memorial Highway. Opened August 1943 by William "Bill" Freeman - "For an evening of fun." This site had previously been a hardware store, beauty salon, and Bill's Smoke Shop. In March 1945 Freeman was fined $100 because a pinball machine on the club premises paid off nickels instead of trade tokens. The machine was found by Oscar Eidern, new Minneapolis police morals squad chief.

Club Carnival: See the Flame, Hennepin Ave., Minneapolis
Club Delissa: 607 Sixth Ave. No. September 1939: You are invited and always welcome; "Where the Crowds Go"
Club 47: University Ave. in Fridley, 1970

Club Kaposia in South St. Paul

Club Kongo: See Cotton Club Chicken Shack.

Club Malibu, at 334 East Lake Street in Minneapolis, showcased rhythm & blues.

Club Morocco: See Cotton Club Chicken Shack.

Club Reservoir - see Boulevard Dance Hall
Club 78 was somewhere on 78th Street, next to the Bloomington Drive-Inn. The Twin City Tenpin of November 1964 included an ad welcoming bowlers; the ad shows there was live music and dancing every Thursday through Sunday and that the club had a capacity of 200.
Club 13: Nicollet Ave. jazz venue that booked Jerry Berry's Quartet in 1959.
Club 350
Coachmen Inn

The Coconut Grove near 6th Street was over Brady's, later Schinder's, newsstand and had a 14-piece orchestra and a chorus line of 8 girls. "Walk up a flight and save a dollar." In the 1930s it was frequented by gangsters and featured the music of Norvy Mulligan's 12-piece band.

The Coffee Break, 313 Oak Street, next to the Oak Street Cinema in Stadium Village. Owned by Mel Lasky. Rivals of the 10 O'Clock Scholar in the '60s. January 1963 ad in the Select Twin Citian says "'Bohemian'" coffee house atmosphere in a converted frame house next to the Campus Theater. Dusty wooden floors, fish nets, stained glass windows. Authentic Negro blues performed by Dave Rey (sic). Friday and Saturday 9:30 to 1:30 am." Became the Lotus Restaurant.
---

The Coffeehouse Extempore has had many lives:
It first opened in April 1965 at 2200 Riverside on the West Bank by the U of M. The property is now vacant land owned by Fairview Hospital. The Extemp was opened and run by a group of laymen and clergymen. It included a small snack bar, a chess room, a conversation space, a library room, and a gallery. The gallery space, initially an art gallery, quickly became the place for musical performances. A 1969 article in the Tribune said, "Later the hippies moved in and in the fall of 1967 the cafe closed after acquiring a reputation as a center of drug traffic on the West Bank.
Later in 1967 it reopened under the auspices of youth workers from the American Lutheran Church. The hippies were not drawn to it.
In May 1968 it moved to 623 Cedar Ave.
In January 1969 the Cafe was taken over by the West Bank Campus Ministry (WBCM), a loosely organized group of campus religious organization "to give a unified thrust to work with the hippie community." Members were the Lutheran Campus Ministry, Newman Center, Episcopal Foundation, United Campus Christian Fellowship, Methodist Campus Ministry, University Baptist Church, University Lutheran Chapel (Missouri Synod), Covenant Campus Ministry and Assembly of God Campus Ministry. The Cafe was run by Rev. Gordon Dahl, head of the Lutheran Campus Ministry. The WBCM was also opening other services for the growing runaway and dropout population. The music spaces in all locations was always called "The Gallery." Live folk and rock was featured nightly from 8 pm to 2 am with light refreshments offered. The cafe also hosted discussion sessions, club and community meetings, experimental religious services, and courses for the Free University, a self-education program run by university professors and students. Courses included Nihilism Now, Philosophy of Sex, and Existential Christianity.
On January 8, 1970, fire destroyed the building at 623 Cedar. The Extemp reopened the same night at an abandoned bar at 1500 - 6th Street, where it remained until it moved to 325 Cedar.
In July 1970 it moved to 325 Cedar Ave.. The Extemp consisted of nine rooms in the building.
In 1971 Young Adult Centers, Inc. was incorporated to run the Extemp. Created as a non-profit organization, the Extemp was designed to be a place where young artists could perform prose, poetry and music to develop their talents. Run by volunteers and a part-time staff, the Coffeehouse became a well-known spot where musicians and others on the coffee house circuit could perform. Financial problems forced changes to professionalize management in order to attract investors.
In April 1973 a fire necessitated the closing of the entire second floor. After two months of volunteer repairs, all but two of the nine rooms were open.
The Coffeehouse Extempore existed in five different locations on the West Bank over the years and closed in about 1987.

---
Coleman's in Highland, 2239 Ford Parkway, St. Paul. 1963: Musical Entertainment. 1969: The Internationals Quartet.
Coleman's Stage, Bar and Cafe was at 444 Wabasha in St. Paul: jazz venue in 1944.
---
COLISEUM - MINNEAPOLIS
The Coliseum Ballroom is located in the (Lake Street) Coliseum Building at 2708 E. Lake Street. The 70,000-square-foot, five-story Art Deco building was built in 1917 as Freeman's Department Store. It had a huge ballroom with high ceilings on the second floor; ads can be found for dances in 1937 and perhaps even further back. In 1967 it had Old Time Dancing. In 1968 it was age 28+ "Smooth Dancing." The large building held many businesses, such as Podany's Office Furniture, doctors' and dentists' offices, rehearsal space for music groups. Still a music venue in 1974.
Minnesota Historical Society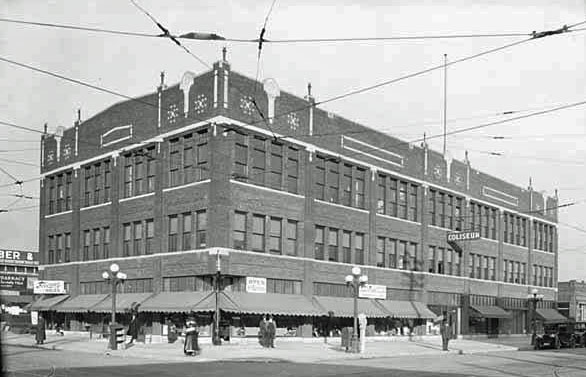 1920
---
COLISEUM - ST. PAUL
The Coliseum Pavilion/Roller Rink was at 449 Lexington Parkway at University, St. Paul. With 25,000 sq. ft. of dance floor, it hosted dance marathons in the 1920s and '30s. Wally Erickson's Coliseum Orchestra was the house band for most of the 1920s and early '30s. It was either also or became a roller skating rink until it closed in 1958, owned by Johnny Lane.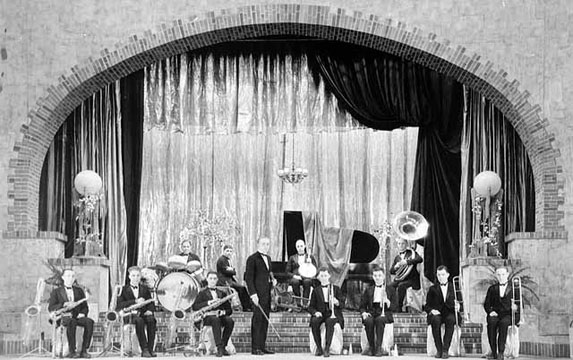 Wally Erickson's Coliseum Orchestra, @ 1925. Photo courtesy Minnesota Historical Society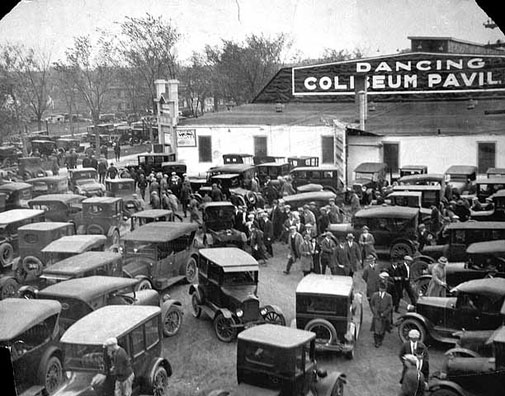 1927 photo courtesy Minnesota Historical Society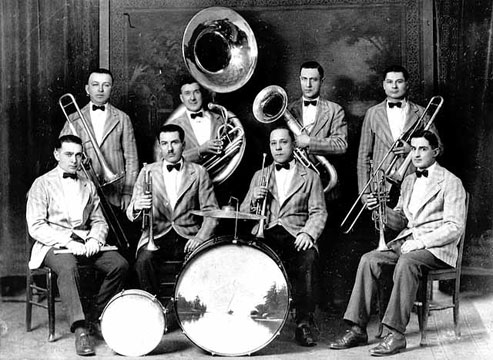 Coliseum Roller Rink Band from 1927, courtesy Minnesota Historical Society.
The Coliseum was part of the left field fence for the Lexington Ball Park and patrons could often hear the sound of baseballs hitting the roof. 1930 MNHS. Thanks, Rick Schlosser. The ballpark was demolished in 1958 and the site became a Red Owl Grocery Store. Presumably the Coliseum went at the same time.
---
Sue Tad Nelson's father, Sam Spector worked at the St. Paul Coliseum - Sue provided the two photos below, with her father at the left in both of them: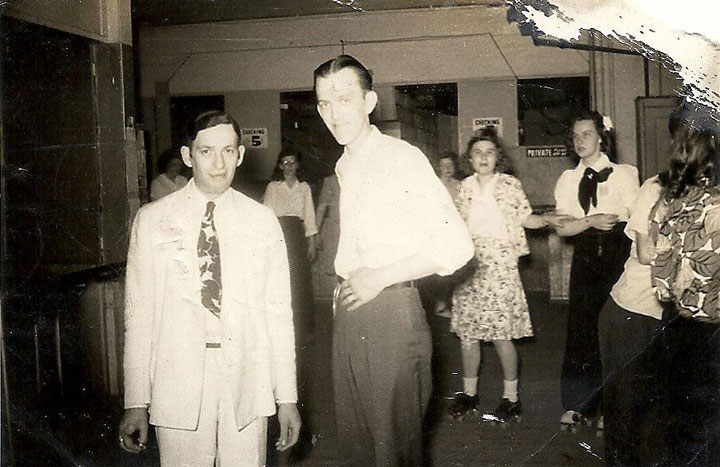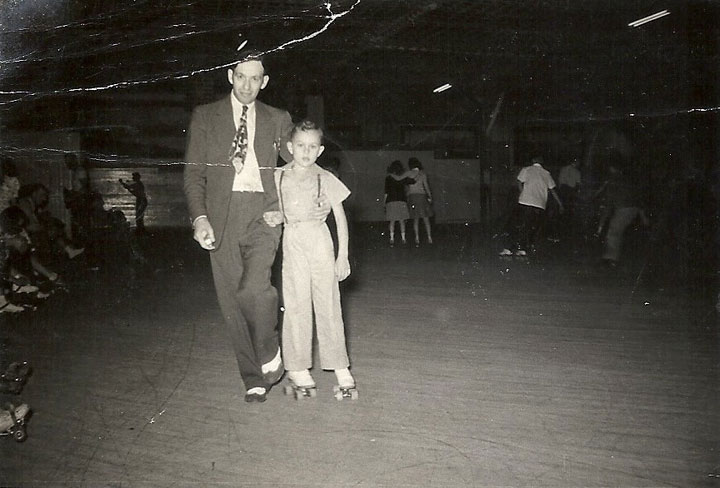 ---
Colonial, Mendota
Colony Club, downtown St. Paul: See Miller's Club.
Colony Club, White Bear Lake: In December 1938 the club was described as one of the most exclusive swanky night clubs in the Northwest. It was located 13 miles from Dale and Rondo Streets, just a half hour drive on Highway 61.
Commodore Hotel, St. Paul: Home of the Wolverines.
Community House, Lake Minnetonka. Site of dances in the Excelsior area in the 1920s.
Conroy's. Musical Entertainment and dancing, 1963.
Conway's Dance Emporium - See Dreamland Dance Pavilion below.
Cooks' and Waiters' Club was an after-hours jazz and gambling house, probably on South Sixth Street, Minneapolis.
Cooper's West was at 1209 W. 7th in St. Paul, 1972-74
The Copper Hearth - see North Star Inn.
---
Copper Squirrel, 413 Hennepin, Opened August 1963. On September 13 Will Jones reported that the new place had
the old Persian Palms license, the old management [Harvey Smull], and for a week or so they had what looked like the same old dancing girls and lady MC working there. The only thing new was the address and the shining new wood and copper decor. But the old shows didn't look right in the new setting, and the management nervously began shuffling acts. This week a Chicago coffeehouse comic was imported. He worked one night, was paid off for the week, and sent back to Chicago. Now they've brought in the Hank Hazlett Trio to swing a little, and it looks as though those three will stay awhile. And the show in the back room features Greta Gibson, Miss Sax Appeal, a tall, stacked blonde who blows everything from a Hungarian czardas to "Night Train" on a rackful of five saxophones...
At one time the Copper Squirrel was owned by the father of actress Kelly Lynch. "The Copper Squirrel became a gay bar/drag bar in the '70s called the Sun Disco."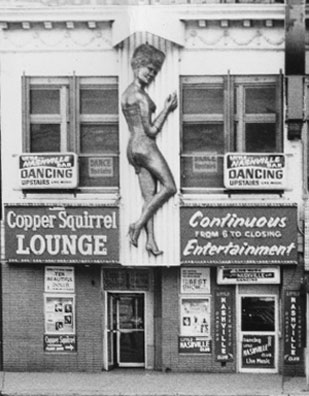 1970 photo from post on Historyapolis Facebook page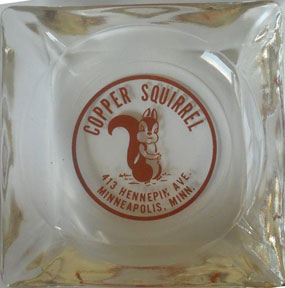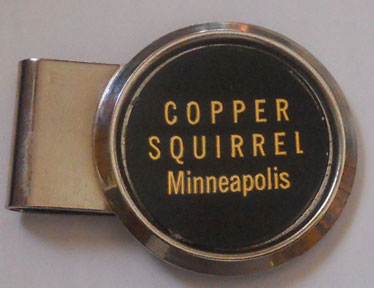 Ashtray and money clip from the collection of Mark Youngblood
---
Cork & Fork, 16 So. Sixth Street, Minneapolis. Swing Lounge, 1970.
---
COTTON CLUB
The Cotton Club was a "Chicken Shack" located at 718 Sixth Ave. No., Minneapolis, 1924-28. One account says it was run by Ben Wilson, who also owned the Gin Mill and the Spot. A shooting on the morning of February 3, 1928, injured two policemen who were breaking up a fist fight, which was started when Jack Sackter allegedly "made a remark to a Negro entertainer." Also injured was Kid Cann, according to news accounts, although they gave Kid's real name as Harry Bloom, which is actually Kid's brother - which was it? Whoever it was was held without charge for days and then held for trial, accused of participating in the gunfight. Four men were eventually charged in the shooting, including Verne Miller, a former sheriff from Huron, SD, who had served a prison term for embezzling county funds and was carrying a large amount of money when the police came to stop the fight. A manhunt ensued for Miller and two others, with 1,500 fliers distributed, mostly over the Northwest.
Chicken shacks were common during Prohibition and this one had chicken and dancing and fighting all night. At the time of the Cotton Club Shooting a City Alderman proposed an ordinance requiring that curtains and screens be removed from all chicken shacks, so as to permit a view of the interiors from the street. In May owner Horace Pierson was denied renewal of his restaurant and dance hall license. Shortly afterward, Wilson opened another place across the street.
The place became:
Club Kongo in 1933
Club Morocco - Grand Opening September 15, 1934. "Hotsy Totsy!" Music by the Club Morocco Band, the Northwest's Favorite Night Club Entertainers. Apparently things did not go as planned, as there was another Grand Opening announced for December 13, 1934.
---
Cotton Club, St. Louis Park: See El Patio below.
---
COVERED WAGON
There were two Covered Wagons, at least in November 1943: In Minneapolis it was at 114 So. 4th St. at Marquette (first opened two doors north). In 1956, music by Loren McNabb and his band. "Largest and Finest Dance Floor in Town." An undated ad in a Minnegasco cookbook touts its 20th anniversary. The house entertainment was the Cow Hands Band, but they are mentioned on both the Minneapolis and St. Paul matchbooks, so maybe there were two of them. On the menu were Mallard Duck, Ring Neck Pheasant, and Hungarian Partridge, but you had to call ahead in the morning so they could go out and shoot it, I guess.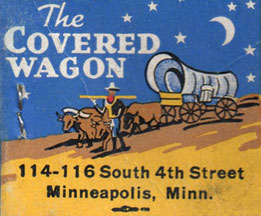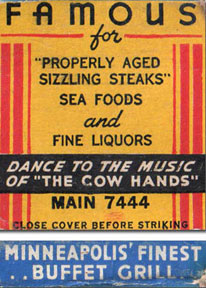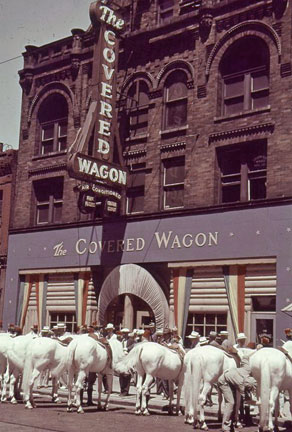 ---

In St. Paul the Covered Wagon was at 320 Wabasha Street. The 1943 ad that included both sites claimed "You Always Enjoy Yourself Here."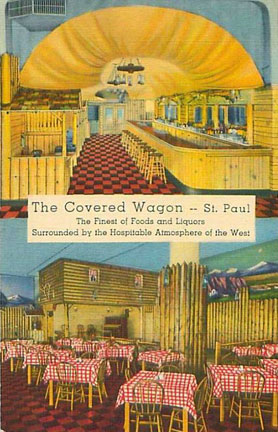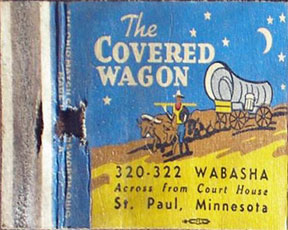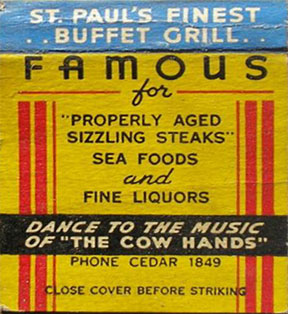 ---
COZY BAR - MINNEAPOLIS

The Cozy Bar and Lounge was located at 522 Plymouth Ave. No. and owned by James T. "Jimmie" Fuller, Sr. and wife Margaret Fuller. Ad from the Spokesman dated April 1967 calls it Minneapolis' Newest and Most Exciting Bar and Place of Entertainment. Live Music and Dancing Nightly.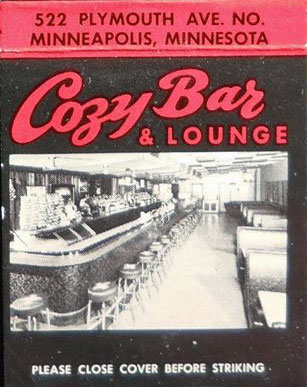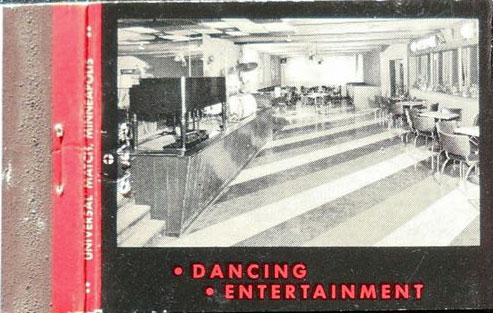 Matchbook image thanks to the Match King, Alan Freed
In the late '60s it was a major venue for R&B acts (Mojo Buford was a frequent performer) and one of the few black-owned bars in Minneapolis.
In July 1972 it was one of at least three bars that was ordered to close by a group of 20-25 black youths, one reportedly carrying a high-powered rifle. Manager James Gibson said the youths told him to close down the bar and that if he didn't "somebody would get hurt." Around that time the bar was raided by police at 2:30 am and customers were still there, in violation of the 1 am closing time law.
The Cozy was still there in 1974 but was lost due to construction of I-94. Read the story in Twin Cities Funk & Soul, page 29-30. The photos below of the bar in the late 1960s were provided to Secret Stash by Jimmy Fuller, Jr.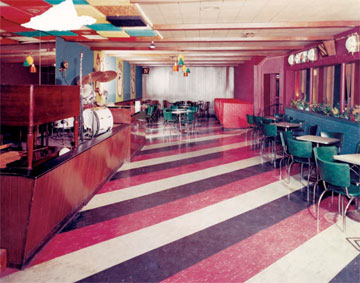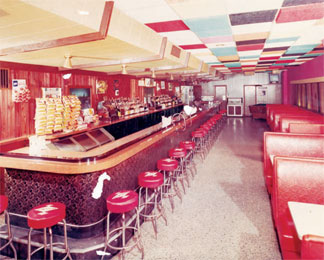 Photo below left is of the Blazers performing at the Cozy in 1968, taken by Mike Zerby, courtesy Minnesota Historical Society.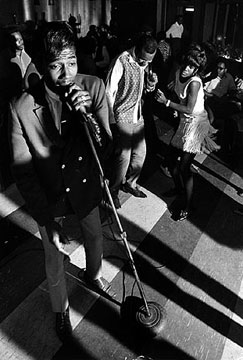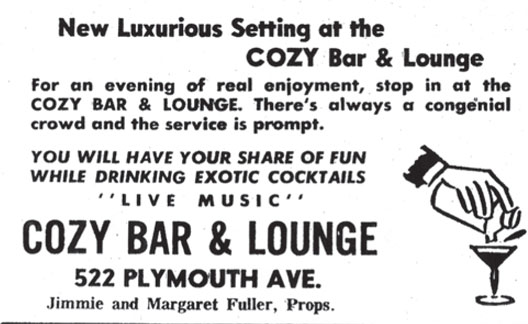 ---
COZY BAR - ST. PAUL
There was another Cozy Bar at 202 Concord (now Cesar Chavez St.) on the West Side of St. Paul (but not in the City of West St. Paul). In 1963 it was owned by Frank Pastuszak and billed as "Minneapolis's Hottest Polka Spot." Frank held a mortgage burning party that February and played with his band the Polka Pals. According to tales on Facebook, it was a fun but increasingly dangerous place; one report was that a body was found in a dumpster and a metal detector was installed to find guns and knives. It apparently changed hands several times and is now the Cozy Cantina.
---
Criterion - See Harry's Cafe, St. Paul
Crombie's: See Lindy's
Crystal Coach, 5630 Lakeland Ave. 1967: dancing nightly to Mel Calbert Trio.

The Crystal Coliseum was one of the first - if not the first - venues in the Twin Cities area that booked rock 'n' roll bands on a regular basis in the 1950s and early '60s. The large Quonset hut styled building was owned by Bob Zimmerman (later Bill Cavenaugh?) and had a stage and a large hardwood dance floor/roller rink and served no alcohol. It could hold hundreds of people, and hosted early acts like Augie Garcia, Mike Waggoner and the Bops, and the bands that David Hersk recorded on his Gaity label, including the Glen Rays, the Flames, the Sonics, the String Kings, and Jim Thaxter and the Travelers, a precursor to the Trashmen. Teen night was Friday night. It was on County Road 81 (at that time Highway 52) by the Clock Restaurant. One memory is when black artist Bobby Freeman ("Do you Wanna Dance," "The Swim") came to perform and some thugs tried to break up the dance. Police were called and the show went on. The Crystal Coliseum burned down in June 1961.
---
C.S.P.S. Hall, 383 Michigan Street, St. Paul: The historic Česko-Slovanský Podporující Spolek (C.S.P.S.) Hall has been the home of Czech and Slovak Sokol Minnesota (Sokol MN) since 1879, and the focal point for its activities in St. Paul since the current building was built in 1887. It was declared a National and State Historic Site in 1977, placed on the National Register of Historic Sites, and is the longest serving Czech-Slovak cultural center in the United States, and oldest theater and national hall in the State of Minnesota. The building is still active and available for rental!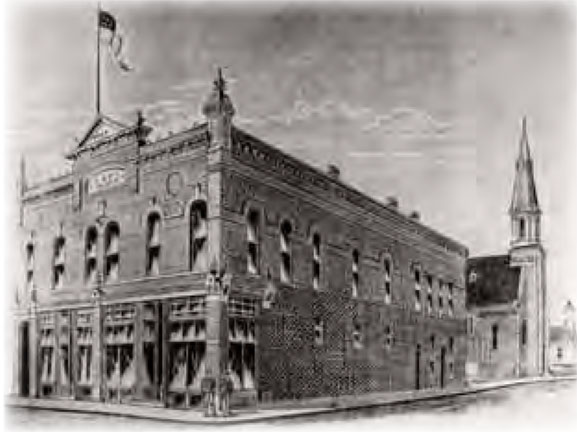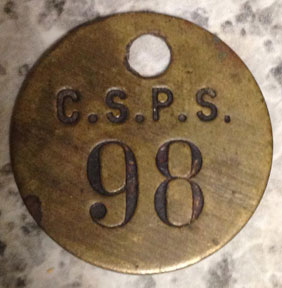 Coat check token
---
---
Curley's Caribbean, Tonka Bay, Lake Minnetonka. Opened May 1965, with Ginny Herrmann at the Piano Bar.
Became the Caribbean in May 1966. Ad below from Minnetonka Record.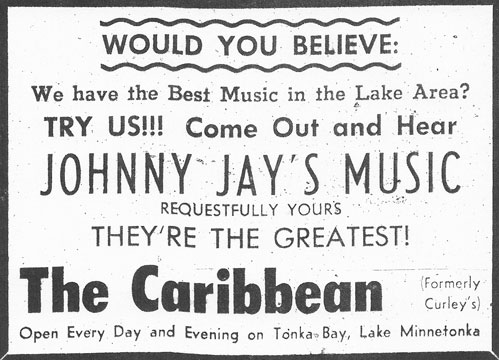 ---
CURLY'S
Curly's Theater Cafe, 20 So. 5th Street. Opened in 1933 where the Fifth Street Cash Market had been. This strip joint brought in name acts over the years, but was often in trouble. Curly was apparently Monroe "Curly" Shapiro, who was identified only as an employee in 1933 accounts, the owner being Nate Shapiro. In 1937 it was called Curly's Cabaret. Most of the time Curley's featured floor shows and local dance teams. The place was under attack by Rev. Henry J. Soltar, vice crusader and head of the Minnesota Good Government League. Thanks to him, Curly's got its dance hall and tavern license revoked for having slot machines, but got them reinstated in 1940 with a new owner. In the early 1940s pianist Bob Zurke played here after working at Mitch's in Medota. From time to time it also featured some Dixieland bands. In the late 1940s it was "a very swinging place - it was so crowded you could hardly get to the bar." Curley's featured jazz trios at the front bar. In 1952 owner Meyer "Makey" Gordon was convicted of selling drinks after hours and shut down, whereupon he sold the place to Oscar Rubinsky. Matchbook below from Robb Henry. 1944 photo from Minnesota Historical Society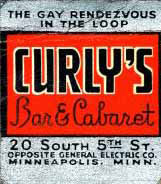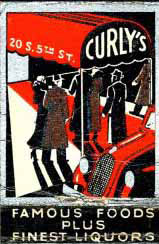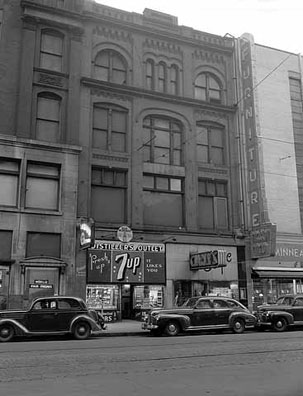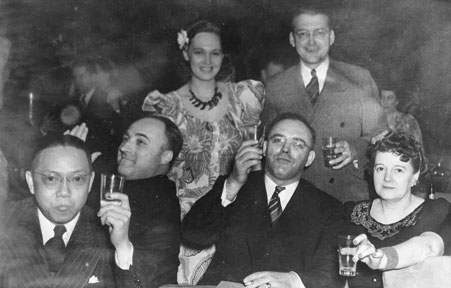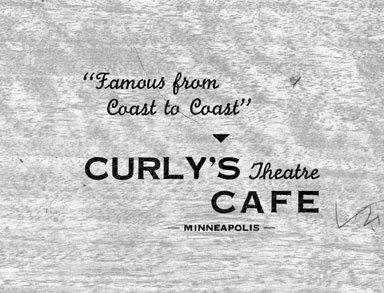 A note on the back of the undated photo above says it is of some doctors whooping it up while in town for a convention (well, not in those very words..). The woman in back is a waitress, and the woman at right is Flora Bell Cook, the same woman who told fortunes at Lindy's (see that entry for another photo of Flora). At right above is the folder that the photo came in. Photo is courtesy of the Anne Cook/Gurr photo collection.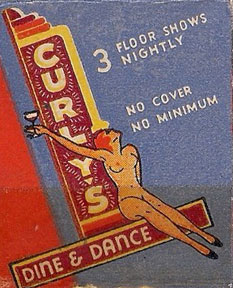 Curly's became:
The House of Hastings Restaurant in 1952. In October 1952 the Minneapolis City Council approved the transfer of Curly's liquor license from Oscar Rubinsky to Tom E. and Harry Hastings. Tom Hastings had plans to make it over in a Hawaiian theme, but then the Nicollet beat him to it with the Waikiki Room. In October 1952 it was reported that he planned to feature prime rib with Yorkshire pudding "and make a show out of it." "Non-edible entertainment is planned, too."
Jimmy Hegg's Starlight Club in November 1953. Jimmy Hegg had been the emcee at Curly's for 20 years. Doc Evans appeared on November 9th, 1953. Around 1955 or '56 Ray Komischke fronted the house band. There was a fire in 1958/59, and Hegg reopened at 420 Second Ave. So. as Jimmy Hegg's Restaurant. It became a jazz venue in 1963. It became a popular after-hours destination for theater people. The restaurant closed in 1982 and Hegg died in 2001 at the age of 90.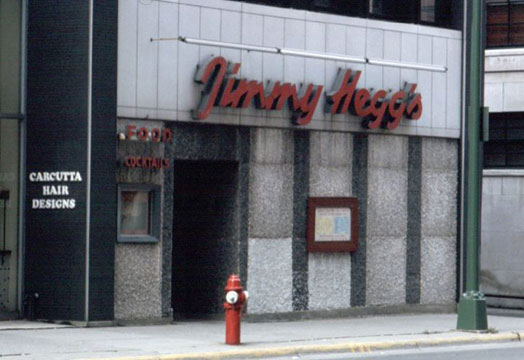 ---
The Curtis Hotel was at 3rd Ave. and 10th Street in Minneapolis. Dick Long and His Curtis Hotel Orchestra was there as early as 1928; in 1933 he debuted his new 12-piece band at the Saturday Night Frolic. Long was also at the Nankin. It was reported by Stebbins that he was at the Curtis for 47 years, so this need clarification. Various venues included:
Turquoise Lounge, 1952
Cardinal Room, 1963-1970. Dinnerr fashion revuies by Jackson Graves on Tuesdays in 1963.
Garden Lounge. 1967: pianist Jimmie Cooper; 1970: pianist entertains nightly.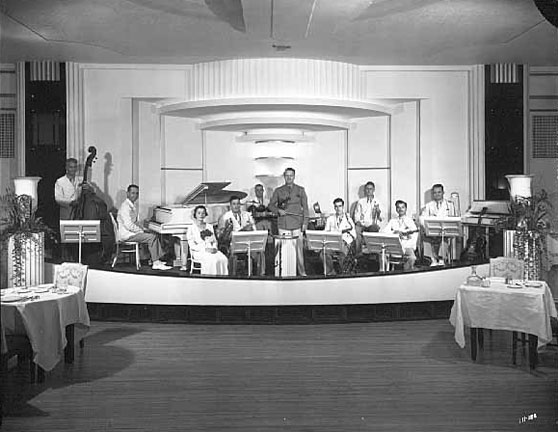 Dick Long and His Orchestra at the Curtis Hotel, August 26, 1935. Courtesy Minnesota Historical Society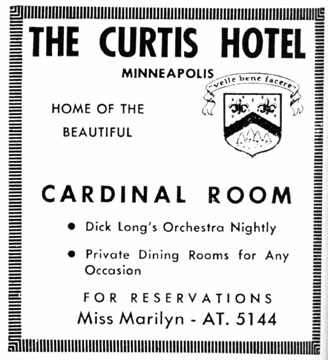 1939 - St. Louis Park directory 1954
---
DANIA HALL
Dania Hall was on the West Bank at 427 Cedar Ave. So., on the second floor above Richter's Drug Store. It was built in 1886 as a community center for the Danish community and hosted many cultural events. In 1963 pharmacist Phillip J. Richter bought the building from Society Danian for $25,000 - Richter had been operating his drug store on the first floor since 1948. Dances were held in the large hall featuring groups like the Litter, Jokers Wild, T.C. Atlantic, and the Paisleys. An article in the Star from February 1968 stressed the fellowship aspect; police officer Donald Reynolds, who worked dances, said "They're a group apart alright. You should see them Friday or Saturday night. Three or four hundred come, and they weaar costumes - rebel outfits, hats, and weird coats. But these dances, with as many kids as there are, are less trouble than I've ever had bouncing at bars."
When one of the groups wanted to advertise, Richter had the building inspected and got a dance hall permit, Alderman Jens Christensen insisted on a top-to-bottom inspection, claiming there were fire hazards. In 1968 the building was acquired by Cedar Riverside Associates and the building was in danger of being part of a sweeping urban renewal scheme. Thanks to the testimony of an undercover cop known as "Charlie," who reported drug trafficking at the site, the hall's license was denied renewal on June 28, 1968.
In 1975, with the help of the Danish American Fellowship and the Minnesota Historical Society, the building was put on the National Registry of Historic Places, giving it some measure of protection. It was acquired by the Minneapolis Community Development Agency in 1986 and the first second floors continued to be used until a 1991 fire caused extensive damage to the roof. Arson was suspected in that fire and the building was never used again. There were several plans for redevelopment; it was undergoing a $2.7 million renovation to be used as a cultural center when the Hall burned down in a four-alarm fire in the early hours of February 28, 2000. Flames soared 70 feet into the sky and burned for more than four hours. The fire was attributed to a discarded cigarette; a remorseful drifter was suspected, but his only asset was a pit bull puppy, so there were no actions to charge him. More sinister suspicions of arson were highly suspected by parties who wanted the building gone, but those were never proven. The front wall collapsed on top of burned-out cars that were in front of the building. 25 people were made homeless.
A complete history of the building is told best in a chapter of the book Swedes in the Twin Cities, edited by Philip J. Anderson and Dag Blanck (2001, MHS Press). The chapter, "Dania Hall: At the Center of a Scandinavian American Community," was written by David Markle.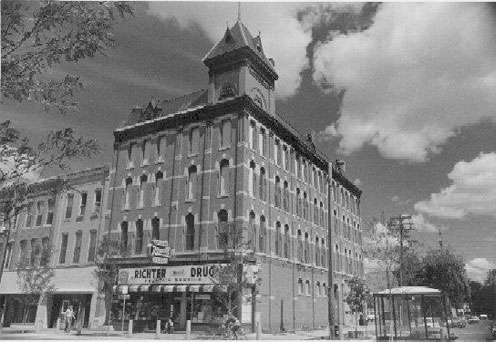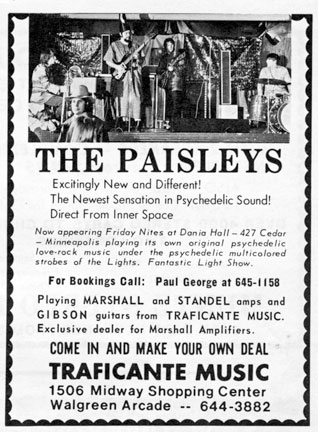 Dania Hall, courtesy Hennepin County Library, Minneapolis Collection. Paisleys ad from March 16-23, 1969 Insider.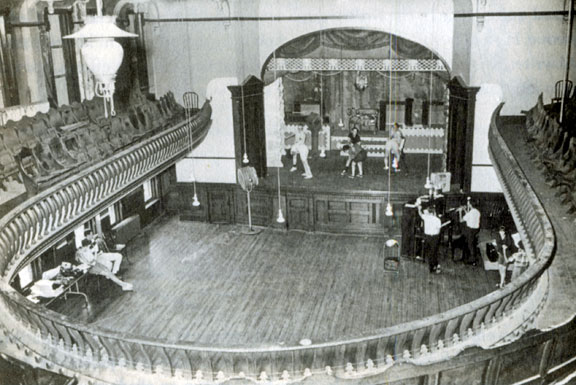 Above, interior of Dania Hall's large hall, 1969. Original gas chandelier still in place.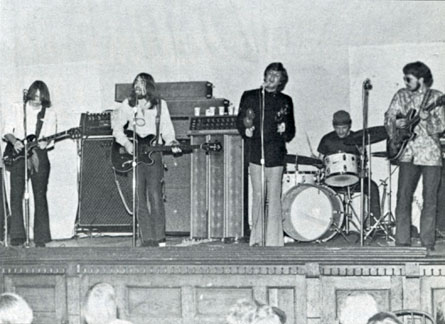 Zarathustra (above), December 28, 1968. Thanks to Bob Coates (on far right in photo above) for clarification!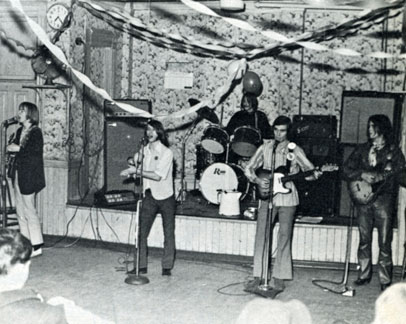 Poison Bird Pie (above), December 31, 1968. Mike Barich, who took both photos, thinks this must be the second floor hall. Caption says "Band has a lot of promise."
---
DANCELAND AND BIG REGGIE - Click here for a special page.
Dantis Cafe and Bar, 1372 Nicollet. In 1937, Dancing every night.
Davy Jones' Locker: see Downtowner Motel.
---
DAYTON'S
In the 1920s, Dayton's Tearoom had a three-piece band led by Dick Long.
From 1962 to 1966, Dayton's Department Store in downtown Minneapolis sponsored a teen dance in their 1,500-seat 8th Floor auditorium, emceed by WDGY disc jockey Bill Diehl. T.J. Skinner attended every Saturday, and said it was extremely popular because it featured live bands instead of records. Billboard Magazine announced that the 1964 shows would be simulcast on WDGY starting on April 4 as "Dayton's Top 10 Club." Bands may have played at Dayton's fashion shows on the 5th floor as well. Dayton's also sponsored "Youthquake" series of concerts in 1966 that featured national and local talent.
---
Del Otero Hotel, Spring Park, Lake Minnetonka. Below is a 1910 photo of the dancing pavilion, courtesy of the Minnesota Historical Society. This hotel was built in 1885 by James J. Hill to create passenger traffic for his railroad. The hotel burned down on July 16, 1945. Click Here for more information about this hotel.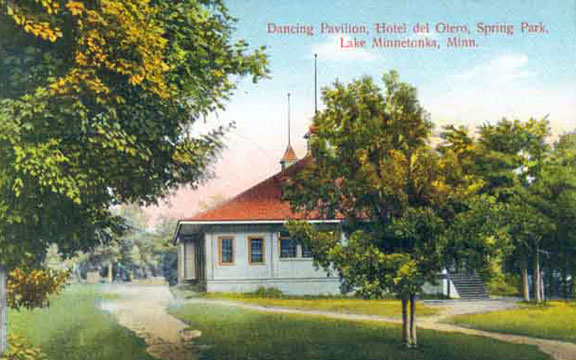 ---
Del's Orchid Club: see Dreamland.
The Delmonico Nite Club was located on New Brighton Road and County Road E in July-December 1943. Open Saturdays and Sundays.
Denny and Don's Saloon, University Ave. Started featuring rock on Mondays and Tuesdays in 1973. Same as Denny's Loft, on University across from the Prom?
Denny's was at 33 1/2 South 7th Street in Minneapolis, across from the Forum Cafeteria. It opened and closed in 1934 but during its short life it featured floor shows and dancing, and Joe Jung playing jazz violin.
---
THE DEPOT/UNCLE SAM'S/FIRST AVENUE
THE DEPOT
The former Greyhound Bus Station was built in 1936 at 29 North 7th Street, downtown Minneapolis. It stood empty for several years, owned by Ted Mann who considered turning it into a theater. In 1970 it was purchased by Danny Stevens of Danny's Reasons, who had a liquor license from the Hotel Hastings, and Elizabeth Heffelfinger, who had to drop out because of illness. Allan Fingerhut (pictured at right, from the Insider) then stepped in with the financing, and Abby Rosenthal was formerly the manager of George's in the Park. Danny's brother Mickey and Skip Goucher were creative partners. Another name mentioned in the Insider as an owner was Clearance (sic) Kramer.
An article in the February 24, 1970, Minneapolis Star hinted at some very ambitious plans:
Four bars (there were eventually at least five)
Record Shop
Two mod clothing shops, I.Ross and East-West Ltd.
Fast food
On April 3 and 4, 1970, the Depot opened with a bang with performances by Joe Cocker and the Mad Dogs and Englishmen tour. (First choice Santana didn't work out.) See EVENTS for photos a much more about this phenomenal Minneapolis happening. Below is a photo by Darrell Brand that shows the stage: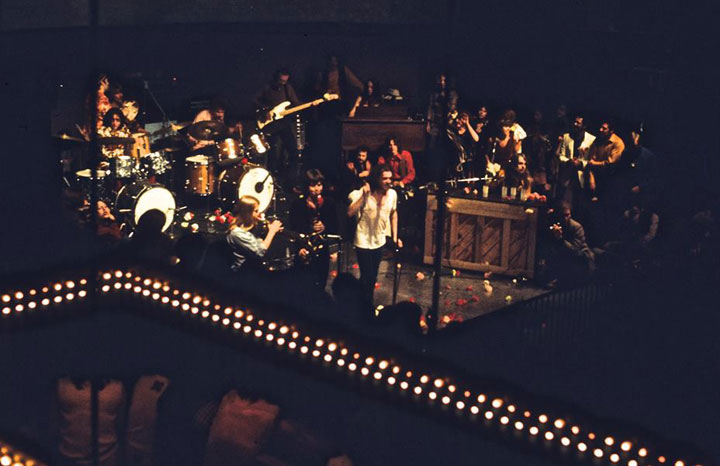 The movie Mad Dogs and Englishmen contained footage of this performance; CLICK HERE for an excerpt. At the end the camera pans the audience and you can see the two tiers of the huge building.
Purple Rain was also filmed partially in the facility.
Perhaps the Depot was a little too popular, and got a reputation of being kind of rough. Management also complained that people were coming to see name bands but not drinking enough to pay the bills. In late 1970 the Insider reported that Allen Fingerhut was running the club almost on his own, as Danny Stevens, who was president, wasn't around much, Abby was listed as the "former manager," and Skip Goucher the "former talent booker." An article in the St. Louis Park Sun reported that Stevens tried to get a liquor license and buy Bunny's, but was denied citing "press clippings from the early '70s in which Minneapolis city attorneys and municipal court judges complained about the large number of arrests and disturbances at the Depot overloading the court system. In 1971, the Minneapolis Police Department barred off-duty officers from working at the Depot as bouncers." (September 21, 1983) The club closed in 1971.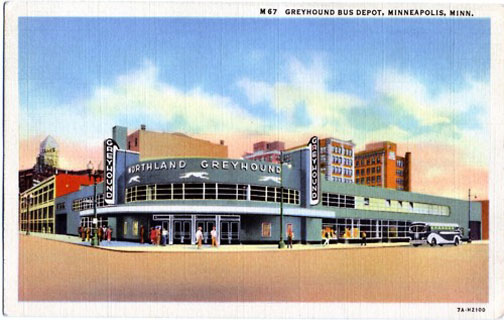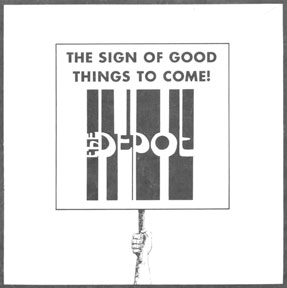 1937 Postcard courtesy Hennepin County Library Special Collections. Ad from Insider, April 1970

---
UNCLE SAM'S

After being closed for over a year, the club opened again on July 1, 1972 when it was franchised out to the American Events Company (AEC) from Cincinnati, which opened another of its Uncle Sam's chain of discos. The Insider reported that Danny Stevens and Allen Fingerhut were staying on as managers for the Ohio backers. The enormous facility featured "famous movies and slides" for people to watch when the dancing got too dull. It had to be big to accommodate the newly-enfranchised 18-year old drinkers and the advent of Disco in 1976. An article from November 1977 said that it was owned by the American Scene, a corporation that owns discos across the country. In 1979 AEC returned the club to Fingerhut and Stevens. In April 1980 Sundays at Uncle Sam's were opened to teens. See a video of the band Mind and Matter made at Uncle Sam's Here.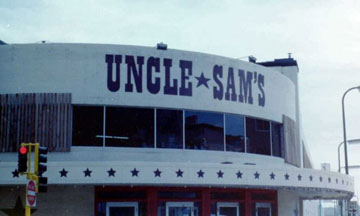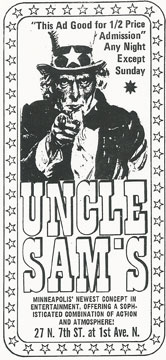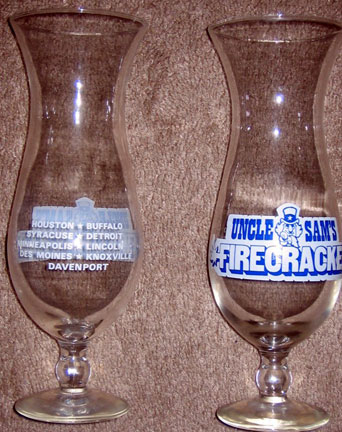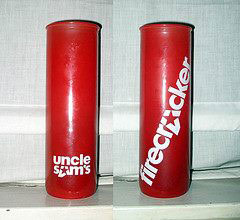 Firecrackers were the signature drink at Uncle Sam's - I was too busy dancing to drink one. The ones on the left are what I remember - the ones on the right with the redesigned "A" must have come later.
---
SEVENTH STREET ENTRY
Club Manager Steve McClellan started booking live acts in a smaller part of the building that used to be the bus station's restaurant – this was known as Seventh Street Entry.
---
SAM'S
By May 1980 it was just billed as Sam's - that continued until at least January 1981.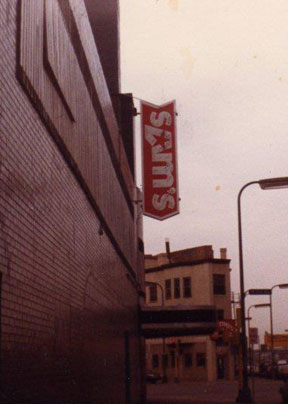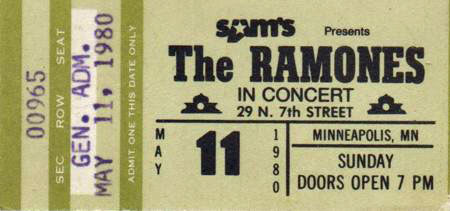 Sam's photo from May 1981 by Trudy Cunningham. Ticket posted by Jim Froelich.
---
SAM'S, A DANCETERIA
By September 1981 the ads read Sam's, a Danceteria.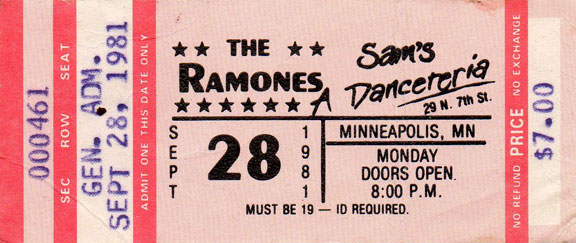 Ticket posted by David Nelson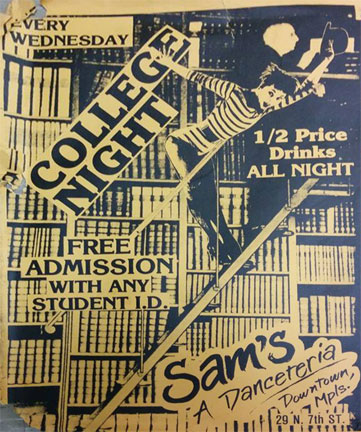 Poster posted by John Kass
---
FIRST AVENUE
Finally disco died, the live music moved to the big hall, and on New Year's Eve 1981 the club became First Avenue. The venue became nationally famous as the central setting for Prince's 1984 film Purple Rain. There's a list of First Avenue's live performers Here.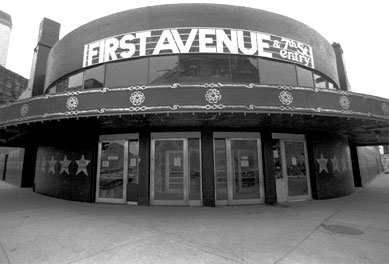 ---
There was another Depot "across from Lake Johanna in suburban St. Paul."
Deutsche Haus, 444 Rice St., St. Paul. Site of a dance and floor show on May 15, 1935.
Dew Drop Inn, Rondo and Western, April 1936. Bessie Pierce, Proprietor. In August 1937 the proprietor was listed as Bessie Massengale.
---

Diamond Jim's was at 801 Sibley Memorial Highway in St. Paul - listed by the Insider 1971-74, but obviously there much earlier, since Bill Conlan's membership card expired in 1966. Memories were that members had to be 25, and that there was a girl on a swing in the peanut room.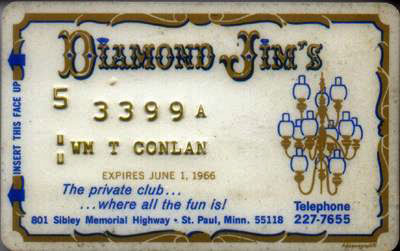 ---
Diamond Lil's: See Pla-Mor Ballroom
Dirty Flo's - 24 Hennepin Ave. New in 1973 - country.
Doc Holliday's: See Shakopee
Dome Bar - See Foreman & Clark Building

Dome Club: See Capp Towers
Don's Owl Club was in Hamel in 1955.

Donatelle's - 1 mile west of Twin Cities Arsenal on Highway 10. Ken and Betty nightly in 1969.
The Downbeat Ballroom opened in Spring Park on Lake Minnetonka in 1956. It competed with neighboring Lakeview, which opened the same year. The Downbeat featured George Myers' Band since 1958, and occasionally a name band like Kai Winding and Woody Herman. It featured remote broadcasts of jazz on KQRS and KUXL. In 1963 it was advertised as the Downbeat Club.
---
DOWNTOWNER MOTEL
Downtowner Motel: 400 So. 7th Street, Minneapolis. In 1963 this was owned by Marshall Sloane. There were apparently several bars/clubs in the building.
Eddie's Lounge, which featured local jazz musician Hank Hazlett and top name entertainers such as Dizzy Gillespie. In 1962 the LaBombas performed Caribbean and Latin music - "See and Learn the New Dance Craze Linbow and Basa-Nova!"
Davy Jones' Locker opened in July 1961 and featured a lingerie show which curiously no women went to. In 1962 acts included Junior Walters and Ike Cole, Nat King Cole's brother. From Davy Jones' Locker one could see into the pool, and in 1963 Sloan tried to hire girls to don bikinis and frolic for the businessmen; although the Trib reported that Minnesota girls proved too modest a June 1963 ad did advertise "Exciting cocktail lounge famous for its underwater swimming shows." One could ask for one's favorite Pirate Girl for their Shipwreck Specials. Jazz trios every night except Sunday; in July 1963 the management presented the Lee Evans Trio with Betty Nese, "a special treat as a way of thanking Minneapolitans for their patronage. The Trio has held leading engagements in New York and Las Vegas in addition to television appearances and three popular recordings." In 1971 or so it was a jazz club with Kenny Horst and his combo as the house band.
The Sultan's Harem Club, where, in 1967, you could see belly dancers.
The Captain's Galley, where Terry and the Pirates provided music for a Go Go in 1967.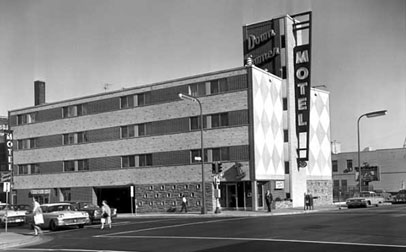 Downtowner Motel, 1966. Photo Minnesota Historical Society

---

The Drake Hotel was at 416 So. 10th Street in Minneapolis as a luxury hotel in 1926. At the Rathskeller in 1967 there was dancing nightly to the Bradfords, making their premiere US appearance (they were from England). They instituted a new rock policy in August 1969; just before that were the Four Kaye Brothers.
The building was badly run down and used as a homeless shelter. It is apparently still there.
---
DREAMLAND CAFE
The Dreamland Cafe was located at 3755 Fourth Ave. So. in the heart of South Minneapolis's thriving black community. It opened on December 15, 1939 and was owned by A. Brutus Cassius and Thel Collins. Current addresses are 3759 (built in 1900) or 3753 (built in 1920). In 1941 is was evidently primarily a cafe, serving only beer and soft drinks and not mentioning entertainment in the ad. In December 1946 the Cassisues invited patrons to enjoy the newly decorated music room. In 1950 Mr. and Mrs. Howard Hudson became the new managers.
In May 1955 the building became Del's Orchid Club, O'Dell Livingston, proprietor. The Orchid Club was in trouble in 1957 for playing live music after 11 p.m. There had been numerous complaints about the place and a local minister called it a neighborhood nuisance.
It later became Briggs' Cafe, owned by Taylor Briggs. The change to Briggs' was announced in February 1958, but the Grand Opening was announced from July 18-19, 1958. Inez Clark was the new manager and the entertainment was Maurice Turner and Orchestra.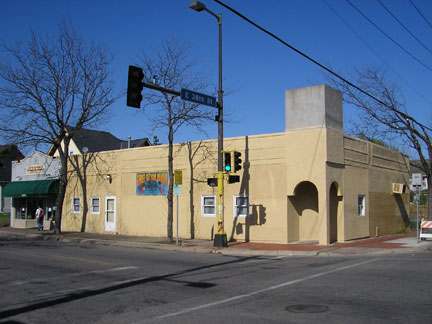 Dreamland building in 2013
---
DREAMLAND/ARCADIA BALLROOM
Dreamland Dancing Pavilion - 315 Fifth Street South in Minneapolis, across from the court house. Here are photos from 1911 (outside) and 1915 (inside) from the Minnesota Historical Society.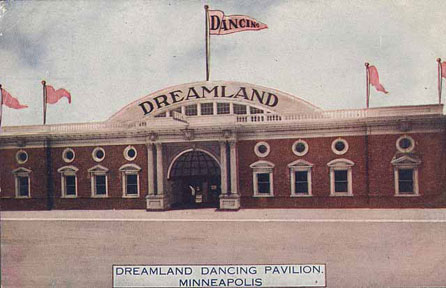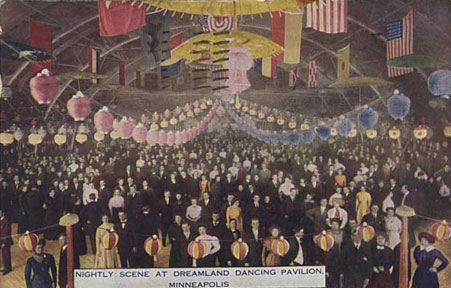 ARCADIA PALACE
Photo below from 1918 (as the Arcadia Palace) from the Minnesota Historical Society.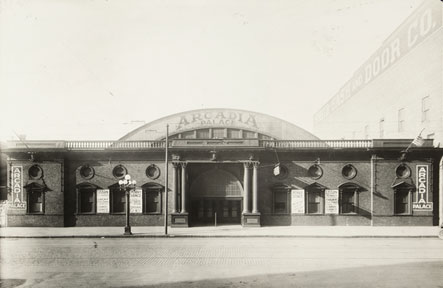 There was a busy schedule here in 1925, when it was called the Arcadia Dance Palace:
Enagma Club Dance on Tuesday nights
Lucky Prize on Wednesday nights
Club dance every Thursday night
Candy Dance on Friday nights
Saturday and Sunday follow the crowd to the Arcadia Dance Palace.
CONWAY'S ARCADIA PALACE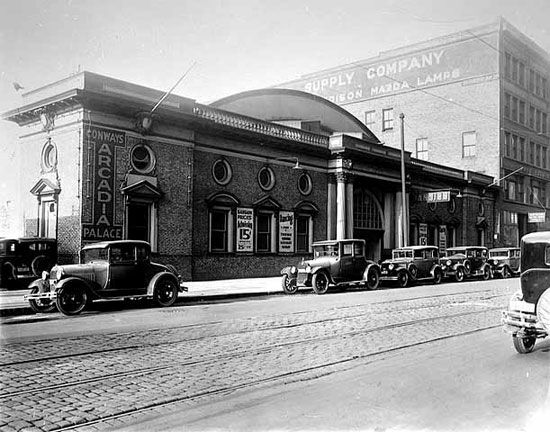 As Conway's Arcadia Palace, 1933
ARAGON BALLROOM
By September 1934 it was called the Aragon Ballroom, but the change must have been fairly recent as ads said "Formerly Arcadia."
---
Driftwood Room: See Lowry Hotel
Drum Bar
---
DUFF'S
Duff's was at 21 So. 8th Street in Minneapolis. An ad in the Tribune dated May 13, 1963, says "Door to Delightful Dining... in one of the newest and nicest places in town! The Charming Gay Nineties decor... the personal attention by Joe and Ray Duffy, your hosts... the perfect touch with a prepared beverage...the delicious food at down-to-earth prices... the live entertainment and dancing... at this adds up to a delightful dining experience." Dinner was $1.75!

1963 ad courtesy Robb Henry
Duff's was a hangout for celebrities, especially wrestlers and athletes. And newscaster Dave Moore, they say. Duffy held the Duff's Celebrity Golf Tournament for many years. In 1965 they danced in the Blarney Room. The Titans were their house band in 1967-69. Ralph Hitchens was the manager in 1972. Batch was the house band in 1973-74. Owner Joe Duffy retired in 1977 to become the general manager of the Olympic Hills Golf Club and the club was bought by Bob McNamara. The building burned down on Christmas Eve 1977. The original building belonged to the Jesus People Church when it burned. McNamara moved Duff's to 829 Hennepin Ave., where it continued until about the mid 1980s.
The photo below right is from a 1969 Connie's Insider. Caption reads: "Duff's in Downtown Minneapolis has long been noted for its pop music action and the abundance of pretty chicks." Photo courtesy Paul Strickland.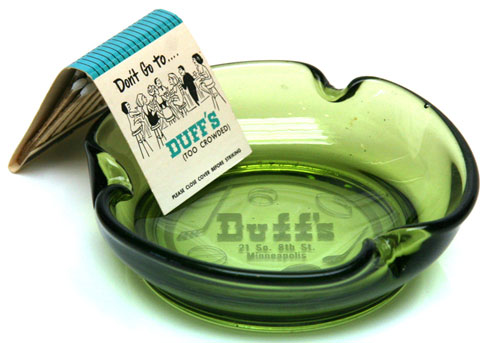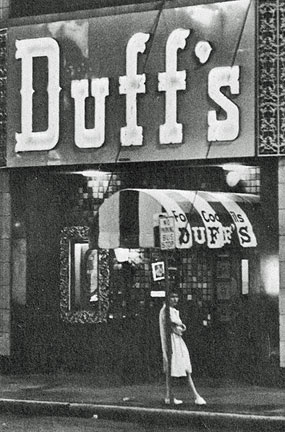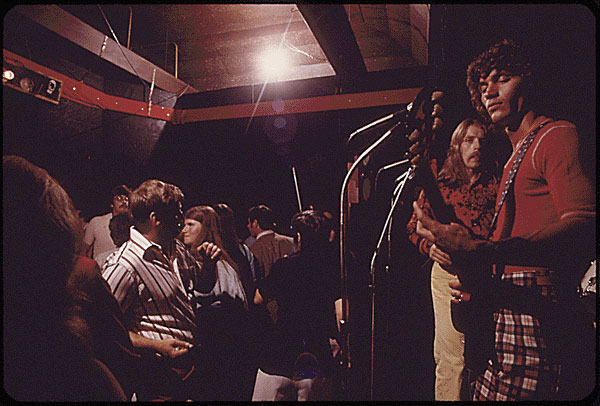 I saved this one as Duff's 1973. Who posted it and which band is playing?
---
Duff's in the Park, 4700 Excelsior Blvd., St. Louis Park, 1974-76. Click on the link for the story of this and the other clubs at this location.
---
DUFFY'S
Duffy's Bar, at 2601 - 26th Ave. So., was at the notorious "Hub of Hell" at 26th and 26th in Minneapolis. It had previously been Heinie's Tavern. It opened as (Ray) Duffy's in 1953 and featured quality jazz orchestras, notably Ray Komischke. In the early 1960s the open courtyard that had been Heinie's beer garden was closed in with a "spectacular plastic domed Satellite Room." The bandstand, now in the center of the dance floor because of the conversion of the beer garden, was made to revolve to accommodate the dancers on all sides. A June 1963 ad said you could dance to an orchestra nightly, but you could also twist with house band Terry and the Pirates in the Satellite Room. In 1964 Stebbins reported that Duffy's was still one of Minneapolis' more consistent jazz clubs. That year it advertised as the home of the "Unforgettable Sandwich." In 1967 it featured M.G. Ruppert and the Firebirds. In the July 11, 1979 Minnesota Daily it announced that it was trashing its disco records and going Rock 'N Roll. Although it had been around for ages, it was advertised as "Twin Cities Newest Club."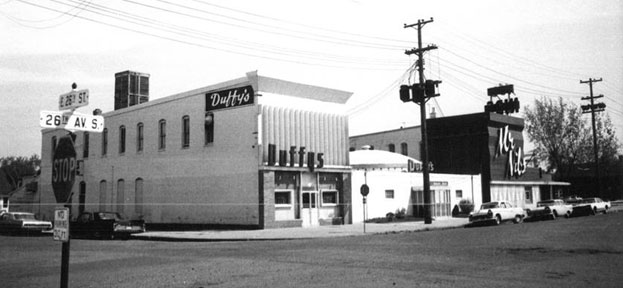 Duffy's and Mr. Nib's, 1965. Photo courtesy Minnesota Historical Society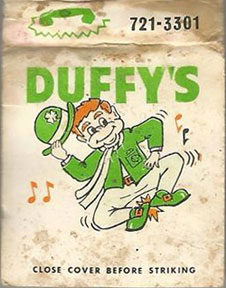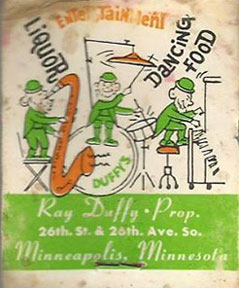 The above matchbook, posted by Justin Wood, is a little worse for wear, but love that band!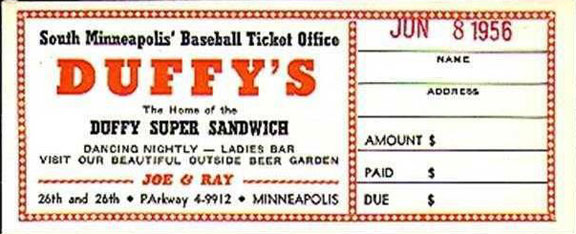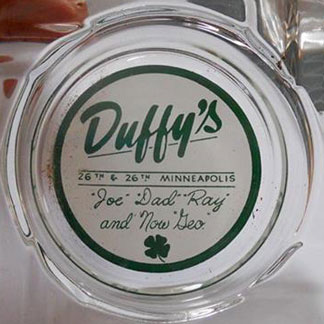 Turns out this is a souvenir tape measure! Ashtray from the collection of Mark Youngblood.
In June 1984 it was painted pink (from its traditional green) and dubbed Norma Jean's, but closed in 1991 after gunfire left a man dead. It was demolished on November 3, 1997 and was rebuilt as the New French Bakery.

---
The Dug Out was at 206 So. Third St., 1953. Ashtray below from the collection of Mark Youngblood.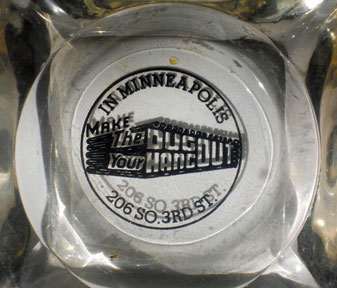 ---
Dulono's was at 607 W. Lake Street, Minneapolis, 1967-74. 1969 had the Wayfarers.
---
Dyckman Hotel, 6th and Hennepin. Entertainer Auzie Dial performed in the Robin Hood Room in 1946. The Chateau de Paris hosted barrelhouse piano player Meade Lux Lewis in 1963. The Fox and Hounds Lounge featured nightly entertainment in 1969. The hotel was demolished in November 1979. Click on the link above for James Lileks' site with history and photos.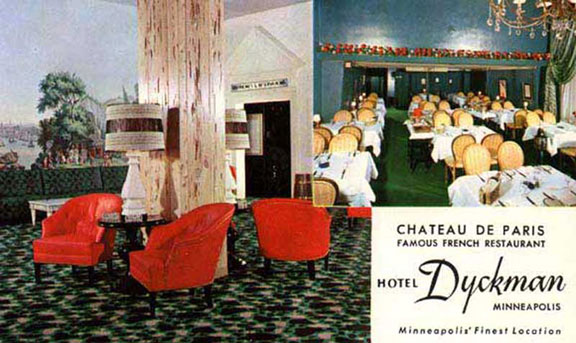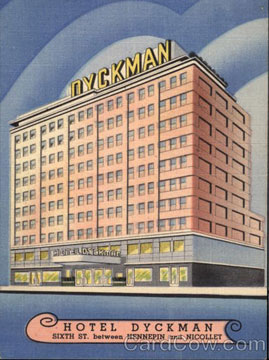 ---
The Eagan Safari Club (not to be confused with the Safari Club in Mendota Heights) was located at 2705 Highway 55 in Eagan Township. A March 20, 1966 article in the St. Paul Pioneer Press said that it could hold as many as 600 teenagers, according to Robert Cargill, a member of the Franchise Investment Corp. "We hope to expand with another club but we're waiting for the right place to come along."

Eagle Lake Resort: Maple Grove

---
Eagles Ball Room, 574 Wabasha at Summit, St. Paul, 1926-35. The photo below is labeled Eagles Hall, St. Paul, 1926 - Minnesota Historical Society.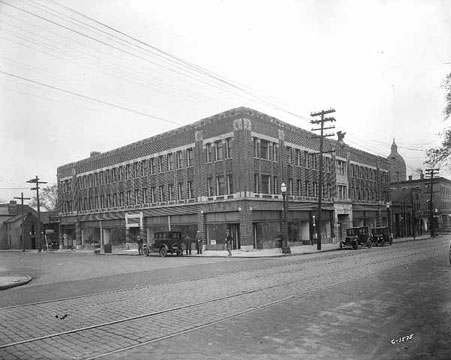 ---

Eagle's Hall: 117 South 4th Street, Minneapolis. In 1947 it became the Labor Temple (see Labor Temple below).

Eaton's Dude Ranch: Cedar Ave., 4 miles south of the Minnesota River in Rosemount. Arthur J. Eaton was the owner of the Roller Garden in St. Louis Park from 1939 to 1957.

Ebony Hall/Ballroom: See Kistler Building.

Ebony Lounge: 799 University Ave., St. Paul. Owned by Chet Oden, who had also owned the Key Club and Road Buddy's. Oden drowned while duck hunting in October 1966. In 1965 radio station KUXL took over this jazz venue, turned it into an R&B disco with 14 Go Go Foxes.
Edgewater Inn - on the Mississippi at Lowry and Marshall NE. In 1962 Al Sheehan directed a group who performed Broadway music in the round, with Don McGrane's Riverboat Orchestra. 1969: Edgewater Eight did a show; dance music by Frank Oliver and his Orchestra; Jimmy Bowman Duo in the cocktail lounge.
El Grotto: See Howard's Steak House
El Morocco Bar and Kin Chu Cafe, 723-725 Hennepin Ave. Not sure if there was music. One commentator said it was gone by 1962.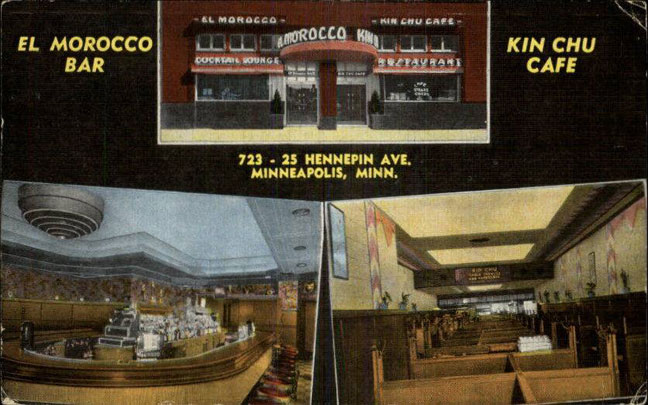 ---
EL PATIO/THE COTTON CLUB

The building at 5916 Excelsior Blvd. in St. Louis Park, now known as Bunny's, has a long musical history. Tax records show that it was built in 1920, the first year of Prohibition. Although information on the early days is scarce, it first made its mark as the El Patio (pronounced el PAY-sho) Cafe and Dance Hall. At the time it was out in the middle of nowhere - Highway 7 wasn't built until 1934 and Highway 100 in 1939. During Prohibition it was probably a setup joint, where you brought your own liquor, although one long-ago waitress remembers serving "cold coffee." One of the classiest establishments on the Boulevard, in the early days it catered to the Country Club and University crowds. In 1934, with the end of Prohibition, it became known as the Cotton Club, with those words written prominently on the roof. It was owned by a group of Greek immigrants collectively known as "the Greeks."

The Cotton Club was run by Pete Koralis. In 1934 he brought in Boyd Atkins from Chicago to lead the band of local musicians he then presented at the Cotton Club. Among the local players were trumpeter Rook Ganz and tenor saxophonist Harry Pettiford. In 1934 Ganz also appeared at other venues as Rook Ganz and his Radio Broadcasting Cotton Club Orchestra - at the Cotton Club the band was broadcast over WTCN radio. Atkins was a composer/arranger of some stature who also played reeds and piano. In 1935 Karalis brought in Lester Young to replace Pettiford. An article in the Minneapolis Spokesman indicates that Rook Ganz was the original leader of the orchestra, and Boyd Atkins took over the job on April 1, 1936. Young was with the Atkins band at the Cotton Club in 1936 when he received a telegram from Count Basie asking him to join his band back in Kansas City. Young made his seminal recordings with Basie that same year. The club was known for featuring black musicians who had a hard time getting jobs in in Minneapolis. Atkins led the Cotton Club band until 1940, when he moved on to lead a band at a club in Peoria, Illinois.
A line in a 1938 ad in the Minneapolis Spokesman indicates that the El Patio was whites-only. Boyd Atkins had played for a dance at the Minnesota-Iowa Club in South Minneapolis' black community on December 26, 1938, and was scheduled to repeat the performance on January 2, 1939. "Because Cotton Club band, admittedly one of the country's best bands, plays nightly at the El Patio Club, it is seldom that colored dancegoers get an opportunity to hear and dance to their music."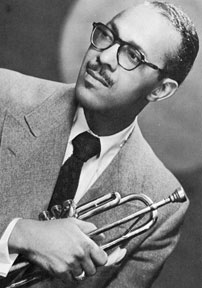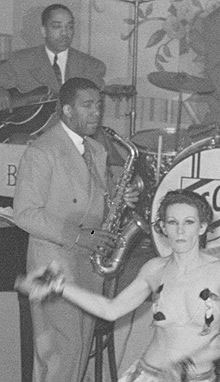 Rook Ganz Boyd Atkins, 1941. What is she wearing?
In 1939 an article described how the proprietors were fined $25 for staying open too late. The same article said that the "roadhouse was a favorite spot for jitterbugs and high school youths." In a Village council hearing about the matter, the indignant crowd and even the Mayor himself mentioned rumors about the place; one citizen was quote thusly: "It is a known fact that they have been catering to high school kids for years, serving near beer to be spiked." It was known as the El Patio-Cotton Club until at least 1944.

The club became the home of a progression of different restaurants through the years, including Culbertson's (1947-68), George Faust's (1968-71), the Anchor Inn (1971-81), Bongiorno (1981-83), Duggan's (1983-1998), before becoming the "new Bunny's" in 1998. For more information, see the web site of the St. Louis Park Historical Society and the book Joined at the Hip: A History of Jazz in the Twin Cities by Jay Goetting.
---
ELK'S LODGE

Ames Lodge, Number 106 of the Improved Benevolent and Protective Order of the Elks of the World was formed in 1906. This was a black organization based on but completely separate from the BPOE. This North Side Lodge had been in three places as of 1964:
It started on the third floor of the Kistler Building. There are photos of an Elks Lodge on the Minnesota Historical Society web site dated 1910, but they don't indicate the address or which lodge it is.
In 1922 it moved to a large old house at 148 Highland Ave., just off Olson Memorial Highway and Lyndale. It was a black music venue from at least 1934 to the late 1940s. Dances were held every Saturday night. Between bands Mrs. Meade would play piano. Also known as the Black Elks Club and the Elks' Rest. In 1937 Ernest Saunders was the proprietor of the Elks Cafe in the building. An April 1937 article in the Spokesman said that J.W. Hutchcraft was the manager, replacing Edward L. Boyd. The article noted, "Hutchcraft is unusual in that it is impossible to tell whether he is Caucasian or Negro." The Highland building was torn down in 1956 as part of the Glenwood Redevelopment Project.
The photo below is identified as being taken at the Elk's Club (presumably this one) in 1950. Minnesota Historical Society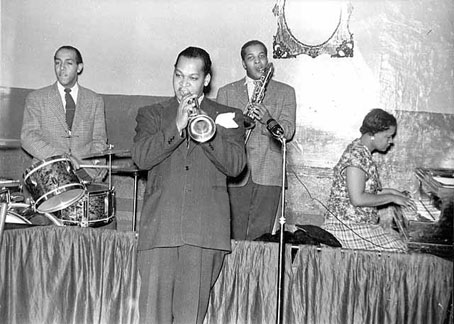 The Elks relocated to another old house at 1215 Aldrich Ave. No. That building must have also been removed as all of the buildings at that intersection now were built in the 1980s.
By 1975 the Lodge was located on Plymouth Ave., as indicated by the photo below from the Minnesota Historical Society.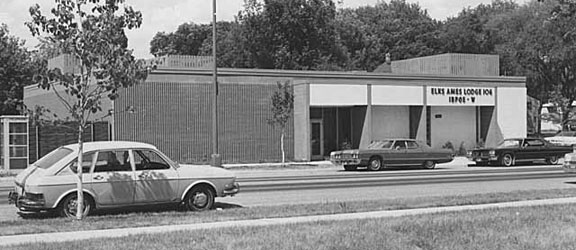 From the Elks' web site it appears that this Lodge no longer exists.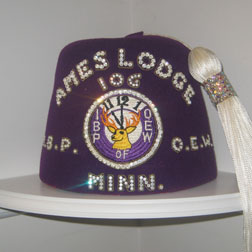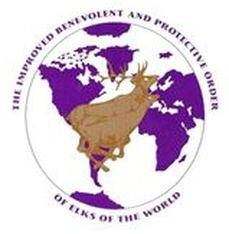 ---
Elsen's Inn was at the corner of Bass Lake Road and Jefferson Highway from 1940-44 and was advertised in the Polish American and the Republican Register. "A Good Place to Eat and Be Merry," "Dance Floor in Connection."
Embassy, 35 W. 122nd Street, Burnsville. Dancing to the Bobby Bird Trio, 1969.
Emporium of Jazz: See Hall Brothers.
Esquire Bar, 823 University Ave., St. Paul - Country bar in 1973.
The Establishment - See Foshay Tower.
f. david's: see Scotch Mist.

The Factory on University Ave. across from the Prom Ballroom in St. Paul, 1968-69.

Feifarek Nite Club, run by Harry Feifarek, was in Red Rock from at least April 1943 to February 1944. Where was Red Rock? A tiny township in Mower County? Advertised in the Republican Register.
Ferraras Cafe, 2501 E. Hennepin. Italian restaurant with a wine press in the middle of the room. 1963-69: Manny De Silva in the piano lounge. 1969: John Skelly, organist in the dining room.

In the liner notes of the Soma anthology, Ira Heilicher recalls hanging out at the 15 Club in St. Louis Park, but as far as anyone can tell, it was not a place but a group of people (men?) who got together, usually at Mr. Q's on Excelsior Blvd. It's now Zip Printing.


---

Filling Station: 1401 Hennepin, Minneapolis. Opened in March 1968. 1969: dancing to the Sas-Shades; Judy Happe in the piano bar. 1970: "Swinging place for Young Adults." Still open in 1974.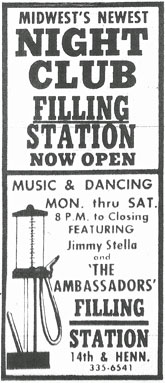 ---
Fink's Pavilion, Tonka Bay, August 1931.
Fiorito's Drinking Emporium, Park Square Building, 400 Sibley, St. Paul. Owned by Stan Fiorito, 1974. Jazz.
The Fire Barn was on 38th St. just west of Minnehaha Ave. in Minneapolis. Billy Hallquist tells this story: "Winter of '65/'66. Bitter cold. The Transgressors are playing at The Fire Barn. One of the evening's highlights will be our debut performance of 'Play with Fire' by The Rolling Stones. Al Sterner is going to go beyond his rhythm guitar duties and play the song's introduction. He looks forward to bathing in the spotlight that all of us 'lead' guitarists experience every gig. We inform Al that his moment will lead off the second set. We all stand back allowing Al to stand front and center. Al turns up his Fender Jazzmaster to maximum volume and history is made. Ooops. Did I forget to mention that while we were on break, Leon, Bob or I had secretly turned the tuning pegs on his guitar in random and opposing directions. Al, being quite nervous about his moment in the sun, plays practically the entire intro before realizing something is dreadfully wrong."
---
The 5: See Foreman & Clark Building.
---
5 Corners Saloon: West Bank. Pictured below are Willie and the Bees, 1966. Photo by Ramon Muxter.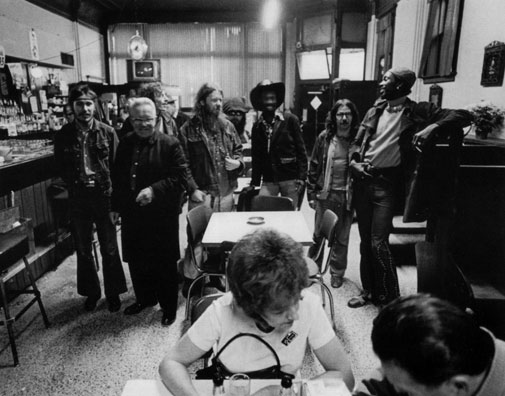 ---
Five O'Clock Club - 34 So. 5th Street. Moved to Foshay Tower in 1963.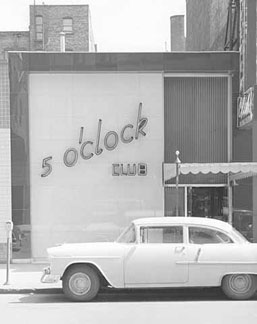 ---
THE FLAME, NICOLLET AVE., MINNEAPOLIS
This is the story of two different buildings on the east side of Nicollet Ave., on either side of 16th Street E. It's complicated but here goes:
1523 Nicollet was built in 1937, owned by and brothers Abe and Ray Percansky (who also went by Perkins). Abe owned it continuously until it closed. Abe died in 1985.
The Ramona Bar and Cafe opened on December 21, 1938.
The bar was soon renamed the Happy Hour Cafe, still owned by Ramona Bar & Cafe, Inc.
The Happy Hour was a happy hangout of Kid Cann. Stebbins says that jazz first took hold at the Happy Hour around 1943. A number of name bands appeared at the Happy Hour, including Fats Waller and Jay McShann's Band, which included Charlie "Yardbird" Parker. But there was much trouble:
In 1940 a "skylight" bandit waylaid an employee at 2 am and made off with about $3,000.
On November 23, 1942, Pvt. Harold Bartholomew sued the club for serving drinks to Larry Dugan, alias Harry Beaver, until Dugan became "highly intoxicated, vicious, reckless, ugly and abusive." Dugan shot Bartholomew in the jaw during an argument in the men's room, and Bartholomew sought $50,000 in damages from the owners of the bar. Witnesses who were employees of the bar were discredited by giving conflicting testimony. The jury awarded Bartholomew the full $50,000, "one of the largest verdicts ever returned in a Hennepin county district court civil action," reported the Minneapolis Tribune on December 8, 1944. Dugan had since been executed in Texas [hung at Ft. Sill, Oklahoma] for another crime [desertion and murder].
In an undated memo (probably from the mid-to-late 1940s), it was reported that the deed was held and recorded in the name of the Loring Realty, which was unlisted in the phone book. There was a mortgage of $30,000 held by Morris Grossman.
On November 5, 1947, a fire in a false ceiling killed a Minneapolis fireman.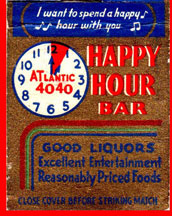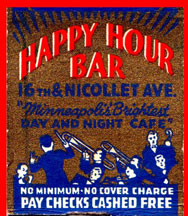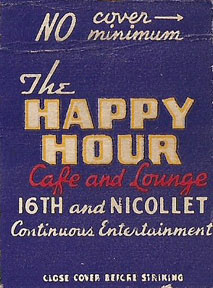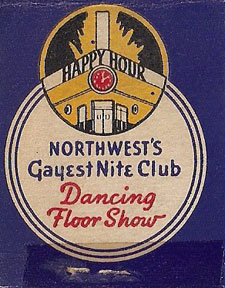 Above - jazz combo featuring Oscar Pettiford at the Happy Hour, 1950 - photo from Minnesota Historical Society.
---
Club Carnival Night Club opened on April 8, 1948 under new management. Frankie Carle and his band were the first to entertain. Ted Cook was the manager at opening. [His probation officer said that Yiddy Bloom was manager from 1948 to 1950.] The club hosted incredibly big-name acts during the 40s and 50s with Percy Hughes' house band for six years (Jewel Box Revue). The bandstand had hydraulics to lift the dance floor.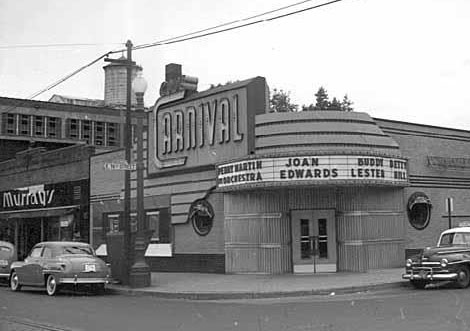 1949 photo above from Minnesota Historical Society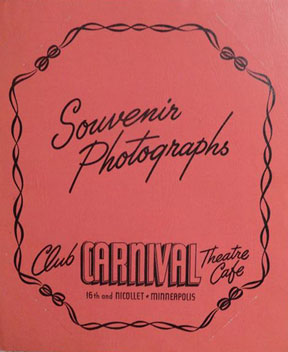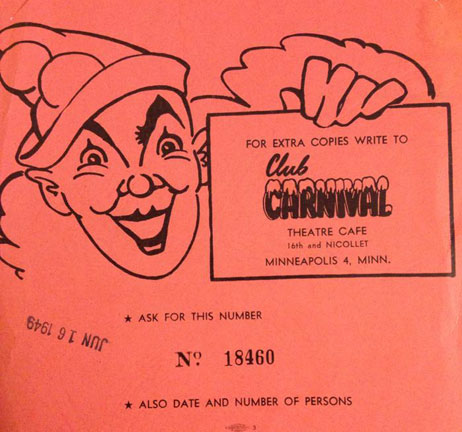 The folder at left came with a picture of Cab Calloway. Evil clown on the back courtesy Tracy Wych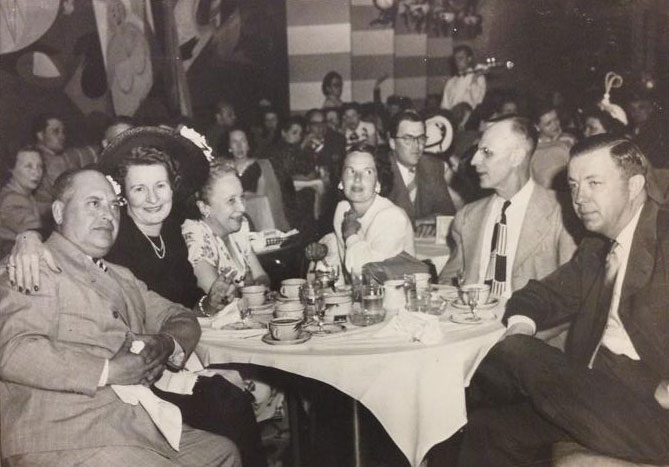 Revelers at the Club Carnival enjoying the Ink Spots, 1949 - posted by Tracy Wych
In 1951 the license of the Flame Club, which was previously located across 16th Street on the same side of Nicollet (see below), was transferred to 1623 Nicollet.
In January 1952 the Minneapolis Flame began to program jazz on Sunday nights, a show called "Jazz Carousel" produced by bandleader Bruce Dybvig. Both Dixieland (Harry Blons) and modern (Percy Hughes) jazz was presented. In October 1952 the Four Notes were ongoing entertainers.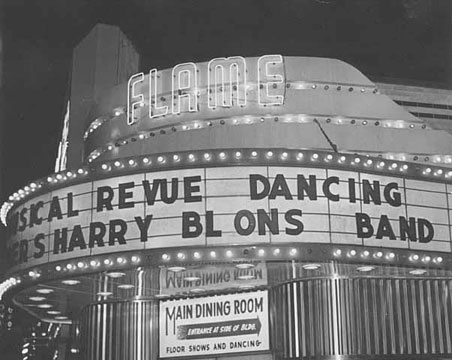 In October 1952 an article on liquor licenses indicates that Mrs. Freda Swartz, 2716 Drew Ave., was the former operator of the Flame at 1523 Nicollet.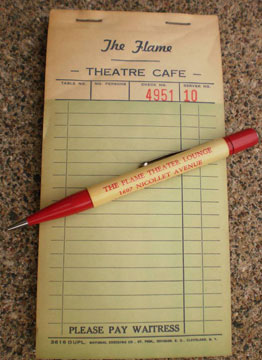 The Flame had featured Country/Western acts in the smaller front bar since the early '50s, but in on February 1, 1956, the management hired Johnny T. and his Tennesseeans for the bigger back room and the entire place went C&W. "The Flame has become House of Western Swing - Newest Musical Fad!" Square dance groups were invited to come in for dancing and bring their own callers. In mid-1956 the regulars in the front bar were Ardis Wells and the Rhythm Ranch Girls, with Jimmy Wells and the Dakota Roundup in the back room. In the mid '60s the club hosted some big names like Stonewall Jackson and Porter Waggoner. By 1973 the main ballroom was back to rock, with country relegated to the bar, no doubt bowing to the pressures of the newly-emancipated 18-year-old drinkers. Photo below is from 1961.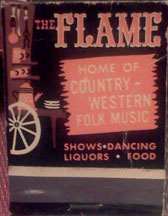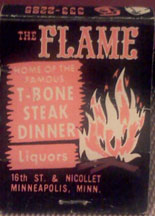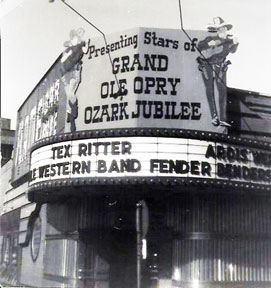 Under the gun from police for being the scene of prostitution and assaults, the city closed the club down in September 1978. At the time of closing, the sign promised Hard & Soft Rock, Old & New Blues, Snacks, Dancing, and Giant Drinks. On the Marquee it simply said Disco Soul. At age 76, Abe Percansky still hoped to regain his liquor license, but he filed his appeal a day too late. Abe died in 1985. In 1981 the building became the home of Greatapes Multimedia Company, which displayed photos of performers who have appeared at the old Flame. Greatapes has rented out the old Flame and moved around the corner.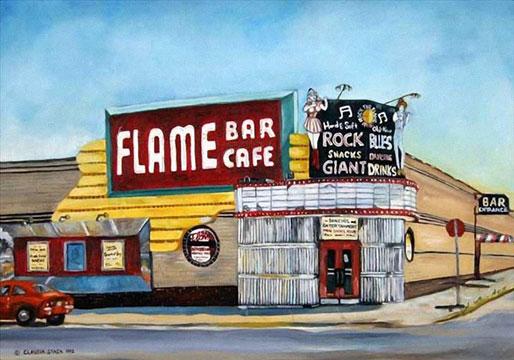 Painting by Claudia Stack
1605-07 Nicollet
Meanwhile, on the other side of 16th Street, was 1605-07 Nicollet. Originally the Gladstone Gardens Restaurant, it became the Flame in 1942. The Flame featured jazz and other types of music. An unsigned and undated memo (probably from the mid-to-late 1940s) indicates that the deed was held by one Michael Crakes but that the quite claim deed could be held by Tommy Banks.
In 1951 the Flame's license was transferred to 1523 Nicollet (above). The old Flame became a 3.2 beer tavern called the Hoop-D-Doo Bar and Cafe, site of '50s jazz jam sessions. Stebbins: "This place quickly became a congregating point for jazz musicians both local and out of town, and it was not uncommon to have national stars sitting in with the [Bob Davis house] band." In October 1955 it advertised four shows a night with dancing before, after, and between shows. "It's the Liveliest Spot in Town" The place burned down in 1957. That site is now vacant land or a parking lot.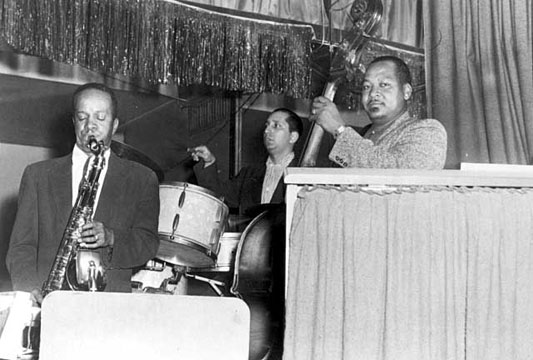 Hoop-D-Doo jazz session, September 1956, courtesy Ira Pettiford/Minnesota Historical Society
---
FLAME JAZZ CLUB - ST. PAUL

The Flame Jazz Club at 8th and Wabasha in St. Paul hosted many big name jazz acts in the early 1950s. See a collage of ads on Robb Henry's blog. In a January 17, 1952 Minnesota Daily article, jazz columnist Tom Snell notes, "The flame that once kindled jazz in St. Paul is out.... With the arrival of Frankie Yankovic and a young woman who will take off her clothes in time to music at the St. Paul Flame, the Twin Cities lost another of their traditional jazz spots. What exactly happened to the once-bright Flame is not known, but the results are self-evident - no more name talent from the outer reaches of jazz." Performers that fall of 1952 included Herbie Fields and Lou Levy.
---
FLAME ROOM - SEE RADISSON HOTEL

Flamingo Club: 2417 W. 7th Street, St. Paul. Go-go- girls in cages in 1965.

The Foo Chu Cafe was on Excelsior Blvd. in St. Louis Park. In February 1963 owner Jimmy Wong added a new piano room featuring veteran blues-and-bordello style pianist Frank E. Hines. Hines wrote "Physical Therapy Blues" at the Veterans Hospital after undergoing a double leg amputation.

Ford Parkway/Union Hall: see Union Hall below

---
FOREMAN & CLARK BUILDING
As far as I can figure out, the so-called Foreman & Clark Building was at 5th and Hennepin. It was surrounded by the Loeb Arcade Building, which was a neo-shopping mall built in 1914 and demolished in 1967. The F&C Building had frontage on both 5th and Hennepin. The building has had a number of entertainment establishments in it. I can't pretend to track them all, but here are some.
Dome Bar, 507 Hennepin. This was a stage lounge that opened in 1947. Before that it had been a series of liquor stores and restaurants, including Andy Leonard's Restaurant, going back to prohibition. It featured mainly small, national jazz groups such as Henry "Red" Allen, Johnny "Scat" Davis, and Red Reynolds.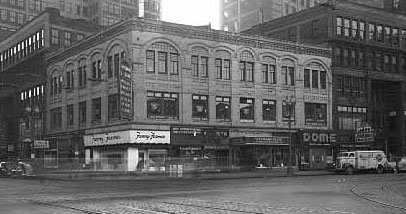 Minnesota Historical Society
---
Vic's (Vic's Dome?), owned by Vic Levine, Sr. Vic's opened in 1951 with Bob Davis's Trio appearing there for the next six years. In October 1952 the ad featured six acts, performing four shows nightly. "The best in the west!" Vic's started advertising jazz performances in the Minneapolis Spokesman in April 1954, with Red Allen, "King of the Trumpet and his Royal Court of Jazz." An ad from that July 1954 shows incoming acts such as Lester Young, Earl Bostic, Big Jay McNeely, and Illinois Jacquet. Vic was famous for introducing cheesecake to our fair city, flying it in from Reuben's in New York daily. Vic later became a salesman of the Whisp, which was a pressurized spray bottle full of Vermouth for the making of the perfect martini.
On October 25, 1954 Vic's was destroyed by fire, leaving Big Jay McNeely's band stranded and without instruments. Local black businessman A.B. Cassius headed a committee that held a benefit dance for McNeely on November 7 at the Labor Temple "so that they can get back to their homes and maybe a down payment on some new instruments.'" reported the Minneapolis Spokesman. "Hear the Twin Cities' Finest Musicians."
Minnesota Historical Society photos
A big ad in October 1955 announced that it had been remodeled and featured Lombardi's Italian food.
---
By 1957 Vic's had become Osterberg's, a jazz venue.
---
In 1961 Osterberg's became the Jockey Club, owned by Dave Rackner. The Jockey Club started out with jazz but soon boomed as a twist spot in 1962-63. A June 1963 ad described a race track decor with the accent on fun and excitement, with Dixieland music and dancing nightly.
These photos are from Gary Myers: "I was with the Night Beats (actually from Florida, booking out of Milwaukee, but I guess whoever did the ad thought Chicago sounded more impressive), playing there from 8/20 - 9/1/62. The photo of me (below) was on my 20th birthday, singing 'Runaround Sue.' (For awhile I tried standing at the drums whenever I sang.)"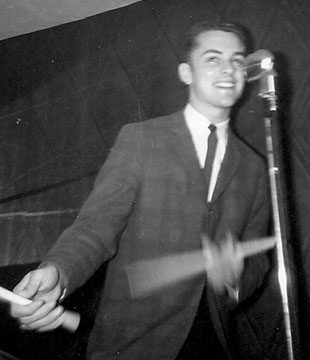 ---
On May 1, 1964, the club became the Roaring Twenties with Doc Evans' Dixieland Band providing the music. In 1969 the band was the Norm Berger Orchestra.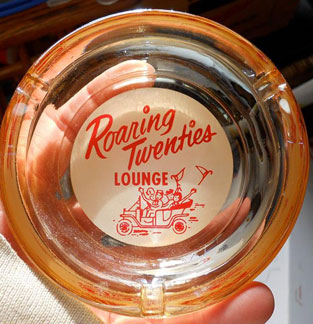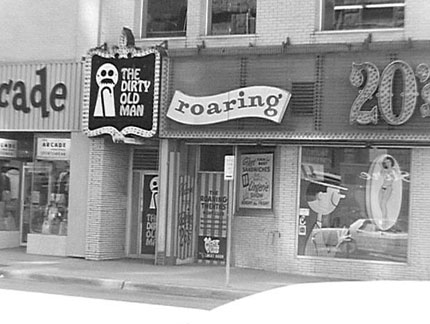 Ashtray from the collection of Mark Youngblood Photo above from 1971
---
Next to/underneath was:
More Down Stairs was the showcase for Danny's Reasons in 1968. It was an honest-to-goodness bar as opposed to the teen clubs a lot of the bands had been playing. June 1969: T.C. Atlantic and The Group. In '69 owners Bobby Bell and Jerry Erickson hired strippers for the place. Ad below is from a 1968 Insider. Photo is from Danny's Reason's website.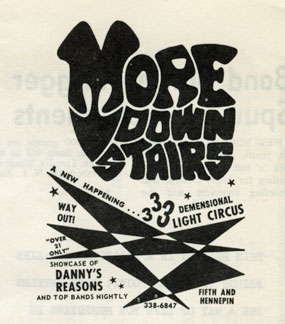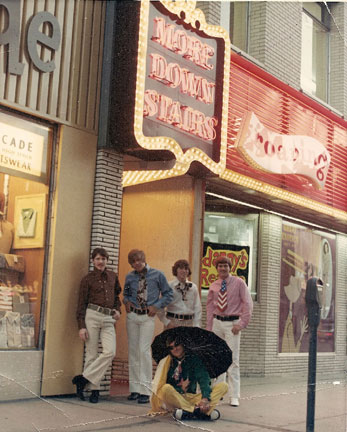 ---
The 5 - Mentioned in the Insider's 1972 directory. Opened by the XL5, former house band of the Cascade 9?
---
The Cabaret Show Lounge was a gay bar from at least December 1974 until mid-1975. Facebook chat: "It specialized in female impersonators lip-syncing and it was a blast until the owner, Jerry Collins, was killed in the men's room by Royal Hayes." Collins had apparently put Hayes in prison, and Hayes got revenge as soon as he got out. Hayes was acquitted but has been on death row in California since 1986 for a double murder committed in 1981.
---
Blitz Bar - 1976 - shown below.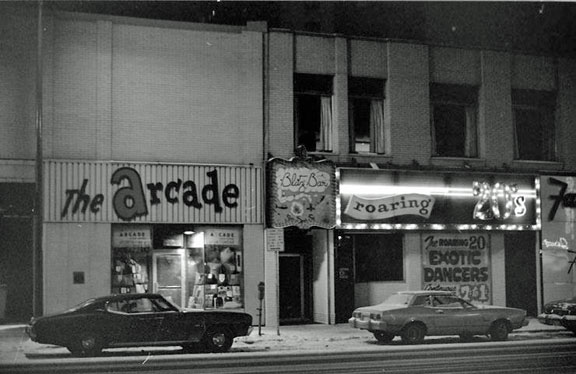 Photo from 1977. The Arcade clothing store next door is a nod to the old Loeb Arcade Building that surrounded the F&C Building before the Arcade Building was demolished in 1967.
---
The Forsthaus, 1539 South Robert St., St. Paul. 1974: Featuring the Northwest's Finest & Award Winning Entertainment! Upstairs in the main dining room: Vintage. Downstairs at the Bottom Half: Sue Drude.
The 4-M Club was advertised in the Minneapolis Spokesman as a "Twin City New Dance Hall" in May 1952. It was located at 150 West 4th Street, across from the St. Paul Auditorium. It was never mentioned again in the Spokesman.

---
FOSHAY TOWER
Several clubs have taken a shot at the space in the (basement? first floor?) of this iconic Minneapolis building at 114 So. 9th Street. The building, Minneapolis's first skyscraper, was built in 1929 by Wibur B. Foshay to emulate the Washington Monument. It was an office building for decades, and is now a luxury hotel. Photo below from 2014 courtesy Stephen Raymer.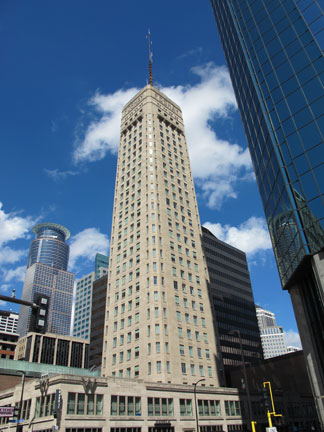 Five O'Clock Club, owned by Manny De Silva. Moved here in June 1963. In October 1963 Manny was billed as a popular romantic singing idol. From 1963-69 Manny sang at Ferrara's as well.
King Solomon's Mines. Owner Dean Constantine was a dance instructor - found an ad for his lessons from 1959. In 1966 he brought in Connie Hechter's Afro-Cuban Sextet, tried a rock format, and then began booking R&B acts, making it the only venue for black music downtown. In 1967 the band was the Fabulous Amazers, bringing the "Latest and Greatest in rhythm & blues, including SKATE and BOO GA LOO," went an ad in the Spokesman. Other groups in rotation in '67 were Dave Brady and the Stars and the Sages. Photo below by Mike Zerby from 1967 courtesy Minnesota Historical Society.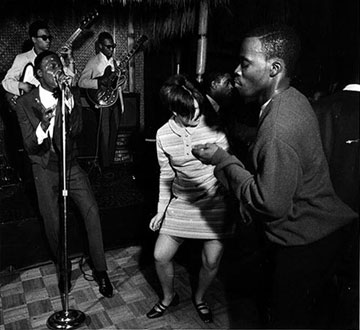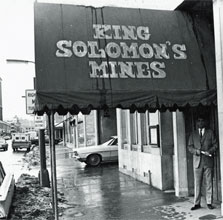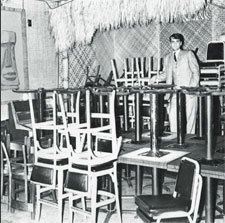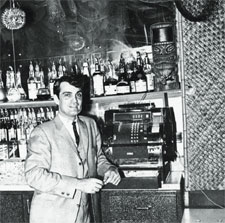 Photos above from 1968 provided to Secret Stash by Dean Constantine (pictured).
In a column dated July 31, 1967 (right after the North Side riots), Will Jones remarked:
Despite all the lip service given to integration, and all the laws designed to bring it about, there's precious little of it in the Twin Cities saloon scene, and in the heart of downtown Minneapolis it's almost unheard of. That's why it's so heartening to see the development at King Solomon's Mines ... The crowds that have been gathering there in recent weeks are as nearly cosmopolitan in their makeup as we're likely to find in these parts, with a range of ages as well as colors among the clientele. What's bringing all the people together is a rhythm-and-blues group called The Amazers, who produce a sound to match their name. It's a beautiful, swinging scene. So beautiful that operator Dean Constantine says his landlords have been making nervous noises about it. This is, however, a small sample of where it's all at for the future, and should be now. It's a time for nervous landlords to take a few tranquilizers and allow themselves to be amazed not only by the Amazers but by the amazing young among their following, who already have the whole thing straightened out neatly in their heads."
On August 16, 1968, the club was raided for underage drinking and serving drinks after closing time and the club had its license suspended for a time. It was in trouble again that November, when police license inspector Harvey Everson described it as "the worst run place in the city," saying the police were called numerous times to check on assault cases. See the story in full in Twin Cities Funk & Soul, page 29. Constantine became the manager of the Friar's Club.
His and Hers, 1969. In June 1969 featured Danny's Reason's (Mondays); Mystics (Tuesdays); Del Counts (Wednesdays); Sages (Thursdays-Saturdays). Also City Limits. In September 1969 owner Bill Roslansky sold it and replaced the band with a juke box, reported the Insider. Photo below: the Mystics at His and Hers, 1969, from the Insider.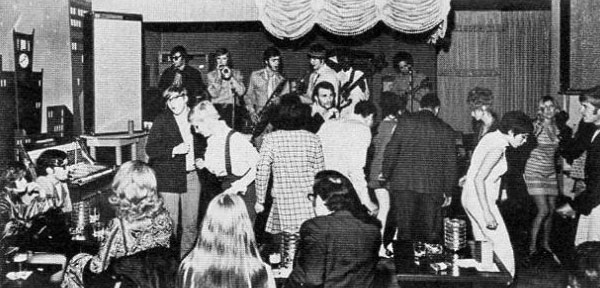 The Establishment, 1969-72. The Establishment was a disco that was opened in late 1969 by Burt Grossman, scion of Grossman Chevrolet. It featured a stainless steel dance floor and had a predominantly black clientele. Grossman went on to own the Hippogriff and the Little Prince.
---
14th Circle - folk venue at Hamline University

The Fox and Hounds was on Freeway 35 E at Larpenteur. In 1973 you could get a gourmet meal for two of flaming duck for $15 or shell peanuts in the Fox Hole. There was a Judy Pfaff style show every day at happy hour, and downstairs the Del Counts were playing rock 'n' roll.
Fran McDonough's, St. Paul. Mystics were house band in 1974.
Frank Seifert's - See Key Club below.
---
FREDDIE'S

Freddie's Cafe: 605 Second Ave. So. (Lewis Building). Freddie's opened in 1934 and in the '30s and '40s it hosted Ella Fitzgerald, George Shearing, and Count Basie.
1948 ad said Freddie's was for Epicures: "If you are particular about what and where you eat, make it a date at Freddies... where choice foods are prepared and served."
In 1959 Pete Karalis, who had owned the Cotton Club in St. Louis Park, bought it and moved it around the corner to 211 So. Sixth St. There appeared big name jazz performers such as Fitzgerald, Oscar Peterson, Gene Krupa, and Ahmad Jamal. Jack Teagarden did a remote on KSTP radio with Leigh Kamman on May 31, 1960. Was it the same Freddie's that was a downtown folk venue in 1962-63? In February 1963 Karalis still owned it but it was going broke. In 1964 Stebbins noted "This night club has since abandoned all musical entertainment." It apparently had a resurgence, as folk remember seeing the Smothers Brothers and Dick Gregory at Freddie's.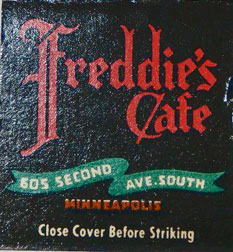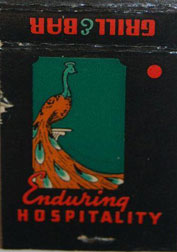 ---
Freddy King's Tavern was at 501 University Ave. and offered dancing every evening. Despite being in the Republican Register (September 1943), it claimed to be 100% Union.
French Press, downtown St. Paul
Frenchman's Nite Club was at 1400 E. 66th Street and in July 1943 advertised Soft Drinks - Dancing - Refreshments. Guess the Frenchman didn't have a liquor license.
Friar's Club: See Pla-Mor Ballroom

Fridley Armory

Al. Friendlund's Cafe and Bar was on Plymouth and Washington Ave. No. in September 1936. It offered foods, wines, choice liquors and entertainment.
The Friendship Club at 2935 Nicollet had dancing Friday and Saturday nights starting March 1960, with dance lessons by Tony Demarko.
---
FROLICS
Frolics Stage Bar was first at 516 Hennepin. There is an ad for the Frolics in the Republican Register in December 1944 promising Continuous Entertainment from 2 to Closing. Stebbins says that it featured out of town acts. An undated and unsigned memo (probably from the mid 1940s) says that the owner of record was Walter Benz but suspects that Tommy Banks may have held the deed. There was a fire at the Frolics on December 14, 1943, as shown below courtesy of the Minnesota Historical Society.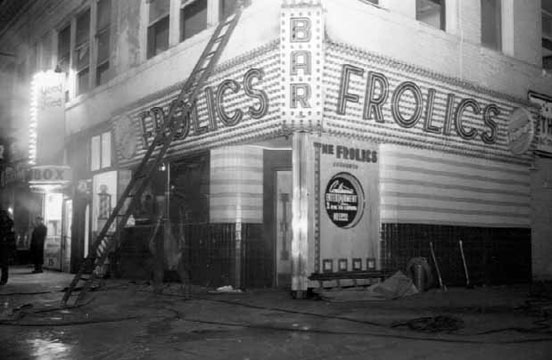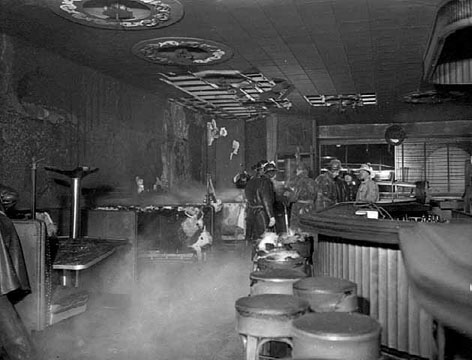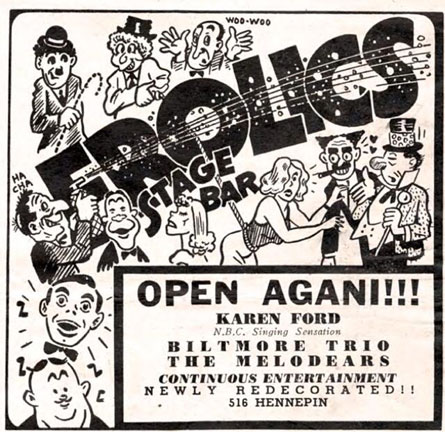 March 1944 ad from Our Town, courtesy Alan Freed
In 1957 the Frolics moved to 314 Hennepin and began to feature strip acts accompanied by jazz groups. A 1963 article cited Nick Colich Jr. as the license holder and noted that the bar would be torn down that February as part of the Gateway redevelopment project. Although the Housing Authority bought the building in March 1960, it continued to operate until December 31, 1962. The Frolics was on the police's list of the city's six most troublesome night clubs, based on arrest reports covering a five year period, primarily involving morals violations.
---

Frontier Club, 7365 Old Central NE in Fridley (early '70s). Jim Froehlich says "This location is now Marino's but at the time it hosted national country a rockabilly acts, including Gene Vincent several times. It was owned by the Povliskis who went on to run several NE bars, including Pov's in Spring Lake Park." See ad for Junior Samples show in 1974 above.
Front Page: 417 So. 6th Street, Minneapolis. Owners were Victor Levine and Daniel La Barre. In June 1966 the bar was bankrupt, but the bar was sold to David Y. Morris, former part owner of the Chalet in Crystal. 1969: Jack Seel and Dick Macko. 1970: Entertainment nightly to please all ages. It burned (down?) on April 26, 1973 [still listed in 1974 Insider].


The Gables was located at Franklyn and Lyndale. In 1969 the house band was XL5. Became the House of Gables in 1970, owned by Jim Boosalis.
Gallery, 8th and Hennepin, featured Art Goldberg on piano. He later became known as Hollywood writer Arthur Morton.
Gallivan's Bar and Restaurant, 354 Wabasha, St. Paul. 1970: "The host with the most downtown, a friendly place where the courthouse gang and the newspaper people meet with sports figures and celebrities who might be in town... Piano bar, folk groups on weekends.."
Gannon's Restaurant, 2728 W. 7th Blvd. in St. Paul, had a new piano lounge in May 1963 - Sing along with Mike!
Garden Lounge: See Curtis Hotel.
---
GASLIGHT
The Gaslight was at 1420 Washington Ave. SE at Seven Corners, from at least 1960 to 1967. William Bloedow writes: "Some memories of the Gaslight - from so many. Seven Corners glittered at night. The restaurant was in an old theatre (now the Southern) and only took up a portion of the space. The original stage and arch were in the back, used for storage. The business was owned by the Bonander family, with Lillian always at the door with a cigarette in hand - daughter Gloria and some Leonard with often at her side. Many of my favorite evenings included noted chanteuse Auzie Dial at the piano in the bar. She could do a mean 'Satin Doll!' It was a popular spot for the dinner crowd after U of M football games." An ad from 1967 says that Doc Evans played nightly, and the club had "authentic grand decor typical of the 1890 era."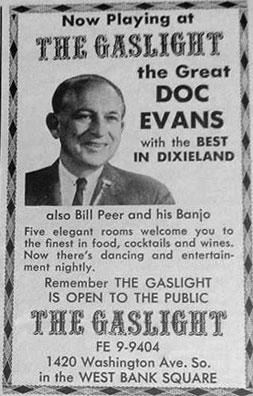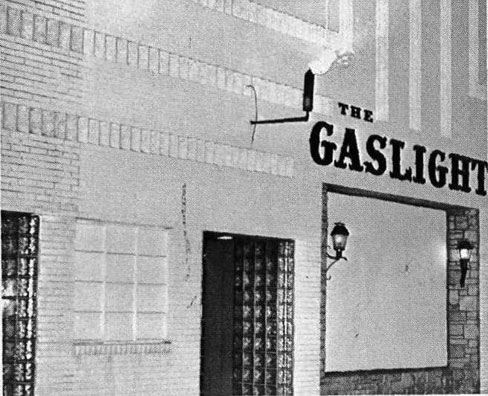 ---
Gay Nineties, Minneapolis: See Casablanca.
---
Gay 90s, St. Paul
---
Gay Paree, Mendota
---
GAYETY THEATER
Contributed to the Old Minneapolis Facebook page by Bryan Krefft:
The Gayety Theatre (103 N. Washington Avenue, Minneapolis) was opened by Herman Faehr in 1909, originally as a legitimate house, and could seat just over 1,200. It was designed in Neo-Classical style, and its proscenium arch rose seventy feet above its stage. The facade, which featured a pediment held up by a quartet of Corinthian pillars, was of gleaming white terra-cotta.

By the mid-teens, the theater had switched to vaudeville and burlesque acts. During the 1920s, among the famous names to play the Gayety Theatre included Al Jolson, Fanny Brice, and Sophie Tucker.

The city of Minneapolis closed down the theater in 1928, after it decided the burlesque acts at the Gayety Theatre were becoming too racy. It was only after its management promised to stage musical comedy acts onstage rather than burlesque that the theater was allowed to reopen the next year.

In 1941, after nearly four decades of live entertainment, the Gayety Theatre finally turned to movies, as a double-feature house. In late 1941, the theater's name was changed to the Floyd B. Olson Theatre, named after a popular Minnesota governor of the 1920s and 1930s, who died in 1936. However, when Olson's widow learned her husband's name was now on the marquee of the former burlesque theater, she sued the theater, which immediately switched the name back to the Gayety Theatre, and Mrs. Olson dropped her suit.

In the mid-1940s the theater closed again, this time permanently. In 1945 plans were drawn up to convert the Gayety Theatre into a nightclub, but fell through. Then, in 1970, after sitting vacant for decades, it was announced that legitimate theater would be returning to a restored Gayety Theatre, but once again, nothing came to fruition. The theater was razed by 1980.
One notable burlesque act at the Gayety was Carrie Finnell, seen below left, early in her career. Carrie may not look like much, but by all accounts had the ability to spin her tassels without moving her body. How that translated to radio, I don't know.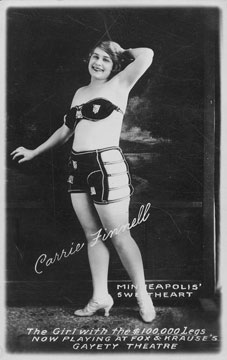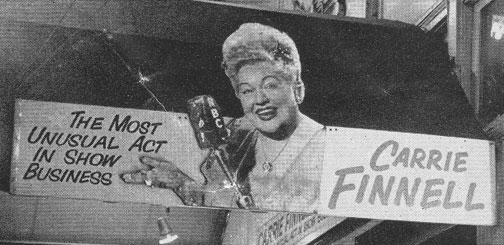 ---

George Faust's was located at 5916 Excelsior Blvd. in St. Louis Park from October 1968 to 1971. It was one of many descendants of the El Patio/Cotton Club. It was preceded by Culbertson's.
---

George's Ballroom in New Ulm was owned by George Neuwerth. Images from Garage Hangover.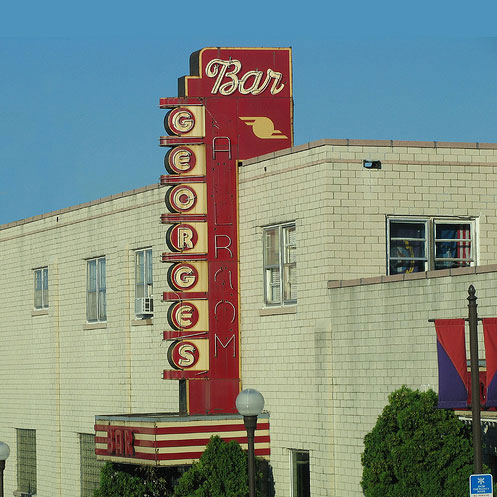 ---
George's in the Park, 4700 Excelsior Blvd., St. Louis Park, 1967-74. Click on the link for the story of this and the other clubs at this location.

Gibbon Ballroom

Gin Mill, Lyndale Place just north of Olson Memorial Highway. Jazz venue owned by Ben Wilson (who left town in the late '40s).

Gladys Ballroom, Montevideo

Gleason's Inn was located 10 miles out Central Ave., NE on Highway 5 in 1932. Ed Gates was the proprietor and their ad in Twin City Brevities invited us to Dine and Dance!
---
The Golden Fox was at 7300 Brooklyn Blvd. 1969: Jimmy Bowmon Duo in the piano bar. In 1973 it featured David Carroll and the Magic Touch with his Tribute to Elvis. Cool ashtray below from the collection of Mark Youngblood.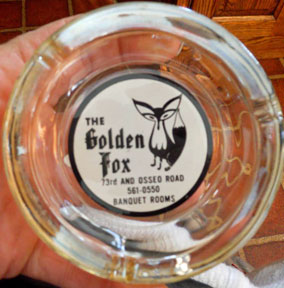 ---
The Golden Garter, Navy Island, St. Paul. Dixieland haunt; in 1962 the banjo band Dave Wesley Levee Loungers led nightly group singing by the audience.
The Golden Pheasant was a Chinese restaurant at 52-56 So. 7th Street just south of Hennepin Ave. in Minneapolis. In 1925 the house band was Emmet Long's Golden Pheasant Orchestra. In 1927 Walter Anderson and His Golden Pheasant Hoodlums made a recording at the Lowry Hotel in St. Paul. Later Wally Logason's Orchestra was the house band.
Golden Steer, 1010 So. Concord Street, South St. Paul. 1963: Musical Entertainment, Piano Bar, and Dancing. 1969: Ralph Primm in the Jack London Bar. Also Cornbread Harris

Golliwog Lounge: See the Sheraton-Ritz Hotel, below.

The Good Times Ballroom was in Dodge Center, Minn.
Goofy's: See Herb's, below.
Gopher Grill: See St. Paul Hotel
Gordon's Supper Club, 7725 Zane Ave. No, Brooklyn Park. 1969: Jim Feeney Trio featuring Ear Pritchard, dancing nightly.
Great Lakes Bar: "New Fun House - Enjoy a Sensational Evening's Entertainment" 101 Nicollet Ave. across from the Great Northern Depot. Ad in the Minn Daily October 1953.

The Green Door was described as a Lake Conference Teenage Nite Club in 1960. Located on Excelsior Blvd. and Blake Road in Hopkins, it hosted the Bops and the Diablos, among other bands.
Green Gables was on Rice Street, Four miles north of Larpenteur. In 1932 you could Dine and Dance to Radio Sally and the Merry Melody Makers.

Green's Nite Club (Green's Place) opened on November 26, 1952, at Western and Como in St. Paul. Performing that night was "King" Larry Jazz Combo, "the Northwest's most danceable unit." It was only mentioned this one time in the Minneapolis Spokesman.

The Grotto Ballroom was located in Winona. Was this the Ghora Kahn Grotto?
Grove Night Club, Inver Grove Heights. Site of a live broadcast

---

The Guthrie Theater opened May 7, 1963. Its first production was "Hamlet," directed by Sir Tyrone Guthrie. Guthrie and friends Oliver Rea and Peter Zeisler had been disenchanted with Broadway, and wanted to create a theater with a repertory company that would present the classics. The repertory company included George Grizzard, Hume Cronin and Jessica Tandy. The group advertised in the New York Times, soliciting cities that would be interested in sponsoring such a theater. Of the seven cities that responded, the founders were impressed with the demographics but mostly the enthusiasm of the Twin Cities for the project. The first musical performance in the new venue was held on May 27, 1963 by the Modern Jazz Quartet. A new multistage theater center on the banks of the Mississippi River opened June 25, 2006.



Guthrie Theater
---
Guzzo's, 992 Arcade Street, St. Paul. Sam "Gus" Guzzo bought the place in 1954. He died in 1958 and his wife Alvina ran it until she sold it in 1963. Dancing on Friday and Saturday nights. Photo below from 1957-58 posted on Facebook by Connie Guzzo Winterhalter.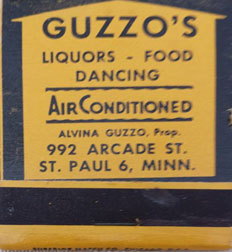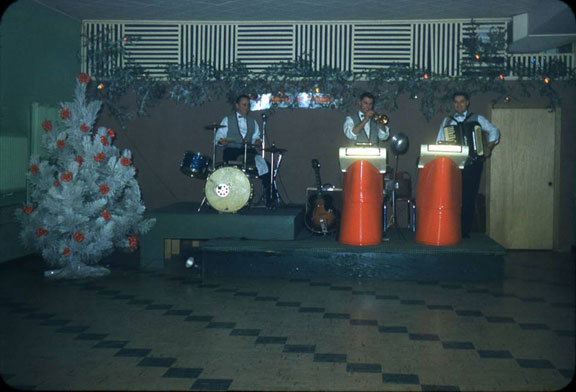 ---
Guzzo's 7th Street Cafe, 7th Street and Broadway in St. Paul, was apparently a precursor to the Guzzo's above. The photo below is from 1939, also from Connie Guzzo Winterhalter.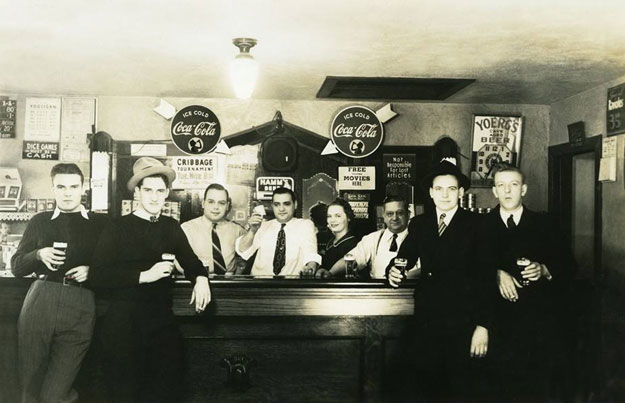 ---
Hafners Lord Aldon Inn, 1560 White Bear Ave. 1974: Always the finest in dining and entertainment. Jim Harvey at the organ. Now playing in the Lord Aldon Inn: Skyline. In the Rumpus Room: Ken Nelson
Halfway Club: See Kistler Building

Hall of Fame - 1548 University Ave., St. Paul, in the Midway Shopping Center, 1963-74. The Four Belmonts, with Shari Farris and Dick Hale, gave two floor shows nightly in May 1963. Augie Garcia played there in January 1964. Jerry Cole was the owner in 1964. "Password for Fun: 'Have a Ball at the Hall'"
---
Hall Brothers Emporium of Jazz, Mendota: 1966 - 1991. In March 1968 it was only open on the weekends and served beer, setups, and pizza. Will Shapira is quoted in the May 2008 online newsletter the Mississippi Rag: "... in 1967 I was delighted to find that the Hall Brothers had opened their own place, Doc Evans' former club in Mendota. The Emporium of Jazz originally was a bottle club -- bring your own booze and buy setups -- and I remember Charlie DeVore tending bar and acting like a mad scientist during band breaks. Eventually the liquor license was upgraded and the restaurant was added, but the Emporium, with its smoke-browned ceiling, always had a loose and welcoming ambience, I thought. And, from the beginning, the Hall Brothers, Henry Blackburn, Bill Price and others not only showed us Minnesotans what real New Orleans music sounded like, but they imported many of the old musicians from New Orleans who were and some of the very best musicians in traditional jazz. That scene went on for 25 years -- from 1966 to 1991 -- despite fiscal distress. The band members/business partners weren't in it for the money."
Below is a photo of the Hall Brothers in 1973, courtesy of the Minnesota Historical Society. If you are a Hall Brother in this photo, let me know so I can identify you!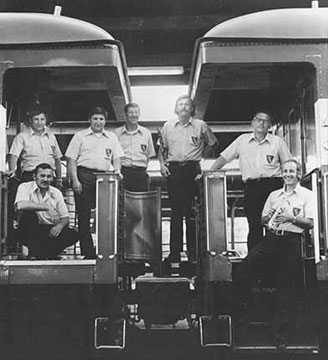 ---
The Hallie Q. Brown Community House was established in 1929 in St. Paul. It was named after the African American educator, elocutionist, women's suffrage leader, and author Hallie Quinn Brown. Soon after it was established it moved to the Masonic Hall at 553 Aurora Ave. In 1972 it moved to its current home at the Martin Luther King Center at 270 No. Kent.
Hank's Horseshoe Bar, 574 Rice Street, St. Paul - country bar in 1973.
---
Hanson House. Overlooking beautiful Long Lake, Minnesota. There until at least 1976. Julianne Renner reports that "The Hanson House was the only fine dining restaurant in Long Lake for many years." It later became Billy's Lighthouse (the owner was named Bill Light) "and now stands there forgotten and empty and sad." Matchbook from the collection of Scott Bottolene (as posted on Facebook).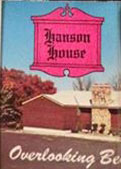 ---
Happ's Nite Club/Auditorium: See Shakopee.
---
HAPPY HOLLOW - ROCHESTER - TREASURE INN
This legendary roadhouse, located at 1691 Rice Street at Wheelock Parkway, was just beyond the St. Paul city limits, at least in the early days. It had at leas three interesting iterations.
The Happy Hollow Cafe was a jazz joint, with musicians like Lester Young, Percy Hughes, and Rook Ganz performing there. Although there is some doubt that Kid Cann had a presence outside of Minneapolis, others city Happy Hollow as one of his hangouts. In the 1930s it was owned by the Netto Sisters, and Marjorie Netto was said to be a "paramour" of Kid Cann. In November 1945 Proprietor Robert Wesley was arrested for selling liquor without a license. He pleaded guilty to two charges and was fined $100 and court costs. He was also fined $50 for selling cigarettes without a license. At the time of the raid (2 am) there were 35 patrons in the place.
The Rochester: this may not have lasted very long, but was called this in September 1946.
Treasure Inn: Lost Twin Cities II has a segment on this jazz club. The Treasure Inn opened on November 2, 1946 and existed for two and a half years. It was owned by three African-American entrepreneurs, Richard Mann, Claude Mason, and Howard Brown. A matchbook advertised its "Hot Sepia Dance Music." It featured black musicians such as Lester Young, Oscar Pettiford, and Prince Rogers, Sr. and drew white college kids as well blacks. A great ad reads "Whamp! Dig this Nervous Opening! Percy Hughes and his great dance band. Let's Rock! Rock! Rock! Let's Dance! Dance! Dance! Let's Go! Go! Go! Real Cool and Crazy!" The dancing got so cool and crazy that the "nervous" owners had to shore up the floor to keep it from falling into the basement. Leigh Kamman broadcast live shows from the Treasure Inn on his "We Call it Jazz" show, Sundays at 9pm on WLOL. A contributor to its demise (1948) was a fatal shooting.

There were other clubs that were described to be in the same general vicinity:
The Flying Dutchman was described in November 1935 as being "Out Rice Street Near Wheelock Parkway, One Block Outside City Limits."
In November 1935 was an ad for a dance at the Pearl Inn, "One block off Wheelock Parkway."
Note that Swing City (see below) was across the street at 1682 Rice Street.
---
Happy Hour: Bar next to the Gay Nineties owned by Richard Gold in 1975. "The Happy Hour attracts primarily gay persons," reported the Minneapolis Star on August 11, 1975.
Happy Hour Bar: See Flame, Nicollet Ave., Minneapolis
Harbor Bar, Cedar Ave., Seven Corners, West Bank. House band in the '60s was the Houle Brothers, a country and rockabilly band made up of Bobby, Mike, Jim, and Cal Houle, of Cree and French descent. The bar catered to Chippewa Indians, according to Erik Storlie.
Harlem Breakfast Club: See Musicians' Rest.
Harlem Club, 1311 Washington Ave. So. In November 1939, Jessie Scott, Entertainer-DeLuxe Appeared Nightly.
Harmonial Hall, 200 No. First Ave., Minneapolis. Found this 1937 in the Minnesota Historical Society database - just sounds musical, doesn't it?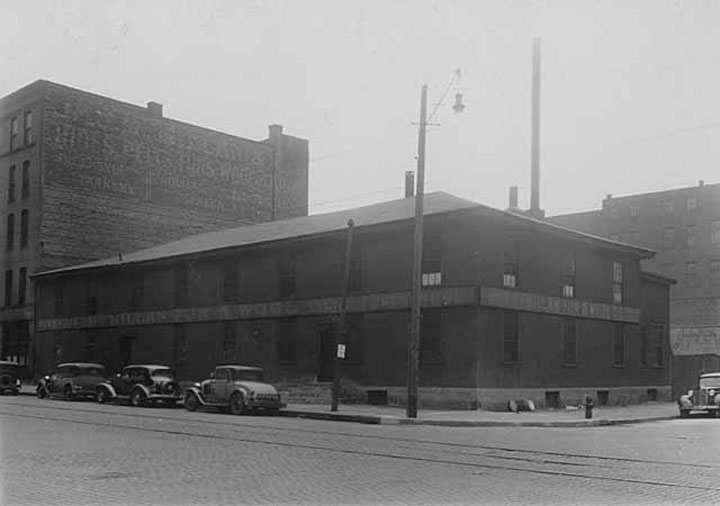 ---
HARRY'S CAFE, MINNEAPOLIS
Harry's Cafe, 74 S. 11th Street, Minneapolis. In 1939 it was described in the Spokesman as "swank." It burned down sometime in the 1970s - it was in the winter and folks remember it encased in ice. Photo below right is from 1948 - Minnesota Historical Society.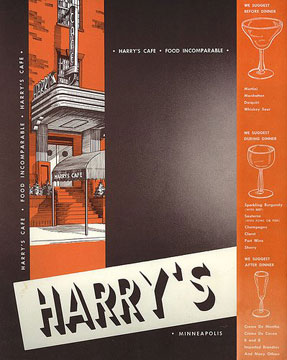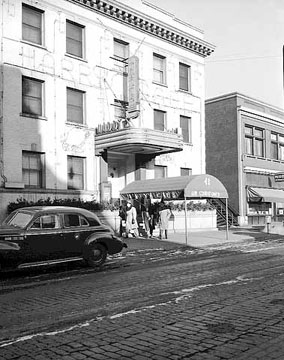 Green matchbook from the collection of Scott Bottolene as posted on Facebook.
---
HARRY'S CAFE/CRITERION, ST. PAUL
This building at 739 University Ave. at Grotto, most commonly known as the Criterion, was Harry's Cafe, as evidenced by the photo below dated January 29, 1948, from the Minnesota Historical Society.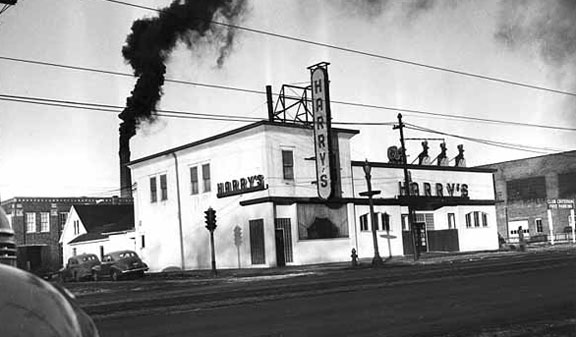 THE CRITERION
We know that the building was the Criterion by 1957 because of this story: "McDonald's owner Ray Kroc came to Minnesota in 1957 with an idea to build a McDonalds franchise in a cold-weather climate. This first in MN opened September 1957 in Roseville. Ray hung around town to see how it would do, and used a table at the Criterion as an office. It was here that he fell for the piano player, Joanie. Smitten, Ray kept in touch, and finally married her in 1969."
1969: Dick Clausen played organ and piano in the dining room.
The Criterion burned down in about March of 1978 and moved to the Southgate Office Plaza in Bloomington. Facebookers remember the lobster, crab, and especially the popovers that made it a special place.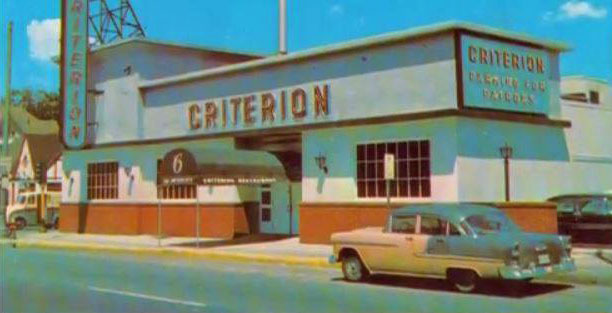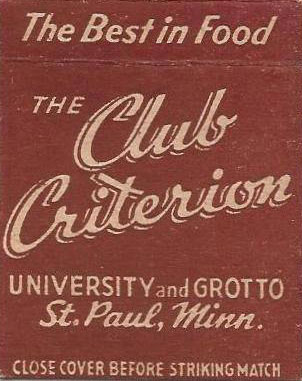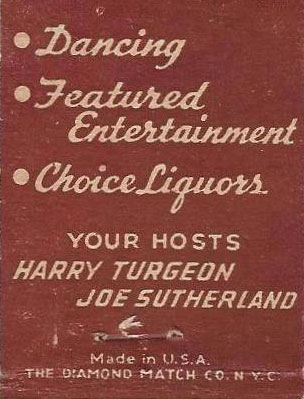 Matchbook posted on Facebook by Ron Ciccone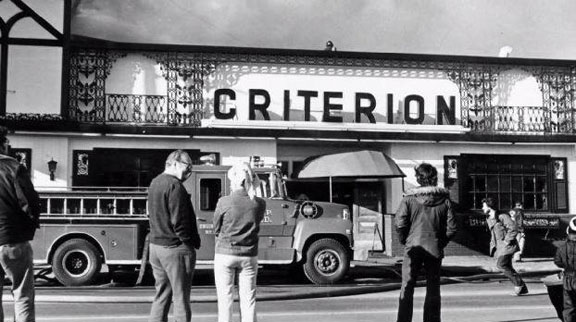 Photo of fire posted on Facebook by Rick Schlosser
---
HASTINGS HOTEL
The Hastings Hotel, 32 North 12th Street, in Minneapolis. Featured the Blossom Room in 1950. The Mar-Key Club was also here, and in 1969 Phillip LaMont performed in the Alley (?).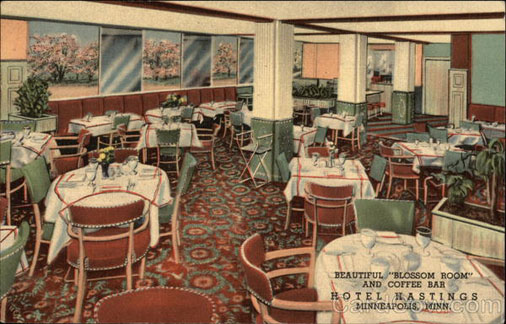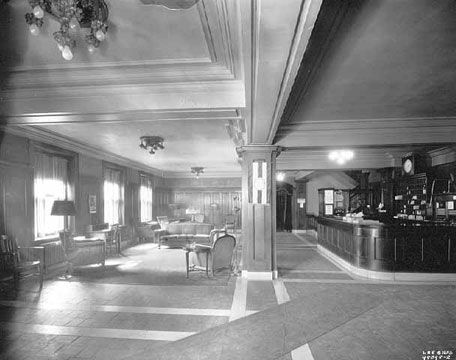 Inside view, 1930 - Minnesota Historical Society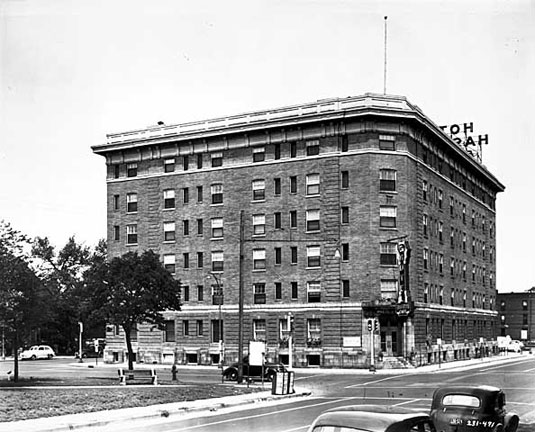 1948 - Minnesota Historical Society
---
Jimmy Hegg's Starlight Club: See Curley's
The Heidelberg, 708 W. 66th Street - in 1974 Insider.
Heinie's: University and Virginia in St. Paul. Became Alary's.
---
HERB'S
In 1940, 324 Marquette was the site of the Persian Bar (not the Persian Palms), owned by Charles A. McCutchan. That March it was under indictment for maintaining gambling devices.
Herb's opened here in 1946, and Stebbins described it as "Another night club in Minneapolis which became the principal rallying point for modern jazz musicians in the late 1950s." Skeets Reiman played Hammond organ and piano here in 1954. Stebbins noted that "it was almost ten years before anything of significance for jazz was to be found. Herb Pilhofer, a native German who had arrived in Minneapolis around 1954, led a trio here, off and on, from 1955 to 1961, when the place was torn down..." Herb's preserved a nice balance of local and out of town talent. Twin Cities jazz musicians crowded around to hear Barney Kessel, the Tree Sounds, Red Garland's Trio, Herbie Mann, and others. Often Pilhofer's trio served as the house band on these occasions.
In 1963 Herb's reopened at a new location at 654 Second Ave. No. In November 1963 it was owned by Herb Klein, who had sung with Abe Lyman's band. In November 1963 the entertainment was the Herb Pilhofer Duo, with Ted Hughart on bass. In 1964 the club featured Jim Marentic's Quartet, a modern jazz band. In 1967 a band was Gary Neilson and the Nite-Caps.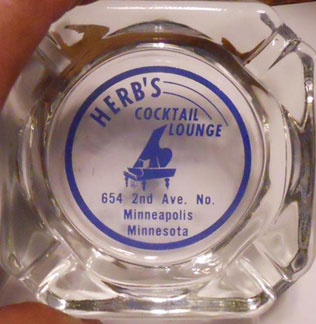 Ashtray from the collection of Mark Youngblood
In October 1969 the site was Sweet Georgia Brown's, a jazz venue.
Jetaway Lounge. When Dick Campbell bought the place in 1972 it had a predominately black clientele. Campbell had been the manager since 1970, and at that time he enlarged the club for dancing, but in 1972 he discontinued having live bands on week days, as it didn't pay. He said that all the clubs downtown were "switching over to tapes."
Goofy's. In 1974 it was described as "attracting a large young-and-old crowd after dark with a nutty policy of juke-box dancing and pool-table Foosball and pinball action. Especially popular is a back-of-the-room alcove with bean-bag seating that is separated from the dance floor by a curtain of clear plastic dangles." A kind of hang-down hang-out" read one news item. Folks remember the time clock on the wall - whoever put in the most time at Goofy's got a free pizza on Friday. It was owned by Joe Houle, who also owned Joe Houle's Bar on Franklin and Lyndale. Goofy's was demolished to make way for the Target Center - its last day was February 29, 1988.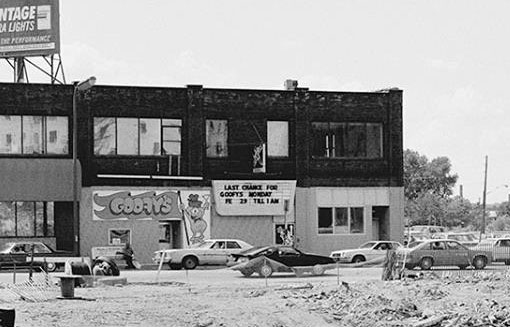 Goofy's, just before demolition, 1988. Photo by Barb Economon.
---
Herman's Bar and Restaurant, 32 South 6th Street, Minneapolis. 1963: In the Artists and Models Room you could have your picture sketched while you were entertained by Rusty "Oh-Those-Lyrics" Nielsen, apparently a Scandinavian knockoff of Rusty Warren. Or swing with Jimmy Harris at the Piano Palette.
The Here: Folk club, 1963.
Hideaway: See Chisago City Community Center. Bruce Glewwe remembers going to the Hideaway "and it was probably the High Spirits playing. The band put lighter fluid on the drums and lit them on fire with black lights and a strobe light flashing. WOW!"

Highland Recreation, 1209 W. 7th Street, St. Paul. Is this 7th Street Rec? Ad for Harry Blons, vocalist Joann Dale on November 20, 1953. Host Bill Larson, Jr.
Highlander, 136th and Nicollet in Burnsville. Opened in August 1963 with a 30 piece bagpipe band.
---
Hilton Hotel, 11 E. Kellogg, St. Paul
Top of the Hilton. 1970: Dancing
Carousel Lounge
Don the Beachcomber (1970)
---
Hippogriff, 400 Highway 169 South, St. Louis Park. 1971 - 1985. Click on the title and scoll down to find it.

His and Hers - See Foshay Tower.

Holcomb's: Musical Entertainment and Dancing, 1963.
Holiday Inn Central: See Capp Towers
Holiday House (St. Paul?). 1963: Musical Entertainment, Piano Bar, Dancing.
Holland: Cedar Ave, West Bank. Polka in the back room in the '60s.
---
The Home Saloon was at 1933 Lyndale Ave. at Franklin. It was formerly the Gables/House of Gables. In 1970 it was owned by Jim Boosalis. In May 1971 Frank Marino was the new owner and Jason Kennedy, manager. Became Rudolph's.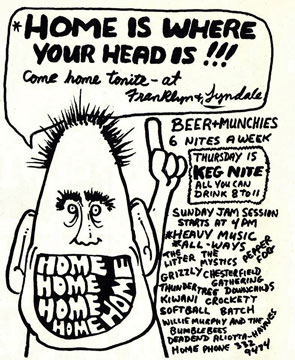 Insider ad, 1970/71
---
Homewood Lounge: This was a north Minneapolis club that opened and closed within two weeks. Pianist Peter Nero had been signed to perform there in 1962, and as a result of the club's closure he only got partial payment. Claiming he was owed $1,237, the Minneapolis Musicians Local 73 sought payment by ordering its members not to play at the Gay Nineties, which was owned by Richard Gold, a member of the board of directors of the company that hired Nero. The dispute was settled out of court for "less than $1,237." (Tribune 12/10/63)
Honeywell Union Hall, 2636 Portland Ave. So., Minneapolis. This came to be an R&B venue when KUXL Program Director Jack "Daddy Soul" Harris, who worked at Honeywell, was looking for a venue to hold dances. The Jackie Awards were held here on August 30, 1969.
Hook 'em Cow - 150 No. Concord, So. St. Paul. Country bar in 1973.

Hoop-D-Doo Bar and Cafe: See the end of the entry for the Minneapolis Flame.

The Hopkins House featured live music at 1501 Highway 7 from at least 1963-74. The restaurant opened in 1948 and the Motor Hotel opened in 1963. Venues at the hotel in 1963 were a fancy dining room called the Madiera Room, a less fancy Eye of the Rib restaurant, a Black Pearl cocktail room, and a piano loft tucked up into the rafters of the A-frame building, according to Will Jones. In 1967-69 there was the "fun, fun Velvet Garter sing-a-long Lounge." In 1973 the entertainment was billed simply as the Italian Show Band.
A Hopkins House - in Golden Valley? Apparently so - on Highway 55 east of Highway 100, new in July 1967.
House of Gables - new name of the Gables at Franklin and Lyndale, 1970, owned by Jim Boosalis. Became the Home Saloon.
---
House of Kronfeld, 308 - 310 1/2 Marquette Ave., Minneapolis. Again, not sure if there was music, but here are two shots of a very cool ashtray from the collection of Mark Youngblood: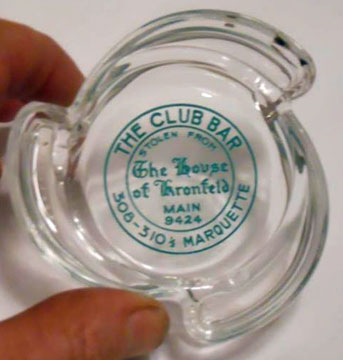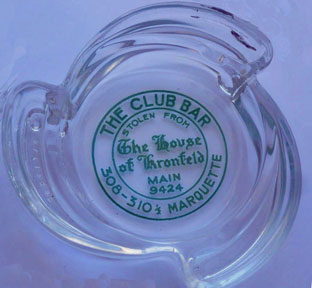 ---
Howard Wong's Famous Chinese Restaurant, 494 and Penn, Bloomington. "Where you see the World's only Twin Headed Flaming Dragon." 1967-70: Don Taft nightly for your singing and listening entertainment in the Dragon's Head Lounge.
---
HOWARD'S STEAK HOUSE

Howard's Steak House: 715-723 Olson Memorial Highway. Jazz venue, home of after-hours jam sessions with Lester Young, the Pettifords, Duke Ellington, and Eli Rice. The name of this club kind of went back and forth:
In 1952 it was also known as Howard's Club Jazz. Performers that year included the Eddie Williams Combo, Stan Williams, and Mr. "X"
The El Grotto was another name along the way.
Jim's Cafe Society opened in September 1953 at 717 Olson Memorial Highway.
On December 31, 1953, it reopened under new management as Howard's Club Jazz.
In January 1954 we see Jim Baker's Black and Tan Club, 715 Olson Memorial Highway
In June 1954 it was back to Howard's Steak House, with the Five Cats playing nightly.
It closed in 1955.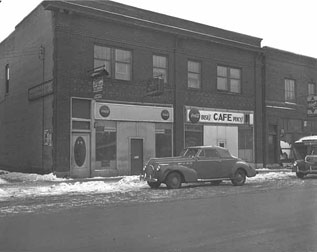 Howard's Steak House. Photo by Minneapolis Star Journal Tribune via Minnesota Historical Society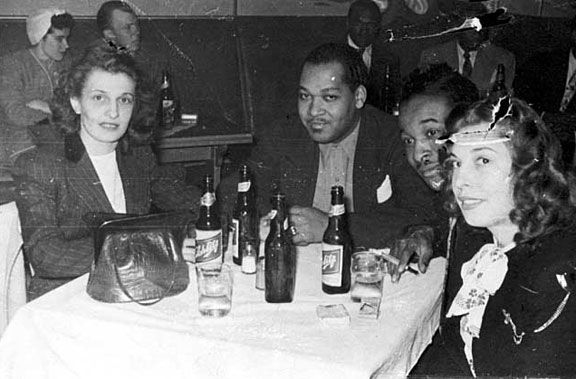 Ira and Jeanne Pettiford and Friends at Howard's Steakhouse, 1950. Photo courtesy Minnesota Historical Society
---
Hub Cafe: See Wonder Vue. There was a Hub Bar at 224 Hennepin in 1943 (photo below from Minnesota Historical Society) but not sure it was a music venue.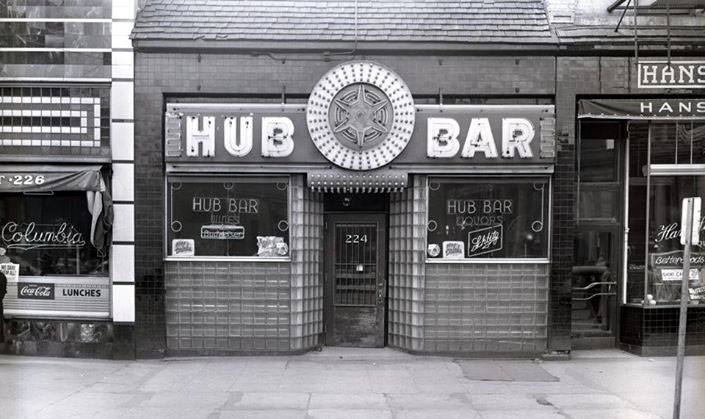 ---
The Huddle Restaurant and Lounge, 101 E. Hennepin, Minneapolis. 1963: Smooth Organ Music Nitely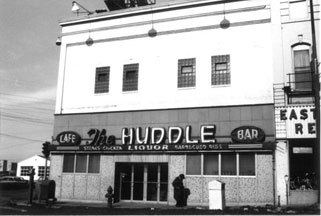 The Huddle became Arturo's, mentioned in the Insider 1971-74.
---

The Hullabaloo Teen Scene in St. Louis Park was the place to go in 1967. There was also one in Fridley. This is so big, let's go to a separate page.

Ichabod's was a downtown Minneapolis folk venue in 1973.
Infinity, 4700 Excelsior Blvd., St. Louis Park, 1976-79. Click on the link for the story of this and the other clubs at this location.
Inn Towne Motel, 4410 - 10th Street No., Minneapolis. July 1963, per the Twin Citian: "Dan Lee, organist and pianist, appearing in the Hubcap Bar amidst an atmosphere of antique automobile accessories." Cool.
Inn-Tuition: Frank Seifert of WTCN-TV opened this club at 7 Corners in October 1961, featuring a comic and a jazz trio. See Key Club below.
Iron Horse
---
Jack's Chicken Shack was on the northeast corner of Walnut and West 7th in St. Paul. From Placeoography:
Jack's was a hangout for the city's small-time gangsters. One of them, Tony DeVito, was last seen at Jack's sometime in September of 1953. His body was never found. A local gangster was a suspect in DeVito's murder. The owner of Jack's was called as a witness, but spent time in prison for contempt of court. When he returned in 1961, he disappeared from his restaurant. His body was later found, but no arrest was ever made.
---
Jack's Place had a rather strange ad in the Republican Register from July 1943 to August 1944. It was only identified as being in Bloomington, offered Refreshments - Music- Dancing, and promised to be "A Clean Place to Go." Must have been a speakeasy!

Jazz Spot, owned by Steve Kimmell, opened July 6, 1973

Jazzmines, Minneapolis
---
Jerry's Nite Club, 449 N. Snelling in St. Paul, offered dancing in 1943. This wonderful artifact below was posted on Facebook!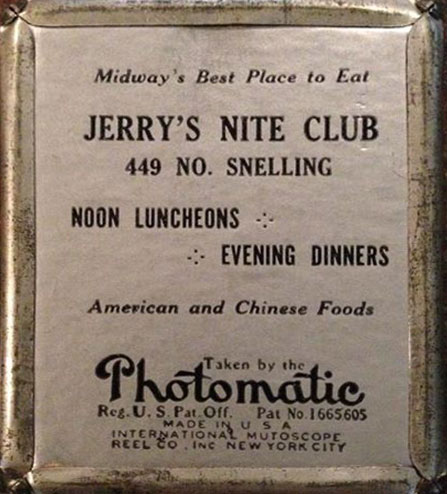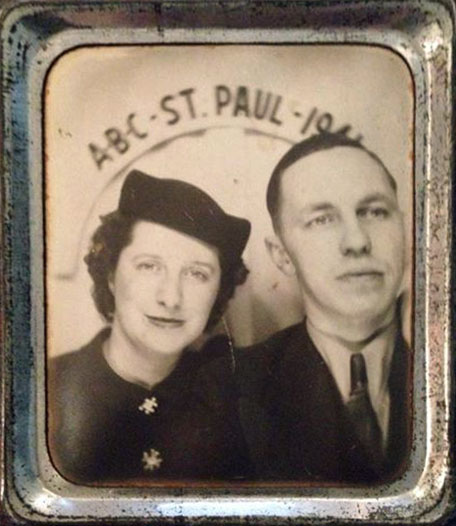 ---
Jetaway (Dick's Jet-Away Lounge): See Herbs, above.

Jim Baker's Black and Tan Club: See Howard's
Jim Williams' Tavern, 560 St. Anthony, St. Paul. First Black restaurant in Minnesota to have a legal liquor license. Demolished in 1960.

Jim's Cafe Society: See Howard's.

Jimmy Hegg's Starlight Club: See Curley's.
---
Jimmy's on the Levee was beneath the Wabasha Bridge (56th and Wabasha?) on Navy Island.
Jimmy's became the River Serpent; from at least 1974, Passage was house band at the River Serpent. And they were fantastic!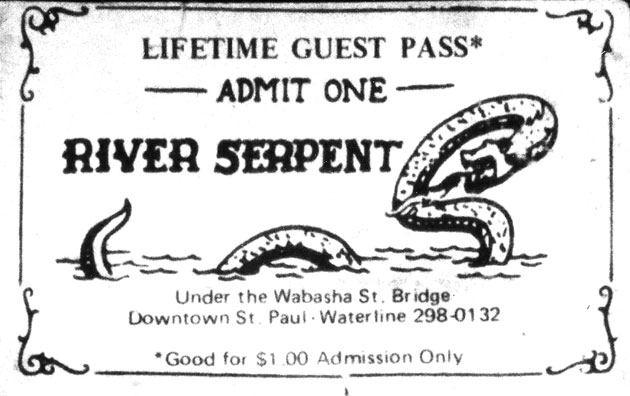 ---
JJ's Heidelberg was at 66th and Lyndale. In 1973, dance to Frank Wagamon.

Jockey Club - See Foreman & Clark Building.

Jockey Lounge, St. Paul 1971-74
---
Johnny's New Cocktail Lounge, 2251 University Ave., St. Paul. No information whatsoever, but Mark Youngblood has this ashtray so it has to be a swanky place.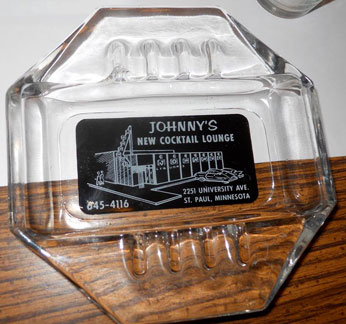 ---
ROBERT JOHNSON'S PAVILION
This was a family place at 4639 Excelsior Blvd. in St. Louis Park, built by gas station mogul and home builder Robert Johnson in 1935, at the end of Prohibition. It was one of the early entertainment places that would center on Excelsior Blvd. This particular building would become the Swan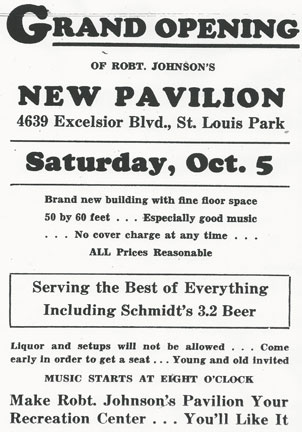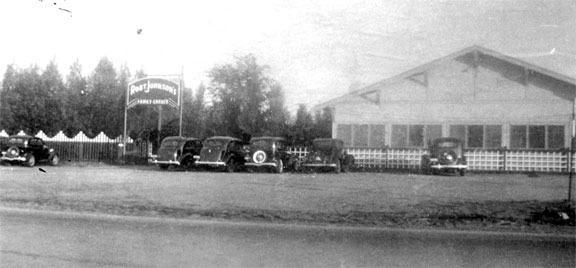 ---
The Joint: See the Rex
Jolly Note Piano Bar, at the Lilac Lane Restaurant and Cocktail Lounge, Highway 100 and Excelsior Blvd., St. Louis Park. 1963 entertainers were Susan Aldrich and Keith Gamm.


---

The Junior Pioneer Hall was built in 1909 and was (and is) located at 192 West 9th Street in St. Paul. Judy Perkins (Percy Hughes's wife) and her Combo performed at a golf tournament dance there on July 28, 1951, and Little Richard appeared there in 1956. From 1963 to 1973, the building served as the University of Minnesota's St. Paul General Extension Center. It is now occupied by Reigstad & Associates, who turned the gym into offices. They don't allow tours.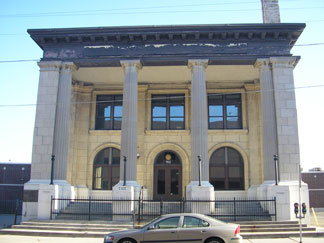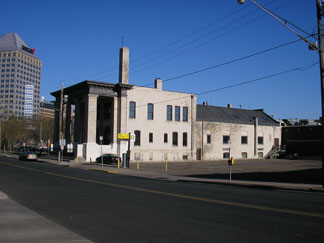 Junior Pioneer Hall, 2013. From the side (right) you can see what might have been the gymnasium where Little Richard played!
---

Kashmiri Room: see Ambassador Motor Hotel, above.

The Kasota Legion Hall in Kasota was listed as a venue by the Insider 1971-74.
Kelly's: 2221 Ford Parkway across from the Ford Plant. Country bar in 1973. Associated with (same owner as? the Manor.

---
THE KEY CLUB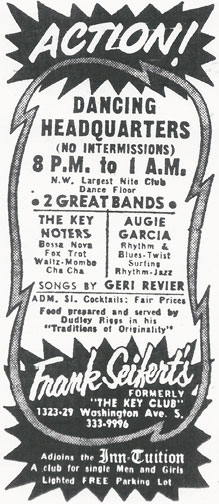 The South of the Border Bar was located at 1327 Washington Ave., opening date unknown. On December 19, 1951, The Key Club opened next door at 1325 Washington Ave. So. Both establishments were owned by Henry Sabes. The first act at the Key Club was the Four Blazes. The club became a main venue for jazz and rhythm & blues in the 1950s, as advertised in the Minneapolis Spokesman. 1955 acts included
Boyd Moore Combo featuring Eva Gee, blues and torch singer, fresh from extensive eastern tour, "Nature Boy" Brown sax and his Harlem Playboys, direct from Chicago, Horace Henderson, brother of Fletcher Henderson, played at the Key Club off an on from 1956 to 1960. Trouble plagued the place, however:
In 1951 Sabes was said to be a partner in the American Sales Service Co., which sold vending and slot machines, the latter of which were illegal in Minnesota.
In February 1957 a fight led to Sabes shooting and killing musician Charles M. Talley. It was deemed self-defense. At the time Sabes had 33 employees.
At one point Sabes was accused of hiring someone to burn down a church that was a block away but nothing came of it.
On April 14, 1961, Sabes shot two patrons, one on purpose and one by accident. Both survived. Richard Hackett was thrown out of the bar and came back with a gun, threatening to kill the bouncer. Hackett's gun was rigged so that it could shoot all seven bullets at once. Sabes shot Hackett and wounded a bystander, and no charges were filed. At the time the police called the place "a hangout for prostitutes and narcotics peddlers."
In September 1962 the bar was investigated for prostitution and drug addicts as a result of three white slave trails in which prostitutes named the bar as a pick-up place. South of the Border was deemed the "most troublesome bar in Minneapolis."
By November 1962 Sabes offered to close the bar if he could keep the Key Club open. Sabes found support in Cecil E. Newman, editor of the Minneapolis Spokesman, who pointed out that the Key Club was one of only a few establishments that hired black musicians, bartenders, waitresses, floormen, and maintenance people. Newman called it "The first night club in Minneapolis to break the color bar against Negro artists in night clubs." Plus it was one of the few places black patrons could go and feel welcome. Despite the arguments, Sabes lost his license and although he took it to court, the club closed in March 1963. On March 13, 1963, Will Jones commented that the club's "showmanly gambit of booking jazz names in the face of its legal troubles is paying of. Dakota Staton has brought some life back to the club, once thought dead."
Frank Seifert took over the location, opening August 9, 1963. His plan was to hire two full-time house bands, one for "the standard type of dancing including Latin rhythms" and the other for "rock 'n' roll, twist and surfing rhythms," according to Will Jones. The large dance room, to be called Frank Seifert's, was open to the public for an admission charge. The former South of the Border bar was for members of the Inn-Tuition club who held keys (a club for single Men and Girls). Dudley Riggs was to operate the food concession, serving steak and eggs, fish and chips, small steaks, marinated bourbonburgers, and a salad cart. Riggs also operated Cafe Espresso, which offered fancy coffees and pastries. Ad above is from September 5, 1963.
---
Keystone Bar, 644 Sixth Ave. No. In 1934 H. Holliday was the proprietor. "Good Chili - Best in Two Towns." On May 18, 1935, the Minneapolis Spokesman carried an ad announcing the opening of the bar's "Swanky New Cocktail Room (For Ladies and Gentlemen) (No stags admitted to Cocktail Room) Under the Direction of Mr. Duffy Ampey. Drink, dine in the exclusive manner. Keystone Bar Cafe under the management of James Wicks. Liquors, Wines, and 6% beer. Grand opening May 22. In June the cocktail room had been named the Mystic Cavern, not to be confused with the Mystic Caverns in St. Paul.
Keystone Hotel, 379 Carroll Ave., St. Paul, 1935. Dine and Dance Once Again at the Autumn Leaf Dining Room. Dancing every night, Special Cabaret Nights. C.F. Williams, Proprietor
The King Kong Club, on the 700 block of No. Lyndale was a converted store. It had a five piece band led by Johnny Wheeler on trumpet.
King of Diamonds: Small club in Inver Grove/St. Paul, early 1970.

King Solomon's Mines - See Foshay Tower.

King's Bar and Lounge, 717 Hennepin Ave., had a talent contest every Tuesday night in 1952, if that counts.

On June 4, 1949, the Minneapolis Spokesman advertised the opening of King's Valley, reached by taking US Highway 169 and County Road 1. Patrons could take one of 12 limousines leaving from two locations including Annie's Barbeque. "Truly the Valley of the Kings." Opening would be King Larry, His Saxophone and Quintette, with emcee E. Harry Jones.

---
KIRCH & GILLIS/TURF CLUB, 1601 University Ave., St. Paul
From the Turf Club's website:
The venerable music bar at 1601 University Avenue near the corner of Snelling hasn't always been known as the "Turf Club." As early as the 1920s, it was Hove Food Market, Inc. Groceries. Next door, however, two men were operating a pool hall named for themselves—Kirch and Gillis. At some point after Prohibition ended in 1933, they took over the food store and converted it into a bar with the same name.

Perhaps the most notable event in the bar's history took place during this period, a three- alarm fire in November 1942. Its cause was mysterious, though officials thought it wasn't of "incendiary origin." A local newspaper report did note that the fire was difficult to extinguish because of exploding liquor bottles. No one was injured except for 79-year-old Mrs. Julia A. Kehne, who tripped over a fire hose the next day. By 1945, the bar had re-opened as Kirch & Gillis Beverages. The two men were its proprietors until it became Kirch & Gillis Café, serving lunches and dinners with dancing, entertainment and new owners.

About 1950, the bar changed hands again, and a new name emerged—the Turf Club, a name thought to derive from the stables, racetrack, and clubhouse built nearby in 1881 by Norman Kittson, merchant and one-time mayor of Saint Paul. "Kittsondale," as this racing empire was called, was demolished in 1942. The bar was a community meeting place during the 1950s, with a meeting room called "The Lion's Den" reserved for meetings of the Midway Lion's Club.

According to the website tcmusic.net, the Turf Club had a "reputation as the Twin Cities' foremost place for country two-stepping long before line dancing became a pop-culture phenomenon." It's known today as the "best remnant of the 1940s," and one of the Twin Cities' most popular venues for live music.
Aftermath of 1942 fire; photo courtesy Minnesota Historical Society
Turf Club
In 1950 it became the Turf Club. In late 2013 First Avenue purchased the Turf Club. On its web site it says, "Opening in the '40s as a two-steppin' country bar, mellowing a bit through the folk artsy '60s, morphing with the dance wave of the '70s, then embracing the grunge of the '80s, the club is like a treatise on Minnesota music. And this brings us to the other part of the club's success: its consistent dedication to local and independent music, something this town of ten thousand musicians definitely recognizes and even appreciates enough to maintain loyalty in the face of an adverse location. So much so that the adversity becomes even more reason to frequent the damn place." An early and enduring feature was the Clown Lounge basement bar.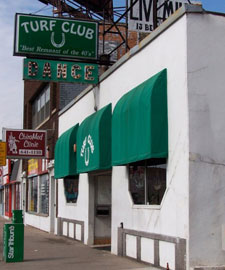 An updated Turf Club opened on August 28, 2014, after three months of remodeling.
---
THE KISTLER BUILDING - Follow the link to read about this hub of great jazz clubs on the North Side.
Kitty Kat Club: Sixth Ave. No. between Highland and Aldrich: Jazz venue.
Klondike: see Chuck's Skol Club.

Knickerbocker Hall, 905 - 4th Ave. So. That address is the Gethsemane Church today and may have been St. Thomas Church in the 1930s, as it was the site of the St. Thomas dance and style show.
The Kobbersted dining room and lounge was in the Holiday Inn and Solar Dome at 694 and 100 in Brooklyn Center.
Koogan's Leaning Post, Lilac Way Shopping Center, St. Louis Park
Krueger's Haymow was the site of some dances in 1952-53, featuring Percy Hughes and His Orchestra. Take South Robert past the Corral Drive-In on Highway 100.
La Bongo Club: see Road Buddy's
La Cantina, 7800 Computer Ave., Edina, behind Howard Johnson's and the Camelot. 1974: Run by Reggie Colihan. Bands included Rise & Shine, Open Road, Free & Easy, Danny's Reasons.

La Casa Coronado, 1113 Washington Ave. So., was probably the Cities' first Mexican restaurant, site of many Spanish class field trips. In May 1963 there was a new "La Terraza," the new terrace room, that featured authentic Mexican music, cocktails, and dancing to real Latin American rhythms. June 1963: "Every Friday and Saturday, authentic Mexican entertainment is provided by the Duo-Los Gaonas and Roberto Del Villor, Mexican recording artist." La Casa Coronado had moved to 23 No. 6th Street by 1970, where it featured the intimate Pancho Villa Cantina. It closed in 1981.
---
THE LABOR TEMPLE

Contrary to urban myth and confusion, 117 Fourth Street SE, Minneapolis is NOT the building presently on the corner of Central and 4th Street SE, which was built in 1925 as a Masonic Temple and is now the home of the Aveda Institute. The Labor Temple was torn down - the date of demolition is unknown but the permit was issued on December 30, 1974. The property was sold to the owner of Avenda by Campus Church Assoc. on February 1, 1986 for $107,476 and is now the Aveda parking lot.
City records show that the building at 111-117 Fourth Street received a building permit for an 88 x 166 sq. ft. lodge building in 1923, which was very close to when the Masonic Temple next door was built. In 1929 it was referred to on the permit card as an "R.C. Lodge," with club rooms, a store, and a hall. In 1930 there was an entry for an undertaker (as there was in the Masonic Building next door), and was possibly a dwelling in 1936.
By 1942 it was known as the Eagles Building. On April 8, 1942, the Labor Temple Association, as appointed by the Trades and Labor Assembly of Minneapolis and Hennepin County, purchased the building from the Eagles. Hubert Humphrey attended the mortgage burning ceremony in 1944. In 1947 ads for rhythm & blues shows in the Minneapolis Spokesman, the city's black newspaper were referring to it as the Labor Temple, formerly Eagles Hall. The large hall on the third floor was the site of many dances held by and for the black community in the late 1940s through the 1950s. From November 1950 to 1953, promoters Rufus Webster and D. P. Black (and from 1953 through 1956 just Black) brought major national rhythm & blues acts to Minneapolis, almost exclusively to the Labor Temple. See the event chronology above and a collage of ads on Robb Henry's blog.
In about 1968 there was a 25th Anniversary booklet put out calling it the "Floyd B. Olson Memorial Labor Temple." It revealed that one of the large halls was called Cramer Hall, named after Robley Cramer, "editor of the Minneapolis Labor Review and one of the most militant and fearless labor leaders that the movement ever produced." The other hall was named after Richard Wiggin, former city attorney of Minneapolis. At the time the building housed 21 Union offices and hosted 60 local union meetings each month in addition to renting the large halls.
In 1969 David Anthony, in conjunction with Community News, started booking national psychedelic acts, some of which were not all that well known yet and couldn't fill one of the bigger halls. The first such concert was the Grateful Dead on February 2, 1969. (See 1969 above for more information about Community News and the 1969 concerts.) Concerts were presented on Sunday nights on the third floor of the hall. Concert-goers sat on the floor or on chairs in the balcony. Anthony based his ticket prices on a capacity of about 3,000 people and lost a great deal of money when the fire marshal cut that capacity in half after he had booked the bands. He also said that the union members who had offices in the building would try to get in for free. After this financial setback, Anthony stopped booking shows, and 17-year-old Dana Marver booked some big names at the end of 1970. It became the Fillmore or the Whisky a-go-go of the Midwest, while maintaining a good relationship with the police and taking care of the customers by keeping staff of the YES drug counseling organization on hand. Fire code issues forced it to stop hosting concerts at the end of 1970.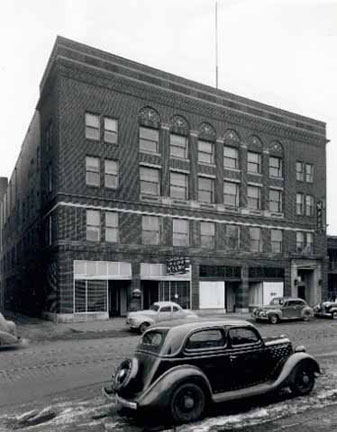 Labor Temple, 1940. Minnesota Historical Society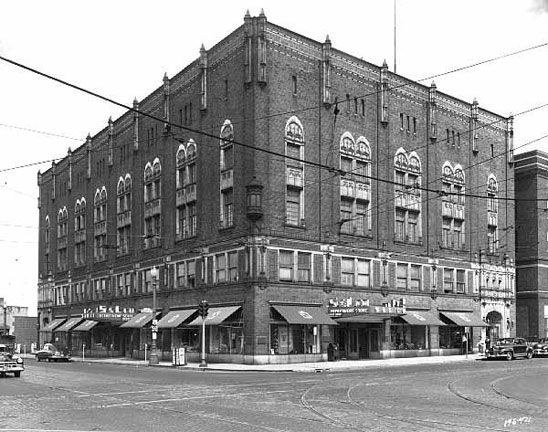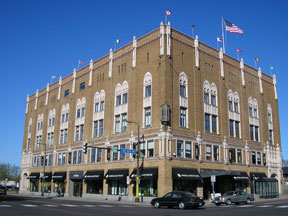 For comparison's sake, the photo on the left is the Masonic Temple on the corner of Central and 4th St. SE, 1950. You can just see the edge of the Labor Temple on the right. The photo on the right is the Masonic Temple (Aveda) from 2013.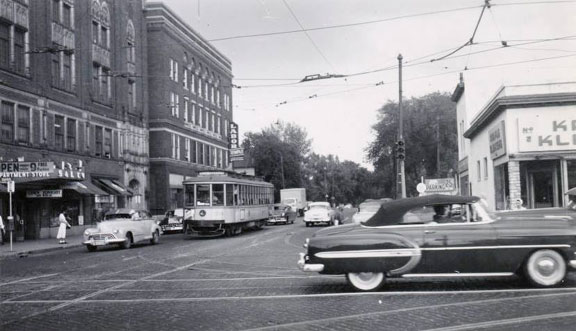 This great photo shows the two buildings side by side - taken some time before 1954.
---

Laidlaw VFW, Minneapolis - early Mike Waggoner and the Bops venue

Lake Street Auditorium - See Mr. Lucky's
Lake Street Coliseum - See Coliseum Ballroom

The Lakeview Inn was on Lake Minnetonka in Spring Park. It opened in 1956 and featured big name groups and personalities managed by Dick and Don Maw. In 1965 you could dance to Bobby Burak, the 14-year-old son of the owner, and the Psychotics. Next door was the Downbeat. In the beginning it may have only been open in the summer, but a 1967 ad for Bob Burak's new Combo shows that it was open in November and December.
Lamb's Supper Club, St. Paul, went from country/western to rock in 1972. Still there 1974.
---
The Lamplighter was a sleazy strip joint in St. Paul. Must have had music for the girls...
---
Lantern Inn, Reilly's Lake, Eden Prairie, 1935. Saturday and Sunday Nights - Good Music
Launching Pad: Highway 10 north of 35W in New Brighton/Moundsview. In 1973 it went from all country to half country, half rock.

Laura's West Twins, 924 So. Robert Street, St. Paul. 1970: organ music.

Le Zoo, 1612 West Lake Street, was a coffeehouse with entertainment by folk singers in the fall of 1962. Very popular with St. Louis Park teens, despite the 75 cent cover charge. An article about folk venues in Life Magazine's December 14, 1962 issue noted that Le Zoo was famous for its sing-alongs. The January 1963 issue of Select Twin Citian described a "Contemporary coffeehouse atmosphere with new faces in folk music and jazz Tuesday thru Sunday 8-12 pm. Sunday special - reserved seat matinees at 2 and 4 pm, presenting Maury Bernstein singing "Folksongs for People Who Hate the Kingston Trio' in nine languages." In March 1963 owners were Paul Hewitt and Willie Somdahl. It was still there in January 1964.

---
The main Leamington Hotel, located at 10th Street and 3rd Ave., was built in 1912. Its restaurants were:
The Imperial Garden
The Norse Room and Norse Terrace: Music by the Gulbransen Theater Organ
The Kaffee Klatsch
The Crown Room
The Rendez Vous Piano Bar
Carnival Room - Kay Nygaard and the Sound Effect in 1969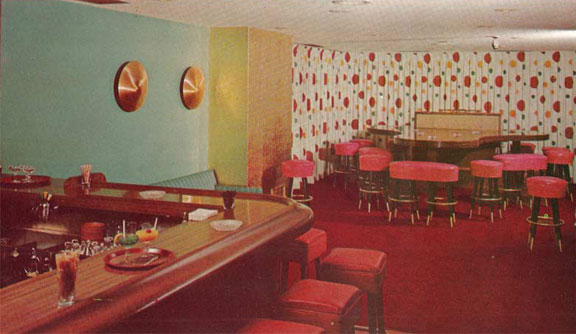 The Leamington Motor Lodge was at 400-410 So. 10th Street. It was built in 1962 and hosted the Beatles in 1965. In 1967 the cocktail lounge at the motor lounge featured Sonny Brown's cool vocal styling with the beat of the jazz organ. It was demolished in February 2008.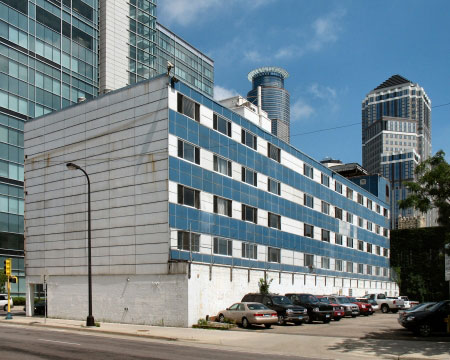 ---
The Leaning Post - See Koogan's Leaning Post
Lee and Eddie's
---

The Left Guard Supper Club, 7717 Nicollet Ave., Bloomington. Catered to celebrities and football stars in 1973-74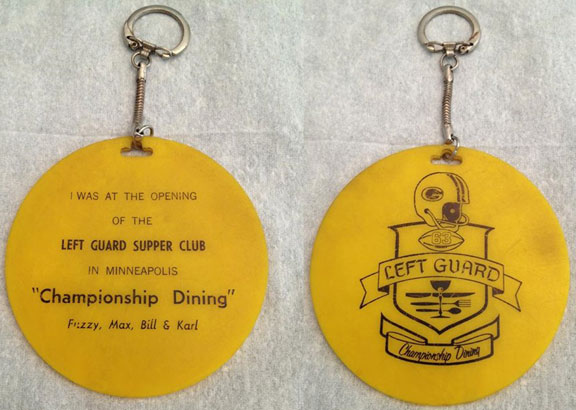 ---
Lefty's Tavern at 22nd and Riverside offered entertainment by the "Tennessee Sweetheart" and "Manville, Pop-Eye Boy" on New Year's Eve, 1941-42. Possibly the future home of the original Coffehouse Extempore?
Lilac Lanes Cafe, 3901 Wooddale Ave., Lilac Lanes Shopping Center, St. Louis Park. 1963: Modern cocktail lounge and piano bar. Entertainment and music for dancing nightly.
---
LINDY'S/CROMBIE'S/AUGIE'S
Lindy's was a "stage bar" at 424 Hennepin Ave. that opened in 1936 in the former location of the Minnesota Meat Company. Photo below is from an undated ad - courtesy Anne Cook/Gurr photo collection. It was sent by David Eyre, whose Aunt, aunt Flora Cook/Moore/Egan (1888-1960), worked as a "Psychic Reader [who] gives readings to patrons every afternoon." Flora's photo, also from the Anne Cook/Gurr photo collection, is below.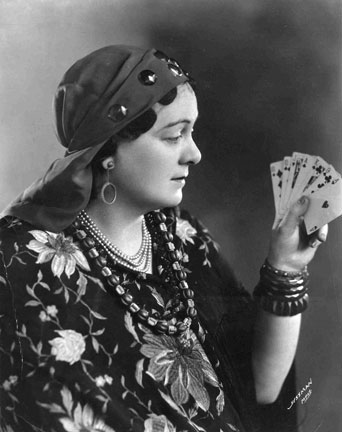 The ad has more!
Anytime is "Swing Time" at Lindy's with music for dancing delightfully supplied by Les Martin and his orchestra . . . swing time or waltz time . . . you sway and dream to the contagious rhythms of this syncopated combination.
After the game - here is where you will find the winners celebrating their victory and the vanquished forgetting their defeat in the merry atmosphere of Lind's Football Supper Dances Saturday afternoons starting at 5:00 o'clock.
The World Famous Siamese Twins . . . Daisy and Violet Hilton, whose personal appearance at Lind's brought thousands of new visitors to this popular downtown club . . . an example of the famous stage personalities that are featured in Lind's floor shows every week.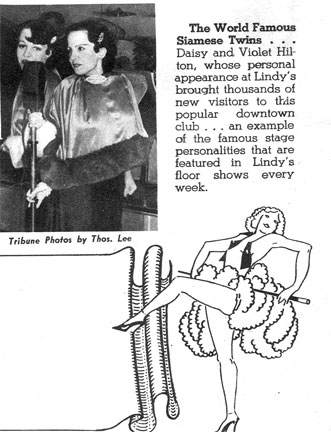 Crombie's Bar and Lounge opened in 1939, replacing Lindy's. Stebbins: "Some time between 1936 and 1939, when it became Crombie's Bar, Howard 'Chief' McElroy had a band there which he believes was the first Dixieland band in town." Crombie's was advertised up until at least September 1943.
Augie's Theater Lounge and Bar opened in or before November 1943, owned by Augie Ratner until 1964. The Republican Register of December 1943 actually ran an article about the new bar, calling it "one of the city's most popular fun spots." It revealed that Augie was a native of Minneapolis, widely known as a professional boxer from 1920-1930. After that he worked at a service station, then served in the Army before entering the night club business. When he took over Crombie's, it was entirely redecorated by Joe Palen. The article concludes "..Ratner employs only veteran concocters of fancy drinks and only the highest quality beverages are dispensed."
The first performers at Augie's were Leon Abbey's Entertaining Boys (his four piece orchestra) and singer Jeanne Bargy, daughter of orchestra leader Roy Bargy. In addition, Dorothy Berry will sing your favorite request. Another early band was Howard Brown's Rhythm Kings. An undated and unsigned memo (probably from the mid 1940s) says that Elaine Realty Inc. bought it from United Properties Inc. on October 26, 1946, but suspects that Tommy Banks may have held the deed. In 1955-56 the bar featured Wild Bill Boone. For a good read, see Augie's Secrets: The Minneapolis Mob and the King of the Hennepin Strip by Neal Karlen (MHS Press, 2013).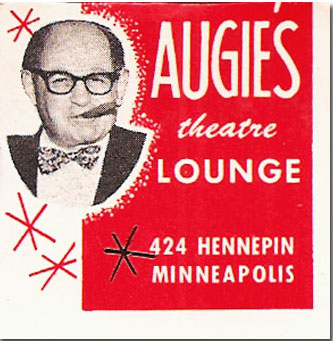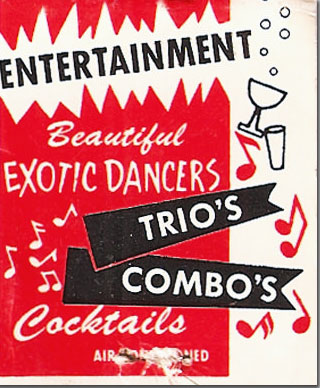 ---
Lindy's Bar and Lounge, 320 Cedar Ave. "just across the bridge." This dates back to at least November 1952, when you could dine and dance to the Collegians, as advertised in the Minnesota Daily. October 1953: "Winnie will sing your favorite tune - come in and sing." But it must have changed owners, as it was billed as "Eddie's Newest Nightmare" on March 11, 1954, with music by Jimarlen Trio of KSTP Channel 5. Fizz - Fun - Frivolity - Refreshments. There was another Lindy's that became Augie's (see above).

The Lion's Den, 1160 Frost Ave. in Maplewood by Lake Phalen. In 1966 the owners were Joe Chenoweth, Tom Smith, Jack Tucci, and Peter Pahlin; all but Smith were under 21. It was one of three teen clubs in 1966. Bands that played there included the Deacons, the Lancers, and the High Sprits, who were featured in a spread in the March 20, 1966, St. Paul Sunday Pioneeer Press.

Little Al's, 724 - 4th Ave. So. 1969: Dave Rooney Trio
Little Nashville Club, 412 Hennepin Ave. 1969: Johnnie White

Log Cabin, Spring Park. In 1950 Ernie Lager provided Scandinavian food and entertainment.

The LoKates teen club at 3060 DeMontville Road in North St. Paul was run by Lowell Reiks. It was described as a new modernistic structure when it opened in 1968. In 1970 when the teen market fell off it closed on Fridays, along with the Barn and Magoos. High School dances were too much competition.

Longhorn Bar, 14 So. 5th Street, Minneapolis. Owned by Pat Blumenthal, who owned the Poodle. The Music Room was a jazz spot that was part of the Longhorn - opened August 1, 1974.
The Loon Club: See Mr. Lucky's below.
Louvey's was at 5001 W. 78th Street - the Bloomington strip
Lower Levee Lounge, St. Paul
---
Lowry Hotel, 339 Wabasha Street, St. Paul. Venues:
Terrace Cafe. Ben Pollack's band made a lengthy appearance in the late 1920s. The photo below, from the Minnesota Historical Society, shows the Johnny Gilbert Orchestra performing a WCCO radio broadcast in 1940.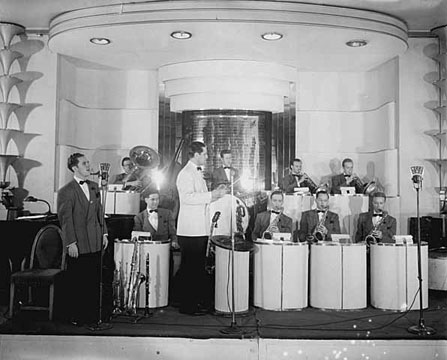 Driftwood Room: 1963 - Musical Entertainment and Dancing.
---

The Lyceum Theater, 85 South 11th Street in Minneapolis, was home to traveling jazz shows and rock shows. It is now the site of Orchestra Hall.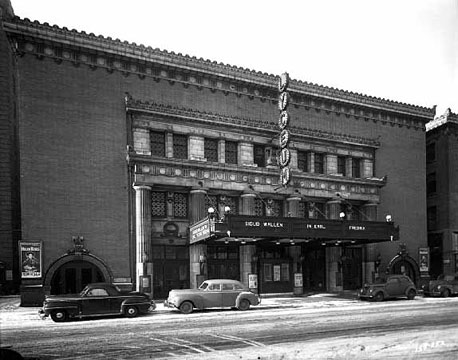 Lyceum Theater, 1945. Photo from Minnesota Historical Society
---
---
McGUIRE'S

McGuire's Restaurant and Lounge: 1201 W. County Road E, Arden Hills, three miles north of Highway 36 on US 10 between Lexington and Snelling. Normally a more sophisticated place, but bowed to the folksinging craze in 1963 (also a piano bar and dancing). 1969: Lamplighters sextet, The Royale. 1970: McGuire's Supper Club: Fine dining, dancing and entertainment in one of the largest dining rooms in the upper midwest; dinner shows, lounger entertainment. In 1973 a notable act was the Kirby Stone Company, featuring the leader of the Kirby Stone Four. An August 1974 ad was for McGuire's Continental Room at the new Ramada Inn, same location, featuring Ginna & Joel. Also Carole Martin in the Chimney Sweep Lounge.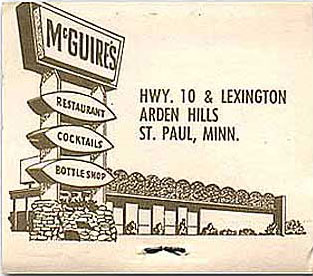 ---
Magic Bar: 2609 - 26th Ave. So. In an undated, unsigned memo the owner is identified as Minnie Ryan, but it is suspected that the deed was held by gangster Tommy Banks.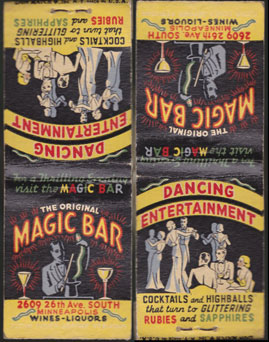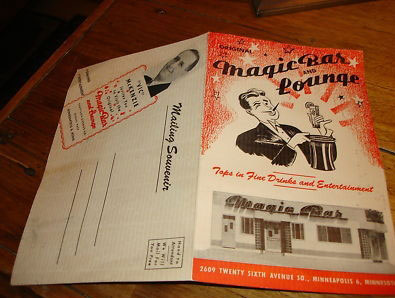 The Magic Bar became Mr. Nibs. The blog of Hennepin County Library Special Collections talks about the "Hub of Hell," (26th and 26th): See more in a City Pages article from 1997. On August 1, 1963, a large ad in the Tribune announced the "Big All New One in the Twin Cities, a wonderful new world of pleasure." It was newly remodeled and renovated, with air conditioning. Entertainers in the ad were Patti Sherwood, Fraser & Nevers (making faces - probably comedians), and Jerry Vaughn. In 1967 a band was Dave Major and the Minors. 1969: Parafunalia, the Swinging Ambassadors. Photo below courtesy Hennepin County Library Special Collections.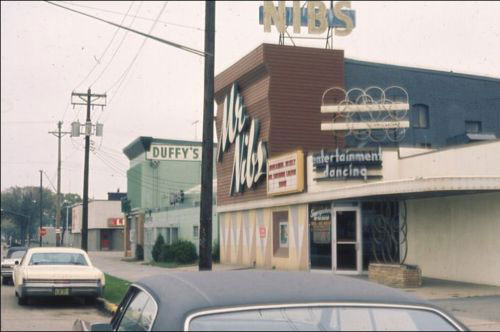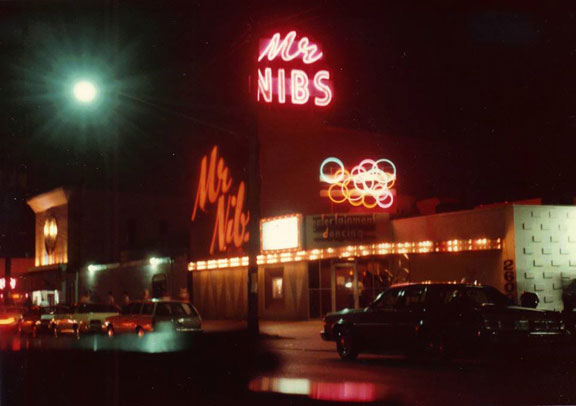 Photo courtesy Brian Carlson
Mr. Nibs became:
A country bar, featured Sherwin Linton.
The building burned down on February 27, 1989. At the time it was owned by Gary and Darlene Stark.
It was rebuilt as the Mirage.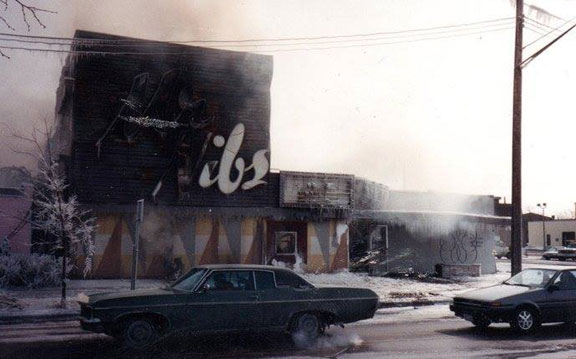 ---
MAGOO'S

Magoo's Pizza: 2933 Nicollet Ave. Magoo's opened in about September 1965 in the other half of an old dance hall that also housed Mr. Lucky's. (See history of building under Mr. Lucky's, below.) Teens were allowed in the front part, while those over 21 could buy beer in the back. At first the music was all jazz, provided by KQRS program director Herb Schoenbohm's Trio and the Mike Elliott Trio. Soon the teen side switched to local rock bands. In 1965-66 it was owned by Bob Roosen and managed by Brian Lawson. In 1967 it was owned and/or managed by Gary Jorgensen, who announced that June that the dance floor had been expanded. Jerry Lenz of the Nickel Revolution remembered that "Magoo's had a different feel. While [Mr. Lucky's\]New City Opera House was a rock club, Magoo's was more laid back and the music wasn't as loud. They served pizza and beer and had plenty of seating for the audience." A 1967 listing showed it open to teens every night. Faced with the declining teen market, Magoo's closed on Fridays in mid-1970 and that year became the Cafe Extraordinaire (see above).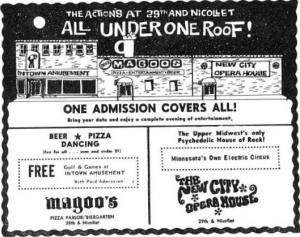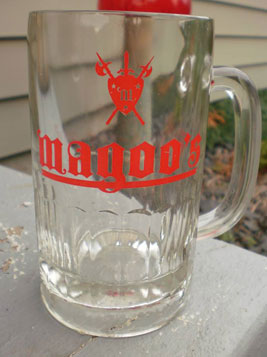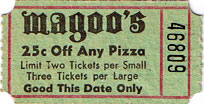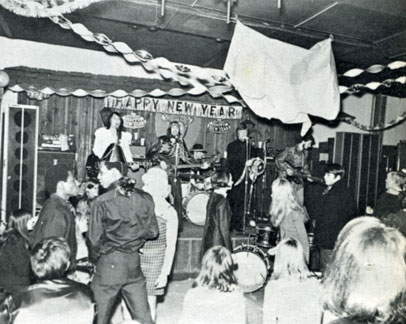 Zarathustra at Magoo's, December 31, 1968. Photo from the January 11-18, 1969 Insider by Mike Barich.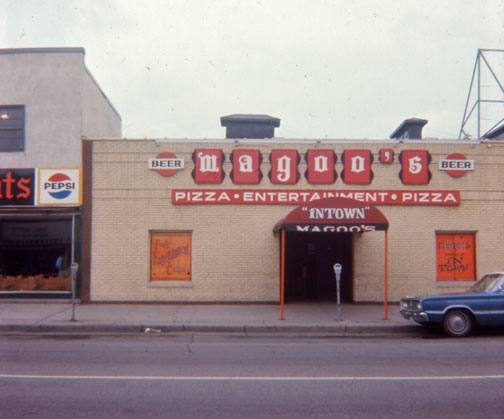 Photo courtesy Susan Shallman Anderson
---
Majestic Ballroom: Cottage Grove

Majestic Lounge, 323 - 14th Ave. SE, Minneapolis. The January 1963 Select Twin Citian describes: "A jazz hideaway in the basement of the new Starlite Cafe in the University's Dinkytown. Hot and cool jazz with the DS Trio every Friday and Saturday with occasional impromptu jam sessions featuring outstanding local jazz musicians, 9 pm to 1 am."
Mancini's, St. Paul: jazz venue
The Mandalay Club, 347 E. 38th Street, Minneapolis. This was where Irving Williams and his Rhythmaires, formerly the Wold-Chamberlain Navy Band, made their debut on February 2, 1946. The Club was apparently a restaurant, and the band performed in the Azure Room. The address is just across the street diagonally from Dreamland.

The Manor was at 2550 W. 7th St. in St. Paul, 1963-74. 1963: Musical Entertainment, piano bar, and dancing. Jimmie Rodgers had an extended stay there in 1967. 1969: Norse Room. 1970: Live big name entertainment seven nights a week in show lounge and dining room. Lounge with separate entertainment in another part of this huge supper club." In August 1974, Bea-Bea Benson was appearing at the Manor's Rumpus Room. Associated with Kelly's - same owner?
The Mantiki East was on University near Snelling in January 1964, as reported by Will Jones. House band was a bluegrass group called the Country Briars. Jones: "The decor of the Mantiki East is what might be called 3.2 Polynesian. There's a suggestion of grass huts, low tables, and a section where customers sit on the floor at low Japanese-like tables. On the night I went there, the room was packed, and everybody was reverently digging the authentic Kentucky-Tennessee-West Virginia sounds of the Country Briars, and their funny-hat routines as well. The room is a fairly exact copy, I am told, of a room in San Diego, Calif., the Mantiki West, where the same formula has been successful: bluegrass music among brown grass huts."
Maple Lake Pavillion was across from Maple Lake on Hwy 55 in Maple Lake, Minn. Owned and operated by Kay Schue. It's now Maple Lake Antiques.

---
Maple Leaf Club, 128 Highland Ave. No. One of the hot clubs near Olson Memorial Highway. In 1937, Phil Ware was the manager. Became:
A restaurant
Club De Luxe, opened January 1941
The New Palms Cafe, opened January 1943 - "music and entertainment"
The Rhumboogie Cafe, opened June 15, 1943 - "You'll Enjoy Yourself." The name apparently originated in a song that the Andrews Sisters performed in their screen debut in "Argentine Nights" (1940). The Rhumboogie Club in Chicago was located at 343 East 55th Street, opening in April 1942 and partly owned by boxing champion Joe Louis. The club closed as the result of a fire on December 31, 1945. Reopening in June 1946, it never regained its old form, and closed for good in May 1947. There was also a Rhum Boogie Club in Harlem in 1943. Unless there was something in between, the Minneapolis Rhumboogie lasted from June 1943 to 1945.
Cara Okara Cafe, opened November 29, 1945. Reese L. Martin, proprietor.
The Johnny Baker Post 291 of the American Legion in 1947 or '48
---
Maple Leaf Bar and Lounge, White Bear Ave. and Larpenteur, Maplewood. Not sure if this had music, but Mark Youngblood has this cool ashtray. Formerly Garrity's.
---
Mar-Key Club - See Hotel Hastings

The Marian Ballroom was at 79th Street and Dupont in Bloomington. In 1963 Willie Peterson had the house band, but the venue later showcased the High Spirits, Chancellors, Underbeats, Accents, and Gregory Dee and the Avanties, among others.

---
MARIGOLD BALLROOM

The Marigold Ballroom was at 1336 Nicollet Ave. at Grant Street. Lost Twin Cities says that it was built in 1919 as Marigold Gardens. The New Orleans' Rhythm Kings appeared in the late 1920s, as well as local groups like Eddie Corlew's and Steamboat Smith's bands. The Marigold Entertainers were featured until about 1929. In the 1940s there was a famous sign, "Never Grow Old Dancing at the Marigold." Minneapolis's famous Grain Belt Beer sign was originally on top of the Marigold, from 1941-1950. In 1956 Woody Herman's Third Herd played at the venue to celebrate its 40th anniversary; it was the first name band to play there since Paul Whiteman in 1930. 1962 ad: "The New Marigold Ballroom - Minneapolis's Smartest and Largest." In August 1963 the ballroom was air conditioned; at that time it was only featuring old time bands. 1963 ads specified different age limitations for different nights; some were over 21, some over 25, some over 28. 1965 ad: "Hey! It's Upbeat! Dance every Friday nite at the Marigold Ballroom to top local and national groups." The Marigold Ballroom was the site of many acts that R&B station KUXL brought in. The venue held up to 5,000 people. In 1971 it was owned and/or managed by Ed Larson. It closed in May 1975 - its last owners were Vivian and Elmer Larson. A Hyatt Regency sits at the spot today. Photo below from February 1950 from the Minnesota Historical Society.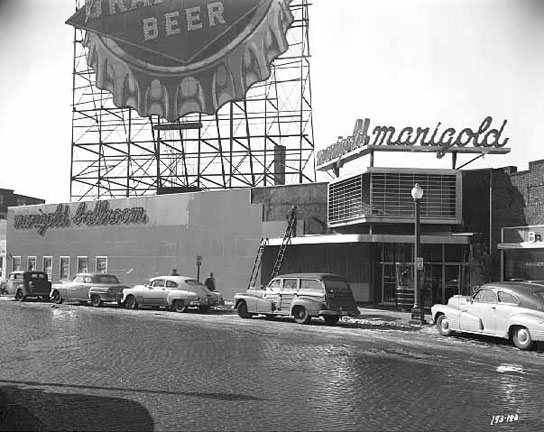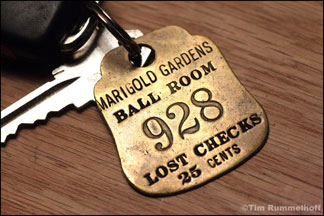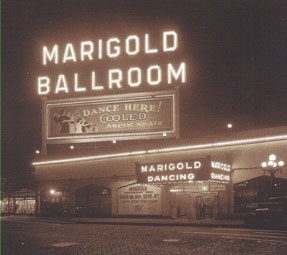 This MHS photo from 1958 of the Cec Hurst Orchestra shows how big the stage was.
---
Marquas Club, 724 So. 4th Street. 1969: Bill Robertson, guitarist. This is the same address as Little Al's, on the same June 1969 list.
---
Maryland Hotel - venue in 1957.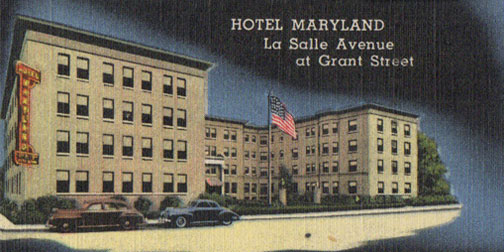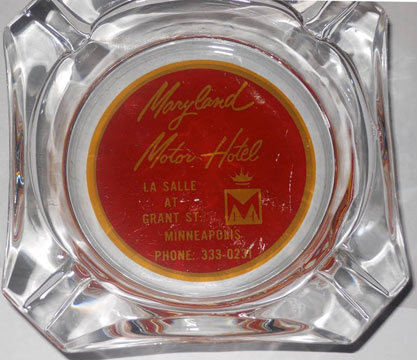 Ashtray from the collection of Mark Youngblood
---
Matt Weber's: See Miller's Club
Matt's Sweet Shop, Hopkins. Matt Weldon bought the Beckman Confectionery in 1927 published an invitation to call and get acquainted in the Hennepin County Enterprise. His offerings included an "Amusement Room, Dance if you like. A delightful place to spend the evening." No need to specify where this was, apparently.
---

Mattie's Barbecue was located at 1925 Franklin Ave. and 2934 Nicollet Ave. Started as a jazz venue but changed to Rhythm & Blues. Mojo Buford played there in 1962. The Little Sandy Review reported that there were folk sessions on Friday nights in January 1962. In May 1963 Mattie started a "3.2 circuit Blue Monday session featuring Blue Boy Buford and his rhythm-and-blues harmonica" that started at 11 am and lasted to 3 or 4 pm. In 1963 there was information in the Trib that "Mattie is Back at the Old House, 1925 Fifth Ave. So. off Franklin. In 1964 the city building inspector had turned down Mrs. Mattie Johnson's request for a license to allow dancing because the building code didn't allow dancing in a two-story frame building. The city council overrode the denial, saying that the code was meant for large dance halls, not small operations like Mattie's. Customers had already been dancing to live music."
According to an entry on Ancestry.com (thank you, Melinda Russell!) Mattie was born in Jeffersonville, Ga. "She and her two children moved to Minneapolis in 1950. After a brief stint at Minneapolis Honeywell, she became the first black salesperson at Donaldson' s. Ms. Broden, better known as "Mattie," made a name for herself as the owner of Mattie' s Barbecue, which opened in 1955 on Fifth Avenue and Franklin. She later opened a second Mattie' s Barbecue and bar on 29th and Nicollet. She was the first black woman to obtain a liquor license. Mattie was also a well-known leader in community service. She was one of the first counselors at Twin Cities Opportunities Industrialization Center, and she was a founding board member of Sabathani Community Center. In the mid-60s she moved to Crosby, Minn., and established the area' s first antique shop. Crosby is now a major antique hub in the Crosby/Ironton area." Mattie Hence Broden, 92, passed away Saturday, July 21, 2007. She had two children by husband Arnold Timothy Hence, and her last husband was Phillip T. Broden.
---
The Matthews Tavern, 1706 Fourth Ave. So., was the site of the "Town Talk Dance" that took place from 3am to 7am Christmas morning. The ad said it had the best dance floor, and that it (the venue? the dance?) was "Something New and Entirely Different."
Mauer's, St. Paul - jazz venue
---
Mayslack's Polka Lounge, 1428 Fouth Street NE, Minneapolis. I normally don't do polka, but this place is pretty big - plus, the Insider included it in 1974. Stan Mayslack's one-pound garlic-drenched roast beef sandwiches were legendary. Stan's gone but the Restaurant and Polka Lounge live on.
---
The Meadow Inn was "Straight Out Cedar Avenue South to Minnesota River Bottoms." An ad dated July 1943 promised picnic grounds and dancing every Friday, Saturday and Sunday evenings.
The Meadowbrook Roadhouse was in New Brighton.

---
Meadowmoor Supper Club - 1 mile north of Soderville on Highway 65. June, 1969 lineup:
Wayne Reinhart & the New Custom Five
Don Phillips Band
Gene Fournier Band
Tony Jambor Orchestra
Polka Debonaires
Dave Lory, country western impersonator
---
The Medina Ballroom was built in 1956 by brothers Bob, Cliff, and Joe Raskob (along with friend Norm Vansion) near their home. The Raskobs saw a need for a place to dance in Western Hennepin County. The entertainment complex also included a bowling alley. In 1959 it was advertised as the "new Medina Ballroom" featuring a Teen Age Dance. Also playing was Whoopie John. In 1961, the Rock-o-Tones played at the Teen Age Dance. A 1967 ad indicates that it was heavy on the polka music. On June 17, 1974, the facility burned to the ground, killing two including the daughter of an owner. It was rebuilt, and remains in the family to this day.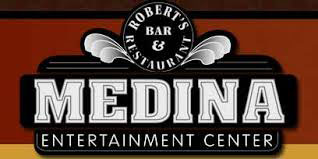 ---
Mermaid Lounge - Highway 10 and 35W. 1969: Country & Western music featuring Roger Mews and the Country Good Guys.
Metropolitan Sports Center (Met Center): The Metropolitan Sports Center was built for the new National Hockey League expansion team, the Minnesota North Stars. Construction took a year, from October 1966 to 1967, at a cost $7 million. On October 21, 1967, the North Stars played their first home game against the California Seals. Spectator seats were in the process of being installed as fans arrived at the arena for the first time. The facility seated 15,000. It was home to the North Stars from 1967-1993 and ABA's Minnesota Muskies. The Met Center was considered to be one of the finest arenas in the NHL for many years, both for its sightlines and its ice surface. Among NHL players, the Met was known for fast ice, the best lighting, great locker rooms and training facilities. It was disassembled in 1994 in a series of three controlled implosions of the building and using the usual heavy equipment. Prior to the demolition, the Met Center scoreboard was sold and moved to the Xcel Center, where it still is in use today.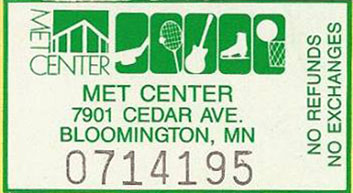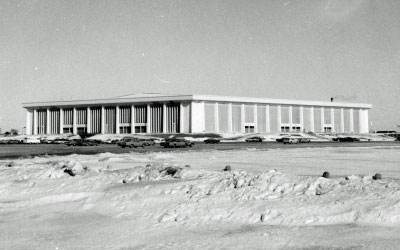 Ticket Image courtesy Josh McKeown Photo copyright Bloomington Historical Society
---

Metropolitan Stadium in Bloomington hosted many concerts, the most memorable being the Beatles in August 1965 (see separate page). It was torn down in 1985 to make way for the Mall of America.
Melody Ballroom, Forest Lake - 1952-55. Probably open summers only
---
Michael's was in Golden Valley and had very distinctive decor featuring mounted fish and original works by local artists. 1963: Caribbean cocktail lounge, organ music. Became Kozlak's. Ashtray from the collection of Mark Youngblood.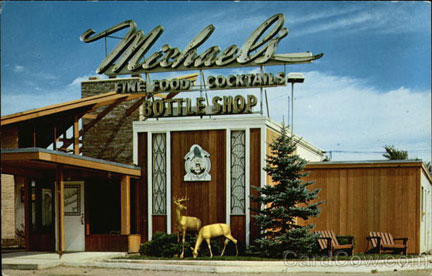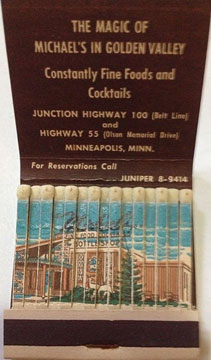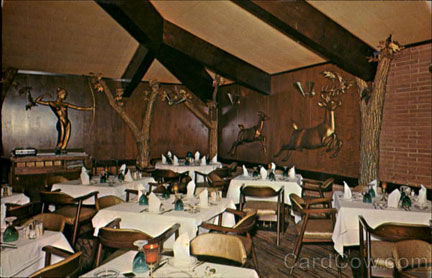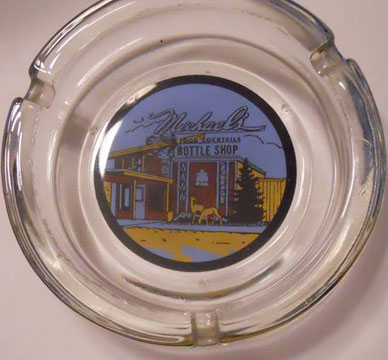 ---
Midway Garden, 1639 University Ave., St. Paul. Photo below posted on Facebook by Mike Mason.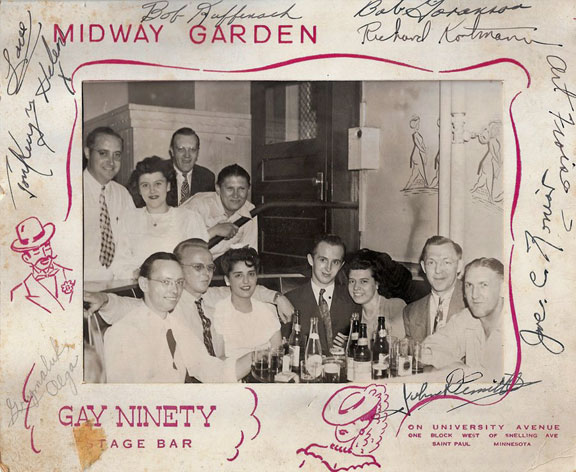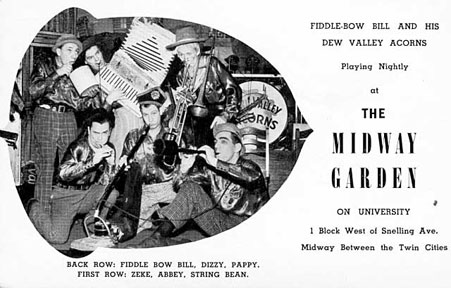 These crazy guys played nightly in 1945. Photo courtesy Minnesota Historical Society
---
Midway Stadium was torn down and replaced in 1981/82. Below is a photo from 1967.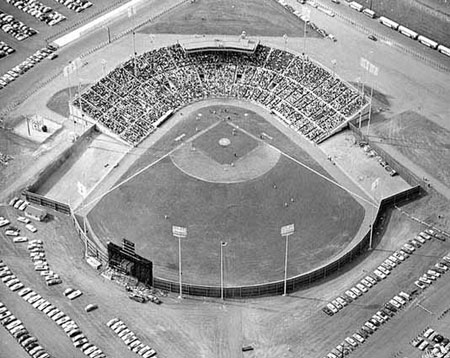 ---
Miller's Club, downtown St. Paul. Wally Olson's band played for more than a decade. Became:
---
Miller's Coaches, 289 Como Ave., St. Paul. Two 1887 Pullman coaches that once graced Northern Pacific's Chicago-to-Seattle line were transformed into a tavern. Wheels and other gear were removed, so the cars would stay put. Photos from 1937 show them being constructed and the name of the place as the Zephyr Cafe - "No Dancing."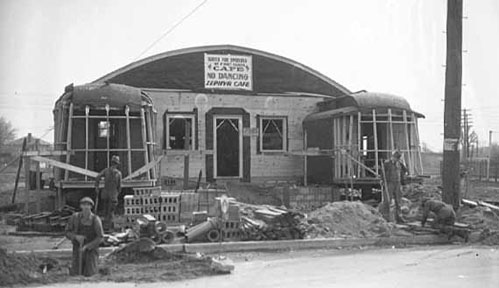 Railroad and steelworkers flocked to Millers' Coaches for a drink after work. Apparently there they played old time music and polkas.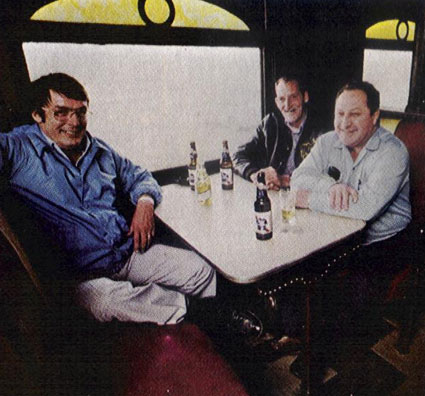 Patrons enjoying a beer, 1979
Mark Hebert reports that the building was purchased by Leo Gadbois in 1981, and has since burned. It also had an almost twin, Silver's Coaches, later to become the North End Depot, Club Cancun, and now Wilebski's.
---
Minneapolis Arena, 2900 Dupont Ave. So. In 1928 this was a roller skating arena, with band music every evening and Sunday afternoon.
---

The Minneapolis Armory is at 500-530 So. 6th Street. From the Historyapolis Facebook Page:
Minneapolis Armory, a structure in downtown Minneapolis that is a relic from a forgotten age. This concrete fortress on the corner of 5th Street and 5th Avenue, on the eastern edge of downtown, is a monument to the city's past troubles. Constructed in 1935, it was planted in downtown as a bulwark against revolution, a legacy of the civil war that was fought on the streets of downtown Minneapolis in the summer of 1934. That year battle lines were drawn between the Citizens' Alliance--an employers' organization--and a group of radical labor organizers, determined to win a greater voice for workers in a city known for its hostility to unions. Organizing first a union and then a strike the Teamsters prevailed, but only after Governor Floyd Olson called in the National Guard to keep the peace. Troops under the command of Adjutant General Allard A. Walsh made the city into an armed encampment, setting up machine gun installations and military roadblocks around the downtown. In the aftermath of the Truckers' Strike, leaders of the National Guard decided to build their new military installation downtown, ignoring the protests of some city residents. There is "no reason why we should throw away more tax money in this smoky, semislum section of the city," H.M Orfield argued in a letter to the editor penned in 1934. "It will always be a rendezvous for transient laborers and homeless, hungry men seeking city aid." The National Guard remained steadfast, arguing that events of the previous summer had demonstrated the importance of having a military installation at the center of the city. Hoping that the construction would bring jobs and economic development to a deteriorating part of the city, community leaders embraced this effort, lending their support to the largest WPA project in Minnesota. Eighty years after the downtown insurrection, the Armory stands almost abandoned, its original purpose forgotten.
The building was put on the National Register of Historic Places in 1985. It was saved from the wrecking ball by court order and as of 2006 was used as a parking structure. Plans to renovate the structure have been floating around for years. Here's one from June 2012. A great video is on Youtube.


---
MINNEAPOLIS AUDITORIUM
The first iteration of the Minneapolis Auditorium was built in 1905 at 11th and Nicollet. That building became the Lyceum Theater.
The second (pictured below) was built in 1927 at 1301 Second Ave. So. [1403 Stevens] for $3.15 million. It had a 10,000 pipe tubular pneumatic action Kimball organ, said to be the fourth largest in the world, "the voice of Minneapolis." It is now in storage in the convention center. The Auditorium opened on June 4, 1928. The Minneapolis Auditorium was home to the Minneapolis Lakers, the state's first professional sports team, from 1947 to 1960. In August 1964, the space was renamed the Minneapolis Auditorium and Convention Center when a Convention Hall addition was built. In 1972, the auditorium manager began refusing to hold concerts by some hard-rock groups, such as Alice Cooper and Jefferson Airplane, after an incident at the St. Paul Civic Center where windows were smashed after a Black Sabbath concert. The auditorium was demolished in 1989.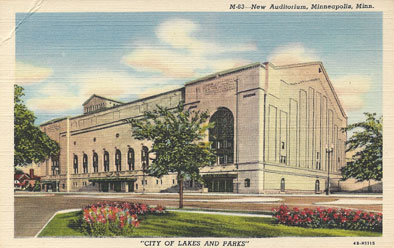 Minneapolis Auditorium

---

Minnehaha Hall, 160 W. 9th Street, 1955
The Minnesota Candy Kitchen was at 221 Cedar, as advertised in the South Side News in October 1934. They probably hadn't gotten around to changing their name after Prohibition made whatever they had been doing under the guise of being a candy shop legal. Anyway, their ad touts wines, liquors, 6% beer, Fried Chicken and Steak. Dine and Dance! Much, much later site became Mixers.
Minnesota Folk Society: 15th Ave., West Bank.
Minnesota Terrace: See Nicollet Hotel.
Minnesota(n) Hotel - See the Ritz.
Minnesota-Iowa Club: 341-343 E. 38th Street, Minneapolis. A September 1938 ad promised food, beverages, and entertainment, with club rooms available to organizations and clubs for meetings or entertainments. This is now a church, built in 1922.
The Minnetonka Mist was at 4050 Shoreline Drive in Spring Park on County Road 15 across from Lake Minnetonka with great views and great food - a major local hangout for all age groups. It closed in 2005 and was replaced with a huge condo building called the Mist. Dale Thomton played there in 1973-74. (Thanks, Julie Renner!)
Mr. C's
---
Mr. Joe's Supper Club, 1964 University Ave. at Prior, St. Paul. Joe was Joe Kozlak.
Quoting James Lilecs:
Mr. Joe's was a supper club at the old Midway Motor Lodge. The Midway was across from the Twins, another motel – sorry, motor lodge. For some reason the presence of two huge motels at the same intersection gave the corner some importance and permanence. The Twins was demolished a few years ago, the space turned into an enormous hardware store. The Midway survives [as a Days Inn]. It's been remodeled from its original appearance, of course; who wants classic 60s motel styling when you can have late-80s / early 90s oversized cartoony Mansard roofs besides EVERYONE WITH A SENSE OF STYLE Sorry, didn't meant to shout.
Ashtray below from the collection of Mark Youngblood.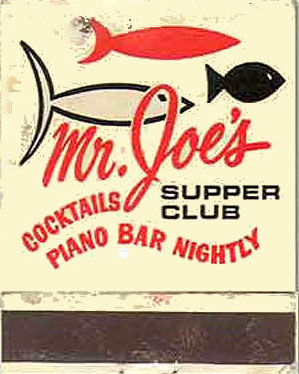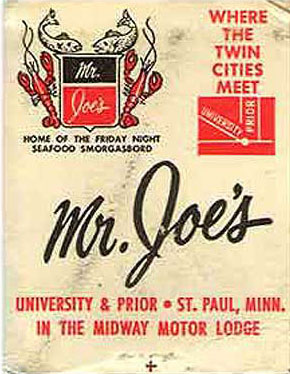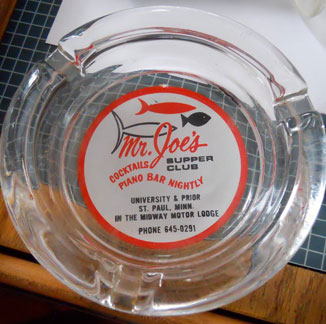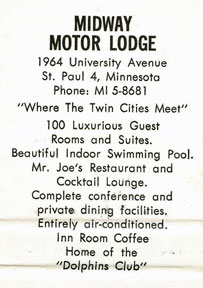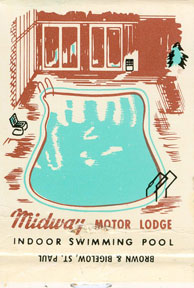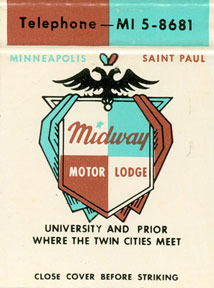 ---
MR. LUCKY'S

Mr. Lucky's: 2935 Nicollet at Lake. From Hennepin County Library Special Collections:
In 1919 a brick and concrete garage was built at that address.
It spent some time in the early 1930s as an indoor golf course
By 1933 it was converted into a dance hall. This may be the Lake Street Auditorium, described at Nicollet and Lake St. (5 East Lake) in a 1937 dance ad in the Minneapolis Spokesman.
For decades it was the Friendship Club -a dance club with over 10,000 members by 1951. It was open three nights a week: Thursdays, Saturdays and Sundays. It did not serve liquor, it served coffee, cookies and 3.2 beer. You also had to be 28 years old or older to be admitted. It was best known for its "Get Acquainted" dances: "There are two of them during the evening. The dance lasts for about 20 minute, and starts out with a march which is followed by a waltz, a circle two-step and a Paul Jones. You start out with your own partner, Bob blows a whistle. That means all dancing stops for a second or two. The couples promenade in twos, fours, or sixes and then girls step back one partner. The new partners, greet each other, shake hands makes themselves acquainted and the dancing is resumed." - Cedric Adams, Minneapolis Tribune, October 22, 1939. The Friendship Club closed in 1961.
From about 1960 to 1964, one portion of the building was the Loon Club, which hosted teen dances with big names. In 1964 Stebbins reported that Sunday afternoon jazz sessions ended when its management got into a hassle with the musicians' union over unpaid wages and could no longer offer music.
Mr. Lucky's opened in December 1962 as the only local night club devoted exclusively to teenagers. In 1965 it was expanded, and open Wednesday, Friday, and Saturday nights and Sunday afternoons.
The other half of the building became Magoo's Pizza Parlor in 1965. In 1966 it and neighboring Magoo's Pizza were owned by Bob Roosen and Mr. Lucky's was managed by Bryan Lawson. Magoo's served beer, so kids had to be carded to get in.
The ad directly below is from 1964.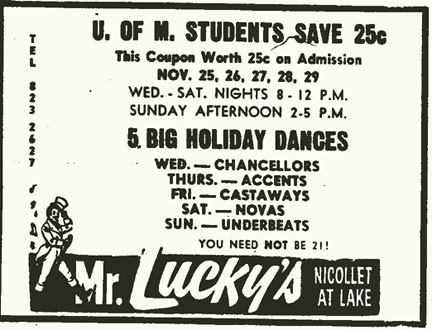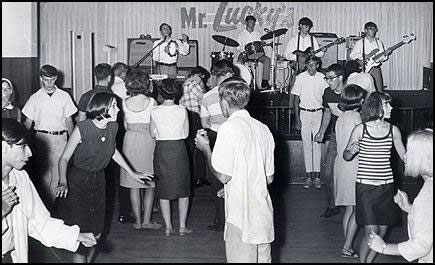 1965 - what band is this?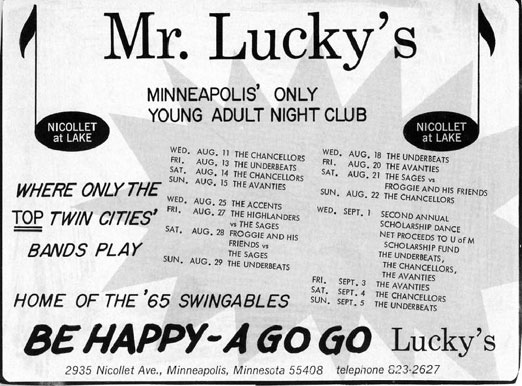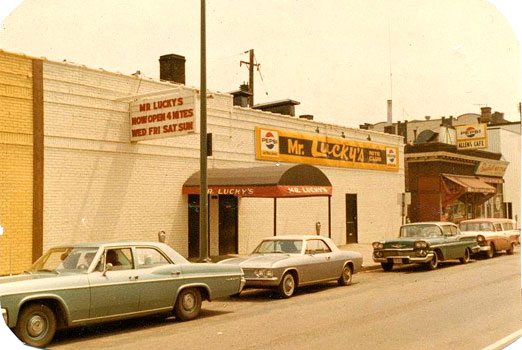 Mr. Lucky's was renamed The New City Opera House by Zippy Caplan in about 1967. In 1968, New City was advertised as "The Upper Midwest's only Psychedelic House of Rock!" and "Minnesota's Own Electric Circus." See 1968 above for a memorable appearance by Cream, who were apparently expecting a real Opera House. Here's a look inside, New Year's Eve 1968-69, featuring Stillroven. Photo from Insider by Mike Barich.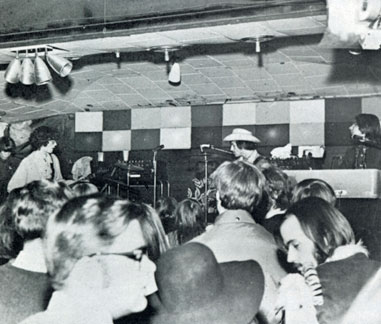 In January 1971 the Insider reported that manager Gary Jorgensen quit because the club was no longer profitable, so owner Bob Roosen turned it over to the Mystics to run, but that didn't work out either. The building was torn down in 1977 for a K-Mart parking lot.
---
Mr. Nibs: See Magic Bar.
Mr. Pedro's Supper Club: 788 Grand Ave., 5 blocks east of Lexington, St. Paul. 1963: Gracious decor with Tennessee marble, teakwood paneling and parquet floor for dinner dancing. Exquisite dining room chandelier. Dinner and dancing music nightly. In 1970 they featured the Roustabouts.
Mitch's was located just outside the town of Mendota at the junction of Highways 100 and 55. (At the time many roads were cobbled together to form a "belt line" around the Twin Cities and renamed Highway 100.) Formerly a gambling spot called the Hollywood, Mitch's opened in 1939 as a 3.2 beer tavern owned by Herman Mitch. Set-ups were also bootlegged from the kitchen. Mitch had either owned or managed the Silver Strip on University Ave. in St. Paul and had featured William "Red" Dougherty on the piano there. When he bought Mitch's in Mendota he brought Red with him, and Red's was the first Dixieland band of its kind in the area. Every Sunday Red's group played for an hour from Mitch's over the radio with Leigh Kamman as emcee. The group also performed over the air for fifteen minutes each evening. Mitch's was also a spot for after-hours jam sessions, and at times would host Hoagy Carmichael, Jack Teagarden, members of Red Nichols' and Woody Herman's bands, Ray McKinley, Gene Krupa, and others. Dougherty left for the Casablanca in late 1942 or early '43 and soon after Mitch's went out of business and the building was torn down. (Stebbins)
Mixer's: 221 Cedar Ave. at Washington, Seven Corners, West Bank. Beatnik/Hippie venue in the '50s and '60s. In the mid '70s it became Sgt. Preston's. In June 2011 it became Republic. Referred to in detail in Erik Fraser Storlie's book Go Deep and Take Plenty of Root (2013).
---
MOBY DICK'S
Moby Dick's, 620 Hennepin Ave. Formerly the 620 Club, where you could find gangsters and turkey sandwiches.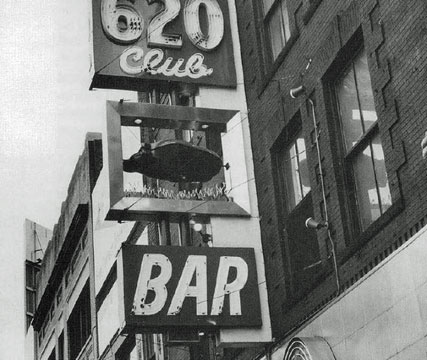 Moby Dick's was one of the places that made Hennepin Ave. so... colorful. In 1972 part-owner Kip Canton admitted that the place "attracts a lot of hustlers, a lot of pimps, not just Mr. Nice Guys."
Photo by Dan Shattuck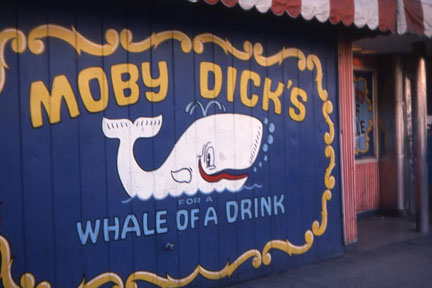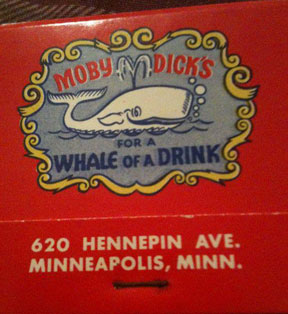 ---
More Down Stairs - See Foreman & Clark Building.

---
Monte Carlo Bar and Cafe, 219 Third Ave. No., Minneapolis. In March 1968 there was entertainment on the weekends - dance to Ted Pelletier and Don Phillips, and the Tune Twisters. The ad called it Critelli's Monte Carlo.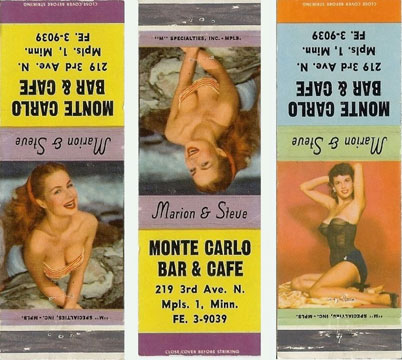 ---
More Downstairs - See the Foreman & Clark Building.
---
Mousey's Bar, 1102 Hennepin Ave., Minneapolis. Okay, Mousey's probably didn't have music - who knows? But this is too cute. From Mark Youngblood, of course!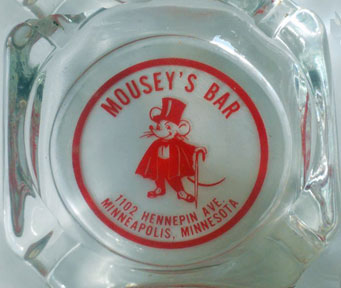 ---
Mun Hing Cafe and Cocktail Lounge, 719 Hennepin Ave., Minneapolis. 1948 ad promises "Delightful entertainment and choice of fine wines. Typical Chinese dinners prepared in our stainless steel kitchen." Apparently a fixture for decades; photo below from 1910, Minnesota Historical Society.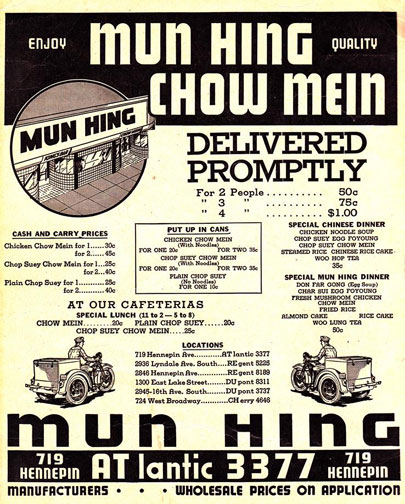 ---
MURRAY'S
Arthur and Marie Murray opened the Red Feather Cafe on August 10, 1935, at 2209 West Broadway Ave. in North Minneapolis. Below is a relatively recent photo of the building, which has since been torn down due to 2011 tornado damage.

In 1939 the Murrays moved the restaurant to the Russell Hotel, 18 South 4th Street at Hennepin Ave., calling it Murray's Red Feather Bar and Cafe. The Red Feather featured jazz in the 1940s and '50s; in 1952 Bobby James and His Band, with Lois Christy, performed there.
In 1945 they purchased the building at 26 So. Sixth Street and opened Murray's Restaurant and Cocktail Lounge.
For a comprehensive history, click Here. 1963: Dining and dancing in an atmosphere of elegance. 1969: Don Lee on organ, Rob Treber in piano lounge.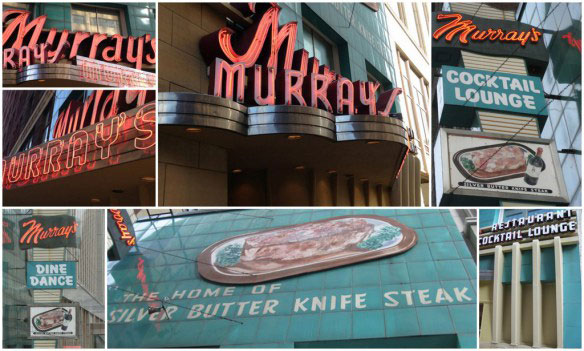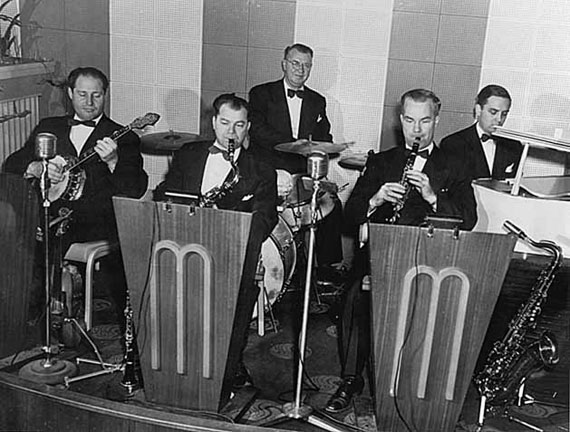 Murray's Restaurant Band, 1949, courtesy Minnesota Historical Society
---
The Music Box, 2446 Nicollet Ave., Minneapolis (next to the Nicollet Hotel). Stebbins: "During most of its existence from 1943 or 1944 to some time in the late 1940s it featured the same trio, the Mel Arvin band. In 1944 the Art Van Damme Trio also worked there. The place burned down, after which the location was made into the Nicollet Hotel parking lot." An undated and unsigned memo (probably from the mid 1940s) says that the owner of record was the Nicollet Hotel but suspects that Tommy Banks may have held the deed.
The Music Bar, 406 Cedar Ave., was advertised in the Minnesota Daily in 1952 (King Larry and His Jazz Combo) and 1954 ("Billy Miske's" - Excellent Band.) Burned down on the night Robert Kennedy was shot (June 5, 1968) and was replaced by a People's Park.
Music Room - See Longhorn Bar
The Musicians' Club of the Minneapolis Musicians Association, Local 73 of the American Federation of Musicians was on South 5th Street, and moved to 32 Glenwood Ave. (then Western Ave.) by 1923. In the late 1920s and early '30s it was the scene of after hours jam sesssions.
The Musicians' Rest was in an old, large house at 141 Highland Ave., just off Sixth Ave. No. and Lyndale. Became the Harlem Breakfast Club, a black and tan rib place, 1934-36.

Myrt's Café opened at 6325 Minnetonka Blvd. at Dakota in St. Louis Park in 1957, catering to the teen-age trade. It was run by Mr. and Mrs. Truman Hedwall. It created some controversy as to whether the police were enforcing the law (re: drinking, smoking, curfew) evenhandedly. Myrt's didn't last long, and Beek's Pizza opened in the building in May 1958.

Mystic Cavern Room, Minneapolis - See Keystone Bar
---
Mystic Caverns, St. Paul. Stupid Question: Are these the Wabasha Caves?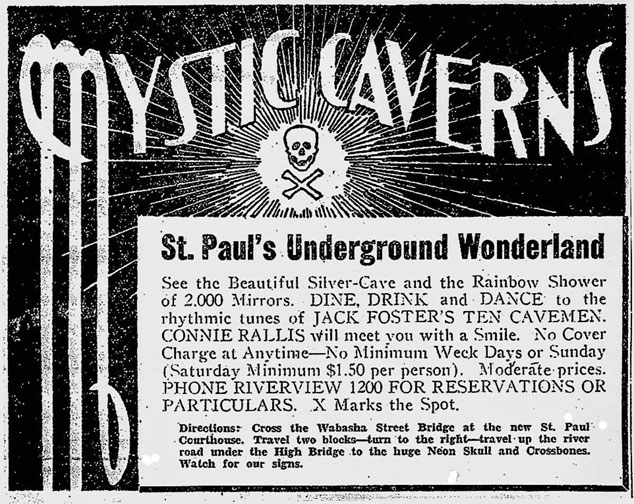 ---

Nacirema Club (American spelled backwards): 3949 Fourth Ave. So., Minneapolis. Jazz venue 1964. In 1967 it had 600 members, with A.B. Cassius as president. Building is now a church.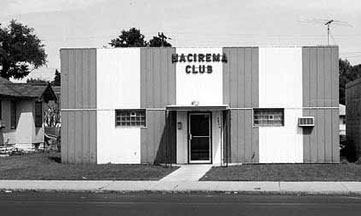 Nacirema Club, 1975. Photo Minnesota Historical Society
---
Nando's Hideaway. Terry B. says: It burned down around 1961 or 1962. Now there is the CR 77 bridge that crosses over the original site of the place. I have been looking for along time for info. about this place. I hope someone out there can shed some light on the history and the owners. I heard a long time ago that there were some Minneapolis wrestlers involved in the ownership or management of it." Anyone know? Contact me!
---
THE NANKIN
The Nankin first opened in 1919 at 15-17 Seventh Street South in Minneapolis. In 1999, when announcing the closing of the restaurant, the StarTribune reported that it was founded by Walter James. In 1949 James sold the Nankin to the Golden and Chalfen families, which also had interests in Holiday on Ice and the Minneapolis Lakers basketball team. The Nankin moved across the street to 20 S. 7th St. in late 1958. In 1981 it relocated once again to City Center. US Restaurants, the company behind the Green Mill chain, were co-owners briefly in the late 1980s. The Wu family, founders of the Szechuan Star Restaurant in Edina, owned the Nankin from 1989 to 1999. "The Nankin weathered some hard times in the past decade. Its traditional Chinese-American menu fell out of favor. A strike in late 1988 led to a five-month shutdown. A drug raid by Minneapolis police in early April 1997, in which 19 customers were arrested, didn't help the restaurant's fading reputation. A few weeks later, the Wu family filed for Chapter 11 bankruptcy protection, claiming a rent dispute."
Dick Long led the house orchestra from at least 1924, which broadcast over WCCO radio in the 1940s. There was a hall on the floor above where the Wolverine Club would hold dances; see Olson Memorial Highway.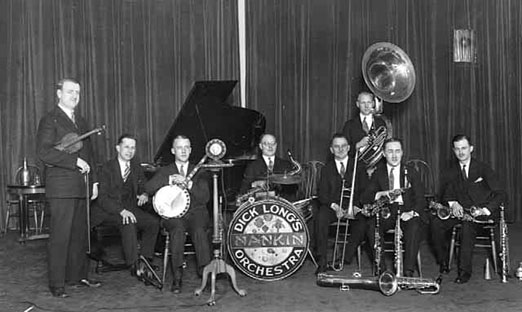 Minnesota Historical Society photos: above, 1925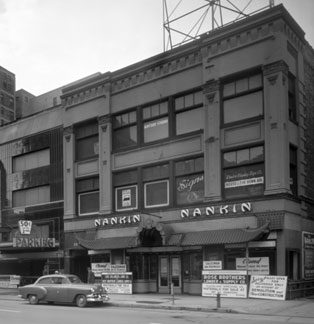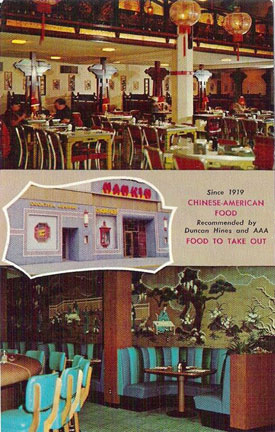 The original location, closed in 1958
---
Nashville North in Zimmerman, Minn. attracted some big names in country music.

The Nest: 731 Sixth Ave. No.; jazz venue.
Never on Friday Club - See Holiday Inn Central
New City Opera House - see Mr. Lucky's

The New Holland Bar (formerly Lindy's) was at 320 Cedar in February 1963. Bill "Boss" Gordon and His LaBombas played Caribbean and Latin music: "Come see and learn the new dance craze - Limbo."
The New Munich Ballroom was one of many small town venues, this one located 30 miles north of St. Cloud.

New Palms Cafe - See Maple Leaf
New Peking Cafe, 5th and Hennepin. Dancing and entertainment, 1922.
New Radisson Inn, Christmas Lake - see Radisson Inn
---

New Riverside Cafe: West Bank Co-op at 1900 Riverside, featuring folk, blues, and bluegrass. Grand Opening October 1970 - owned by Ralph Wittcoff. In 1971 Hundred Flowers reported that it was owned by the U of M, which was going to demolish it for a parking garage. And indeed it was. Late in 1971 it opened at its new location at 329 Cedar Ave. So., the site of the former Excuse Club. The New Riverside Cafe closed on May 10, 1997; an estimated 1,040 musicians performed there. See much more history Here.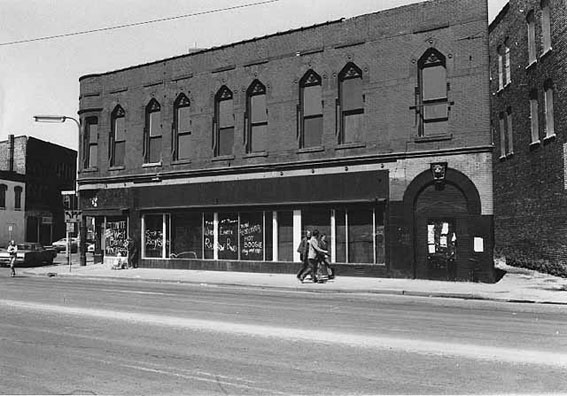 329 Cedar Ave., 1972. Photo courtesy Minnesota Historical Society
---
Nib's (not to be confused with Mr. Nibs), 35th and Cedar. This might just be a bar, not a music venue. But here's a picture from 1953.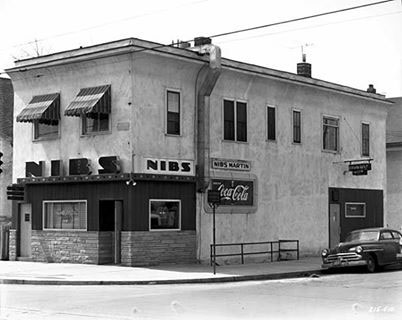 ---
Nick's Cafe was at 1501 So. Street from 1936-42 and advertized in the Minneapolis Bowling News. "Come and Enjoy Yourself With Music and Dance." "Free Prizes to Bowlers Only." "Where Old Friends Meet."
Nicky's, Minneapolis
Nicollet Cafe was a 3.2 beer tavern on Nicollet Ave. just north of 26th Street; briefly a jazz venue in the late 1950s. It had a large audience from the nearby Minneapolis Art School, but was unable to continue Sunday jazz.
---
The Nicollet Hotel was located on Washington at the confluence of Hennepin and Nicollet in Minneapolis. It was built in 1924. In 1935 Chickie and Sunny was a Famous Nicollet Hotel Dance Team, per an ad in the Hennepin County Review (they were moonlighting at the Vine Hill Tavern). In 1937 the Minnesota Terrace was opened and local bands such as Glad Olinger's played there. Stebbins: "Once during the 1940s, when Fats Waller's band was playing along with the all-Negro Naval Dance Band, a jam session par excellence developed. In 1944 the Terrace featured a Gay Nineties Revue, starring the Three Gay Blades, Earl and Josephine Leach, the Lovely Selma Marlowe Dancers, and Perry Martin and His Orchestra. The Minnesota Terrace lasted through 1952. It was Minneapolis' major ballroom, where one could hear a 'name' dance band. The Marigold was a runner-up with an occasional name band." An act in 1952 at the Terrace was Dorothy Lewis and her Mexican Fiesta on Ice.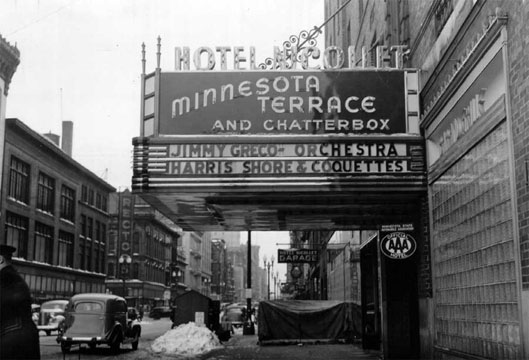 Photos above and below dated 1937, Minnesota Historical Society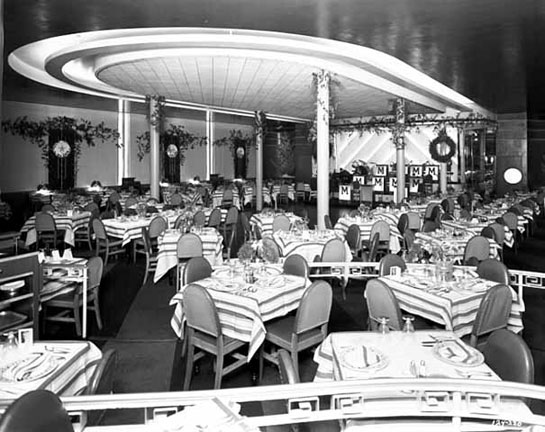 Neil Messick of the Nicollet Hotel created the Waikiki Room at the Nicollet Hotel after thinking it about it for eight years. Postcard below from 1953.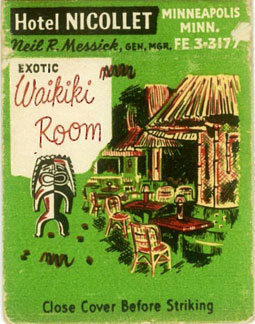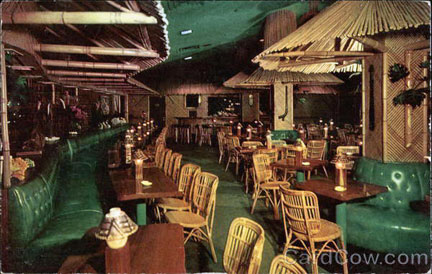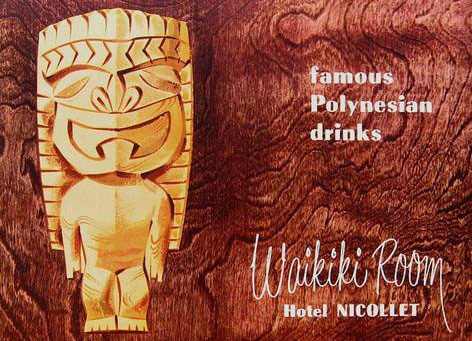 In 1969 the Phil Velasco Trio entertained.
The hotel was sold to Soul's Harbor in the 1970s and basically became a homeless shelter. It was vacated in 1984 and demolished in 1991.
---
The Nifty Cafe was in St. Paul in 1941 - Artie E. Boyd, proprietor. Not sure if they had music, but in October of that year they opened the Blue Room, "a cozy upstairs addition over the main cafe," reported the Spokesman. "The Blue Room is suitable for small gatherings such as card parties and meetings." It just sounds like it should have music.
---
19 Bar, 19 West 15th Street, Minneapolis: Not sure of the date, but here is an ad: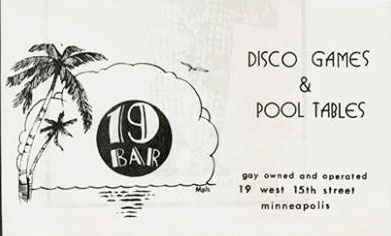 ---
No Exit - folk venue at Macalester College
Norma Jean's: See Duffy's
Normandy Motor Inn, 405 So. 8th Street, Minneapolis. Included the Normandy Village restaurant, decorated with hand-rubbed paneling with velvet inserts and stained glass. 1963: Cocktails and back room piano bar. 1969: Jerry Vaughan at the piano; 1970: Sing-a-long piano bar for gay crowds.
North Barn: See the Barn
---
Northstar Inn - Seventh Floor, North Star Center, 618 Second Ave. So., Minneapolis. Venues:
Rose Room. 1963 menu included chateaubriand, pompany pappillot, and breast of capon Waikiki. Dancing Friday and Saturday.
Copper Hearth. 1963. "Stepping Out? Know What's 'In'...Jimmy Bowman is 'In"... The Copper Hearth... is... 'In'... Northstar Inn .... is 'In'" Men only at lunchtime! 1970: Piano bar moves with the styling of Sally Saylin.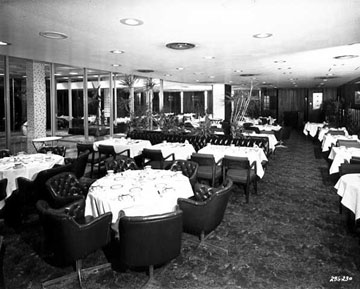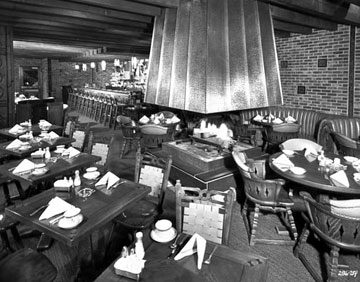 Rose Room and Copper Hearth, 1963. Photos courtesy Minnesota Historical Society
---
Northern Bar featured jazz during at least 1961-64
---
Northrop Auditorium is at the University of Minnesota, Minneapolis Campus.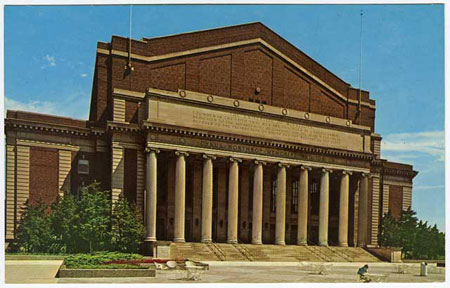 Northrop Auditorium - photo from Minnesota Historical Society

---
Northwood Country Club, 2409 E. Skillmann Ave., No. St. Paul. 1970: Live entertainment on weekends.

Norway Hall, 2902 Chicago Ave. So. in Minneapolis, was used for dances by the black community since at least the mid 1930s. A 1936 ad in the Minneapolis Spokesman said, "Norway Hall.. is one of the nicest halls in Minneapolis. It is centrally located, Selby-Lake street cars run within one block of the hall, making it convenient for St. Paul patrons who want to use the street cars. Chicago-Penn and Chicago-Fremont cars run right to the door." Chuck Berry played there in April 1956. A note from a 1967 issue of the Spokesman says that it became Gopher Pup Tent? The building there now was built in 1995.

---
Nye's, at 112 E. Hennepin Ave. in Minneapolis, began as a bar called Hefron's. Al Nye bought the bar in the late 1940s, and in 1964 he bought the place next door and opened the Polonaise Room Restaurant. Nye's featured polka music in the bar and a piano bar in the front of the restaurant. 1969: The Nightcaps with go-go girls.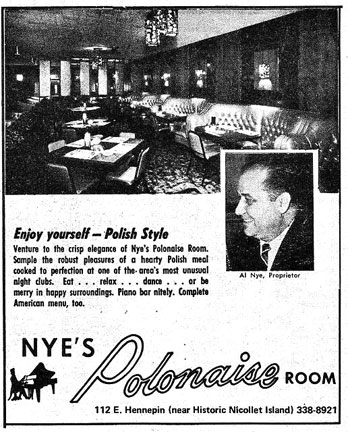 ---
Oak Knoll Barn, Superior Blvd. (I-394), Hopkins, 1928.
The Oak Ridge Resort was on Crooked Lake in Anoka. Percy Hughes played there in 1952.

Oasis in Lino Lakes ('70s)

---
THE OFFICE/RED BARON

The Office Lounge at 217 South 6th St. in Minneapolis opened in August 1962. It featured Gary Nielsen and the Night-Caps in 1965. It was a 21 or older venue. It was plagued by fires, one in 1965 and two within two days in January 1966. The owners were George Schaumberg and George Flynn, and the manager was George Pappas. The building had been the Business branch of the Minneapolis Public Library. In the summer of 1963 the basement was opened as the Conference Room. Operated by John Anzevino and Frank Yarnusso. Here's a glimpse of it from an episode of Route 66 shot in Minneapolis (see 1963 above).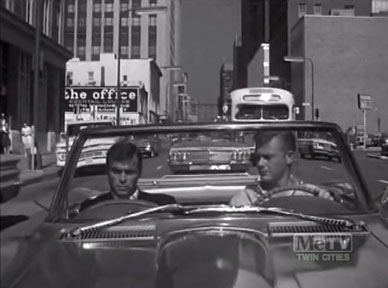 The Office became the Red Baron in 1967. June 1969: Zaraathustra and Blue Fox. Had a fire in October 1969 and the Paisleys lost all of their equipment.
---
The Old Depot Nightclub in Roseville was being turned into a teen club by owner John Gospeter in July 1956. Tommy Dooher's rock 'n' roll band would perform.

---
THE OLD SOUTHERN BARBEQUE AND THE PETTIFORD FAMILY

Old Southern Barbeque: 610 Lyndale (1937), 700 No. Lyndale. Jazz venue run by "Ma and Pa Pettiford" and members of the multi-talented Pettiford family made up the house band. It endured longer than any of the clubs in the Olson Highway district. It had been a storefront church, a restaurant since 1939, and was renamed the Old Southern Barbeque in 1949 or '50. In 1943 there was a memorable jam session one Saturday night with members of Cab Calloway's, Duke Ellington's, and Woody Herman's bands. "The session lasted until 8:00 the next morning, when the police broke it up."
In February 1963 an article cited Cicero Flood as the owner and reported that the City was trying to crack down on prostitution at the club. By 1964 it still existed as a restaurant but no longer offered live music or after-hours sessions.

The Pettiford family came to Minneapolis from Oklahoma in 1929.
Harry "Doc" Pettiford was born in Ohio in 1888. He had been a veterinarian played drums. He died in about 1942.
Leontine Pettiford was born in 1892, reportedly of Choctaw extraction. She played piano.
Their children were:
Lenontine, born 1911
Harry, Jr., born 1912 - sax
Cecelia, born 1914
Ira, born 1916 - trumpet and later bass
Marjorie, born 1917
Alonzo F., born 1920 - banjo, trumpet. Alonzo died on May 20, 1947 at age 26
Oscar, born 1922 - violin, piano and later bass. Oscar left Minneapolis in 1942 when Charlie Barnet hired him to play bass duets with his bass player, Chubby Jackson. In 1947 he was with Duke Ellington.
Rosa/Rose Mae, born 1925
Ellen/Helen, born 1927
Alice, born 1932
The sisters played either sax or clarinet.
---
Ole's Momart: mentioned in a Will Jones column in May 1963; apparently packed on Sunday nights with mostly a listening crowd.
Olson's Hall, Hopkins. Site of dances in the late 1920s. No idea where.
---
One Groveland was at 19th and Nicollet under the Plymouth Church Tower. In November 1970 an ad indicated concerts by Cottonwood, the Paisleys, Thundertree, and others, but with no firm dates. The ad also said that brown rice was served and that it was open weekends and days. The poster below was posted on Facebook by Paul Pash, and according to the day and date must be from 1972.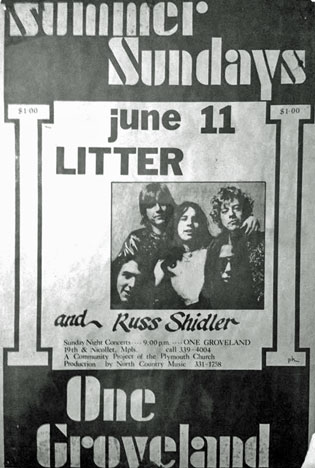 ---
Orchid Cafe, 1500 Fourth Ave. So. In 1937, the Northwest's Finest Night Club - dine and dance.

Orchid Club: See Dreamland.
---
THE ORPHEUM THEATER
The Orpheum Theater is at 910 Hennepin Ave., Minneapolis. Indented material below is from the website of the Hennepin Theater Trust, the owner of the Orpheum:
The Orpheum Theatre, originally known as the Hennepin, opened on October 16, 1921 and seats 2,579. Designed by the Milwaukee firm of Kirchoff and Rose in a Beaux Arts style, its first performers included the Marx Brothers with more than 70,000 guests attending the opening week run. Billed as the largest vaudeville house in the country when opened, it became a major outlet for such entertainers as Jack Benny, George Burns and Fanny Brice. The Orpheum featured a playroom and day care off the mezzanine lobby and backstage had eight floors of dressing rooms. As vaudeville declined in the 1930s - '40s, the Orpheum became one of Minneapolis's major cinema houses, with "Gone with the Wind" in 1940 selling out every show for three weeks. It also hosted big bands including Benny Goodman, Tommy Dorsey and Count Basie.

In 1959, Ted Mann, owner of six other downtown Minneapolis theatres including the Pantages, bought the Orpheum and brought in touring productions including "My Fair Lady" and "Fiddler on the Roof." Movies also continued to be shown, with the 1965 James Bond film "Thunderball" shattering box office records. The Orpheum set a Minneapolis record for first run engagements of Best Picture Oscar winners–nine in all–including "From Here to Eternity" in 1953 and "The Godfather" in 1972.
Bob Dylan and his brother David Zimmerman bought the theater in 1984 and Zimmerman refurbished it in "warm, living-room colors." Broadway touring companies balk at coming to the theater because of its poor condition, lack of air-conditioning, and the deteriorating Hennepin Ave. The building is closed in 1988.
In 1988 the Minneapolis Community Development Agency purchased the Orpheum from Dylan and Zimmerman. Restoration began in 1993 and, to accommodate elaborate Broadway productions, the Orpheum stage was extended almost 20 feet, with the back wall of the theatre painstakingly removed brick by brick. Unexpected architectural discoveries made during the renovation of the lobby included six terra cotta bas relief Pompeiian friezes previously hidden under velour curtains, fake window grids and a false wall. The chandelier in the main auditorium is the theatre centerpiece. It is 15 feet high and weighs 2,000 pounds.
The theater actually consists of two separate structures: a long, fingerlike lobby that extends back from a narrow facade along Hennepin Avenue, and the auditorium, which is set back and parallels Hawthorne Avenue. The auditorium is intricately plastered, with a number of garlands, swags, medallions, and other decorations. The ceiling has a dome with 30,000 squares of aluminum leaf. The building seats 1500 on the main floor and 1100 on the three level balcony.
Following a $10 million restoration, the Orpheum re-opened in December 1993 with a concert by Heart and in January 1994 with the Broadway production of "Miss Saigon." Productions that have originated at the Orpheum include "Victor/Victoria," the pre-Broadway world premiere of Disney's "The Lion King," and the national tour premiere of Elton John and Tim Rice's "AIDA."
From its reopening in 1993 until 1996 the theater was operated by the Ordway Music Theatre, and then by the Historic Theatre Group. Historic Theatre Group's original partner was Jujamcyn Productions. SFX (now Live Nation) bought Jujamcyn Productions in 2000. Live Nation sold most of its theatrical properties, including its Minneapolis operations, to Key Brand Entertainment in 2008. In 2005 the city transferred ownership of its theaters to the Hennepin Theatre Trust. Hennepin Theatre Trust is now the owner and operator of this magnificent structure.
---
The Orpheum was the place in the 1940s for big name bands. Kenneth Stuart remembers:
The format was to show a movie and then the band would come out for a 15 minute session and then back to the movie. This went on all day and was one hell of a treat to pay a quarter to get in and be treated to all this tremendous (a 1940s term) big-band music. Big bands that appeared were Horace Heidt and his Musical Knights with the Triple-tonguing Trumpeters; Artie Shaw with "Little Jazz;" Roy Eldridge, fresh out of the Army, wearing high-water trousers; Sammy Kaye and his "So You Want To Lead A Band?" show. I led the band and did well but lost out to a pretty, hip-swinging chick, in a white summer dress, in front of a room filled with sailors from the Wold-Chamberlain Naval Station. I got to keep the autographed baton as a souvenir, however, which I promptly lost the first move I made after that. The best show I saw back then was the Gene Krupa Orchestra. The huge drape curtains would close immediately after the movie in preparation for the entrance of the orchestra. First, there was a double-paradiddle and then their theme song "Starburst" started playing as the curtain opened and the band rose from below stage level, facing backwards and then turning to present itself to the audience. Everything was in slow motion except the theme song. I've seen big bands all over the place including in, at least, three countries and that first showing by the Gene Krupa big band was the greatest musical thrill of my life.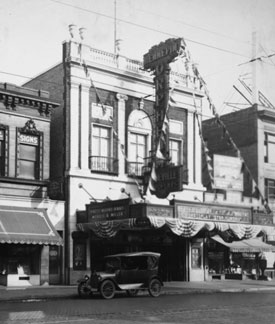 Interior photo: Hennepin County Library. External photo, 1925: Minnesota Historical Society
---
Osterberg's: See the Foreman & Clark Building.
---
The Owasso Tavern was in St. Paul in 1934, and featured a band, as evidenced by this photo from the Minnesota Historical Society. Bob Patrin says that it was busted for serving liquor after hours.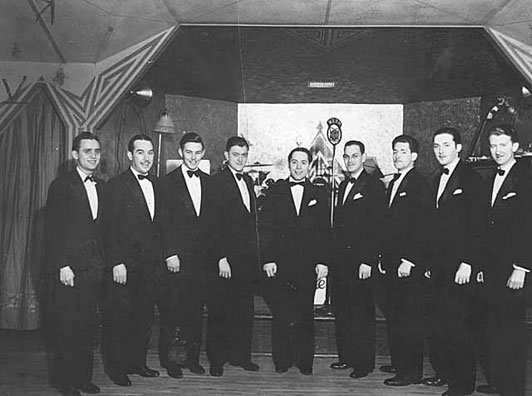 ---
Oxford Ballroom, Selby Ave., St. Paul - jazz venue
---
PADDED CELL

The Padded Cell was located at 925 W. Lake Street at Colfax Ave. in Minneapolis. Opened in 1953 [1957] by Paul Fink, a former policeman. Previously Harold's Club, in 1957 it featured a Dixieland band and that summer it even had a float in the Aquatennial parade. In 1958 Erik Storlie described it as a "tough workingman's bar."
The format then switched to modern jazz, featuring local and out of town groups, including Kai Winding's Sextet, Pat Moran's group, the Marion McPartland Trio, Jack Teagarden, Peter Nero, and Charlie Ventura. Next door was a Charburger where musicians from all over town would congregate when their jobs were over. There was apparently a song going 'round called "Paul Fink's Padded Cell."
Paul Fink left town and the format turned to folk music. The club hosted such major acts as Peter, Paul, and Mary - "For a couple of dollars and a pitcher of beer we saw loads of talent!" The folk trio the Journeymen recorded their "Coming Attractions-Live!" album at the Cell in 1962. The cover described it as an "on-the-spot recording of an actual performance in Minneapolis's famed Padded Cell." An article about folk venues in Life Magazine's December 14, 1962 issue noted that the Padded Cell served "near beer." The January 1963 Select Twin Citian shows that it was open 7 days/week, with 50 cents admission on weeknights and $1 on Friday-Sunday. Groups performing that month were the Contemporary Folk Group; Tom Pasle and Lynn Gold; and the Swagmen, "novelty folk quartet." February groups included the Bandsmen and the Chessmen. In May 1963 there was a note that owner Fred Cole promised to get the place "back in gear this summer," offering jazz, comedy, dancing girls, calypso, and folk, particularly the Contemporary Folk Group. In 1964 the club featured Epic Recording Artists Jerry Goodge and the Gold Briars and the Berkely Squires. The site is now Mohn Electric.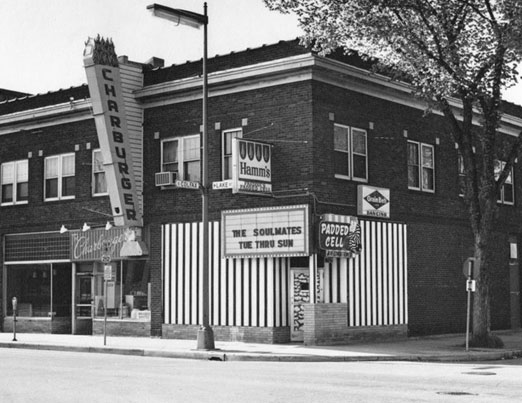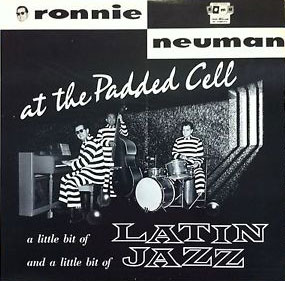 If you've got $250 you can buy this SOMA LP on ebay!

---
Paddock's 305 Club, 305 W. Broadway, Minneapolis. Music? Dunno, but here's Mark Youngblood's great ashtray.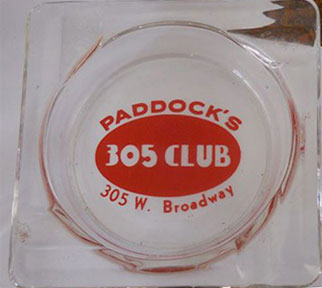 ---
Pal's Greenwich Village, 830 Hennepin. New in October 1955, with Dewey Harris at the piano. In 1967 it was advertised in the Local 1145 Honeywell News as Pal's Variety Bar and Pal's Country Kitchen, owned by Sterling Robson.
Panama Cafe, 718 Sixth Ave. No., 1928. Presenting Warren & Ellison, direct from Plantation Cafe, Chicago. Best Music in Town.
---
PANTAGES THEATER
The Pantages Theater is at 710 Hennepin Ave., Minneapolis. From the website of the Hennepin Theatre Trust, which owns the theater:
The Pantages, which now seats 1014, opened in 1916 as a vaudeville house and part of Greek immigrant and impresario Alexander Pantages' renowned consortia of theatres. It was designed by the Minneapolis firm of Kees and Colburn in an Art Moderne/Beaux Arts style. The Pantages' first show was a vaudeville lineup that included singers, comedians and a banjo player.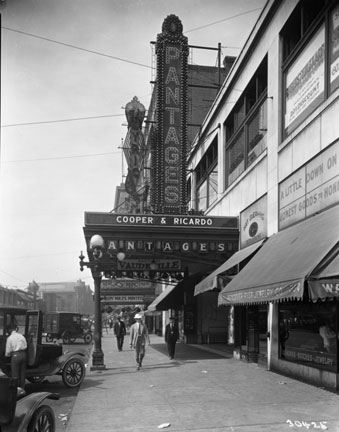 Photo from 1920 courtesy Minnesota Historical Society
In 1922 the Pantages was remodeled by renowned theatre architect Marcus Priteca/RKO and a new stained glass dome was added, which remains among the Pantages' most lovely features. In 1945 Edmond Ruben purchased the Pantages and renovated it by adding bird's-eye maple. The grand reopening was on April 14, 1946 with a screening of "Gilda."
In the 1950s it was the RKO Pan. Photo below is from 1952, courtesy Minnesota Historical Society.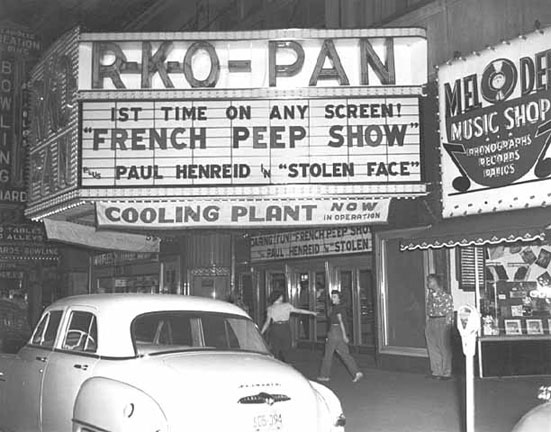 In 1961 Ruben sold the Pantages to Ted Mann, who owned five other downtown Minneapolis theatres including the Orpheum Theatre. Mann renovated the Pantages yet again, and reopened it as a top-notch movie house the Mann Theatre on March 15, 1961, with the movie "Spartacus." That same year, United Artists previewed "West Side Story" at the Mann and the film went on to win ten Academy Awards. In 1965 director Robert Wise, recalling his success with "West Side Story," decided to preview his new movie, "The Sound of Music," at the Mann. The showing at the Pantages was a terrific success and went on to become the longest running film in Twin Cities history – just under two years. The theatre operated sporadically from 1965 through 1984, continuing to show movies including the Mann's last Twin Cities premiere of "Annie" in 1982.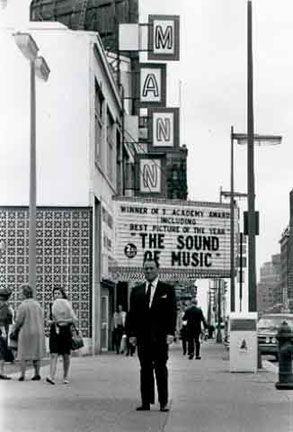 Ted Mann, 1966 - photo courtesy MHS
In 1984 the Mann Theatre closed and remained shuttered until 1996, when current Hennepin Theatre Trust President/CEO Tom Hoch and former Historic Theatre Group President Fred Krohn initiated a five-year effort to save and restore the Pantages Theatre. During the renovation, architectural drawings were found and used to restore much of the theatre's decorative plasterwork and character. The stained-glass "monitor," a false skylight in the center of the auditorium's ceiling, was revealed after layers of paint were removed. In cooperation with the City of Minneapolis, on November 7, 2002, the completely renovated Pantages re-opened at a cost of $9.5 million. Since then, the intimate Pantages has presented music, theatre and dance artists including Mikhail Baryshnikov, Vince Gill, Feist, Todd Rundgren, The Blenders and collaborative productions with Twin Cities' organizations including the Jungle Theater, the History Theatre, Chanhassen Dinner Theatres, Cantus and Theater Latté Da. Hennepin Theatre Trust is now the owner and operator of this magnificent structure.
---

Papa Joe's Northern A-Go-Go was at West Broadway in Minneapolis in 1966-67. It's now an on-ramp to 35E. Photos below from Joe Daszkiewicz. Supper Club in 1969.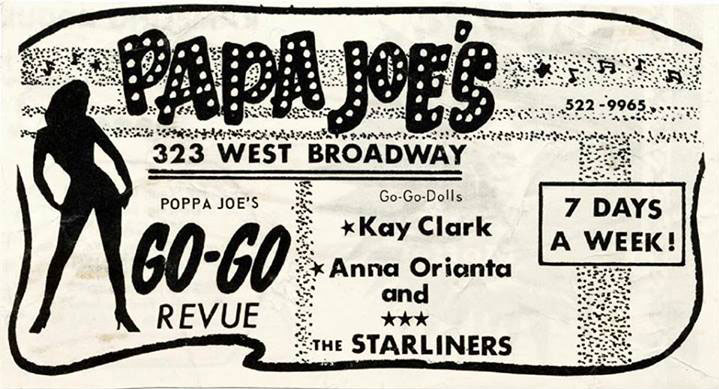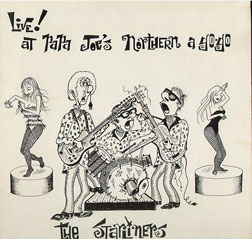 ---
PARADE STADIUM
Parade Stadium was located in a Minneapolis City Park called the Parade. The name dated back to 1904 when some of the land was next to the National Guard Armory (demolished in 1934) and was used as a parade ground by the guard. Its current location is listed as Hennepin Ave. to I-394 between Vineland Ave. and Wayzata Blvd. and is 45.77 acres, including 2.32 acres of water. This is 21 acres less than the original park, due to land lost to the construction of I-94 and I-394. The stadium itself was planned as a 17,000 football stadium with 600 parking spaces; there was also a 4,000-seat baseball stadium. Construction began in 1950 despite objections from homeowners on Lowry Hill. It was temporarily halted due to a Korean War construction moratorium but the city got an exemption and the stadium opened in the fall of 1951.
Parade Stadium was the site of many outdoor concerts and festivals in the '60s and '70s; 30,000 people came to a Melissa Manchester concert in June 1979, and the gates were crashed and the goal post bent during a near-riot at a Fleetwood Mac concert. The last major concert there featured Simon and Garfunkel in July 1983.
An ice arena and Sculpture Garden were built in 1988, and the changes edged out the aging stadium. Parade Stadium was demolished in 1990. For a very detailed history of the park, click here and go to pages 191-198. Also see the entry on Minnopedia - both are by Minneapolis Park Historian David C. Smith.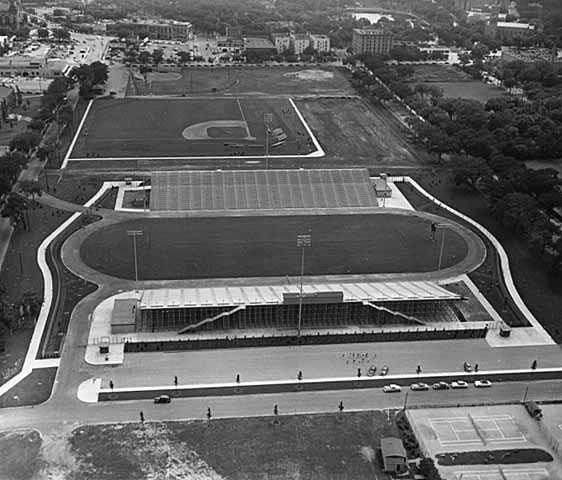 The Parade complex, 1952, courtesy Minnesota Historical Society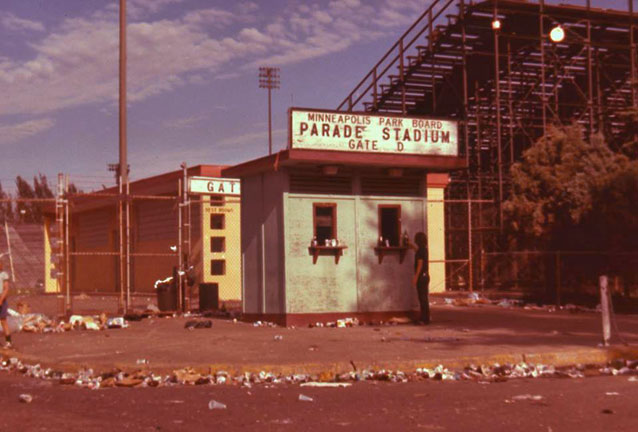 Post-event photo from 1977, courtesy Alan Freed
---
The Paradise, 414 1/2 Hennepin Ave., opened in 1936 and was a place where jazz musicians would play (and gamble) after hours. In March 1939 all licenses were revoked from owner Alvin Theis after it was charged that entertainer and "purported" manager Red Stendal and waitress Helen Dillon were found guilty of selling hard liquor on a Sunday. "Revoked were liquor, beer, restaurant, soft drink, cigaret, dance hall and tavern licenses. the Paradise has figured in several liquor law flareups. Morals squad investigators raided the place.. after making the liquor purchases. Judge Paul W. Guilford declared the sales were made in an 'open and notorious' manner." (Minneapolis Journal, March 31, 1939).
The Paragon in Coon Rapids was an over-21 club opened by musician Ceedy Van Dusen and Gary Finch in May 1968.

The Paramount Inn/Cafe was at Rice Street and County Road E in St. Paul. In 1940 you could dine and dance to Bill Dietrich's Orchestra, two floor shows nightly, plus Hawaiian entertainers on Monday nights. In November 1944 they promised entertainment every night.
---
Park Nite Club, Snelling and Selby, St. Paul. Here's Roy King's Komi-Kings, the Kraziest Komedy Band in Kaptivity!, 1955. What wonderful things live at the Minnesota Historical Society!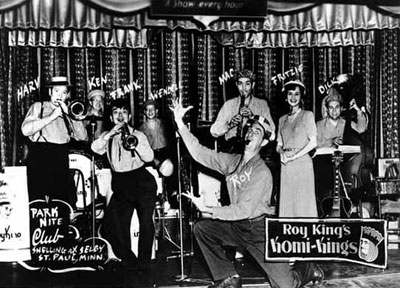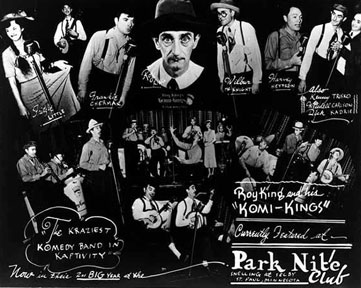 ---
Park Terrace, 4700 Excelsior Blvd., St. Louis Park, 1956-66. Click on the link for the story of this and the other clubs at this location.
The Parker House was a restaurant on the main street of Mendota, purchased by "Genial" pianist Red Dougherty in 1943. In April 1944 the ad promised "Incomparable Foods - Your Favorite Liquors and 'Something Different' in Entertainment." 1963: Musical Entertainment. 1970: relaxing piano and organ music during dinner.
---
Paul's Place was at the Paul Bunyan Motor Inn, 2965 N. Snelling, Roseville. Opened in May 1967; charter membership was $10. Paul's Den was a piano lounge with waitresses in bunny-type outfits. Paul's also promised top names from here and around the country. And there was Babe's Bar, where the bartenders didn't measure the drinks. 1969: Betty Rydell in main lounge, dancing nightly. Memories include a psychedelic room downstairs.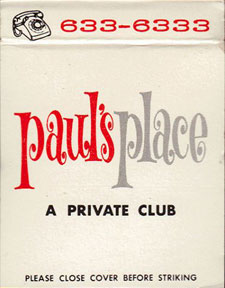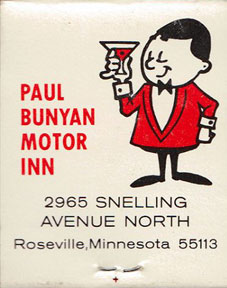 ---
PEACOCK ALLEY
The Peacock Alley Bar and Cafe was at 214-220 N. Fifth Street, Minneapolis. In 1965 the bar was purchased by Mr. and Mrs. Harvey Jones. The deed and license had to be in her name because she was white and he was black. In a December 1967 article in the Minneapolis Star it was described as "a long, narrow, high-ceilinged room that is dark even during the noontime rush." Mr. and Mrs. Jones wanted to move the business 1 1/2 blocks away to 325 First Ave. No., but the move was opposed by neighbors. "We'd like to run a nice Negro bar - be able to bring in name entertainers from time to time," said Mrs. Jones. "I wish you could see some of the places Harvey and I have looked at in Chicago, in some of the Negro areas there. But here - well, there aren't even many nice places where whites can go to meet their friends and have a good time without spending a lot of money."
Al Senter bought the bar in 1972, in the face of problems with fights and shootings after which witnesses would not testify. Until January 1972 the manager was Charles Bryant. That July a group of 20 to 25 black youths, one reportedly carrying a high-powered rifle, entered the premises and told customers that the bar "had beer be closed down by 8 o'clock." The bar did not close, but most of the customers left and did not return. The group of youths closed down at least two other bars with bad reputations that night as well. Senter discontinued the live music and disk jockey and even took out the pool table to curb the rowdiness. In November 1972 Senter reported that there had been only one shooting since he began in January and that incidents were on the way down.
Other memories are that at one time the club was owned by Imogene "Fair Lady" Hargrove, who had been a band singer in the 1960s. There was apparently also a sign at the door that said "Your Pistol is Not Welcome Here."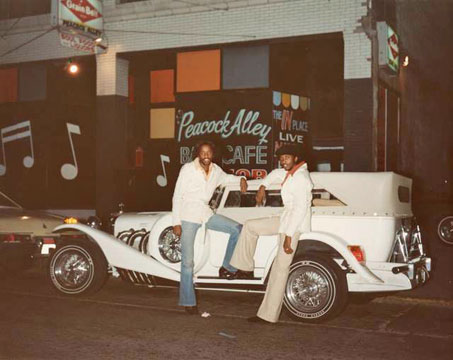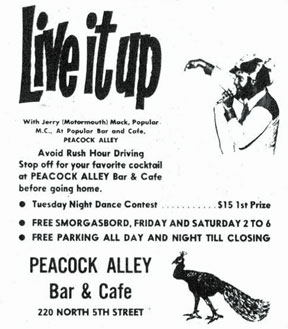 Photo by Charles Chambliss, courtesy Minnesota Historical Society
---
Peggy's after hours club, Olson Memorial Highway
Peggy's Bar-B-Q, 1229 So. 5th Street - See Town Hall Cafe
Peppermint Club: See Chicago City Community Center
---
PERSIAN PALMS
The Persian Palms Nite Club at 109-111 Washington Ave. So. was supposedly one of Kid Cann's hangouts. Three shows nightly; in 1955 starring Ivanda Goodrich and Her All Girl Revue. The building was demolished in August 1961 for the Gateway urban renewal project. In 1963 Harry Smull, the owner of the liquor license, expressed an interest in opening a new place at 413 Hennepin, but was met with opposition: Alderman Robert MacGregor called the Palms "one of the raunchiest operations in town." USA Confidential included it in a list of places that "cater to the lowest winos and blowsiest hags." Smull used the license to open the Copper Squirrel in 1963.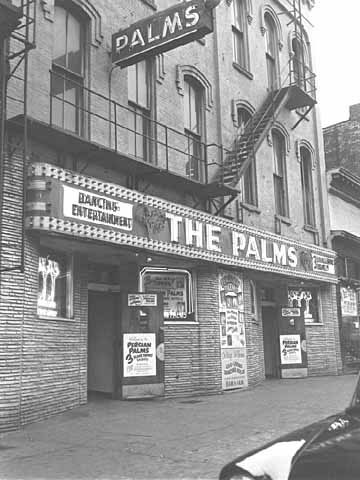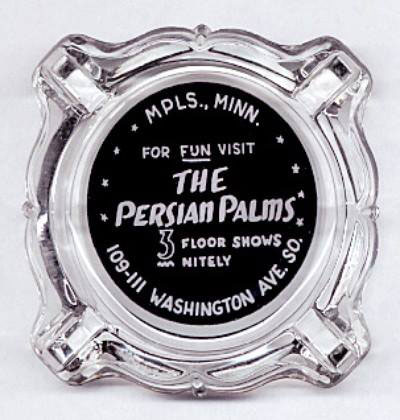 Above photo dated January 1, 1959, Minnesota Historical Society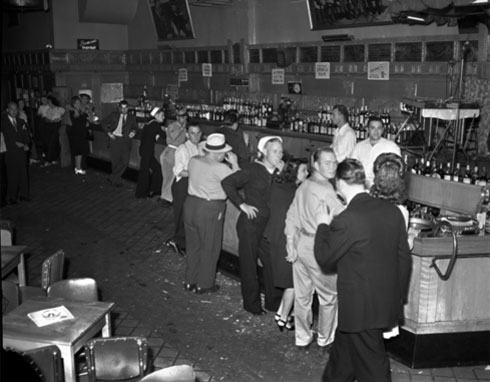 Above photo from Hennepin County Library Special Collections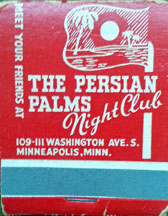 There was a Persian Bar at 324 Marquette - see Herb's
---
Petit Lounge: Phalen Park Shopping Center, 1973. Country/rock.

---
Phil's: There was a Phil's at 200-210 E. Lake Street in 1950 that offered food, bowling, and dancing. Stebbins reports a Phil's Blue Angel that tried jazz but switched to country-western (before 1964). I don't know what the item below actually is, but it came from the collection of Mark Youngblood.


---

The Phyllis Wheatley House was a settlement house and boarding house for Negro girls called the Heart Center, started in 1922. In 1924, with support from the Community Chest, a former Talmud Torah building at 808 Basset Place was purchased. It was named for a slave who was purchased for four bundles of tobacco and who went on to become an accomplished poet. The facility opened on October 17, 1924, with the goal to "foster a wholesome leisure time program for men, women and children through its four departments: recreation, education, music, and dramatics." In 1929 a new building was built at 809 Aldrich Ave. No. It provided many services, classes, entertainment, and more to the community. When black acts came to town and the hotels would not allow them to stay, they would stay at the Wheatley House. Many dances were held at the facility. The building was demolished when Interstate 94 was built through the neighborhood in about 1984. The present address is 1301 - 10th Ave. North. The Aldrich building is pictured below.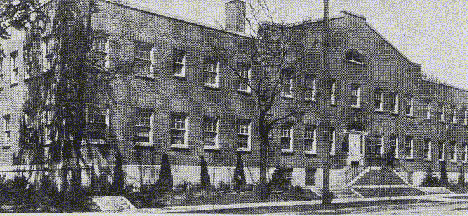 ---
Pierre's - See Holiday Inn Central.
The Pine Tavern was at 301 Harrison NE in Minneapolis and featured the New Orleans Fizz, an Age-Old Southern Recipe Served in Authentic New Orleans Fizz Glasses, in July 1944.
The Pine Wood Club, a Friendly Place For Friendly People, was on County Road I and US Highway 8 on the Forest Lake Cut-Off. In 1944 it offered food and beverages always just right, and dancing.
Pink Poodle - see Poodle
Pink Pussycat: 1331 Hennepin Ave. Owned by Marv Goldman. In 1967, Joey Strobel and the Runaways played here. Torn down by 1973.

Pioneer Hall: 588 Rondo Street, St. Paul. Site of a dance sponsored by Boyd's Super Service on December 9, 1938.
The Pisarof Tavern was at 150 N. Concord in St. Paul in 1943. I don't know if they had entertainment but I just liked the name.

The Pizza Plaza at 621 Excelsior Blvd. in Hopkins featured jazz trios in 1958. A March 1964 ad in the Echo says "Every Sunday Night 6-10 Join the Blazemen for a Hootenanny in the Back Dining room of the Pizza Plaza"

---
PLA-MOR BALLROOM
There were many Pla-Mor Ballrooms around the State. The one in Minneapolis was located at 724 Fourth Ave. So. and had been there since at least 1934. There are several venues listed at this location:
CIO Hall: A dance by the Daughter Elks on April 10, 1944, is billed as the first dance to be given in ten years at the beautiful Pla-mor Ballroom. By July 1944 ads were calling it the CIO Hall, same address. In 1944 you could dance to Bud Strawn's Orchestra every Saturday night, and if you were in the service you could get in free of charge. The facility had a large and small hall. Dances were held there until at least 1952.
Diamond Lil's opened on July 11, 1966 with a theater restaurant seating 400 upstairs and Little Al's seating 300 downstairs. 1967: Diamond Lil's Follies and dancing nightly presenting Julius LaRosa. Gregory LaLonde says that the band The Blue Fox played there on election night, November 1968 and that it was "quite a place." Bought by Danny Stevens, among others, and opened on New Years Eve, 1968, with Danny's Reasons and Zarathustra. Jeanne Ray with the Village Knights for dancing in 1969. Danny owned it for two years, and brought in national musical acts as well as comedians like the Smothers Brothers. Musicians would come over after their shows at bigger venues and jam into the night here.
In 1971 it became the Friar's Dinner Theater, owned by Bill Roslansky, who and brought in soul acts such as the Chi-Lites and Barbara Acklin. On January 29, 1974 it became the Friars Minan Music Hall Dinner Theater, Ray Carlson, Manager. It had a capacity of 500. Jeff Lonto sent the image below, saying "This came from a magazine called Today In The Twin Cities, September 8-14, 1973. It was published by TV Times and had a TV listing section plus ads and listings for restaurants and night clubs, and was apparently given away in motel lobbies. The "fabulous fifties" guy in this ad looks more like he's smack dab out of September 1973."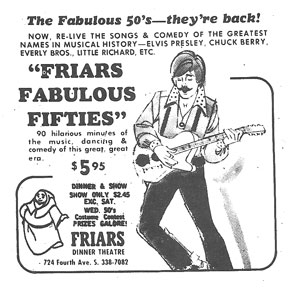 The building is gone, replaced by a skyscraper.
The other Play-Mor Ballrooms include:
The Pla-Mor Ballroom at 1913 E. 9th St. in Glencoe was owned by Raymond T. Olson. It is the only one remaining.
There was another Pla-Mor Ballroom at 2045 14 Hwy E in Rochester. Jerry Lenz of the Nickel Revolution found this notice of its demise in December 2006: "The Pla-Mor Ballroom, where Rochester area couples danced to live bands for more than half a century, now has disappeared into a pile of rubble and into city history. The 55-year-old building would have been too costly to restore."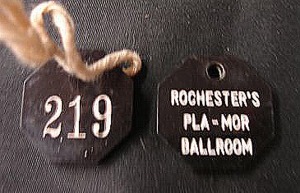 There was a Playmor Ballroom in Pipestone - a misspelling or another franchise?
Pla-Mor Roller Rink is at 1422 E US Highway 169 in Grand Rapids
---

The Plantation Night Club was in White Bear Lake - take Highway 61 from St. Paul. Site of not-so-legal gambling and big bands. Ben Pollack's band made a lengthy appearance in the late 1920s. Still in business in October 1939.

The Pla-Tyme at 622 Hennepin Ave. was at least a restaurant and the July 1944 ad doesn't say that it had entertainment, but with a name like that, you don't have that much fun with just steaks and chops!

The Point Supper Club: 7711 Golden Valley Road. Opened in 1956 as a jazz venue by Larry Hork. 1963: Dine and dance in an atractive setting. Sing along in the Top O' the Point piano lounge. Burned down on October 18, 1973. Percy Hughes' Orchestra was the house band from 1957 until the fire.

---

The Poodle, sometimes called the Pink Poodle, was at 810 Hennepin, next to the Cafe DiNapoli. It was possibly new in 1963, and the waitresses were "mink trimmed can-can girls." In its early days it was a jazz venue. In 1967 the entertainment was "the new breed featuring the Untouchables with Carrol Bateman." Pat and Carl Blumental bought the club and the neighboring Anthony Hotel in 1969. June 1969: The Transplant. In February 1972 Danny's Reasons was playing at the Puppy's Den (that's so cute!). There was a piano bar upstairs. The Poodle and the hotel burned down on January 10, 1974 [Fall 1973]. Pat Blumenthal went on to start the Longhorn Bar.
Ashtray below from the collection of Mark Youngblood. Matchbook (boasting "Frosted Cocktails") from the collection of Scott Bottolene.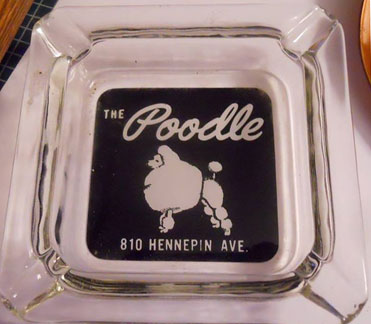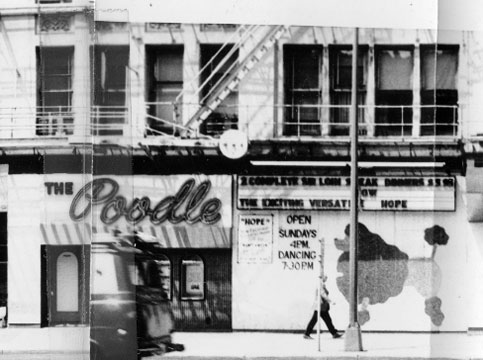 1970 photo from Historyapolis Facebook page
---
President Cafe, 31st and Nicollet, Minneapolis. Ashtray below from the collection of Mark Youngblood. The ballpark was the old Nicollet Baseball Park, home of the Minneapolis Millers.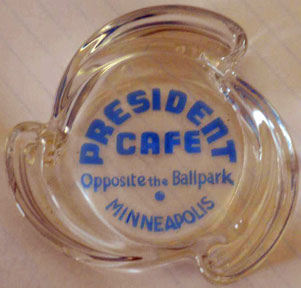 ---
The Prince of Wales Inn was located on the north shore of Lake Johanna in 1940. Operated by Eddie Guth - Be entertained by Eddie and His Music.
---

The Prison, Hwy. 13 between Cedar and Lyndale Avenues, or "one mile east of the Lucky Twin Drive-in on Highway 13" in Burnsville. It opened in 1968 and had two stages at opposite end of the floor. The owner was Pat Rains, who later moved to Los Angeles and became the manager of Al Jarreau. Bruce Glewwe: "Also went to the Prison a number of times. There was a band there I think called Show Time. Their sets would start with the white guys playing probably a Temptations song and then the 'cool' black guys would stroll in and join the band and sing a dance song that would fill the floor." A 1970 ad said "Break into the Prison - Home of the Most Exciting Bands in the Twin Cities. Dance up a Storm with No Guards in Towers. Action every Friday - Saturday."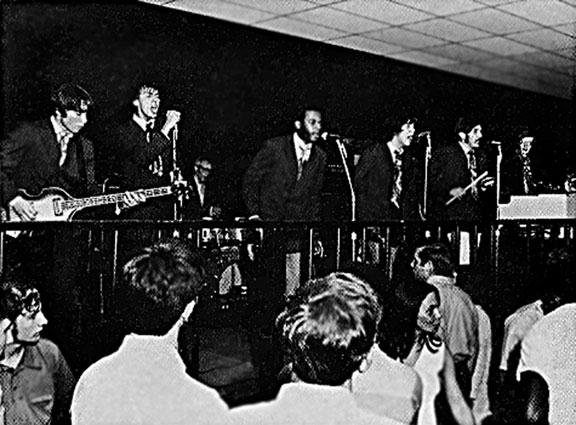 Pride and Joy at the Prison, courtesy Kevin Reilly

---
THE PROM
The Prom Ballroom was at 1190 University in St. Paul. It was built by developer Carl J. Fox, who also built the Surf Ballroom in Iowa and the Terp Ballroom in Austin, Minn. Glenn Miller and his Orchestra played the grand opening in 1941; the ballroom held 6,000, and 3,000 had to be turned away. Miller would be followed by other well-known artists including Count Basie, and Tommy and Jimmy Dorsey. Swing, polka, jazz, and rock n' roll groups played the space, spanning such diverse musical acts from Lawrence Welk to Buddy Holly and Crickets, to the Police. Harry Given was one of the hall's four co-owners in 1959. The house orchestra was the Jules Herman Orchestra. The Prom offered a 9000 square foot hard maple floor. Small booths and tables ringed the edge, where dancers could rest and order food.
In 1956 WDGY disk jockeys hosted Saturday dances for adults and teen dances on Fridays (sponsored by Coke).
In April 1956 the Prom advertised that it had been fully redecorated throughout, with glamorous new lighting, smart new murals and appointments. In the 1950s and '60s the Prom hosted some of the biggest acts in the country. Click to see this phenomenal list, provided by Timothy D. Kehr.
In the mid '60s it featured rock bands on Fridays and both rock and big bands on Saturdays ("rock vs. smooth").
1966: "Those who have not attended the Prom since college days, we now have complete cocktail lounges and comfortable seating!"
By the late '60s it was owned by Dick Clay and hosted mostly Big Bands. The ballroom met with the wrecking ball on September 29, 1987 and a fitness center occupies the former location on University Ave. See a feature on the Prom on Lost Twin Cities II.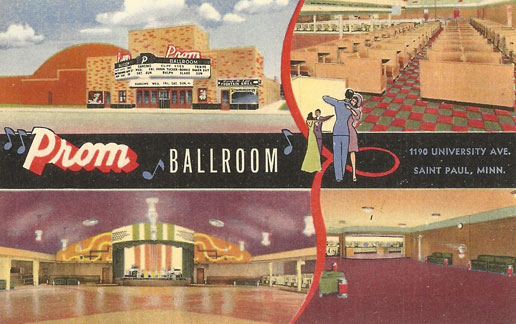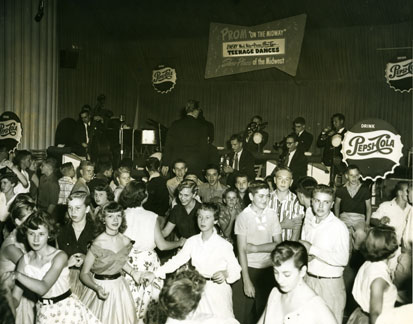 Shot from one of Jack Thayer's Teen Dances, courtesy Pavek Museum of Broadcasting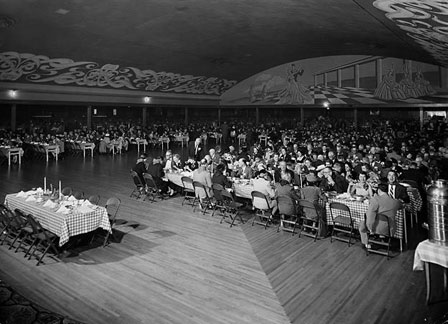 Prom interior, Minnesota Historical Society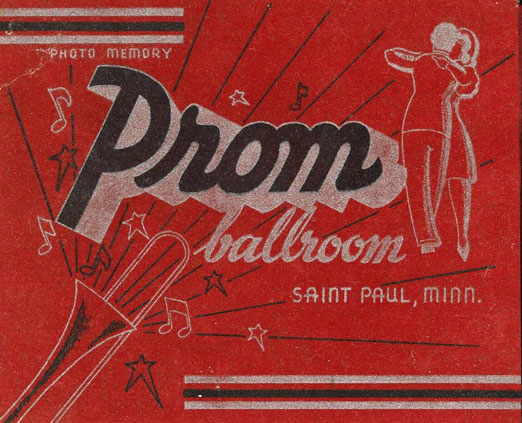 This is probably the cover of a folder that kept the photo the roving photographer took of you having fun at the Prom. Image courtesy Josh McKeown.
---
Pudge's was located at 2155 Ford Parkway in St. Paul, 1969-74. In 1969 it featured jazz. 1970: Live entertainment and dancing from 9pm with big name young groups. Pudge was a real person, and in 1972 he owned the club with his brother Dennis. Still there in 1974. Photo of matches below posted by Deborah Cunningham.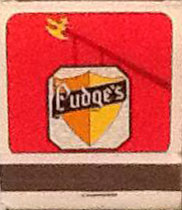 ---


The Purple Barn: see the Barn.

The Purple Cigar was the successor to St. Louis Park's Hullabaloo Teen Scene - see the Individual Page for more.

The Purple Goblet was owned by Lynn Thompson and went out of the jazz business for financial reasons.

The Purple Onion Pizza Parlor (722 N Snelling Ave. at the corner of Minnehaha Ave. in St. Paul, now Hamline apartments). Dylan played here in the fall of 1959 and spring of 1960.

Radio Room: Kenneth Stuart remembers this as a small room in the '40s that hosted Patti Page.
---
The Radisson Hotel was located at 35 So. 7th Street in Minneapolis and was built in 1909. It had several entertainment venues along the way. (Click above for James Lileks' wonderful site.)
The Chateau Room was located off the main lobby. Seating about 250 guests, this elegant establishment featured decorations and furniture patterned after the dining rooms of the Chateau Blois of the Francois-premiere period. Every evening diners in the Chateau Room were entertained by a quintet from the Minneapolis Symphony Orchestra.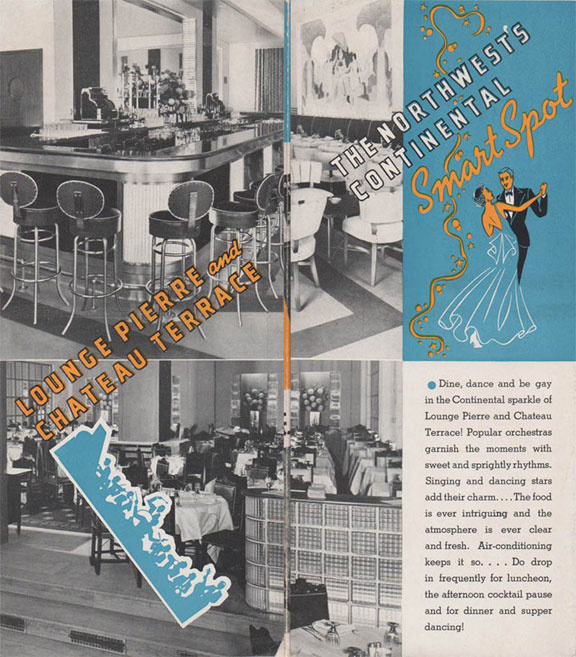 The Viking Cafe, in the rear of the hotel, seated 100 diners. This room was finished in dark stained oak and featured a silver scale-model Viking ship created for the hotel by Edward Caldwell. (The ship still hangs in the Radisson Lounge now called the Viking Room.) The Cafe's walls were graced by no fewer than 10 murals painted by renowned Scandinavian artist Arthur Wilberg. The murals depicted scenes from Sweden and Norway.
A third restaurant, the Teco Inn, opened in the hotel a few years later. The Teco Inn was one of the largest rathskeller-type dining rooms in the nation. It was furnished in richly-colored tiles depicting landscape scenes from around Minnesota and historic events bearing on the position of Minneapolis as the gateway to the great Northwest.
The Allee Pigalle was advertised in 1970 as the most intimate rendezvous in town. "Slip up the stairs and sip in seclusion on the balcony, or stay on the main and join bassos and sopranos at the Allee piano."
Also in 1970 was the Lodge, complete with bearskins on the walls and an all-Minnesota menu. "Stay to dream over the music that starts at 9 pm; philosophize as the firelight casts a glow over the copper-topped bar, and the deer-head smiles down on you!" Piano by Delores Del Rae.
The Flame Room
The first of its three Flame Room restaurants opened in 1925, originally on the mezzanine level. The Radisson also offered the so-called Radisson Roof for dancing during the summer months. Early entertainment was provided by such bands as George Ganz and his Golden Gate Orchestra, Slatz Randall, and Craig Buie. From 1931 to 1937, Norvy Mulligan's Orchestra played in the Flame Room and broadcast over KSTP in a program called "Dancing in the Twin Cities."
In 1943 a new Flame Room restaurant opened. This one was just off the lobby, with an added entrance on Seventh Street. Patterned after a smart, small New York City nightclub, the new Flame Room drew the finest entertainers in the world and would eventually become as well-known as the Radisson Hotel itself. The Flame Room featured background music for its shows and dancing by Don McGrane and his Radisson Hotel Flame Room Orchestra. In addition, the finest acts in America were booked and the public responded by jamming the room nearly every night for both the early dinner and the late-night shows. Specially trained waiters served appreciative guests amidst dazzling arrays of flaming entrees. Among the most memorable Flame Room entertainers were Hildegarde and the late Carl Brisson, who played the Flame Room more often than any of the room's other fabled stars. Comedian George Gobel got his start at the Flame Room. Other popular performers who thrilled crowds there included Peggy Lee, Rowan and Martin, Tito Guizar, Nick Lucas, and Victor Borge. The dancing DeMarcos, Dorothy Shay, Joe F. Brown, Imogene Coca, Sid Caesar, Milton Berle, Burl Ives, Connie Haines, Abe Burrows, Liberace, and Phyllis Diller also made frequent Flame Room appearances.
In October 1952 the Flame offered $2,000 in "wonderful prizes" by naming the Flame's "Mystery Husband." Clues were given over Sev Widman's WTCN radio show "Where's Your Husband?" The same ad featured the DeMarcos, "America's foremost dance team," Don McGrane and His Orchestra, the Singing Embers, and Harry Blons' Dixieland Orchestra.
From 1957 to 1961 the hotel underwent a $7-million refurbishing program that would add 140 rooms and a brand-new and larger Flame Room. New owner Curt Carlson and the late impresario Al Sheehan ("The Aqua Follies Man") brought the Golden Strings to the Flame Room in 1963. Carlson had seen a dazzling violin show in Mexico City in 1962. He asked Sheehan to put a similar act together, and the new ensemble, named the Golden Strings, opened in the Flame Room on February 16, 1963. The group - made up of eight violins, a bass violist, and two baby grand pianos - played the room until 1981, when the hotel closed. Performing before more than two-million people over more than 18 years. the Golden Strings was, according to Variety magazine, the longest running violin show in the world. (Carlson also put the first real "flame" in the room when he installed two giant, gold-plated, gas-powered torches that created brilliant colored flames during the Golden Strings shows.) A 1960s promotional brochure called it the "only dinner show of its kind in 50 states," although a July 1963 ad in the Twin Citian said that similar groups existed in Japan, Paris, Mexico City, New York, and Las Vegas. The ensemble played three shows nightly (except Sundays) with dancing after 10:30 pm with the Flame Room Orchestra. Just before the act opened Will Jones described the scene:
All kinds of special lights and equipment have been installed for the new show. Each violinist has his own spotlight and besides memorizing two different shows of 21 or 22 tunes each he has to know how and when to be planted under his spotlight, smiling. There are other spotlights for big sprays of roses hung on the walls, and there are candelabra that brighten and dim on cue. And come opening night, with luck, there are going to be long jets of flame leaping up on either side of the bandstand at dramatic moments... And what will the Golden Violins play? ... Gypsy music, Irish music, Scandinavian music, any romantic tunes you'd expect to hear .. in an all-red, candlelit dining room, you'll probably hear them all. .. Take your best girl and don't let her get her wig near the flamethrowers.
Golden Strings, 1980. Minnesota Historical Society.

The grand downtown Minneapolis Radisson Hotel closed in late 1981. The structure was razed on December 5, 1983. For a more detailed history of the hotel, click Here.
---
RADISSON INN
During the 1920s the management of the Radisson Hotel downtown received requests from guests for recommendations as to where to stay on Lake Minnetonka. Thinking he might be losing some business and to further accommodate Radisson guests, hotel owner Simon Kruse purchased the 53-acre Glen Morris Inn on Christmas Lake near Excelsior, Minnesota, minutes away from Minnetonka. Kruse changed the name to the Radisson Inn and turned over its management to his wife's cousin, Belle Beazell. Open only during the summer, the inn was a popular picnic spot for families and companies. It was not uncommon to see ladies in their long dresses playing croquet on the inn's spacious lawn. The inn also featured an enormous, 240-foot-long front porch; many of its 40 rooms offered sleeping porches. The inn was renowned for its excellent food, particularly its Sunday-afternoon chicken dinners. In addition, the facility offered boating, sailing, tennis, fishing, and horseback riding. But no liquor was served while Radisson owned it. Besides the rooms in the main building, there were a number of cottages on the property, many of which still stand today on the north end of Christmas Lake. The road that runs past the inn and the cottages was christened "Radisson Road," the name it bears to this day.
The Radisson Inn presented Supper Dances with Frank Gordon and his 11-piece Orchestra, featuring Gertrude Carpenter, in October 1934. Dinner was 6 to 8 pm, and supper was 9:30 to closing. So that's the difference! As reported in the Minnetonka Record.
Due to financial setbacks, the Kruses traded the Inn for the Windsor apartment building at Franklin and Third Ave. So. The inn was taken over by Lou Cohen of Roycraft Corporation, who ran it as a nightclub until it burned to the ground in 1936. The club "featured dance music during the 1930s by Norvy Mulligan, and the group played as much jazz there as the management would allow." (Stebbins)
For a more detailed history of the Radisson Hotel and Inn, click Here.
---
Ragin' Cajun, Mendota
Rainbow Gallery, 1500 S. 17th Ave., West Bank. Owned by Steve Kimmel; jazz, "modern and experimental sounds." Site of after-hours gatherings. Light rail goes through it now.
Rainbow Gardens - North shore of McCarron's Lake, St. Paul (out Rice Street). Site of dances sponsored by the Rainbow Social Club in 1936 -1937
---
Rainbow was a popular name! Here's a matchbook from Mark Youngblood's collection - just in case.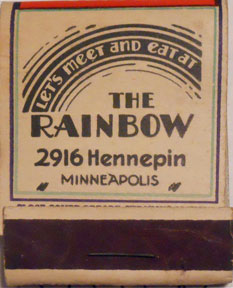 ---
Ram's Club: See Black Sheep Club.
Ramada Inn, Arden Hills: See McGuire's
Ramaley's Ballroom was at 666 Grand Ave. in St. Paul in 1957. That May the Dining Car Employee's Union Local 516 held their Inaugural Ball there, with music by Percy Hughes.
Ramona Bar and Cafe: See Flame, Hennepin Ave., Minneapolis
Rampart Street Club: See Bow and Arrow Club.
The Ranch House, 7958 Lyndale. 1969: The In-Four Group with Bev Hanson. Celebrated its 21st Anniversary in 1973. It was owned by Harriet Long and her son Greg.
The Rathskeller - See the Drake Hotel.

The Red Baron: See the Office.

Red Eye Saloon, 1019 Washington Ave S. In 1974 it was described in the Insider as a "Rock Disco."
The Red Feather Cafe: See Murray's.

A different Red Feather Nite Club opened at 665 University Ave. in St. Paul in February 1958 with C.V. Williams and his band.

Red Roof Ballroom, Ellsworth, Minnesota
Redwood Saloon: Lake west of Lyndale. Became Inntimate (?) in 1973

The Regal Tavern was located on 7th Street and Olson Memorial Highway in North Minneapolis. Owner James T. Fuller, Sr. brought in blues acts like Mojo Buford. Also known as the "Bucket of Blood" for all the fights. Fuller moved his business to the Cozy Bar.

The Rex Bar and Cafe at 913 Cedar featured Good Scandinavian Music in 1941. There you could meet John Freberg, former Swedish Championship Wrestler, and Chris Glamsrud, Bartender Supreme. The building was built in 1902. In 1971 it became the Joint, which it remains today. In June 1974 the Joint was owned by Jim Annin and Charlie Campbell of Labor Temple fame was booking blues acts.
Rhumboogie Cafe: See the Maple Leaf.

Richfield VFW - early Mike Waggoner and the Bops venue

---
Ritz Hotel, 122-130 Washington Ave. So., Minneapolis. Built in 1925. The ad below is from October 21, 1932. At the Spanish Village a 7-course steak or chicken dinner could be had for $1. The place also had private bungalows for parties.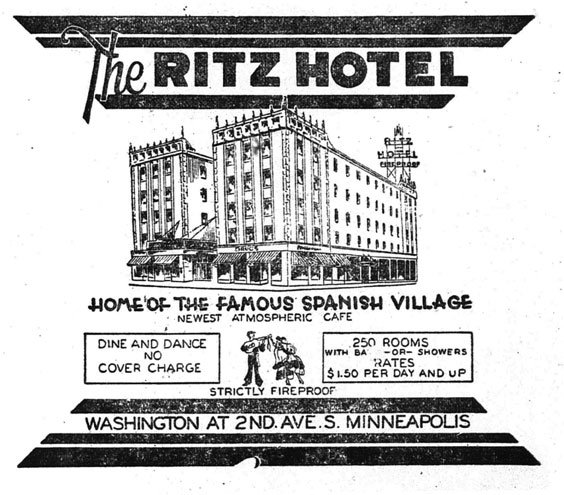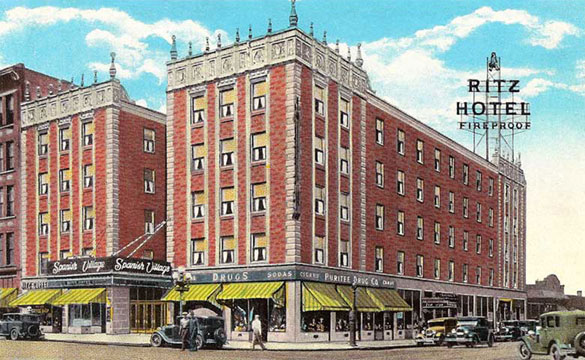 By 1952 the hotel was called the Minnesotan and the Manager was Aaron Robushin. The address was listed as 324 - 2nd Ave. So. Venues included:
South Seas Bar
Panther Room. In 1952 Robushin wanted to turn this into a Hawaiian-themed room, but the Nicollet Hotel beat him to it. Or was the South Seas Bar his Hawaiian room? A 1952 performer in the Panther Room (love that name!) was Weela Gallez, who purveyed the "spiciest humor in town."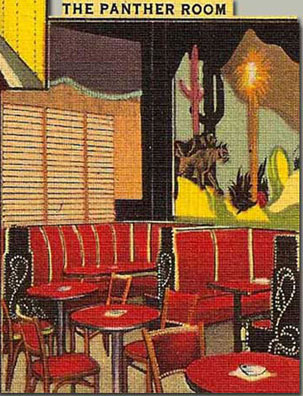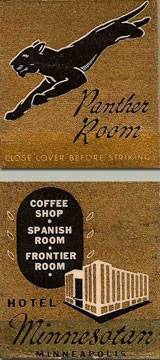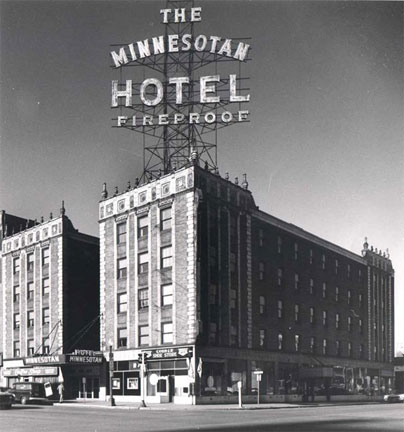 The hotel was demolished in 1963.
---
River House Supper Club, 9510 Lyndale Ave. No. In 1967-69, Tommy Thomas trio, dancing nightly.

The River Road Club was located on the banks of the Minnesota River in Mendota. Stebbins said it opened in late 1946 or early 1947, but there is evidence of a River Road Club Orchestra in 1934. In 1951 Augie Garcia and drummer Jesse Lopez opened with a small jazz group playing a Shearing style. The band broke up a few months later, when the men were called into service. In 1954 the group returned but never sold very well as a jazz band. Their conversion to rock 'n' roll brought them considerable success. Read much more about Augie Garcia Here.

The River Serpent: See Jimmy's on the Levee
The Riverlyn Inn was described in 1939 as on Lyndale Ave, 7 miles from Minneapolis. There was also a Riverlyn Park described as 5 miles from the city limits. Both hosted dances for the black community, advertised in the Minneapolis Spokesman.
---
The Riviera Club was in Shakopee, 1938 - 1952 in Riverside Park. 1940: Dancing nightly by Loren McNabb and His Orchestra, featuring the Hammond Organ. Second photo below dated 1942.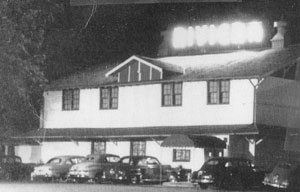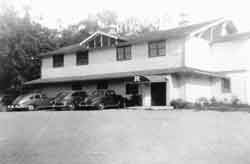 Shakopee Heritage Society Photos
---
ROAD BUDDY'S

Road Buddy's Cafe/La Bongo Club.: Road Buddies was started by Chet Oden, who also owned the Ebony Lounge and the Key Club night clubs. Oden drowned while duck hunting in October 1966. There were several locations.
386 West Central Ave. at Western, St. Paul, 1949. This may have also been known as La Bongo Club at one time.
799 University Ave., St. Paul. First mentioned in the Minneapolis Spokesman on March 30, 1963. Jazz. Photos below taken in 1950 and 1975 are of this address (Minnesota Historical Society)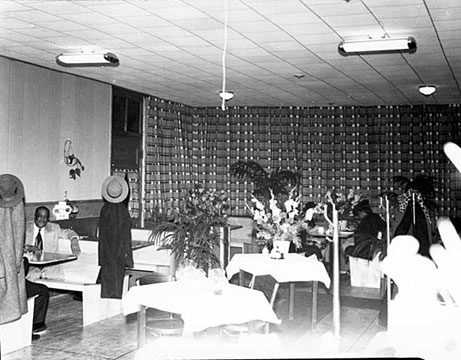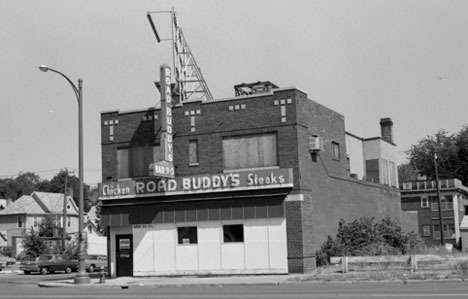 2925 Hennepin Ave., advertising BBQ ribs in the St. Louis Park High Echo in February 1953.
Texa Tonka Shopping Center in St. Louis Park, June 1966 to 1968, owned by Henry Sabes.
There may have been more.

---
Roaring Twenties: See Foreman & Clark Building.
Robert's Cafe, East Hennepin.
Rochester: 1691 Rice Street. See Happy Hollow, above.

Rodney's and Mine: 494 Strip in Bloomington, opened 1971
Roger's Cafe was on Nicollet Ave. in the 1920s and featured pianists Arnold Frank's Band.
Rogers Hotel, South 4th Street, Minneapolis. Early entertainment by Hal Keller's Band.

The Roller Garden, located at 5622 West Lake Street in St. Louis Park, started life in 1930 as an arena built for horse shows. In mid-1943, Arthur Eaton installed a wooden floor and added roller skating to the offerings at the arena. In 1946, the facility was called the Pastime Arena Roller Rink – "One of the world's largest rinks" – Music by Tommy Arsenault. Eaton sold the arena in 1957. The 1964 directory referred to it as just the Roller Garden, and the facility became a part time rock 'n' roll dance to venue. In 1969, the building was purchased by current owner, Bill Sahly.

---
Ronny's Cafe, 1123 Excelsior Blvd., Hopkins. Dancing to the "famous Red Jackets" on Friday nights. Just what the Doctor ordered! Ad below from 1954.......................................................................................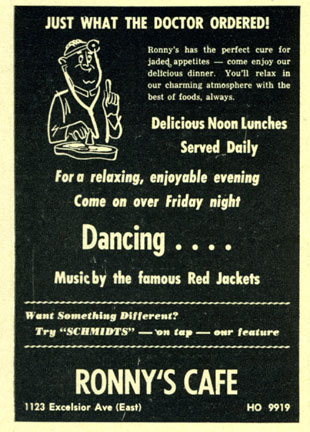 ---
The Rose Bowl, on N. Snelling in St Paul, had a live music room, at least in 1969.
Rose Room: See Northstar Inn
Rossi's Blue Star Room, Minneapolis
Roxy, Minneapolis
Royal Arcanum Hall, 3011 First Ave. So. (at Lake Street) was the site of an NAACP Coronation Ball in 1941. In 1944 the managers were Charles Clifton Jackson and Robert "Bobby" Marshall, Sr. and they sponsored a series of dances featuring Larry Griffin and his Rhythmaires. The Royal Arcanum was a sort of fraternal organization that provided life insurance to its members. It was associated with the Knights of Honor, which went bankrupt in 1916.
---

The Royal Court at Knollwood Shopping Center offered live entertainment. June 1969: Rock in the Dungeon Bar, Tommy Francis Duo in the High Court Bar. A duo called the Quasi Kinship performed there in August 1969. It was down from Powers and next to Aqualand. When it closed it was replaced by a club called Renaissance (circa 1977), which lasted almost a year with its country rock - bands like Daisy Dillman and Whiskey River.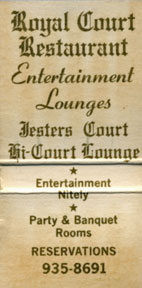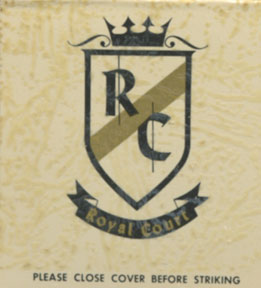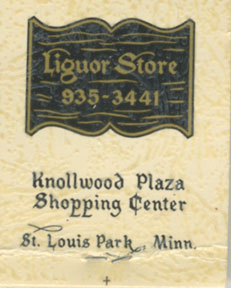 ---
The Running Fox Inn, 7th St. between Nicollet and Hennepin, Minneapolis. February 1963: Hal Lichterman Trio. "A relative new-comer to the list of fine downtown Minneapolis restaurants. Decor is based on English fox hunt theme and menu specialties feature exquisite game bird dinners, when in season... Lively convivial piano bar plus combo entertainment."

Rushes in the Field, 700 W. 66th Street in Richfield, owned by Jim Rush in 1972. Now vacant land.

The Rusty Nail was at 5630 Lakeland in Crystal.
Ryan's Ballroom, 3 miles west of Crystal on Bass Lake Road. In 1963 it had polka bands, the Country Cousins, Kris Kober, and Bob Mastel. In 1967 it was only open to teens on Fridays, but an ad from that March indicates that there was no rock 'n' roll there.

Ryan's Bass Lake Pavillion: 4 1/2 miles NW of Robbinsdale on County Road 10.
The S Cafe was in Clear Springs, which in out Minnetonka way; I think south of Highways 7 and 101. In October 1933 they offered FREE DANCING every Saturday and Sunday nights with Ed's Concertina Orchestra, and Wednesday nights with Dick Stodola's Red Jackets.
---
Saddle Theater Lounge: 415 Hennepin Ave. Strip club that employed jazz groups.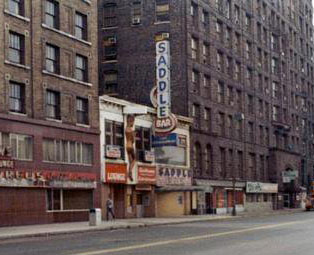 ---
SAFARI CLUB
Safari Club, 2705 Highway 55 at Lexington in Mendota Heights, 2.5 miles south of the Mendota Bridge. It was a young adult club on Thursday to Saturday nights. Irv Letofsky, subbing for Will Jones in the Trib on October 25, 1963, told of receiving a flier addressed as "Dear Teen-ager" which had been sent to 3,700 "highly moral" teenagers in the Twin Cities area, and, should there be enough response, the club would be opened in a former appliance store on November 15. The decor would be Polynesian and the club would feature exotic soft drinks. Charter membership was $10/year; regular membership $15/year. Guest admission was $1.25. Another article described it as the Upper Midwest's first teen-age night club, "a members-only key club," open to kids from 16 through 20. Entertainment was to include folk singers, jazz combos, surfing music, and comedians. A hootenanny was tentatively planned for every Sunday afternoon. The Saturday night dress code was to be semi-formal. Much was made of the code of conduct, including no alcohol; detectives would be on duty. The club was to be owned by a corporation, whose principal stockholders were Bobby Mecay, a University of Minnesota student; Charles Mecay; Richard H. Murray; and David Eckstrand, a former instructor at St. Thomas Academy who would manage the club. In January 1964 Will Jones reported that an ad in the Minnesota Daily described it as A Plush Pollynesian Pad that featured folk music, but as he was over 21 he couldn't investigate.
Prior to about 1965 the Safari was renamed Bobby's Teen Club, owned by Bobby Mecay, former professional ice skater. Ages 16-20 only. In 1966 Tom Castaneda was General Manager. Music on two floors, plus R&B duo the Witherspoons in a separate room. Featured movies, slot car track. In April 1967 the Underbeats recorded 43 songs at Bobby's for Metrobeat Records. Open Fridays and Saturdays in 1967. Bobby's burned down in November 1967. Image below from In-Beat Magazine, November 1966.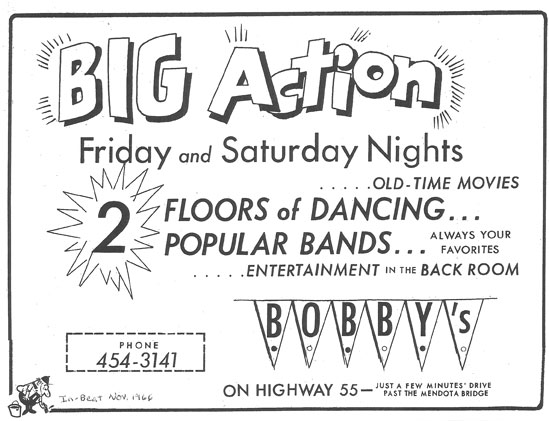 ---
St. Anthony East: 400 E. Hennepin Ave., Minneapolis. Folk venue, owned by two Johnson Brothers. Became Whitey's.
"St. Louis Park High School also had music," remembers Owen Husney of the High Spirits, who was himself from the Park. "I first saw Koerner, Ray, and Glover there in '63 in the auditorium.. The Chancellors, High Spirits, Novas, etc. all played dances there on Friday nights. It was the place to play."
St. Paul Armory was at 389 North Exchange. Site where many black R&B and rock 'n' roll acts performed in the 1950s.

---
ST. PAUL AUDITORIUM/STEM HALL/ROY WILKINS AUDITORIUM
The original St. Paul Auditorium was built in 1907 and razed in 1982. It was also known as Stem Hall. Like the Minneapolis Auditorium, it had a huge pipe organ, which was sold to the Old South Church in Boston.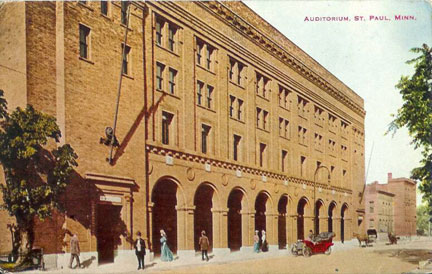 Original St. Paul Auditorium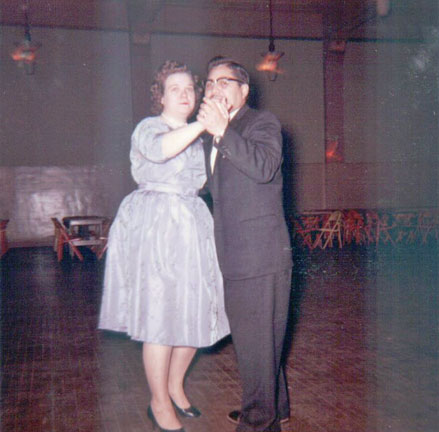 This picture of Manuel and Dorothy Aguirre dancing at Stem Hall in 1964 shows the inside. Photo courtesy Adrian Aguirre.
---
The St. Paul Civic Center Auditorium was built in 1932 adjacent to the original Auditorium. It was designed by renowned African American municipal architect Clarence W. Wigington. It was renamed for Roy Wilkins, Civil rights leader and former director of the NAACP in 1985. It is located next door to the Xcel Energy Center.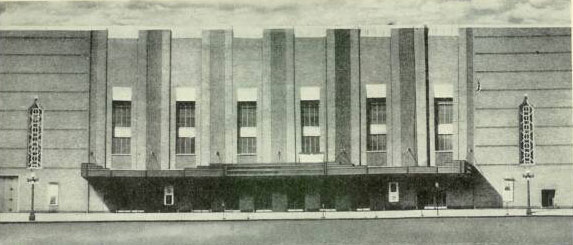 St. Paul Auditorium addition, now Roy Wilkins Auditorium
---
St. Paul Civic Center Arena opened on January 1, 1973, and had seating capacity of approximately 16,000 for hockey. The arena was renamed the RiverCentre in the mid 1990s. The arena was torn down in 1998 to make way for the Xcel Energy Center which opened in 2000. The arena was also the home of Verne Gagne's American Wrestling Association (AWA).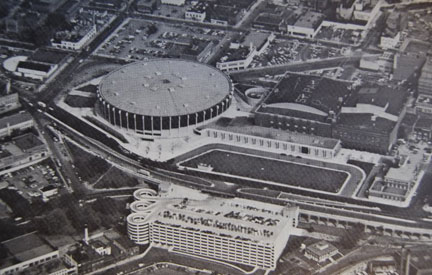 St. Paul Civic Center Arena

---
ST. PAUL HOTEL
The St. Paul Hotel had:
The Gopher Grill
The Spanish Room
One of the early radio simulcasts was KSTP's "Dancing in the Twin Cities" in the 1930s, broadcast from the Gopher Grill. In December 1938 the hotel engaged the black swing band El Herbert for a three-week stint, reported as "the first engagement of a colored band in any of the larger hotels in the Twin Cities in recent years" by the Minneapolis Spokesman. 1963: The Gopher Grill and Bar Restaurant has nightly daning and entertainment.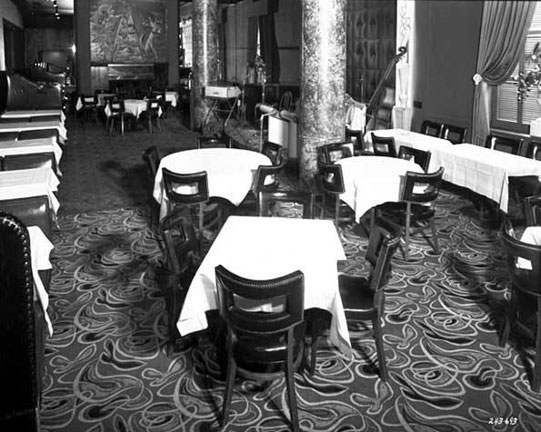 Gopher Grill, 1957, courtesy Minnesota Historical Society
---
The St. Paul House in Shakopee ("since 1854") was owned by Ben Klayman in the mid-1950s. The February 1960 Select called it "The New" St. Paul House, and presented the St. Paul House Singing Sextette with colorful presentation of Broadway hits. Members were Bruce Neilson, Ronelle Sinjem, Jane Sorber, Bill Lutz, Ann Thorgrimson, and Russ Miller. Another note said that the venue featured Irv Trestman's Lamplighters in 1960. 1963: Piano bar in Mardi Gras Room, Dancing.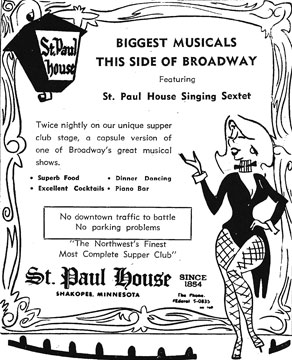 Ad from June 1963 Twin Citian
---
The Sandpiper was at 4785 Hodgson (Rice?) in St. Paul, north of Highway 96. In 1967 you could dance to Cindy and the Chordsmen, Wednesday-Saturday. 1969: 3 shows/night by Just Us and dancing.
The Scandia Supper Club was not in Scandia but at Highway 52 and Bass Lake Road in Crystal. In 1963 you could dance to live music in a honky-tonk atmosphere at Le Bistro - performers included the Skylarks and Tony Dee.
Scenic Tavern, 1723 Fourth Ave. So. The Family Tavern - Dancing - Fun
---
SCHIEK'S CAFE
Schiek's Cafe, at 45 South 4th Street, opened its doors in 1862. It was primarily a restaurant, but this ad touts the Sheik's Sextet and there are the Rhapsodians from 1936 so music there was! In 1962-69 the famous Sheik's Sextette did musical comedy favorites in a most elegant old-world atmosphere.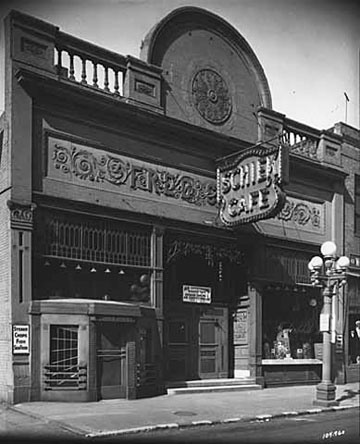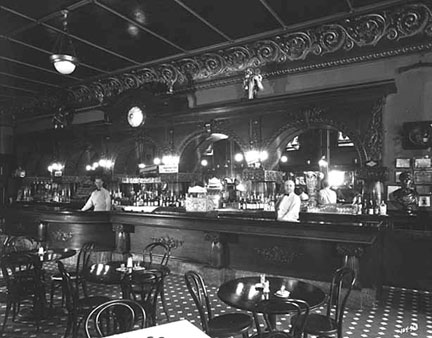 1934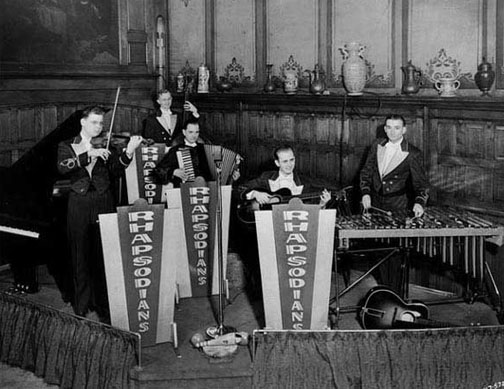 The Schiek's Rhapsodians, November 1936. Photos above from the Minnesota Historical Society
The 1962 ad below announced that Schiek's moved to 115 Fourth St. So., the former F&M Bank building.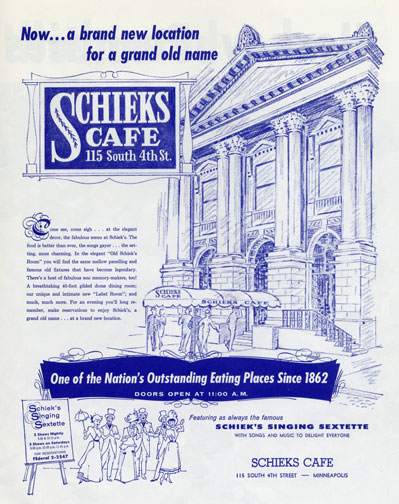 Reportedly Scheik's became Zelda's on the third floor in the 1970s.
At some point it morphed into Schiek's Palace Royale, a strip club.
In 2011 it was sold and renamed Downtown Cabaret.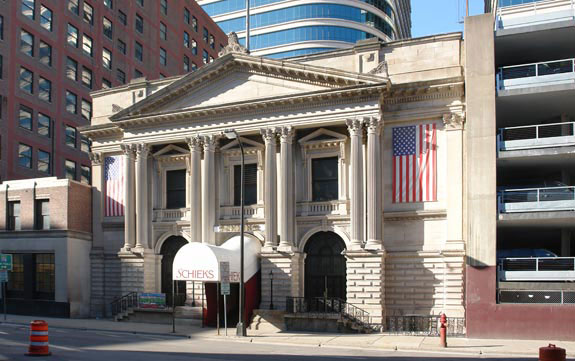 2011
---
SCHLIEF'S LITTLE CITY
Schlief's Little City was in Inver Grove Heights - west of the intersection of Highway 55 and South Robert Trail off the north service road. Sandy Wilcox writes: "This was a dance hall that I remember going to with my parents when I was young. People brought their families and all their children and sat at long tables and danced to the polka & waltz. It was like a big wedding celebration. They served beer and soda pop. When they did the polka, the whole building would bounce. It was a great family place to go on a Sunday afternoon. You could easily see its big-letter sign from the highway, and it was quite a landmark.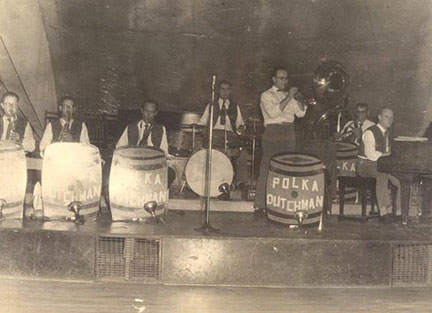 The Polka Dutchman at Schlief's, 1940 - photo from Minnesota Historical Society
THUMPER'S
The next iteration of the building was Thumper's, possibly started by a former manager of the Cabooze. Thumper's was not there very long according to memory. There was another Thumper's in Coon Rapids, which became La Fiesta in 1985. Both venues were extant in March 1979, according to a list of Herman's Hermits appearances.
PEABODY'S
Randall Quade says that "It went on--due to the popularity of the 'Urban Cowboy' movie--to become a huge country and western bar called "Peabody's Saloon and Music Hall." [extant January 1980] I used to play there in the mid-'80s with a band called Saddletramp. The bar featured a huge dance floor and booked national, regional, and local acts. Peabody's burned down around 1986-87 (not sure) in an early morning fire that took the building to the ground. No remnants of the bar exist and the site is covered with a new commercial development."
---
THE SCHOLAR

The original Scholar, Minneapolis' first coffeehouse, was in Dinkytown at 414 (or 418) - 14th Ave SE. Although it was technically the Ten O'Clock Scholar, everyone just called it the Scholar. Owner Red Nelson bought it for $5,000 and a motorcycle. Red's partners were Ann Mossman and Steve Oleson. It is, of course, famous as the place a young Bob Dylan played from fall 1959 to fall 1960. In a 1965 Will Jones column, former proprietor Dave Lee said he would have 30 different kinds of tea on the menu, and regularly kicked out Dylan. "Dylan would come in and sing, and for a while it was all right, but that monotone would go on and Muriel would say to me 'They're beginning to leave. You'd better get rid of him.'"
The photos below were taken by University student Bill Savran in 1958; at right is Spider John Koerner. These photos are used by permission - for more photos and to purchase prints, visit Bill's site billsavran.wordpress.com/the-scholar/ They are also on exhibit at the Nicollet, located on the corner of Nicollet and Franklin.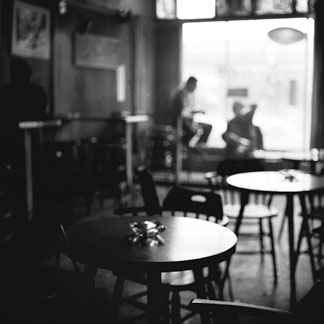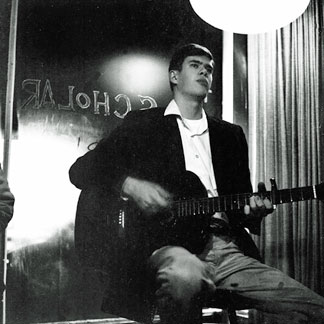 In November 1961 the club was denied a food license and police closed it when they found out that operator Clark H. Batho was serving food without a license. Batho was fined $25. Lt. A.G. Kirby of the University Police told the city council that the coffee house was "a 'hang-out for juveniles' and that one teenage girl was found there carrying a pistol." Kirby also said that "teen-age patrons were consuming 'large' quantities of codeine cough medicine. He said at least eight bottles were recovered from the coffee house trash can."
A notice from December 1962 advertises folksingers every weekend and evening beginning at 8 pm. Sundays Maurice Bernstein sings Yiddish, European folk songs.
In 1963 Will Jones noted that it was purchased by Ann Oleson and Genie Evans that summer, and they celebrated by holding a Hootenanny.
The July 1963 Twin Citian describes "singing entertainment on weekends with good sandwiches served in an off-beat coffee house with murals adorning the walls. Particularly good for people watching. Here the students gather to converse, [???] and think."
Red Nelson would have afterparties at places called:
The Red [Brick] Palace
Ground Zero - across from 7 Corners
Rainbow Gallery - a jazz place (see separate entry)
The People's Club - on Cedar Ave.
In the book West Bank Boogie, Red noted that Ken Kesey and his Merry Pranksters pulled up to the Scholar in their bus one day, and drugs became the downfall of the mellow folk scene.
A blog entry says there was a fire in December 1965 which started in the grocery store next door.
The Scholar moved several times - one iteration was extant from at least 1966 to at least February 1970 at 247 Cedar Ave. on the West Bank (below).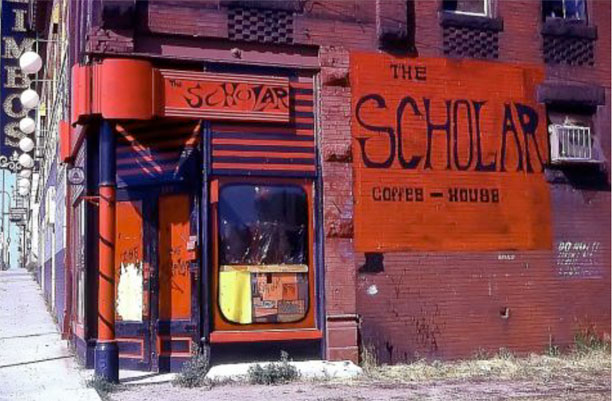 ---
Red Barn Boogie
Contrary to what I thought, this was not the proposed site of the infamous and detested Red Barn. That was planned for 1407-1411 Fourth Street, but on May 6, 1970, Dinkytown residents occupied Fourth Street to protest the ugly fast food restaurant that was going up. The May 8 issue of Hundred Flowers included a fairly comprehensive account of the protests:
Someone drove a rented 1970 Charger through the window and into the kitchen of the Red Barn at 313 Oak Street SE.
Rocks were thrown at the Barn on Lake Street, breaking five windows.
Protesters were deterred by cops on Snelling
Meanwhile, back on Fourth Street there were about 175 cops, searchlights, and a helicopter, which those crazy kids called a "whirlypig."
The protests actually worked, and Red Barn gave up, eventually going into bankruptcy. See the story and lots of pictures Here. Another site is Here, and one with lots of photos is Here.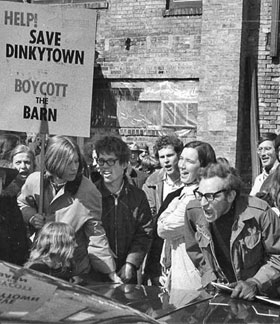 ---
SCHOONER TAVERN, 2901 - 27th Ave. So.
Wendy Kremer of the Schooner generously sent this info about the venerable establishment:
According to the previous, and original owner of the Schooner Tavern, it was started in 1932. Prohibition was repealed December 5th, 1933, and the City of Minneapolis began issuing liquor licenses in 1934. I believe it holds one of the first three liquor licenses. We suspect that the bar was operated as a speakeasy prior to the end of Prohibition, as evidenced by several hundred bottles we discovered buried upside down under a basement floor. In the early 1900s the business operated as a railroad hotel for workers. I have found one reference to Tuttle and Rens Hotel, but have not been able to find further information. Schooner Tavern has had live music since the beginning, which early on consisted of orchestras and big band type music.
Wendy also sent along a description of the Tavern from Mpls. St. Paul Magazine, July 1979, which is cute:
Never mind that south Minneapolis is a thousand miles from the ocean. the Schooner sails with a full cargo of nautical themes: ship's wheel, a mural, framed paintings, hawsers coiled 'round mast-like pillars, lanterns and a ship's rail that sets off the bank of pinball machines. You enter past a long, huge bar, into a large room filled with dozens of tables. In proper tavern fashion, locals can cash checks on payday. The clientele is a mixed bag of white and blue collars, old and young, and students. Behave yourself - the 3rd precinct police station is across the street. But if the floor pitches and seas are rough, the bar owns a hotel on the two floors above $17 weekly; the manageress, however, tolerates no hanky panky). Anchors aweigh!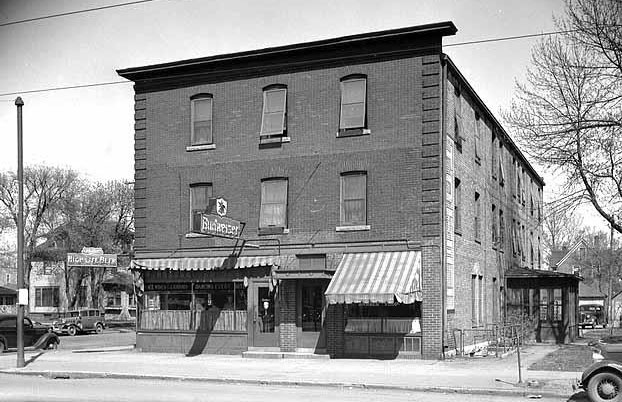 "South Minneapolis's Best Night Club," so they said in 1944. "Choice liquors - 6% beer - Dine and Dance." Photo above courtesy Minnesota Historical Society. Photos below courtesy Wendy Kremer, Schooner Tavern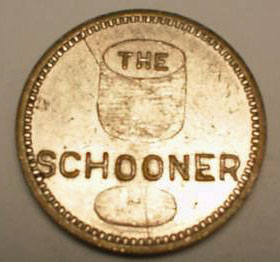 Schooner patrons, 1979
---
THE SCOTCH MIST
The Scotch Mist Lounge opened at 1030 LaSalle in Minneapolis around October 1, 1967. One of Wikipedia's definitions of Scotch Mist is "drunken confusion," which might explain the 1962 song by that name by a local group called the Scotsmen. Anyway, Don Morrison of the Minneapolis Star reported that after two weeks the place was packed with kids dancing to the tuned of the Four-Fifths. "The decor is modishly Mod, the music is madly Mod, the lights are low, the drinks reasonable, the scene spirited and the girls as groovy-looking a gaggle of chicks as these tired old eyes have ogled in a long time." The owner was John J. Anzevino, Jr., who had co-owned The Office. In February 1968 there were two lingerie shows on weekdays, and music by the band Four/Fifths: "Where it's Happening!" June 1969: The Boiling Point, David and the Mark IV. There was a fire on July 1, 1970, causing damages of about $75,000, and Anzevino was charged with arson and defrauding seven insurance companies. After the prosecution's case the judge threw the case out.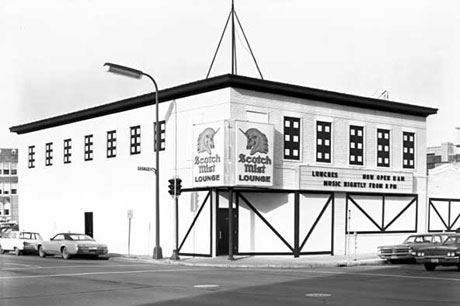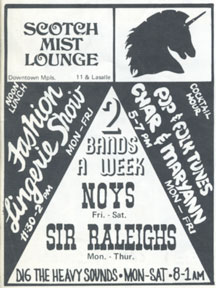 Scotch Mist 1967, photo courtesy Minnesota Historical Society Ad from Insider, April 1970
---
f. david's
Frank David Yarusso bought and renovated the Scotch Mist and opened it as f. david's on October 13, 1971. The band Brave New World was the first house band, initially from October to December 1971. Stash and Dakota were two bands that appeared in '73. Also featured were lingerie shows at noon Tuesdays through Fridays and during happy hour Wednesdays through Fridays. It was still listed in the Insider in 1974. Ad below from 1971 - our friend Robb Henry sitting at lower left.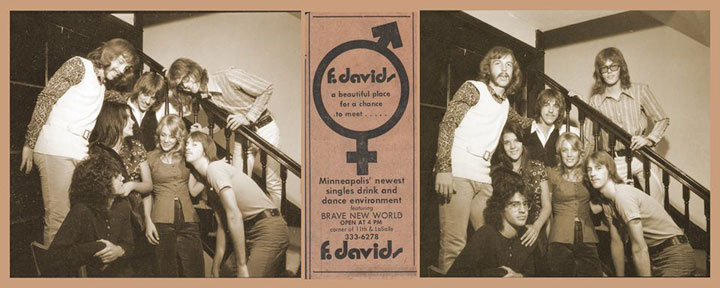 ---
Frank Seifert's - See Inn-Tuition and Key Club above.
Seventh Street Rec was located in St. Paul. Open Friday and Saturday night, ages 16-20. Possibly the same as Highland Recreation (see above).

---
SHAKOPEE

These places are all around the same general location, including Shakopee, Chaska, and Savage.
Happ's Nite Club/Auditorium, Adam J. Happ, proprietor, was in Chaska as early as 1928. There was also an Auditorium Cafe with plate lunches for 25 cents. In September 1928 the auditorium had been newly decorated after being closed all summer. Ads started showing up for dances here in the Minneapolis Spokesman in July 1936.
---
Four Mile House had been a stagecoach stop between Shakopee and Savage in the horse and wagon days. In about 1951 Ozzie and Marie Klavestad found the old place by accident and bought it for a place to display Ozzie's gun collection. They named it the Stagecoach Museum, and over the years it expanded to include the Stagecoach Restaurant, Stagecoach Opera House and the Sand Burr Gulch, a recreated old west street complete with blacksmith, barber shop, saloon, and animated cowboy puppets that acted out jerky wild west scenes for the general public.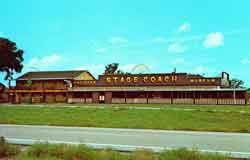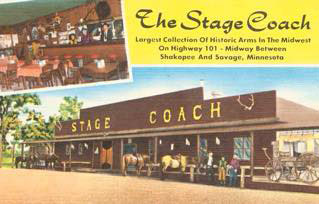 Shakopee Heritage Society Photo
The Klavestads sold out in 1981 and the place fell into ruin. Widening of Highway 101 spelled doom for the site and most of it was demolished in 1996. The original building still stands as Dahlen Signs, 901 Stagecoach Road, Shakopee.
---
In a separate building, behind and to the left (east) of what you see above, was a music venue.
An ad in September 1974 described the 1 & 44 Club as at County Road 18 at Highway 101 between Savage and Shakopee. Chubby Checker did a two-night stand there.
Doc Holliday's was in Shakopee in the '70s and was said to host the likes of Jerry Jeff Walker and the Amazing Rhythm Aces. Tragedy struck on May 5, 1979, when Barb Smith, a 19-year-old from St. Paul, was fatally shot. According to accounts on Facebook, Daisy Dillman had just finished "Southern Man" and was taking a break. Larry Lyle Marquardt of Minneapolis and David Kraml of Bloomington had been thrown out for being drunk, and came back with a 308 caliber hunting rifle. One of them shot into the second floor of the building. Barb was wounded on her ankle, leaned over to look, and was shot again in the neck. Another male customer was seriously wounded as well. The club held 800 people and was packed.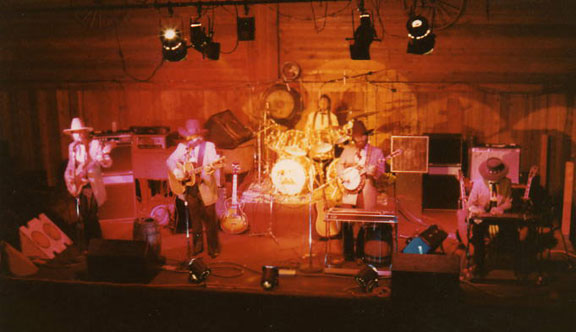 Wright Brothers Band, July 1977, at Doc Holiday's. Photo by Craig Mickelson, Spearfish, South Dakota
---
The Shamrock Inn was at 3848 Olson Memorial Highway (8 Miles out on 6th Ave. North) in 1939-44. Manager Jack Radich claimed "We Are Known For Good Food" and promised dancing every night. They played no favorites, advertising in Our Time, an organ of the Hennepin County Farmer-Labor Party and the Republican Register.
Shaw's Cove: See Black Sheep Club
---
SHERATON-RITZ/GOLLIWOG LOUNGE
Sheraton-Ritz Hotel: Built in 1963 as part of the Minneapolis Gateway urban renewal project. It is now a parking lot. On the 19th floor was the Golliwog Lounge, which opened on May 31, 1963 and then reopened in a different location in January 1964. Jazz venue, although John Denver appeared there in 1969. In 1965 an article said that the room "features a leggy breed of waitresses known as the Golliwog Girls" who wore brief costumes and wild hats. A popular performer at the Golliwog was Doris Hines (see 1963 in Events for more about Doris Hines). A 1968 ad promised no cover, no minimum, no dull moments. A 1969 ad named Stanley Stein as the host. Photo below of the hotel is from the Hennepin County Library Special Collections postcard collection.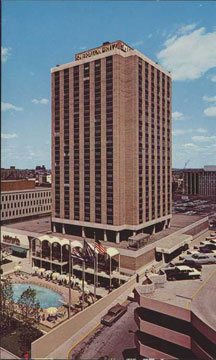 ---
The Sherwood Supper Club, 6th and Auditorium, St. Paul. On February 22, 1963, Will Jones noted that it had been open for some weeks and used to be Johnny Mauer's Recreation, with a bowling alley run by Jake and Hank Mauer. More Jones:
The interior is old English, like in Sherwood forest, with a big tree in the middle of the main dining room, the exteriors of low-slung ivy-colored cottages suggested about the walls, and shields and heraldic stuff, and the Irv Williams Quartet playing on a bandstand that is fixed up like a drawbridge.
The Sherwood featured jazz in its main room, and Jones noted that they were planning a downstairs room called The Cave. Ad below from the June 1963 Twin Citian.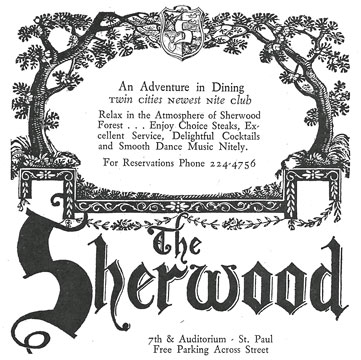 ---
Shore Club. 1963 ad just says Willernie, close to White Bear Lake. Attractive supper club with piano bar, oceanic atmosphere.
The Shoreview Roller Rink was located on the northwest corner of Hodgson Road and Highway 96. Bill Diehl hosted the Trashmen here.


Showboat Ballroom, Lake Benton – owned by Jimmy Thomas

Silver Bridle Bar, 929 West Broadway. Found out about this via the photo below from the Minnesota Historical Society. Band name unknown, date approximately 1950.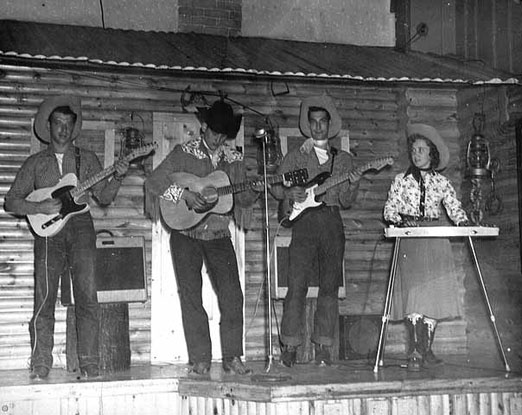 ---
Silver Dollar Club - 200 E. Lake Street. Hans P. Hanson opened this Country & Western dance hall on January 24, 1964. Chill Hillman and His Actions played for the first-nighters. It began featuring live folk music in 1972. Bill Tezlaff remembers, "I believe the Silver Dollar was called the Silver Dollar II after '72 or so, perhaps when it switched to rock & blues, i.e., Lamont Cranston, Willie & the Bees...Muddy Waters even played there once toward the mid-70s!" Indeed a 1974 article says that Charlie Campbell of Labor Temple fame had booked blues acts there in the past.

Silver Skate Roller Rink in North St. Paul

Silver Strip: Dale Street, St. Paul
6311 Club was at 6311 Cedar Ave. So. - "Only Place Past Lake Nokomis on Left Side of Road" in July 1943. Beer and Lunches, Dancing. Amar, Prop.

The Skyway 12 Club was a tavern located at 15009 Wayzata Blvd., just past the intersection of I-394 and 494 on the south side. Houses built in 1997 are there now. The Skyway was there from at least 1964 - "Where the Action Is" - to 1968. In 1967 it was run by Ben Musser and offered live music on Sunday nights. On January 29, 1968, tavern buyer Gary Boster got a license to sell 3.2 beer, on and off. The Council was not optimistic: "Do you know how many owners went broke up there? asked Minnetonka councilman Ed Mason. "How do you plan to attract customers when they have to go a half mile out of the way just to get there?" The Minnetonka Herald (2/8/1968) reported that the tavern sat atop a hill with access only by service roads, none of them leading directly to the tavern. It also sat on residential property and the non-conforming use permit had to be renewed annually and could be revoked if there were complaints. Boster had his sights set on a set-up license in about six months if he was successful. See info on this old roadhouse on Robb Henry's blog.

---
SLEIZER'S
Sleizer's Restaurant/Sleizer's Club 21/Sleizer's 21 Club was at 21 So. 8th Street, across from Dayton's Garage in 1942-44. They offered Cocktail Music and Dancing. In November 1944 the club featured Harvey Dale and His Men of Music.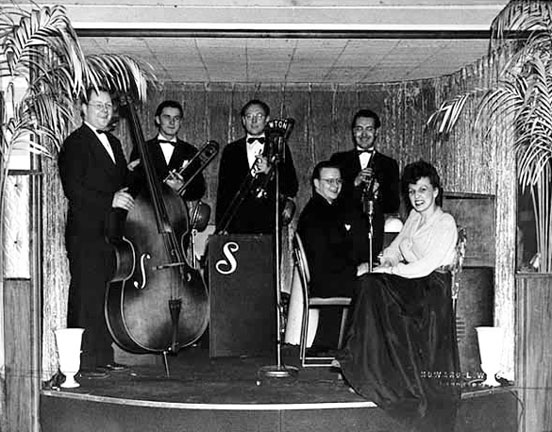 The photo above is from 1942, courtesy Minnesota Historical Society. Kind of a small stage!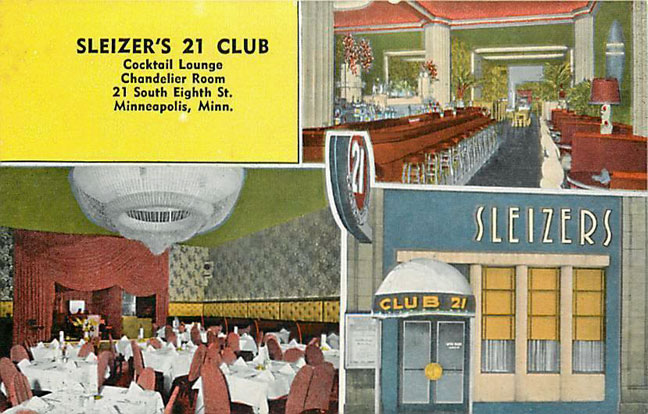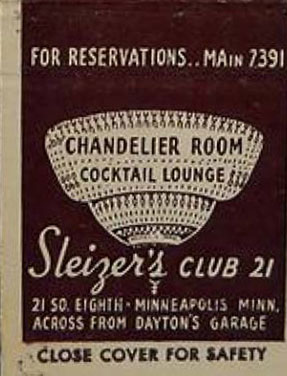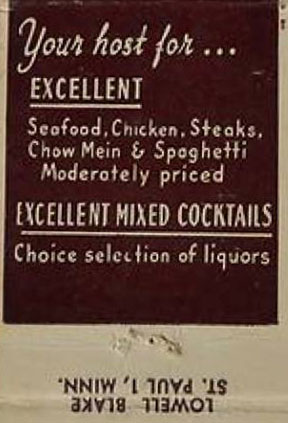 ---
Snail Lake Supper Club, 4255 Snail Lake Road, "right on Snail Lake." Shoreview, apparently. 1963: You can picnic, swim and/or fish while you enjoy your dinner. Dancing to orchestra.

Snyder's Bar and Cafe: 38 South 6th Street, downtown Minneapolis across from Juster's men's store. The first floor was a jazz club from 1934 to the 1940s and possibly longer. The second floor hosted some questionable gambling. Patrons were white; Percy Hughes was the house band 1948-49.


Someplace Else was located 'aha! In Robbinsdale. When it burned down the Jokers Wild lost their equipment. The Insider reported that it closed at the end of 1968 by the city council due to disturbances.

South Barn: See the Barn

South of the Border: See Key Club.
South Side Auditorium, 12th Ave. So. and 3rd Street, 1928. Complaints were made about the place, putting the renewal of proprietor H.J. Brunzell in jeopardy. The Four Leaf Clover Club held dances here; see Olson Memorial Highway.
Southside Night Club, 212 - 11th Ave. So. Cited in a 1935 story in the Minneapolis Spokesman about an order given to nightclub owners to cater to only one race or another. The charge was apparently unsubstantiated, but the story tells us that the owner of the establishment at the time was Bert "Dutch" Thompson. The club was in the news again on January 7, 1938, when Dutch and two employees were jailed when the club was raided. Dutch was charged with "keeping a disorderly house" and employees Nick Carter and Mrs. Gladys Freeman were charged with being "found in," whatever that means. They were found guilty and the club's licenses were revoked for four weeks, throwing 22 people out of work. The license was transferred to Minneapolis artist Otis Sheldon, reported the Spokesman. That didn't work out; on April 14, 1939, it was reported that Dutch was forced out and "a new ownership is reported operating the place now with all-white personnel for the firs time in 20 years." Dutch denied he was forced out and said that poor business and poor service from employees were the reasons for closure. "Thus passes from the Twin night club scene the fames Southside and 13 people [employees] are 'walking the street.'"
Spanish Room: See St. Paul Hotel
Spanish Villa was on Rice Street and Little Canada Road, St. Paul, in June 1932. Owned by Tommy (Fatty) Woods. Orchestra entertainment every night - Dine & Dance.
Spanish Village - See the Ritz Hotel.
Spaulding Hotel, 474 Wabasha, St. Paul. 1888-1928, at least. In 1928 the home of Alexander and His Ragtime Band.
---
Sperling's - I don't know where this was back in 1953, but I'd bet it was pretty close to Olson Memorial Highway. These photos from the Minnesota Historical Society were apparently in a collection associated with Ira Pettiford.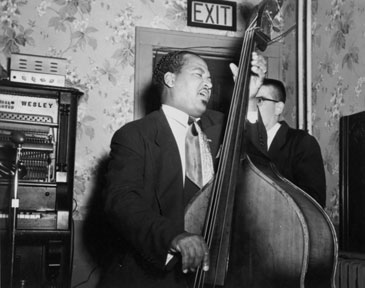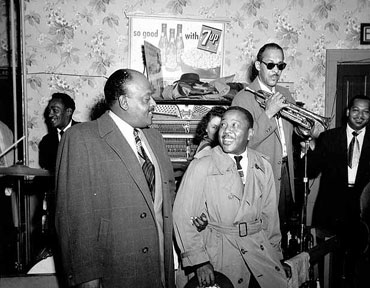 ---
I SEE SPOTS
The Spot, "located somewhere on 8th Ave. No." was run by Ben Wilson, who left town in the late '40s.
The Spot, Central Ave. NE and Highway 5 in 1932. Formerly States Inn. Dancing and Entertaining Every Night Featuring Al Foster. " +WHAT A SPOT+ "
There is another bar called The Spot on the corner of Randolph and Victoria in St. Paul, "Est. 1885." Doesn't sound like a music spot judging from the comments on the Old St. Paul Facebook page.
---
Spring Inn - 355 NE Monroe, Minneapolis. 1973 country venue.

Spring Park Casino, Lake Minnetonka
Spud's
Surfside Supper Club and Marina - Restaurant, Lounge, and Entertainment Center, Cook's Bay, Mound. A June 1, 1967 ad in the Minnetonka Herald promised the Dick Maw and Charley Clark Orchestra, and on Sunday night a Big Band of 14 pieces featuring vocalist Carol Simon. Friday nights downstairs featured Red Gelhaye with Country Western music, and on Sunday afternoons enjoy the Surfriders, a Hawaiian Band. A January 17, 1974, ad in the Hopkins Sun features singer Dale Thomton.
Stage House, on Highway 8, 3 miles north of Highway 10 in the Northway Shopping Center in Lexington Village. 1968 attraction was Jack Greene, plus Les Cunningham and the Stage Hands. "Largest Country Western Music Palace in the Nation!"
(Jimmy Hegg's) Starlight Club: See Curley's.
---
State Theater, 805 Hennepin Avenue, Minneapolis. From the website of the Hennepin Theatre Trust, which owns the theater:
The State Theatre, which seats 2,181, opened in 1921 and was then considered the most technologically advanced and elaborate theatre in the United States. One Minneapolis newspaper columnist described it as "a gilded pleasure palace, dedicated to the Hollywood dreams that captured America's heart in the roaring '20s." It was designed by Chicago architect J.E.O. Pridmore in a free Italian Renaissance style and boasted the first well-driven air conditioning system in Minneapolis. The original stage floor was glass, lit from underneath to create stunning visual effects. The opening night program included a silent film, newsreel and travelogue. A Wurlitzer pipe organ was installed in 1925 and concerts were held every day for 25 cents. The State's neon marquee was installed in the '40s and runs the entire width of the theatre. Between 1921 and 1978, the State Theatre was used primarily as a movie house, but also hosted vaudeville acts including Nora Bayes and Victor Herbert, concerts and ballet. The movie screen was the largest screen west of the Mississippi River at the time and designed so every person had a perfect view of the film.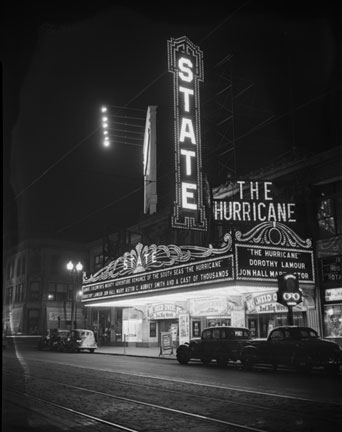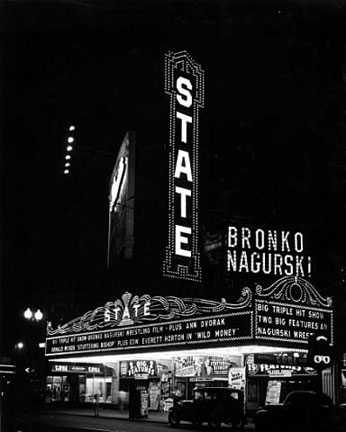 Photos above from 1938 and 1940, respectively, courtesy Minnesota Historical Society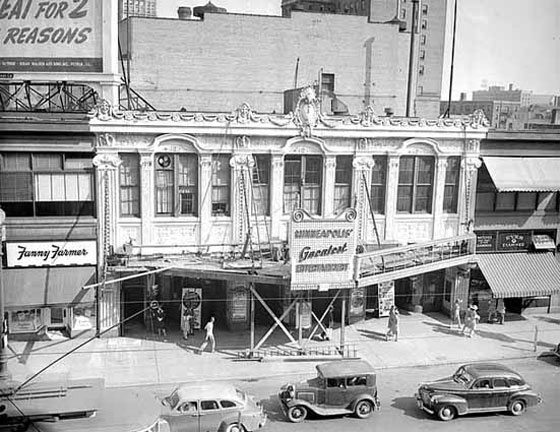 In 1942 the front of the theater was remodeled; photo courtesy MHS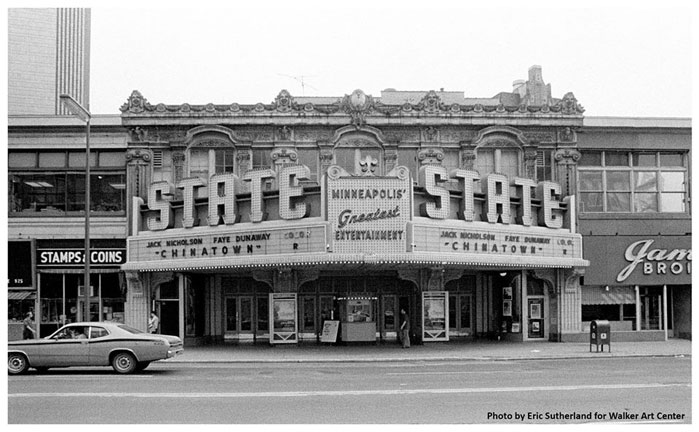 1974 photo taken by Walker Art Center staff photographer Eric Sutherland, for possible inclusion in the Walker's 1974 publication Design Quarterly # 93: Film Spaces. The image was not published. Courtesy Walker Art Center and Barb Economon
"Butch Cassidy and the Sundance Kid" set a national record at the State in 1970 for the longest run in America (34 weeks). The final picture show was "Tommy" on New Year's Eve 1975. In 1978, the theatre was purchased by the Jesus People Church and served as their place of worship. The church covered the murals and sculpted figures with drapes and plaster shields, which were removed during the renovation process.

The Minneapolis Community Development Agency purchased the LaSalle Plaza block in 1989, including the State, as part of the LaSalle Plaza development. After nearly two years of renovation at a cost of $8.8 million, the State Theatre re-opened in November of 1991 with the Minnesota Opera's production of Carousel. The restored proscenium spans almost the full width of the building and curves 100 feet above the stage. The six chandeliers in the house are original, as are the murals on the walls. Since the re-opening in 1991, the State has hosted live Broadway touring productions such as Avenue Q, Sweeney Todd and Joseph and the Amazing Technicolor Dreamcoat, concerts featuring Patti Smith and Gordon Lightfoot, author and adventure speaker series and films including the world premiere of the Minnesota-based movie, "Grumpy Old Men." Hennepin Theatre Trust is now the owner and operator of this magnificent structure.
---

Stem Hall: The original part of the St. Paul Auditorium (see above).

Stepka's Como Gardens, Western and Como Ave., St. Paul. Site of AKA's "Apache Dance" on May 24, 1935.
---
Sterling Club, 315 North Dale Street at Rondo, St. Paul. Founded in 1918, incorporated in 1919 as a private club for Black professional me to meet and network when they were not allowed in white facilities. Site of dances in 1937. In 1958 it built a new home at 300 North St. Albans at Carroll. Photo below taken in 1926 - Minnesota Historical Society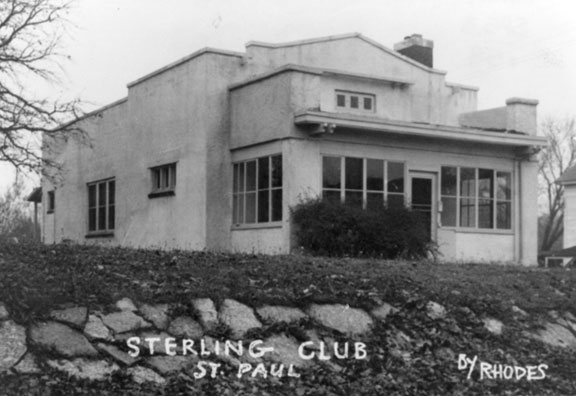 ---
Steverino's Hitching Post: The Little Sandy Review reported on a series of shows by Grandpa Jones and his wife Ramona at this "juke-joint dance hall." Circa August 1961.
The Stockholm Cafe was at the corner of 3rd Ave. So. and 3rd Street in Minneapolis in 1967. That March they featured the Phil Rito Trio.
---
Stub and Herb's, at 227 SE Oak Street in Stadium Village, opened in 1939 and had entertainment in 1943.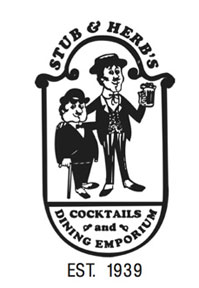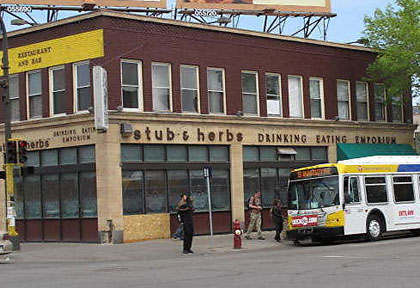 ---
Stumble Inn, Bridges Nite Club - Rice Street and County Road F, St. Paul. There was an ad for a "Cameo Midnite to Dawn Cabaret Dance" here in the Minneapolis Spokesman for May 29, 1938. "Good Food! Good Music!" The 1939 event said that music would be provided by the Stumble Inn Swing Band, but that due to new Ramsey County closing laws, the party will not last til dawn as they had since 1930.
The Sunset Club was a night spot on Sixth Ave. No. in the 1920s.
Surfside Supper Club, Restaurant, Lounge & Entertainment Center - Cook's Bay, Lake Minnetonka, Mound. In 1973 folk group Easy Pickin's performed on the Main Deck, and entertainers on the Top Side included Coal Duck, Brave New World, and Sinaloa. (or is that a bad spelling of Shangoya?) In January 1974 Dale Thomton brought his own "vocal and 12 string guitar stylings to country-folk-rock as well as tunes from the '50s and proved to be quite a balladeer with an original song."
The Superior Inn was on Superior Blvd. near Wayzata in 1927. Superior Blvd. became Wayzata Blvd. in the 1930s. The Inn was "the rendezvous for a gay set of men and women;" perhaps a little too gay, as Sheriff Earle Brown and his goons saw fit to raid the place on June 25 of that year. Earl Thompson was the proprietor. See more in Events.
Sutton Place was at 114 N. 5th Street in 1966. It was "an alleged hangout for homosexuals," and the city attorney's office was asked by the City Council Licenses Committee to furnish guidelines to the police as to what constitutes unlawful public behavior by homosexuals. "Eugene Wilson, head of the Police Morals Squad, said men had been observed in the bar dancing together, holding and and kissing, but that no arrests had been made for indecent behavior. He said it is difficult to determine how flagrant such conduct need be to justify an arrest." Assistant City Attorney Dabe Shama said "it probably isn't indecent for men to dance together, but if he were a judge he would most certainly consider it indecent if they held hands, kissed 'or made suggestive movements.'" Two other bars known to attract homosexuals have also been under surveillance but that no violations have been observed.. One alderman stated "I don't know either where to draw the line between morality and immorality. None of these places are houses of worship." Wilson said that "although homosexual acts are illegal even in private ... 'We couldn't care less what one's sexual philosophy is.' Wilson said his squad makes about three or four arrests of homosexuals a month, mostly men dressed in women's clothes in violation of a state law against concealing identity." The club closed in 1977.
Swede's was on Lake Street had featured the Weflen Quartet for a couple of years but suddenly closed before 1964.

Sweet Georgia Brown's: See Herbs, above.
---
SWING CITY

Swing City, 1682 Rice Street in St. Paul featured Rook Ganz. Bob Patrin has done a great deal of research on this place; these are notes from conversations with Bob. Swing City goes back to about 1928, owned by a man named Quarterman. It started as a garage, then branched out to sodas, then to the City Limits Tavern, probably in 1933 at the end of Prohibition and then to Swing City. The photo below from the Minnesota Historical Society may be Swing City's house band in 1930.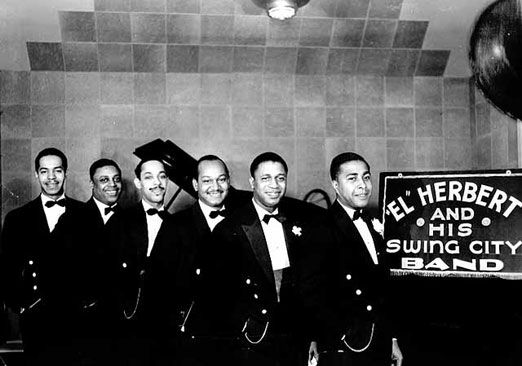 Quarterman lost his liquor license, just at the same time that Patrin's uncle, Frank Fietek, was discharged from the Army in 1945. He had lied about his age to get in, and was found to be too old. He received a certificate to start a business, and he took it to City Hall with the intent to own a tavern. He was given Quarterman's license and took over Swing City, renaming it Frank and Marie's Tavern, after himself and his sister. Quarterman had been given only three days to vacate, and evidence found in the garage indicated that it had been used as a brothel. Years later they discovered a "14 Board," the most popular gambling game in the Twin Cities. Bob says that one band that played at Frank and Marie's was Bob Smith and His Hawaiian Steel Band.
Frank Fietek in front of his tavern. Photo courtesy Bob Patrin via StarTribune
The mobsters (allegedly Kid Cann) were ticked off. Although they were hanging out at Happy Hollow (see above) across Rice Street, they wanted control of Swing City as well, and were incensed when Frank turned down $2,000 in cash that his bagmen had offered him for the place. They offered "insurance," but Frank declined. The bagmen tried to get to Frank through Marie by giving her an expensive alligator bag, but Frank still said no. Frank - whether on purpose or unwittingly - even riled the mob when his ad in a Hudson's map was bigger than that of the mob-run McCarthy's in St. Louis Park. One night at closing the bagmen kidnapped Frank, took him out to County Road D, broke both his legs, and left him on the road to be run over. Fortunately the speed limit was only 35, carefully watched because of wartime restrictions, and he was found by the Sheriff and taken to the hospital. But he could never walk again, and was taken to his brother Harry's house at 120 Carroll Ave.
The tavern was immediately renamed the Lakeview - Frank didn't want Marie to be in peril. But in November 1945 the basement was torched, causing $2,500 in damage. Frank closed it for good but still wouldn't sell. Finally, in March 1946, the bagmen went to where Frank was staying, dragged him to the basement, stood him on a woodpile, put a wire around his neck, and kicked the wood away, virtually lynching him. But the coroner never came, no autopsy was done, and it was deemed a suicide. Two weeks after Frank was murdered the bar was miraculously reopened - as Swing City.
That's the way Bob tells it, anyway. He has other details that have to do with the murder of journalist Arthur Kasherman, and somehow Kid Cann blamed Frank Fietek for Kasherman's expose of corruption in Minneapolis politics, but I didn't quite understand that. More details can be found in James Eli Shiffer's article in the StarTribune.
---
The Swingin' Door Saloon at 26th and Nicollet advertised the Voodoo Men with dancing nightly in February 1963.
The Swiss Chalet at 5201 Excelsior Blvd, in the Miracle Mile Shopping Center in St. Louis Park had live music 1972-74.
Taffy's: Sixth Street just off Hennepin Ave.
Tafi's - See Andy's above.
Take Five Lounge, 369 Cedar Street, Skyway Building, St. Paul. Jazz venue, 1973.

The Taste Show Lounge - See Andy's above.

The Tea Room, 315 First Ave. No., Minneapolis. A 1974 Insider described it as a "Midnight to 4 am" disco that adjoins the Locker Room, a 24 hour place with steam bath, sauna, whirlpool, and private rooms.
---
THE TEMPO

Tempo (Bar and) Restaurant: 2027 E. Franklin Ave., Minneapolis, 1950s-70s. West Bank bar, dance club. Tom Anderson owned it in the '50s. Would have loved to see the Congo Room! Fraser and Nevers were the musical duo that played there for years. There was always a dog sitting in the doorway at the Tempo, simply referred to as ''The Tempo Dog." 1963: Organ and piano bar. 1969: Judy Richmond and her Trio; also Carla Elliott Trio featuring Judy Perkins. Started featuring rock on August 30, 1973. Muddy Waters performed here, the first time not at a so-called "black club." Became Montanitas in the 1980s, now the Blue Nile. Photo posted to Old Minneapolis Facebook page by Ken Ring. Ashtray from the collection of Mark Youngblood. West Bank Trackers poster probably 1974 according to days of the week - Posted on Facebook by Paul Pash.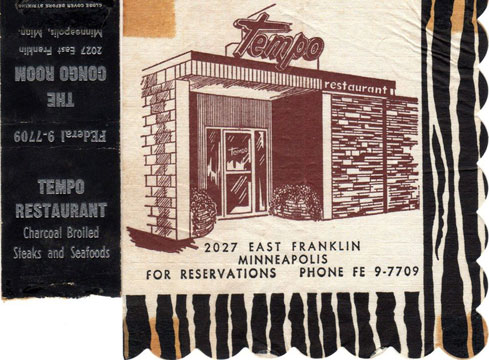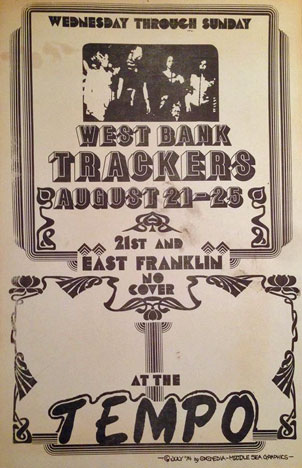 ---
Ten O' Clock Scholar - See the Scholar.
Terp Ballroom was built by developer Carl J. Fox in 1938 in Austin, Minn. Fox also built the Surf Ballroom in Iowa and the Prom in St. Paul.
Terrace Cafe: See Lowry Hotel
Than's, St. Paul - jazz venue
305 Club featured jazz during at least 1961-64.
Thumper's - See Schlief's Little City
---
The Thunderbird Motel at 2201 E. 78th St. in Bloomington was a popular place on the Bloomington strip, owned by Rod Wallace. In 1967 a band was the Tribesmen. The whole thing was pretty much politically incorrect. 1969: Buddy Davis Trio. In 1973 Fridays were designated as singles' nights. Be sure to visit James Lileks' hysterical tour of the place as it still was as of 2000 - alas it is gone now. Quite a wonderland of Just Wrong.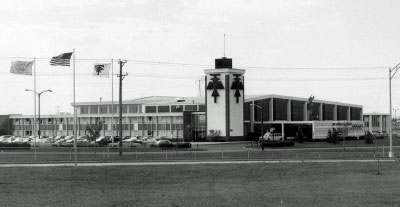 1967 Photo copyright Bloomington Historical Society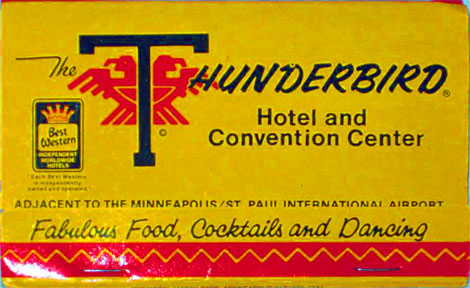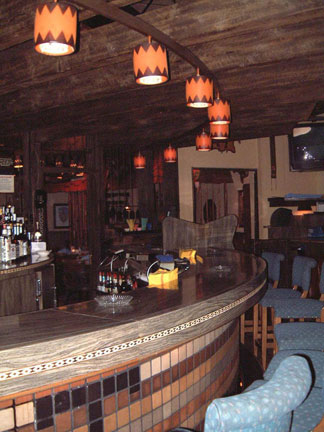 ---
The Times

Times Square: See Diamond Lil's.

The Tom Tom Room was listed in an Insider directory in 1971 at 955 Seminary in St. Paul. In 1969 it was a regular showcase of the Mystics, six of seven members of which lived in St. Paul.
The Tom Tom Lounge was at the Minnehaha Lanes Bowling Alley, 528 So. Concord, in St. Paul. 1969-74. Are these the same?

Tony's, 1001 Central Ave. NE. Polka by a group by the Red Ravens, reported Will Jones in May 1963, with much dancing. Proprietor was Tony Ferraro.
Top of the Hilton: See Hilton Hotel, St. Paul
The Torch Club, Lake and Lyndale, 1954. "Over 21 and Like to Dance? Orchestra music 9-1 nightly." In 1963 the Aztecs played music to accompany the Lindy, the Bunny Hop, the Twist, and the Limbo.
Tower Ballroom, 1904 Fifth Ave. So., Austin, Minn. 1971-74

---
1229 S. FIFTH STREET: TOWN HALL, PEGGY'S, BIG DADDY'S, BIG AL'S
A snippet of an article from the Minneapolis Tribune (no date, no byline) tells us that this building, just feet from the Milwaukee Road the railroad tracks, was originally a "hotel and restaurant catering mostly to railroad men."
The Town Hall Cafe opened at this address in the summer of 1937. Entertainers in August 1937: Arthur Bell (Twin Cities), and Iola (New York). In October 1937 the new manager was Hobart T. Mitchell. In November 1937 it was redecorated in white and maroon with red tapestry and oil paintings.
Peggy's Bar-B-Q - "For Food That Is Out of This World." In 1948 the proprietor was Neil Berman. The undated Tribune article said that Peggy's had "a cigarette machine that dispensed booze by the pint instead of tobacco."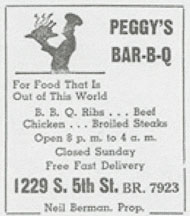 Again quoting the Trib, "For a year or so, in the late '50s, it was a fag joint."
At some point in about 1956-'57 it was Big Daddy's jazz venue.
In 1961 it became Big Al's, with jazz groups upstairs and downstairs in 1964. That year they also instituted "Blue Monday" jam sessions during the day on Mondays. In 1967 it was owned by Lloyd Beck and Dave Rooney, who performed with his trio. The 1967 ads say "Where it's Always Swingin.'" The building was decorated with cartoons. The article noted that the "smoky, second-floor piano lounge" was the haven of "married men with their girlfriends and no one said anything. It was a joint where black and white people mixed on the stage as well as at the little white tables and there were never any fights or problems. The police never had to hang around. There would be a hooker there every now and the, but she would usually be there with her pimp and they were there to enjoy the jazz, not to hustle. It was the kind of a place that tourists would have liked, but they didn't know about it because it was off the avenue."
It was demolished to make way for 35W.
---
The Town House, Rogers, was open to teens on Fridays in 1967.
---
The Town House Restaurant, 1415 University Ave., St. Paul. This building was built in 1924 and is still there! Chat on Facebook reveals that Russian-born architect Werner Wittkamp remodeled the building in the 1940s. The photos below, from the St. Paul Pioneer Press, are from 1952.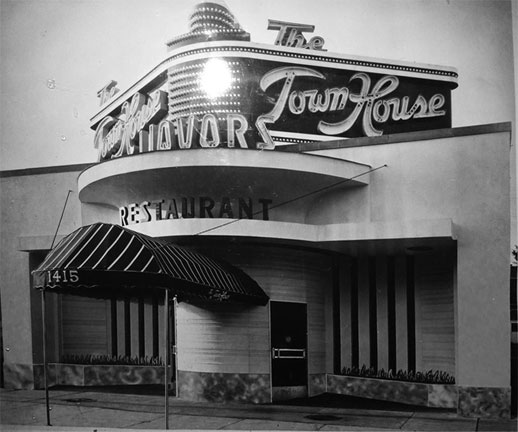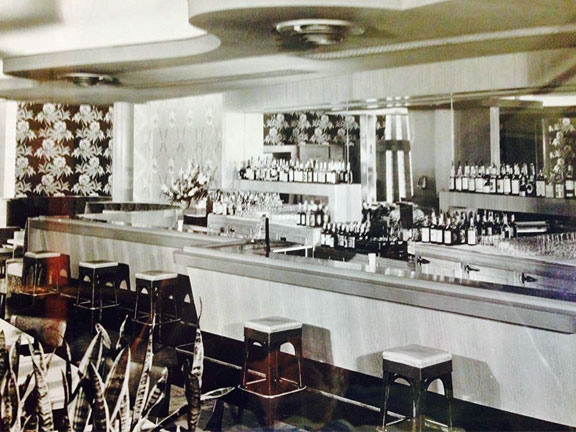 At one time it was owned by Pat and Veronica McLean and managed by son Bob. Emmet Jewel bought it in 1968. Holly Monnett managed it for many years and bought it in 1987. It has been a gay bar for years.
---
Trade Winds, St. Paul. "New Trade Winds" in 1963, with dancing. Now the Turf Club.
The Treasure Inn, 1691 Rice Street, St. Paul. See Happy Hollow, above.
---

The Triangle Bar was at 1822 Riverside on the West Bank, at the confluence of Riverside, 19th Ave. So., and 4th Street So. It's said to be the oldest bar in Minneapolis, dating back to 1887, although Hennepin County dates the building to 1901. See a comprehensive history here. In 1941 Frank Ojilie was the proprietor and "swamper." It began hosting live music in 1964, with Spider John Koerner the first paid musician. Koerner, Ray, and Glover were frequent performers. In mid-1971 it got a license to host groups. It became the Ole Piper Inn in 1976, and closed down in about 1990. The building is now listed as residential.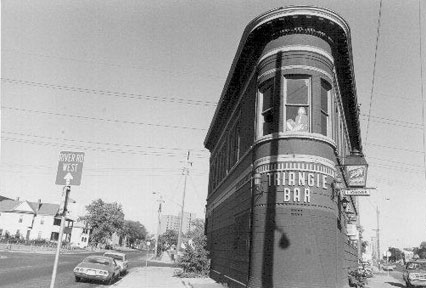 Courtesy of Hennepin County Library, Minneapolis Collection
---
The Trocadero Stage Bar was at 375 Wabasha near 5th, St. Paul in 1944. That April "Jeanne Williams, Celebrated Vocalist and Musician, entertaing you Afternnons, Jack Wedell and His 'Sweet Swing Sway' Quartet Afternoons and Evenings."
Turf Club, University Ave. - See Kirch and Gillis
Turf Night Club, 6th Ave. No. and City Limits, Minneapolis, January 1943. Dine and Dance - Continuous Entertainment - 3 Floor Shows Nightly - Orchestra - Special $1 Full Course Dinner.
Turtle Club was an after hours private bottle club located between Kent and Dale on the south side of the street (St. Paul).
26 Club on Lake Street featured jazz from the Korta Quartet but lost its cabaret license, forcing it to stop live music at 11 pm.
Twin Light Tavern: 13 Leech at West 7th Street in St. Paul. Augie Garcia had an extended engagement here in the summer of 1963.
The Twins Motor Hotel was at Prior and University in St. Paul. In August 1969 they advertised an adult swinging singles... something. There were musical notes in the ad but the rest was up to you.
Uncle Sam's: see Depot

Union Hall, 2191 Ford Parkway in St. Paul. a/k/a Ford Parkway Hall.

---
Uptown Ballroom, Minneapolis. Photo below from 1932 is from the Minnesota Historical Society.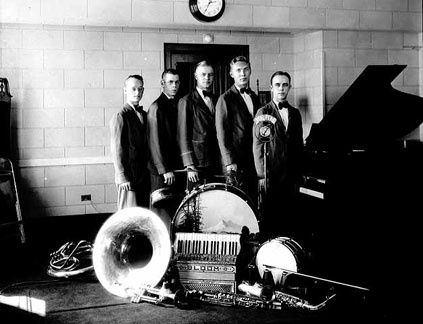 ---
Uptown Bar and Cafe, 3018 Hennepin. This establishment originated in the 1920s. Frank Toonen owned it from the 1950s and it was primarily a blues venue. It became a rock venue in 1974. Toonen sold it to Ray Colihan and Jim Loosen in 1984; Colihan died in 1986. It was sold back to Toonen's son Kenny 1992, and he ended live music in 1996. The bar closed in November 2009.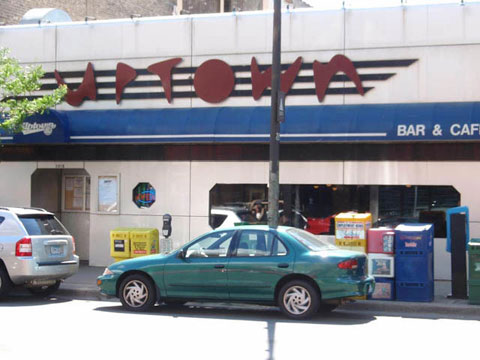 Photo by Barb Economon
---
Valley Auditorium, Chaska - 1933.
Valli Pizza's Grotto Room in Dinkytown was a folk destination in 1962. Jerry Hatfield says that for many years The Bob Andre Trio for Jazz were regular performers.

Vanity Fair: See Boulevards of Paris.
Variety Bar
---
Venetian Gardens sounded elegant, but was probably just the back yard of an obscure roadhouse in 1935. It would later become St. Louis Park's landmark Brookside Drug.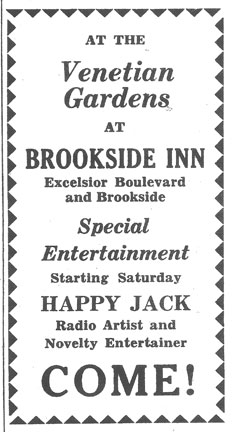 ---
Venetian Inn, 2814 Rice Street, Little Canada. Started by the Vitale family in their home. Grandson Joseph Vitale said "They cleared out the living room and put a couple of tables in and used their own silverware." It had been around for 73 years, which calculates to 1928 "Always great shows in our Lounge! Dancing in the Cocktail Lounge." It closed on December 31, 2001, as Little Canada wanted to redevelop the area.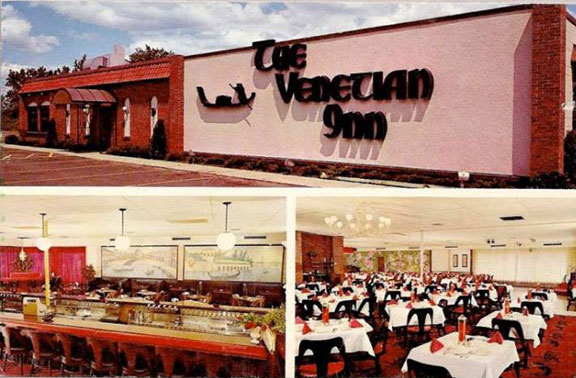 ---

Vic's Cocktail Lounge: See the Foreman & Clark Building.

Video Ballroom, Montevideo, Minnesota
Viking Bar: West Bank home of Willie Murphy and the Bees, it started featuring live music in the mid-1960s. Owned by Mike Nelson. Closed in August 2006.

Viking Dance Hall: 720 So. 4th Street, Minneapolis - 1955. This was listed merely as the Labor Hall in December 1941.
Viking Motor Hotel: Highway 55 in Golden Valley. In the summer of 1963 the Seven Seas Room had a "king sized dance floor" and featured Irv Williams with vocalist Ron Washington.

---

Vincent VanGogh Go? Really? 211 So. 6th Street, Downtown Minneapolis, 1965-66. Photo below is a shot of Danny's Reasons. At right is Ira "Smitty" Smith checking IDs. Photos from Minneapolis Tribune, October 17, 1965.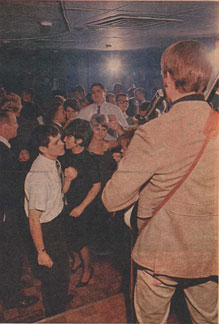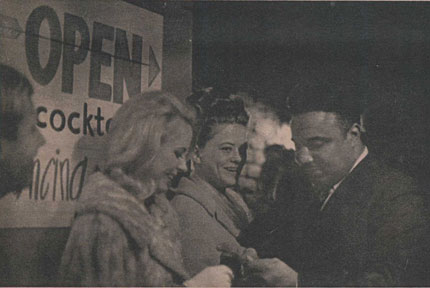 ---
Vine Hill Cafe: 1-1/2 miles east of Excelsior on Excelsior Blvd., 1920s. Became Bill's Inn in 1926; see above.
Vine Hill Tavern: 2 miles east of Excelsior on Highway 7, 1935. Same place? (Highway 7 was built approximately along Excelsior Blvd. in that area in about 1934.) 1935.
---
Wagon Wheel: One each in Minneapolis and St. Paul, not related.
The Waikiki Room - See Nicollet Hotel.
The Waiters' and Porters' Club was at 309-311 Hennepin Ave. in 1917. Bet they had some swingin' stuff there.
Wakota Arena, South St. Paul. In 1964 WDGY's Bill Diehl hosted shows there. It was the venue for a 1967 dance featuring nominees of the first annual Connie Awards. A 1967 list said it it was only open to teens on Fridays.

Watson Hall : See Kistler Building.

---
The Way was a community center on the North Side of Minneapolis created in response to the first riots in August of 1966. (The second wave of riots occurred in July 1967 - click here for info). A book called Minneapolis Negro Profile edited and published in 1970 by Walter R. Scott, Sr., included these photos that show that it was a live music venue as well. The band below is called the Cassanovas. Caption for the dancers reads: "Dance time at the Way Center and the young 'brothers' and 'sisters' do the Soulful Strut and get themselves together!"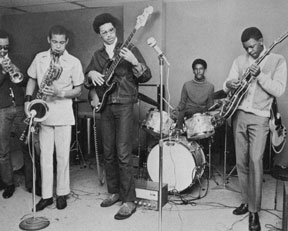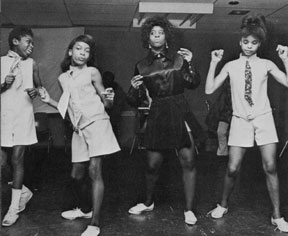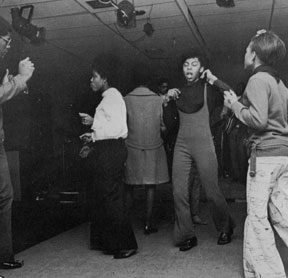 ---
Matt Weber's: See Miller's Club
---
West Twins, 930 So. Robert St., St. Paul. Ad below from 1958.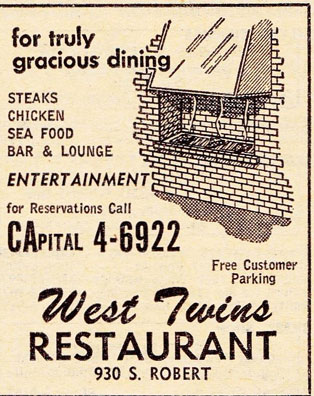 ---
The Westerner - hey, maybe it had a cowboy band! 2925 Hennepin Ave., Minneapolis. Here's Mark Youngblood's ashtray: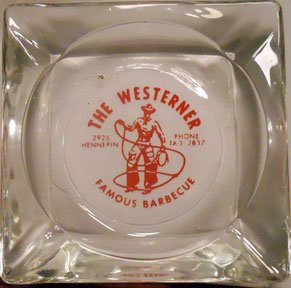 ---
The Whirlpool Bar? Probably not, but as long as Mark Youngblood has a cool ashtray: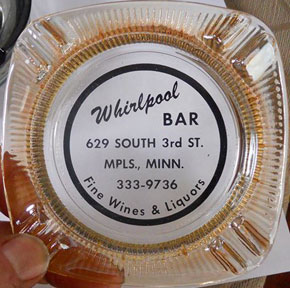 ---

Whisky a Go Go was an over 21 spot located at 435 St. Peter in St. Paul, 1965-66. A 1965 article showed go-go girl Mickey McCann dancing in a glass cage while taking requests for rock 'n' roll records from patrons who call from phones around the bar.

---
WHITE HOUSE

4900 Olson Memorial Highway, Golden Valley. Opened in the late 1940s or early '50s. On October 13, 1952, the Pete Cavanaugh Trio with Rona Rae opened for a two-week stay. In February 1956 there was entertainment in the Bamboo Cocktail Lounge at the rear of the club and in the main dining room, serving Cantonese Style Chinese or American food.
In 1959 the Minneapolis Spokesman reported that management refused to seat three black patrons, who sued and received damages. This incident may have led to the change of ownership and a complete turnaround in policy.
IRV SCHECTMAN
In 1960 the club was purchased by businessman Irv Schectman. From Schectman's obituary in the StarTribune, September 29, 2003:
Businessman Irv Schectman built the White House restaurant and nightclub into a success by being among the first to bring national jazz acts to the Twin Cities, and by emphasizing creamy Northern Italian cuisine. Schectman owned the Golden Valley club from 1960 to 1983.

Schectman's early business was rugs, first as a partner in Minnetonka Rug Mills, which made cotton throw rugs, and then with the Chenille Rug Co., which made room-sized rugs woven on looms. The factory could only make so many rugs a year, and Schectman, who traveled the country selling them, often sold out the factory's production in nine or 10 months so he could spend most of the summer at home, where he loved to golf.

After cheaper tufted rugs made in the South made it unwise to stick with Chenille, Schectman bought the White House in 1960. To its existing Chinese menu he added familiar tomato-based Italian dishes.

In 1966, he and broadcaster Herb Schoenbaum devised "A Festival of the Elegant Arts," said Leigh Kamman, a jazz broadcaster for Minnesota Public Radio. The restaurant's Bamboo Room started booking nationally known jazz acts such as Charlie Byrd and Roland Kirk for 10-day engagements. Schechtman bought radio spots to advertise his nightclub music, and Kamman and Schoenbaum programmed it onto the air waves "and kept the flame alive," Kamman said. Through Schoenbaum's connections in South America, Schectman also booked emerging Brazilian acts such as Manfredo Fest and Sergio Mendes, Kamman said.

The music ended in 1969. Within a year, Schectman started La Societa dell' Elegante Pranzare Italiano, translated as the Society for Elegant Italian Dining, to keep enticing what one reviewer called the cigar-and-mink crowd. A new menu of tomatoless Northern Italian cuisine ran each Monday night for a month: five to six courses and two or three wines. Until 1973, the price stayed under $10.

"In the 11 years I continued the society, I never -- and I emphasize never -- repeated a single course," Schectman said when he sold the restaurant in 1983. He retired and moved to California. The restaurant reverted to Chinese cuisine, closed within a few years and was torn down in 1991.
Irv's son Paul was kind enough to add this information about his father:
My father was an upstanding member of the Minneapolis community and had two major business enterprises during his lifetime. His initial business was in the carpet manufacturing industry. He and his partners shut down their carpet manufacturing mill based in Minnesota in the lat 50s. My father did not want to move our family down to Dalton, Georgia where the manufacturing needed to be done in order to be viable. My father and mother refused to raise our family in the racist south. For that I am most grateful.

My dad was a dynamic entrepreneur, and provided many opportunities to a broad spectrum of people that work for him in the community.

He turned the White House (a dump of a restaurant at the time of purchase) into one of the top three gourmet restaurants in Minneapolis. ( Including Harry's and Charlie's ) The restaurant earned a 4 Star Mobil rating but my father refused, saying that it only deserved 3 stars.

He created and expanded the jazz club into a very progressive club. Cal Tjader, Sergio Mendez, Jose Feliciano, Charlie Byrd…. all performed there many times. Many of these performers would spend time at our home, giving me a rich and diverse cultural exposure to music and hip creative people. I was so lucky to have this exposure as a kid.

My father arranged for Helicopters to fly patrons from the large back parking lot to numerous Vikings games. Buses were regularly scheduled to Minnesota Gopher games. During the 60s my father arranged numerous junkets for patrons and friends to Las Vegas, Hawaii, and Mexico.

Professional Ice Capades quality shows performed outside in the rose gardens for several years during the sweltering summers. The performers had to skate quickly!

My father sold The White House and retired to Rancho Mirage with my elegant mother Jacqueline Schectman. Sadly she past away from lung cancer at age 60 in 1989.

The restaurant is no longer there. It is now an office building.
A lot going on in 1963:
The "Career Girl Dinner" came with a choice of 3 entrees and an after-dinner cocktail, all for $1.95!
Will Jones reported that Irv bought 100 portable charcoal grills for the customers to uses at their tables in the outdoor gardens. "On Saturday nights, waitresses will bring the menu to the table in the raw: a tray of assorted steaks and ground concoctions, already marinated and seasoned. Diners will select their dinners and cook them themselves. It's a one-price deal $3.50 for the complete dinner. If a lazy soul asks to have his meat cooked inside by a chef, that can be done, too, but the price goes up to $4.50." Wonder how that went over.
Geordie Hormel's new quartet, Dick Burgess Trio with vocalists Rosalee Brown & Dave Brown, and Monette Malvar, former lead in the Flower Drum Song. Four shows nightly.
The Front Lounge had a gaslight decor with entertainment
The main dining room surrounded a tropical garden and featured Polynesian food.
The cocktail lounge downstairs at the White House was a members-only key club called the Apartment in 1963-65, with "small instrumental combos or female vocalists in low cut gowns" [who don't] "conflict with intimate cocktail conversations." In 1964 the Apartment also featured a bikini fashion show.
1964: "Don't miss tonight's cocktail party - you'll be pleasantly shocked!" The waitresses were called Bambi Girls; in 1965 they were described as "shapely girls in split skirts." The place was generally a jazz venue, although Augie Garcia reportedly performed solo here in 1969, early '70s.
June 1969: Ozel Turkbos. Also The Americana '69 for dancing.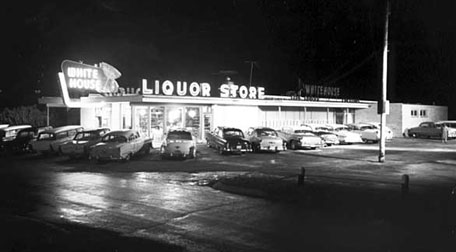 White House photos above from Minnesota Historical Society. Exterior shot taken 1956, interior 1951.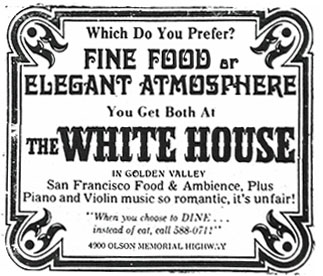 1971, St. Louis Park Sun
---

The Whole Coffee House was in Room 205, Coffman Memorial Union at the U of M. Photo of Coffman below from the Minnesota Historical Society is from 1960. Whole ad is from 1971.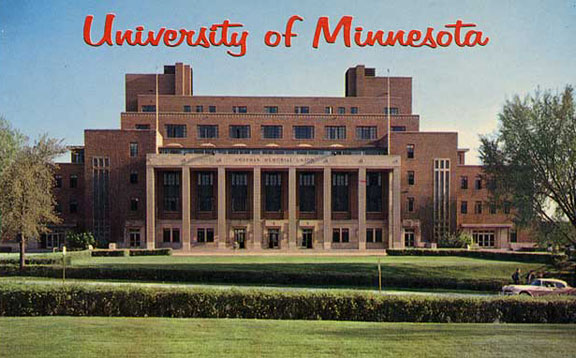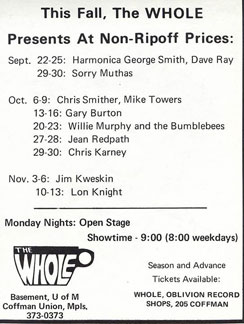 Above is a scene from outside Coffman, 1941: Tom Morgan on Sax, Ira Pettiford on trumpet, Dale Olinger, trumpet, Oscar Pettiford on bass, drummer unknown.
---
Don't know if the Wig and Bottle had music, but it has a cute name! Here's an ashtray from the collection of Mark Youngblood.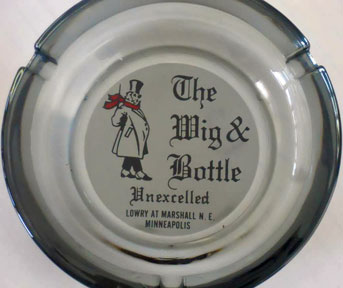 ---
The Wigwam was at 383 Wabasha in St. Paul. In February 1944 it was advertising as the Newest Stage Bar in the Twin Cities. Entertainment 2 o'clock to closing.
Williams' Bar, 603 Hennepin: Dixieland venue. Had been a bakery and was converted to a bar in 1953. Harry Blons had a band there for some years, but the club burned in 1958. It reopened at 9th and Hennepin but no longer featured jazz (as of 1964).
Williams Pub: Owned by Bill Warner
Williams Pub and Peanut Bar, 2911 Hennepin Ave., Uptown Minneapolis
Winter Garden Ballroom: 26 So. Sixth Street.
Wolves' Den: Around 77th Ave. No. and Highway 169 in Brooklyn Park, 1973-76. Hangout of the kids going to Hennepin Technical Center.
---
Wonder Vue Cafe, 1007 Sixth Ave. No. History of this site:
Fresno Cafe, 1937, owned by Joe and Emma Taylor (don't know if they had music)
Wonder Vue, advertised as under new management in December 1940, Leon Burnette, proprietor. First Class Entertainment.
Hub Cafe, January 1942. New Management, April 1942, with good music, entertainment.
---
Woodman's Hall, 711 W. Broadway, hosted "Old Tyme" dances every Saturday and Sunday night in late 1944. "Be Assured of a Good Time - Good Music and a Friendly Crowd."
W.R. Frank's Inferno was at 517 Excelsior Blvd. in Hopkins in 1973.
Yellow Piano - 4th Street and 14th Ave. SE in Dinkytown above the Campus Cobbler - folk venue

YES Club in White Bear Lake (teen club)
---
The YMCA (which city?) was apparently a hotbed of exciting entertainment for the boys in 1917. But watch your mouth: "Clean Speech, Clean Living." Photo courtesy Minnesota Historical Society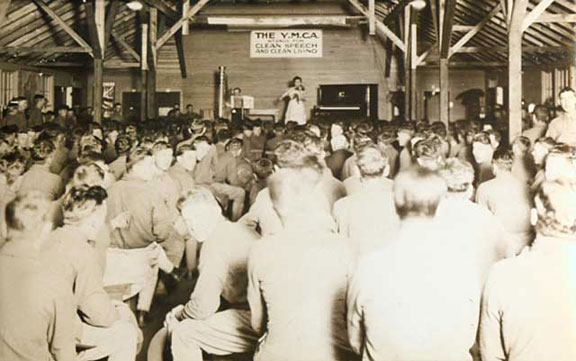 ---
Zachariah's: See Black Sheep Club.
The Zephyr, St. Paul - jazz venue - see Miller's Coaches

Return to Twin Cities Music Highlights