DRIVE-INS

Talk about teen culture wouldn't be complete without the drive-in restaurants that were everywhere in the Cities in the '50s and '60s. This page concerns those in and around St. Louis Park. A great web site of Minneapolis drive-ins is http://rhs1962.com/drive-ins.htm If you have any additions or corrections, please contact me!


ST. LOUIS PARK

On Excelsior Blvd. there have been drive-ins going back to the 1920s. During the early 1950s, more were added in proximity to the High School, which was in the Central building on Highway 7 and Wooddale.
The State's first Dairy Queen was at Highway 100 and Excelsior Blvd. - 1947-66
The Dari-Wipt/Meal in a Bun (also called Carlson's Drive-In) was next to the Dairy Queen at Highway 100 and Excelsior Blvd., 1949-66
Next to the Meal in a Bun, at least in 1963, was a place called the Red Rooster. See a blurry photo of it here.
A series of drive-ins dating back to the 1920s at 4700 Excelsior Blvd.
Dairy Way/Cliff's Drive-In/Jack Reed's was at 5408 Minnetonka Blvd. - 1952-71
Dairy Mor - 3 locations
Dutch Mill Dairy Bar ("Ron"), no address given in 1950 ad in Echo. Served sundaes, malts, drum sticks, sandwiches, and pop.
The Tee Off Drive-Inn was apparently associated with Park Putt Miniature Golf, 4701 Highway 7 (at Natchez) in 1951.
S & K Drive-In - 1956
Park Drive-In - 1960
The Dari VI was at 6210 W. 36th Street, across from St. Louis Park High School (Central). It was an ice cream and BBQ beef place run by Vincent Ryan. It's not in the yellow pages, but Ryan, who lived at 6017 W. 35th Street, is listed as the owner of the Dairy VI in the residential section. There are ads for it in the Echo in September 1953, June 1954, September 1955, and June 1956. All vestiges of this place are gone. The photo below is not it, but it was something like this. Mark Lapakko tells us: "The Dari VI was moved to Isle, Minnesota (Mille Lacs Lake) where it is still in operation today. It has been expanded and remodeled several times. It is still called Dari VI." Thanks, Mark!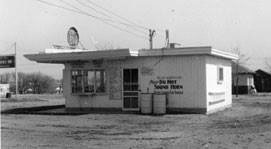 ---

THE PYLON

In 1949 North Side St. Louis Park brothers Albert and John Yngve and their friend Bill Nordstrom built the Pylon Drive-In at 6224 Wayzata Blvd. in Golden Valley. The Ynvge family grew on the south side of Wayzata Blvd. (Highway 12, now I394) on land that is now 6311 Wayzata Blvd. in St. Louis Park. When they opened for the season they did it up right, with DJ Sandy Singer coming out to do a remote broadcast, searchlights, etc. The first ad in the Echo was on May 23, 1950

One of the features of the Pylon is that it played rock 'n' roll. Al Yngve recalls that the carhops (all the staff was from SLP) would bring in their 45s, starting in about 1955 with "(We're Gonna) Rock Around the Clock," which played over and over again! The young owners were very protective of their carhops, taking them home at night themselves. By 1957 the Yngves were in into their law careers and they rented out the Pylon for a couple of years. They built a building on the site, where Al Yngve had his law practice and later a travel agency.

The ad below is from the Echo on September 16, 1952.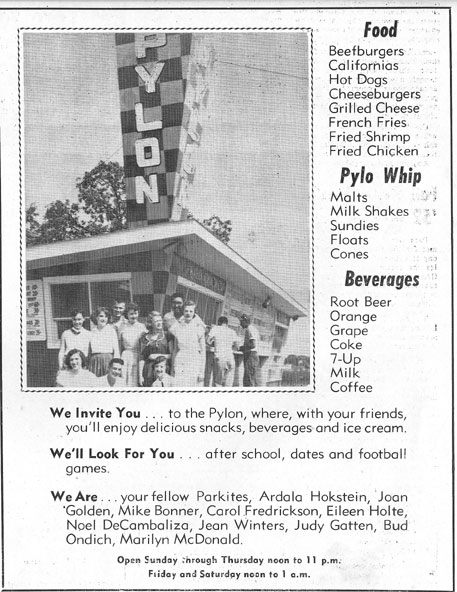 The ad below is from the Echo on September 8, 1953.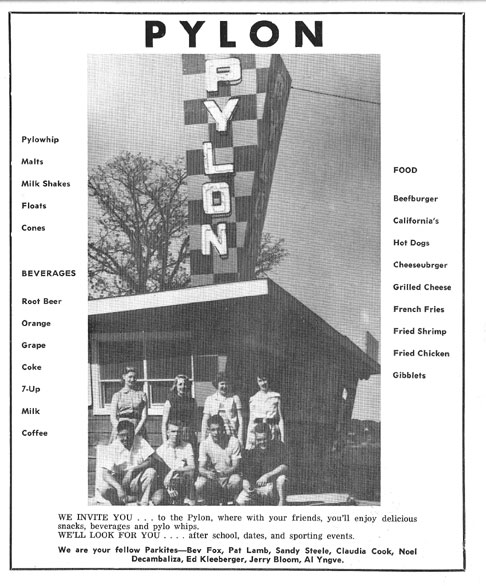 ---

THE EDINA DAIRY-MOR/BILTMORE DRIVE-IN

In 1952, there was a Dairy-Mor, presumably owned by the Rodbergs, at 5001 Vernon Ave. at Interlachen. By 1959 it was the Biltmore Drive-In, owned by Lester Ericson. The photo below is from the Edina Historical Society.


---

DRIVE-IN-POINT

Heading east on Excelsior Blvd. from St. Louis Park into Minneapolis was something called Drive-In-Point. It appears that Drive-In-Point was where the Calhoun Commons Shopping Center is now (built in 1999). This is about where Lake Street and Excelsior Blvd. diverge. Please contact me if you have any information on the drive-ins of Drive-In-Point.
---
3080 EXCELSIOR BLVD.
Perhaps the first, open the summer of 1953, was a place just called Drive-Thru, advertised in June as "nothing like it in all the suburbs," even though it was really in Minneapolis. There was an ad for it in the St. Louis Park Echo in October 1953: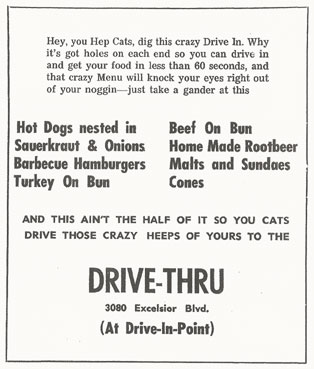 By June 1954 the site had been renamed Ted's Car-A-Teria, and featured Kosher hot dogs with Kraut, Double Decker Hamburgers, malts and root beer, with the Quickest Service Anywhere.

By July 1959, 3080 Excelsior Blvd. was a Bud's Dairy-Mor Drive-In.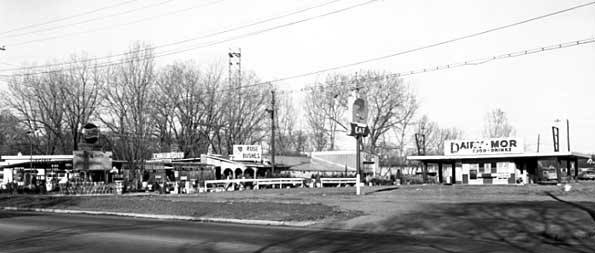 1963 photo courtesy Minnesota Historical Society
3080 Excelsior Blvd. is now part of the Calhoun Commons Shopping Center.
---
3019 W. LAKE STREET
This was the Calhoun Drive-In. Observe this very cool shirt, which was posted on Facebook by Steven Mead. According to today's map, this would have been right inside the point. An ad places this in March 1962. The building there now was built in 1966.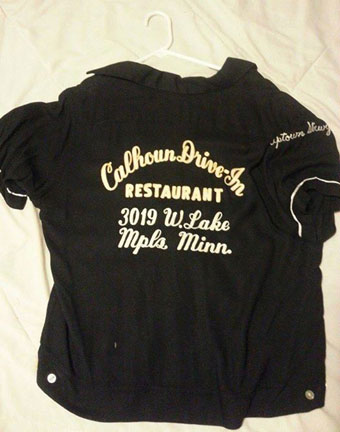 ---
3025 W. LAKE STREET

Terry's Drive-In was advertised in May 1955. In 1960-63 there was Terry's Lakemoor Drive-in at 3025 W. Lake Street. The ad says Self Service Only, plus drive in, dining room, and curb service with carhops. A quarter of a chicken was 49 cents in 1960. This is now Fire Station 22, built in 1992.

---
3118 WEST LAKE STREET

PORKY'S

The first Porky's was built in 1953 by Ray Truelson on University Avenue in St. Paul. Truelson had run a root beer stand and the Flat Top Drive-In, at 4604 East Lake Street, in South Minneapolis. The signature item on the menu was a hamburger with an onion ring plopped on top of the bun. At the height of its popularity, Porky's boasted four locations:
5751 Lyndale Ave. S
2107 East Lake Street
1890 University
3118 West Lake Street
The location at West Lake Street was just north of Lake Street from Drive-In-Point. County records showed that the building was built in 1957. A 1962 ad says that it was open all winter. A restaurant called Tryg's was built on the spot in 2005, owned by Truelson's son of the same name. Tryg remembers that Porky's operated at the spot from 1960 to 1979.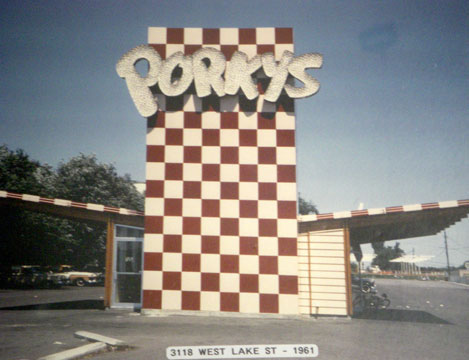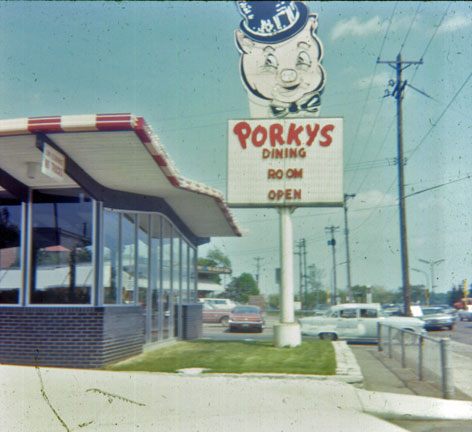 Lake Calhoun Porky's photo courtesy Susan Shallman Anderson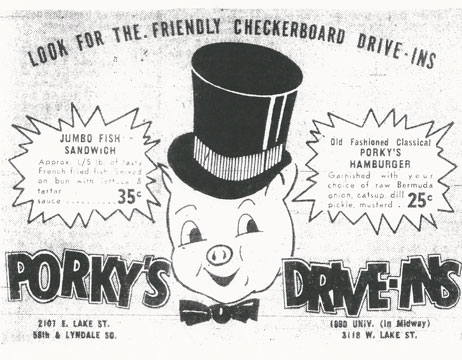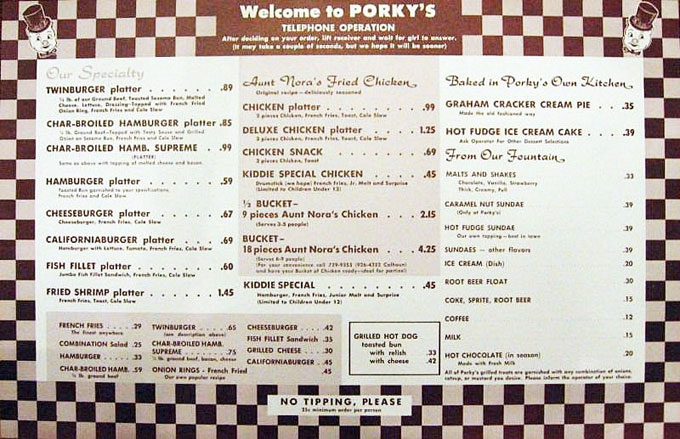 ---
PULVER'S
The Porky's site may have previously been the site of Pulver's Drive-in, which goes back to at least 1940! For that "In Between Snack" "Pulover to Pulvers. Root beer, giant hamburgers, Ice Cream." They were still there in September 1953, advertising hamburgers, French fries, and malts. It was only described as being at Excelsior Blvd. and Lake Street.
---
TREASURE FREEZE
The photo below, dated November 8, 1952, is merely described as being at Lake Street and Excelsior Blvd. by the Minnesota Historical Society. Thanks, Nancy Pearson!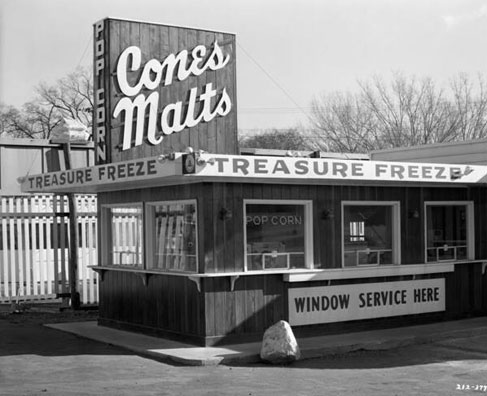 ---
HENRY'S
This ad is from 1963.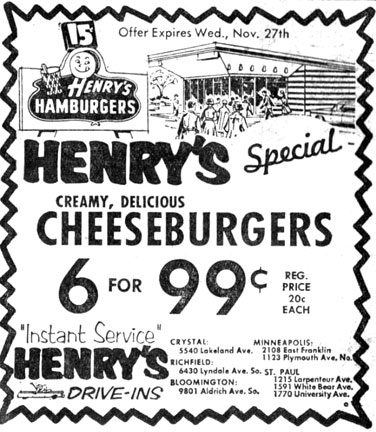 Back to Twin Cities Music Highlights