MUSIC AWARDS

This is one page of Twin Cities Music Highlights.
Music awards in Minnesota have been sponsored by a variety of organizations. The information in these pages has a lot of holes, so if you have any programs, news items, etc. that you could share to fill this in, please contact me. Thanks!
---
JACKIE AWARDS
KUXL's program director, record label owner, and concert promoter Jackie "Daddy Soul" Harris organized the Jackie Awards on August 30, 1969 to recognize the black musicians in town. The event was held at the Honeywell Union Hall, attended by 850 people. It was organized as a combination battle of the bands and awards ceremony. Bobby Lyle was voted Best Jazz Artist, and Maurice and the Champions were the Best R&B band. The folks at Secret Stash tell us that "Jackie grew up in Chicago, recording several 45s for local labels. He moved to Minneapolis in 1968, and from '68 to '70 was a DJ at KUXL. He also ran his own label, Black & Proud Records, releasing 45s by himself and Maurice McKinnies." Image below left courtesy Dale Burback. January 1969 Photo below from the Minneapolis Star courtesy Minnesota Historical Society.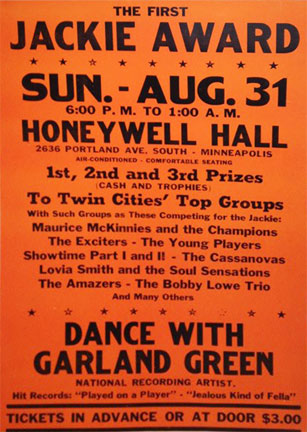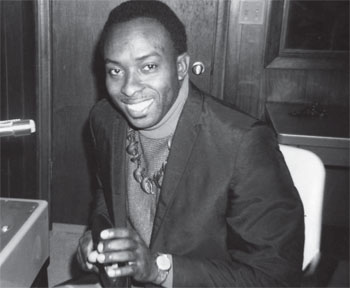 ---
MINNESOTA MUSIC AWARDS by the Minnesota Music Academy.
MINNESOTA MUSIC HALL OF FAME, based in New Ulm. It tends not to focus on rock 'n' roll acts, although it has some.
MINNESOTA ROCK/COUNTRY HALL OF FAME
---

In 1966 the National Ballroom Operators Association awarded citations to the Castaways, the Hot Half Dozen, Michael's Mystics, and the Underbeats for being outstanding, neat and danceable bands.
---
TWIN CITIES JAZZ MUSICIANS AWARDS, 1946: Stem Hall, St. Paul. Wish we had the names! Minnesota Historical Society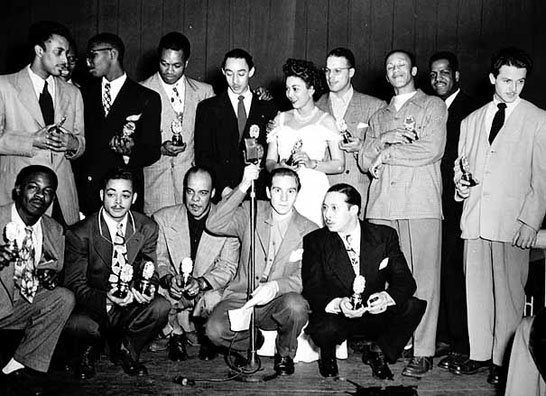 Return to Twin Cities Music Highlights