WLOL – 1330 kc
WLOL first went on the air on June 6, 1940.  Its first owners were John Devaney (Minnesota Supreme Court Justice?) and briefly Fred Osanna.  Apparently it had a wide variety of programs, including the "Uncle Elmer Show."  From 1946-1950 Leigh Kamman and Bob Smith hosted the "We Call it Jazz" Program, featuring live performances from the Treasure Inn, Calhoun Beach Hotel, and Radisson Hotel downtown.  Kamman also hosted the "Swing Club" Program. (Kamman left for New York in 1950 but came back to the station in 1956-58.)   In 1951 Ray Christenson was voted the "most popular classical and semi-classical disk jockey in the State of Minnesota."  At the time, Ray was also teaching diction to the students of Helen Stefan Model and Finishing School.  Jack Thayer started his career here, from 1942-1951.
Although it's unclear whether WLOL was playing rhythm & blues in late 1953 – mid 1955, the names of the shows are tantalizing:
Top Tunes
Tunes a Poppin'
Parade of Hits
Mr. Music
Roy's Record Shop
Record Roundup
Music Street
Swing Club:  David Hersk remembers Bob Bradley playing R&B in '54 and '55
Melody Time
Off the Record
Today's Hits
Top Ten
Hit Parade
Avenue of Hits
18 Top Hits
A playlist from August 1956 shows that it was a major early rock 'n' roll station. The "Big 5" jocks were Bob Bradley, Leigh Kamman, Don Kelly, Steve Cannon, and Jerry Cunning.   http://www.radiotapes.com/wlol.html  has airchecks from 1957 of Steve Cannon and Leigh Kamman doing what was billed as the Twin Cities first and only Double Disk Jockey Show.  The airchecks reflect a more middle-of-the-road format, but the Top 40 playlists from 1956-59 have a lot of rock 'n' roll (with a polka thrown in for good measure).  Jim Ramsburg says that in 1956 "we pulled our own music from the big record library with no rules or restrictions.  Our studios were at the transmitter at [Seventh and] Davern Street in St. Paul and engineers played both records and commercials."  Below is the top of a Top 40 from August 1956, courtesy of the Pavek Museum of Broadcasting.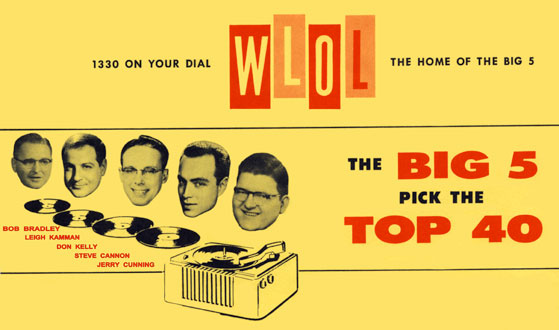 In April 1957 the station was owned by the BFR Broadcasting Corp., N.L. "Larry" Bentson, President.  Wayne "Red" Williams was Station Manager and Ray Christensen was Program Director.  Ray left in June 1957 because he was too busy with baseball and was replaced by Jim Boysen.
In July 1957 Kamman was doing the noon to 2pm show from Southdale, just off the Garden Court.  In November 1957 Jerry Cunning did Night Watch, "Twin Cities' first all-night record party – Top 40 and then some" from 11 pm to 6 am.  WLOL's Swing Club had Dan Anderson on Saturdays from noon to 6 pm., also "Top 40 and then some."
The WLOL Big 5 hosted the Royal Crown Cola Teen Roller Party at the Pastime Arena in St. Louis Park, Sundays from 2-5 pm, according to October and November 1957 music surveys.  In March 1958 WLOL hosted the Royal Crown Cola Bandstand at the Marigold Ballroom, with DJs Dan Anderson and Don Dahl, Sunday afternoons from 2 to 5pm.  Admission was 50 cents and open to teens age 16 and over.  "It's the swinginest!"  In March 1958, WLOL's catchphrases were "The Best Sound for Miles and Miles Around" and "Bigger, Better, Brighter than Ever."  That spring the station presented Saints baseball with Ray Christensen.  A September 21, 1958 playlist shows jocks Bob Bradley, Tom Wynn, Jim Boysen, Dan Anderson, and Sandy Singer.
A 1964 ad emphasized the term "UP radio."  "Feel life glisten as you listen?  Then your dial's set at 1330, just for the WLOL of it!
WLOL-AM ("We Love Our Listeners") was out of the rock 'n' roll market and became the Twin Cities' first all-talk station in December 1967.  From 1973-76 it was strictly Country.
---
WLOL-FM
WLOL-FM (99.5) ("Means Fine Music") was up and running in 1956, although with changing hours.  The music surveys we have indicate that the station was on from 5 PM to midnight from August to November 1957, noon to midnight from November 1957 to September 1958, and 6 am to midnight in September 1958.  Will Jones of the Trib noted on January 11, 1957, that the station suddenly decided to go to symphonic, opera and chamber music.  "This is getting to be kind of a bandwagon, and a worthwhile one, even if it does come as a result of the desperate try-anything state of things in today's radio business.  When such a strictly-top-40 station as WLOL decides to go in for the classics, it smacks of chaos rather than culture.  They promise 'infrequent and low-tone commercial announcements.'"  Music consultants included folks from the Minneapolis Symphony orchestra, Schmitt Music, and Leigh Kamman.
In a June 4, 1959, article in the St. Louis Park High School Echo, it was reported that the station would feature dance band music on Fridays and Saturdays.  "We're promoting a better brand of music because we believe that most teenagers are getting tired of rock 'n' roll," a spokesman said.  Eight Miracle Mile merchants sponsored the program.  "The music ranges from the swingtime of the late thirties to the jazz of today.  It features the bands of Les Brown, Glenn Miller, Woody Herman, Sammy Kaye, Tommy and Jimmy Dorsey, Ray Anthony and Xavier Cugat.  Although FM radio is not on many car radio dials, it is found on other radios and most of the new hi-fi and stereo sets.  The WLOL staff believes that FM radio provides better reception and clearer tones than the AM frequencies."
A history of the station prepared much later explained that "In 1956 the owners of WLOL AM added one of the first FM stations.  The call letters were also WLOL.  In November of 1957 WLOL brought stereophonic radio to the Twin Cities.  WLOL FM and KUOM AM cooperated to create the stereophonic sound.  A listener needed an AM radio tuned to WLOL and a "standard' radio tuned to KUOM for full stereophonic effect.  The radios had to be placed at one end of a room 6-8 feet apart and the listener had to stand about 10-15 feet away.  They used KUOM AM instead of WLOL AM because they did not want to scare away their AM Top 40 listeners by playing even only one hour of the FM's classical music.
An ad from 1962 promised HERITAGE MUSIC:
Today, FM listeners in the Upper Midwest can share in the enjoyment of the world's greatest music, HERITAGE MUSIC, programmed by a staff of music experts and selected from one of the largest music libraries in the world.
Your HERITAGE STATION in Minneapolis-St. Paul is part of a nation-wide group of broadcasters who are presenting this same outstanding programming to FM liisteners throughout the country.
Eighteen hours a day are now programmed for you – music carefully balanced to the time and mood of the day.  WLOL/FM is proud to be able to bring this fine music to your home.  Won't you join us in sharing this new musical experience?
The station advertised in a magazine called Select, which was also apparently the official source for FM program listings.
---
An ad from 1963 provides the "Code of the WLOLFM:"
Always Laughing, happy, gay
Always gracious, never ostentatious
"His passkey?  What he calls 'protective sound – against the crassness of the outer world.'"
Programs featured the Minneapolis Symphony, Victor Borge's Music Theatre, and The Art of the Spoken Word.