Boulevard Cafe, Golden Valley
There were at least a couple of establishments called the Boulevard, this one at 5530 Wayzata Blvd. in Golden Valley.
The Boulevard was owned by William J. Schindler, who had owned Bill's Place, at or near the same spot.
1945: Dancing Every Night. Iver Stanger – Al Hall. Probably an early jazz venue.
1951:  Norman Lasswell, Manager.
1963: "Ours is a humble place, but we think we have something to offer you."
1967: dancing nightly to the Richard Conrad Trio.
1969: New Tyrol Lounge.
1973: Dance to the Skylarks in the main dining room every Friday and Saturday night, and the "Carnegie Hall of Piano Bars," frequently featuring my fourth grade music teacher, Judy Moen.
The Boulevard was torn down for construction of I-394.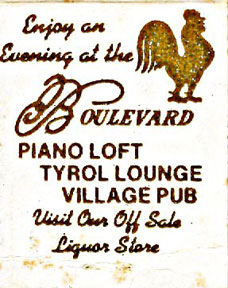 Save