This building at 2935 Nicollet Ave. at Lake Street was a lively spot for decades.  It had three sections, which I'll try to describe.  I'm still a little unsure of the spacial details, though, so please feel free to contact me with corrections.  Always in the market for good stories, too!
And now with the Strib's searchable database, there are thousands of ads and stories to sift through, so stay tuned!
Its early history can be found in the permits and inspections records at Hennepin County Library Special Collections:
In 1919 a brick and concrete garage was built at that address.
It spent some time in the early 1930s as an indoor golf course.
---
By 1933 it was converted into a dance hall.
---
FRIENDSHIP CLUB
For decades it was the Friendship Club – a dance club with over 10,000 members by 1951. It was open Thursdays, Saturdays and Sundays. It did not serve liquor, only coffee, cookies and 3.2 beer. You also had to be 28 years old or older to be admitted. It was best known for its "Get Acquainted" dances, as described by Cedric Adams in the Minneapolis Tribune, October 22, 1939:
There are two of them during the evening. The dance lasts for about 20 minute, and starts out with a march which is followed by a waltz, a circle two-step and a Paul Jones. You start out with your own partner, Bob blows a whistle. That means all dancing stops for a second or two. The couples promenade in twos, fours, or sixes and then girls step back one partner. The new partners greet each other, shake hands, make themselves acquainted, and the dancing is resumed.
The Friendship Club closed in 1961.
---
THE LOON CLUB
From about 1960 to 1964, one portion of the building was the Loon Club, which hosted teen dances with big names. Augie Garcia was one of the Loon Club's frequent performers.  In 1964 Sunday afternoon jazz sessions ended when its management got into a hassle with the musicians' union over unpaid wages and could no longer offer music.
---
MAGOO'S
The Loon Club became Magoo's Pizza Parlor in 1965.  Magoo's served 3.2 beer, so kids had to be carded to get in.
At first the music was all jazz, provided by KQRS program director Herb Schoenbohm's Trio and the Mike Elliott Trio. Soon the teen side switched to local rock bands. In 1967 it was managed by Gary Jorgensen, who announced that June that the dance floor had been expanded. Jerry Lenz of the Nickel Revolution remembered that "Magoo's was more laid back and the music wasn't as loud. They served pizza and beer and had plenty of seating for the audience." A 1967 listing showed it open to teens every night.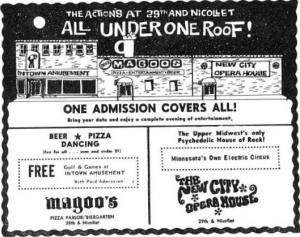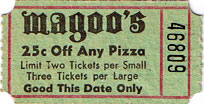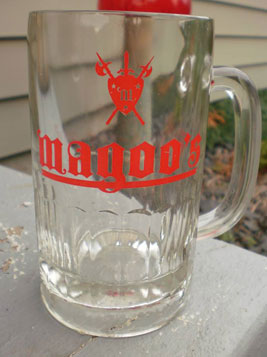 ---
Faced with the declining rock market, Magoo's closed on Fridays in mid-1970.  Later that year, the club closed for good.
---
CAFE EXTRAORDINAIRE
Its next iteration was the Cafe Extraordinaire, owned by Bobby and Doris Jackson. They opened with a Jazz Festival, bringing in such big names as the Elvin Jones Quintet, Joe Henderson, Eddie Harris and his Quartet, Kenny Burrell, and Freddy Hubbard. The people just didn't respond, so in December 1970 the format switched to soul, featuring acts such as Zulu and Showtime I and II.  On April 10, 1971, Jackson hired Buddy Miles, but Miles failed to show, so Jackson hired local drummer Perry Peeples to impersonate Miles.  The crowd caught on, the club got busted up, and that was the end of the Cafe Extraordinaire.
---
MR. LUCKY'S
In the other side of the building, Mr. Lucky's opened in December 1962 as the only local night club devoted exclusively to teenagers.
An article in the Minneapolis Tribune from March 1964 revealed that the club was owned by Rostar, Inc., and that John Stephens was a co-owner.  The article reported that the club's license was due for renewal on April 1, and there was push back by some member of the community, who accused the teens of  a myriad of offenses, including:
Spiking drinks
Cramming 1,200 bodies into a room rated for 500
Popping pep pills or "goof balls"
Harboring known narcotics users
Fighting
One particular incident cited by police was vandalism of a "nearby beauty salon, which suffered $500 damage to the interior one dance night in December when vandals broke in and threw bottles of hair rinse and shampoo on the ceiling and walls."
Stephens said that the club was supervised by three off-duty policemen, a half dozen waiters from the U of M, check room operators, and a manager.
Minneapolis Mayor Arthur Naftalin reported that he and his wife  paid a visit to the club on a recent Saturday night and found nothing improper, but that "one visit was no basis for an over-all evaluation."
"Asked what he thought would happen if Mr. Lucky's were closed, a 17-year-old commented:  "It's just going to cause more trouble, because where are the kids going to go?"
In 1965 the club was expanded, and was open on Wednesday, Friday, and Saturday nights and Sunday afternoons.  That year the owner was identified as Bob Roosen, and the manager was Bryan Lawson.
---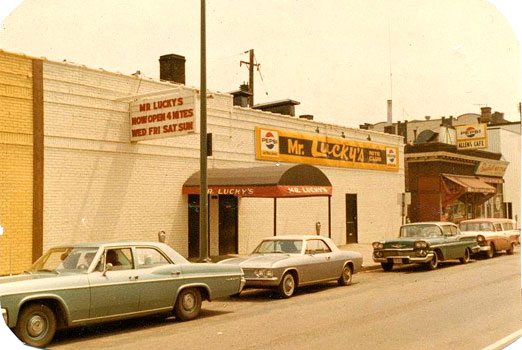 ---
NEW CITY OPERA HOUSE
Mr. Lucky's was renamed the New City Opera House by ace guitarist Zippy Caplan, who was working there between gigs, in about 1967. Zippy says the name just came to him.  At that time the manager was Gary Jorgensen.  In 1968 New City was advertised as "The Upper Midwest's only Psychedelic House of Rock!" and "Minnesota's Own Electric Circus." In 1968 it was the site of a memorable appearance by Cream, who were apparently expecting a real Opera House. Here's a look inside, New Year's Eve 1968-69, featuring Stillroven.
In January 1971 the Insider reported that manager Gary Jorgensen quit because the club was no longer profitable, so owner Bob Roosen turned the NCOH over to the Mystics to run, but that didn't work out either.
---
The building that had hosted so much local music in the '60s was torn down in 1977 for a K-Mart parking lot.
Save
Save
Save