Contrary to urban myth and confusion, the Labor Temple is NOT the current Aveda Institute.  The Labor Temple was at 117 Fourth Street SE, Minneapolis, now the Aveda parking lot.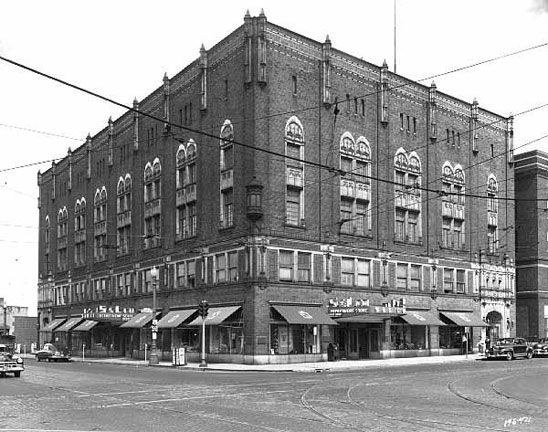 For comparison's sake, the photo above is the Masonic Temple on the corner of Central and 4th St. SE, 1950. You can just see the edge of the Labor Temple on the right. The photo below is the Masonic Temple (Aveda) from 2013.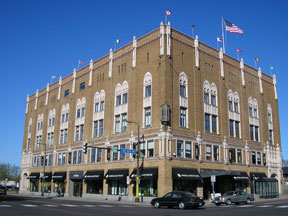 ---
THE TEMPLE IS BUILT
City records show that the building at 111-117 Fourth Street that became known as the Labor Temple received a building permit for an 88 x 166 sq. ft. lodge building in 1923, which was very close to when the Masonic Temple next door was built. In 1929 it was referred to on the permit card as an "R.C. Lodge," with club rooms, a store, and a hall. In 1930 there was an entry for an undertaker (as there was in the Masonic Building next door), and was possibly a dwelling in 1936.
---
EAGLES HALL
The large hall on the third floor was the site of many dances held by and for the black community, as advertised in the Minneapolis Spokesman.  The first we see is in 1938, when Waiters' Union No. 614 sponsored a Cabaret and Breakfast dance on May 21.  Ray Dysart's orchestra played for the first half of the dance, with Boyd Atkins' Cotton Club orchestra playing the second half.    The Cotton Club band was described in the Spokesman as "one of the top bands in this section of the country," making its "first appearance at a public dance for several months."
The first annual National Negro Jitterbug Dance Contest was held at the Eagles Ballroom on February 13 and 14, 1939.  Lloyd Hunter's 14-piece band, featuring an all girl floor show, provided the music.  "50 Contestants Will Jitter," with $100 in cash prizes.
Internationally-known dancer Jessie Scott appeared as guest star at a dance at the Eagles Hall on  April 9,1939, recently returned from a European tour.
Jimmie Lunceford's Orchestra came to the Eagles Ballroom on April 23, 1940.  Unfortunately, one of the promoters took $500 of the receipts home and hid them in a closet.  He went out, robbers went in, and the $500 went missing.  Police had two suspects.
Jimmie Lunceford returned to Eagles Hall on March 20, 1941.
Andy Kirk and His Clouds of Joy played for an Emancipation Ball at the Eagles Hall on August 4, 1941.  Kirk's vocalist was June Richmond.
Dr. W.D. Brown was elected Mayor of Bronzeville at the second annual Inaugural Ball, held on Thanksgiving night, November 20, 1941.  Check the link for the fascinating story of the Mayor of Bronzeville!
---
THE LABOR TEMPLE
On April 8, 1942, the Labor Temple Association, as appointed by the Trades and Labor Assembly of Minneapolis and Hennepin County, purchased the building from the Eagles.  The new owners continued to rent out the halls for dances.
In about 1968 there was a 25th Anniversary booklet put out calling it the "Floyd B. Olson Memorial Labor Temple." It revealed that one of the large halls was called Cramer Hall, named after Robley Cramer, "editor of the Minneapolis Labor Review and one of the most militant and fearless labor leaders that the movement ever produced." The other hall was named after Richard Wiggin, former city attorney of Minneapolis. At the time the building housed 21 Union offices and hosted 60 local union meetings each month in addition to renting the large halls.
---
Fletcher Henderson and his 14-piece Orchestra came to the Eagles Hall on July 8, 1942.  Henderson's band was the first name band the localites had an opportunity to dance to for several months, reported the Spokesman.  Apparently the name change hadn't taken hold yet.

Hubert Humphrey attended the mortgage burning ceremony in 1944.
---
1947
The Elks Antler Guard gave a big dance on February 17, 1947, with Joe Broadfoot and His Orchestra providing the music.
A dance was held on August 31, 1947, with music by Bruce Dybvig and his Orchestra and the Prince Rogers Combo.
A dance at the Labor Temple on October 31, 1947, featured Bassie Givens and a 9 piece orchestra.
The Labor Temple was the site of the Elks' Big Battle of Music on November 24, 1947, with the Percy Hughes Band battling it out with the New Prince Rogers Orchestra.
The Mayor of Bronzeville Fifth Annual Ball was held on November 27, 1947, at the Labor Temple.
---
1948
Here is a show found by Robb Henry from 1948.  Doc Evans was a Dixieland artist, and Yancey was a boogie-woogie, eight-to-the-bar piano player.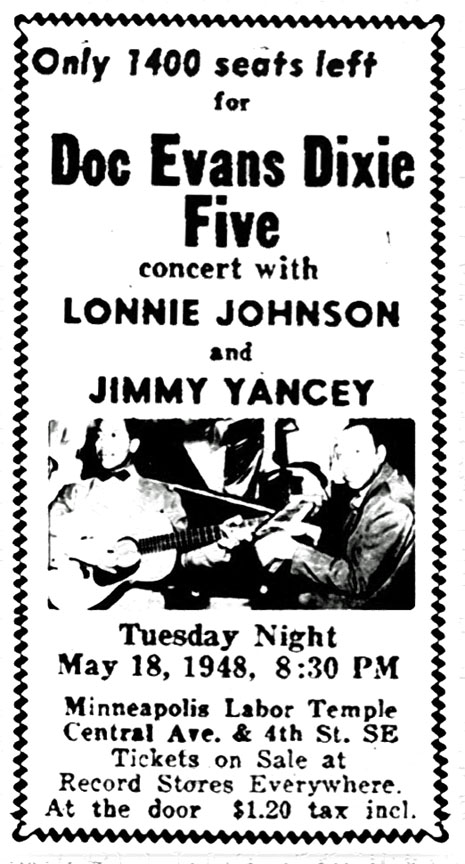 ---
The Elks held a pre-convention dance at the Labor Temple in May 1948, with music by Arty "Fritz" Watkins and His Northern Lights Orchestra.
A Thanksgiving Eve Ball at the Labor Temple on  October 24, 1948, featured Lottsa Poppa! (Nat Towles) and his orchestra.
---
1949
A pre-Fourth of July dance on July 2, 1949,  at the Labor Temple featured Nat "Lottsa Poppa" Towles and his new orchestra and entertainers.
Percy Hughes had spent the winter of 1948-49 as the house band at Snyder's Night Club in downtown Minneapolis and the summer of 1949 at Bar Harbor in northern Minnesota.  In September he returned to Minneapolis and played at the Labor Temple, again with singer/wife Judy Perkins.
---
1950
The Minneapolis Socialite Club sponsored an Easter Sunday Dance at the Labor Temple, featuring the music of Percy Hughes.
A "Pre-Mom Day Dance" at the Labor Temple was sponsored by the Friendly 16 Club on May 14, 1950.  Music by Percy Hughes and His Rhythm Boys featuring Dick Mayes.
A June 3, 1950, show featuring Nat "Lottsa Poppa!" Towles Orchestra and Revue with the Edwards Sisters and Tiny Kennedy, King of the Blues Singers, took place at the Labor Temple.
A "Battle of Swing" was swung on September 3, 1950, at the Labor Temple from 3pm to 1am.  Percy Hughes and his orchestra battled it out against Bob Bass and his orchestra.
A pre-Halloween dance was held on October 30, 1950, at the Labor Temple featuring Dinah Washington and the Calvin Bose Orchestra.
The Duke and Dutchess Club sponsored a Thanksgiving Matinee Dance at the Labor Temple on November 23, 1950, music by Percy Hughes.
---
WEBSTER AND BLACK
November 25, 1950, is the first time we see an event in the Spokesman advertised as promoted by the team of Rufus Webster and D.P. Black.  The occasion was a concert at the CIO Hall featuring Earl Bostic and his orchestra.  One clue as to how Webster was able to bring Bostic and other national names to Minneapolis comes from a 78 record made in 1945 called "They Raided the Joint" by Hot Lips Page and His Orchestra.  Both Bostic and Webster are listed on the credits.
From November 1950 to 1953, Webster and Black (and from 1953 through 1956 just Black) brought major national rhythm & blues acts to Minneapolis, almost exclusively to the Labor Temple.
Rufus O. Webster was a piano player who doubled as a local teacher.  From the comments on his Star Tribune obituary, his professional vita included:
Teacher, St. Francis, Minn., 1955
Roosevelt High School, 1960-1968; Social Studies Department Chairman, Pep Club Advisor
Assistant Principal and Principal at Nokomis Jr. High, Minneapolis
Principal, Folwell Jr. High
Webster retired from teaching in 1985.  He passed away in August 2015.  His last address was 2218 Hill Lane South, St. Louis Park.
One clue as to how Webster was able to bring Bostic and other national names to Minneapolis comes from a 78 record made in 1945 called "They Raided the Joint" by Hot Lips Page and His Orchestra.  Both Bostic and Webster are listed on the credits.
---
LABOR TEMPLE SHOWS 1951
Shows with an * were promoted by Webster and Black.
Eddie "Cleanhead" Vinson and His Orchestra, January 1, 1951    *
Illinois Jacquet and His Orchestra, January 27, 1951   *
Sonny "Long Gone" Thompson and His Orchestra, February 24, 1951   *
Lowell Fulson and His Orchestra featuring Ray Charles, March 9, 1951   *
Earl Bostic and His Orchestra featuring Dinah Washington, returning by popular demand, April 9, 1951
Cootie Williams and the Ravens, May 29, 1951.  "This is Double!  The Greatest Attraction of the Year!  This is a Sensation and You'll Enjoy It!!"
The "Biggest Battle of the Blues" was staged on July 8, 1951, featuring:   *
Wynonie Harris – Harris by that time had recorded "Good Rockin' Tonight," later covered by Elvis.
Annie Laurie
"Sticks" McGee – McGee's big hit was "Drinkin' Wine Spo-Dee-O-Dee."
Eddie Durham and His Orchestra
Roy Milton, "Mr. Blues Himself," and His Orchestra, with dynamic vocalist Lillie Greenwood and Johnny Rogers, "the wizard of the guitar," August 11, 1951
Roy Brown and His Mighty, Mighty Men, September 1, 1951   *
Eddie "Cleanhead" Vinson, September 22, 1951   *
Percy Hughes and His Orchestra performed at a special NAACP Membership Dance on September 24, 1951
Ivory Joe Hunter and His Orchestra, October 20, 1951
Tom Archer (Wynonie Harris's sax man) and George Floyd (vocalist with Fletcher Henderson), November 25, 1951
Joe Thomas and His Orchestra, December 31, 1951   *
---
LABOR TEMPLE SHOWS 1952
Shows with an * were promoted by Webster and Black.
The Spokesman's headline read "Vandals Wreak Havok at Minneapolis Labor Temple" on January 4, 1952.  Despite the presence of three police officers, plumbing and a radiator were torn from the wall in the men's lavatory while a New Year's Eve dance was going on.  "Police believe the vandalism was premeditated and might be the result of a grudge against promoters Webster and Black who have been bringing dance attractions to the hall for the past year."  A "gang of young toughs" broke a pane of glass in a door to get in without paying admission.
Duke Ellington, January 23, 1952
Arnett Cobb and His Orchestra, March 14, 1952
Joe Liggins and the Honeydrippers, May 1, 1952
Preston Love and a Mammoth Floor Show with torch singers, dancers, comedians, May 17, 1952 *
Johnny Otis and His Orchestra, Pre-Decoration Day dance, May 29, 1952
Todd Rhodes and His Orchestra, June 14, 1952   *
Roy Milton and His Orchestra, with Lillie Greenwood and Johnny Rogers, July 19, 1952
Gene Ammons and His Orchestra, September 14, 1952  *
Jimmy Witherspoon and His Great Orchestra, October 18, 1952     *
Hal "Cornbread" Singer and His Orchestra, "America's Most Exciting Saxophone Star," October 4, 1952
Sonny Thompson and His Orchestra, November 1, 1952
Roy Milton and His Orchestra, November 10, 1952    *
Willis "Gator Tail" Jackson, November 22, 1952.  Ellis Attraction.  "Gator's Groove" – whatta tune!
Todd Rhodes and His Orchestra, featuring Little Miss "Sharecropper," who was pictured but not named, but we know her as LaVern Baker.  The show was on November 7, 1952.   *
Hal "Cornbread" Singer, December 27, 1952
---
LABOR TEMPLE SHOWS 1953
Shows with a * were promoted by Webster and Black.  Those with ** were by D.P. Black only.
Jimmy Witherspoon, January 1, 1953   *
Jimmie Forrest ("Night Train"), February 1, 1953  *
Leo "Cool Leo" Parker and His Orchestra, March 7, 1953
The Just For Fun Club sponsored a Beaux Arts Costume Ball on March 22, 1953, with Veet Williams and the All Stars.
Jimmie Forrest, March 26, 1953   **
Sonny Thompson ("Long Gone") and His Orchestra, March 28, 1953.  Ellis Attractions
The Little Esther Unit featuring Little Esther, H-Bomb Ferguson, and Tab Smith and His Orchestra, April 17, 1953   **
5 Royals ("Baby Don't Do It"), Arnett Cobb and His Orchestra, May 1, 1953   **
Johnny Hodges and His All Stars, May 15, 1953   **
Anna Mae Winburn and Her Sweethearts of Rhythm, May 24, 1953   **
Lowell Fulson, Lloyd Glenn and His Orchestra, May 30, 1953   **
James Moody and His Orchestra, June 19, 1953   **
Louis Jordan and His Tympany Five, July 1, 1953   **
Percy Mayfield and His Orchestra, July 3, 1953   **
The Clovers with Eddy Boyd's Orchestra, July 11, 1953    **
Todd Rhodes ("Trying") and His Orchestra – first time in Minneapolis since his Meteoric Rise in the Juke Box Field – Ellis Attractions
Roy Milton and His Orchestra featuring Camille Howard, August 2, 1953   **
Dinah Washington and Her All-American Trio, August 15, 1953   **
Earl Bostic and His Orchestra, September 5, 1953   **
Duke Ellington, September 18, 1953   **
Amos Milburn, September 19, 1953 – first appearance in the Twin Cities by request of many dance fans.  **
Johnny Otis and His Orchestra, featuring Marie Adams, October 3, 1953   **
Preston Love, "The Happy Boy with the Horn" and His Orchestra, October 25, 1953  **
Tiny Bradshaw, Rhythm "King" of Kings on Records and soloist Big Tiny Kennedy, November 27, 1953
5 Royals and Charlie Ferguson's "All-Girl" Orchestra, December 26, 1953   **
---
LABOR TEMPLE SHOWS 1954
Shows with an * were promoted by D. P. Black.
The Clovers, January 22, 1954   *
Johnny Ace and His Orchestra featuring Willie Mae "Big Mama" Thornton, Blues Singer Supreme, February 19, 1954
Roy Milton and His Solid Senders, featuring dynamic vocalist Lillie Greenwood and Johnny Rogers, the Wizard of the Guitar, February 26, 1954 (annual appearance)   *
The Orioles, March 4, 1954   *
"Blues Sensational" Lowell Fulson and His Orchestra – "The Big Hit in Swing Jazz in the Biggest Musical Entertainment of the Spring Season," March 19, 1954
Johnny Otis and His Orchestra featuring Marie Adams, March 26, 1954   *
Cootie Williams and His Orchestra featuring Eddie "Mr. Clean Head" Vinson, March 30, 1954 – "This is the Dance!"   *
Red Allen and His Orchestra, Easter Matinee Dance   *
Dinah Washington and Orchestra Matinee Dance, May 2, 1954   *
Ruth Brown, May 12, 1954   *
T-Bone Walker and Checker Campbell's Orchestra, May 23, 1954   *
Todd Rhodes and His Orchestra, May 28, 1954
Faye Adams with Joe Morris and His Orchestra, June 18, 1954   *
Amos Milburn and Choker Campbell's Orchestra, July 9, 1954   *
The Ravens, July 24, 1954   *
The Spiders and Memphis Slim's Orchestra, August 28, 1954   *
Eddie "Mr. Cleanhead" Vinson and the Cootie Williams Orchestra, September 3, 1954   *
The 5 Royals with Tab Smith's Orchestra, September 18, 1954   *
Jimmy Coe and His Orchestra, November 6, 1954   *
Roy Milton and His Orchestra featuring dynamic vocalist Lillie Greenwood and Johnny Rogers, Wizard of the Guitar, November 28, 1954   *
---
LABOR TEMPLE SHOWS 1955
Shows with a * were promoted by D. P. Black.
Bullmoose Jackson, February 17, 1955   *
King Kolax and His Orchestra direct from the East Coast, March 25, 1955
Percy Mayfield and His Orchestra, April 1, 1955   *
B.B. "Blues Boy" King and His Orchestra, April 11, 1955
Sonny "Long Gone" Thompson plus Lulu Reed, April 30, 1955
Ruth Brown, Griffen Brothers, May 26, 1955   *
Choker Campbell and His Orchestra featuring Lowell Fulson and his Guitar, October 23, 1955
Tiny Bradshaw and His Orchestra featuring "Litttle" Tiny Kennedy, October 28, 1955 *
Gene Ammons and His Orchestra plus the Spaniels, November 26, 1955   *
---
LABOR TEMPLE SHOWS 1956
Shows with a * were promoted by D. P. Black.
Drifters and Willie "I Don't Know" Mabon, January 1, 1956   *
The Midnighters with Cal Green's Orchestra, May 27, 1956   *
Ernie Freeman and His Orchestra Plus the Coasters, July 21, 1956   *
Ray Charles and His Orchestra, August 21, 1956   *
Tiny (Mr. Soft) Bradshaw and His Orchestra, Added Attraction "Mr. Bear."  Biggest Ball of the Year – Minnesota-Iowa Shriners Potentates Ball, September 1, 1956
Jay McShann and Priscilla Bowman, September 8, 1956   *
Charles Brown and His Orchestra, November 16, 1956   *
Bill Haley and His Comets – date unknown, but David Anthony Wachter says the show was promoted by T. B. Skarning.
---
Percy Mayfield performed at the Labor Temple on July 3, 1958.
---
THE HIPPIE ERA
After a considerable lull, music reappeared at the Labor Temple, this time with a completely different cast of characters.  Although a lot of the music that the young people of the 1960s were listening to was based on American Rhythm & Blues, one wonders whether they knew of the amazing artists who had performed under the same roof.
---
LABOR TEMPLE  SHOWS 1969
In 1969 local promoter David Anthony started booking national psychedelic acts, some of which were not all that well known yet and couldn't fill one of the bigger halls.
---
Concerts were presented on Sunday nights on the third floor of the hall.  Above the state was inscribed the quote, " "Those rights which Labor has won, Labor must fight to Protect."  Concert-goers sat on the floor or on chairs in the balcony. The capacity was 1,250.  No liquor was sold.
The first set of concerts were "Presented by Community News," a group headed by Charlie Campbell.  After graduating from White Bear Lake High School in 1965, Charlie traveled to California where he "interned" with a group called the Magic Theater, an offshoot of the Merry Pranksters  There he learned the psychedelic light show trade.  He returned to Minnesota and started a light show group, Community News, with his brother and two others.  One manned an overhead projector, one a slide projector, one did the requisite liquid light show with vegetable oil and food coloring (the trick is in the concave clock face), and Charlie had the movie projector.  He would check the movies out of the public library – some art films mixed with some Busby Berkley.
Charlie:
Our first gig was with the High Spirits at Coffman Memorial Union at the U of M, May 19th, 1967. After realizing that the bands at the time didn't see the value of splitting their fee with a light show group, I concluded that we needed to put on our own shows and hire the band. We started our run at Dania Hall on the West Bank, which was perfect, in the fall of '67. The bands we worked with were Noah's Ark, TBI (True Blues Incorporated), Pandemonium Side Show, Mill City Blues Band, Jokers Wild and the Litter among others. The Paisleys, with a competing light show, played every other week. It was after a Jokers Wild show there in Dec. '68 that their manager, Dave Anthony (Wachter), lamented that there wasn't a bigger venue to handle the crowds (we were over capacity at Dania) that we revealed our discovery of the Labor Temple.
The owners of the Labor Temple wouldn't rent to a long-haired hippie freak like Charlie, but they would do business with David, so David hired Community News to do the light shows and handle the tickets and posters.

NOTES:
Posters were created by Juryj ("George") Ostroushko.

Unless noted otherwise, poster images are courtesy of poster collector and auctioneer Paul Pash.

The newspaper ads below are courtesy of Mike Jann.
See a collage on Robb Henry's blog.
The Manager of the Labor Temple was John Bruchard.
---
Grateful Dead and Blackwood Apology, February 2, 1969
The first act, opening on February 2, 1969, was the Grateful Dead, who arrived with an iguana, a rooster, goat, snake, and three kids.  Although it was 25 below zero and tickets were an onerous $3.50, the people came.  The next day the Minneapolis Tribune reported:
GRATEFUL DEAD SOCK IT TO 2,000 MUSIC LOVERS
The Labor Temple was packed. The audience, mostly late-high-school and college-age youth, completely filled the chairless main floor, sitting or standing. And all other seats and aisles were taken in the balcony. As a preliminary to the Grateful Dead, a local group called the Blackwood Apology held forth for an hour or so with the same sort of electric sound. It came on like just what it was: hundreds of watts of electrified musical power pounding out of great stacks and racks of amplifiers. And above, lights flashed multicolored, changing images of psychedelia on great wide screens. Making it happen was the Grateful Dead, a group billed as the leader of underground rock, as the nationally famed but uncompromised original. The more than 2,000 young people who jammed the Minneapolis Labor Temple to hear them Sunday night took it quite coolly. They liked it, they clapped a lot, and some of them danced. But mainly, they did what you do with this kind of youth art: They experienced it. After a long delay for setting up their nearly 100 pieces of equipment, the Grateful Dead came on with a sound like the end of a bad trip. It was a horrendously penetrating hum from an amplifier gone mad. But when they got the amplifier squared away, they showed that they can play as well as make noise. Using some incredibly complex tempos and fine improvisations, they did the mixture of jazz and rock and folk that – along with the lights and, in some cases, marijuana – has been turning on people around the country for several years.
Another reviewer, Tim Boxell (paper?), was impressed by the "massive turnout" and mused, "This may just be what Minneapolis needs."  Boxell wasn't impressed with the Dead's music or efficiency in setting up, but liked the venue.  "The market for this sort of entertainment is here, and David Anthony has big talent booked for the future.  Perhaps now the Twin Cities can see the best groups for less and the bands that depend on audience involvement can succeed."
---
Local band Blackwood Apology performed their rock opera "House of Leather" to open.  Photo below of Blackwood Apology just before going on stage, courtesy Dennis Libby.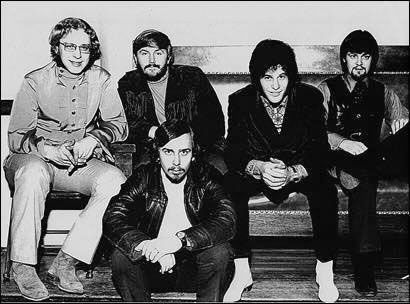 ---
Jethro Tull and Rotary Connection, February 9, 1969
Warren Walsh remembers:
As I recall it was another one of those nasty cold Minnesota nights. It was a Sunday night and there couldn't have been more then a couple of hundred people there. Jethro Tull was just releasing their 1st album and nobody knew who they were [their first US stop]. We didn't care much for the Rotary Connection but it beat sitting around on a Sunday evening. We sat on the floor about 10-20 feet from the low stage. Can't remember the Rotary Connection but Jethro Tull took our heads off! During the break Ian Anderson just stepped down and mixed with the crowd. I remember him sharing some cigarettes with a few of us stand near the front.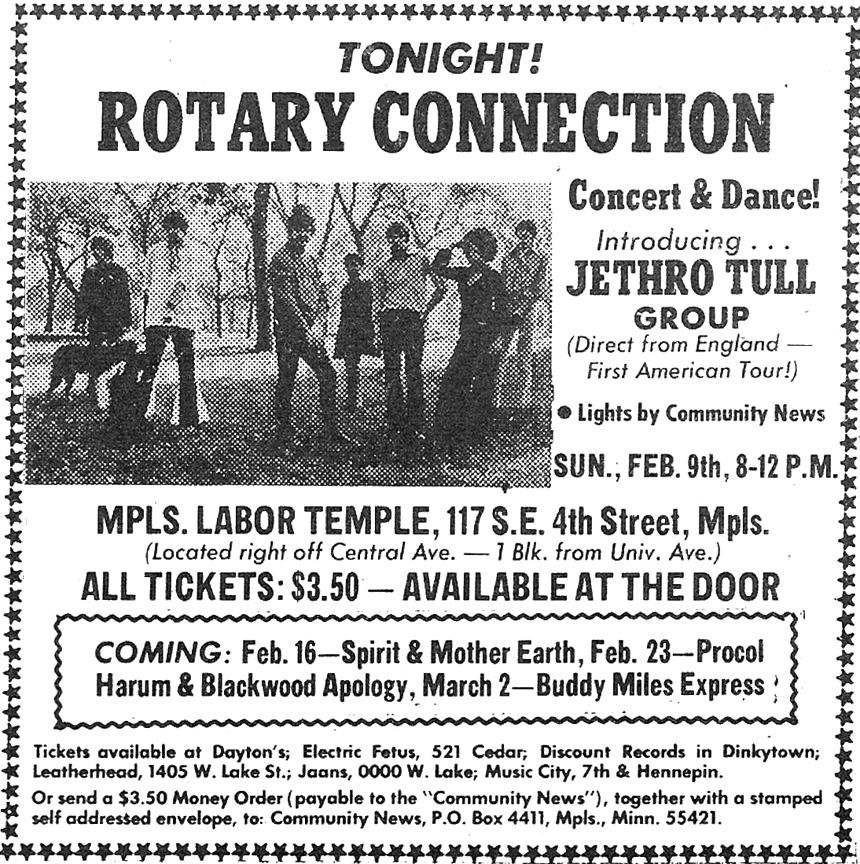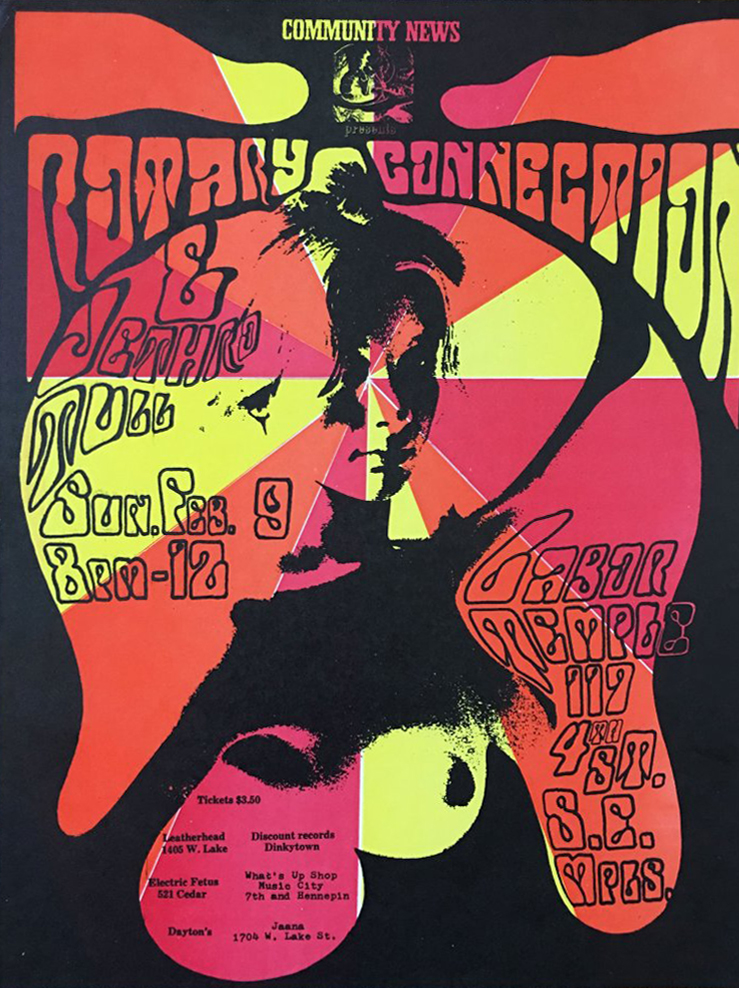 ---
Spirit and Mother Earth, February 16, 1969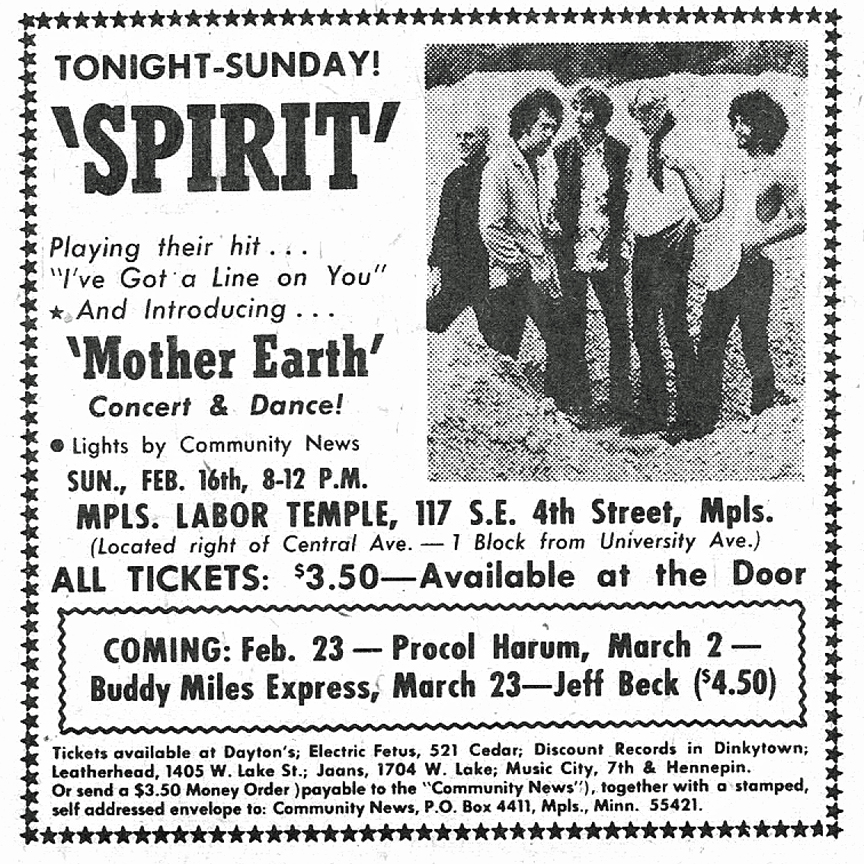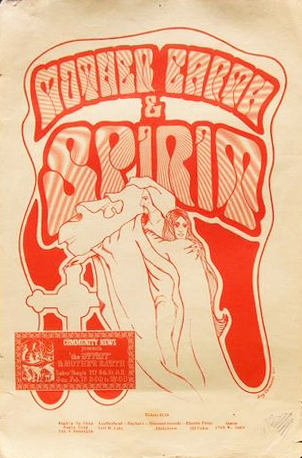 ---
Procol Harum and Jokers Wild, February 23, 1969.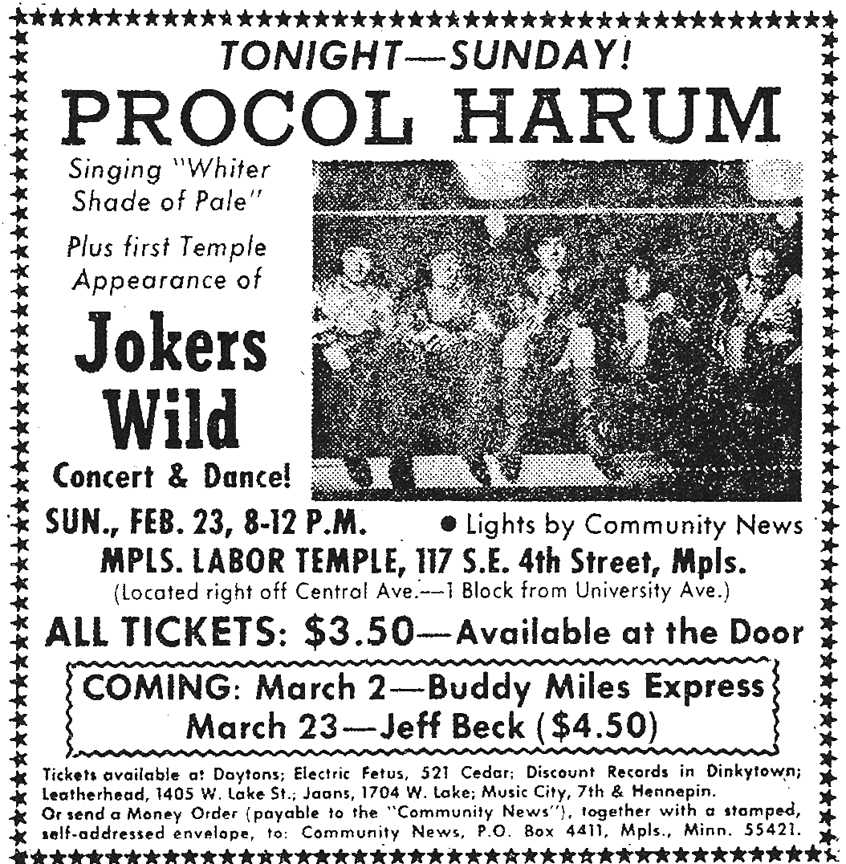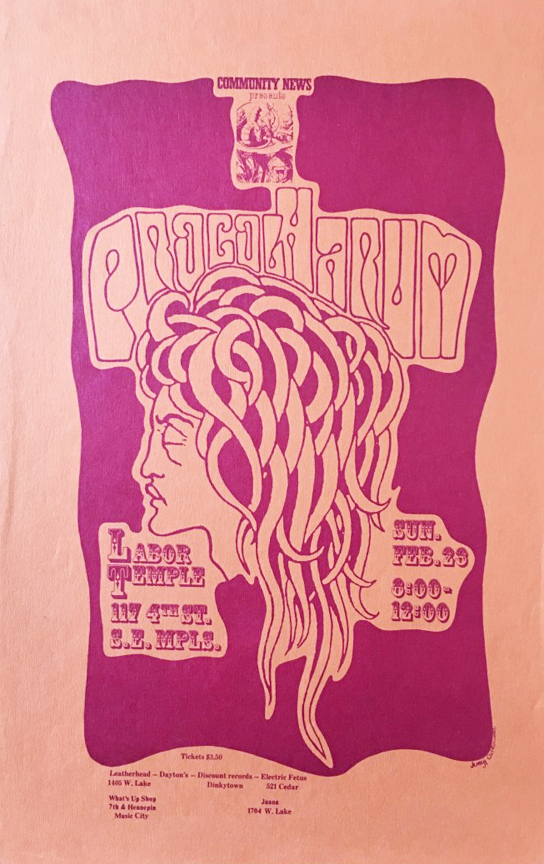 ---
The show was opened by local group Jokers Wild, replacing the originally-scheduled Blackwood Apology.  The following photos of Jokers Wild at this show are courtesy minniepaulmusic.com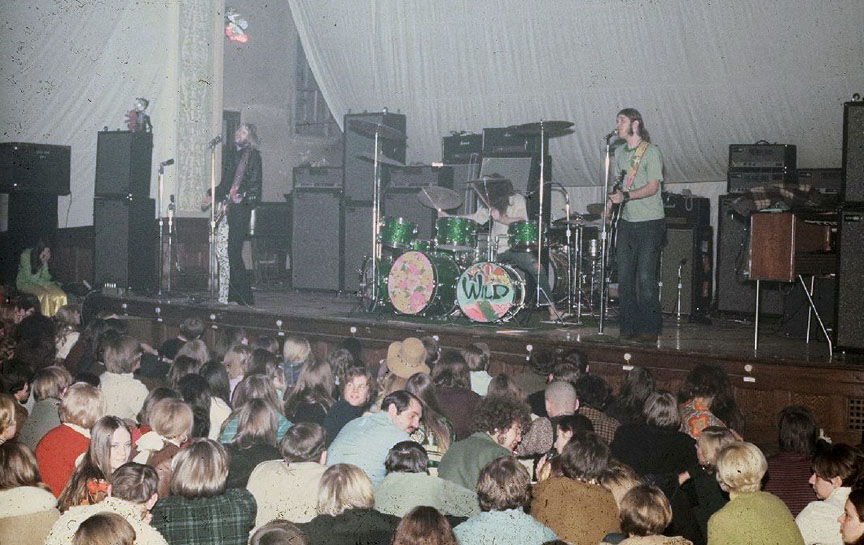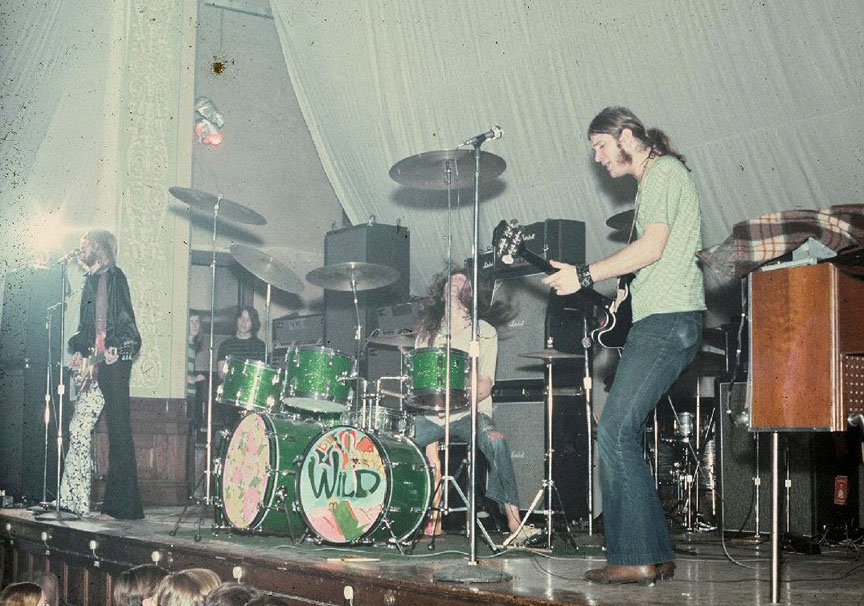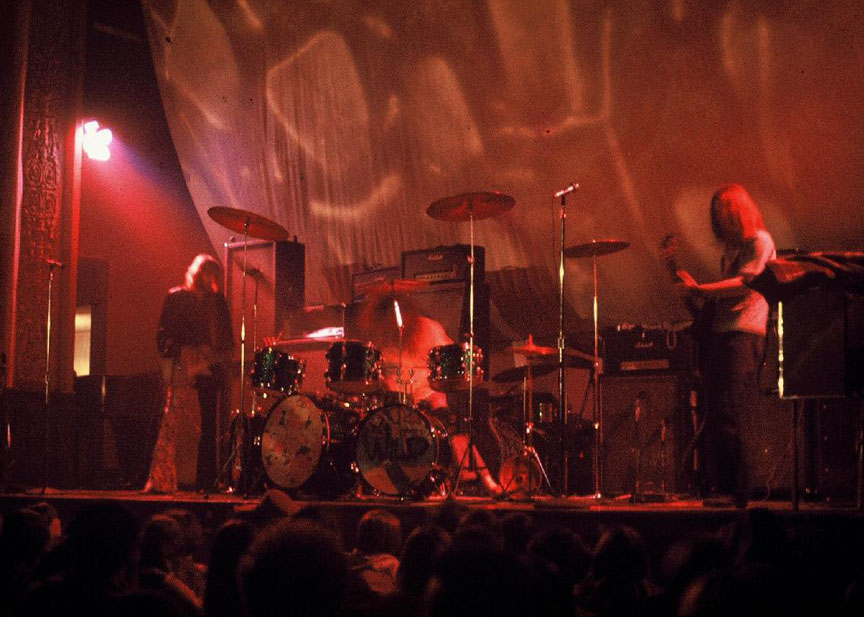 ---
On March 2, 1969, the Minneapolis Tribune had a feature on the Labor Temple:  Rock Temple Is Where It's At – The Sunday-Night Social" by Allan Holbert.  Holbert seemed extraordinarily interested in all the hair.  Even this early the reviewer likened the venue to the Fillmore in San Francisco.  Up the marble stairs three "young girls looking their most mod" sell tickets, and on the third floor "equally pretty young things" check coats, take tickets, and sell refreshments that include tangerines.  Floyd B. Olson's quote "Our Rights Which Labor Has Won, Labor Must Fight to Protect," written in Gothic letters across the proscenium arch, seemed incongruous.  Promoter David Anthony said that he can get acts for between $2,000 and $5,000, particularly when they have played Chicago on Saturday night.  ".. the Jokers Wild present some wild, crashing rock that will turn out, in the minds of most listeners, to be better than that to be presented later by the foreign group [Procol Harum]."
---
Buddy Miles Express with South 40, March 2, 1969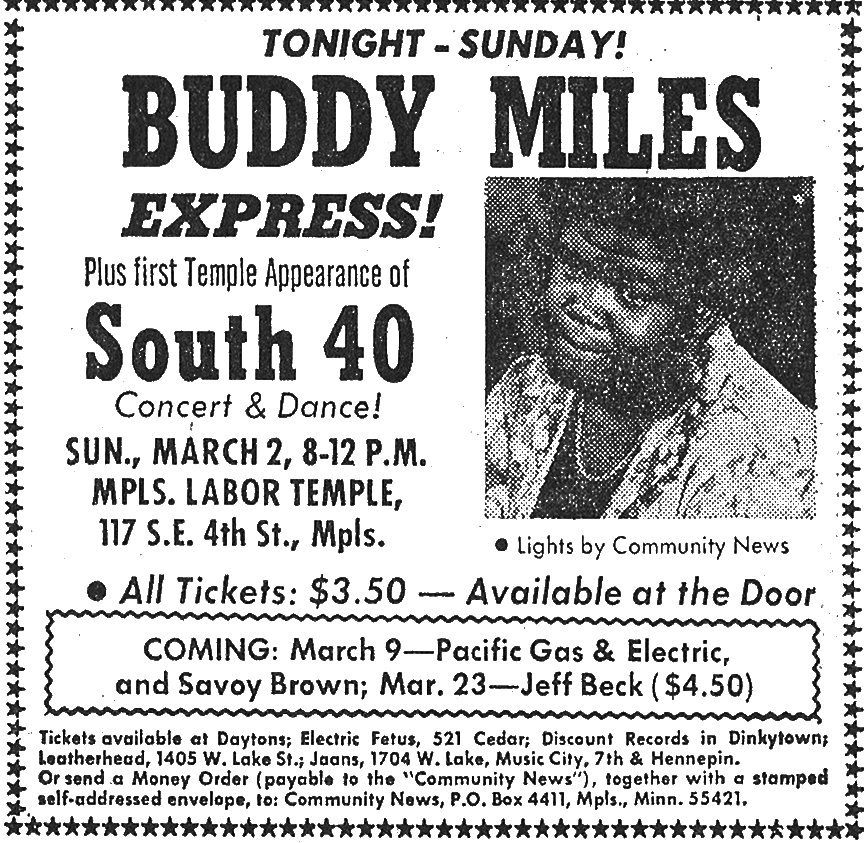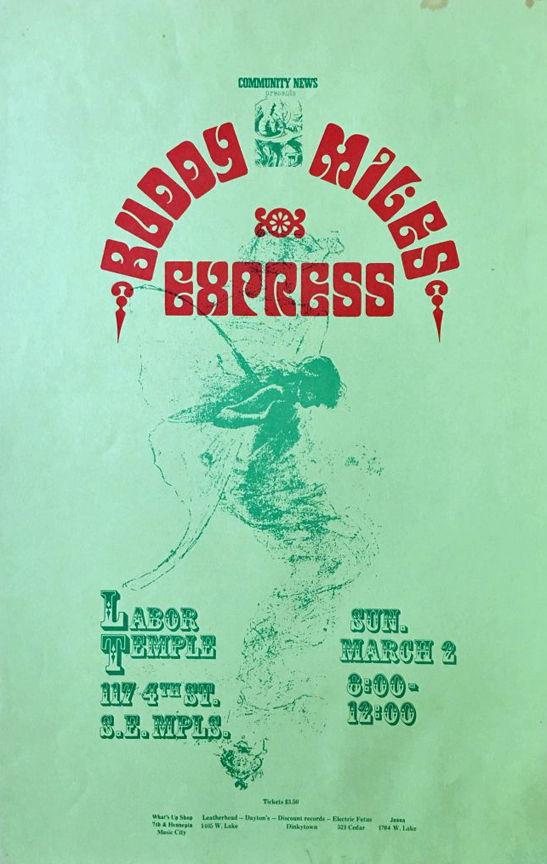 ---
Pacific Gas & Electric and Savoy Brown, March 9, 1969
This was Savoy Brown's first American tour and they would come back to the Cities many times.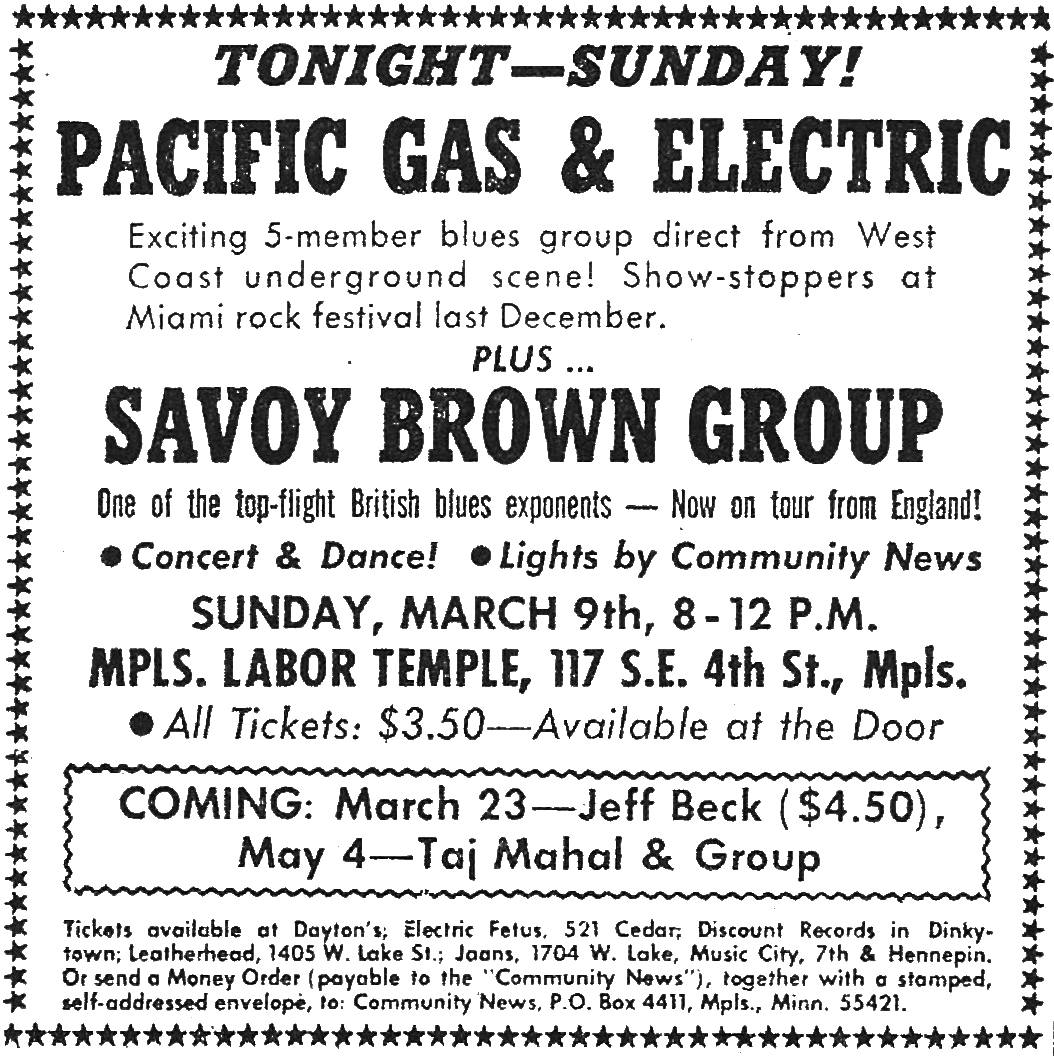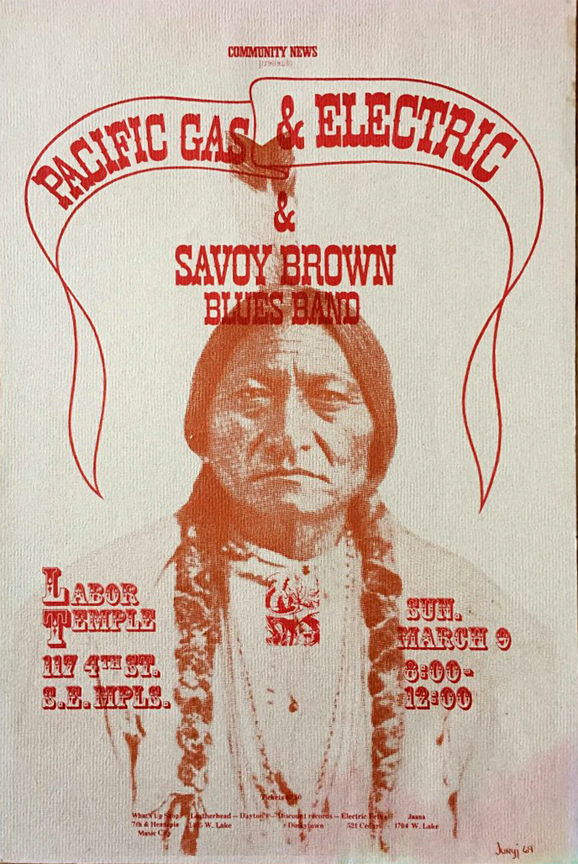 ---
Jeff Beck Group, Zarathustra, Spider John Koerner, and Willie Murphy, March 23, 1969
At this point Rod Stewart was singing with Jeff Beck, and "when the sound system kept cutting out Stewart threw the mike stand through an amp and walked off the stage, never to return."  Stewart left the group that July.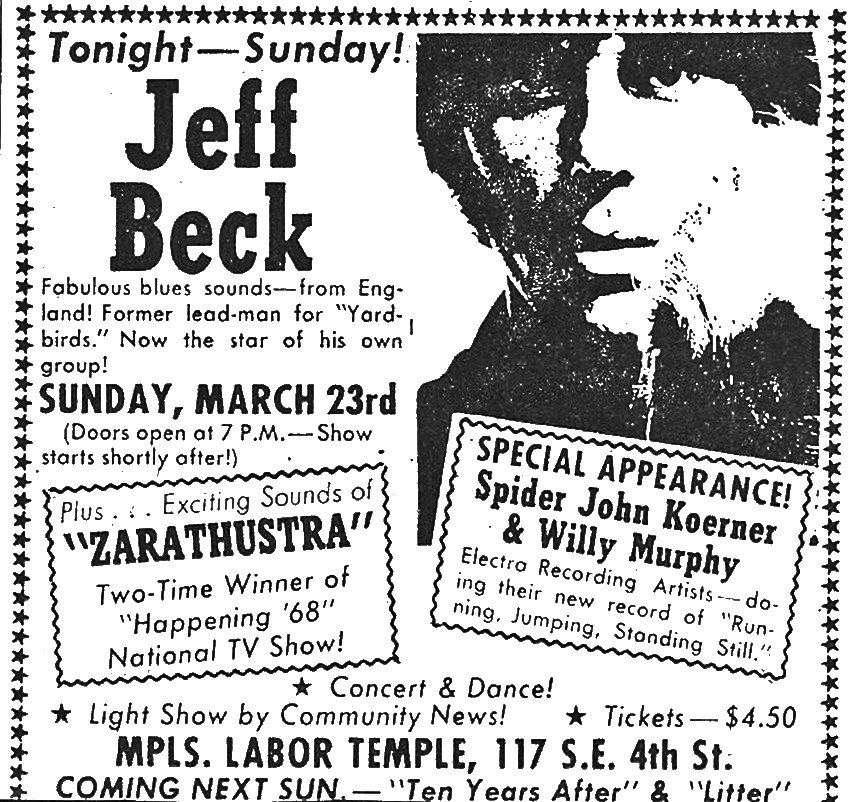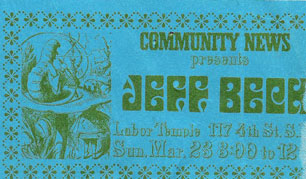 ---
Ten Years After and the Litter, March 30, 1969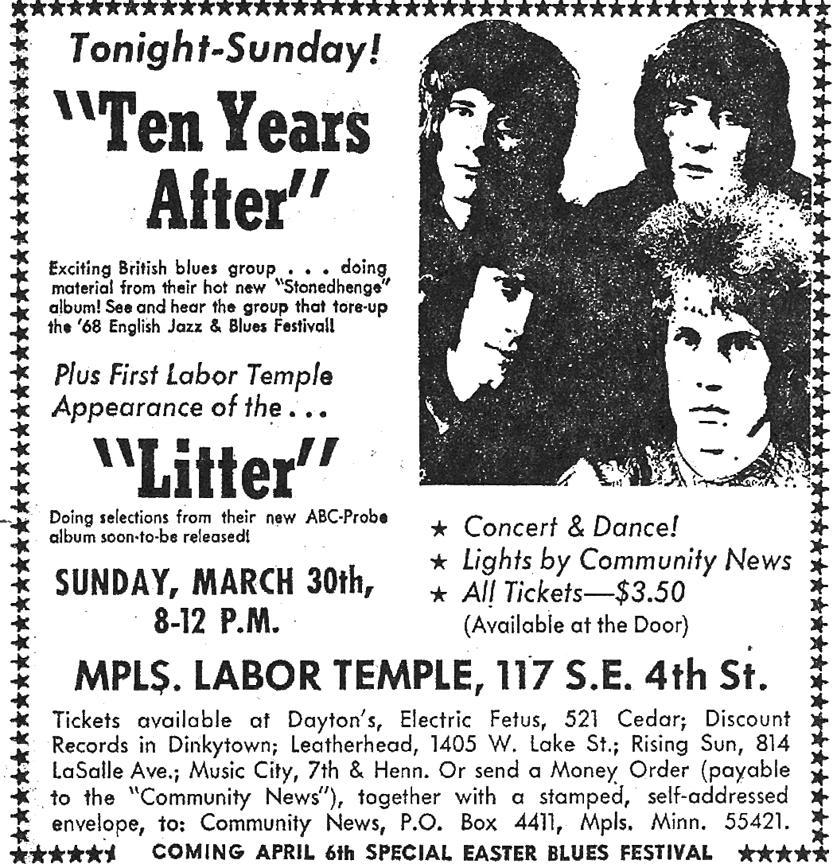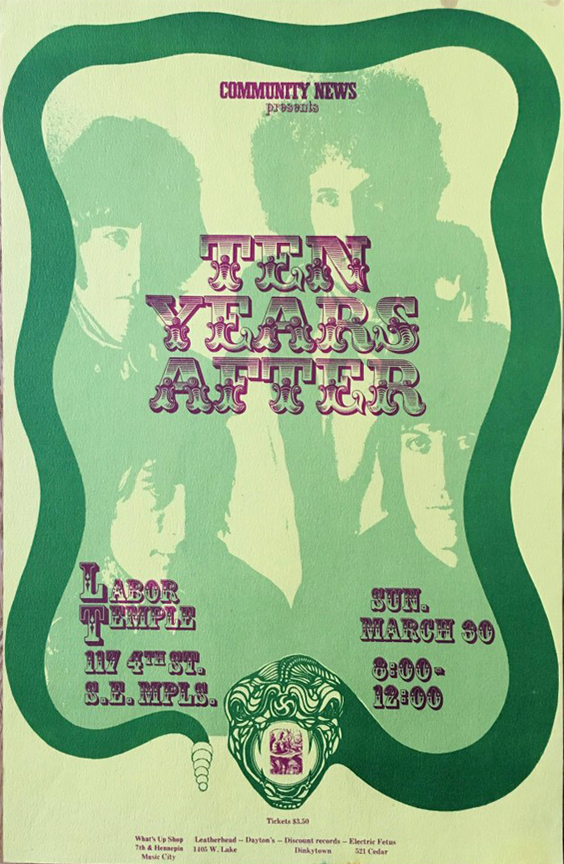 ---
Aorta, Mojo Buford, Stillroven, Spider John Koerner, and Willie Murphy, April 6, 1969
This was billed as an Easter Blues Festival.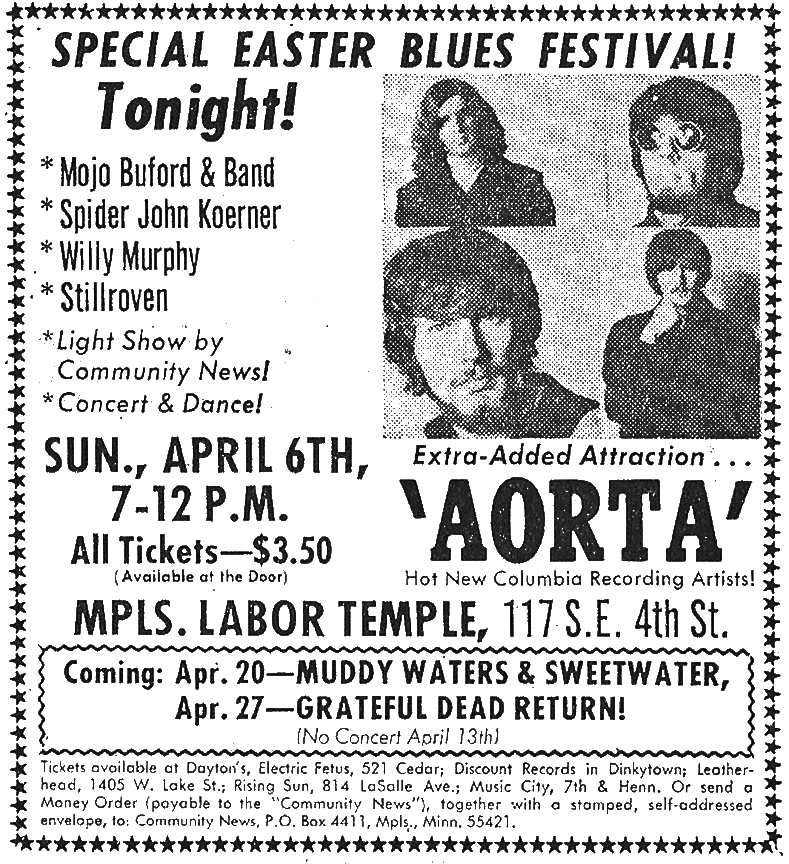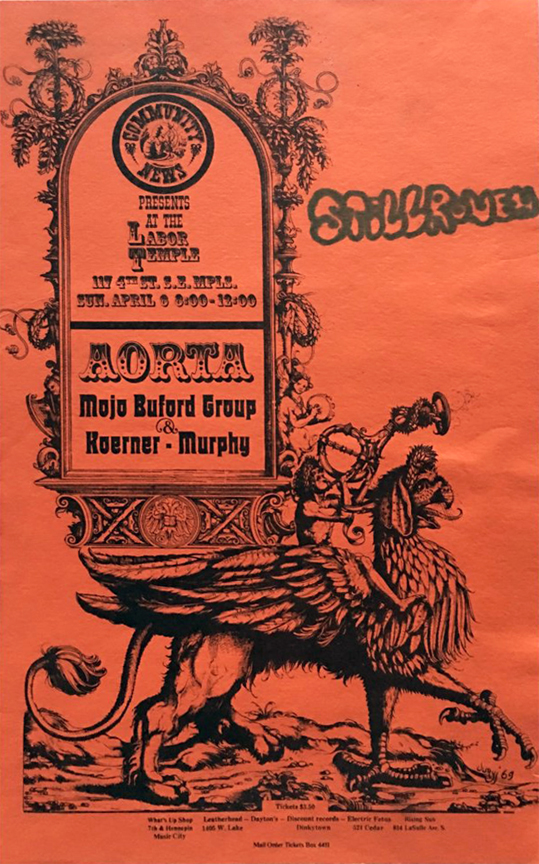 ---
April 13, 1969:  No Concert
---
Muddy Waters and Sweetwater, April 20, 1969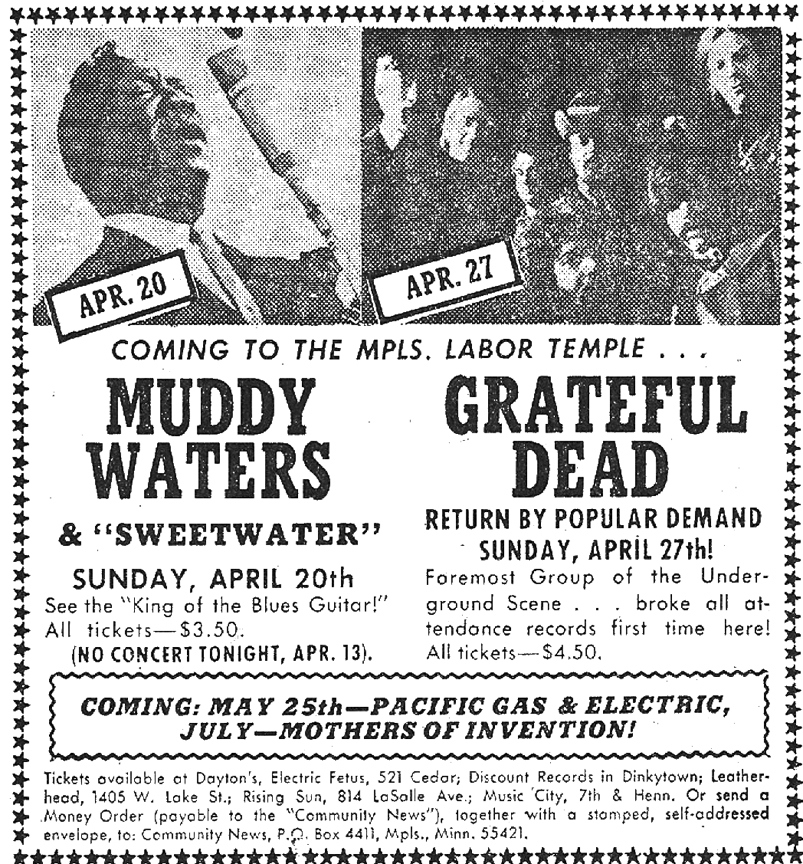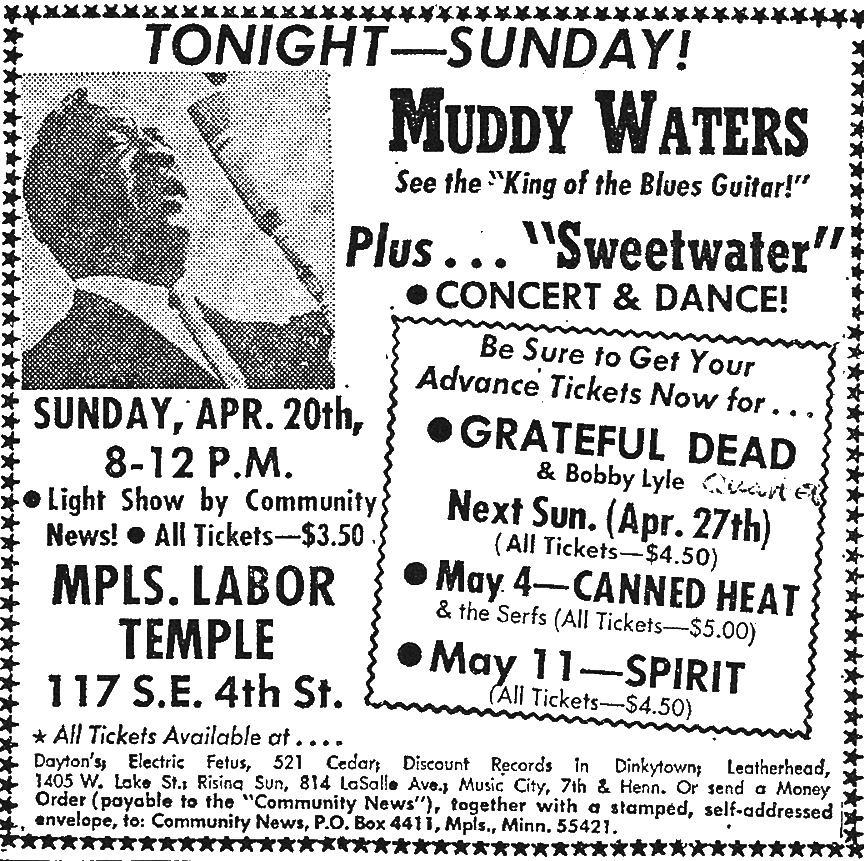 ---
Marshall Fine, then a U of M student, found the Muddy Waters/Sweetwater show "one of the best musical evenings the Twin Cities has seen in the last six months," high praise indeed!  Muddy Waters began with a short set, sticking to the blues instead of what Fine called the "psychedelic" band on his last album.  After a half hour break, Sweetwater "brought the audience to its feet and onto the stage with their exciting mixture of rock, classical and calypso music."  Muddy Waters came back for three more songs, and the crowd went home happy.
---
Grateful Dead  and the Bobby Lyle Quintet, April 27, 1969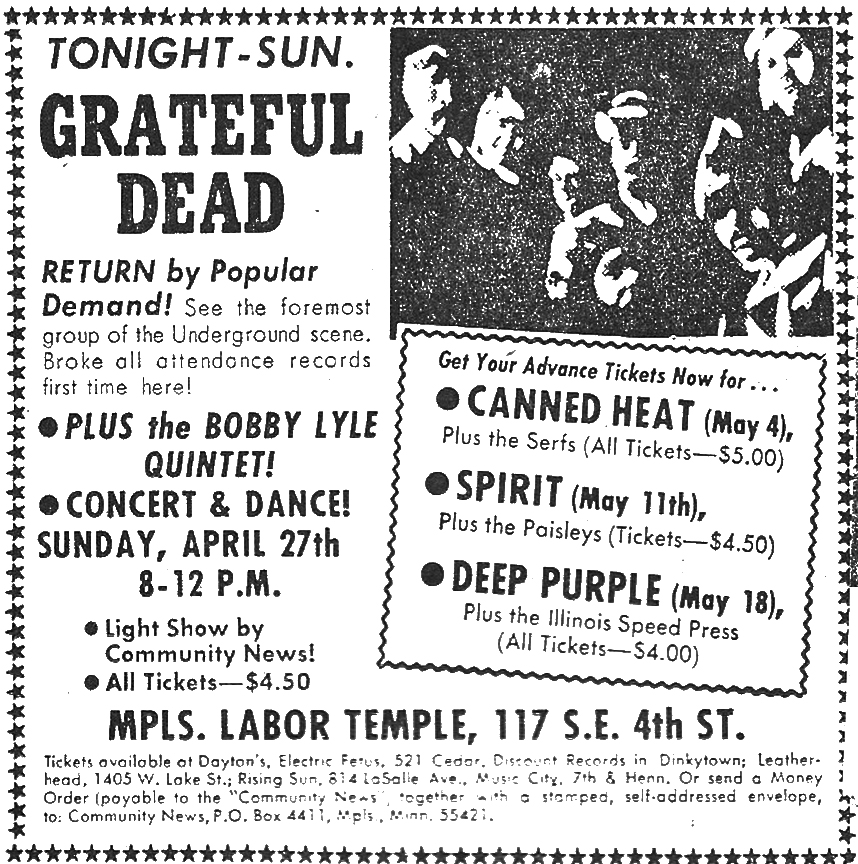 ---
Canned Heat and the Serfs, May 4, 1969
Taj Mahal was originally scheduled.  The Serfs were from Wichita.  Charlie Campbell remembers that when Canned Heat launched into "Boogie" the crowd formed a conga line that snaked outside the building and back in!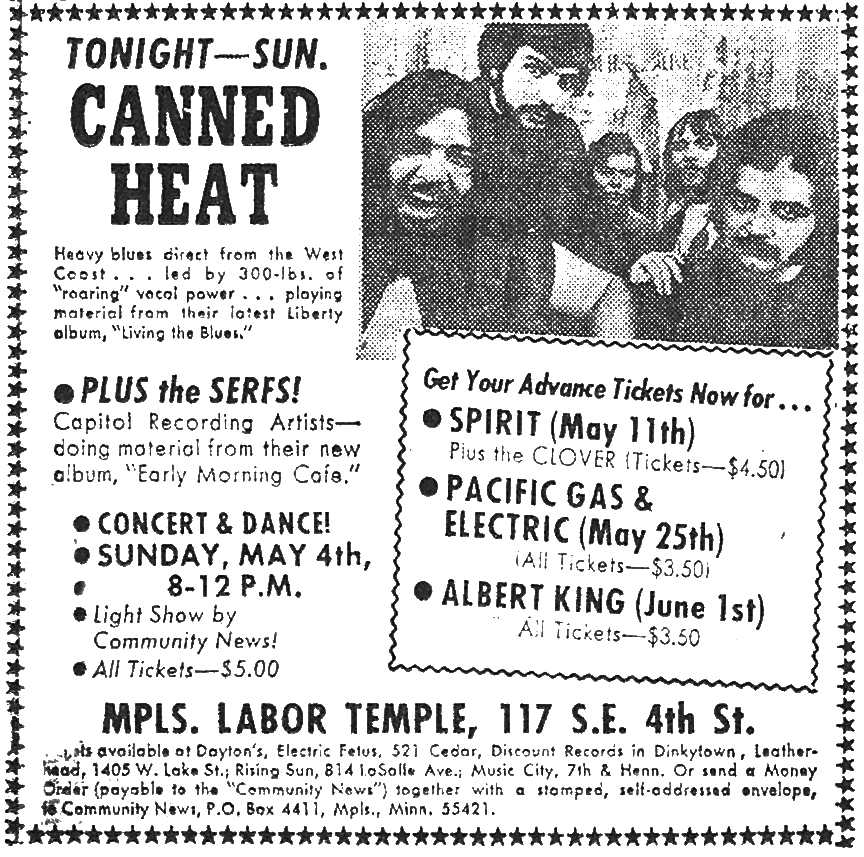 ---
Spirit and Clover, May 11, 1969
---
Deep Purple and the Serfs, May 18, 1969
Illinois Speed Press was originally scheduled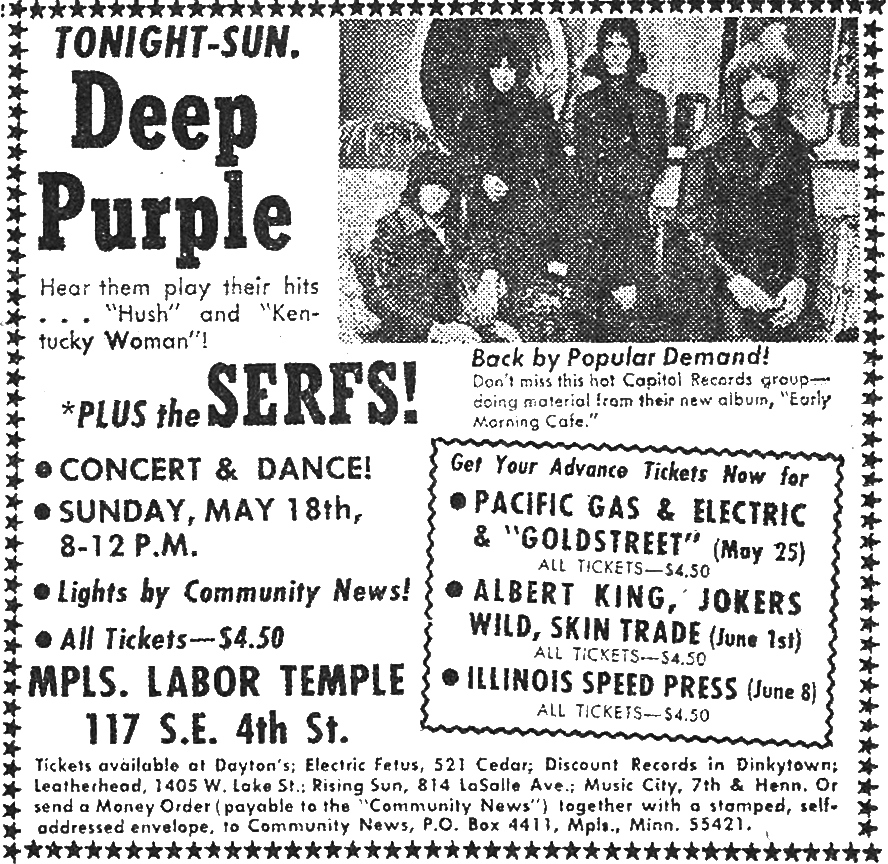 ---
Pacific Gas & Electric and Tradewinds, May 25, 1969   
Goldstreet was originally scheduled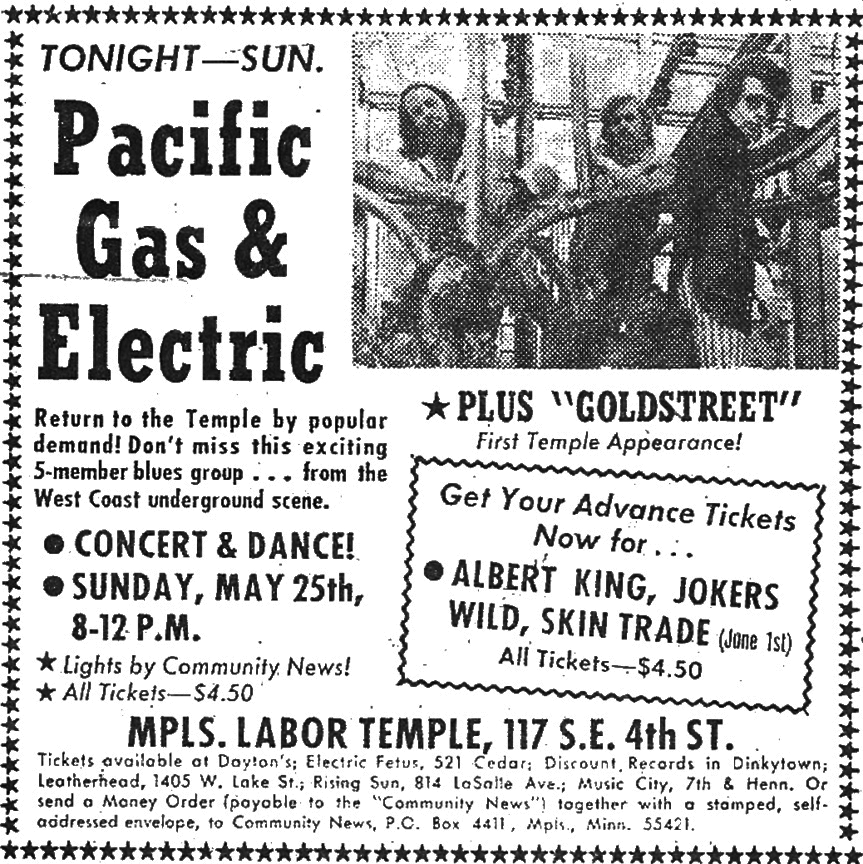 ---
Albert King, Jokers Wild, Skin Trade, June 1, 1969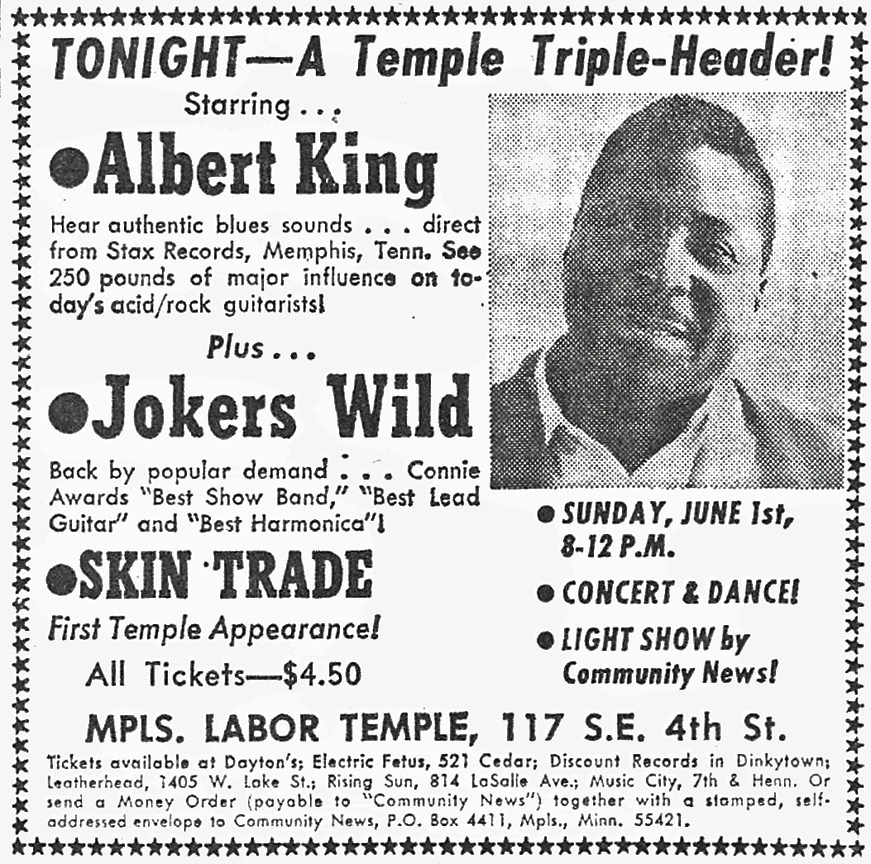 But what really happened is that Jokers Wild did their set and a rep for David Anthony announced that Albert King was not coming.  No refunds were offered, but tickets could be used for future shows.  There were no more shows in the near future:  those planned for Illinois Speed Press (June 8), Paul Butterfield, and the Mothers of Invention never materialized.
On July 5, 1969, it was announced that the Labor Temple "has closed for the summer."  Charlie Campbell said that without air conditioning the room was just too hot, and if they opened the windows the neighbors (who were actually very close by) got sore.  Campbell felt that Community News got unjustly blamed for the Albert King fiasco and ended his relationship with Anthony and the Labor Temple.
---
The Labor Temple reopened in September 1969, with a new light company, Center of Consciousness.
The show on September 14, 1969, featured four local bands:
Thundertree
Stone Blues
Pepper Fog
The Marauders
Unlike all of the others, the poster below was NOT the work of Juryj ("George") Ostroushko.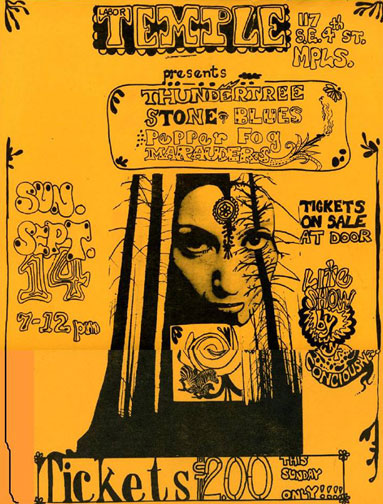 ---
MC5 and Cottonwood, September 21, 1969

A review by Thomas Utne reveals that MC5 was an honest-to-god rock 'n' roll band whose members "all look like juvenile delinquents."  Utne railed against the Minneapolis Star's reviewer, who clearly did not understand the genre or why the kids loved it so.
---
Serf and Triad, September 28, 1969

---
Dr. John the Night Tripper and John Lee Hooker, October 5, 1969
John Lee Hooker didn't show, a fact that the crowd did not appreciate, but Dr. John played for two and a half hours.  The Serfs may have played that night as well.
Thomas Utne's review described the scene:
[Dr. John] comes on as wildly as Arthur Brown, if not with Brown's class, wearing floor length robes, ornate medallions, an eagle with wings spread, perched on his crown, and a scepter with a dead chicken hanging from it.  His shoes look like bunny boots with fur.
Marshall Fine likened Dr. John's voice to a Rod McKuen with soul, and said he was backed by a "fair imitation of the Supremes, but only that."
That was the night that David Anthony and his assistant Greg Gray were arrested (David says the handcuffs part in Fine's account is untrue) when they refused to let narcs in without buying tickets.  (Utne reported that one kid was busted for possession when another kid handed him a lit joint.)  Anthony represented himself in court, but Molly Ivins of the ACLU was involved and when the case came before the judge it was immediately dismissed.

---
The Velvet Underground and Pepper Fog played the last show of the season on October 12, 1969. Concert promoter David Anthony Wachter remembers that Andy Warhol showed up for the show!  In an interview, band member Sterling Morrison remembers staying at the infamous Gopher Motel.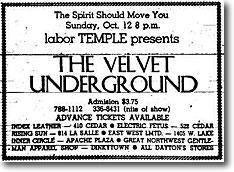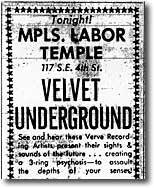 ---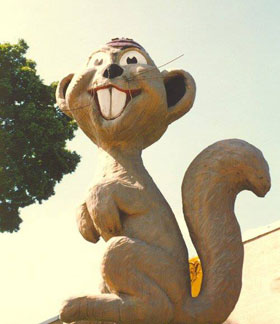 ---
LABOR TEMPLE 1970
David Anthony resumed booking bands in the Labor Temple in 1970.  This time lights were by Nova.  Ads below courtesy Mike Jann.  See a collage of more ads from Robb Henry's blog.
Pacific Gas & Electric, Golden Earring, comedian Bobby Kosser, January 18, 1970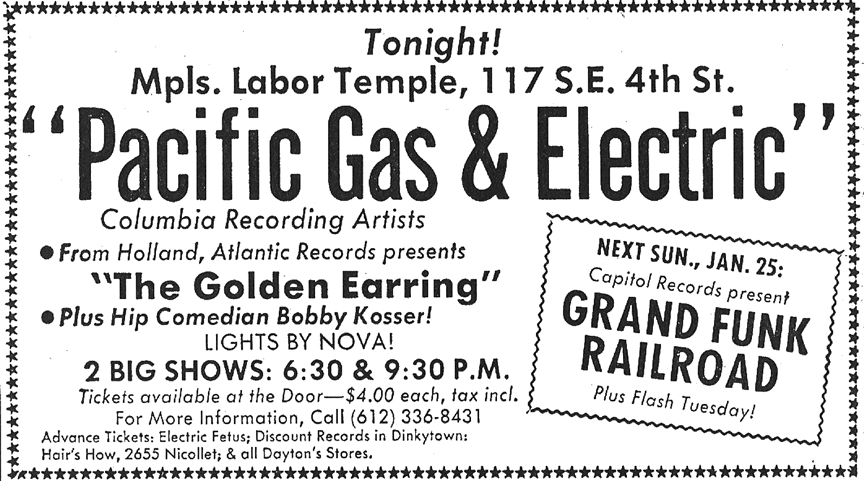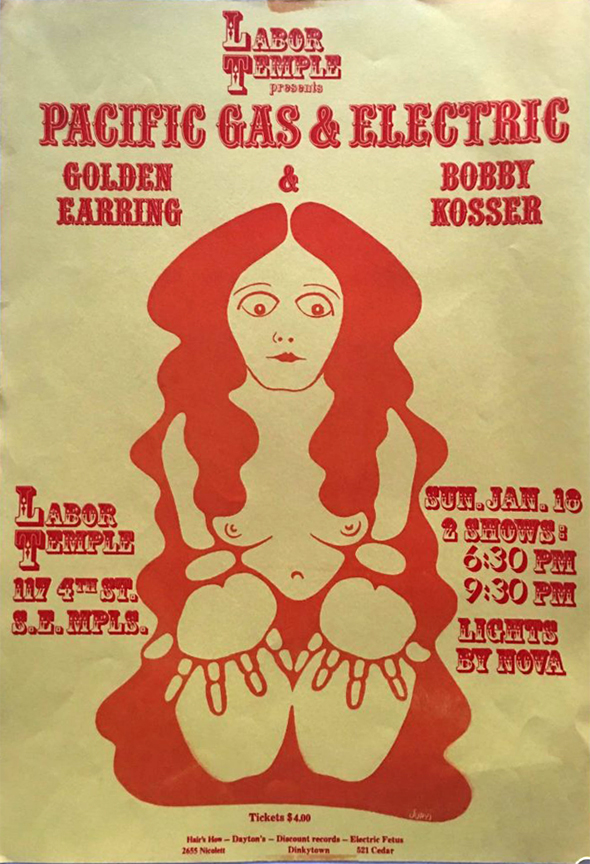 The ad below is from Casper Roos, a Dutch fan of the Dutch band Golden Earring.  Casper says:
These [concerts, January and March, below] were performed during the second "The Golden Earring "USA tour. Their first tour was in May 1969. This second tour was to promote their just released "Eight Miles High" album (on Atlantic label) as promoted on the [March] Labor Temple ad.  Golden Earring is still performing but really broke through in the States with their 1974 hit "Radar" Love from their album "Moontan." That album and "Radar Love" single were promoted during their third (May 74) and fourth 1974 USA Fall tours. These tours meant the USA breakthrough for the band. "Radar Love" is nowadays a highly respected road song…. the track itself has been covered over 600 times by many bands and artists.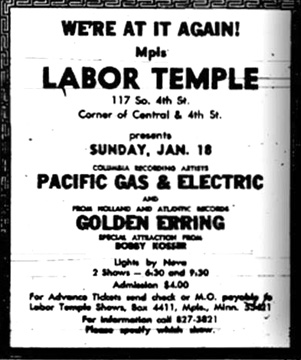 January in Minnesota can be hard on anyone, but the report is that Golden Earring showed up in a Mercedes van powered by diesel, which froze and wouldn't start after the show.
---
Grand Funk Railroad, Flash Tuesday, comedian Bobby Kosser, January 25, 1970
This was Grand Funk's first Minneapolis appearance.  The concert sold out in 2-3 hours and David Anthony remembers Grand Funk to be really LOUD.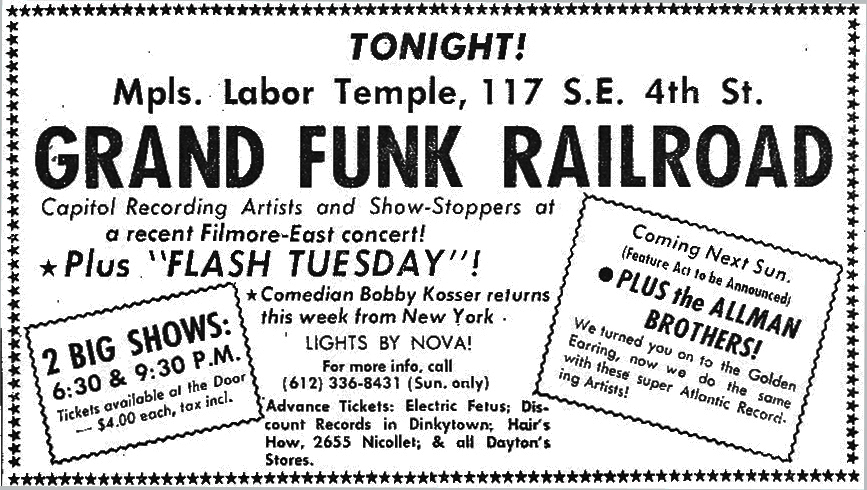 ---
The opening act was Flash Tuesday, basically Jokers Wild with a different drummer.  Lonnie says, "Grand Funk's manager offered us recording  contract. We were already in the throes of rock star angst and would soon break up, so David Anthony said no to the deal… so goes life."
---
John Hammond, Jr. and the Allman Brothers, February 1, 1970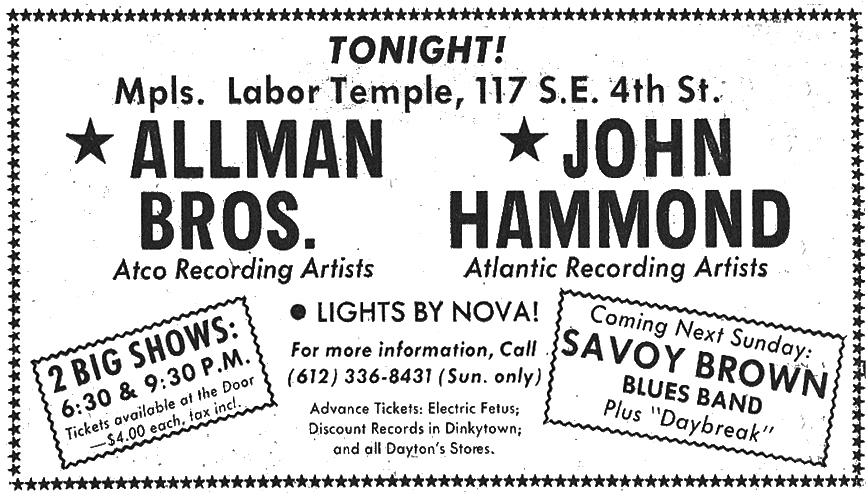 This was the Allman Brothers' first appearance above the Mason-Dixon line, according to David Anthony, who persuaded them to come north for $500.  Stephen Pfeiffer recalls:
It was an ungodly frigid Sunday night (-30 below).  Only around 100 people made it to the show to see an unknown southern rock band play their first show in Minneapolis. John Hammond opened, then the Brothers, with the third set featuring both acts jamming together. I do remember having to lock my car with the engine running to ensure my getting home after the show. In the late '60s I was attending the School of Associate Arts on Summit Avenue in St. Paul, and made extra cash by working as a freelance artist. I did some poster art for the Labor Temple, as well as ads for the early Electric Fetus when it was at its original location at 514 Cedar Ave. Because of my "connections" I was often able to score tickets to music venues across the Twin Cities. Being a starving artist, it was about the only entertainment available at the time, but it has made for some fond memories.
Perhaps because of the weather, only about 100-200 people were at the show, and reviewer Ron Dachis was a little disgusted with the lack of interest in such an accomplished bluesman.  Some people left early, some were inattentive, and "most of the others seemed to be lukewarm toward the acts.  These guys deserved better."  Dachis loved it, though; the title of his review was "No-bullshit-blues at the Temple (finally)."
Billy Hallquist remembered setting up the sound for the show, and that since there were so few people, the first show attendees could stay for the second show.  "During Hammond's second set, the Allmans sat on the floor with the audience and watched him in awe.  Then invited him to jam with them at the end to Donovan's "First There is a Mountain."  They were pretty down to earth."
The lineup of the Allman Brothers was:
Greg Allman (called "Gregory" in Dachis's review) – keyboards
Duane Allman – guitar
Dick Betts – guitar
Butch Trucks – drums
Jai Johnny Johanson – drums
Barry Oakley – bass
---
Savoy Brown and local band Daybreak, February 8, 1970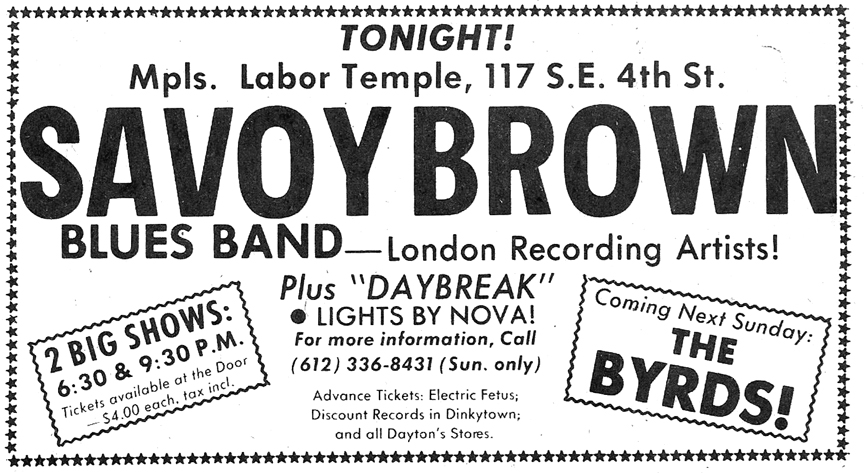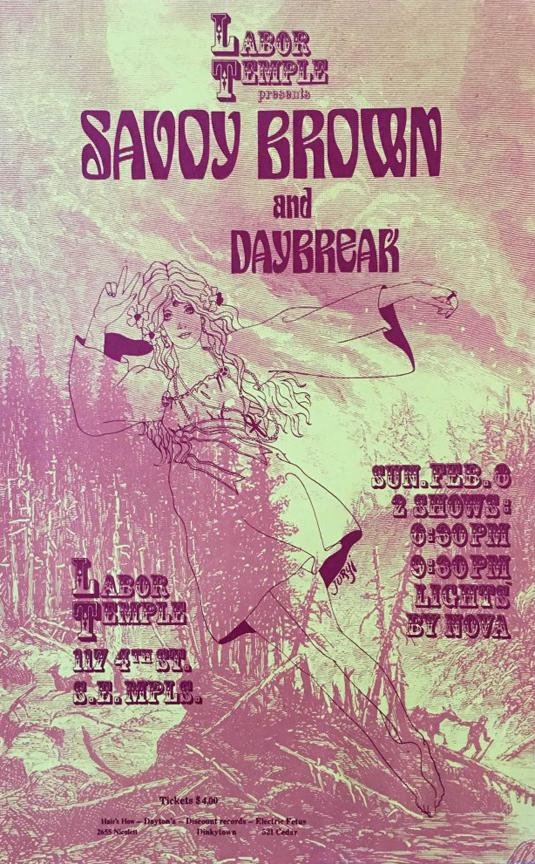 Well, reviewer Ron Dachis didn't like Daybreak.  "They unleashed a barrage of noise, screaming out one uneventful song after another.  A raving bas player and nondescript drum solo added t the abuse.  Enough said."
Savoy Brown, however, boogied quite handily, playing everything from "Hernando's Hideaway" to "Purple Haze" to the boogie beat.  Also some oldies:  "Whole Lotta Shakin' Goin' On," "Little Queenie," and "Shake, Rattle, and Roll."  Jim Simmonds and Chris Youlden were the only original members of the group.  Dachis was disappointed that the band presented no new original material, but in the end, "an enthusiastic crowd and a solid rocking band made for a good evening's entertainment."
---
Byrds and Teagarden & Van Winkle, February 15, 1970
It was at this show that folk singer Ken Schaffer began a run as the emcee; he also sang a few songs.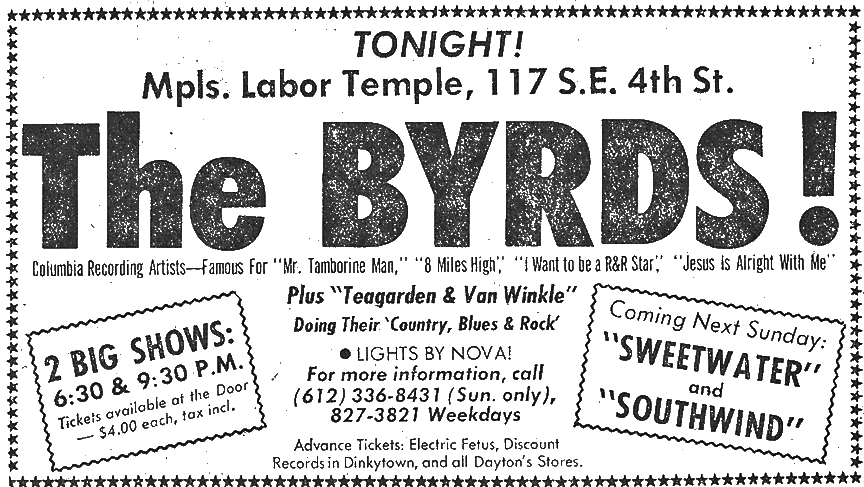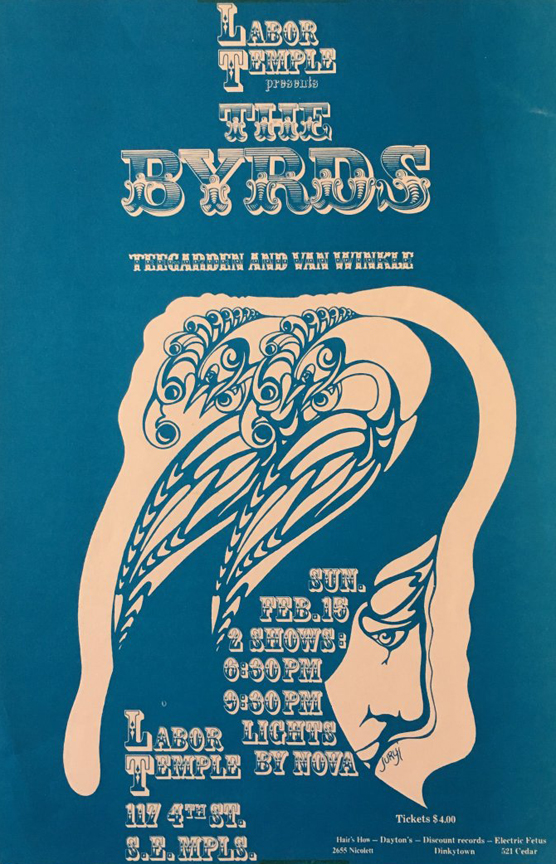 At this point Roger McGuinn was the only original Byrd, as Gene Clark, Chris Hillman, and David Crosby had moved on.  The new members were:
Gene Parsons – drums, harp
Skip Battin – bass
Clarence White – lead guitar
The group played some of the Byrds's early repertoire, but reviewer Thomas Utne liked their "new stuff that they sing with pleasure and pick with pride.  They are casual, smooth, harmonic, funky (but not hokey), and fun."
Teagarden and Van Winkle turn out to be a drum-organ duo from Tulsa.  Utne:  "They managed to butcher Donovan's 'Season of the Witch' almost as grossly as the other twenty versions of it.  Their long between song raps are much more fun to listen to than their drawn out instrumental renditions of everything.  Van Winkle's Okie accent is unbelievable."
---
Sweetwater and South Wind, February 22, 1970
Sweetwater performed without Nansi Nevins, who had had her debilitating car accident the previous December.  South Wind played country rock.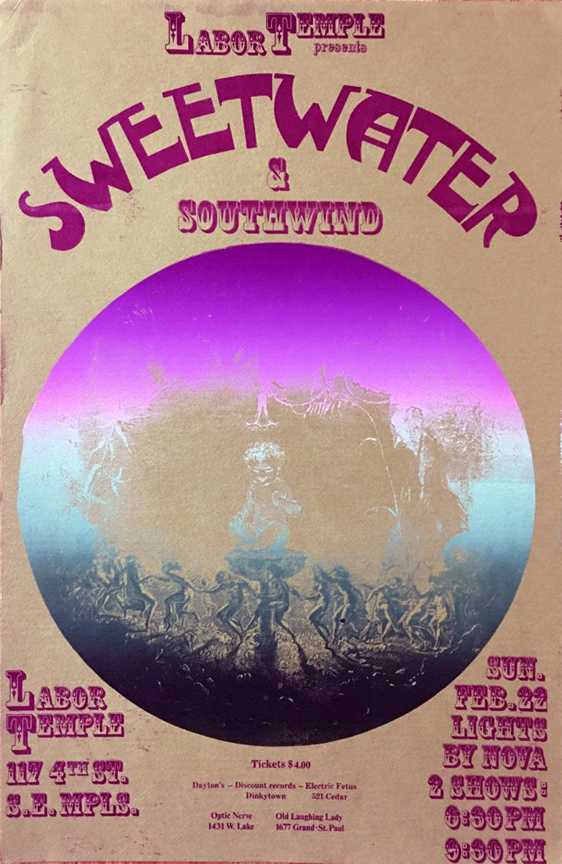 ---
Youngbloods and S.R.C., March 1, 1970.
S.R.C. was from Detroit and had a few albums out on Capitol Records.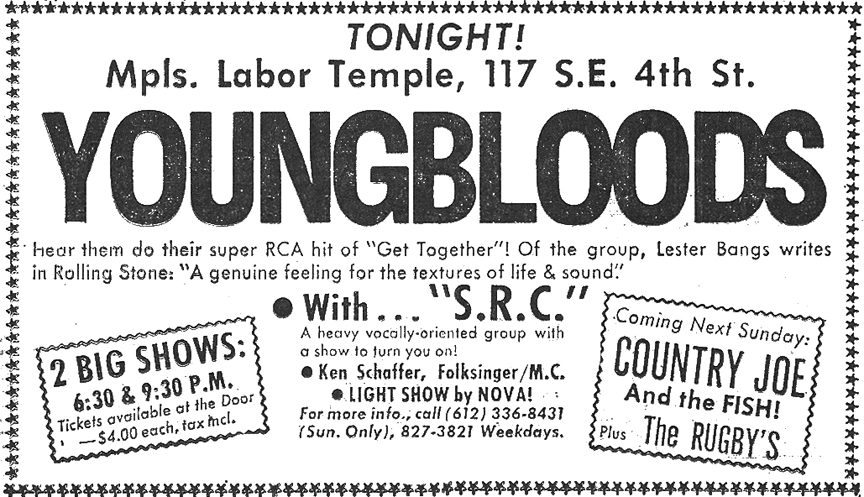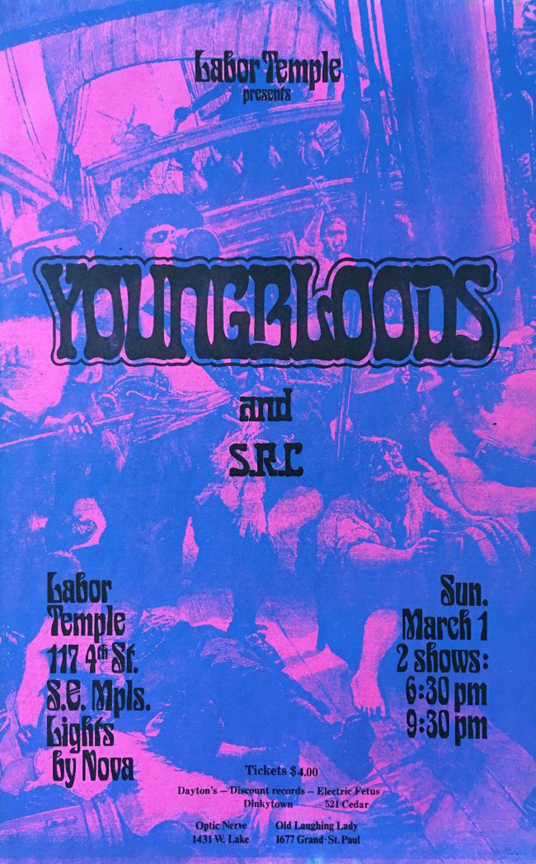 ---
Country Joe and the Fish and the Rugbys (from Kentucky), March 8, 1970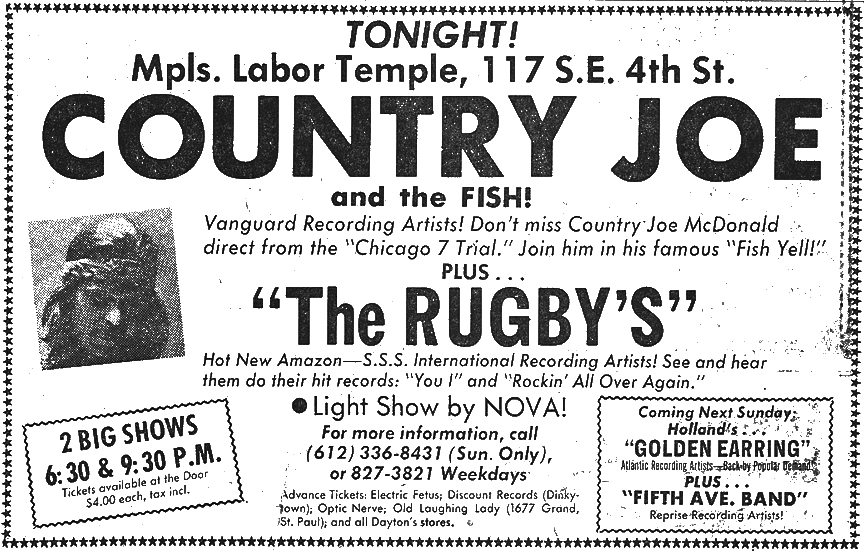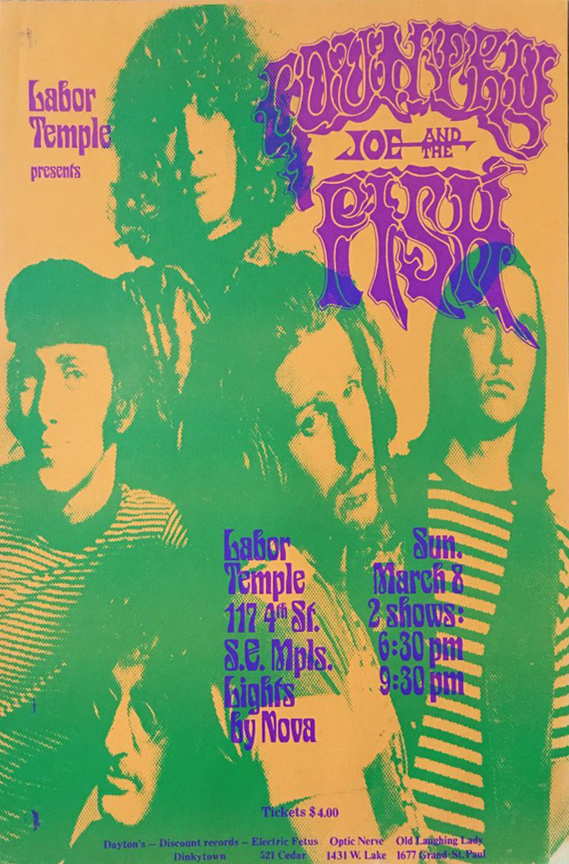 ---
Golden Earring and the Fifth Ave. Band, March 15, 1970
Light show by NOVA.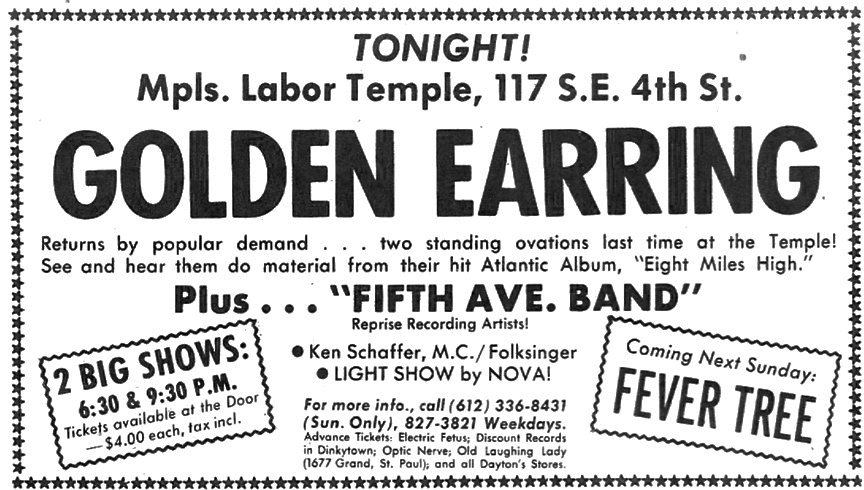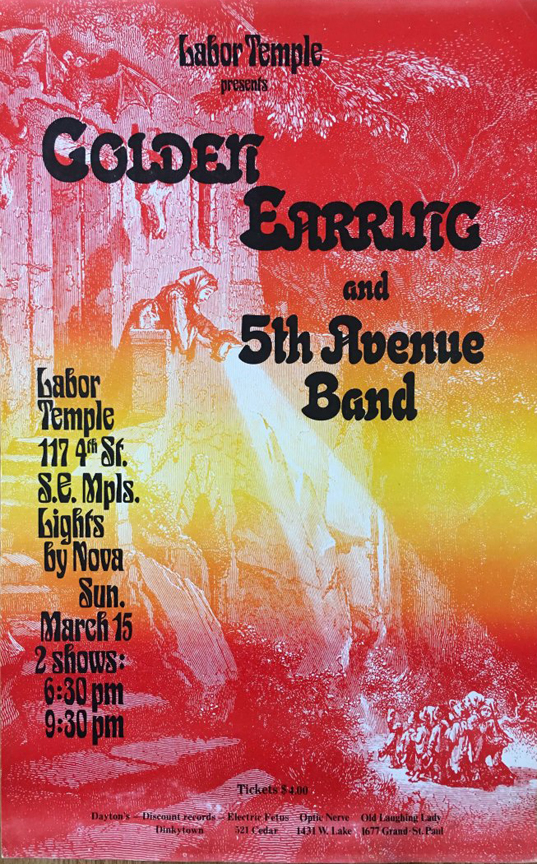 ---
Johnny Winter (with Edgar) and Thundertree, March 22, 1970
The review in the Minneapolis Flag was short but decisive:
2,000 delighted Temple-goers screamed and freaked during the March 22ndd performance of Johnny Winter and his hard group.  Edgar his brother came on as a terrific crowd-pleaser and a most versatile and original musician.  Everyone enjoyed their stoned selves.
Thundertree, the warm-up group, were at their best – pick up their album – you may dig it.
---
Billy Hallquist of Thundertree remembered:
When Thundertree opened for Johnny Winter at the Labor Temple, he wanted to use his own P.A. The delay caused us to cut short our set at the first show. Johnny was apologetic. Before the show, he sat next to me in the dressing room and was playing the lick to a Blind Faith song over and over (wrong). I struggled mightily whether I should correct him or remain silent. After several agonizing minutes, I chose silence. During the second show we got to play our entire set, including our 30 minute version of "I'm a Man." During my extended solo, I noticed that Johnny was standing on the side of the stage groovin' along with me. I must admit I felt a little uneasy watching him watch me. After the show, he played my blonde 335 and offered to buy it. Never had the opportunity to meet or see him perform again.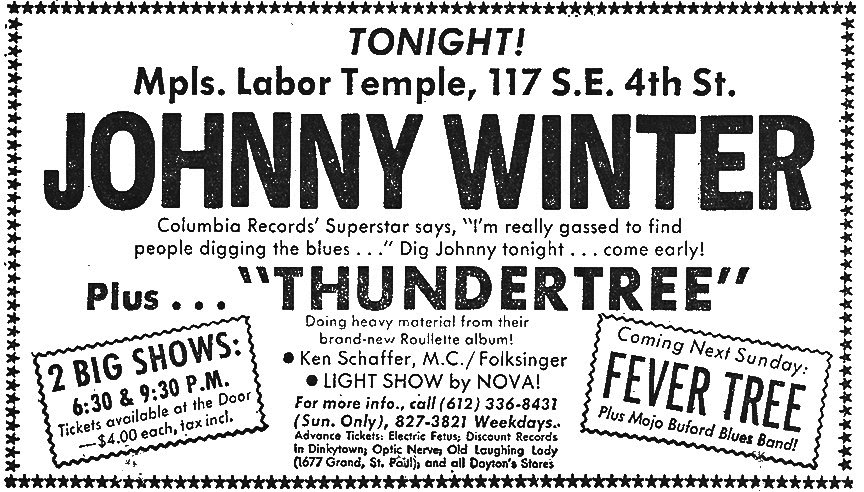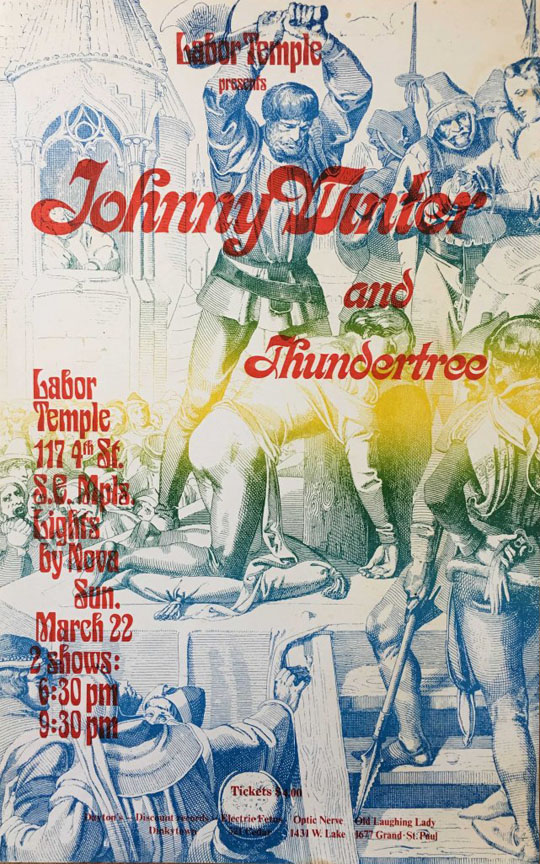 ---
Fever Tree and Mojo Buford Blues Band, March 29, 1970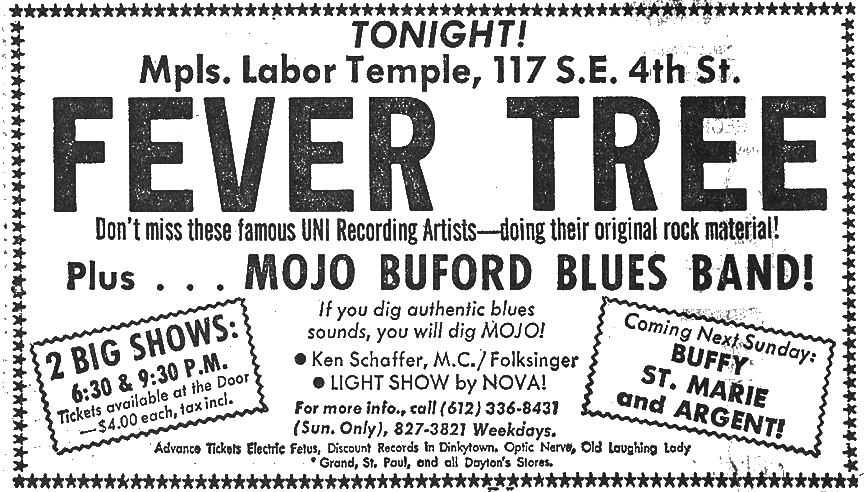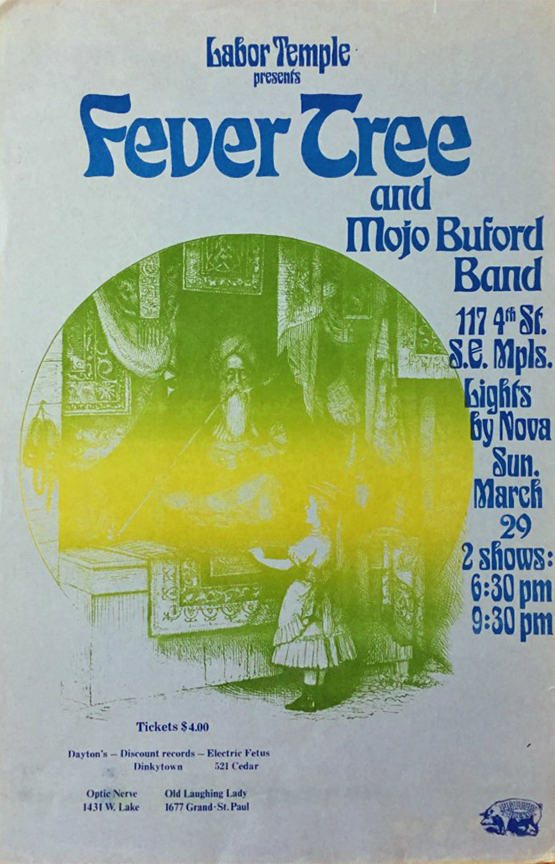 ---
Buffy Sainte-Marie and Argent, April 5, 1970 
This show was probably cancelled; there is a poster for Buffy Ste. Marie for May 3, 1970 below.
---
Small Faces and Alice Cooper, April 19, 1970
The Small Faces had actually disbanded in 1969 when founding member Steve Marriott left to form Humble Pie.  The remaining members were joined by Ronnie Wood on guitar and Rod Stewart on vocals, and the group was renamed the Faces – except that the Faces' first album was credited to the Small Faces in the U.S.  By 1970 they preferred the name Faces, but seemed to be stuck with the "Small" for a little longer.  (Oh, a pun..)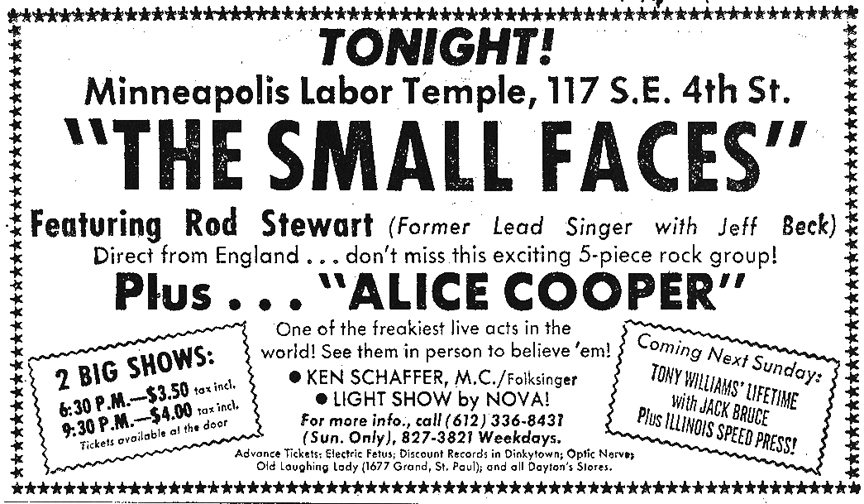 George Ostroushko created most of the Labor Temple's posters, and remembers this about the one shown below:
I was a huge fan of the Small Faces, and when Steve Marriott abruptly left to start Hubble Pie I was deeply saddened and hurt but, not nearly as hurt as when I found out that the Small Faces reformed as the Faces with new members and one of those members was Rod Stewart…..I had met Rod about a year earlier when he played with Jeff Beck and I found him to obnoxious and arrogant, so when I found out that they were playing at the Temple and that my poster was to represent that show, I decide to put Small Faces on the poster rather than the Faces. No one knew about my little sabotage, or at least no one said anything, until the night of the show, I was sitting behind stage with Ronnie Lane and Kenny Jones and I told them what I had done and why. We had a good laugh about the poster over a couple of joints. Ronnie Lane was and still is one of my favorite writers and singers of all time. Miss you Ronnie, you were one of the greats!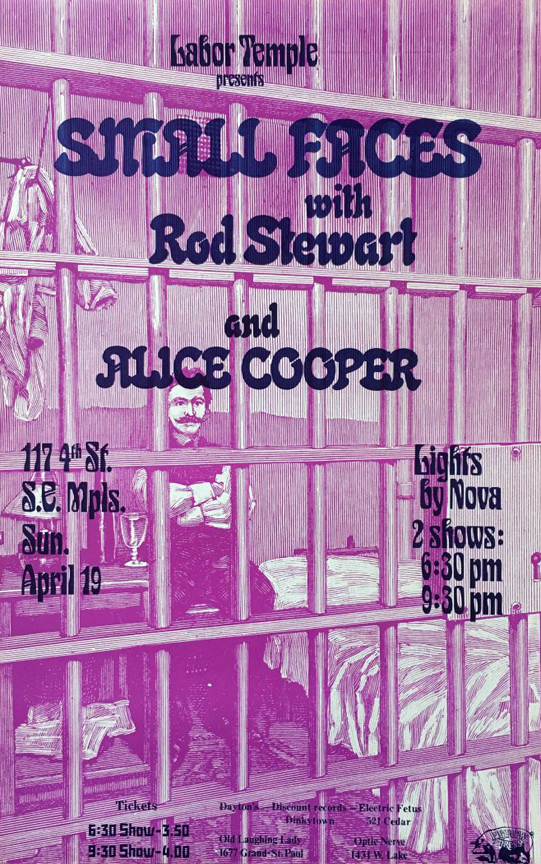 Review from Hundred Flowers:
Alice Cooper led off and the combination of some lousy music and their wildly sensationalistic clothes (foils, whips and tits) made it quickly apparent that they'd better put on a pretty big show.
They saved most of their energy for the last song and I'll bet they've gotten it on a lot better before.  The song was a little kids' nightmare.  All these freaks with ballroom masks and hair down to their knees like boogey men running around the stage with their axes and then charging into the crowd.
Our friend Captain Alice capped it off by ripping two feather pillows and blowing smoke (and feathers) all over the crowd.  F**K YOU (to the tune of AH CHOO), Alice.  (Not to be mistaken for a chauvinist's epithet.)
The Small Faces of Itchicoo Park and funny-shaped album cover fame were in the process of breaking up after the demise of their record company, but were saved in time by Rod Stewart and Ron Wood of the the Jeff Beck group.  Stewart and Wood, et. al., conserved their stuff too until the lights went on, after which they played three or four long songs, and Stewart finally started cookin.'
Ray Olson's review was a little more scathing.  Alice Cooper's music was "all blaring chords and unremarkable singing with banal lyrics to boot."  During the second show "Their music was no better than before but their theatrics mounted the heights of inanity.  They concluded their act with a 'science fiction number' during which they collectively crawled around the stage floor, climbed atop their amps and leaped off of them, waved colored scarves," and you know the rest.
The Faces fared better, review-wise.  Olson reported on the set list:
Wicked Messenger
Devotion
Evil
Flying
Pineapple and the Monkey (described as an "elephantine cakewalk)
Around the Plynth
Encores of a "mean blues shuffle" and then
Three Button Hand Me Down
"The Faces left a hard rock wall of applause behind them"
---
Tony Williams Lifetime and Illinois Speed Press, April 26, 1970
David Anthony brought in a show called the Tony Williams Lifetime, which featured Williams on drums, John McLaughlin on guitar and Jack Bruce of Cream on bass and vocals.  The Jazz-fusion sound didn't attract concert-goers – the review in the Insider called the show "incredibly bad and sparsely attended."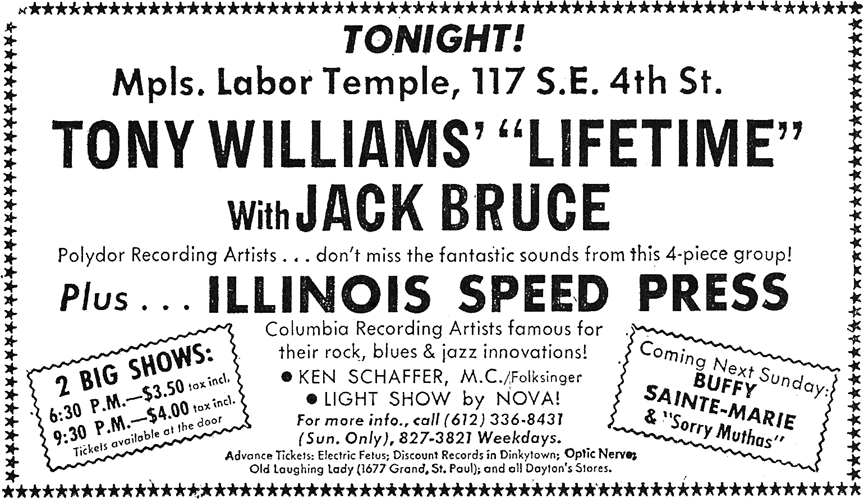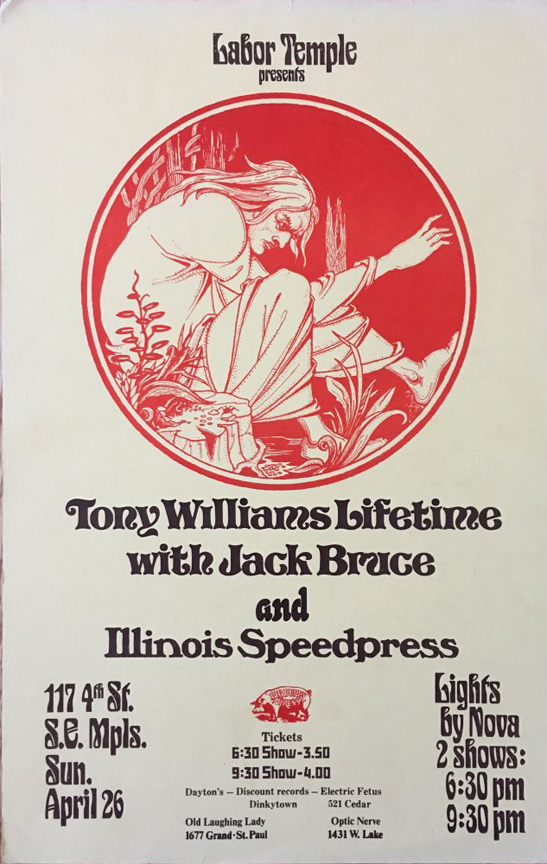 ---
The following were planned but may not have happened:
Buffy Sainte-Marie and the Sorry Muthas, May 3, 1970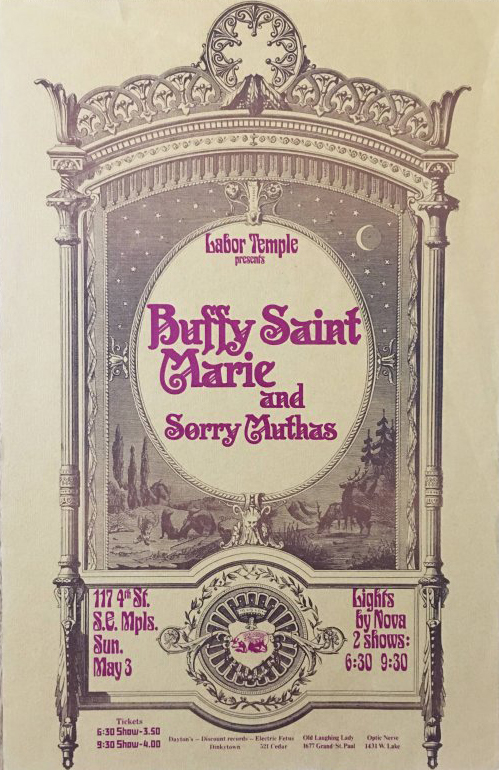 ---
Country Joe and the Fish with Pepper Fog, May 10, 1970 – Cancelled
George Ostroushko designed the poster below for the show but since the show was cancelled, it was never printed.  Fortunately, George still had the artwork!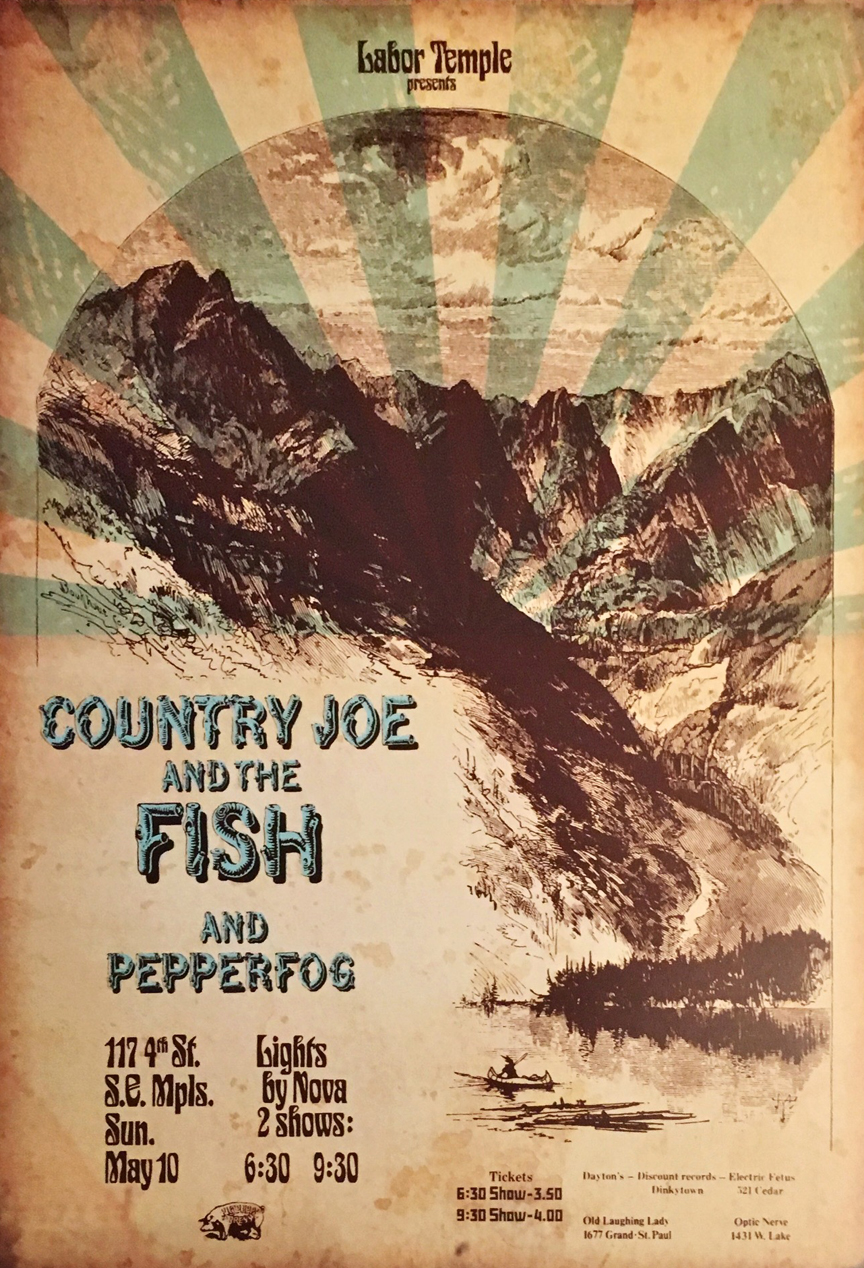 ---
The Byrds, May 18, 1970 – Cancelled
---
BB King and Mojo Buford, May 31, 1970 – Cancelled

---
EXIT DAVID ANTHONY
In May 1970, Anthony closed the Labor Temple.  Reasons were mostly financial:
He had based his ticket prices on a capacity of about 3,000 people, but the fire marshal cut that in half, resulting in a loss of $12,000 from January to May 1970.  His financial backers backed out, since they weren't getting an adequate return on their money.
Union members who had offices in the building would try to get in for free.
He got flak for not using union labor.
Colleges were offering acts high fees, which pushed expectations up for other venues.
Anthony also had a lot to say about the community that did not support acts that weren't "famous."  No longer were people willing to take a chance on a lesser-known act, even if it was in a low-key environment with arguably the best acoustics of the four major venues in town.
---
ENTER DANA MARVER
Dana Marver, a 17-year-old from Highland Park, and his mother Gloria, formed Joint Productions and brought in major acts to the Labor Temple in 1970.  It became the Fillmore or the Whisky a-go-go of the Midwest, while maintaining a good relationship with the police and taking care of the customers by keeping staff of the YES drug counseling organization on hand.
---
Savoy Brown, White Lightning, and Dawn, September 13, 1970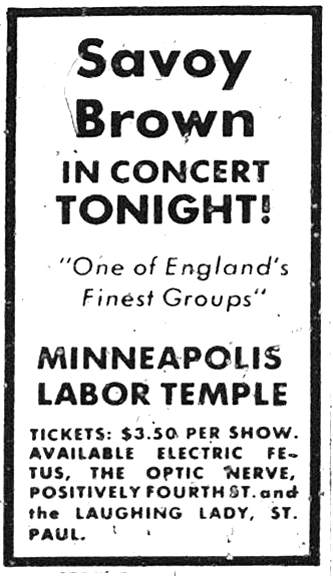 Hundred Flowers had a positive review of Marver's opening concert, even though Savoy Brown's equipment was delayed.  White Lightning had actually played at the Depot earlier in the day in some all day marathon.  [Gathering at the Depot]  Dawn was a new local group consisting of Ken Shaffer, Den Carr, "and friend Joyce."  No Tony Orlando.
Finally came Savoy Brown and all their beautiful blue-eyed blues.  It was the third trip these Limeys have made to the Labor Temple and they've astounded us with their progression each time.  Savoy Brown, with some of the very best of the British Blues albums under their belt, brought the house down.
Reviewer Dodd Lamberton noted the volume of the groups, with a generally positive review of Savoy Brown.  Of White Lightning, though, he said that they "need new material as they have played basically the same songs they played last night in two recent appearances at the Depot and the Auditorium."
---
Gypsy with Pepper Fog, September 20, 1970
---
Johnny Winter (with Rick Derringer) and local group Big Island, September 27, 1970
Tom at Hundred Flowers was brutal, describing Winter as "tired and bored, insincere in his enthusiasm, and uninspired.  The audience, who had to wait an extra hour outside for the first show to end, was tired and bored, insincere in its enthusiasm, and uninspired."  Plus the show was "outrageously short."  Is that like, "This meal is terrible and there's not enough of it?"
---
Sha-Na-Na and the Mystics, October 4, 1970
Dana Marver says the guys were playing jazz to warm up and only took on their '50s personas when they "greased up."
---
Poco with Jarreau, October 11, 1970
Jarreau was the name of Al Jarreau's band before he went solo.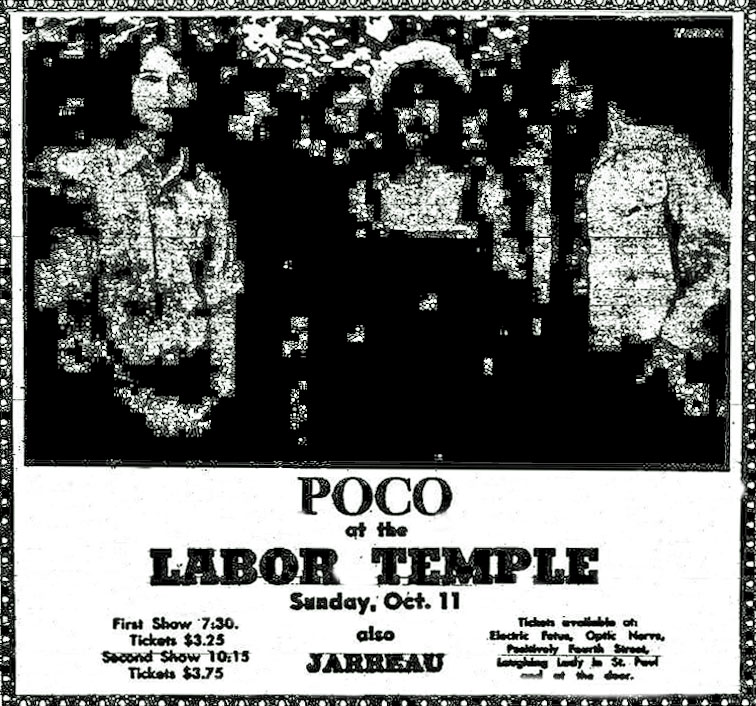 Review of Poco in Hundred Flowers:
You'll watch with brotherly pride as they stride onto the stage – so young and so fresh and so vital – and with such warmth and honesty you'll have to return the affection…hmmm, Poco! Whatever their worth as musicians, you'll find yourself digging Poco before they play a song.
And once they begin? You bet. They sure have a big start in Richie Furay and Jim Messina, both former members of the heralded and much-missed Buffalo Springfield.
Like the Springfield, Poco's strength lies even more in their harmonies than in their guitars. Indeed, drummer George Granthuny and bassist Tim Schmidt fit so well with Furay that neither Messina nor Rusty Young sing at all anymore.
Young, by the way, was misidentified in the April 24th Hundred Flowers as Neil's brother. He sure looks like somebody's little brother. A very notable pedal steel guitarist.
The Poco spirit – energetically kind, sweet, humble, and united – doesn't come at all from the gut but it is so enthusiastically offered and overflowing that they simply lay it at our feet. And, singing pretty-as-a-picture three-part tenor harmonies is as soulful as a country boy can get.
Sunday at the early show that's how they finished it. After going through a lot of changes in their set, from electric lead to acoustic to dobro, and from country rock to purer country, they finally got it on for the young audience, and in so doing really put psychedelic music into its proper perspective. None of that screaming bullshit. Just good and controlled distortions and loud and euphoric guitar and dobro licks.
It all was so down-home that even the hyper Temple crowd was solidly relaxed when Poco walked off the stage. It took us about 15 seconds before we got sentimental about them and realized that we wanted them back and could get them back.
So the delayed ovation worked and Poco returned for a 20-minute encore. And with everyone on their feet for the first time, the energies were profound. It's good to see Poco-music accepted so well. Bravo Poco! Bravo Temple!
---
The MC5 and Brownsville Station, October 25, 1970
… but the MC5 cancelled two days before.  Brownsville Station went on, plus a band from Detroit called Night Train.  This setback caused Marver to have to cancel the Allman Brothers.
---
Albert King with the Sorry Muthas, November 1, 1970
John O'Brien reviewed this show for Hundred Flowers; an excerpt:
He couldn't seem to get through, and he knew it.  There was some trouble with the sound equipment:  the audience couldn't hear it, but he could, and it cramped his style.  He was fighting the sound system, and sometimes his tired sidemen, trying to get out the blues he was obviously feeling.  It wasn't until about four songs from the end that he finally broke through, when he did a blues called "I Feel Like I'm Drowning on Dry Land."
Jim Gillespie noted that King had been booked into the Labor Temple twice before but had cancelled.  But, he said, this performance was worth waiting for.  Unfortunately the crowd was smallish.  As for the opening act,
The Sorry Muthas, a local country-influenced group, opened the show with an all-too-short set of traditional material.  They have a good-timey vocal sound and feature a fantastic dobro (unamplified steel guitar) player as lead instrumentalist.
---
Amboy Dukes and Alice Cooper, November 8, 1970
This show turned out to the Temple's last, and it went out with a lot of noise.  The review in Hundred Flowers indicated that Ted Nugent of the Amboy Dukes did a lot of screaming, at one point breaking into "a semi-coherent statement about melting into one mind," etc. etc.
Alice Cooper's "gay swishing," "bumping and grinding his way across stage in classic drag queen fashion," and "gay teasing got old quick," according to the reviewer from the revolutionary underground newspaper.
Dana Marver remembers being with the bands at the Holiday Inn Central and bumping into Frank Zappa and the Fifth Dimension in all their glory.
---
The Allman Brothers, November 15, 1970
This show was cancelled.
---
THE END OF THE LABOR TEMPLE
Dana Marver was forced to stop hosting concerts at the Labor Temple at the end of 1970.  The reasons were many, according to an article in the November 19, 1970, issue of Hundred Flowers:
The Labor Temple insisted that all concerts must end at 10 pm.
A petition was presented to the Mayor's office, but it had only 16 names on it; "One of the signers lives in Excelsior, which puts the whole petition to ridicule."
Marver and his booking/publicity agent, Dick Shapiro, were at odds; "Shapiro has made obvious plays to take over Sunday nights, and has discouraged Dana from continuing."
There was a "lack of community interest and support."
"The Labor Temple Board has had a hard time relating to the idea of a 17 year old promoting concerts."
And so ended the musical career of the mythical Labor Temple.  The building was torn down  – the demolition permit was issued on December 30, 1974, and it was demolished in 1975.
The property was sold to the owner of Aveda by Campus Church Assoc. on February 1, 1986, for $107,476 and is now the Aveda parking lot.
And yet … so many people still think that the Aveda building is the former Labor Temple – we even got a tour of it, by someone who told us that Janis Joplin performed right where we stood.  Oh dear.
Save
Save
Save
Save
Save
Save
Save
Save
Save
Save
Save
Save
Save
Save
Save
Save
Save
Save
Save
Save
Save
Save
Save
Save
Save
Save
Save