The Kistler Building was located at 635-37 Sixth Ave. No. (Olson Memorial Highway) on the southeast corner of Sixth and Lyndale.  It housed a number of important jazz and R&B clubs on the North Side.
Dr. Alvin Kistler was a physician who worked out of the LaSalle Building in downtown Minneapolis.  In 1952 he was interviewed as part of an investigation into the finances of Tommy Banks, who was on trial for tax evasion.  He said that on numerous occasions, Banks had sent poor people to his office for treatment and asked that the bill be sent to Banks.  Often the beneficiaries of the assistance did not know the source of the help.
---
Ben Brochin, who was born in 1909, remembers that in the 1920s the building had businesses on the first floor, apartments on the second floor, the Atlas Athletic Club (a Jewish organization) on the third floor, and a gymnasium on the fourth floor.  He also remembers meeting rooms, billiard rooms, and a small kitchen.  There doesn't appear to have been a fourth floor.
---
The Elks Lodge (a/k/a The Ames Lodge) was on the third floor of the building in 1930. Dances were held three times a week and on holidays.
---
Apex Hall:  1934 – 1938, third floor.  Site of weekly dances.
---
The Clef Club:  First mention in the Spokesman is apparently August 1939, when the club was advertised as newly redecorated.  In November 1939 the Clef Club presented "That Sensational, Petite, Dynamic Artist Dorothy Adams, Direct from Grand Terrace, Chicago, plus Pal Tillman and His Harlem Syncopators.  Then on October 26, 1940, the club was again described as newly decorated and  reopened with a "big imported floor show."   "The Clef Club will be the night club in the Twin Cities catering to Negro patronage," reported the Spokesman.  Manager Scottie Williams promised a show with "a snappy group of entertainers" including:
Carroll Lee, female impersonator
Alma Smith, torch singer
Chase and Ray, the "Brown Dots," dancers par excellence
A chorus of dancing girls, in a show produced by Jackie Hudson
Music by Walter Lear and His Six-Piece Orchestra
An ad from December 1940 listed the owners as Williams, Sylvester Oliver, and Ben Wilson.  The Clef Club apparently went out of business in late 1941 or early 1942.  Art Tatum once played there.  Leigh Kamman said that bassist Oscar Pettiford "had his humble beginnings at the Clef Club."
Note that there was an organization called the Clef Club in the early 1920s that organized dances, usually held at the South Side Auditorium.  Not sure whether there is any relationship.
---
Cotton Club Cafe:  Opened May 1938, third floor, formerly the Apex Club.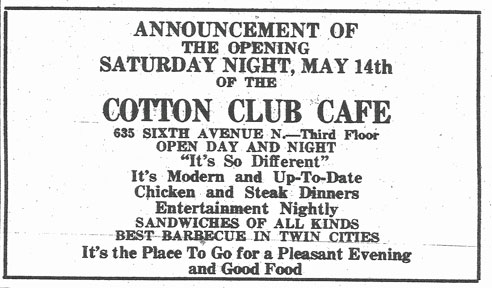 ---
The Halfway Club was described as up a flight of stairs.
---
In 1920 the hall was used by the Masons, their female counterpart Eastern Star, and the related Scottish Rite, as evidenced by this excerpt of the Minneapolis directory from that year, provided by Buzzy Bohn: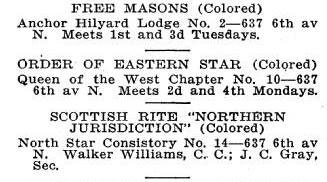 ---
Watson Hall:  In 1948 John Ritchie took over management and ownership of a pool hall in the building, and bought the building in 1949.  Later he remodeled the second floor into an apartment hotel.  On the ground floor he opened several businesses, including a record shop and a cafe.  In 1954 he remodeled the third floor into a dance hall.  Eventually named Watson Hall,  it is described in the Minneapolis Spokesman in February 1954 as "a spacious dance hall with hard wood flooring, supported by two under-floors insulated with sound proofing material.  It was equipped to seat over 200 people around the dance floor in seats of the latest vinyal (sic) plastic upholstering material, for easy, comfortable seating.  On one side of the room is a lounge with tables and chairs capable of seating a hundred people.  The mezzanine above the lounge enables spectators to view the entire dance floor and the curved bandstand in the northwest corner of the building.  A service bar for serving refreshments is equipped for both the Mezzanine and main floor.  The hall will be available for parties, lodge meetings and other community meetings."  In July 1954 Watson Hall is announced as a new dance hall, "delightfully cooled by nature," which probably meant there was no air conditioning. The next month it is revealed that it is the home of George Watson Post 522 and showcases Oscar Frazier and his Combo Fridays through Sundays.
---
Ebony Hall/Ballroom:  In December 1954 there is a Grand Opening Dance at Ebony Hall on the third floor, featuring Eddie Boyd and his Orchestra.  More dances at Ebony Hall follow, including a New Year's Eve 1954 show with Prince Rogers and His House Rockers.  It apparently goes dark, then re-opens in August 1955 (music by Oscar Frazier and His Combo), and by October is billed as the "Midwest's Most Fabulous Spot."  In December 1955 it is "The Twin Cities Most Beautiful Ballroom."
Jerelein May Jones graciously allowed me to post her Facebook comment:

My husband Bart (Hobart) says where the Ebony Club was in the Kistler building, in 1950 it was a pool hall owned and managed by John Richie. Bart says, as a youth of 16, he worked there as a rack boy. When pool players game was over and they called out "rack house," Bart would rack up the balls for whatever game they were playing (9 ball, 8 ball, rotation,or straight).  He would sometimes get tips from winning players who gambled on their game. Bart's dad, Spence Jones, shot pool there for many years and had a reputation for his skill with a pool cue. The owner, John Richie , was also a skilled pool player and sometimes he and Bart's dad would "get it on" in a game of 9 ball or straight pool, with spectators standing around watching. Also, in the rear of the pool hall, were card tables, where the gamblers played cards. Tonk and Blackjack were popular, among other card games.
---
The Kistler Building was demolished as part of the Glenwood Redevelopment Project in 1957.
Save