The Guthrie Theater opened May 7, 1963. Its first production was "Hamlet," directed by Sir Tyrone Guthrie. Guthrie and friends Oliver Rea and Peter Zeisler had been disenchanted with Broadway, and wanted to create a theater with a repertory company that would present the classics. The repertory company included George Grizzard, Hume Cronin and Jessica Tandy. The group advertised in the New York Times, soliciting cities that would be interested in sponsoring such a theater. Of the seven cities that responded, the founders were impressed with the demographics but mostly the enthusiasm of the Twin Cities for the project.
---
Music at the Guthrie
1963
The first musical performance in the new venue was held on May 27, 1963 by the Modern Jazz Quartet.
Sonny Rollins and his Trio played the Guthrie on June 24, 1963.  Will Jones of the Trib loved it and music critic Sherman hated it.  Around that time Herb Pilhofer became the musical director at the Guthrie.
---
1964
The Guthrie's Center Arts Council sponsored a series of Folk concerts in early 1964:
Mountain String Band and Banjo Songs, January 25:
New Lost City Ramblers of NYC
Roscoe Holcomb of Daisy, Kentucky
Dock Boggs of Norton, Virginia
American Negro Folk Songs and Blues, February 8:
Bessie and the Sea Island Singers of St. Simon's Island, Georgia
Mississippi John Hurt, Avalon Mississippi.  Will Jones reported that Hurt, 72, was rediscovered about a year prior by record  collector Tom Hoskins from Washington, DC.  Most collectors of his 1928 records had assumed he was dead.  Hoskins found Hurt at home in Mississippi and told him he was going to take him to Washington to record.  Hurt was convinced that the record buff was really from the FBI:  "I knew I hadn't done anything sinful, but I went along anyway.  Now I'm sorry the FBI man didn't discover me a few years earlier."
Sleepy John Estes, Lowry County, Tennessee with Hammie Nixon and Yank Rachel
Traditional Ballads and Folk Songs, February 22:
Jean Ritchie of Viper, Kentucky
Doc Watson of Deep Gap, No. Carolina with Fred Price and Clint Howard of Mountain City, Tennessee
---
Folk singer Theodore Bikel made his first Twin Cities appearance on February 23, 1964, at the Guthrie, presented by the Minneapolis Chapter of the Hadassah.
Coleman Hawkins Quartet, July 19, 1964
Dizzy Gillespie Quintet, August 19, 1964
Paul Taylor, August 30, 1964
Gerry Mulligan Quartet, September 27, 1964
---
1965
Duke Ellington, March 23, 1965
Cotten, Davis, Fuller, April 30, 1965
Charles Mingus Quintet, May 30, 1965
John Coltrane Quartet, June 20, 1965
Herbie Mann Trio, August 29, 1965
Bill Evans Trio, September 19, 1965
Odetta, November 14, 1965
---
1966
Modern Jazz Quartet, January 21, 1966
Bill Monroe and the Blue Grass Boys, March 5, 1966
Ella Fitzgerald, April 21 and 22, 1966
Oscar Peterson Trio, July 24, 1966
Miriam Makeba, September 12, 1966
Ahmad Jamal, October 16, 1966
Don Shirley, October 31, 1966
---
1967
Carlos Montoya, March 7, 1967
Ornette Coleman Trio, April 30, 1967
Cannonball Adderly Quintet, May 21, 1967
Nina Simone, June 18, 1967
Blues Project, July 9, 1967
Horace Silver (Jazz) – July 30, 1967
Buffy Sainte-Marie, September 10, 1967
Ramsey Lewis Trio, September 24, 1967
Butterfield Blues Band, November 12, 1967
Ian and Sylvia, December 1, 1967
---
1968
Ravi Shankar, January 17, 1968.  The Walker Art Center planned a program the evening before Ravi Shankar's concert.  The Sitar and Sarod lecture and demonstration was presented by Tony Glover and J. Pease, "students of Ustad Ali Akbar Khan.
---
Judy Collins, February 18, 1968
---
Miles Davis did two shows on May 26
---
The Who, June 8, 1968.  The show was opened by Koerner, Ray, and Glover; Koerner told a dirty joke.  Half of the show came from the rock opera "Tommy."  The Insider reported that as they smashed their equipment, "an impetuous boy who attempted to join in got as far as a couple of licks on the drum and guitar before a sideliner gave him the heave-ho.  It was a dramatic ending to a bash of a concert."
---
Muddy Waters, July 14, 1968.  See an ad on Robb Henry's blog.
---
Janis Joplin with Big Brother and the Holding Company, August 18, 1968.  Photo below by the amazing Mike Barich!  He says it was the last frame on the roll, accounting for her fingers being cut off.  Also, there was (of course) Southern Comfort in her cup.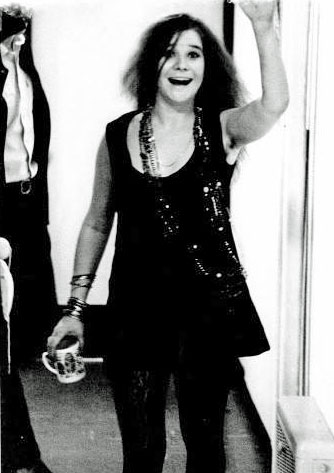 ---
Doc Watson, September 15, 1968, Guthrie Theater
Flatt and Scruggs, October 13, 1968, Guthrie Theater
The United States of America, October 20, 1968, Guthrie Theater
Blood, Sweat & Tears, December 8, 1968, Guthrie Theater
There were others – a page of the Guthrie's records from 1968 is missing.
---
1969
Blood, Sweat & Tears appeared at the Guthrie on January 16 as their eponymous album came out that February.  Warren Walsh:  "I was disappointed as I expected the Al Kooper line-up but quickly forgave them when David Clayton-Thomas powered up."
---
Pete Seeger, March 22, 1969, Guthrie Theater
---
Michael Lessac and Tony Glover, March 30, 1969, Guthrie Theater
---
Led Zepplin played the Guthrie on May 18, 1969, and it was reported to be an Amazing Show – they played for 2 1/2 hours with no opening act.
---
---
THE WHO AT THE GUTHRIE
The Who played the Guthrie on June 8, 1969, shortly before Woodstock.  They had to add a second show as the 7 pm show sold out immediately.  Koerner, Ray, and Glover opened.  The first half consisted of material from "Tommy."   Gary Gimmestad reports:
Very near the end and leading up to the much-anticipated destruction and mayhem, Keith Moon slinked offstage while Townsend held focus. As the frenzy came to a fever pitch the floor trap opened and Moon rose out of the pit and circled back to his drums and the real destruction began. However, a stoner approached the stage, walking slowly toward Townsend with his arms outstretched. I don't know what Townsend's thinking was – "This guy is clearly whacked and potentially dangerous and I should just hand over the guitar," or "What the hell, this could be interesting." He did hand over the guitar and the energy was drained from the stage. It ended in ant-climax.
A review by Scott Bartell in the Trib complained that the set he saw was only 45 minutes long.  "After about six short pieces from 'Tommy' the group went back to three old songs and ended very abruptly after a version of 'Shakin' All Over,' leaving the audience unsure whether to go or stay…  It was a concert worth hearing, but no one could be sure they had really heard a whole concert."
Steven Adams remembered, "It was the only show I ever went to where someone in the audience asked the act to turn the volume down. Townshend refused. My ears rang for the next two days. Their 'Live at Leeds' album is nearly a song-for-song duplicate of their Guthrie concert."
B&W Photos of the Who by Mike Barich and John Gilbeath, published in the June 7-21, 1969 Insider.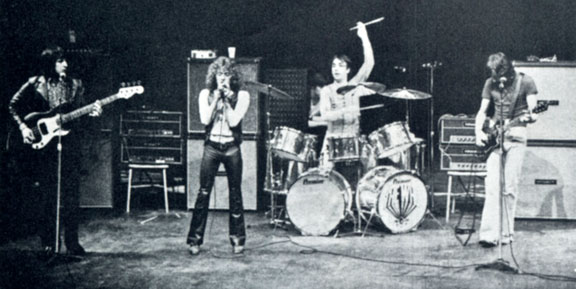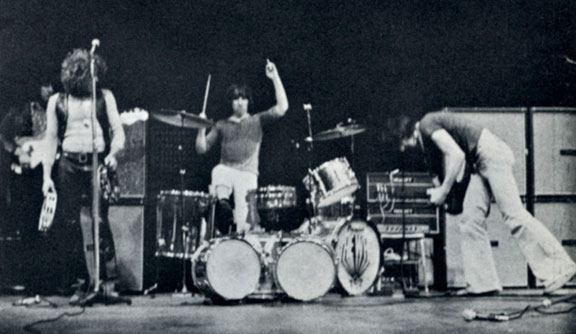 Tim Rummelhoff's photos below used by kind permission.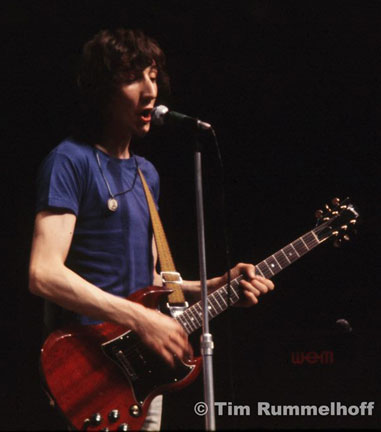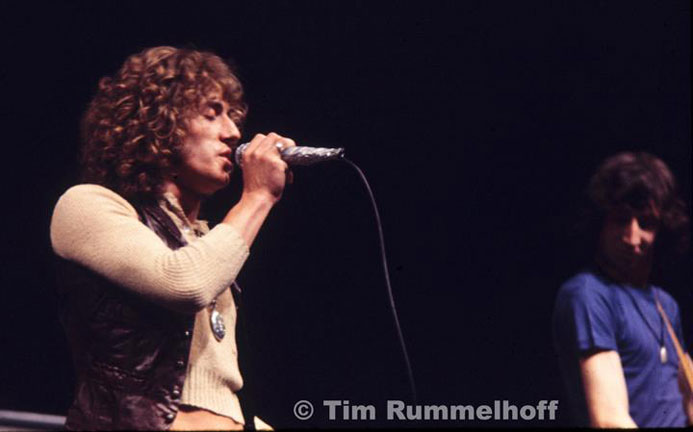 ---
Johnny Winter and the Holy Modal Rounders, June 29, 1969, at the Guthrie Theater.  It was Johnny's first time in Minneapolis.  See a poster on Robb Henry's blog.
---
Frank Zappa and the Mothers of Invention (10 members) and Alice Cooper, July 13, 1969, at the Guthrie.  (2 shows).  Reportedly the Zappa show featured mostly instrumentals as it was before Flo and Eddie joined.  Alice Cooper had yet to release its first album.
---
Elvin Jones, July 27, 1969, Guthrie Theater
Fleetwood Mac, August 3, 1969, Guthrie Theater
John Koerner and Willie Murphy, August 24, 1969, Guthrie Theater
Chuck Berry, Spider John Koerner, and Willie Murphy, September 7, 1969, Guthrie Theater
Silver Apples, October 5, 1969, Guthrie Theater
Steve Miller Band and Bonzo Dog Doo Dah Band, October 12, 1969, Guthrie Theater
B.B. King, October 19, 1969, Guthrie Theater
John Eaton and his Moog synthesizer, November 2, 1969, Guthrie Theater
---
Joe Cocker and the Grease Band, opened by the Sons, November 9, 1969, Guthrie Theater.  Cocker's first Twin Cities appearance.  He returned in December to perform at the Prison in Burnsville.
---
Tim Hardin, November 16, 1969, Guthrie Theater
Arlo Guthrie, November 23, 1969, Guthrie Theater.  He played two shows, packed houses.
Incredible String Band, November 30, 1969, Guthrie Theater
---
1970
Sam and Dave, February 15, 1970, Guthrie Theater
---
The Band, opened by Robert Pete Williams and Rev. Robert Wilkins, March 22, 1970, Guthrie Theater – two shows, starting an hour late.  Johnny and Edgar Winter showed up but didn't play.
---
Gordon Lightfoot, May 17, 1970, Guthrie Theater
The Pentagle, June 7, 1970, Guthrie Theater
James Taylor, June 21, 1970, Guthrie Theater
---
Frank Zappa and the Mothers of Invention, with Flo and Eddie, July 5, 1970.  This was their second appearance at the Guthrie.  Gary Gimmestad remembers that it was "truly one of the greatest rock shows ever. The programs for the show were printed on bubble wrap and the effect of the audience randomly popping them was great! The warm-up was a magician who made birds appear and disappear (a local guy I think) and two springboard acrobats. I don't know if this was Zappa's idea or not but it was brilliant. Zappa's guitar skills were clearly evident (much more so than on recordings) and the band was killer. It ended with "Happy Together' – Flo and Eddie were shirtless with banana peels dangling from their waists."
---
Homegrown with Roy Alstead, Bamboo, John Koerner, Willie Murphy, Leo Kottke, Sorry Muthas, August 23, 1970, Guthrie Theater
Leon Russell, September 6, 1970, Guthrie Theater.  He was backed by a 7-piece band.
Leonard Cohen, October 11, 1970, Guthrie Theater.
Youngbloods, September 2, 1970, Guthrie Theater.  [also listed as September 20]
Grateful Dead, October 18, 1970, Guthrie Theater.
John Sebastian, November 15, 1970, Guthrie Theater.
Elton John, November 29, 1970, Guthrie Theater.  A calendar from a September issue of Hundred Flowers indicates that something called "Company of the Unicorn" was originally scheduled to play that night.  The Insider confirms this, calling the Elton John show a last minute booking, played in the afternoon because of a play in the evening, smallish crowd.  Warren Walsh remembers:  "The first set was just him on the piano. The second set included the full band. What a show."  The Insider reported that he wore a purple cape and yellow bib overalls.  The opening act was Podipto, a band from Bemidji.
Leo Kottke, December 26, 1970, Guthrie Theater
---
1971
Jethro Tull, January 4 (check)
Neil Young, January 14, 1971, Guthrie
[Leo Kottke, January 28]
Captain Beefheart and his Magic Band and Ry Cooder, February 11, 1971, Guthrie
Taj Mahal, February 14 [4]
Ian and Sylvia, February 28, 1971, Guthrie
Gordon Lightfoot, March 7, 1971, Guthrie
Miles Davis, March 19, 1971, Guthrie
With Keith Jarrett, Jack DeJohnette, Gary Bratz, Airto Moriera, and Michael Henderson.  Henderson got snowed into O'Hare, so Jarrett played the bass parts on an electric keyboard.
Jethro Tull, April
Don Ellis and Friends, April 4, 1971, Guthrie
Laura Nyro, April 25, 1971, Guthrie
Kris Kristofferson, May 3, 1971, Guthrie
Emerson, Lake & Palmer and Mott The Hoople, May 11, 1971, Guthrie
John Mayall and Judee Sill, May 16, 1971, Guthrie (two shows)
Livingston Taylor, May 30, 1971, Guthrie
---
Tom Paxton and Judee Sill, June 13, 1971, Guthrie.  Peter Altman of the Minneapolis Star counted the house at about 800.  Altman was disappointed with Paxton's songs:  "Musically, Paxton's works were commonly marred by unfortunate effects.  Emotionally, they were inconsistent and at times evasive.  Verbally, they seemed to be skipping around pointlessly from idea to idea and not expressing essences."
Altman reported that Judee Sill just started performing professionally in January 1971.  The review was mixed; he had nothing good to say about her voice, and her lyrics were "poetic in adolescent ways," "obscure,sometimes clumsily symbolic, and at other moments mawkish."  But he gave her points for a dry wit, beautiful melodies, and an interesting, sensitive personality.
---
John Denver performed three sellout concerts at the Guthrie on three nights, June 18, 19, and 20, 1971.  He was backed by Mike Taylor on guitar, Dick Kniss on Bass, and his friends Bill Danoff and Taffy Nivert (a/k/a Fat City) on vocals.  Minneapolis Star critic Peter Altman found him to have an affable stage personality, and to have grown beyond "fraternity-row notions of romance and poetry," committing himself more seriously to the anti war movement.  Some of his affectations (the incessant "Far Out!" being one) was annoying to Altman, and he didn't particularly like the "several vague, dreamily adolescent songs about sunshine and freedom and truth," but it would seem that his audience came to rely on it.
---
Cat Stevens, July 4, 1971 (2 shows).  Michael Anthony of the Tribune reviewed the show, noting that the audience for the first show begged for more until the room had to be cleared for the second show.
In performance Stevens sings with more abandon than on recordings.  He sings and plays guitar with rapt concentration in near-perfect accord with his able sidemen:  Alun Davies, guitar; Larry Steele, bass; and Gerald Conway, drums.  Most of the material was taken from the last two albums:  "Wild World, "Hard Headed Woman," and the dialogue, "Father and Son," among others.  In the middle of the set he changed to piano accompaniment, playing simple but effective gospel style on "Miles From Nowhere" – perhaps his best vocal of the evening – and "Sad Lisa."
Judee Sill played and sang the first set of the evening – primarily the same material she sang a month ago at the Tom Paxton concert.  Her songs have a Western tone about them with a kind of loping-along rhythm.  They seemed even better on a second hearing.  They're difficult songs with numerous large vocal jumps that give her a little trouble in the upper register.
---
Crosby/Nash and Judee Sill, September 10, 1971, Guthrie
Shawn Phillips appeared at the Guthrie on September 26, 1971.
It's a Beautiful Day, October 3, 1971, Guthrie.  Did Jim Croce open and steal the show?
Johnny Rivers and Fanny, October 10, 1971, Guthrie.  Fanny, four girls featuring sisters Jean and June Millington, were known for their hit "Charity Ball."
Carly Simon, November 14, Guthrie (Cancelled)
Beach Boys, November 21, 1971, Guthrie – Surf's Up Tour
Sea Train, November 28, 1971, Guthrie
Randy Newman, December 5, 1971, Guthrie
Leo Kottke, December 26, 1971, Guthrie
---
1972
An article called "The New Rock Concert Promoter" in the September 1972 Insider talks about Sue Weil, coordinator of performing arts for the Walker Art Center.  "Her Guthrie concerts are part of the Walker Art Center's commitment to displaying contemporary art forms.  The concerts consistently lose money because she usually brings in acts before they beak nationally.  Weil picks acts on instinct and on advice of friends, other artists, and anyone else who offers it.  Her only criterion is that the artists be developmental or experimental…While Weil has capital to work with, she is only interested in breaking even and exposing the talent."
Seals and Crofts, January 9, 1972
Bill Withers, January 30, 1972
John Prine/Steve Goodman/Bonnie Koloc, February 5, 1972
Mahavishnu Orchestra, February 27, 1972
Cathy Berberian, April 16, 1972
---
Shawn Phillips returned to the Guthrie on April 23 and 24, 1972 (4 shows).  Photo below courtesy Mike Evangelist.
---
Tom Rush, April 30, 1972
It's a Beautiful Day, May 7, 1972
Todd Rundgren, June 4, 1972
Mahavishnu Orchestra with John McLaughlin, William Cobham, Rick Laird, Jerry Goodman, and Jan Hammer, August 12 or September 13, 1972
Argent, August 20, 1972
Pure Food and Drug Act, September 20, 1972
Randy Newman and Jim Croce, October 8, 1972
Commander Cody and Merry Clayton, October 29, 1972
Paul Winter Consort, November 5, 1972
Curtis Mayfield and Danny Holien, November 12, 1972
Taj Mahal and Steely Dan, November 19, 1972
Boz Scaggs with Dr. John and the Night Trippers, December 10, 1972
Leo Kottke Christmas Show, December 19-20, 1972.  Taped for a live album.
---
1973
Miles Davis, January 28, 1973.   Michael Markos worked that show as an usher and remembers that "Miles was recovering from an auto accident. He had had his leg casts removed early so he could tour and was in awful pain. If I remember correctly he played just a few notes the whole show."  When posted on Facebook this was identified as being in November; perhaps it was postponed because of the accident?
---
Dan Hicks and His Hot Licks, February 4, 1973
Weather Report, February 11, 1973.  Josef Zawinul: Keyboards, Wayne Shorter: Saxes, Miroslav Vitous: Bass, Eric Gravatt: Drums, Dom Um Romao: Percussion
David Bromberg, February 24, 1973
---
John Prine and Bonnie Raitt, March 10, 1973
---
Bette Midler, March, 1973
Joshua Rifkin, March 17, 1973
Mahavishnu Orchestra, March 18, 1973
---
Steve Goodman, May 6, 1973.  Jim Croce was scheduled to appear but cancelled at the last minute.  Minneapolis Star reviewer Roy M. Close said that many people chose refunds, but 700 stayed for two sets by singer-composer Goodman.  Close called the sets appealing and well-played, especially when singing his own compositions.
---
David Bromberg, June 3, 1973.  The show lasted 3 1/2 hours, featuring a jam with Bill Quaiteman.
---
Bobby Lyle, August 26, 1973
Charles Mingus, September 23, 1973
---
Dan Hicks and Martin Mull, September 30, 1973.  Facebook chat:  Hick's band the Hot Licks had just broken up, and "Lonesome Dan" was "fall-over drunk and embarrassing."  Mull was very funny and Hicks "kept saying stuff between songs like 'I hate that %#} Martin Mull.'"
---
Pointer Sisters and Martin Mull, November 11, 1973
Leon Redbone, December 2, 1973
---
1974
Steve Goodman, February 23, 1974, Guthrie Theater
David Steinberg, March 1974, Guthrie Theater
Waylon Jennings, Roger McGuinn, March 31, 1974, Guthrie Theater
---
Electric Light Orchestra and Chi Coltrane, April 16, 1974, Guthrie Theater (2 shows)
---
---
Graham Nash and Livingston Taylor, April 17, 1974, Guthrie Theater
Harry Chapin, April 26, 1974, Guthrie Theater
Melissa Manchester, April 27, 1974, Guthrie Theater (2 shows)  See ad above
Chick Corea, April 30, 1974, Guthrie Theater.  See ad above.  Return to Forever tour with Lenny White, Stan Clarke, and Bill Connors.
James Taylor, May 1, 1974, Guthrie Theater.  Mark Karnowski remembers that JT brought out Carly Simon for his only encore, "Mockingbird."
Jesse Colin Young, May 26, 1974, Guthrie Theater
Return to Forever featuring Chick Corea , June 29, 1974, Guthrie Theater.  Is this a) wrong; b) a return engagement; c) rescheduled from April 30; or d) other?
Sarah Vaughan Trio and the Woverines, August 19, 1974, Guthrie Theater
Ry Cooder and Randy Newman, October 7, 1974, Guthrie Theater
The Tom Prin Trio with Penney Perkins, November 24, 1974, Guthrie Theater.  This was a Benefit for the American Diabetes Association of Minnesota.  Pianist Tom Prin is the son of TV personality Toby Prin, and the show was introduced by Charlie Boone.
Leo Kottke, December 7, 1974, Guthrie Theater
Keith Jarrett Quartet, December 22, 1974, Guthrie Theater.  With Dewey Redman, Charlie Haden, and Paul Motian
Commander Cody (no date?), 1974, Guthrie Theater
---
Dan E. posted this tale but I have no date:
Herbie Hancock told an amazing story about his concert at the Guthrie in the early '70s. Some drunk guy in the cheap seats climbed up on a rafter, crawled on it all the way to the area above the stage, and then dropped down on HH.  Nobody got hurt though.
---
(A reminder that this website stops at 1974)
---
A new multistage theater center on the banks of the Mississippi River opened June 25, 2006.