Several clubs have taken a shot at the space in the (basement? first floor?) of this iconic Minneapolis building at 114 So. 9th Street. The building, Minneapolis's first skyscraper, was built in 1929 by Wibur B. Foshay to emulate the Washington Monument. It was an office building for decades, and is now a luxury hotel.
---
FIVE O'CLOCK CLUB
The Five O'Clock Club was owned by Manny De Silva. It moved here in June 1963. In October 1963 Manny was billed as a popular romantic singing idol. From 1963-69 Manny sang at Ferrara's as well.
---
KING SOLOMON'S MINES
Owner Dean Constantine was a dance instructor – found an ad for his lessons from 1959. In 1966 he brought in Connie Hechter's Afro-Cuban Sextet, tried a rock format, and then began booking R&B acts, making it the only venue for black music downtown. In 1967 the band was the Fabulous Amazers, bringing the "Latest and Greatest in rhythm & blues,including SKATE and BOO GA LOO," went an ad in the Spokesman. Other groups in rotation in '67 were Dave Brady and the Stars and the Sages.
---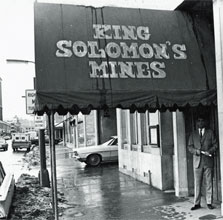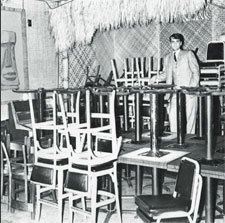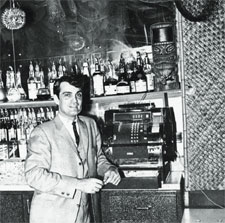 Photos above from 1968 provided to Secret Stash by Dean Constantine (pictured).
---
In a column dated July 31, 1967 (right after the North Side riots), Will Jones remarked:
Despite all the lip service given to integration, and all the laws designed to bring it about, there's precious little of it in the Twin Cities saloon scene, and in the heart of downtown Minneapolis it's almost unheard of. That's why it's so heartening to see the development at King Solomon's Mines … The crowds that have been gathering there in recent weeks are as nearly cosmopolitan in their makeup as we're likely to find in these parts, with a range of ages as well as colors among the clientele. What's bringing all the people together is a rhythm-and-blues group called The Amazers, who produce a sound to match their name. It's a beautiful, swinging scene. So beautiful that operator Dean Constantine says his landlords have been making nervous noises about it. This is, however, a small sample of where it's all at for the future, and should be now. It's a time for nervous landlords to take a few tranquilizers and allow themselves to be amazed not only by the Amazers but by the amazing young among their following, who already have the whole thing straightened out neatly in their heads."
On August 16, 1968, the club was raided for underage drinking and serving drinks after closing time and the club had its license suspended for a time. It was in trouble again that November, when police license inspector Harvey Everson described it as "the worst run place in the city," saying the police were called numerous times to check on assault cases. See the story in full in Twin Cities Funk & Soul, page 29. Constantine became the manager of the Friar's Club.
---
HIS AND HERS
In June 1969 His and Hers featured Danny's Reason's (Mondays); Mystics (Tuesdays); Del Counts (Wednesdays); Sages (Thursdays-Saturdays). Also City Limits. In September 1969 owner Bill Roslansky sold it and replaced the band with a juke box, reported the Insider.
---
THE ESTABLISHMENT
The Establishment was a disco that was opened in late 1969 by Burt Grossman, scion of Grossman Chevrolet. It featured a stainless steel dance floor and had a predominantly black clientele. Grossman went on to own the Hippogriff and the Little Prince.  The Establishment lasted until at least 1972.
Save