As far as I can figure out, the so-called Foreman & Clark Building was at 5th and Hennepin. It was surrounded by the Loeb Arcade Building, which was a neo-shopping mall built in 1914 and demolished in 1967. The F&C Building had frontage on both 5th and Hennepin. The building has had a number of entertainment establishments in it. I can't pretend to track them all, but here are some.
Dome Bar, 507 Hennepin. This was a stage lounge that opened in 1947. Before that it had been a series of liquor stores and restaurants, including Andy Leonard's Restaurant, going back to prohibition. It featured mainly small, national jazz groups such as Henry "Red" Allen, Johnny "Scat" Davis, and Red
Reynolds.
---
Vic's (Vic's Dome?), owned by Vic Levine, Sr. Vic's opened in 1951 with Bob Davis's Trio appearing there for the next six years. In October 1952 the ad featured six acts, performing four shows nightly. "The best in the west!" Vic's started advertising jazz performances in the Minneapolis Spokesman in April 1954, with Red Allen, "King of the Trumpet and his Royal Court of Jazz." An ad from that July 1954 shows incoming acts such as Lester Young, Earl Bostic, Big Jay McNeely, and Illinois Jacquet. Vic was famous for introducing cheesecake to our fair city, flying it in from Reuben's in New York daily. Vic later became a salesman of the Whisp, which was a pressurized spray bottle full of Vermouth for the making of the perfect martini.
On October 25, 1954 Vic's was destroyed by fire, leaving Big Jay McNeely's band stranded and without instruments. Local black businessman A.B. Cassius headed a committee that held a benefit dance for McNeely on November 7 at the Labor Temple "so that they can get back to their homes and maybe a down payment on some new instruments.'" reported the Minneapolis Spokesman. "Hear the Twin Cities' Finest Musicians."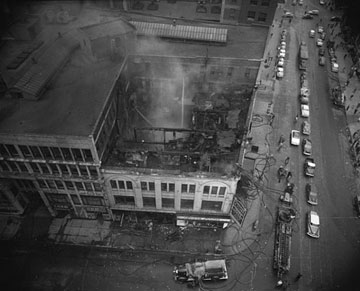 A big ad in October 1955 announced that Vic's had been remodeled and featured Lombardi's Italian food.
---
By 1957 Vic's had become Osterberg's, a jazz venue.
---
In 1961 Osterberg's became the Jockey Club, owned by Dave Rackner. The Jockey Club started out with jazz but soon boomed as a twist spot in 1962-63. A June 1963 ad described a race track decor with the accent on fun and excitement, with Dixieland music and dancing nightly.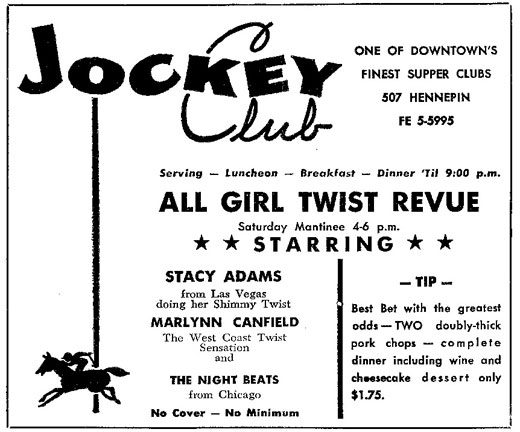 The photos below are from Gary Myers: "I was with the Night Beats (actually from Florida, booking out of Milwaukee, but I guess whoever did the ad thought Chicago sounded more impressive), playing there from 8/20 – 9/1/62. The photo of me (below) was on my 20th birthday, singing 'Runaround Sue.' (For awhile I tried standing at the drums whenever I sang.)"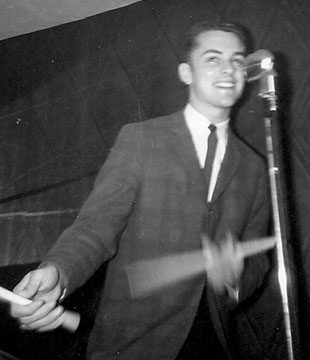 ---
On May 1, 1964, the club became the Roaring Twenties with Doc Evans' Dixieland Band providing the music. In 1969 the band was the Norm Berger Orchestra.
---
Next to/underneath the Roaring Twenties was:
More Down Stairs was the showcase for Danny's Reasons in 1968. It was an honest-to-goodness bar as opposed to the teen clubs a lot of the bands had been playing. June 1969: T.C. Atlantic and The Group. In '69 owners Bobby Bell and Jerry Erickson hired strippers for the place.
---
The 5 – Mentioned in the Insider's 1972 directory. Opened by the XL5, former house band of the Cascade 9?
---
The Cabaret Show Lounge was a gay bar from at least December 1974 until mid-1975. Facebook chat: "It specialized in female impersonators lip-syncing and it was a blast until the owner, Jerry Collins, was killed in the men's room by Royal Hayes." Collins had apparently putHayes in prison, and Hayes got revenge as soon as he got out. Hayes was acquitted but has been on death row in California since 1986 for a double murder committed in 1981.
---
Blitz Bar – 1976 – 1977
The Arcade clothing store next door is a nod to the old Loeb Arcade Building that surrounded the F&C Building before the Arcade Building was demolished in 1967.