The building at 1523 Nicollet Ave. was built in 1938 by and brothers Abe and Ray Percansky (who also sometimes went by Perkins). Abe owned it continuously until it closed. Abe died in 1985.
There were two venues within the building; let's call the showroom/dining room the Theater, and the smaller venue the Cafe.
---
HAPPY HOUR CAFE
The Happy Hour Cafe opened on December 21, 1938.  Its owner was Ramona Bar & Cafe, Inc.  The actual Ramona Cafe was located at 1102 Hennepin Ave.
The Happy Hour was a happy hangout of Kid Cann.
A number of name bands appeared at the Happy Hour, including Fats Waller in 1942 and Jay McShann's Band, which included Charlie "Yardbird" Parker.
But there was much trouble:
In 1940 a "skylight" bandit waylaid an employee at 2 am and made off with about $3,000.
On November 23, 1942, Pvt. Harold Bartholomew sued the club for serving drinks to Larry Dugan, alias Harry Beaver, until Dugan became "highly intoxicated, vicious, reckless, ugly and abusive." Dugan shot Bartholomew in the jaw during an argument in the men's room, and Bartholomew sought $50,000 in damages from the owners of the bar. Witnesses who were employees of the bar were discredited by giving conflicting testimony. The jury awarded Bartholomew the full $50,000, "one of the largest verdicts ever returned in a Hennepin county district court civil action," reported the Minneapolis Tribune on December 8, 1944. Dugan had since been hung at Ft. Sill, Oklahoma for desertion and murder.
In an undated memo (probably from the mid-to-late 1940s), it was reported that the deed was held and recorded in the name of Loring Realty, which was unlisted in the phone book. There was a mortgage of $30,000 held by Morris Grossman.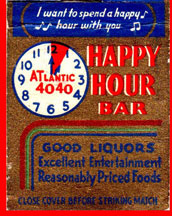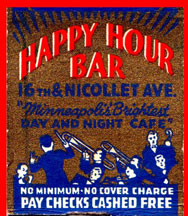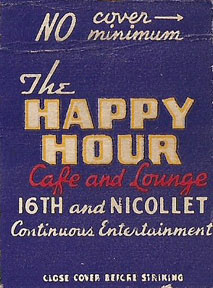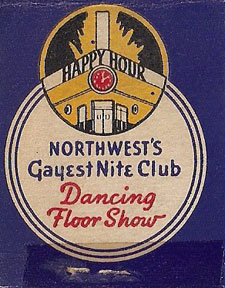 ---
CLUB CARNIVAL
Club Carnival Night Club opened on April 8, 1948, under new management. Frankie Carle and his band were the first to entertain. Ted Cook was the manager at opening. [His probation officer said that Yiddy Bloom (Kid Cann's brother) was manager from 1948 to 1950.] The club hosted incredibly big-name acts during the 40s and 50s with Percy Hughes' house band for six years (Jewel Box Revue). The bandstand had hydraulics to lift it up to the dance floor.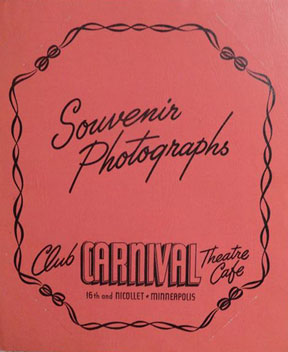 In his column dated February 7, 1951, Will Jones noted that the Club Carnival had shut down in June 1950.  Its attempts to bring national acts to Minneapolis had resulted in high prices and cover charges, which led to its downfall.
---
THE FLAME
In 1951 the license of the original Flame Club, which had been located at 1605 Nicollet across 16th Street on the same side of Nicollet, was transferred here to 1523 Nicollet.  The previous clubs had been operating under the license of the Ramona Cafe – that license was transferred to 1504 East Franklin Ave.
The new Flame opened on February 14, 1951.  Ray Percansky said that the new venue "will be an attempt to bring Broadway to Minneapolis," but without the big stars. "There hasn't been a real good hoop-la place in town for a long time.  I think we need it."
There would be:
Three shows a night
The Glorianna Dancers, A line of six "dancing girls in scanty costumes and accompanying glitter"
Assorted vaudeville acts
LeRoy Fisher's Orchestra
New show ever two weeks, produced by Glyde Snyder
The opening show featured:
Bobby Baxter, "Hilarious Funster and TV Star"  (Might be this magician)
Harriet Blake, singing comedienne
Kathryn Leigh, "Singing Sweetheart of the Air Waves"
Johnny Simmons, singer and M.C.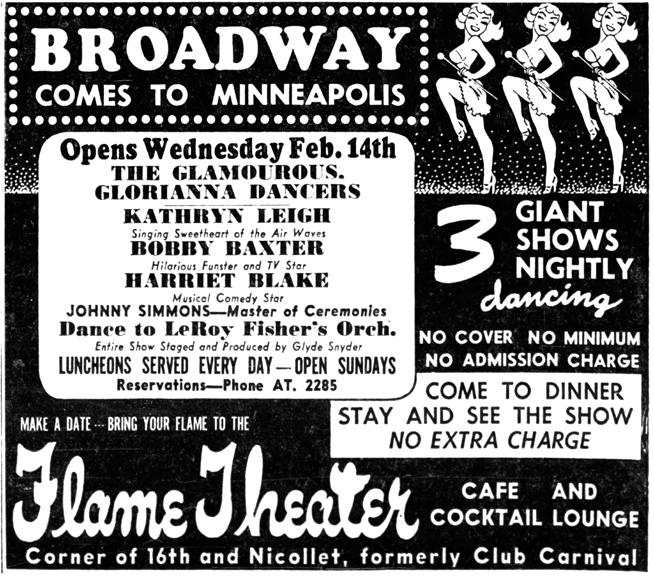 ---
---
In January 1952 the Minneapolis Flame began to program jazz on Sunday nights, a show called "Jazz Carousel," produced by bandleader Bruce Dybvig. Both Dixieland (Harry Blons) and modern (Percy Hughes) jazz was presented.  In October 1952 the Four Notes were ongoing entertainers.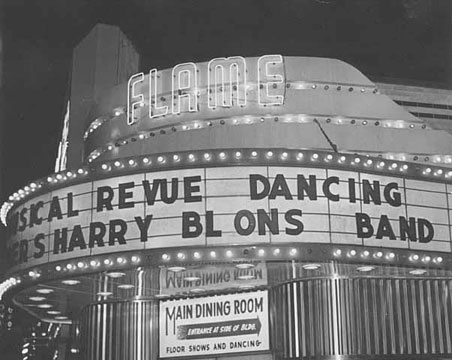 ---
In 1952 the Flame was the "House of Music," seemingly bringing in a better class of music to the stage.
---
---
This show in September 1952 indicates that the floor show was back.
---
In October 1952 an article on liquor licenses indicates that Mrs. Freda Swartz, 2716 Drew Ave., was the former operator of the Flame at 1523 Nicollet.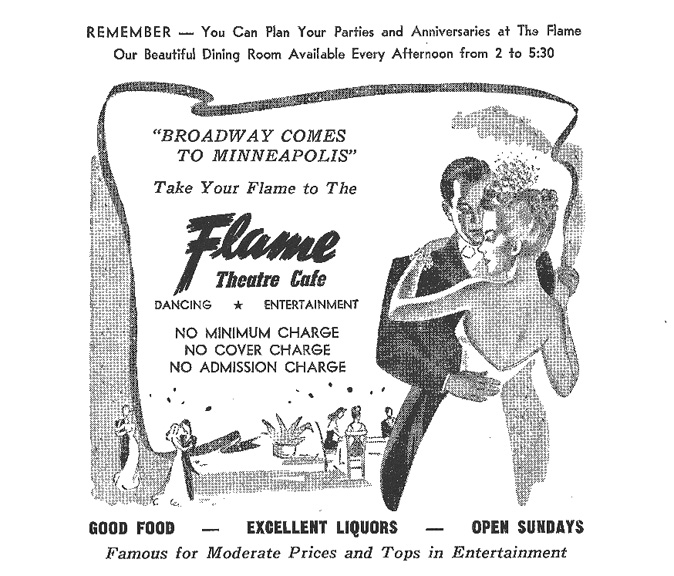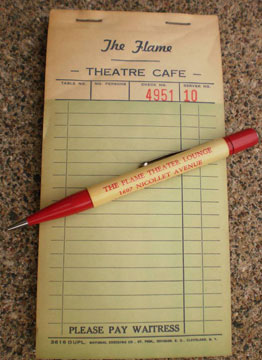 ---
The ad below indicates that in 1954 the Flame was still trying to find its identity.  It may also be the start of the Flame's famous T-Bone Steak Dinner.
---
The Jazz Age
Another format shift came in 1955 when national jazz acts were booked.  Each act was hired for as long as they were available, so some were at the Flame for weeks, while others just for days.
The first of these big acts was saxophone player Charlie Ventura, who was in residence for a three-week stay, from March 23 to about April 12.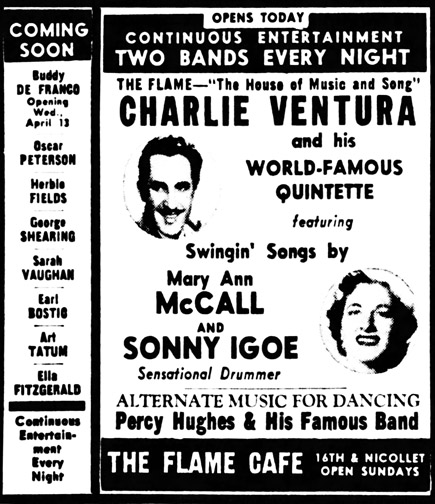 Overlapping Ventura's stand was Mary Ann McCall, substituting for Anita O'Day.  She sang with Ventura's band from March 30 to April 12.
---
After Ventura came clarinetist Buddy DeFranco, from April 13 to 26.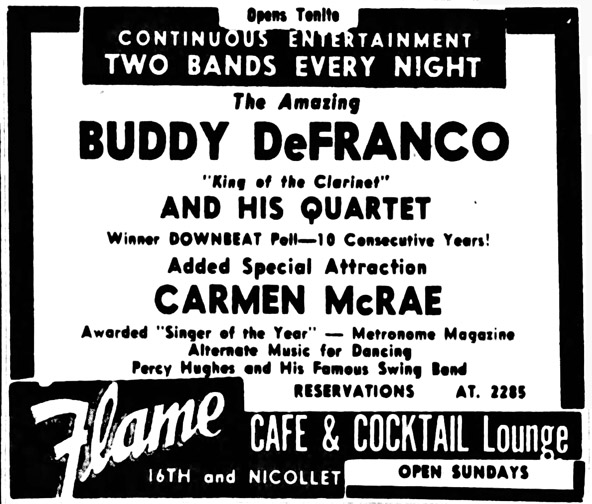 ---
Cornet player Muggsy Spanier, the "King of the Dixielanders," and his Sextet followed Buddy DeFranco for a week starting April 27.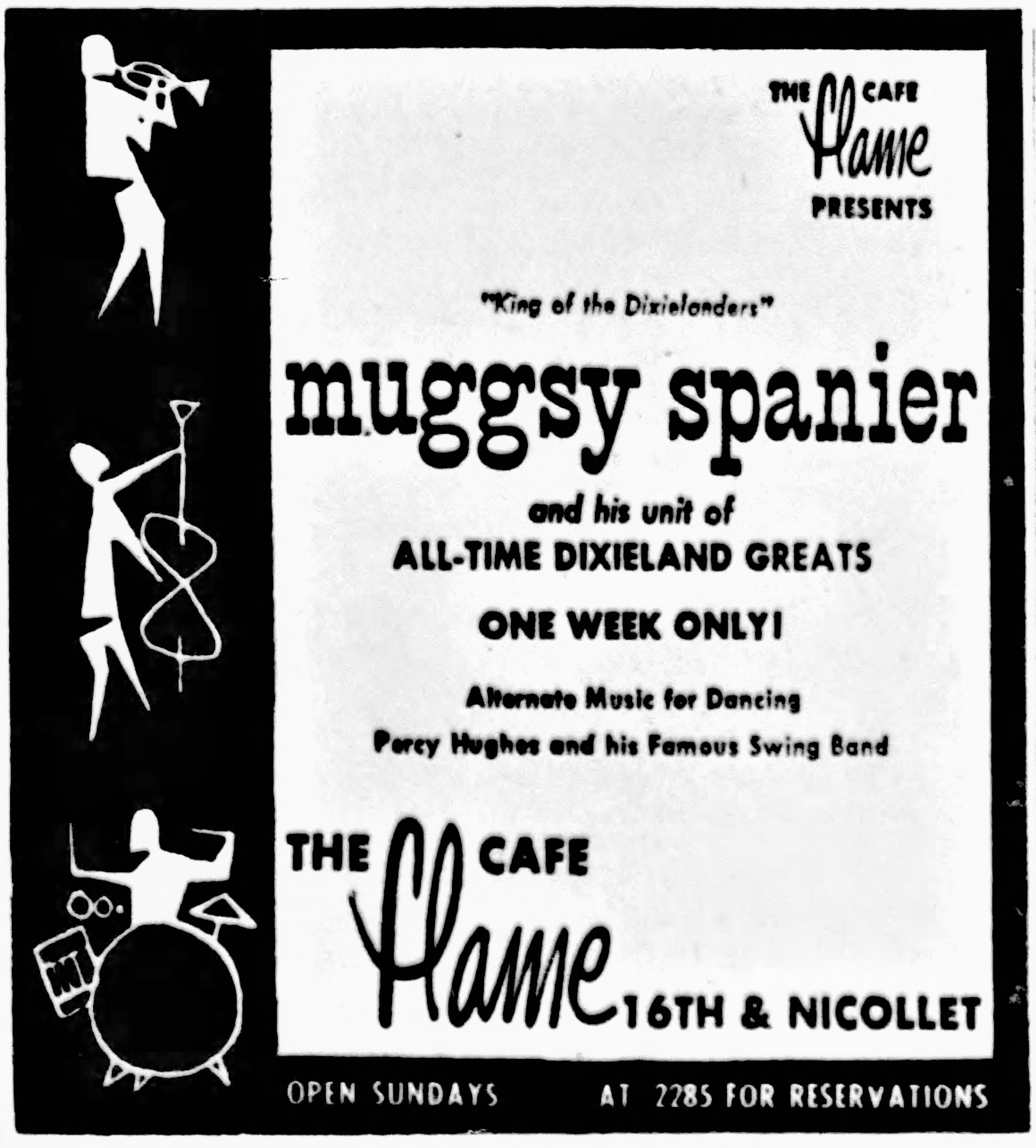 ---
Dizzy Gillespie, the "Baron of Bop," came directly from Birdland in New York, playing the Flame from May 4 to 24.  Dizzy also joined Duke Ellington at Ellington's engagement at Northrop Auditorium on May 20, 1955.  Gillespie's band consisted of:
Dizzy Gillespie:  trumpet
Wynton Kelly:  piano
Charles Persip:  drums
Sahib Shihab:  baritone sax
Nelson Boyd:  bass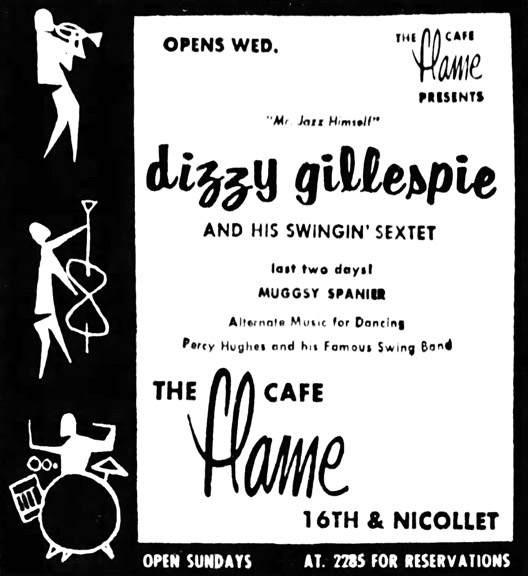 ---
Drummer Gene Krupa and his Quartet took over from May 25 to June 5, 1955.
Then Count Basie and his 17-piece band made their first Minneapolis appearance, from June 7 – 11, 1955.
Oscar Peterson came through from June 14 to 18, with Ray Brown on bass and Herb Ellis on guitar.
Next came Sarah Vaughn, from June 29 to July 9, 1955.
Up to this time the house band had been Percy Hughes', who also filled in on nights where no national act was scheduled.  On July 10 the house band  became the Oskar Nordh Trio.  Nordh was on piano, Dale Olinger on guitar, and Roy Johnson on bass.
---
The last act that Will Jones mentioned was the Buddy Rich Quintet, on July 12 – 18, 1955.  With Rich came a new jam session, scheduled for Saturdays from 3 to 5:30 pm.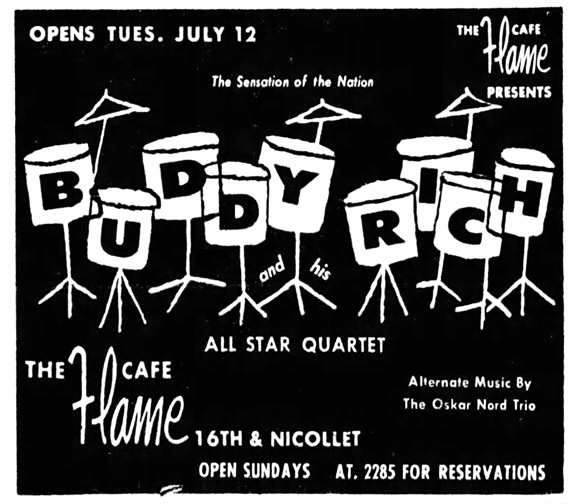 R&B saxman Illinois Jacquet began a stand on July 25, 1955.
---
Other names mentioned during this time but may or may not have appeared are:
Earl Bostic
Herbie Fields
George Shearing
---
The Flame Goes Country
The Flame had featured Country/Western acts in the Cafe since the early '50s, but in on February 1, 1956, the management hired Johnny T. and his Tennesseeans for the Theater and the entire place went C&W. "The Flame has become House of Western Swing – Newest Musical Fad!" Square dance groups were invited to come in for dancing and bring their own callers. In mid-1956 the regulars in the Theater were Ardis Wells and the Rhythm Ranch Girls, with Jimmy Wells and the Dakota Roundup in the Cafe. In the mid '60s the club hosted some big names like Stonewall Jackson and Porter Waggoner.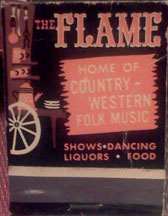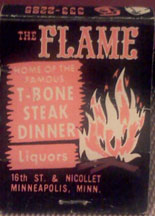 ---
A Pause from Country
In July 1972, Will Jones reported that the Flame converted its back showroom into "Paradise Isle,"
with bamboo on the walls and a setting of fake volcanic rock and tropical greenery on the stage.  Six of the most stunning showgirls you ever saw slink and prance through Polynesian flavored production numbers, and if they're not really girls but guys who like to dress that way (the only giveaway is their big feet).  Well, that's showbiz.  They're beautiful.
And the country touch isn't that far away, either.  The Chill Hilmin band still plays in the front bar.  And when, in the backroom, The Hawaiian Expression gets going on a New Zealand number to back up the dancing, the yipping and the yahooing from the band are like echoes from the past.
After having printed some advance word on Prince Hanalei, the headliner, who walks on fire and then stands on his head and twirls flaming tassels attached to his bare buttocks, there isn't much more to say.  Except that, now that I've seen it, I can add that, yeah, he sure does all that stuff.  And with style.
Another headliner is Macey Williams, who functions as comic, singer and emcee.  He makes a very funny business out of singing "My Way" as he puts on his full drag costume, piece by piece, in full view of the audience.  There is also something hilariously inappropriate about his appearance in a geisha costume to sing "On the Street Where You Live."
It's a lively, flashy, well-staged production that goes on for about 90 minutes, with excellent backing by The Hawaiian Expression.  If there's such a thing as Polynesian rock, that's what they play.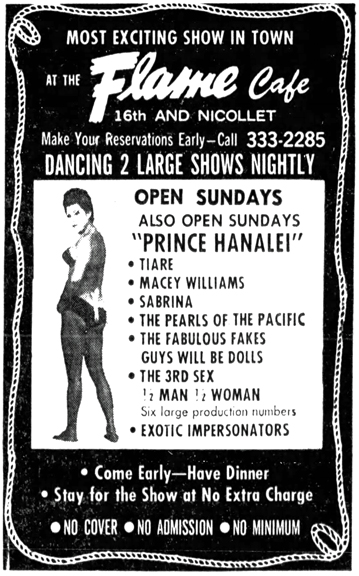 ---
R&B and ROCK
By 1973 the Theater was back to rock, with country relegated to the Cafe, no doubt bowing to the pressures of the newly-emancipated 18-year-old drinkers.
Under the gun from police for being the scene of prostitution and assaults, the city closed the club down in September 1978. At the time of closing, the sign promised Hard & Soft Rock, Old & New Blues, Snacks, Dancing,  and Giant Drinks. On the Marquee it simply said Disco Soul. At age 76, Abe Percansky still hoped to regain his liquor license, but he filed his appeal a day too late. Abe died in 1985.
---
GREATAPES
In 1981 the building became the home of Greatapes Multimedia Company, owned by Jim and Diane Woelm.  The new owners were respectful of the building's history, and displayed photos of performers who have appeared at the old Flame that came with the building. Greatapes has now rented out the old Flame and moved around the corner.
---