This building at 14 North Fifth Street housed many music venues over the years.
ELK'S CLUB LODGE #44
---
ANDY'S
Images thanks to Alan Freed's amazing surfing skills!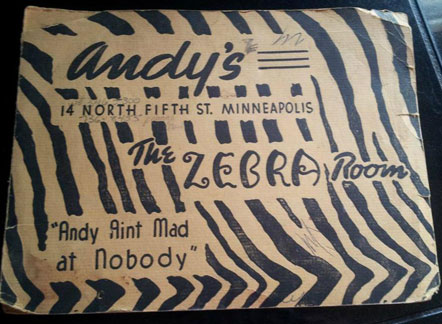 ---
TAFI'S
Tafi's opened on January 4, 1971, by James Theophilius Aladubi Babington-Johnson, Jr., known as Tafi. Tafi had been a dining car waiter for the Great Northern Railway, got a degree in political science and worked for Honeywell and the Institute of African-American Studies. The club was a restaurant/supper club featuring live jazz and folk. Ahmad Jamal Trio played at the opening, and Young/Holt Unlimited did two weeks at the end of 1970. The Insider described it as a "Playboy-type operation." Jazz just didn't bring in customers and it closed after three months. An article from July 1971 said that brothers Danny and Gary Stevens were trying to line up financing to buy it and convert it to a rock venue called the Fillmore, but it was gone by 1972.
---
SUTTON PLACE DISCO
April 1, 1976 – Summer 1978. Sutton Place "began as a quiet neighborhood bar in the Sumner/Glenwood area of North Minneapolis [2nd Ave. No. and 7th Street]. It was an unpretentious establishment owned by a heterosexual married couple, Harold and Elizabeth Sutton." It became a gay disco, and apparently the fun was gone when too many straights showed up. Ad from the Minnesota Daily, 1977, found by Alan Freed, who says: "That was Ernie Pesis's place for many years until Shussler took over. I don't know how long it was Ernie's but certainly during the Fox Trap/Taste/Wells Fargo years and I bet during Sutton's and earlier, too."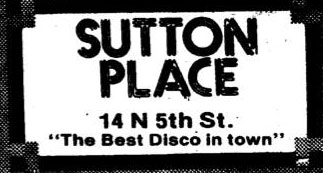 ---
FOX TRAP
There by late 1978, ended in late '80 or early '81. "When the Longhorn eliminated Jazz and went Punk, the Fox Trap tried to lure the Jazz Beatnik crowd but it was really a funk and R & B club and had a short life there." Alan Freed remembers that this "became a trouble spot and closed after a shooting or two (maybe a murder or two)." Color photo below from about 1980, Minnesota Historical Society.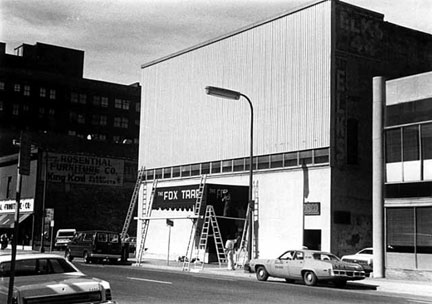 ---
TASTE SHOW LOUNGE

This was an R&B venue, extant July 1981. Managed by Pete Rhodes. Alan Freed: "Taste had three floors; main floor was live bands, second floor was what you see [below] and the third floor was another dance floor with a different DJ, not always open as was the second floor." Richard says, "Taste had a second floor dance floor and the room was lined in stainless steel so that the lights from the dance floor reflected everywhere.. they also had a HUGE neon sign that would flash that had a phrase of 'Dance Your Ass Off' also later available as t-shirts.. (I know.. I owned one).. ANYWAY.. my point.. Before coming over to the Gay Nineties to be a manager, Michael Bloom used to be manager/accountant at 'TASTE' for awhile.. he occasionally would tell me stories.. and my favorite one was about two bouncer/doormen guys he would continually have to remind to get to work .. seems they were always talking music and not paying attention to the patrons. He claims the two guys were Jimmy Jam… and Terry Lewis !" More from Alan: "The Taste portrayed in Purple Rain, outside and inside, was not this place although the real Taste/Fox Trap was an inspiration. The Taste interior scenes with Apollonia 6 were shot at the Union Bar in NE Minneapolis and the exterior, I believe, was shot in LA, where a few other shots were filmed, including the Hotel Huntington exterior." In 1981 had a "Fox of the Week" contest. Photo below right around 1981, Minnesota Historical Society. 1981 pass courtesy Alan Freed.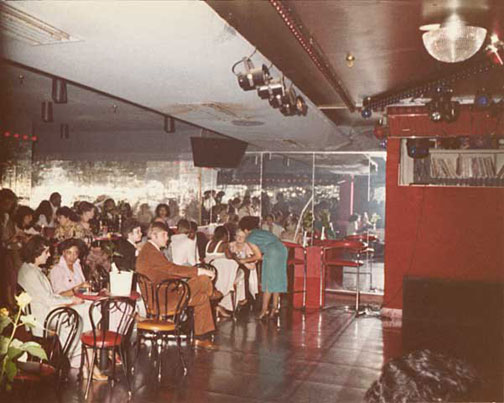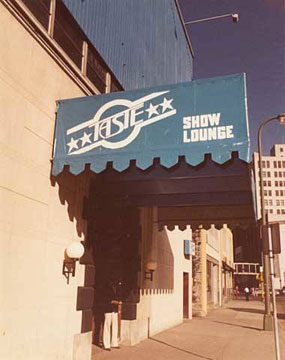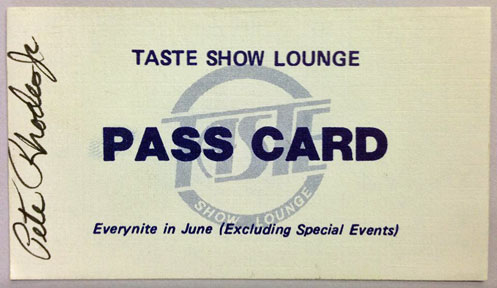 ---
WELLS FARGO

This was a country bar in about 1982, when the "Urban Cowboy" phenomenon hit.
---
JUKE BOX SATURDAY NIGHT/TWIN CITIES BANQUET CENTRE
Summer 1985 – 19
90, owned by Steve Schussler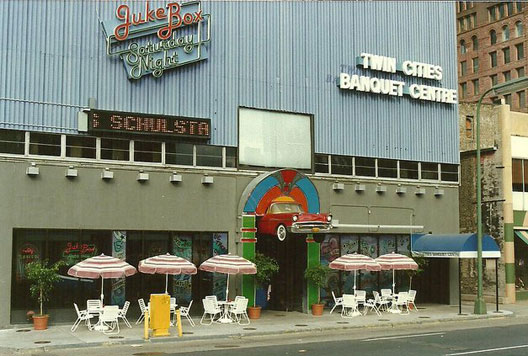 ---
SNEAKY PETE'S/DREAM GIRLS