The Twin Cities has had some notable recording studios during the 1950s, '60s, and early '70s. (This website ends at 1974.)  Here are some of them.  Please contact me with additions or corrections.
CANDY FLOSS
Candy Floss Records took shape in the fall of 1967.  It was a record label and management company, recording at Dove Studios.  In 2006 a CD called "Candy Floss – The Lost Music of MidAmerica" was issued with these liner notes:
The music of Candy Floss was all about carnivals, calliopes, tight harmonies and hope. The songs were whimsical, not edgy, its instrumental attitudes were fun, not angry. It was Leonard Cohen meets Mother Goose. It was George Martin meets Spike Jones.
Peter Steinberg, Dale Menten, Barry Thomas Goldberg, and Gary Paulak – the original Candy Floss song writing team – would sit around a piano in Dove Recording Studios in Bloomington, MN and weave lyrics of fantasy with melodies that "bounced." The songs were alive, and they would make you smile.
In 1968, with America's music becoming loud and political with angry agendas and endless drum solos, Candy Floss offered an alternative that some major labels found very refreshing. There were the orchestral productions released on ATCO, Parrot and Sire Records and the lighter "bubble gum" tracks released on Mercury and Sire.
But all too quickly America lost its desire to laugh, and, suddenly, everything was so serious. So personal. Somewhere in the middle of 1969, Candy Floss packed up its bag of un-recorded songs, closed its doors, and disappeared, leaving behind a legacy that has all but been forgotten.
Special note: Candy Floss also offered production assistance to other artists who had their own songs, like the pioneering guitarist Michael Yonkers and the versatile Freddie Freeman, and the Seraphic Street Sounds, and Longman & Fogel (Steve Longman and Arne Fogel).
---
DOVE STUDIO
In the Spring of 1964 Dove Recording Studio was opened by Don Peterson and Darold "Arv" Arvidson.  This was strictly a recording studio, not a record label.  The owners bought their first studio from David Hersk, at 6217 Lake Street in St. Louis Park.  Don ran the business side and Arv handled the technical side, building much of the equipment himself. The Novas recorded "The Crusher" there.  Another band that recorded there was the Surfers (although Robb Henry of the Surfers remembers recording in a small house south of Minnetonka Blvd. between Texas and Louisiana in 1966-67.)  The facility proved to be too small, and in early 1965 it was moved to 9358 James Ave. So. in Bloomington.  Dove closed its doors in early 1970, selling the equipment to Warren Kendrick, who started Audio City studio on East Lake Street.
Tom Herbers wrote:
Some Dove highlights include most of the Litter's '67 album Distortions, the Calico Wall's drug-referencing '67 single, "Flight Reaction," and C.A. Quintet's dauntingly titled '69 double album, Trip Through Hell. While the Calico Wall pushed the limits of sanity and sound technology, they never got to play live, since bandleader Peter Steinberg was drafted shortly after the recording was made. Original copies of Trip Through Hell, Distortions, and other Dove creations are rare and fetch high prices among record collectors/speculators.  The Stillroven, the Underbeats, and T.C. Atlantic also recorded at Dove. Long unknown visionary Michael Yonkers's 2004 Sub Pop/Destijl disc, Microminiature Love was recorded at Dove in 1968.
A compilation of unreleased Dove recordings called "Free Flight" was issued by Get Hip Records in 1998.
---
GAITY RECORDS
Gaity was both a recording studio and a record label.  Not yet out of high school, North Minneapolis teen David Hersk started a recording business in his parents' basement at 1501 N. Newton Ave.  Naming his company Gaity ("That's not even a word!" he says today), he started with a Robbinsdale choral group called the Quarternotes in 1954.  He recorded all sorts of music in the ten years of his enterprise:  Do Wop, rockabilly, rock 'n' roll, folk, even surf music.  Eventually he built his own studio in Bloomington, which he later sold to Dove.  Usually only 500 copies of a 45 were made and given out to DJs and at dances.  They are extremely rare today and are traded at high prices among collectors.  A two-volume anthology called "Bloodshot!" was put out in vinyl by Norton Records in 1994 and is also available on CD.  On it are songs (mostly recorded between 1958-60) by groups such as the Sonics, Blue Kats, Glenrays, Valquins, Wisdoms (David's favorite), Corvairs, the Jades, and the Big M's.
In about May 1962 Hersk moved his studio from the basement of his home to the Empire Photosound Building, 1920 S. Lyndale Ave. in Minneapolis.  An item in Vic Burton's Night Beat column in the Minneapolis Daily Herald says that Hersk, "a very energetic fellow," had recorded "Folksong: U.S.A.," featuring the Robbinsdale Chorale.  The record was released on the Audio Fidelity Label.  Burton reports that 23-year-old Hersk started his recording career with a $65 tape recorder, but now had about $30,000 invested in equipment and was able to record all of his sessions in stereo.
David got out of the recording business in 1964 and went into graphic arts, doing album covers and other projects.  It is through his enthusiastic efforts that we have these nuggets of Twin Cities music.
---
KAY BANK STUDIO
2541 Nicollet Ave. So., Minneapolis
This building, which still stands after 100 years, had many iterations and a huge influence in Twin Cities entertainment.
Garrick/LaSalle Theater:  The building's first use was as a movie theater, built in 1913 and named after an English actor.  In 1915 the name Garrick went to another theater downtown and the building on 25th Street became the LaSalle.  It closed as a theater in 1950.
Swedien:  In 1955, audio engineer Bruce Swedien, the operator of the Schmitt Music company's recording facility, bought their equipment and moved it into the theater, converting it into a recording studio. "My wife helped glue up the egg cartons," he said, referring to the dozens of empty containers still visible in Studio B. "They were a superb and very cheap acoustical treatment."  "I built those doors," Swieden says, pointing with pride to the studio doors. "If you look carefully at them, you'll see they're very solid, very thick."  Swedien recorded mostly jazz, including some national acts like Art Blakey and the Jazz Messengers and Herbie Mann, but also the Six Fat Dutchmen.  In 1957 Swedien left for Chicago and went on to have a remarkable career recording the Four Seasons, Jackie Wilson, and Michael Jackson, and  working with producer Quincy Jones. See Jon Bream's story about Swedien's return to the studio in 2013.
Kay Bank:  In 1957 the studio was purchased by Vernon C. Bank and renamed after Bank's wife, Kay. One of Bank's partners was Amos Heilicher, who along with his brother Dan, owned one of the largest record distributors in the U.S. By 1964, the success of Dave Dudley's "Six Days on the Road" and the Trashmen's "Surfin' Bird" had put the studio on the map, and bands were coming in from all over. Randy Bachman brought an early version of the Guess Who down from Winnipeg to get the "Kay Bank sound" (three-track recording and echo!). Kay Bank offered an attractive package to local bands: For $495 you'd get three hours in the studio, a thousand 45s, and 50 promo packages delivered to radio stations in the Midwest.  See this this Blog Spot about Kay Bank custom pressings.   Several Kay Bank clients, such as "Liar, Liar" creators the Castaways, wound up on the Heilicher brothers' record label, Soma (Amos spelled backwards).
An ad for Kay Bank Recording Corp. in the 1964 AFTRA Catalog cites John Michaelson as studio manager and Vern Bank, President. Equipment included:
Ampex Recorders (1, 2 & 3-track)
Echo Chambers
Three Studios, Air Conditioned
Telefunken, RCA, Electrovoice, Sony Mikes
Hammond Organ, Celeste, 2 Grand Pianos
DuKane Tone Generator
Line Equalization
Scully Mastering Lathe
Completely Automated Record Pressing Plant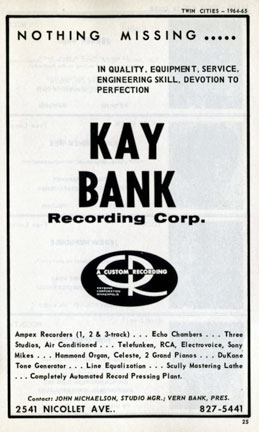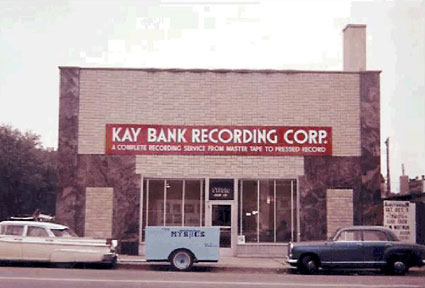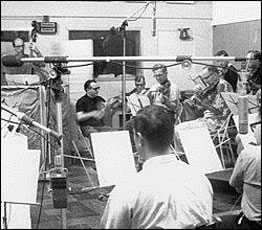 ---
Kay Bank studio later became:
Universal Audio (UA Recording):  1968
Micside:  1970
Cookhouse:  1971 to 1983.  Vocalist Arne Fogel can attest that "During the 1970s, hundreds of jingles, records, film soundtracks, etc. were recorded there. The creative force behind much of Cookhouse's activity during those years was Dale Menten of  the Gestures ("Run Run Run," "House of Leather")  fame."
Nicollet Studios took over the recording studios in 1983, with Twin/Tone records ithe creative force behind much of Cookhouse's activity during those years was Dale Menten, of "Gestures" – "Run Run Run" fame.n the offices upstairs.
SOUND 80 STUDIO
In 1969, after working at Kay Bank, Tom Jung and Herb Pilhofer founded Sound 80, named by Brad Morrison, the same ad man, believe it or not, who had previously christened a Hormel ham Cure 81 (perhaps while sipping Vat 69 scotch).  (Hebers)
Sound 80 was initially located on the campus of a business called "Empire Photosound" on 76th street in Edina.

---
In 1971 they built a new studio at 2709 E. 25th Street, Minneapolis.  It was here in 1974 that Bob Dylan rerecorded half of "Blood on the Tracks" with a group of young Minneapolis musicians. Paul Martinson was the engineer on those sessions. (See Andy Gill and Kevin Odegard's 2004 book, A Simple Twist of Fate: Bob Dylan and the Making of Blood on the Tracks.)
In the spring of 1978, 3M brought a prototype digital tape machine into Sound 80 (nicknamed "Herbie" after Pilhofer). Head engineer Tom Jung recorded what are believed to be the first commercially released digital recordings: a jazz album with Flim and the BB's, and two classical albums, both with the St. Paul Chamber Orchestra, one of which won a Grammy for Best Chamber Orchestra Recording in 1979. Jung resigned from Sound 80 in 1979, moved to New York, and continues to be a pioneer in digital-audio technology.
The studio now is the headquarters of Orfield Laboratories, whose anechoic chamber, is labeled the world's "quietest room" (measured at −9.4 dBA) by the Guinness Book of World Records as of 2012. The quiet is too much for most people – the record for enduring the silence is 45 minutes, and even the man who created it, Steve Orfield, can't stand to be in there for more than half an hour.
Orfield lab also achieved the designation for their friends at Sound 80 as "the world's first digital recording studio" in the 2006 Guinness World Records. The first record released under the Sound 80 Digital label was Appalachian Spring, by the St Paul Chamber Orchestra in 1978, which won an American Grammy Award, the first Grammy Award for a digital recording. The two main studios are still fully intact, and they are filed for historic designation by the State and the Federal Government.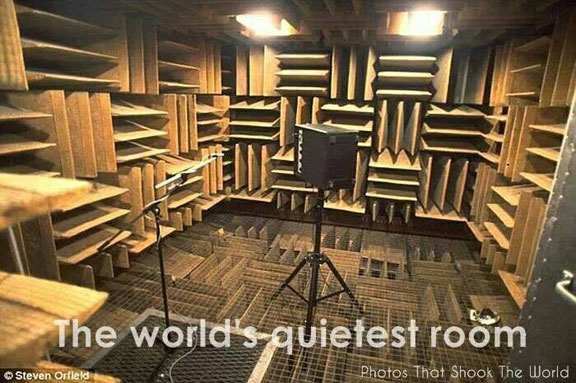 Sound 80 the business still exists in another space.
---
STUDIO 5
This was advertised as a new recording studio in a March 1968 edition of the Insider.  The ad promised "Nashville-Type Sound Now Available in Twin Cities by former New York recording engineer."  A&R Direction included.  The address was 4029 Penrod Lane NE, Minneapolis.
---
TONKA RECORDING
Tonka Recording was advertised as a new studio in the June 13, 1968, Minnetonka Sun. It was owned and operated by Robert Walin, and located at No. 1 Easton Ave., Deephaven Park.
Tape recordings and records for groups and individuals
Recordings in the studio or on location
Specializing in rock and roll groups.
Featuring multi-track recordings
$20 per hour plus materials.
SOURCES:
Arne Fogel
City Pages article by Tom Herbers dated June 8, 2005
Save