The Prom Ballroom was at 1190 University in St. Paul. It was built by developer Carl J. Fox, who also built the Surf Ballroom in Iowa and the Terp Ballroom in Austin, Minn. Glenn Miller and his Orchestra played the grand opening in 1941; the ballroom held 6,000, and 3,000 had to be turned away. Miller would be followed by other well-known artists including Count Basie, and Tommy and Jimmy Dorsey. Swing, polka, jazz, and rock n' roll groups played the space, spanning such diverse musical acts from Lawrence Welk to Buddy Holly and Crickets, to the Police. Harry Given was one of the hall's four co-owners in 1959. The house orchestra was the Jules Herman Orchestra. The Prom offered a 9,000 square foot hard maple floor. Small booths and tables ringed the edge, where dancers could rest and order food.
In 1956 WDGY disk jockeys hosted Saturday dances for adults and teen dances on Fridays (sponsored by Coke).
In April 1956 the Prom advertised that it had been fully redecorated throughout, with
glamorous new lighting, smart new murals and appointments. In the 1950s and '60s the Prom hosted some of the biggest acts in the country.  See the bottom of this page for a phenomenal list, provided by Timothy D. Kehr.
In the mid '60s it featured rock bands on Fridays and both rock and big bands on Saturdays ("rock vs. smooth").
1966: "Those who have not attended the Prom since college days, we now have  complete cocktail lounges and comfortable seating!"
By the late '60s it was owned by Dick Clay and hosted mostly Big Bands. The ballroom met with the wrecking ball on September 29, 1987 and a fitness center occupies the former location on University Ave. See a feature on the Prom on Lost Twin Cities II.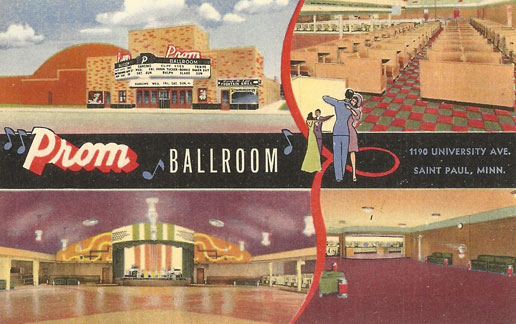 ---
ACTS AT THE PROM
Timothy D. Kehr made a list of the biggest rock 'n' roll acts that appeared at the Prom Ballroom in the '50s and '60s:
Len Barry
The Bell Notes
The Big Bopper
Gary US Bonds
Jimmy Bowen
Donnie Brooks
Johhny Burnett
The Byrds
Jo Ann Campbell
Freddy Cannon
Johnny Cash
The Cascades
The Champs
Chubby Checker
Lou Christie
Jimmy Clanton
Mike Clifford
Eddie Cochran
Billy Crash Craddock
The Crests
Dale and Grace
Danny and the Juniors
Bobby Darin
Dick and DeeDee
Dicky Do and the Dont's
Dion and the Belmonts
Carl Dobkins, Jr.
Ral Donner
The Dovells
Dave Dudley
Paul Evans
The Everly Brothers
Johnny Ferguson
Frankie Ford
The Four Seasons
John Fred and His Playboy Band
Jimmy Gilmer and the Fireballs
The Hollies
Buddy Holly
Brian Hyland
The Ivy Three
Wanda Jackson
Jan and Dean
Jay and the Americans
Johnny and the Hurricanes
The Kingsmen
Buddy Knox
Dickey Lee
Johnny Maestro
The McCoys
The Mystics
The Newbeats
Paul and Paula
The Poni-Tails
Jody Reynolds
Floyd Robinson
Tommy Roe
Bobby Rydell
Santo and Johnny
Jack Scott
Del Shannon
Skip and Flip
Johnny Tillotson
The Tokens
The Turtles
Conway Twitty
Ritchie Valens
Bobby Vee
The Ventures
Gene Vincent
The Vogues
Jerry Wallace
Save
Save