Okay, I love Minnesota music, but my favorite band is still the Monkees.  Can't help it – I was 10 years old in 1967.  I didn't buy Tiger Beat and only had one of their albums, but somehow my parents let us watch the show, which was hilarious when you're 10.  Mike Nesmith was my favorite Monkee – he was tall, serious, and smart, and I guess I related to that.  Don't know if I knew that he was married and had a kid.  Much later in life I got the Monkees Music Box and got more familiar with their repertoire, especially Mike's twangy story-songs.  Very un-Monkee-like, but very cool.
I saw them in Baltimore in 1986 and '87, DC in '89, and Micky solo on a package tour in DC in '91 (he did not look happy but there were only about 20 of us in the outdoor audience thinned out because of the threat of rain).  In 1997 I saw them at the great 930 Club in DC – the second show after we raced back to town from Virginia for a Dylan concert!
---
1967
Not exactly in the Twin Cities, but close enough, Will Jones reported on August 3:
The younger set in Hayward, Wis., still hasn't quite simmered down after a surprise visit last weekend from The Monkees…  The buffalo Springfield were appearing in the Big Top tent at Tony Wise's Old Hayward layout last Saturday night.  Earlier, they had appeared in Chicago, where The Monkees also were appearing, and the two groups had partied together there.

The Monkees decided Old Hayward would be a gassy place for another party.  So after their appearance in Chicago Saturday, they flew to Duluth in a chartered DC6 – the band, their road managers and agents and assistants and girl friends, a party of 26 in all.  From Duluth they chartered a Greyhound bus and roared to Hayward with a police escort.

They arrived for the tail end of the Springfield's bash in the tent, and then continued with a late jam session in the tent.  They took over the old train that is parked at Old Hayward serving as a restaurant and bar, partied there all night, slept in the Pullman, and breakfasted the next day on such delicacies as corn flakes drenched in orange juice before taking off.
---
KDWB TAKEOVER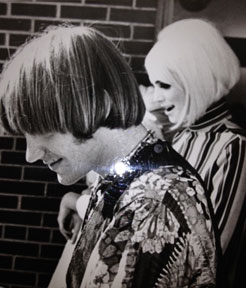 Race riots and curfews in Milwaukee brought the Monkees to Minneapolis a day early, so on Friday, August 4, 1967 [right after our own race riot], KDWB arranged for them to take over the airways on the afternoon before their concert at the St. Paul Auditorium.  A remote was set up at their hotel, the Capp Towers Motor Hotel at 9th and Minnesota in St. Paul.  Although the location was announced as "Secret City," there was a crowd of screaming girls outside listening to their transistor radios.
On hand were DJs Jimmy Reed and Charlee Brown, and General Manager Sam Sherwood.  Photographer Mike Barich was there with his girlfriend Vicki Peters, shown at right with Peter Tork in a photo taken by Barish.  (Victoria Peters was from West St. Paul and was Miss October 1972.)  Barich remembers that they were listening to rival station WDGY over their transistor radios, a fact Mike picked up on and mentioned during the broadcast.
It appears that Mike Nesmith started at 2pm, and he would tell the kids outside to scream on cue.  Mike (and apparently everyone) called KDWB the "Dirty 630" and had fun at the expense of the ads, including sacred Dayton's – it was meant to be satiric, I suppose, but comes off a little mean.  Peter Tork took over at 5 and played some groovy tunes and B-sides. Somehow the subject came up that he had been kicked out of Carleton College.  Davy Jones was on for a nanosecond, and Micky Dolenz was MIA.  It is now 15 Monkee Minutes past the hour.  They seemed to genuinely enjoy being DJs for the day.  At 6, a very excited John Hamilton took over for Tac Hammer as the gang headed out to the concert.
Back in St. Louis Park, Phil Kitchen recorded over four hours of the show on his reel-to-reel.  That material, with additional material from their arrival at the airport provided by Curt Lundgren, is available at http://www.radiotapes.com/kdwb.htm
Interesting were the musical ads by big stars, including Spencer Davis for Great Shakes.  Ray Charles and Los Bravos each did ads for Coke.  A frequent ad was for Dad's Root Beer:  "That's My Pop!"  But someone explain why KDWB would advertise a Ray Conniff album?  For that matter, why is a Ray Conniff album on the wall of the "A Date With Dino" set?
LEAPING, SCREAMING TEEN-AGERS CHEERED ROCK GROUP
Opening the concert were Australian pop star Lynne Randell and New York band Bobby Dick and the Sundowners.  Mike played the Sundowners' song "Always You," which was very Association-like.  Over 15,000 Monkees fans attended the concert.  The Tribune's review relied mostly on the opinions of 16-year-old Keith Follese, a member of the local group the Youngsters.  Micky Dolenz did "some sort of strange, unintelligible impersonation" which Keith though was some rat from King Leonardo's cartoon show.  Peter Tork sang a song that sounded like "Jimmy Crack Corn" – "Keith didn't know what it was either, but agreed it was 'a mess.'  Monkee Mike Nesmith then poured a bucket of paper (ha ha) over Monkee David Jones to the delighted screams of the early and pre-teens."  They flashed movies of their zany antics interspersed with scenes from the Alabama freedom rides.  All agreed that the screams prohibited judgment of their proficiency and probably was responsible for a bunch of mistakes.  Oh well, who cares??
---
A Facebooker (contact me if you want me to give your name!) remembers:  "I saw the Monkees when they were at the Roy Wilkins auditorium. I remember the bucket of paper being "poured" over Davy. Davy then took off his shirt and everyone screamed. Oh, how fun it was being young."
---
1969
The Duluth News Tribune blog tells us:  The first time [the Monkees came to Duluth] was on Sept. 6, 1969. They performed twice at the Duluth Auditorium. A story that ran the next day said, "The afternoon audience was small but enthusiastic. Attendance in the evening was better, and Arena-Auditorium officials said 3,806 youngsters in all saw the group. "Earlier in the day, Superior police had to disperse a crowd of young girls — about 200 — who had gathered near the motel at which the group was reportedly staying. They were disappointed. The Monkees already had left for their afternoon show."
---
1980s and '90s
The Monkees' first reunion (without Mike Nesmith) was in 1986; it was their 20th Anniversary.  The Minneapolis show was on August 20-22 at the Carleton Celebrity Room, which was a pretty ritzy place.  (The Mall of America sits at that site now.) Also on the bill were Gary Puckett, Herman's Hermits, and The Grass Roots.
The show came to Duluth on November 9, 1986.
The Monkees also toured in 1987, 1989, 1997, and possibly other years.
---
2011
Micky, Davy, and Peter toured in 2011, appearing at the Weesner Amphitheater at the Minnesota Zoo on July 1 and 2.  Rain cut the concert short, but it got a good review from StarTribune music reporter Jon Bream.
---
2012
Jon Bream was not so impressed with the 2012 Happy Together tour at the State Fair on August 27, 2012, which included Micky as a solo act.
---
THE MONKEES WITH MIKE AT THE STATE THEATER
The Monkees concert on November 12, 2012, at the State Theater in Minneapolis was Pre-Fabulous!!  Perhaps it was because they had fun here in 1967 that the Monkees made Minneapolis one of only 12 shows on their historic 2012 tour.  Davy Jones had died of a heart attack on February 29, and Mike finally decided to join Micky and Peter for a reunion tour.  Here are my observations from this landmark show:
Their show was met with screams after every song.  I got my Primal Scream therapy out of the way for the next year.  I pity our neighbors.  And Steve, although he said he had a good time.  He was 17 in 1967..
The audience was decidedly gray, but there were lots of people of all ages there too.
There was only one guy at the merchandise table and he was swamped, taking in money hand over fist.  T-shirts were $35 and "programs" were $25.  I say "programs" because they were pretty much worthless.  I didn't get mine until after the show, hoping it had a song list in it, but it didn't have much of anything.
I called Ticketmaster within the first five minutes tickets were available and we were about a block away.  What is the secret?
They didn't engage is a lot of chatter, but they did Monkee around a little bit.  When Peter's keyboard didn't work Mike threatened to go out for a sandwich.
When they say "She," everyone joined in at "Hey!"  That was fun.
The program was basically chronological, with efforts to take turns with each of their songs.  (i.e., Micky would sing one of his, Mike one of his, and Peter with one of his few)
Video and photos were on a center screen at all times.
They started with a full band, then did a set with just the three of them:  Mike on guitar, Micky on drums, and Peter on bass.  Sounded great!
There was a substantial set of songs and a video montage from "Head."  Peter marveled:  "And that was just from one movie!"
They did "Daily Nightly" live for the first time ever on this tour, citing problems in the past reproducing the sound of the Moog synthesizer.  ("Daily Nightly" is the one that goes "questions with no answers."  Like Dylan's song, lots of Monkees' song titles have nothing to do with the song.)  Micky said it was the first rock 'n' roll song done with a Moog.  They showed a picture of it – Mike said it was as big as a Buick.  Micky need to read the words, and kept looking at Mike (who wrote the song) as if to say "what the heck does this mean?"  Mike just shrugged.  Just my impression.  Very funny!
---
MIKE NESMITH
As hoped, Mike did a LOT of his songs.  They each basically did their own songs, except Mike did one of Micky's.  Mike played the same 12-string the entire show, and played keyboards on one song.  One song – "Sweet Young Thing?" was unusually dirge-like, but otherwise they were all just like the records.  Mike's son Christian played guitar and did backing vocals.  Mike is a bazillionaire and doesn't need the money – this was a real gift to Monkee fans.  Mike's official web site is www.videoranch.com
---
PETER TORK
Peter was great!  His silly dance during "Auntie Grizelda" was a hoot.  He did everything:  rhythm guitar, bass, keyboards, percussion, banjo.  "For Pete's Sake" was a highlight.  He did one song I didn't know – it was a weird segue from another song where Micky's mike wasn't working very well and may have been an ad lib or a new song he did.  Peter seemed to be having the best time.  Peter's web site is www.petertork.com
---
MICKY DOLENZ
Micky sang most of the songs, as expected.  He also played drums, but didn't do a lot of that at the same time.  He explained the origin of "Randy Scouse Git" and donned a replica of his old poncho to hit the big drum when he did it.  He was amazing doing "Goin' Down."  His daughter Coco did background vocals.  His web site is www.mickydolenz.com
---
DAVY JONES
The band paid tribute to Davy by showing two full-length videos and another montage.  The "Head" segment featured Davy's black-and-white song and dance number that he did with Toni Basil.  It was nice, respectful, but not maudlin.  At the end Micky explained that they didn't know how they were going to sing "Daydream Believer," and then Mike suggested that the audience sing it.  Two young fans came onstage and did a great job, and of course everyone knew the words.  The band didn't do any of his other songs.
It was a perfect venue and a wonderful show – thank you, Monkees!!
Here's another, much more detailed review:  http://blogs.citypages.com/gimmenoise/2012/11/the_monkees_at_state_theatre_concert_review.php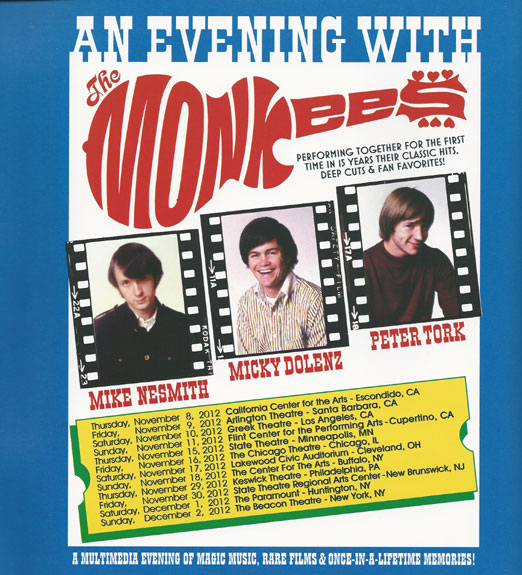 ---
2013
Mike Nesmith did a solo show at the Fitzgerald Theater in St. Paul on April 5, 2013.  The audience undoubtedly included some pure Monkees fans like me, but by and large these were hard core MIKE NESMITH fans.  He played only songs that he had written, and introduced each one with a "mini-movie" setting.  He started off with a Monkees song, "Papa Gene's Blues," but did only one other, "Some of Shelley's Blues."  "Different Drum" was done as a French waltz, and he only attempted the high note on "Joanne" once.  The rest were songs I didn't know, I'm ashamed to say, but the audience reacted with glee at every one and he seemed genuinely touched at the reception.  Nonetheless I'm glad I went, if only to hear that familiar Texas drawl again.  Peter Tork is also touring solo – so far I haven't heard of any Minnesota dates.
Save