1956
Although Elvis's career started in 1954 and he had some records on the country chart, he didn't have a record on the main Billboard charts until March 3, 1956 with "Heartbreak Hotel."  Many people who were around at that time attribute this to be their first exposure to rock 'n' roll, and is on Dawson and Propes' list of candidates for the first rock 'n' roll record.  Their other candidate for 1956 was "Blue Suede Shoes" by Carl Perkins.
In April 1956, Elvis was booked into the New Frontier Hotel in Las Vegas, where he bombed – and was the butt of jokes thereafter.  He eventually got even.
Local Booking agent Thorstein Bjorn (T.B.) Skarning decided to bring Elvis to the Twin Cities, and mortgaged everything he owned to do it, including a drug store, an apartment building, and personal property.  On May 13, 1956,  Elvis performed two shows in the Cities. The ad promised singers, dancers, and comedians as well.   Bill Diehl reports that the 2:00 show at the St. Paul Auditorium drew only 800 fans, and the show started on an ominous note when E broke a guitar string and it hit him in the cheek.  Skarning still held out hope that the Minneapolis show would make up for it, but the 8:00 show at the Minneapolis Auditorium drew a paltry 1,300, when he needed 20,000 to break even. Mothers Day and tornado warnings kept the crowds away, and Skarning lost his shirt. Colonel Parker yanked opening act Augie Garcia early, afraid he was stealing the show.  Photos below from Minnesota Historical Society.
---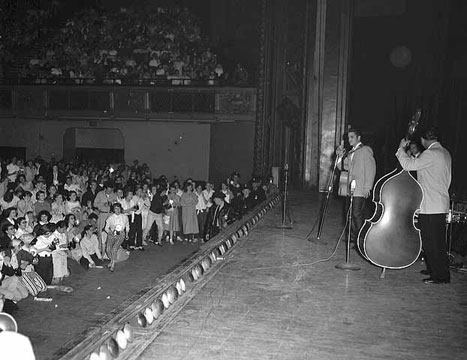 But Dede Smith, Timi Anderson, and Suzie Olson, three young reporters for the St. Louis Park High School Echo, had nothing but good things to say about their hero Elvis, whom they got to hang out with before the concert. Sample interview: "He said he didn't mind girls wearing jeans – 'Ah just like girls.'" They also reported:  "As time progressed, Elvis acquired a good case of stage fright.  He paced the floor, twitching.  His hands were cold, and he occasionally leaned on a wall or a person, whichever was handiest."  The set was only 26 minutes long, with nary a word to be heard above the screams, but according to our teenage reporters, "nobody seemed to care that he couldn't be heard.  Just to see him was enough."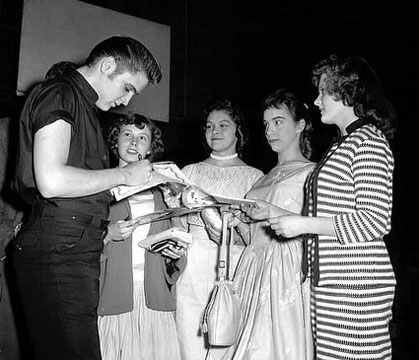 This picture of Elvis signing autographs was posted on a StarTribune blog in 2011, and it turned out to be our girls!  Suzanne Olson wrote:
I thought you might be interested to know that I'm one of the girls in the Elvis photo. In fact, I may be the only living person left in that photo. The girl standing closest to Elvis is Timi Anderson, then myself, next to me is Dede Smith, who is responsible for getting us all backstage for the concert, and the girl on the far right is Anna Skarning, the promoter's daughter.
Last year Dede Smith and I found each other after a 45 year lapse and she wrote to me the whole story about how this miraculous event was accomplished. Unfortunately she died a few months later which was very sad for me having just found her. Timi Anderson died quiet a while ago and Anna Skarning was someone I saw backstage for the first time and never again …
Timi, Dede and I all knew each other and went to St. Louis Park Junior High School. Dede and I were 14 years old and were best friends, Dede and Timi were neighbors and I believe Timi was 13 at the time. I have no idea how much the ticket cost. I think Dede must have purchased them. I remember waiting out in the pouring rain for hours before we were allowed in. Then it was a mad stampede to get seats. Dede's mother was a free lance writer and Dede was following in her footsteps and had a part time job writing for the local Sun Newspaper. She was the one who bugged the promoter to get us back stage which happened very shortly after the mad stampede.
Watching the concert from back stage was such a surreal experience. I remember thinking that he was unlike any 21 year olds I had ever come in contact with. He didn't seem at all adult, and at the same time very adult. I'm sure it had something to do with how sexy he was. I didn't really take it all in until the next day. Of course when we went back to school on Monday nobody would believe us that we had been back stage. That is, until the Parade Magazine came out 2 Sundays later. Then we were celebrities. And continue to be every time the picture is printed (about once every 10 years). The picture even turned up in another class yearbook that was remade for a 1968 reunion yearbook a few years ago.
I never imagined that Elvis would continue to become such an icon. And yes, I'm still a fan. At one time I even had an autograph on a program from the event and I threw it out because it was such a bad scrawl that it was illegible. I've been kicking myself ever since.
---
On May 20 Bill Diehl, in his Sunday Pioneer Press column, wrote an open letter to The King:
Dear Elvis:
Last Sunday we met you for the first time. Remember Sunday? It was a day of disappointments. The weather was disappointing. Your crowds both at the St. Paul and Minneapolis auditoriums were disappointing (a Twin Cities total of something like 25,000 was expected and the combined total was only about 6,000). And Elvis, we're sorry to say it, but your act was disappointing.
This column has been quite a booster of yours. And we're not giving up on you. Yet. We liked you because you dared to be different. and we liked you because we heard you didn't drink or smoke. Knowing you were idolized by millions of kids, we thought you were setting a fine example.
Oh, we heard grown-ups make cracks about your sideburns but so what? And we heard that you looked like "one of those hoodlums." Again, so what? Maybe the kids would let their sideburns grow, but also in setting an example — didn't smoke and drink, maybe eventually the kids would ape you that way, too. And you'd accomplish something.
So we said, okay, come on, Elvis! We saw you, talked to you and were impressed by your courtesy and consideration and poise in the dressing room. You were generous with autographs and interviews. Your fingers showed no yellow stains, so we assume the stories about your not smoking are true. Your hair was long, sure, but neatly groomed. Even your fingernails were reasonably clean. Yes, you had pimples as some people cracked, but many at your age do. (I might be getting one on the end of my nose right now!)
But then, Elvis, we saw your act. And we were, in a word, disappointed. Somebody, probably an adult, has told you to wriggle around when you sing. Your actions, Elvis, were "low." And you don't have to be like that, boy. Your records are selling like crazy to kids who have never seen you but who like your singing style . . . free and uninhibited.
On stage, Elvis, you were nothing but a male burlesque dancer. Your gyrations were straight from strip-tease alley. Happily, you did leave your clothes on. Now, you flopped in Las Vegas because you were playing to adults who don't dig you. some calculating adult booked you in there — and he was pushing you. You got the bounce.
Do you wonder why flops No. 2 in St. Paul and No. 3 in Minneapolis happened? Oh, they'll blame the weather and Mother's Day and anything else. We've been asking around, though, and I'll tell you one big reason: Moms and Dads had seen you on TV and didn't like your unnecessary bump-and-grind routine.
If more Moms and Dads had seen you, I bet not even the scattered 6,000 would have turned up. You disillusioned many of your fans needlessly. You set a fine example with your courtesy and by not smoking and not drinking. Why, Elvis, do you resort to your "Pelvis Presley" routine? You'd better drop it before more and more people drop you.
Of course, there'll always be a few crackpots to screech: "Oohhh, Elvis" when you do your hip-wriggle bit. But by now you should know that in show-biz nothing grows in dirt. Clean it up and you'll really clean up.
Hopefully, Bill Diehl
St. Paul Pioneer Press, May 20, 1956
---
Will Jones, in the Trib, also called him a "bump-and-grind artist" who "turned a rainy Sunday afternoon into an orgy of squealing."
He vibrated his hips so much, and the 3,000 customers squealed so insistently at the vibrations, it was impossible to hear him sing.  None of the smitten seemed to care….
Presley wore a Kelly green jacket, tight blue trousers, and, disappointingly, black leather shoes….
Presley was wearing tight black jeans and a black silk shirt when he arrived at the auditorium.  …He smiled a faint, half-sneering kind of smile at times.  He didn't look nearly so tortured or pouty as he does in most published photographs.
His brown hair doesn't appear so dark, either.  He has pimples all over the back of his nick, a few on his chin, and a number of nervous facial mannerisms.  The most intriguing is the repeated, rapid puffing of a single cheek.  His long eyelashes have a Valentino-like, mascaraed look.
---
November 21, 1956 ad in the St. Louis Park Echo:  Park Drug, Lake Street and Dakota Ave.:  "We Carry all Elvis Presley Records."
---
1971
Elvis appeared at the Met Center November 5, 1971.
The Minneapolis Tribune published a half-page of '50s-themed cartoons by Dick Guindon to announce the concert.  The paper said it was the first of 12 one-night stands that Elvis was doing in November.  "The singer's strict devotion to his work is evidenced by the fact that no women are allowed backstage during the show."
The Insider's review was not impressed with "The King," calling him "cold as a herring."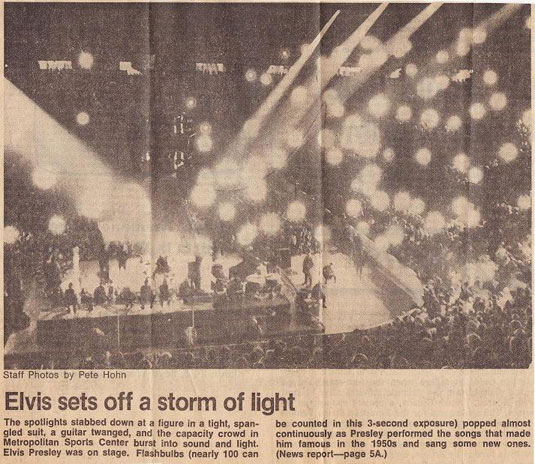 ---
The Minneapolis Tribune's review by Mike Anthony was decidedly more positive:
Thousands Cheer As Elvis Takes Stage
When Elvis Presley sauntered onto the stage of Met Sports Center Friday night – his guitar slung over his shoulder – the flash bulbs lit up the room and 17,600 people gave out a bellow that might have been heard in Osseo.
At that moment, Joanned Azzoni, 21, St. Paul, put her hands above her ears and screamed, "I can't believe it. I can't believe it."
Miss Azzoni is an Elvis fan. She has posters all over her room at home, she said, and a menu on top of her TV set, from Presley's last appearance in Las Vegas, Nev., as well as a bunch of rocks, supposedly from Presley's home in Memphis, Tenn. The rocks were given her by her grandmother.
The day tickets went on sale for Elvis's show, Miss Azzoni was at the Met Center along with several hundred others at 7 a.m. "And I have been crying since I got them," she said.
Five minutes before the show started she and her friends, Julie Jaeger, 20, and Linda Jaeger, 28, were waiting, binoculars poised.
"I couldn't concentrate at work all day," said Julie "Who could concentrate? All the orders I sent out, they must have been all wrong, I have no fingernails left.
Said Linda, "I've waited 15 years for this. When I first saw Elvis on the Sullivan Show I vowed I'd see him some day."
Seemingly everybody brought binoculars and a camera. The flash bulbs popped all evening. Three middle aged women sat in the balcony before the show peering at the stage. "Is that him?" said one. "No it can't be. He's got a moustache,"
Diane Nelma, 28, flew in from Chicago, Ill., Friday night to see the show and planned to fly right back afterward. "Why?" Because I just love him," she said.
The age range of the audience was wide but it was predominantly later 20s and early 30s, ran through 70 minutes of many of his old favorites ("Heartbreak Hotel," "Blue Suede Shoes," "Love Me Tender") and some newer songs ("Proud Mary" and "Bridge over Troubled Waters"). He sounded better than ever.
Clad in all white, he finally threw the flowing red scarf from around his neck into the audience. It landed on a policeman seated below the stage and six girls leaped at the policeman. One lucky girl got the scarf and ran to her seat.
---
1974
Elvis came to the St. Paul Civic Center on October 2 and 3, 1974.  Here is the review from the St. Paul Pioneer Press by Mike Sweeney.
Elvis Still Makes 'Em Scream
Elvis Presley, noticeably plump in a white jumpsuit with a peacock on the back, rode the nostalgia wave into the St. Paul Civic Center Auditorium Wednesday night.
"This is a huge building," the 39-year-old acknowledged king of '50's rock and roll told some 17,000 fans. "What is this, the Astrodome?"
He began his 50-minute concert with "See See Rider," an early tune that set the pace for the evening.
Elvis' fans, including teeny-bop bubblegummers, middle-aged women with beehive hairdos and grandparents, seemed to love it.
As Elvis took his audience through the 1950s with songs like "I Got A Woman," "Treat Me Like A Fool," "Blue Suedes Shoes" and his trademark "Hound Dog," he periodically bantered with the audience and called twice on backup vocalists.
As his backup groups sang and he wandered the stage talking with the audience. Elvis seemed tired. He looked tired – like a man on the brink of middle-age with an enormous reputation to uphold.
Elvis played his reputation as a hip-swinging, hair-tousled, pout-lipped rock star to the hilt.
The fans loved it, at least those close enough to see clearly, as he shot a hip hither and a shoulder yon to the beat of a drum.
Screams, which marked Elvis' concerts in years gone by, were heard periodically throughout the evening and woman flocked near the stage to catch one of dozen or more silk scarves he intermittently tossed to the audience.
The scarf catchers were an unusual seated group of women grasping at a legend.
Twice, Elvis lay or knelt on the stage and briefly kissed two scarf catchers. The second one, a young girl, politely said. "Thank you."
Elvis' renditions of the upbeat tunes which made him famous like "Hound Dog" scored well with the audience as memory grabbers, but lacked the verve and vitality which is why most folks remember them.
His ballads such as "Hawaiian Wedding Song" scored less on the reaction scale, but were delivered better and reminded the audience Elvis can indeed sing a fine song when not image-living.
He ended with "Can't Help Falling In Love With You," which brought numerous women to the stage lip, screaming "Elvis!" and reaching to tough his hands.
Elvis gave the audience what it wanted and it appeared appreciative.
After all, as the king himself told his fans after a short explanation at his large rings containing 11 half carat stones: "The reason I'm telling you about these rings is that you help pay for them."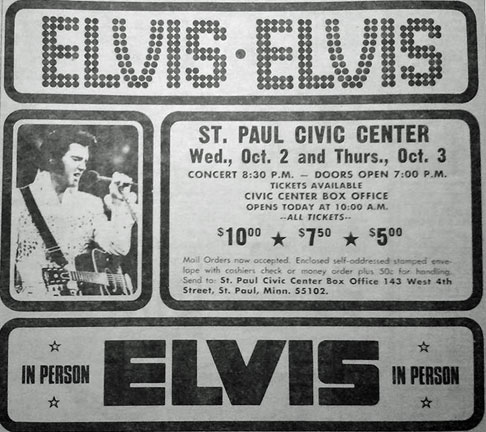 ---
1976
Elvis came to the Met Sports Center on October 17, 1976.  (He also appeared in Duluth on October 16.)  There is a recording of the show; see Elvis on CD.  A company in Australia also published a book specifically about this concert, called Elvis In a Minnesota Minute, by Ted Healy.  According to the website Elvis Australia, only 1,500 copies were published, and are now out of print.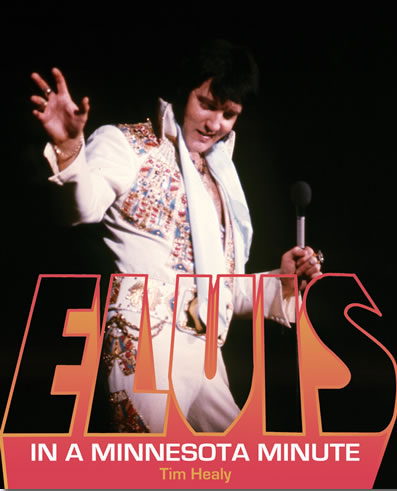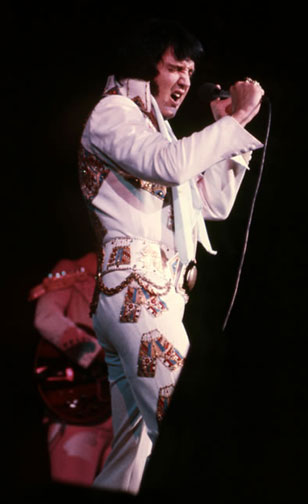 ---
St. Louis Park grad Scott Stumpf Coltrane was a huge Elvis fan, even in high school:  (photo below courtesy Scott Coltrane)
Right there in SLP I was running a worldwide fan club, called DISK. It stood for "Deal Initiators for Stuff on the King" — clever, huh? But it was! It was a precursor to eBay. People would send me a list of their wants and their for sales, and I would hook up buyers and sellers. Of course I'd take the best stuff for myself. It was mainly records and magazines. I also had dozens of Elvis pen pals around the world. After graduation [1974] I began following Elvis around on tour, see one show, drive through the night to the next town, sleep in the car, see the next show, etc.
But one time when he came to Minneapolis and played the Met Sports Center something unusual happened, for both him and me. I heard he was a Muhammed Ali fan and so I got a book about Ali, wrapped it in cellophane, and when he walked in front of me on stage I jumped up from my first row seat and put it at his feat. He knelt down and looked first at it, and then me, and that's when I reached up to shake his hand. Right at that moment everyone else jumped up to do the same. So, anyway, I told that story for two decades with no proof whatever. Then one day a tribute magazine came out and it had a photograph some anonymous person who was there that night had taken, and it showed my hand! And the book, too! Look at the lower left of the stage. You can plainly see the book. The lone hand reaching up is mine. You can only barely see the rolled up cuff of my blue flannel shirt and the very top of my head, but that is me. There simply cannot be two people who gave Elvis that book.

---
Here is the review of the show in the Minneapolis Tribune by Michael Anthony.
Elvis Shakes, Rafters Rattle, Money Rolls
Elvis Presley, "the Big One," as he has come to be called, shook those famous hips, handed out a few dozen scarves and sang for 72 minutes to a capacity crowd of 15800 screaming fans at Met Sports Center Sunday night. These days, a Presley concert is much ritual as anything else, and it begins as the crowd enters the auditorium. "Elvis Super Souvenirs" – posters, photo albums and buttons (big ones this year, the size of a pizza) – are aggressively hawked at various tables, and we're reminded of those souvenirs by the announcer throughout the show. (Col. Tom Parker, the mastermind behind Elvis's career all these years, knows about such things. Parker started out in the 1930s selling foot-long hot dogs at state fairs.)
The show itself also has become ritualized. We expect, that is, the lights to dim just before a drum roll and the band's statement of Richard Strauss's arching theme from "Thus Spake Zarathustra." We expect the room to come ablaze from thousands of flash bulbs – to say nothing of the ear-piercing screams – as the Big One walks onstage. We expect – and it happens during the songs he's not too interested in – the scarf schtick, only now it's become rather machine-like. Trailed by a dutiful stagehand who loops scarves around the Presley neck, Elvis approaches the crowd and drops one of the scarves into a stretched-out hand near the stage. For one brief, shining moment that scarf was around the Big One's neck. With one scarf Elvis cleaned out his right ear before throwing it to the crowd. And three girls, standing on tiptoes, actually got a kiss.
There's also a "Let's Pretend" element to the show. Let's pretend that Elvis, dressed in a tight white jumpsuit extravagantly overlaid with rhinestones, won't really be 42 next Jan. 8, that he doesn't have a weight problem so serious he had to check into a hospital last year to drop about 30 pounds, and that his predominately female, mainly middle-aged audience is still teen-aged: chewing gum like mad, saying "Kid" in front of each sentence and hurrying home from school to catch "American Bandstand." For his part, and perhaps to amuse himself more than anything else, Elvis plays the role, but he exaggerates it in the same way that Mae West used to satirize by exaggerating female sexuality. He winks at, he teases the audience, and his pelvis swivels are now elaborate, amusing affairs accompanies by rim shots from the drummer. What else for a 41-year-old millionaire, so establishment these days that Richard Nixon made him an honorary narcotics officer, but to parody the Elvis of old, once the epitome of teen-age rebellion and outrageous sexuality?
Taken as is, however, this was a much more satisfying concert than Elvis's last performance here, in St. Paul two years ago. The format was the same: brief opening acts (J.D. Sumner and the Stamps Quartet, comedian Jackie Kahane and the Sweet Inspirations) with the singers backing Elvis for his set in the second half. But the boredom that clearly afflicted him throughout much of the earlier show surfaced only occasionally this time around, and often Sunday we got a chance to hear him really sing, especially on newer tunes, such as his current heart-on-sleeve single Hurt. When he wants to use it, Elvis's baritone, with its resonant bottom and somewhat nasal top, is in as good shape as ever and, of course, as a performer on stage, singing or just fooling around, he has more charisma than a dozen other top performers combined. Will Elvis endure? Judging by the screams of the audience he's in no trouble. Nonetheless, his records are no longer guaranteed the top spot on the charts and, contrary to the old pattern, this particular concert took weeks to sell out. (However, in Duluth, where he performed the night before, the tickets went in three hours.) Here, it may have been the $12.50 price that kept some away.
---
1977
Elvis appeared at the St. Paul Civic Center on April 30, 1977.  Here is the review in the St. Paul Pioneer Press by Charley Hallman.
Nasal Drip Cut Short the Hips
Elvis Presley cut short his appearance before 17,000 spectators at the St. Paul Civic Center Saturday night because of a bad cold. Ray Crump, equipment manager of the Minnesota Twins and a friend of Presley's said the entertainer "apparently picked up a cold" after jogging around Lake Nokomis in Minneapolis Saturday afternoon.
Crump, who spent most of Saturday with Presley, said Elvis has dropped "a lot of weight, probably about 40 pounds" in the last two months. He has lost most of the weight through jogging and a heavy exercise program, Crump said.
Elvis dedicated his Saturday night concert to Crump's boss Calvin Griffith and the Minnesota Twins baseball team. "It was a nice thing for him to do," said Griffith after Sunday's 6-5 Twins victory over the Detroit Tigers. "Maybe it had something to do with our winning today," Griffith said. The Twins president and many members of his organization attended Saturday night's concert.
"That was probably the worst concert Elvis has done in a year," said Crump. "Not that many of us noticed, but he has been averaging an hour and a half in most of his shows on this tour." Several times during Presley's appearance, the singer had to stop for a drink of water and an assistant, Charlie Hodge, stood by with a box of Kleenex for Presley to use, which he did on at least two occasions.
Presley even joked about it during the concert. "It's difficult to sing a love ballad with your nose running," Presley told the audience. Presley's early cutoff of the music stunned many of the concertgoers. There was no applause nor was there an encore at the end of the show.
The swivel-hipped rock singer, now 42, has weighed as much as 250 pounds recently, but he is now apparently down near 200. Several times during his concert appearance Saturday he had to rehitch his belt after his loose hanging trousers appeared to slip down over his hips.
Scott Coltrane, a huge Elvis fan, takes exception to the review:
That last review by Charley Hallman irks me. He said Elvis was sick with a cold and cut the show short and so the audience was 'stunned' and gave no applause. That's pure bull. I was there in the third row center main floor, and there was plenty of applause. This is one of the things that bugs me how towards the end of his career critics seemed to want to misreport or shape their review so that somehow Elvis was losing his stuff. It made for a better story, I guess — the great man falling down. But I will tell you as an eye witness to many, many concerts, I never saw Elvis fail to put on an excellent show. I once saw him get hit in the head with a frisbee that some moron threw, and he went right on with the show. And I never saw an audience fail to do anything by wildly applaud him. His voice was strong right up until his very last concert, which I was at. I saw every show on his last tour but one, and I only missed that because I totaled my car on the way. And, just for the record, he was never as fat and blubbery as you see some of these impersonators are today. That is a complete myth.
Save