Dubbed the "Godfather of Minnesota Rock" by Tom W. Tourville, Augie Garcia is a Twin Cities music legend.  The following was gleaned from several sources, including an audio piece on the Current, an inventory of photos at the Minnesota Historical Society, the obituary of August 7, 1999 in the Star Tribune, Tourville's book Minnesota Rocked!! The 1960's, 4th Edition (approx. 1996), a multi-page article in the September 1972 issue of the Insider, a 1964 Ph.D. thesis by Robert Stebbins on the history of jazz, and brief interviews with family members.  Please contact me with additions or corrections.
Although of Mexican-American heritage, Augie Garcia became known more for jump blues rather than Tex-Mex. Growing up on the West Side Flats in St. Paul, his uncle Frank Garcia Pascquale taught him Mexican songs as a child bought him his first guitar, which he had embraced by age 9. His father taught him "La Bamba" at age 10 (long before Ritchie Valens' hit came out).  He favored songs by the Mills Brothers, the Ink Spots, the Hi-Los, and the Four Freshmen.  In the late 1940s [1947] while still in high school, he appeared on TV with David Stone, presumably on KSTP's Sunset Valley Barn Dance. He was reportedly paid in canned food.
In 1950 he participated in the annual Festival of Nations at the St. Paul Auditorium, playing Mexican music.  There he met Joe Sarro, Mike Continelli, Wally Flanagan, and Dom Tallarico, and they formed his first band, called the Continentals after Continelli.   They played at the Blue Angel Room, 7th Street Rec in St. Paul, and the Loon at Lake and Nicollet.
[Stebbins:  In 1951 Garcia and drummer Jesse Lopez opened at the River Road Club with a small jazz group playing a Shearing style.  The band broke up a few months later when the men were called into service.]
He served in Korea from 1951/52-54, where he was exposed to the rhythm and blues he became known for. He was particularly taken with Fats Domino records:  "It was a rock, a shuffle sound that I liked," he told the Insider.  He also liked Louis Prima.
When he returned from Korea he began working for NSP and put the band back together, calling it the Augie Garcia Quintet.
Stebbins:  "In 1954 the group was playing at the River Road Club again, but they never sold very well as a jazz band.  As the years went by, they converted to rock-and-roll, a formula which brought them considerable success."
They played what he called "blues," later "rhythm and blues," with songs like "Goin' to Chicago" and "Let the Good Times Roll."  The term "rock 'n' roll" hadn't been invented yet – they called their music "kicksy."  He always had a black sax player.  They were regulars at the River Road Club from 1954 to 1958.  MHS photos show the band performing in front of a banner that says they were featured on the Key Room Show on KEYD-AM.  The banner gives the show's host as Dave Reau, and the time slot as 11-11:15 am.  The Key Room was broadcast on Saturday mornings starting at 9:00 am.  Available ratings books show that the show ran until 11:15 am from November 1953 to August 1954; to 11:30 am from September to October 1954; to 11:00 am from November 1954-April 1955; and to 11:30 am from May to August 1955.
The story also goes that while in Hawaii in 1952 he fell in love with Bermuda shorts as a fashion statement. They became his trademark and he wore them winter and summer.  Augie's brother Bob remembers their mother cutting off the legs of his pants, even on his tuxedos.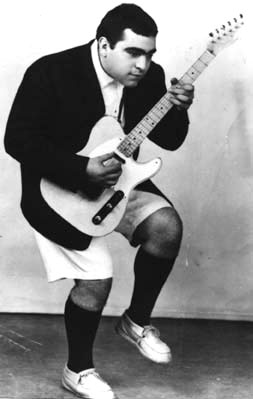 ---
AUGIE, ZINGALE, AND ELVIS
In May 1956 Augie was approached by WCOW DJ Joe Zingale ("Mr. Rhythm"), who had a rock 'n' roll show in the afternoons. The DJ asked if Augie would like to open for Elvis Presley, who was scheduled to play the St. Paul Auditorium on Mother's Day. Augie and his band performed "Ivy League Baby" and "Hi Yo Silver."  The reaction to Augie's set was so enthusiastic and frenetic  – kids were yelling and standing on their chairs – that Col. Tom Parker was worried that he would upstage the main attraction. Legend has it that Col. Parker pulled Augie off the stage by his coat. Augie's brother Bob doesn't remember it quite that way, but does remember that Augie only played two songs and was supposed to play for half an hour.  The Garcia family came to see Augie and didn't stay to see Elvis!  Zingale became Augie's manager until he moved back to Cleveland.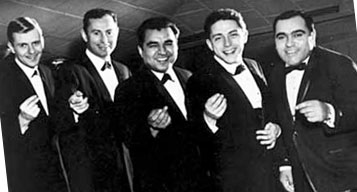 Augie never had a day job from 1956 to 1962. In about 1962 Augie stopped wearing his trademark Bermuda shorts. Club dates included:
7th Street Rec in St. Paul
The Padded Cell
The Loon (which became Mr. Lucky's)
Swede's
The Torch
Duffy's Bar (September 1962).  There Augie and his band opened for national acts like Chubby Checker and Little Richard.
Twin Light Tavern, 13 Leech at West 7th in St. Paul.  In July 1963 he and his band had an extended engagement.
Awada's Bar and Restaurant, 199 Plato Blvd. E, 1975
Sherwood Supper Club
Captain Roberts, 600 N Concord, So. St. Paul
Viking Lounge, Holiday Inn
Rudy's Restaurant, 1970
Duff's
Phil's (on Lake Street):  February 1961
Blue Angel Room, 200-10 East Lake Street, May 1962
The band broke up in about 1964 and Augie did a solo; there is an ad for him performing with Shari Farris at the Hall of Fame in January 1964.  Then he stopped playing for awhile, making his living as an ironworker.  He started up again as a single in 1969, playing all over the Twin Cities, including Hafner's on the East Side (of St. Paul, presumably), the White House, and the Holiday Inn in St. Paul.  His show always included a song in Spanish, and he always played "La Bamba."
On April 20, 1996, Garcia played a reunion concert at the Prom Expo Center in St. Paul. He wore his typical shorts and sang the old songs, and "the people just went nuts," said his brother-in-law David Hase.  Another reunion show followed that June.
Garcia was instrumental in building the Korean War Memorial in St. Paul, erected in 1998.
Garcia died in August 1999 of throat cancer. Survivors included his wife, Nancy, and daughters Angie and Elena, all of Roseville.
---
MUSICIANS
Members of the Augie Garcia Quintet (aka the Augie Garcia Orchestra) included:
James "Jimmy" "Cornbread" Harris on piano (Jimmy Jam's father)
Willie Brown on sax
Gary Berg on tenor sax
Don Rustad on alto sax
Johnny Lopez (Jesse Isadore Lopez Sr.) on drums
Buddy Davis on Piano
Maurice Turner on bass (Prince's uncle)
Mike Continelli on bass
George Avaloz
Francisco (Kiko) Rangel, sax
Eugenia Rangel
Bryce Robertson on guitar (July 1963)
---
RECORDINGS
Augie Garcia is known to have made four 45 rpm records. According to Tourville, they are:
"Ivy League Baby/Let the Good Times Roll" – Kirk 113 (1956-57)
"Drinkin' Wine/Hello Baby" – North Star 2023 (1957)
---
"Hi-Yo Silver/Going to Chicago" – North Star 2025 (1958)
---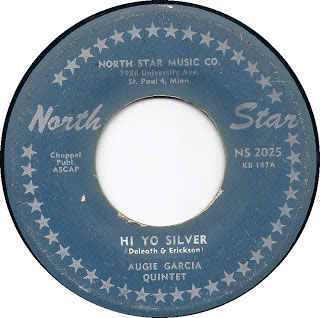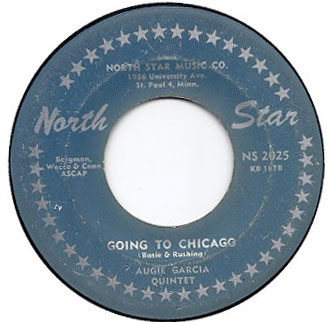 ---
"Ring-A-Ling/Be My Guest (River Road Boogie)" – North Star 2065 (1958)
---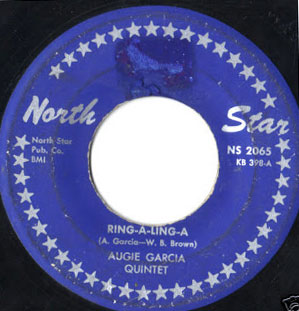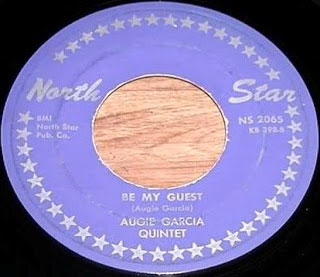 ---
North Star Records was a little polka label located at 1936 University Ave. The records were reportedly recorded in someone's house on Payne Avenue in St. Paul.
Alternatively, the first record was "Hi-Yo Silver/Let the Good Times Roll" (1955) Many have cited this as the first rock 'n' roll record made in Minnesota.
---
RIVER ROAD BOOGIE

In 2015 the History Theater presented the play "River Road Boogie," the story of Augie Garcia written by Joe Minjares.  Ricardo Vazquez did a great job portraying Augie.  Joe Zingale was portrayed as kind of a pushy villain, but the playwright admitted that some of that was artistic license.  The band in the play was fantastic.  One interesting note was that the lady next to me had actually seen the band and said that they always wore sunglasses!
Save